Did They Lose A Bet Or What? 45 Bad Haircuts That Give Us Secondhand Embarrassment
By Precious I October 27, 2022
---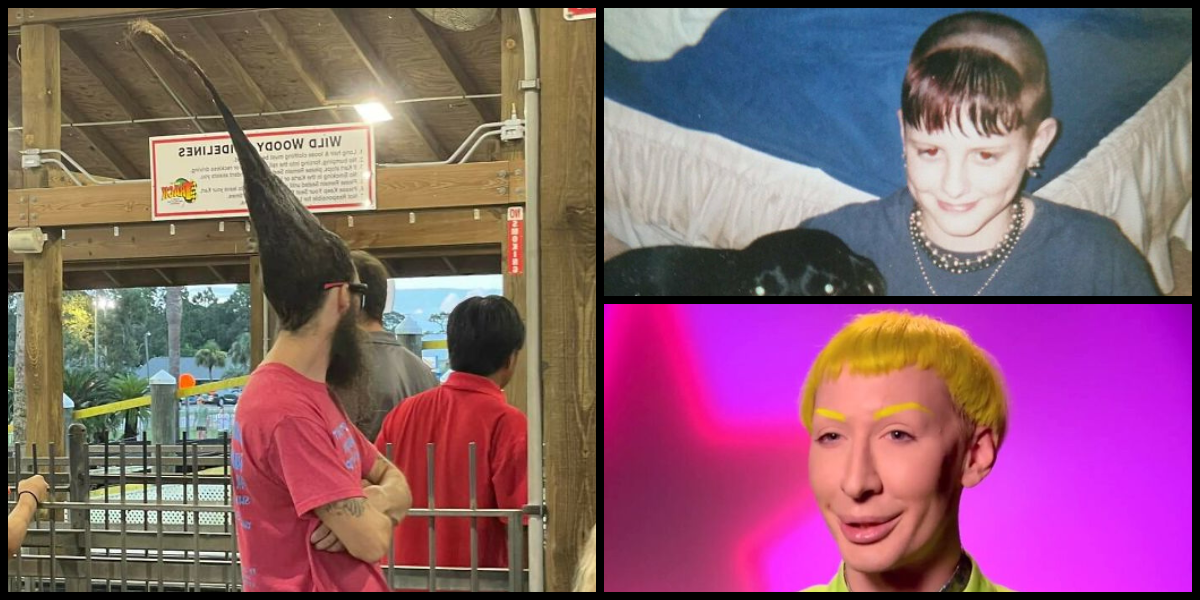 The Internet is a realm of wonder and mystery where you can find almost anything you can imagine. If it doesn't already exist, chances are someone will create it very soon. The Internet has gotten increasingly adept at collecting unusual haircuts and allowing us to appreciate (and laugh) them as a group rather than individually.
If you give it some thought, there are many things you can do with your hair that most of us have never considered. Some people shave half of their heads or bleach their hair an unusual color. Others shave half of their beards. No matter the look you're going for, we got you covered.
If you feel like getting a makeover, here are 45 bad haircuts that might be helpful.
Give The Bald A Try
Sometimes you have to deal with the facts. If you are balding on top, your hair will not miraculously reappear; therefore, you have two options. You have the option of getting a hair transplant or shaving your thinning hair and getting a buzz cut.
The worst thing you can do is get a comb-over which is precisely what we assume happened here. Accept your baldness and shave your head. Women find bald males more appealing, according to research, so you may as well try it.
Braids To Make You Fly
When you enter a salon, you risk leaving as a new person – and not always in a nice manner! There's a reason why some individuals prefer to visit a known and dependable hairdresser who provides them with their favorite regular haircuts.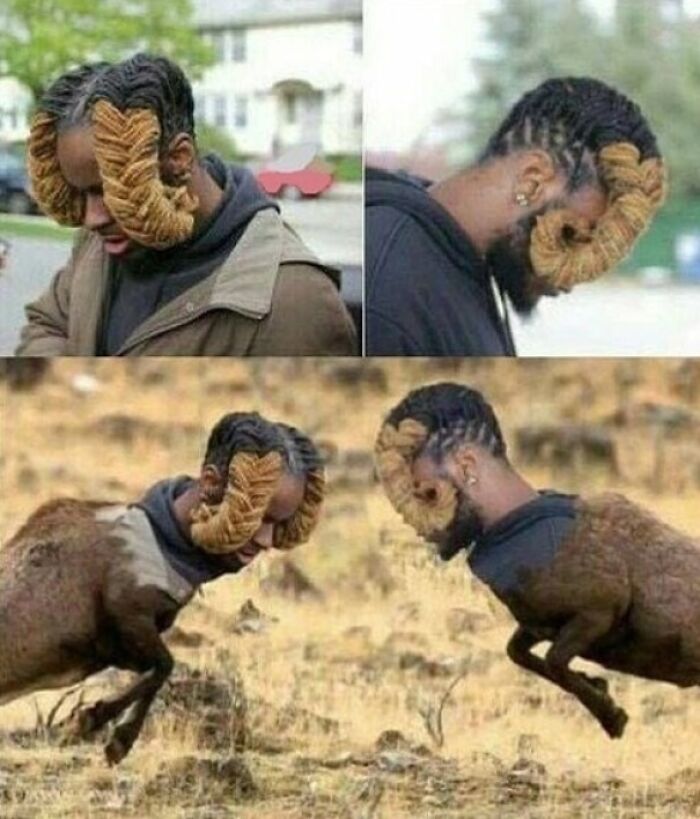 If you want to get into the strange haircut scene but need help figuring out where to begin, there's a simple method to do it while still sending a pleasant message. Simply go to your local barbershop and request that the person braiding your hair give you "the goat."
Eww, What's That Mass
A decent hairdo will give you the finest first impression possible. What effect would a horrid do have on your appearance? With a frizzy clump of locked hair, we're not sure what this man was attempting to accomplish; maybe he enjoys the looks of shock he gets for this poorly kept hairdo.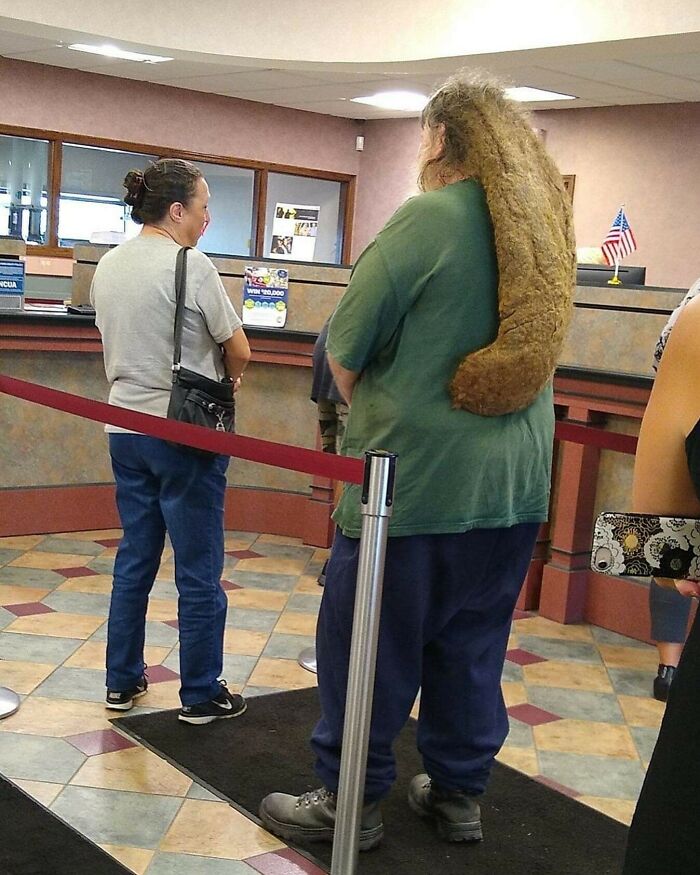 We can't select just one bad thing here, from the horribly matted mass of hair to the evident cluster of molds. Your hairdo should contain aspects that are distinctive rather than repulsive. It would help if you put in the effort to groom your hair.
Bloated Bobs
We like bobs and the center portion, but these two don't go together as well as we had thought. You'll appear to have two enormous clumps of hair on either side of your face unless your hair is pin-straight or probably longer.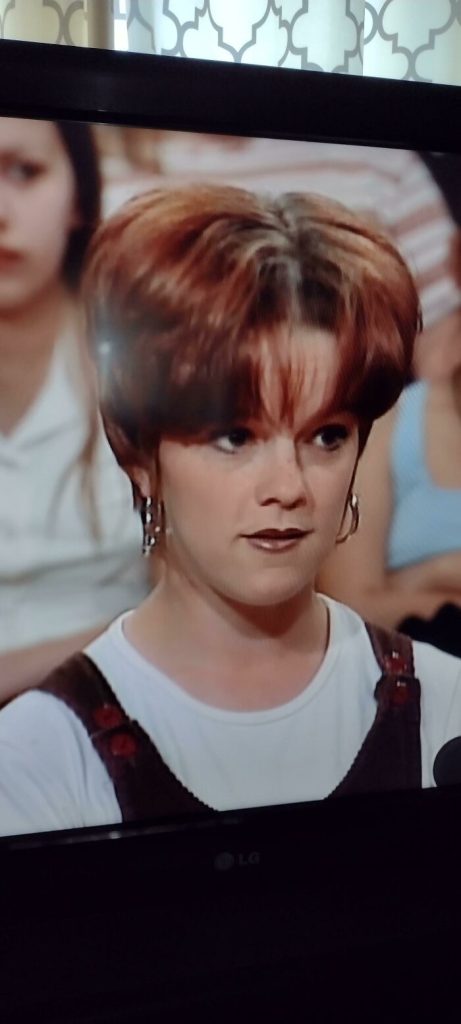 The fact that it is a voluminous short bob hairstyle does not rule out styling. You don't need these bloated bobs unless you're a member of the Bey dancers or applying for the role of a Hollywood retro baddie. Try something different and leave this one alone.
Clean Slice
This barber has worked his heart and soul into shaping this beard. Look at the obviously specified clean-cut he's attempting to get here. He also opted to dye the beards to give the guy a more stern look. This beard style has a beautiful arch.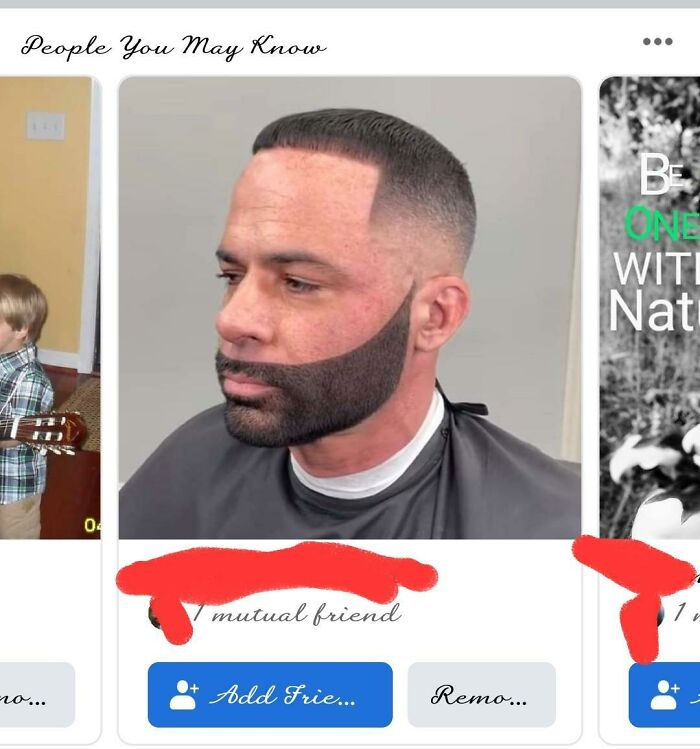 This strange beard style is ideal if you're self-conscious about your appearance and want to experiment with different styles. You don't have to do anything unusual. A full beard, some dye, and a neat trim might give you the most weirdly desirable appearance ever.
Lose The Gelled Spikes
Creating gelled spikes is a classic hairdo that is rarely seen nowadays. And there's a reason it's completely out of fashion. This one never reappeared and has kept its popularity in the 2000s. There are no social settings in which this hairstyle would be appropriate.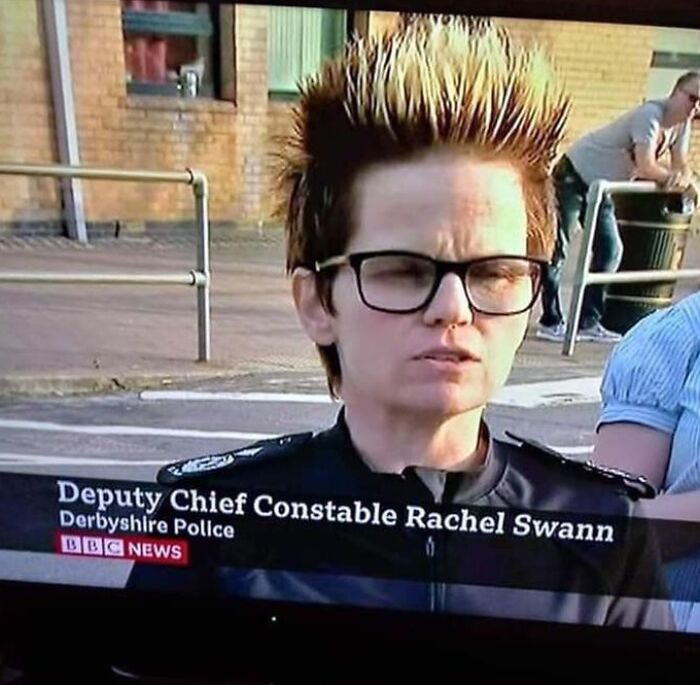 If you are not a model getting ready for your newest shoot, you should not even consider getting frosted tips in this day and age since it would make you seem outdated. Save your time on this hairstyle since you're better off with your natural hair than with unusual spikes on it.
Gothic Emo Man
This emo fringe often consists of side-swept bangs that are highly straightened, combed forward, and styled over the forehead. You may have seen this emo hairdo take over the Internet in the past, but it is now considered obsolete, like this wig-seeming kind.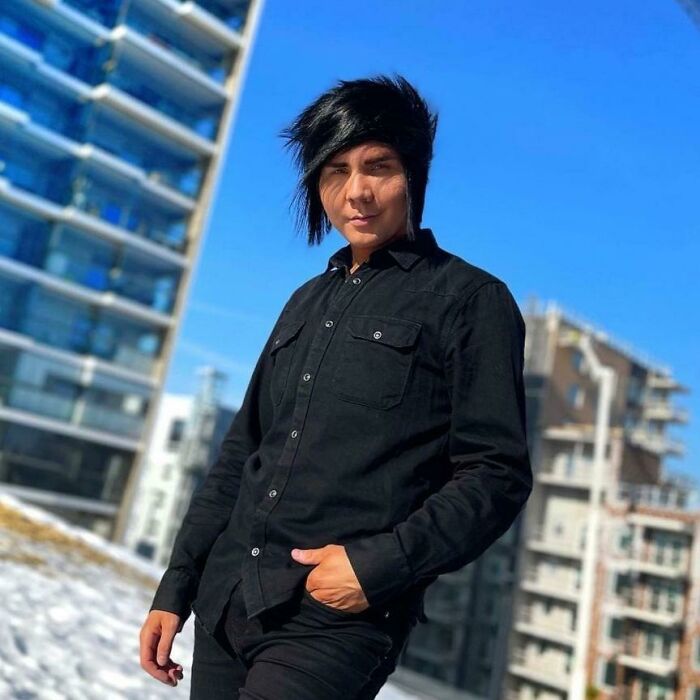 The emo spikes are a great choice if you're a proud member of the goth generation. Otherwise, they'll make you appear peculiar in public. It's only fair to have one when you're wearing a proper emo costume or outfit and sporting chaotic tattoos while rebelling around the neighborhood, unlike the normal kids.
What's With The Angles?
Because it may give structure and volume to the hair, spiky styles are a popular choice for men's haircuts. If it weren't for the harsh angles of this hairdo, you could easily carry off this appearance. Sadly, the epic angled look is quite unattractive.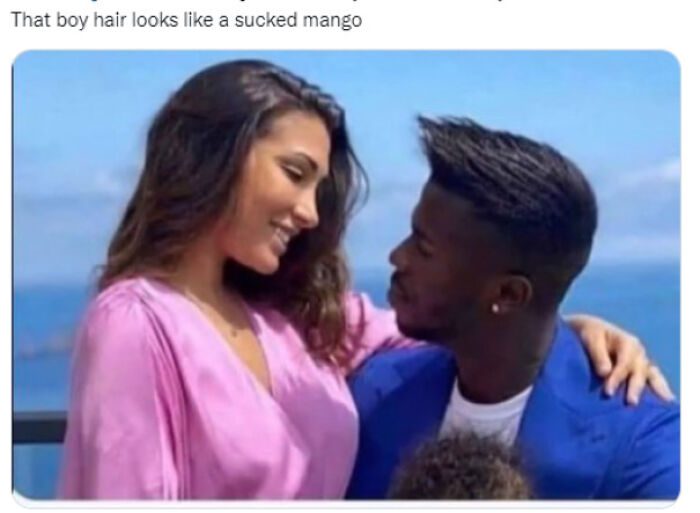 The cut is jagged; it's almost as if the scissors slipped and chopped a part of his hair that it wasn't supposed to. Hair length is also an important factor since the current spikes technique works better on shorter hair.
Dramatic Scalp
A half-length and half-short haircut is appealing and can draw attention to your hair structure. It is done with short to long hair and could be a functional and exciting way to style your hair. However, style execution is everything, and this appearance is far from it.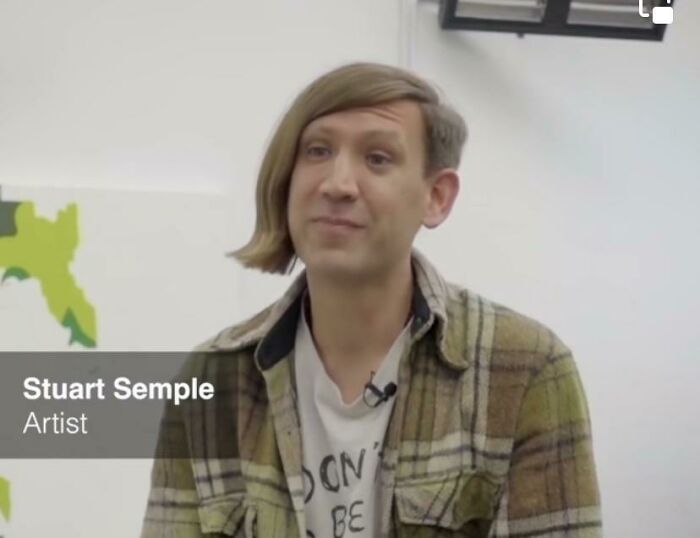 There's a lot going on in this particular style, which needs to be clarified. The lengthy fringe on the side of the face is distracting and does not call attention to or accentuate the facial characteristics. And the drama on this hair makes for a questionable appearance.
Branches And Stems
This is another choice that may or may not surprise some of you. Dreadlocks may appear dingy and uninviting most time. If they are being worn to celebrate your culture, that is acceptable. But it becomes problematic when other individuals sport dreadlocks resembling stems and branches.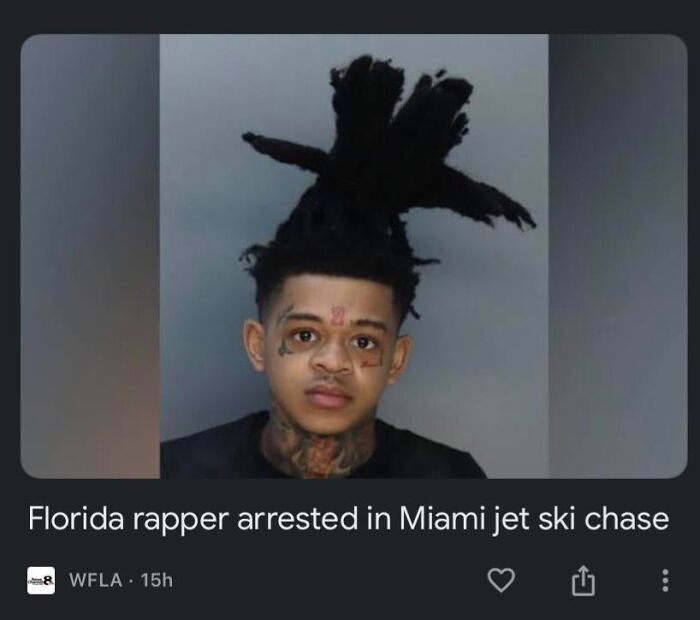 While there is the issue of cultural appropriation, they also don't look as good on Caucasian guys, especially those with thick dreads that seem like a tree settlement nest. A style like this screams "wannabe rapper" and creates a weird head of distractions. It's a resounding no.
Straighten The Floors
Speaking of odd hairstyles, how can this guy keep such a straight face with this hairstyle? You probably know what a regular fade looks like but will never guess what a slant fade is. We're still determining whether it's spewing from his rage or he's merely posing for a picture of the imperfect hairline.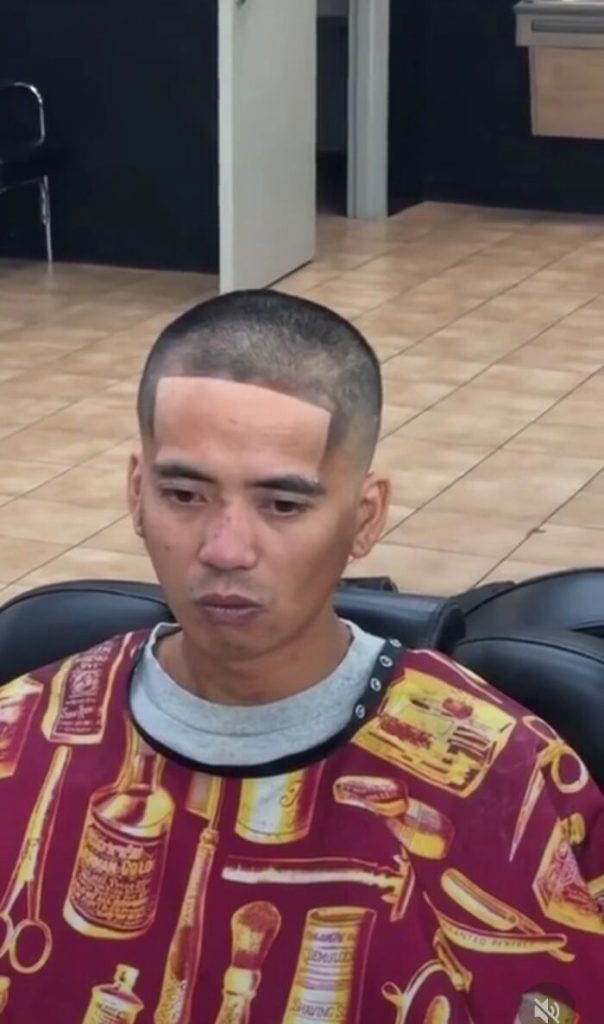 This is the one if you want a haircut that flows in all the wrong ways. However, it is not a good haircut for those who don't want to give off the wrong vibes. Always choose a sole direction for the hair to be chopped in, and you'll be fine.
Flat Toppers
Although it may appear okay on certain persons, this extremely rectangular form is unpleasant on most facial types. Flat tops may be quite appealing with the correct lengths. Putting distinctive components into your haircut can give you a stylish style.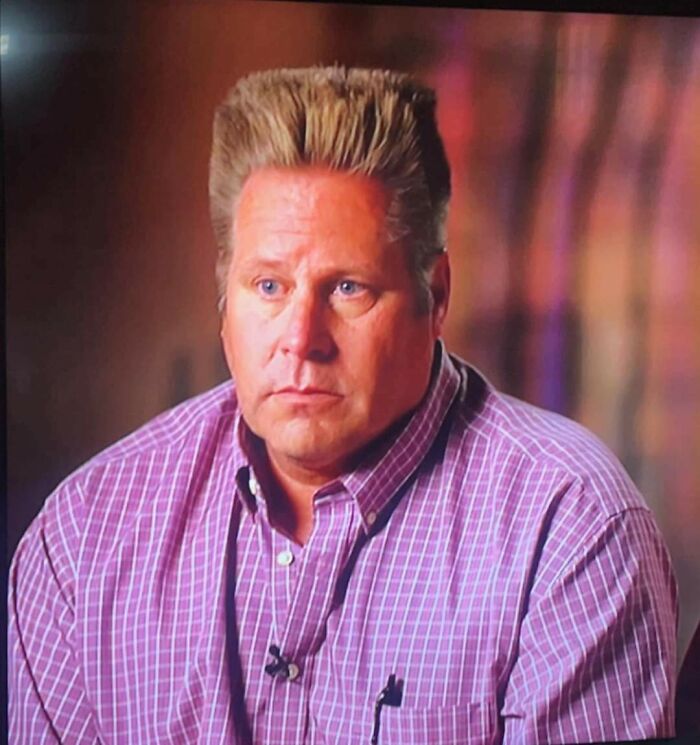 This is an expressive and exciting appearance, yet, it may be tough to pull off. It will just call attention to the oddness of the hair, not balancing the features and complimenting the face. It is limited and will require a lot of upkeep and constant styling to keep your hair at this angle.
Hang With A Bang
Hang Hang, the lion, has people talking about his new hairstyle, which some compare to the iconic mullet from the 1980s. It caused such a sensation that some tourists assumed Guangzhou Zoo cropped his hair in the manner of Joe Exotic, the Tiger King, on purpose.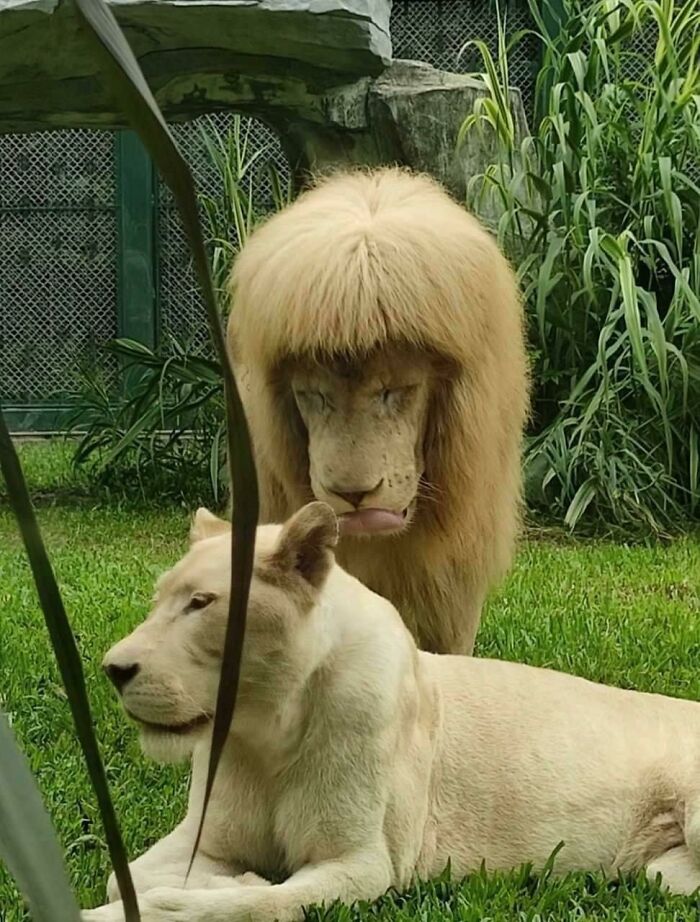 The zoo claims to have no hairdressing programs and no cutting of the lion's mane. However, zoo authorities reported seeing the lion licking its claws and smoothing out its hair to reduce the frizz as China experienced high heat and humidity.
The Chinstrap
Most guys nowadays prefer keeping stylish beards in a variety of ways. A few prefer a goatee, while others prefer chinstraps and other Viking-style or stubble. However, only a few fashion-conscious men have risked adopting such ludicrous and uncommon beard styles.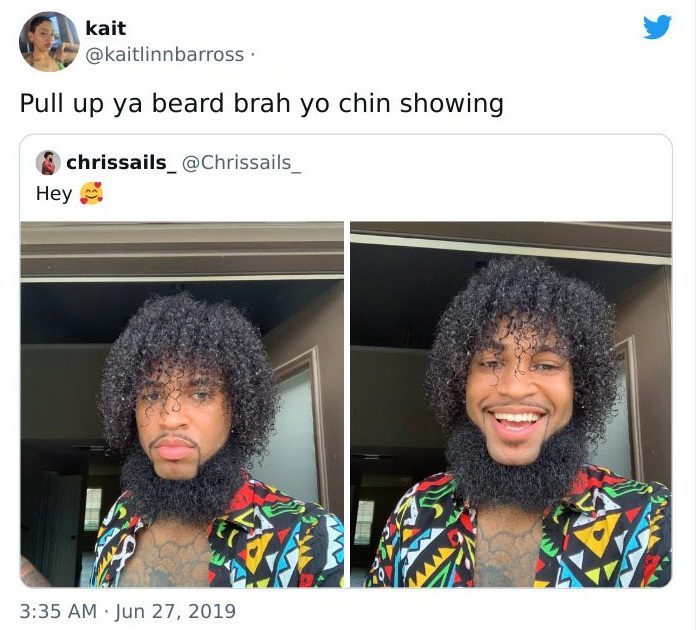 Chinstrap is a trendy beard style that is quite popular among young men nowadays. But how would you like to rock this style? We'd love to call it the one step behind chinstrap. Although it looks absurd and might be a terrific example of a quirky beard style, we bet it would turn heads.
Real Life Anime
This young man is literally giving the typical anime looks. Anime characters are typically defined by their hair. The hairdo has more character than the actual character, and modifications in the hairdo indicate that they've finally concluded their arc development.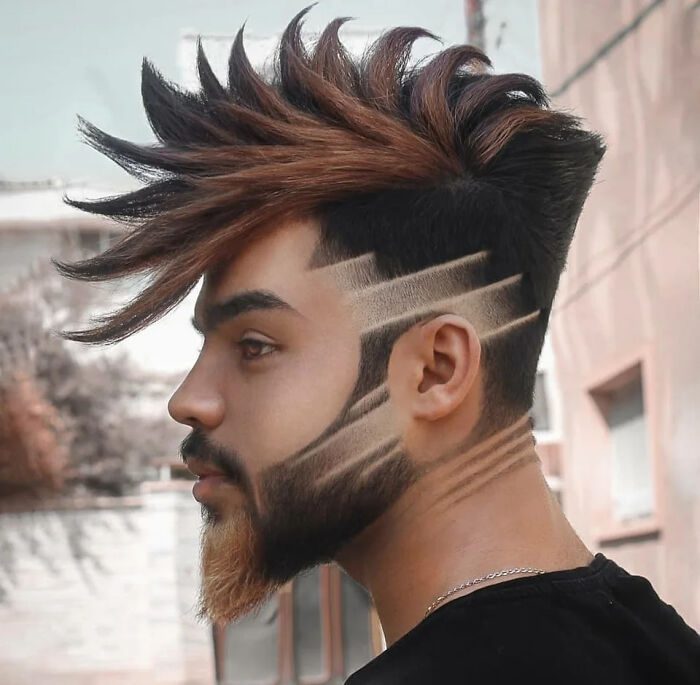 So, you can be sure that the wilder the hair, the more identifiable and significant the character is in a certain anime. His lengthy locks make him appear quite gorgeous. This artistic boy's spiky, black hair is particularly eye-catching, even though it is pretty peculiar.
Drown The Mouse
It must have been challenging to go to this hairstylist; this young man must have walked in asking for spiky waves and a stylish side fade but left looking like a drowning mouse. It's much more difficult for males with a baffling choice of lengths and styles to pick from.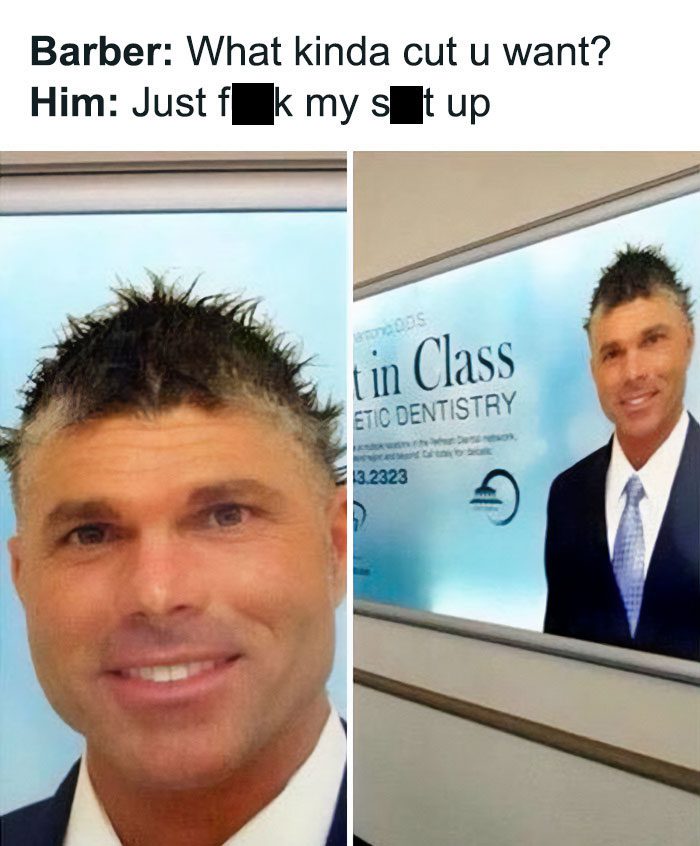 But if you've ever had a poor haircut, take heart. It was certainly not as unfortunate as this haircut that has turned a fully-grown man into an international laughingstock. The good thing is it made the list of these weird haircuts online.
Rash Judgements
You guessed correctly. We're as confused as this haircut, and you can't blame us. We can all conclude that this was a low-grade mid-life decision. The man attempts to pull off a wavy sweeping hairstyle with a shaved head and maybe no fade. This is just lousy hairstyling and rash judgment.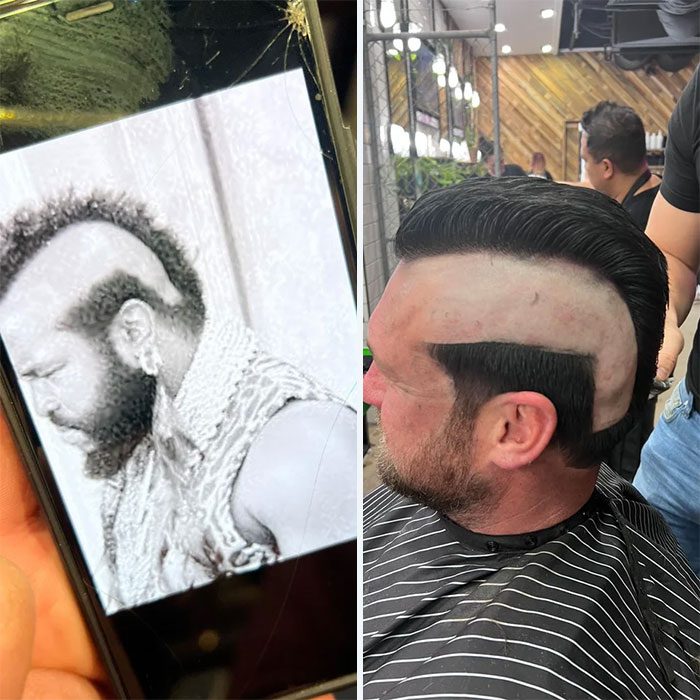 There is a massive crop of hair on top, with one bald side and perfectly lined hair on the other end. It detracts from the overall appearance. At this point, the only way out is to shave the remainder of the head as well.
The Perfect License Haircut
We spend most of our adult life thinking that the greatest driver's license photo should be completely flattering. One that expressed charm, humor, and a captivating grin while also making us identifiable in the eyes of the law. But we are mistaken. A Reddit user, Adambard, has stunned us with his license photo.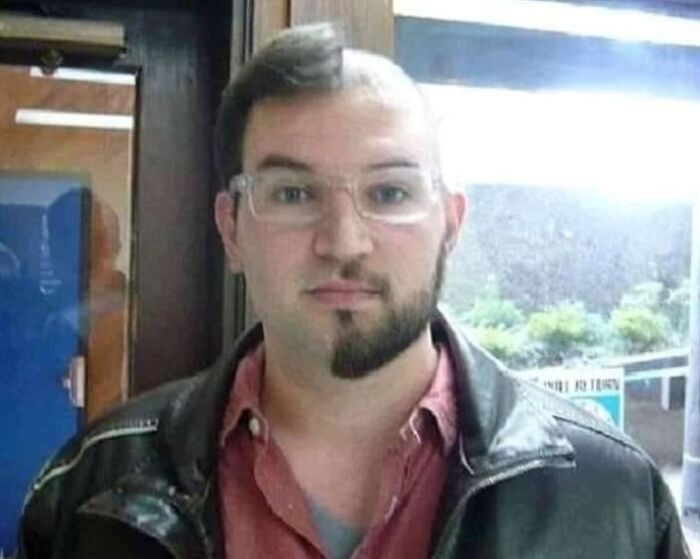 To create a one-of-a-kind driver's license pic, this guy shaved off half of his hair and beard on opposing sides of his figure. The guy was so pleased with the final look that he shared a tutorial on how to repeat the procedure on the Internet. Surprisingly, the appearance is so aesthetically perplexing!
Pony Puppy
The strands of long-haired breeds are magnificent, even fairy-tale-like. Their manes can be combed and dressed to perfection, or they can be let to tumble over their bodies. Not to mention the adorable hair accessories designed exclusively for their smooth strands.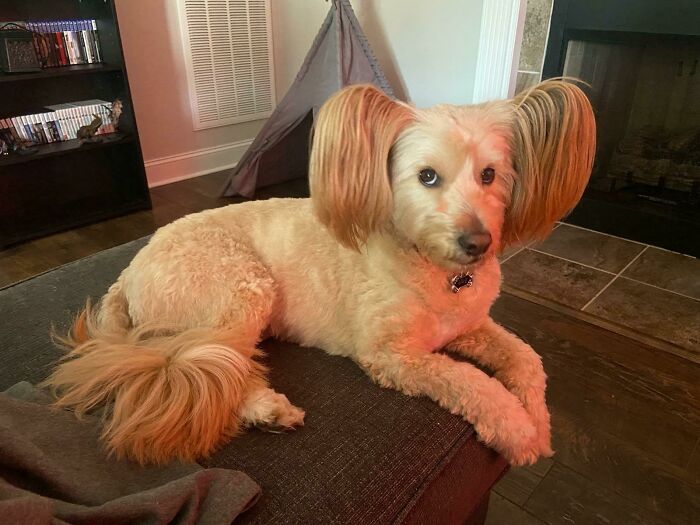 Our dogs are an important part of our contemporary lives. Still, they may occasionally become more than just our buddies and the subject of experiments. So you wanted a new hairdo for summer? You've got it! Ponytails eliminate the need for dog grooming services. And if you need to learn how here's an example.
A Hair Buffet
We all know that an undercut can transform any spike hairdo for males. An undercut, like any taper fade, helps you to draw attention to the top of your hairstyle. In this situation, we're referring to the spiky threads you wish to accentuate.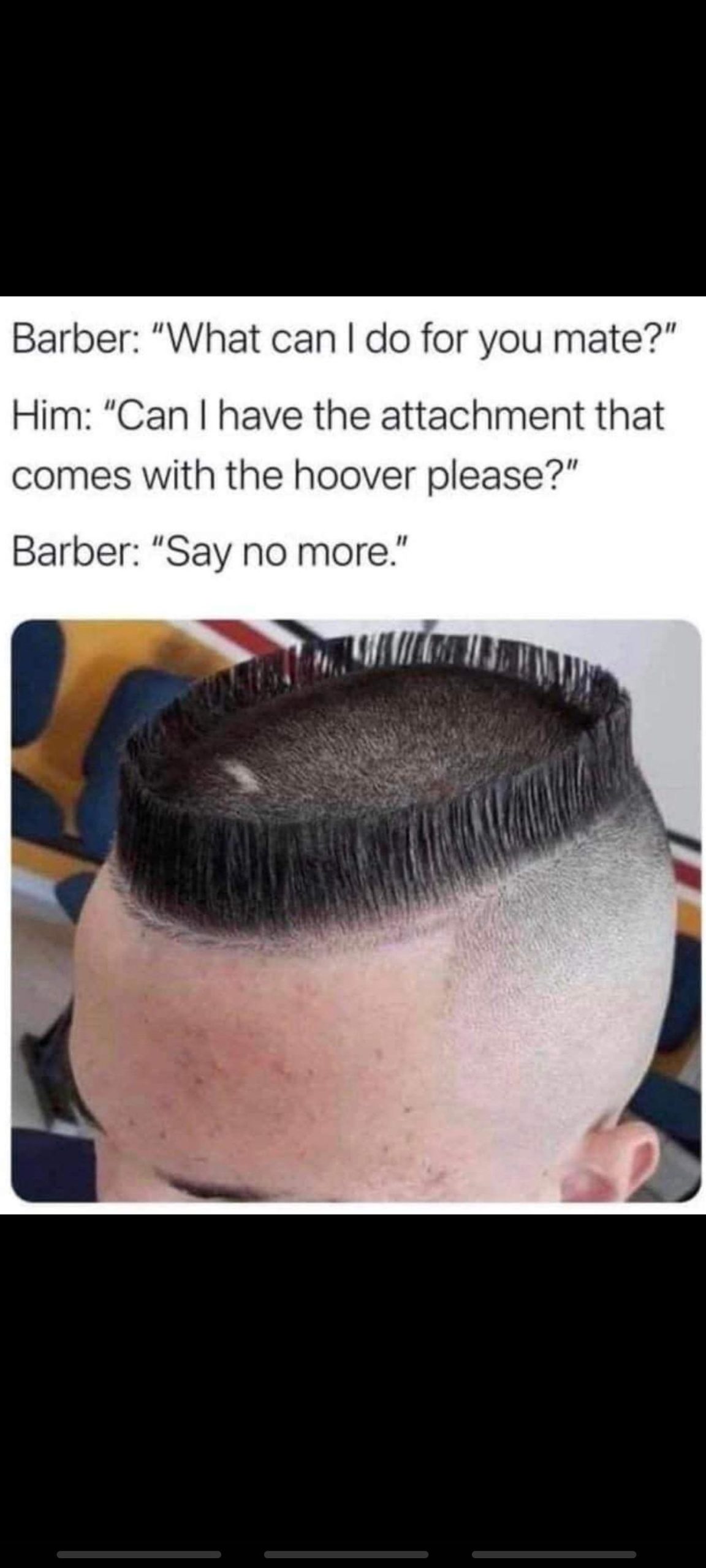 But what about a central spike with a fade and a bald middle? This is one hairdo that complements a rebellious nature. It defies all odds (and evens too). It's adventurous, strange, and unconventional and indeed makes for a good laugh.
The Hidden Hairline
Some haircuts are nearly perfect but could be performed better, while others make it difficult to identify positives. Because there's a lot involved in this hairdo, it falls into the latter category. The combination of two misinterpreted styles and strange forms draws attention to the little baldness rather than complimenting the features.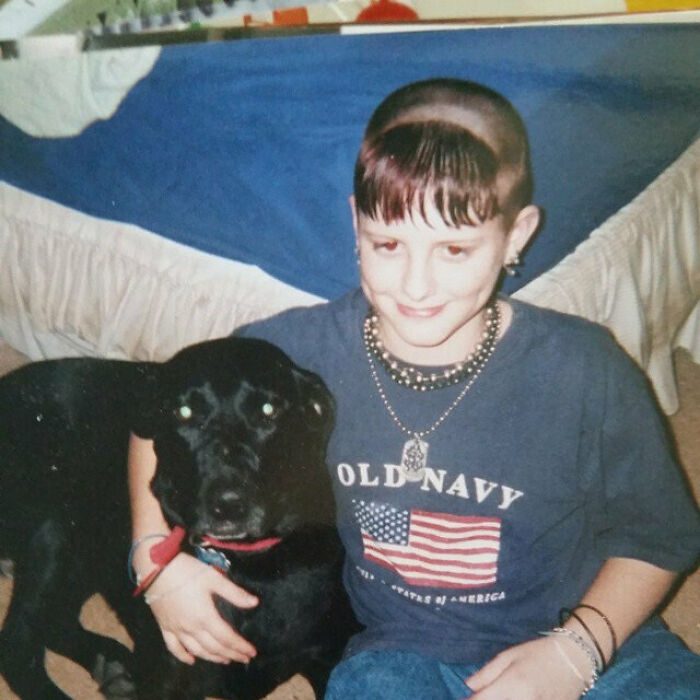 The form the hair has been fashioned into is the main reason it should be avoided. This hairstyle is clearly not for everyone. However, if you choose it, be certain you will not go undetected. A blunt bang is an option for people who wish to make their forehead less apparent.
Oblivious In The Streets
This is what happens when you take the last adoration too far. This hairdo is a classic example of using your hair to increase self-confidence. The hairstyle is not appealing from behind, but who cares? In the streets, no one glances at the back of your head.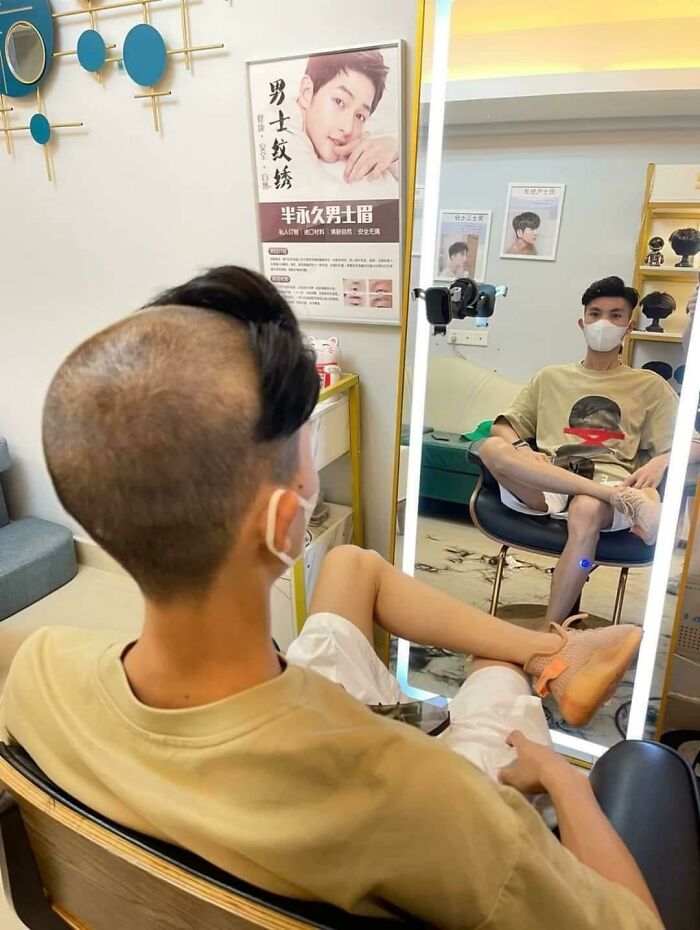 Now, jokes aside, we believe that this is a haircut that is still in the making because who really cuts their hair in this form? So, to avoid embarrassment, consider twice before visiting your hairdresser with a picture of this haircut for reference.
Mr. Burns, at 12
What could be better than looking like a 12-year-old? Perhaps looking like a 12-year-old grandpa! A mom has gone viral on TikTok for giving her young kid a funny haircut that resembled Mr. Burns. His parents couldn't hold the giggles when he came out looking like the well-known Simpsons character.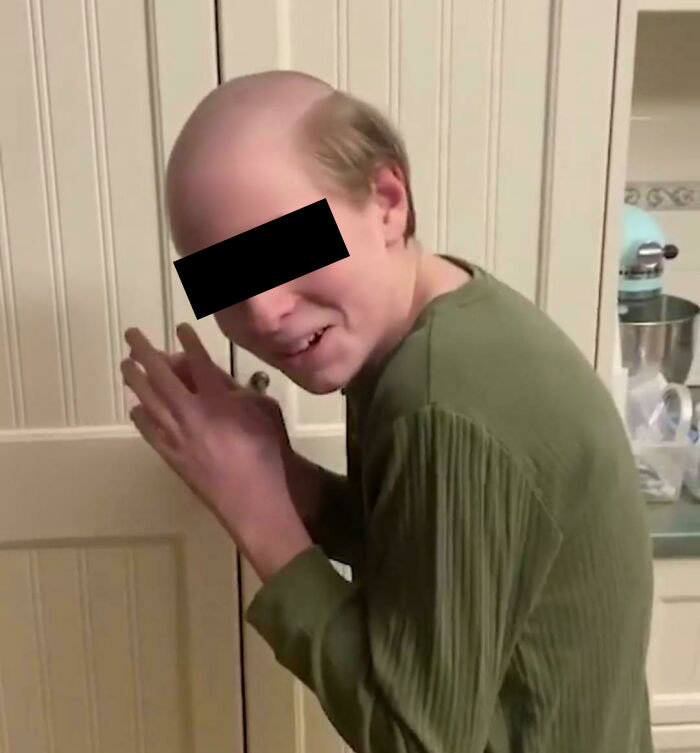 While Nath's mother expected him only to wear it for a day, the funny young man dared to keep it for a little longer. Not every day do you see a child with the mostly-hairless head of a wicked, miraculously still-alive cartoon tycoon. So, who wants to pretend to be Mr. Burns for a day?
Curl The Worms
Curl, wave, or crimp your hair instead of wearing it this way for a terrific temporary cure. This helps you prevent this leech-like hairdo, as well as uneven or unblended layers and unsightly bangs on the hair of any length or style. The original salon where the hairstyle happened should compensate you for this.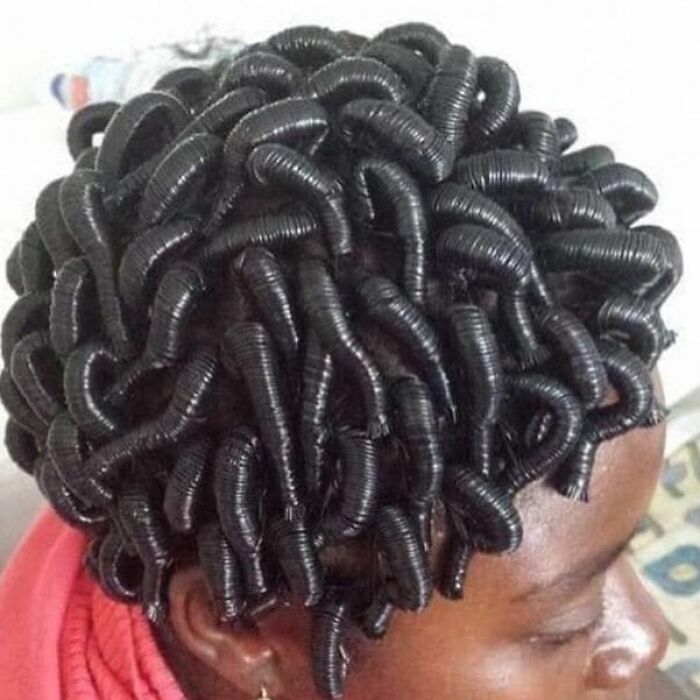 Just so you know, never let a hairdresser push you into "taking a little weight and bulk off by leeching it." This is definitely the most epic style you'd possibly wear. The quicker you get to a better appearance, the better you'll feel.
Baldie, Please
So much innovation can be integrated into a haircut, and the trends implemented in men's hair recently have been pretty spectacular. Sometimes it takes a drastic shift to spark a large trend. It's difficult to tell who started it, but shaved heads have taken over men's hair salons.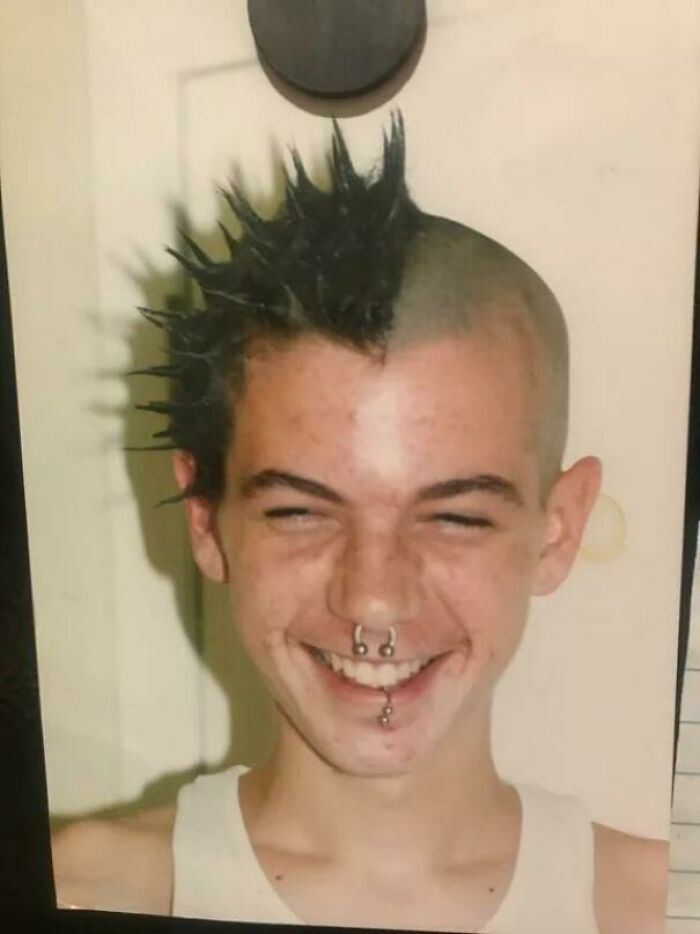 We're not sure what the young man is attempting here. This is quite a peculiar hairstyle and lousy judgment. The hairdo would have been easy if the other side of the head had been equally shaved. It detracts from the overall appearance, and going entirely bald would be a better idea.
Save Your Integrity
Colorful hair may be a fantastic way to display your originality and land you a place in the correct circles. On the other hand, you may struggle to be considered seriously if you take the leap with a box of dye. This cut isn't worth the risk as a style that appears uninteresting and unpleasant.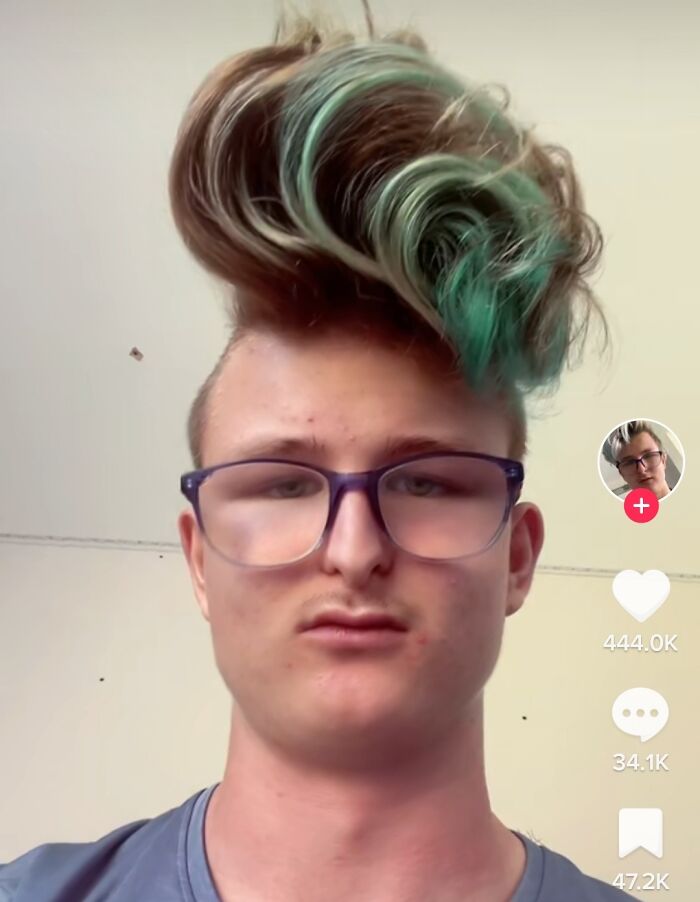 If you still want to go for an edgy look, there are some mohawk or Viking haircuts that make a statement without being an eyesore. With few style possibilities, this haircut would normally make you appear unpresentable. Although it will undoubtedly turn heads, it is best avoided by anyone who values their integrity and identity.
AhhhRT
Being creative, having fun, and going wild with striking and bizarre hairstyles are all essential to rocking a crazy hairdo. Several alternatives range from the dramatic and abstract – such as Dr. Seuss braids or glittering buns – to animal and even food-inspired hairstyles!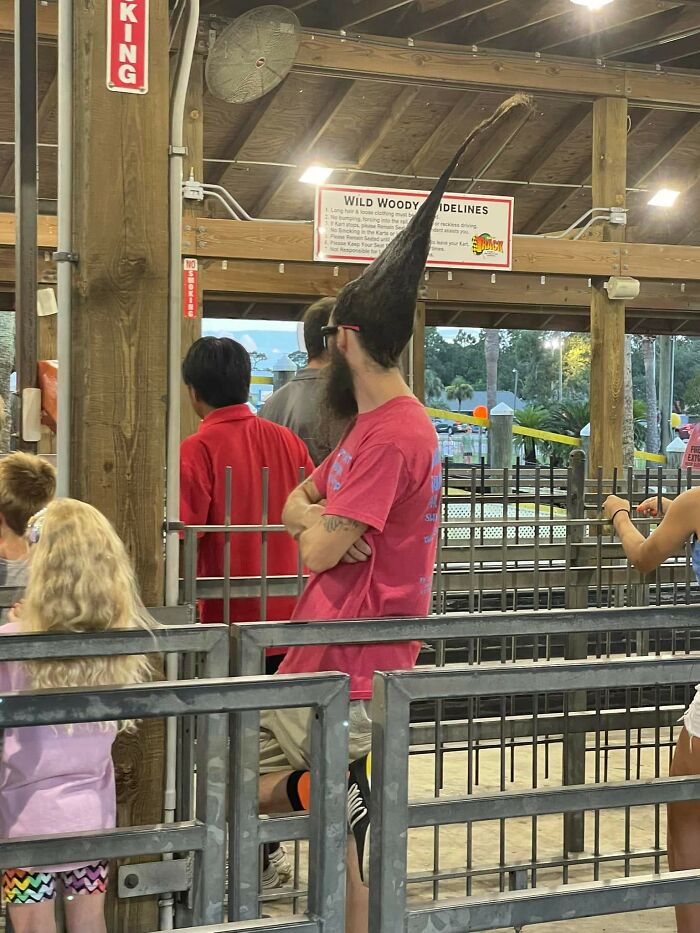 As far as odd haircuts go, this is artistry. We're still trying to figure out how to wear this hairstyle. Is the hair in a bun, a spike, or merely matted? If you have long hair, remember to bring this article with you when you see your hairdresser for a new style.
A Mullet Turnoff
There are correct and incorrect ways to trim a woman's mullet, and this frizzy variation falls into the latter. This obviously dates back to the 1980s, when ladies had these daring but 'too-much' hairstyles. The awful hairdo appears to result from an impulsive decision made on a drunken night.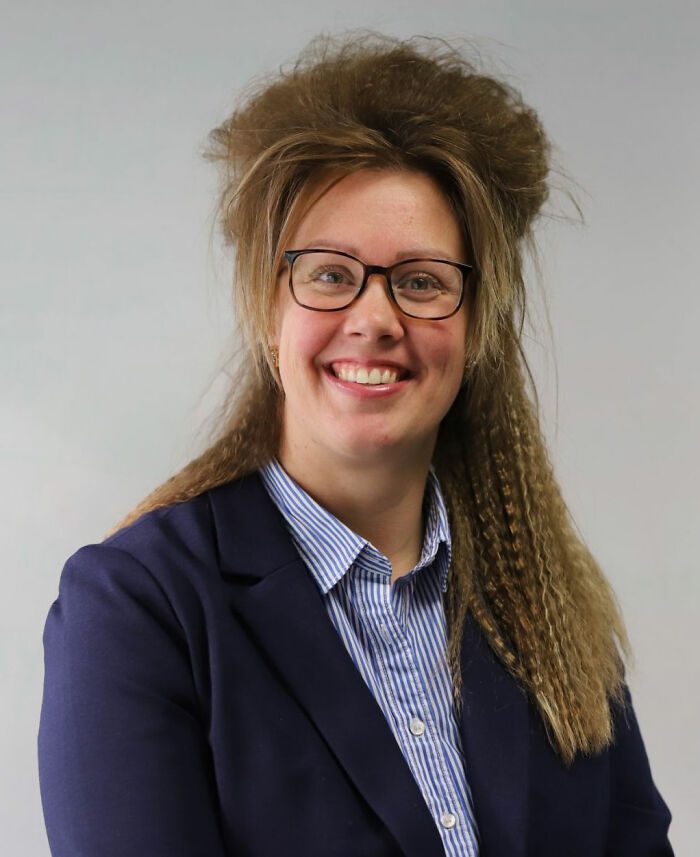 The puffy top protruding oddly is not as nice as it must've been on paper. The woman would have looked far more lovely with her hair open and without the volume. We're still determining the objective behind this random hairdo; we believe the 'before' would have been way better.
A Bowl Of Highlighter
This guy who transformed his skull into a highlighter pen is experiencing an abundance of creativity. It might have been acceptable if the color had been more subtle with minimal detailing, but the bright hue has gone too far here.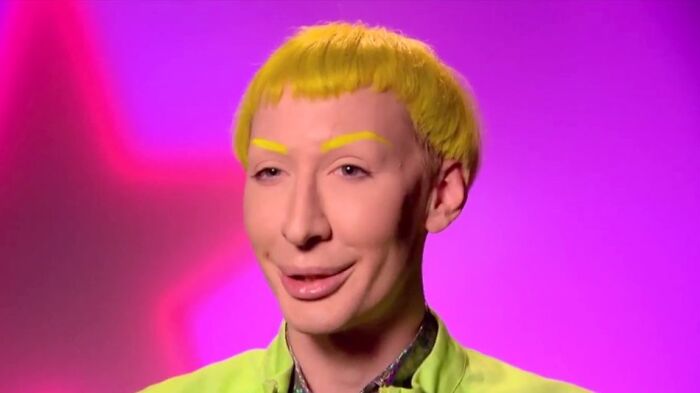 Furthermore, you may have worn a bowl cut as a child, but there's no reason to keep this unappealing style into adulthood. While bowl cuts might look well on men with strong features, they tend to overpower most faces and compel your hair to rest flat on your skull.
Unlucky Locks
Dreadlocks, like six-pack abs, do not appear overnight! Many individuals need to realize before they lock their hair that it's a process. There are good and wrong ways to accomplish anything. But wait! No other haircuts require you to be concerned about mold. That's not good for matted hair of this length.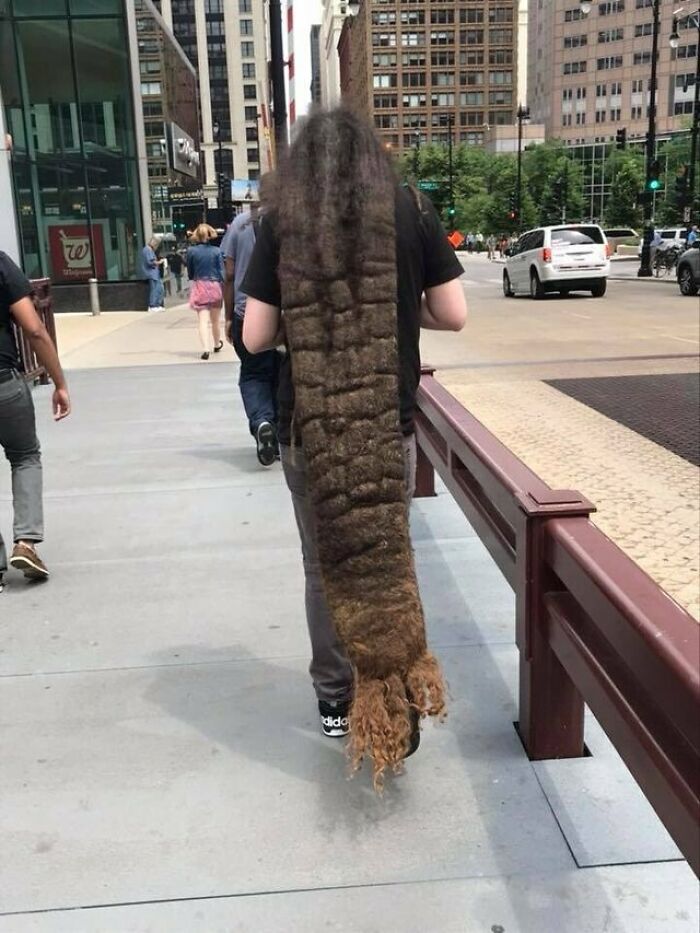 It might stun you to know that some basements are better cared for than dreadlocks, and in such cases, it may appear that your hair is deteriorating by the day when it is! Expect looping, frizz, and loose hair in numerous areas, but treat your dreads as you would your body.
Fluffy Cotton Ball
Whether it's the result of a lousy barbershop cut or a tragic accident, your haircut must be neat and well-tapered, complimenting the long bob you wish to attain. In messed-up instances, the only solution is to let your hair grow out and find another expert to cut it.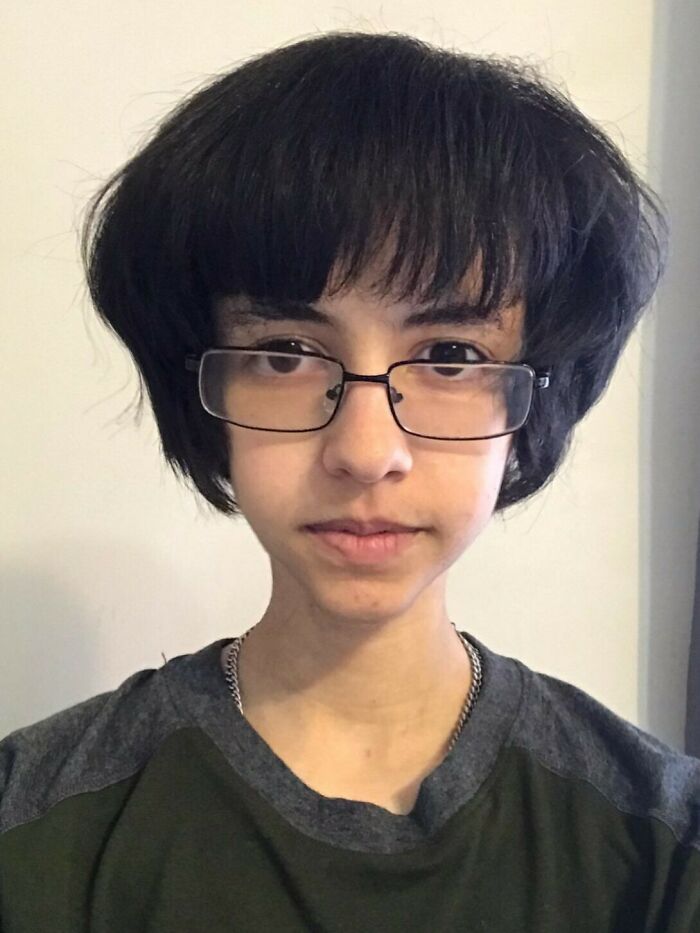 You should avoid leaving home with this horrible haircut! A random haircut may completely damage your appearance, resulting in an unsightly hairdo you don't want to be seen with. Tease your hair to add texture and volume. But do not wrap it up into fluffy cotton candy.
Genuine Love, Only
Terrible haircuts are absurd styles that men acquire when they strive to be innovative but end up with an unflattering and unpleasant appearance. This particular haircut reflects some of the most unflattering and unusual-looking cuts that both men and women despise.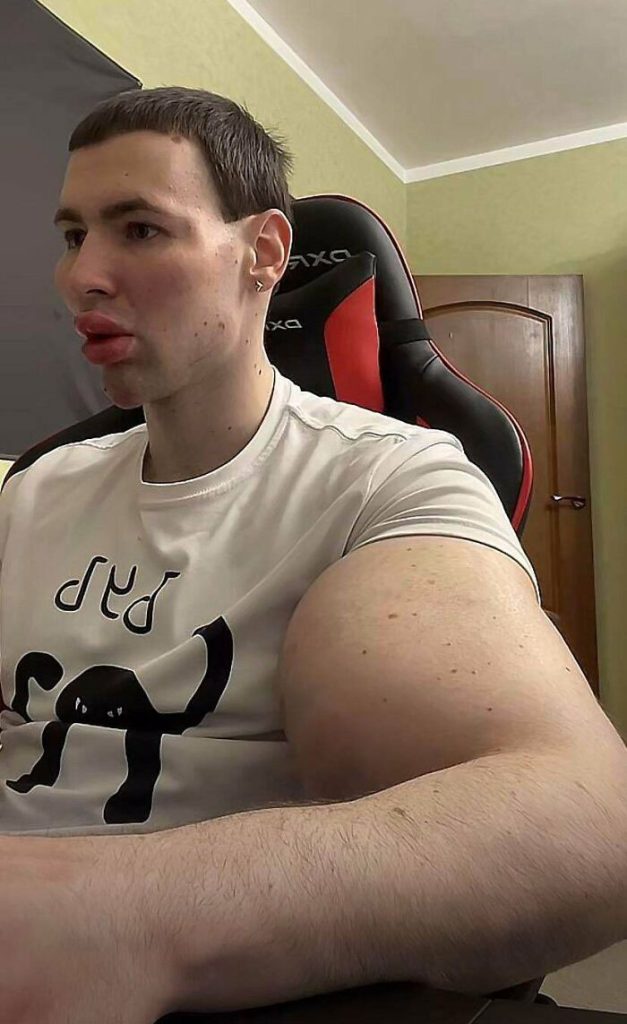 If you want to end things with your partner but need help with how to, try this incredibly unflattering haircut, and they'll take care of the rest. If they don't laugh at your hair and leave you immediately, reconsider the connection since they might be sticking around looking for genuine love.
Matt' Em Curls
Most people have had what's known as a "bad hair day." When that occurs, it actually seems like the end of the world. However, other folks have been on the other end of the scale. They have had tremendous hair catastrophes with humorous occurrences.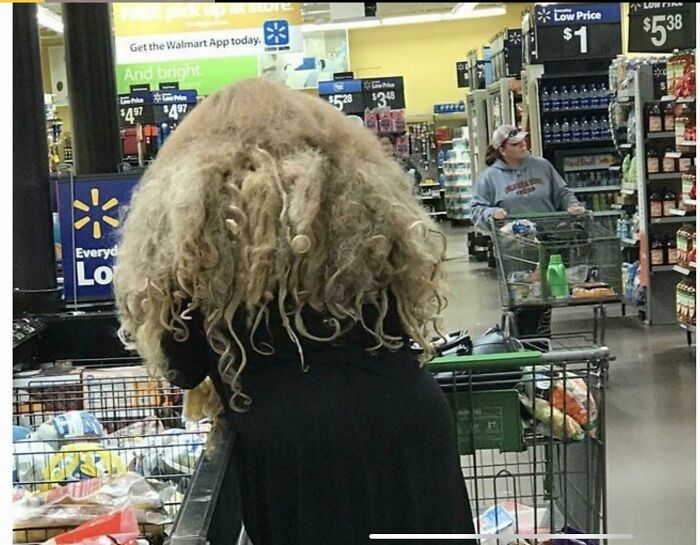 The woman has very unflatteringly patterned long, thick, curly hair that is unkempt. The hairstyle would have looked better if it didn't exist. The matted curls make it tough to look at. A good comb-through and some shine would have sufficed. Well, at least she's happy, so that's all that matters.
Epic Spotlight
We all make rash mistakes from time to time, and this haircut seems like one that will undoubtedly haunt this man. We can see that the man has made an effort to stand out. He does stand out – but in a very epic way.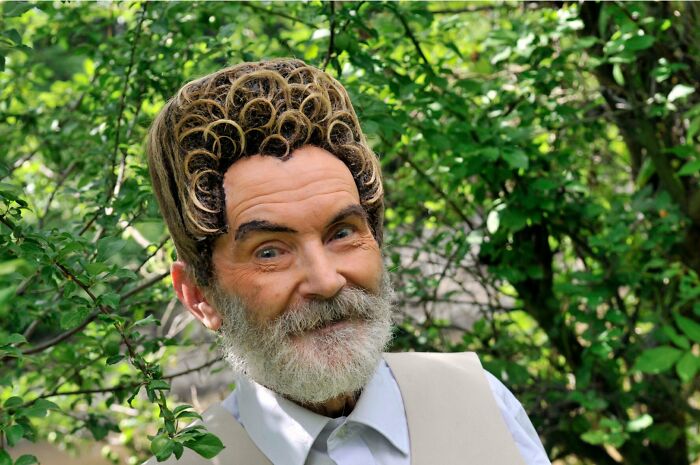 This is what happens when you take the noodle hairdo too far. When you walk out in public, the haircut will make you the target of jokes. A simple shave or hair trim would have sufficed. So, think carefully before attempting this peculiar haircut. Unless you're going to the Hunger Games, skip on this one.
No Words
Although trying to be yourself is a form of personal freedom, many have gone overboard with their innovations. Everyone wants to stand out, be noticed, and be praised by others. This is reasonable, but if the style becomes extreme, it will appear bizarre.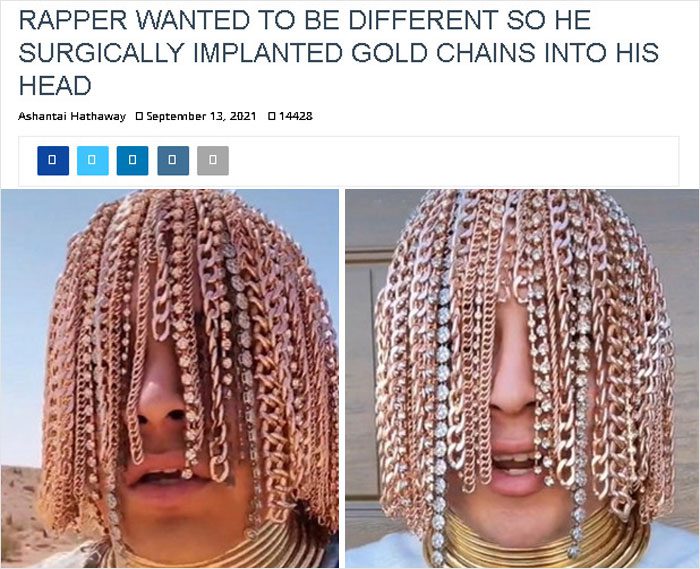 This young Mexican rapper replaced his natural hair with gold chains, becoming a viral sensation. While hair extensions and strange wigs are prevalent among celebrities, this guy took it to the next level by having gold chain hooks surgically inserted into his scalp. We're at a loss for words.
The Award Goes To…
The traditional bowl cut is comparable to a short fringe in that it hits mid-forehead and stays the same length around your head. In contrast to the bowl cuts of the nineties, today's traditional bowl cut has more texture on top and an edge undercut appearance from buzzed, detached sides.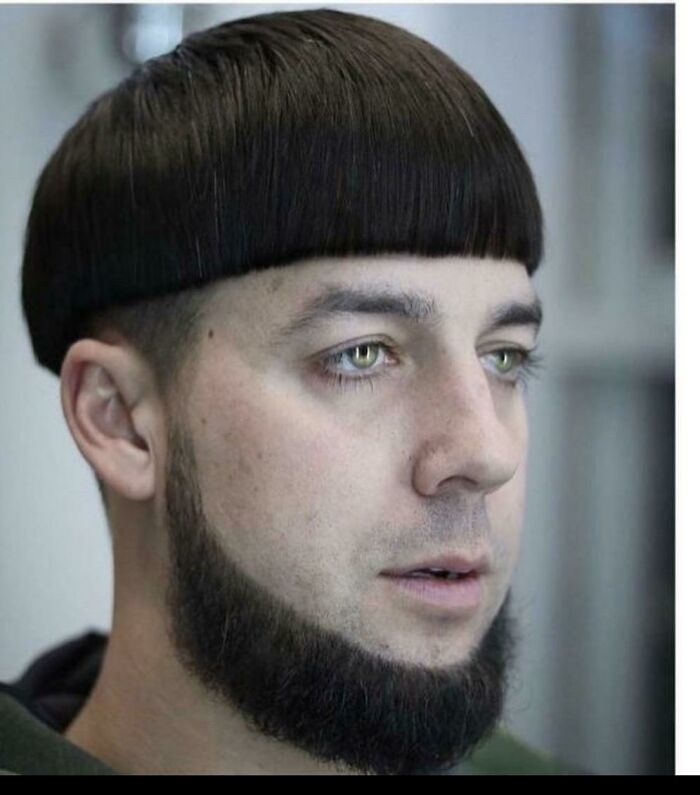 Even if it had been a fairytale competition, the option of "terrible hair day" hairstyling would not have been acceptable. The even beard gives it a nice appearance. The bowl-shaven style with a nice beard is not entirely amazing, but it's not bad, either.
Disguise, Please
As if there wasn't already enough weirdness to go around, this lady was spotted wearing an unexplained bulging dichromatic haircut. Everyone believed the peculiar hairdo — long, shaggy layers in the back, cropped on the sides and front — would die with the country music artists posing as rockers.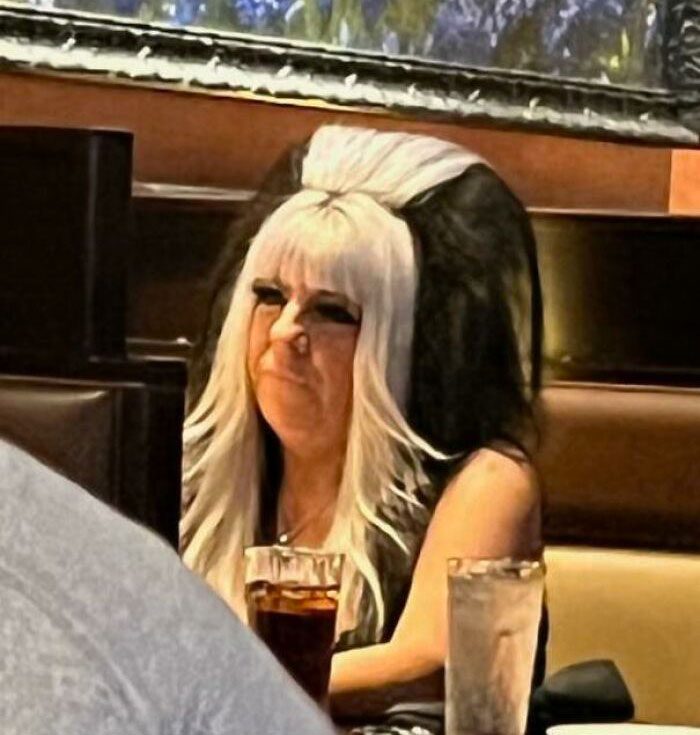 Every now and again, the style rears its ugly head. So, if you've had a weak moment and succumbed to it, and you regret it in-between phases, grab for the ultimate disguise tool—the face mask—and hope no one can tell it's you.
Flaunt the Bald
Men with thinning hair should not be ashamed of their appearance. If you have a receding hairline or a bald patch on the top of your head, try to avoid incorporating it into a hairdo. While going bald is a total nightmare. It's best to accept it and flaunt your bald head.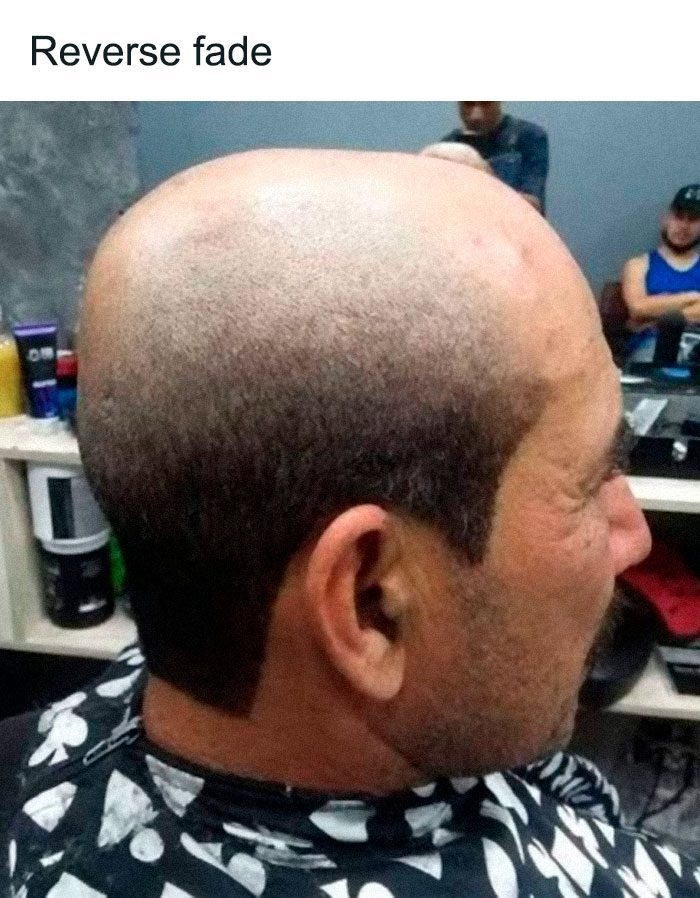 The consequences of these disguised adventures are only sometimes satisfactory, and you might wind up with something much worse than usual. It's far better to shave everything off because this hairstyle will not impress anyone and will not be appropriate for any scenario.
Express Your Alter Ego
The two-tone hairstyle is… expressive. We are not here to advise you not to attempt it since wearing your hair weirdly may express your fun side. A fringe may be a brilliant way to change your appearance, and the appropriate style can bring attention to your face and accentuate your eyes or cheekbones.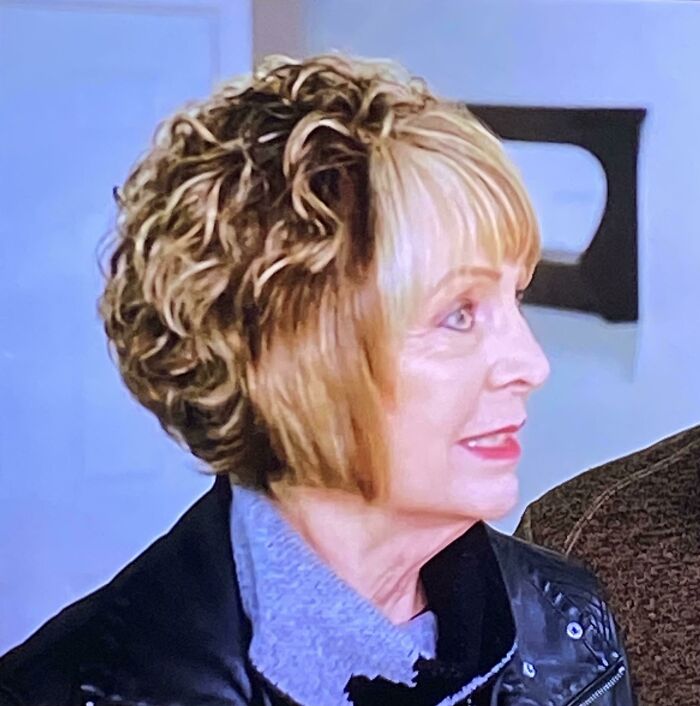 Fringes lend a youthful touch to hair of all types. However, as it is, this hairdo would undoubtedly rank among the most unflattering hairstyles of all time. Before you instruct your hairdresser to leave you with a fringe and some curls, think carefully. This is a haircut best avoided.
Fade The Mullet
Do you find a bald mullet a little excessive? Start with something less adventurous, like a fading mullet. This is a ludicrous haircut. His hair stylist was probably experimenting as he blended this wannabe conventional mullet with a poor fade.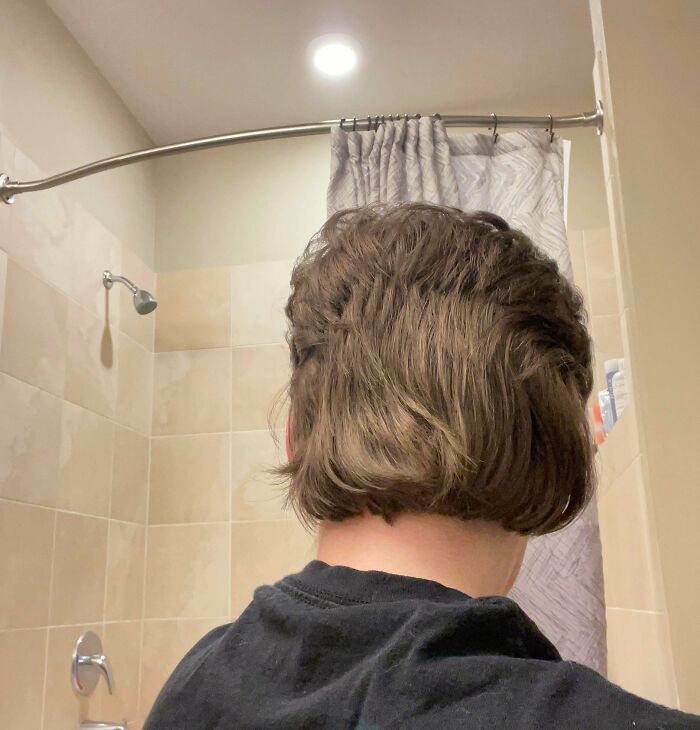 As this cut demands a lot of boldness and conviction, it's often only seen in artistic people that aren't scared to stand out from the crowd. This hairstyle is clearly not for everyone. However, if you choose it, you can be certain that you will never go unseen.
All The Wrong Reasons
Some haircuts are edgy and cool, showing the world that you are not afraid to take chances. This is a terrific attribute to have, so don't allow your typical hairdo to keep you from trying other hairstyles out of the ordinary.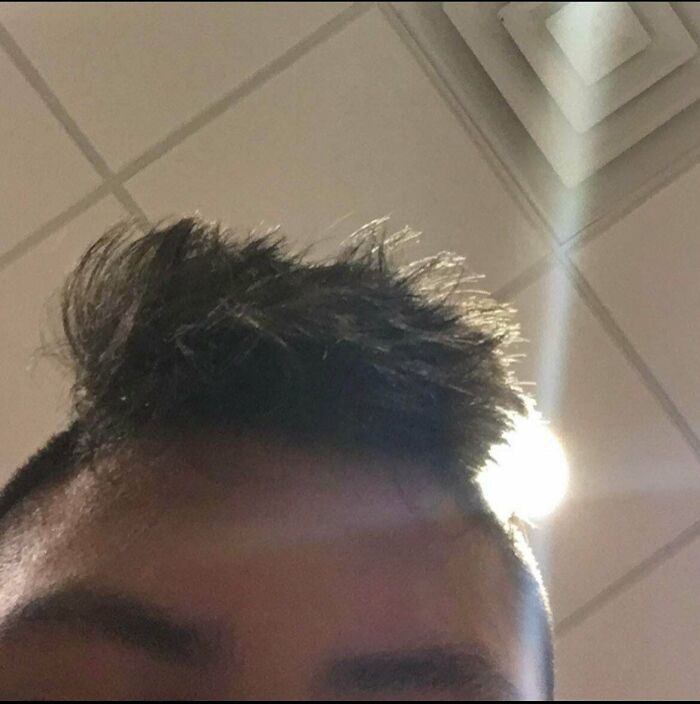 On a good day, the high fade is an edgy appearance that is difficult to wear. Now consider that haircut and multiply the chances of rocking it by a hundred to get this look. This excessively intricate design does it for the wrong reasons while drawing attention to your hair and demanding attention.
Forget These In The 1200s
At this point, we're grateful that this hairdo isn't popular in our day. We're all wondering why this questionable hairstyle was famous in the 1220s. You may have been forced to wear a bowl cut as a child, but there's no reason to keep this ugly style into adulthood.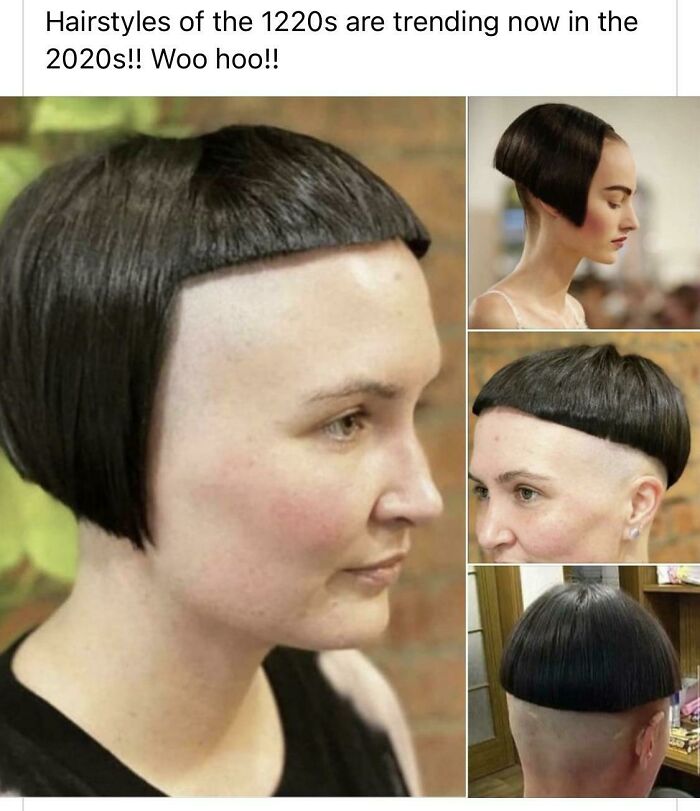 Although bowl cuts might look good on people with ultra-features, they tend to overpower most faces and compel your hair to rest flat on your skull. Imagine wearing a bowl cut with fringe and a bob – that's definitely a humanitarian crisis!
A Hairy Haze
Big hair may be fun and make a statement, but some looks are excessively hazy and unprofessional. This is one of those styles; it doesn't seem desirable because it emphasizes a very Karen-like texture. It is also time-consuming to manage and can be unpleasant and inconvenient because the hair conceals the eyes.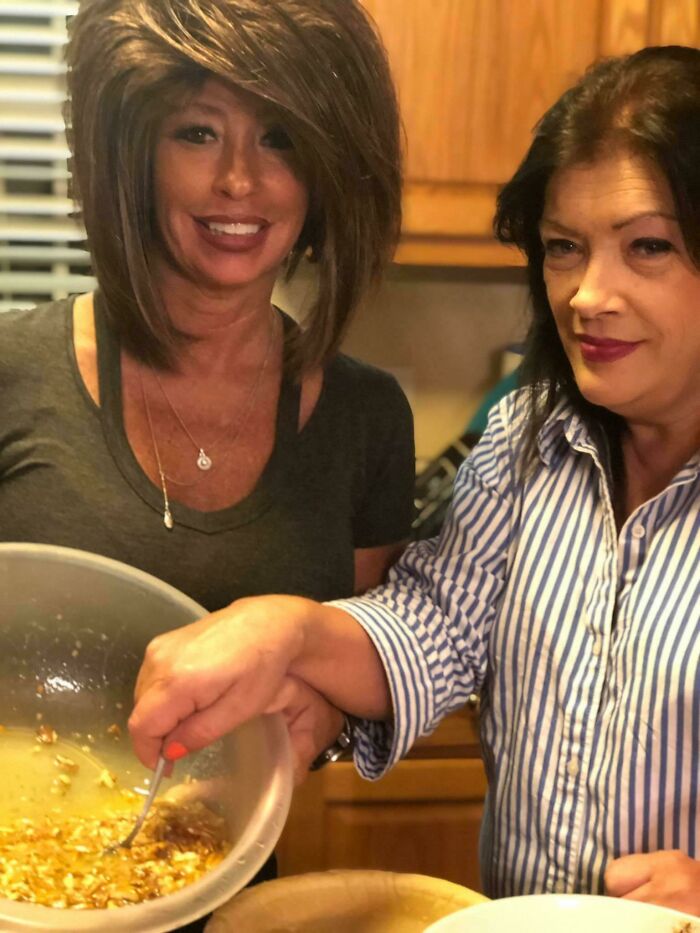 This is why many people see them as horrible hairstyles. A decent style is a matter of personal opinion. It should be remembered certain styles are edgy and stylish on models on the runway or in fashion publications. Still, they are far more challenging to wear in everyday life.
Ancient Glory
It's crazy how the once popular mullet now ranks among the worst haircuts and should always be avoided. While the modern mullet has plenty of fascinating varieties that are attractive and popular these days, there are numerous mullet designs that look bad.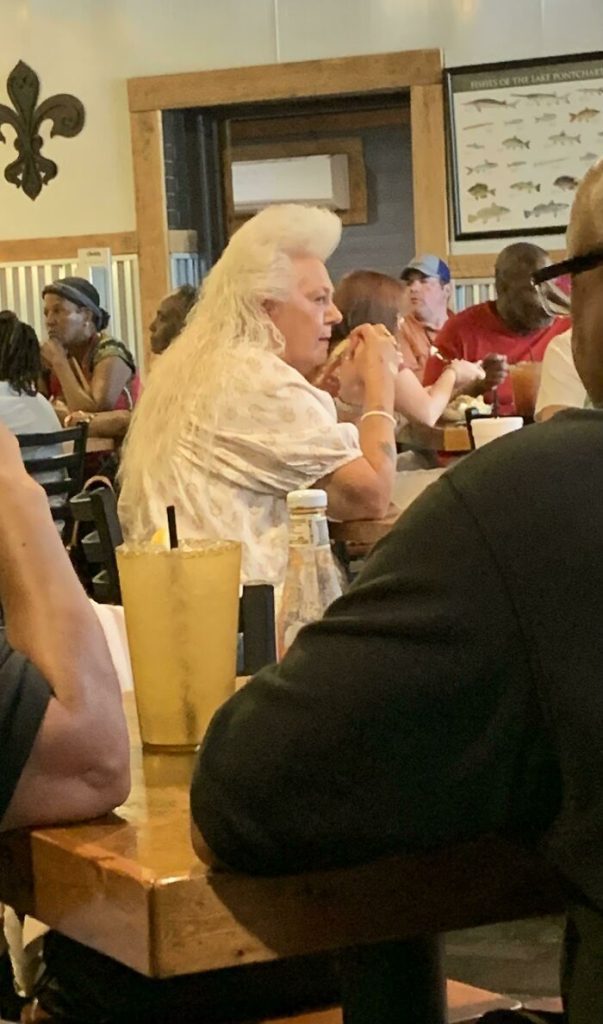 The '80s mullet, which consists of a small front area and a lengthy rear, is a notorious hairstyle that looks horrible on everyone. But, for whatever reason, it looks good on this granny. We know the mullet is out of fashion, but in its blonde glory—magic!
Unwanted Hairstyling
Understanding the haircut will undoubtedly take a few moments. We're reverting to questionable hairstyles thanks to voluminous hair. One can't imagine why the woman would choose this hairdo if she didn't want to stand out from the crowd. Anyways, the mission was successful.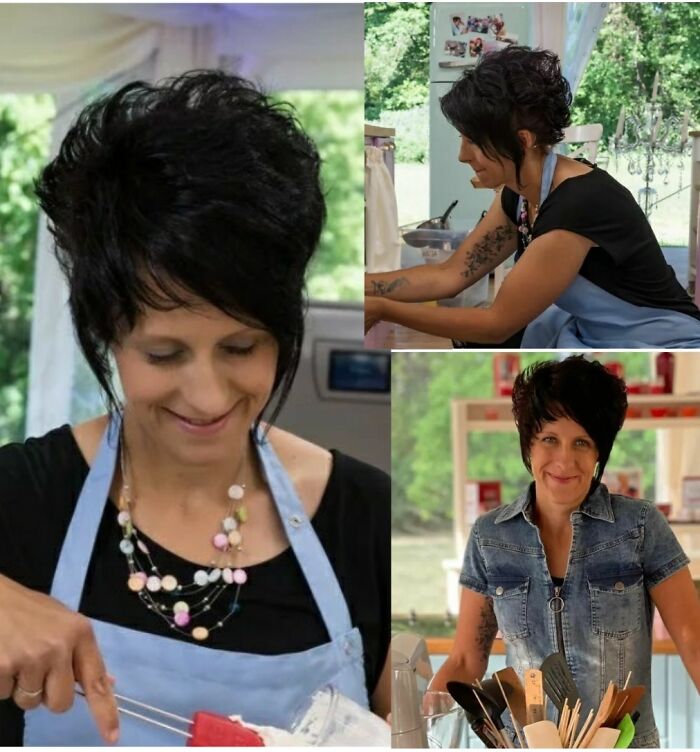 A hairdo like this has its time and place, but this woman's version is unflattering. The haphazard short portions of this hair appear to have been trimmed by a lawn mower rather than a professional. When a hairdo is done correctly, it does not resemble this. To say the least, this is unwanted hairstyling.