Black Is The New White: 35 Ebony Ensembles For Brides Unsatisfied With The Ordinary
By Larissa C April 3, 2023
---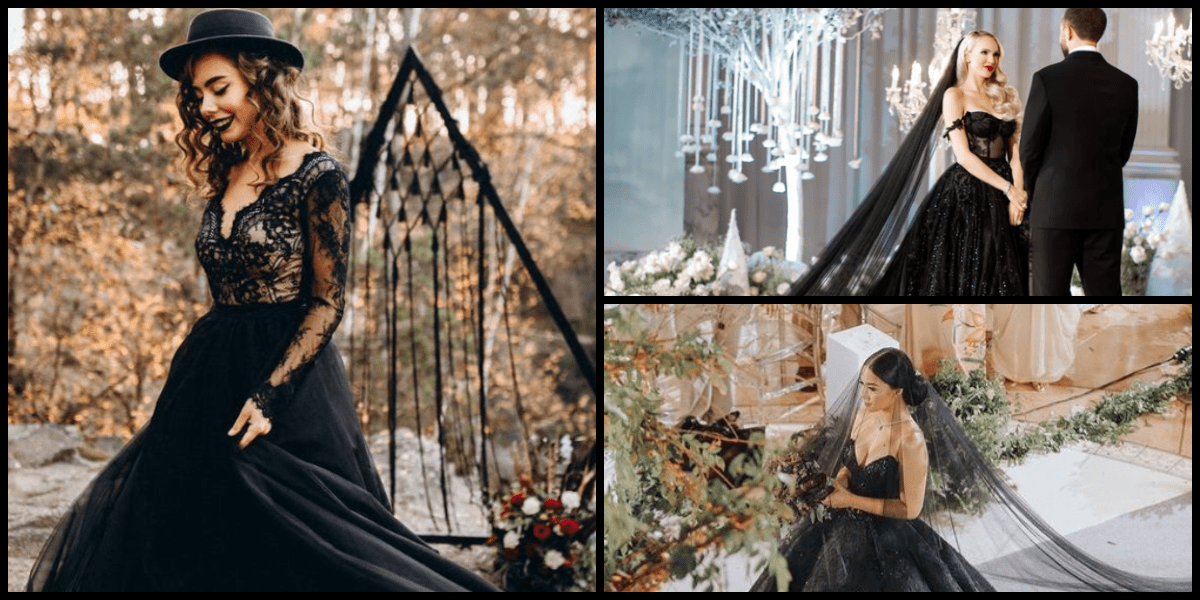 Even though times have changed, getting married is still a big dream for many women. And we all know what a dream wedding is supposed to look like: a lovely religious ceremony, an amazing party with family and friends, a great time with the bridesmaids — and, most importantly, a beautiful white dress.
However, gone are the days when women had to wear Cinderella-esque white wedding dresses to celebrate this unforgettable day. If you want to wear a red dress, you can go for that. And if you're into the dark and mysterious goddess aesthetic, you can do that too!
You'd be surprised to know how many women choose black wedding dresses over the traditional white ones. In this article, we've hand-picked some of the prettiest black dresses you can opt for on your wedding day if you dare to be different!
An off-the-shoulder dress
Nothing is wrong with wanting to wear an extravagant dress on your wedding day — but not every woman wants that. If you're having a small ceremony, it's only fitting to wear a simple yet beautiful dress, like this one.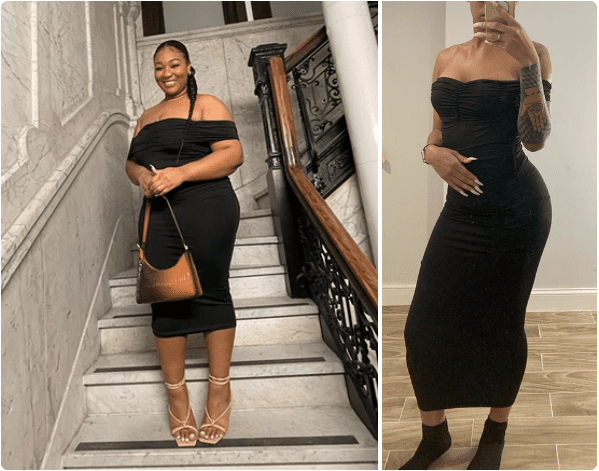 As you can see, this dress is neither too simple nor too much. It's perfect for a small, intimate wedding — and the black color will help make you stand out in the crowd. This dress is especially ideal if you're not having a religious ceremony.
A silky, open-back dress
If going simple is not your thing, you don't have to worry. There are lots of chic black dresses that you can wear at your wedding, no matter the time of the year. This next dress has a mix of three things that will make it perfect for your celebration.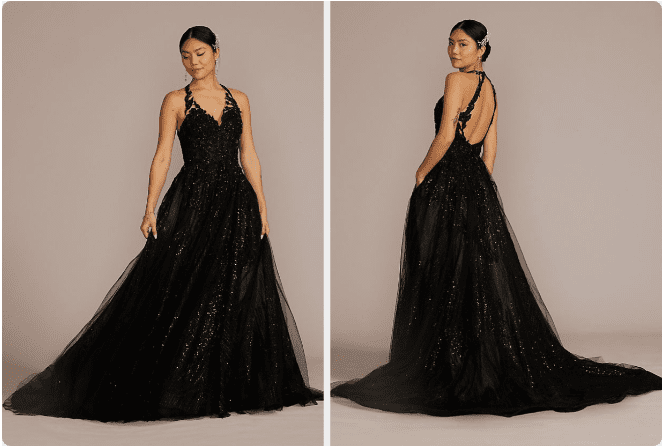 This dress has an open-back design to show off any tattoos you might have on your back. It is also made of a tulle fabric that is slightly transparent on the bottom, and the top is covered in crystals. This is perfect if you want all eyes on you!
A princess-like dress!
How many of us have dreamed of looking like a princess straight out of a Disney movie on our wedding day? Unfortunately, wedding dresses can be costly the prettier they get. But luckily for all of us, we can find beautiful dresses on Etsy for very accessible rates!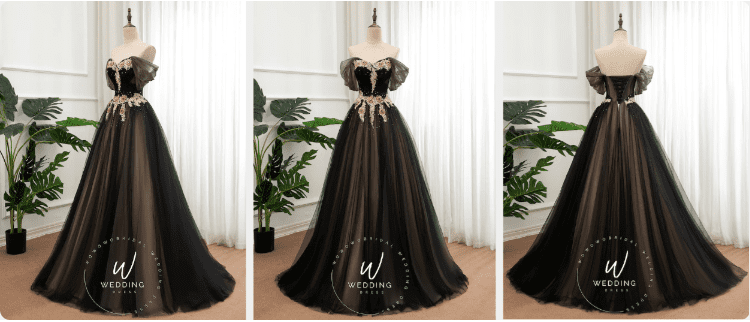 This beautiful dress, for instance, would probably cost you thousands of dollars at a regular boutique. But this local artist sells this number starting at $368! This stunning dress is embellished with rhinestones. It will make you look like an edgy princess!
A dress for all women!
It is very unfortunate that there still aren't many outfit options for plus-sized women. Times are changing, and there are more and more options — but it's still not enough. And if you're looking for wedding dresses, you would certainly agree with us.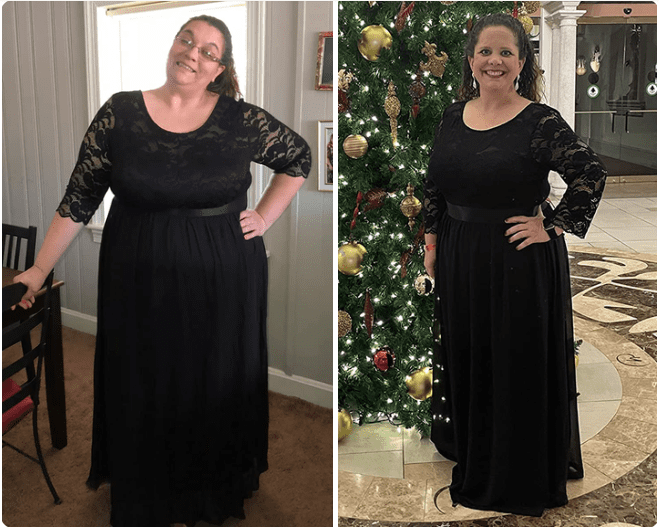 Luckily, there are plenty of wedding dress options for plus-sized ladies on the internet. You can find this beautiful dress in online retail stores, and it has the perfect design for a small yet chic gathering on your wedding day!
Satin dresses are the real deal
Some brides do the best they can to avoid the spotlight — even though it's their own wedding. If you are not like that at all and want all eyes on you, you will definitely love this next dress. And it's not even the dark color that will leave your guests in awe.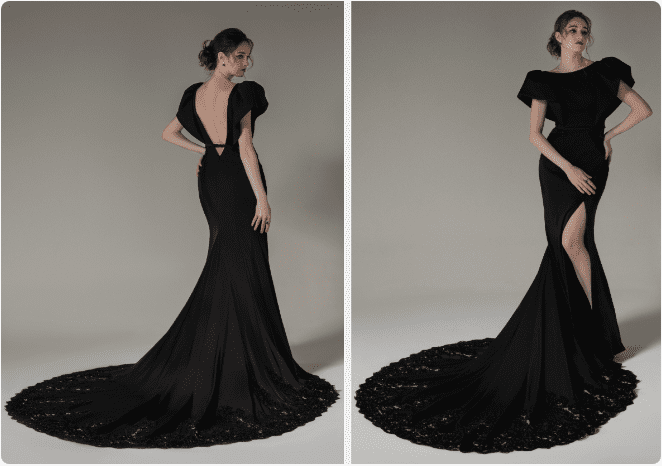 The slit is the perfect asset to show off your beautiful legs, and the beautiful round train will make you look fancy and stylish! This satin dress is on the pricey side, but it is certainly worth every single penny.
A detail-oriented dress
Just the fact that you'll be wearing a black dress at your wedding will be enough to make you the talk of the town. And you can still add more to that if you wear this beautiful long-sleeved dress at your wedding party.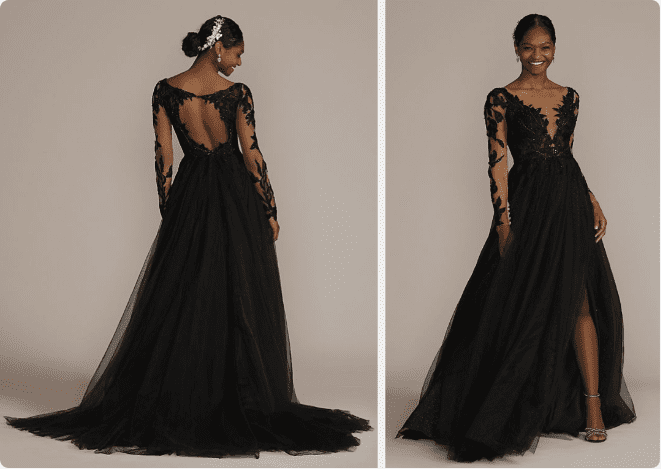 Overall, this dress will make you look fancy, and the beautiful v-neck is going to add a tad bit of sexiness to your look. If you love paying attention to the details, you'll love the long sleeves and their delicate touches.
A fancy off-the-shoulder option
The first black dress option we showed you was an off-the-shoulder dress, but it was kind of simple. If you're not just going to the courthouse to get married but actually planning on hosting an event, you certainly will wear something fancier.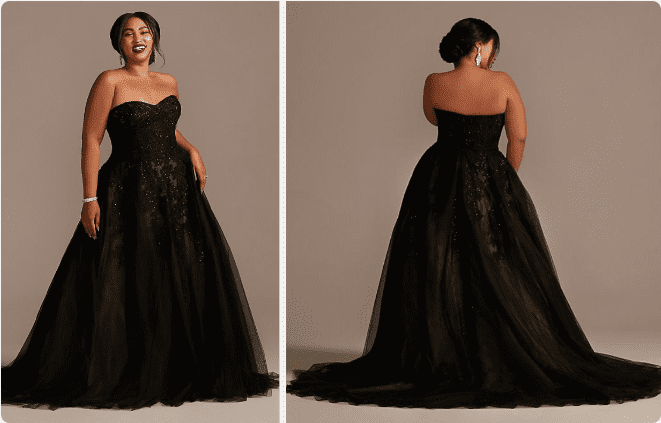 This dress is drop-dead gorgeous. Our jaws are on the floor! It's the perfect balance between easy-going and chic. If this were a white dress, it would look just like any other wedding dress. However, the black color increases its sexiness and prettiness tenfold!
A dress for the modern bride.
The masses haven't always appreciated see-through clothes, but they're trendy these days. By wearing a black dress, you'll show your guests that you're a modern bride — but this dress will undoubtedly level it up a notch.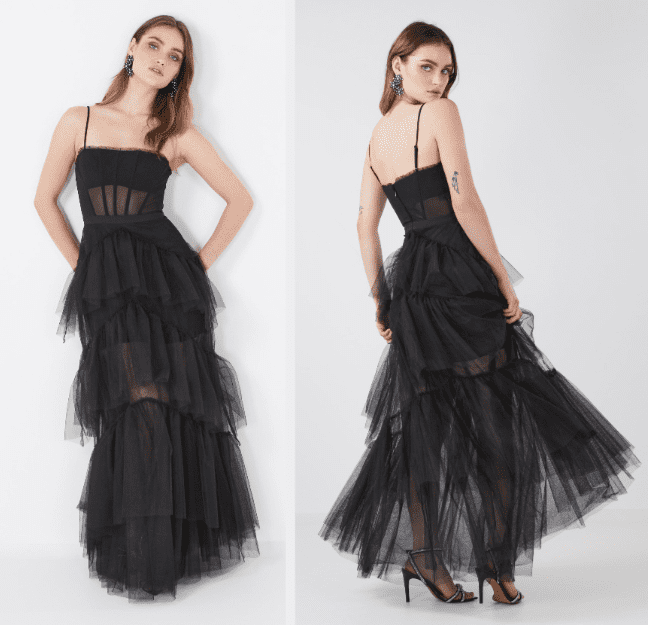 While the top part of the dress is as simple as they come, the rest is covered in layers of tulle, which adds a unique and flowy appeal. Though this dress is not necessarily a perfect fit for the main ceremony, it is an excellent fit for the after-party!
The edgy dress you've been searching for
Back in the day, if a woman wore a black dress to her own wedding, the guests and everyone else would've gone crazy. Nowadays, if you wear a black dress, you'll receive nothing but praise for being bold and edgy.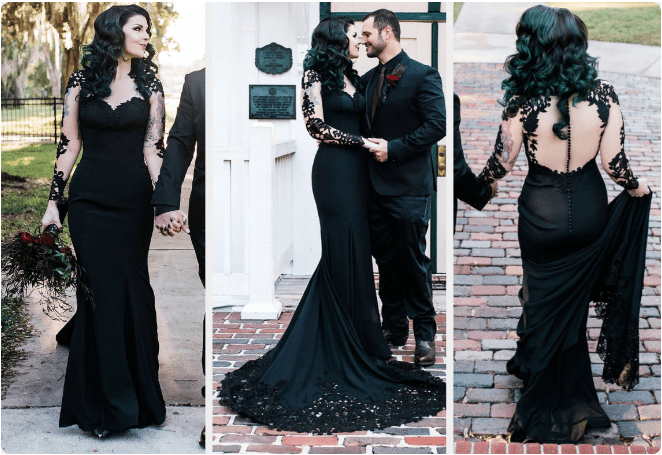 Mermaid-style dresses are popular not only among brides but among all dress lovers, and this dress surely shows why that is. And the best news is that, besides being really pretty, this dress is also totally affordable, making it perfect if you want to look edgy!
A fancy, dark look
If you want to wear a black dress to your wedding, that's fine, and you certainly have your reasons for making this choice. For some women, the choice is merely aesthetical. That's because white dresses don't come close to looking as elegant as black dresses.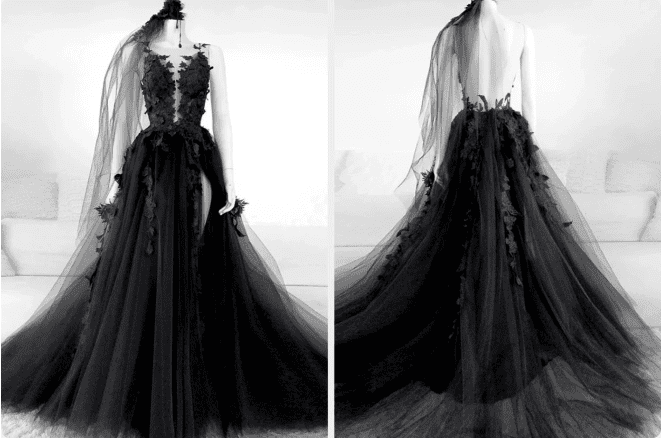 Sure, white dresses are traditionally beautiful — but does anything even come close to this magical black wedding dress? The open-back design will certainly get your audience's attention, but the delicate and detailed front of the dress is the winner here!
The ultimate sleeveless dress
In case you want to ditch the sleeves, you will certainly love this next dress. This sleeveless black gown is perfect for most body types, and it looks like the traditional wedding dress — except that it is black and way more stylish!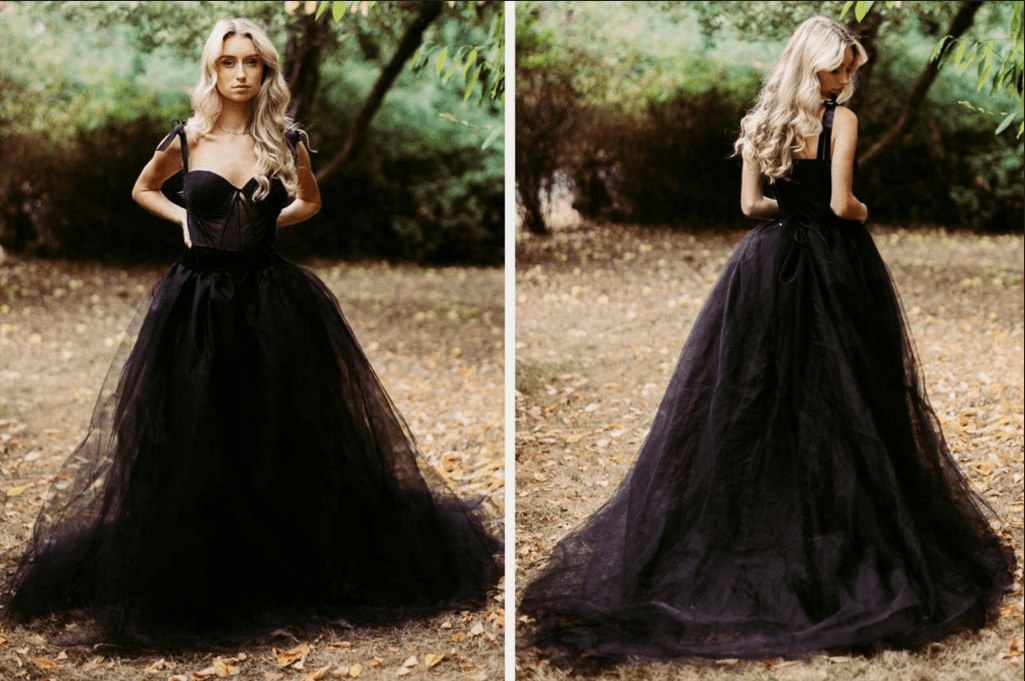 This is the perfect dress if you're having a ceremony or afterparty. Another good thing about this stunning piece is that it comes with a built-in bra, so you won't have to worry about searching for a strapless bra just to wear the dress.
A sparkling dress
This next dress is the perfect wedding gown if you're getting married in October. Technically, it should also be perfect for a beach wedding, even if it is all black. And you'll be pleased to know that this gown is not nearly as expensive as you may be thinking.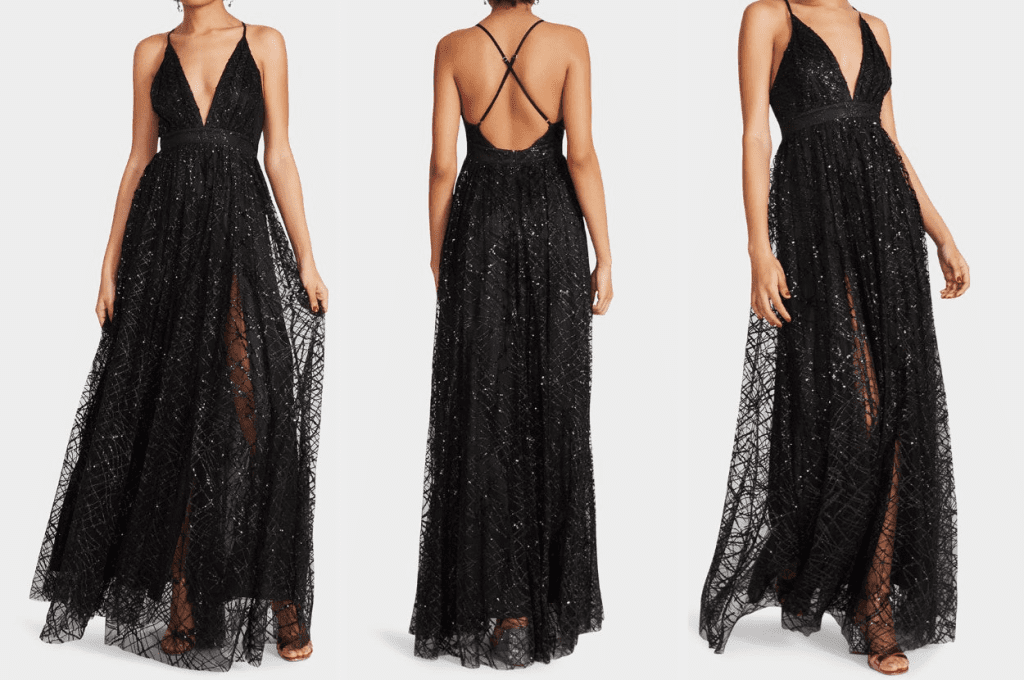 This beautiful dress will cost you less than $200. As you can see, there's a slit so you can move more freely. And the lacy spiderweb is what makes this dress ideal for October weddings, especially if it's a Halloween-themed ceremony.
A chic dress with a surprise element
Wearing a black dress to your own wedding already shows just how modern a bride you are. And maybe that's why lots of brides look for black dresses with a classic look. This way, they'll show their guests they're modern ladies who also cherish classic style.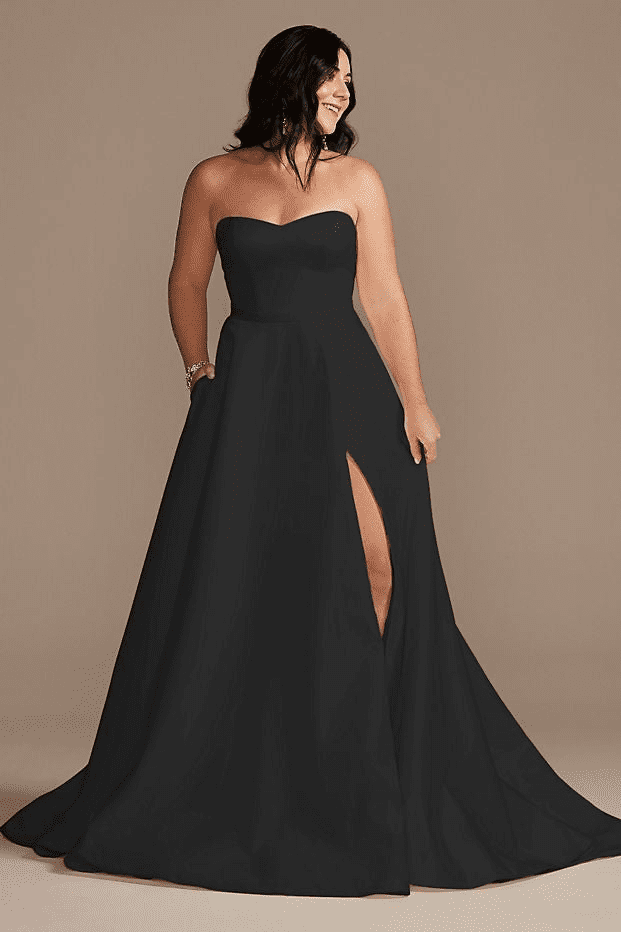 If that's the look you're going for, this dress may just have everything you are looking for. It is a strapless satin dress that will make you look like a queen. And it comes with a surprise element — it has pockets!
Putting on a show for the guests
If you stop to think about it, the moment that you walk down the aisle toward your future husband will only last for a few minutes, if not seconds. However, this moment is incredibly special, and so you want to make an impression.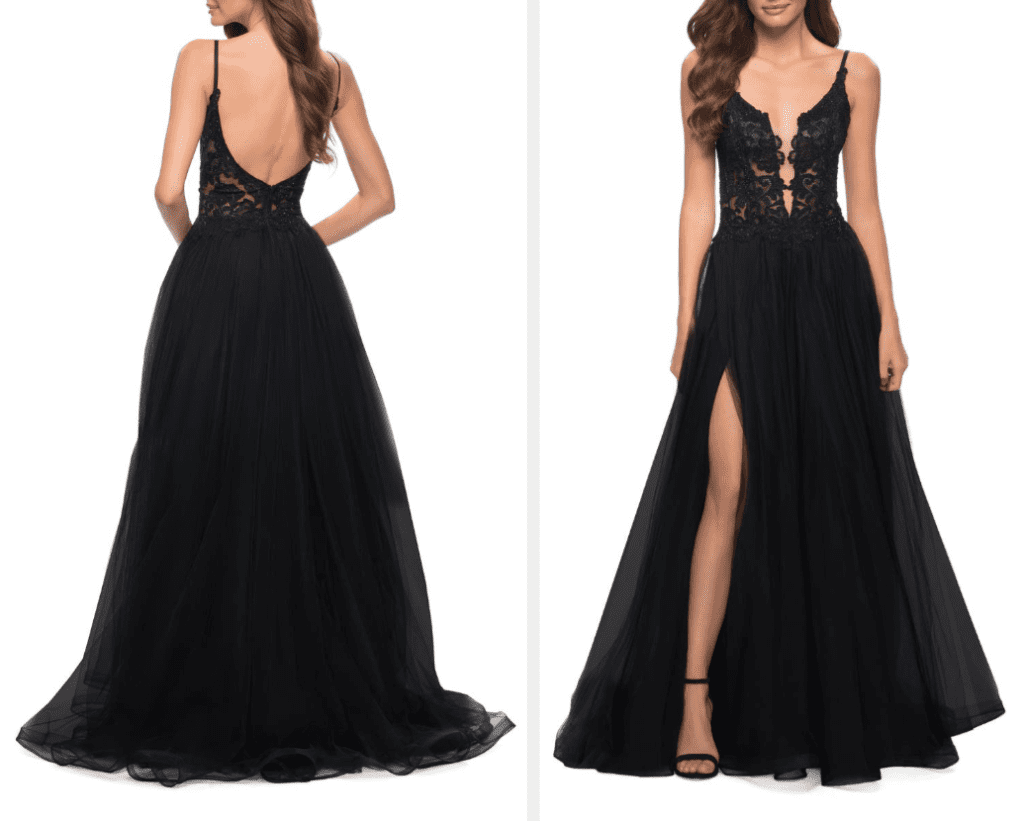 This beautiful dress may not look as fancy as other dresses we have seen so far, but it will leave an impression. As you walk down the aisle, the dress will flow behind you, and everyone will think you're so happy you're gliding and not walking!
The casual midi dress for the afterparty
If you want to wear a black dress to your wedding, but you don't want to skip on the white wedding dress, here's an idea. Wear the traditional white gown to the religious ceremony and then change into a black dress for the after-party!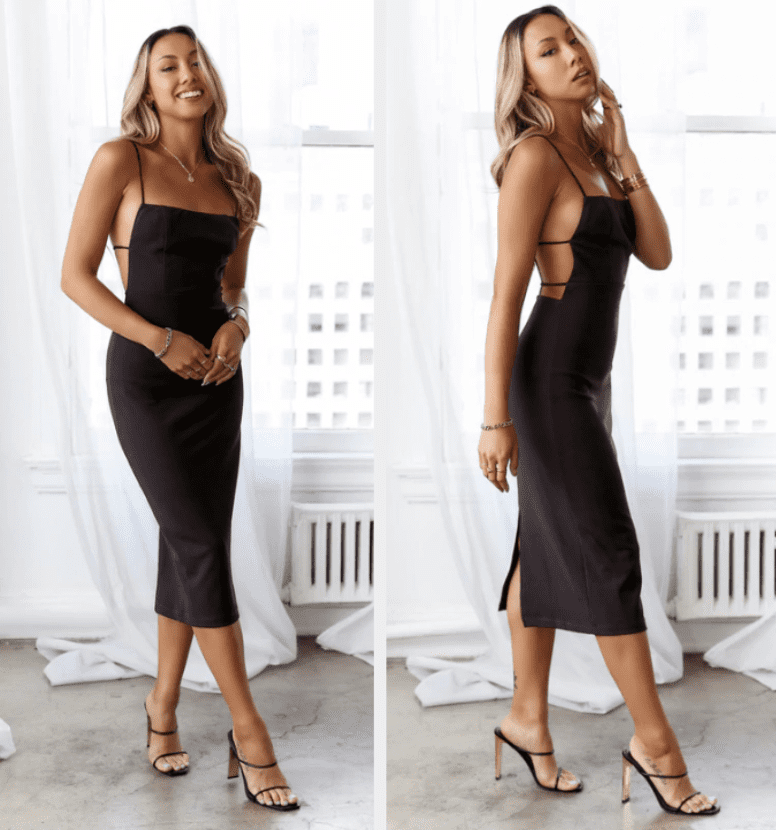 This midi dress is perfect for that. As you can see through the picture, this dress is comfortable, and it will stretch to accommodate your beautiful curves in the best way possible. It is the ideal dress for a casual afterparty with family and friends!
Looking casual and chic
For most brides, picking the right wedding dress is not an easy task. You want to choose a dress that reflects your personality, and that also shows how much your wedding means to you. This next dress is certainly a good option.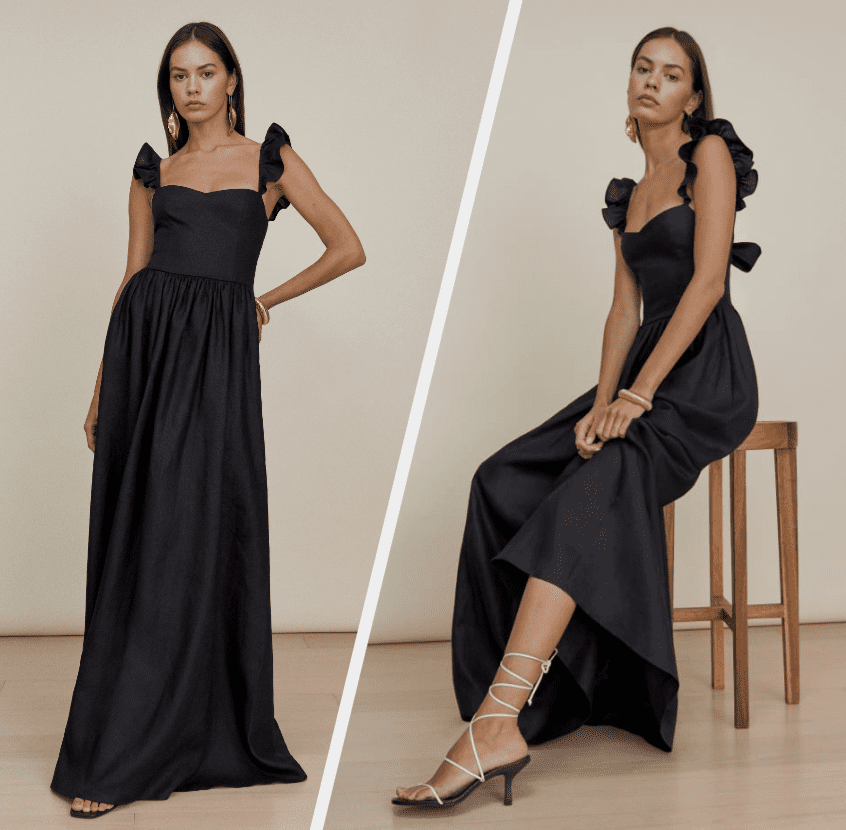 This dress is perfect for minimalist brides who don't want to show off too much but also don't want to look too simple on the most special day of their lives. The ruffled straps and the bow on the back will make you look like a princess!
The comfy dress everyone wants
This next dress is the perfect option for the ladies who want to wear something black and also wear something white. This white dress is covered in black lace and has black straps, which makes it the perfect combination.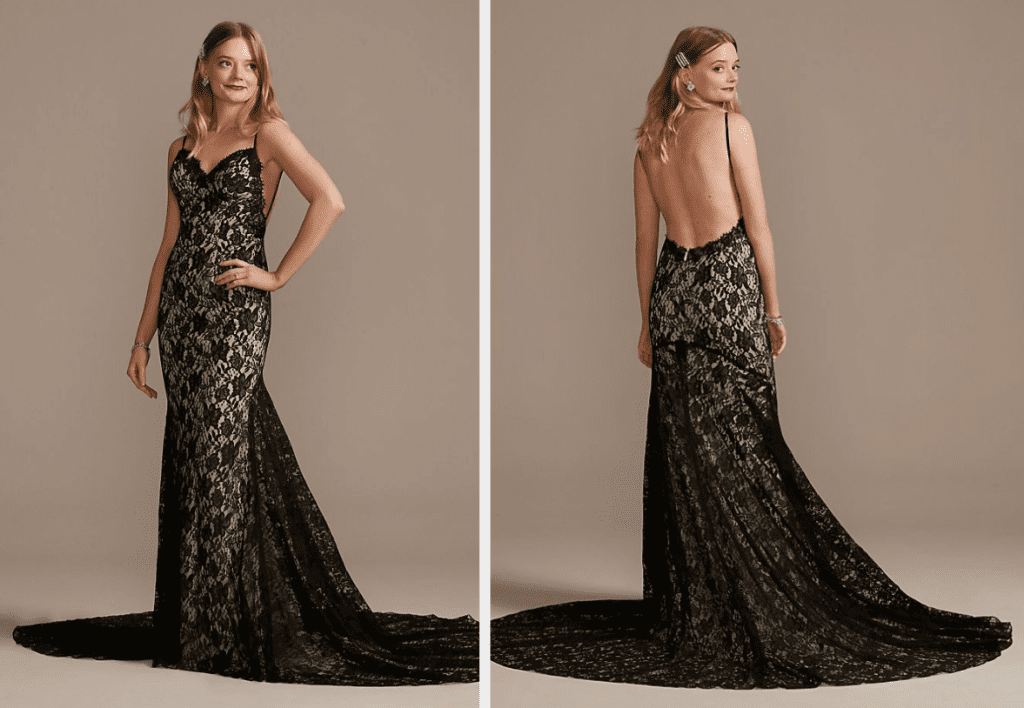 See how beautiful this gown is? And it has a lovely train that will follow you as you walk down the aisle or as you greet your guests during the after-party. And if you're wondering about comfort, the fabric is stretchy, so you don't have to worry about feeling uncomfy.
The affordable dress you're looking for
Let's be honest: getting married is not cheap at all. In fact, arranging a wedding ceremony might be one of the most expensive things we pay for in our adult lives. But the truth is that you don't really have to spend a fortune — it's the meaning of the ceremony that counts.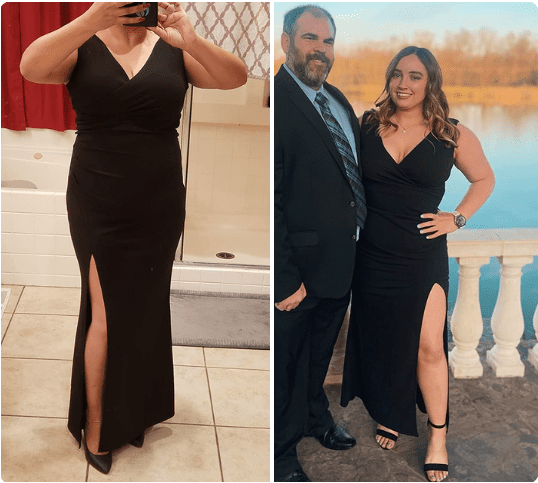 If you don't have the budget for an extravagant party, don't worry about that. This date is going to be special regardless. And if you want or need to save money on the dress, this v-neck dress is gorgeous and costs less than $60.
A dress to remember
Believe it or not, this next dress is entirely handmade. It's so fancy and elaborate that your guests will probably think you got it from a designer store. In reality, this dress is made by Bliss Gown, a Georgia-based shop that sells on Etsy.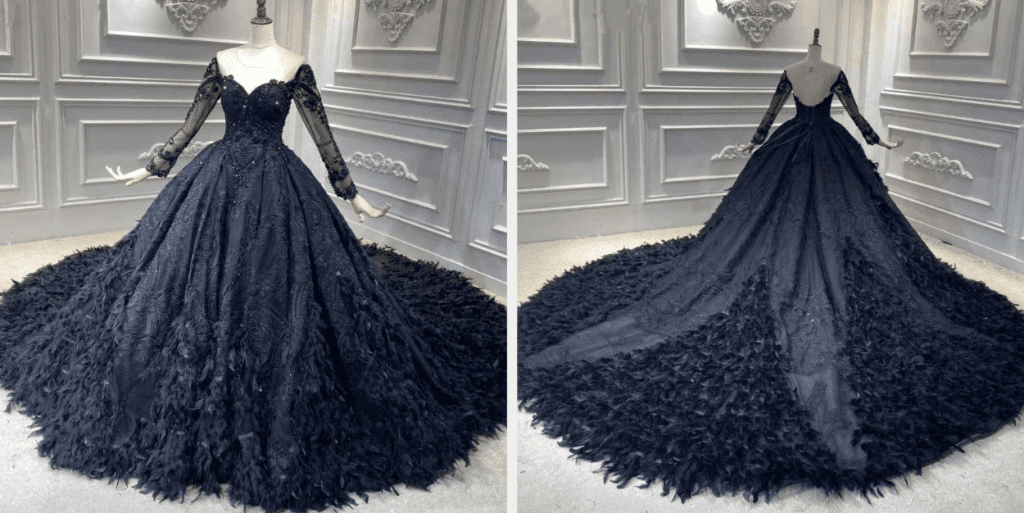 We don't even have to tell you how amazing this dress is — that would be an understatement. If you buy this dress for your wedding ceremony, we can guarantee that every single one of your guests will be dumbfounded in the best way possible.
Another city hall look
When you're too busy or operating on a budget, or you simply want to get married as quickly as possible, you can always rely on getting married at a courthouse or city hall. And because this location is not nearly as magical as a proper wedding venue, you don't want to overdress.
This hi-lo dress is perfect for the ladies who are getting married at the courthouse. You won't be overdressing, and you definitely won't be underdressing — you will look perfectly splendid. And it's also a great dress to show off your beautiful legs!
A fitted dress to highlight your curves
This next dress is perfect for a few different reasons. Not only will it hug your body in all the right places, but it is also the ideal dress for the ladies who want to feel comfortable on their wedding day.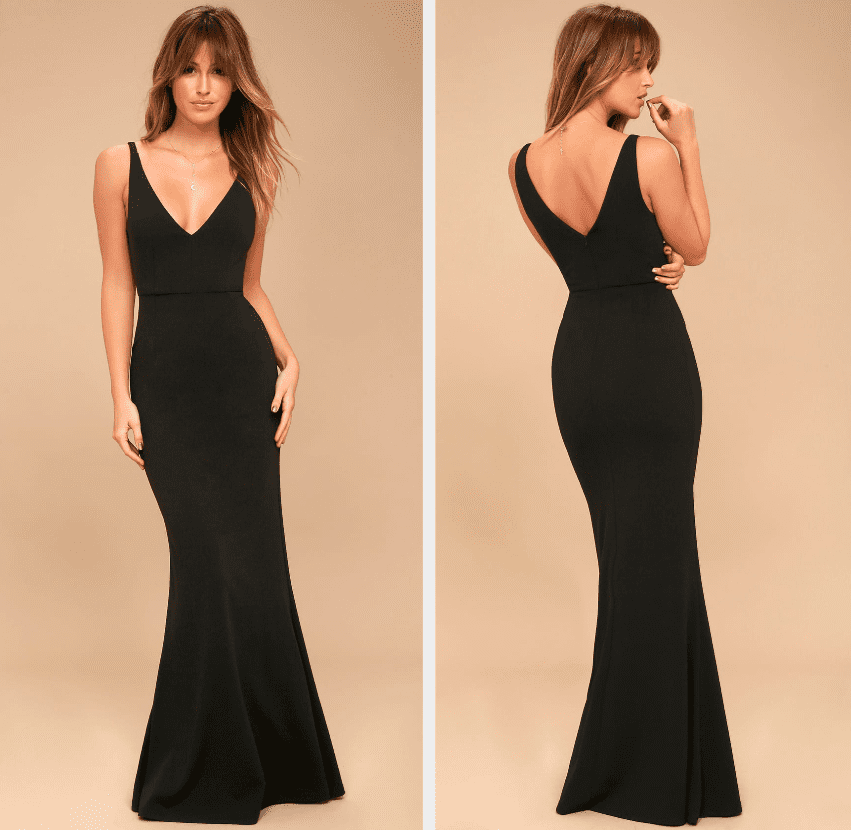 First of all, the fabric feels splendid against your body, so you'll be comfy all night long. And if you don't feel like wearing high heels all the time, you can easily change into more comfy shoes, and none of your guests will notice — see how the dress hides the feet?
The dress that will make you look like a queen!
For most women, getting married is a dream come true, and so they do everything they can to look like a queen. While the traditional marriage usually has a bride dressed in white, it's totally fine to break free from this and wear a black dress.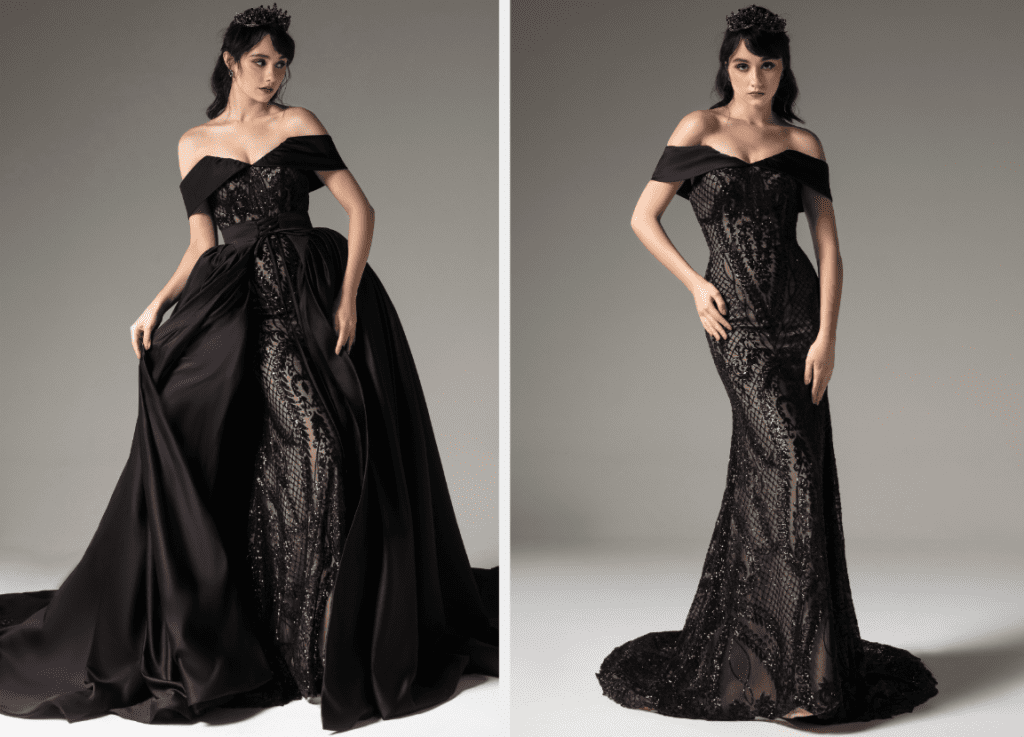 If you get this dress, you will definitely look like a queen. It's definitely one of the most fancy-looking dresses on this list, and it comes in many different sizes, which makes it perfect for all body types. The magnificent train is detachable, so you can get rid of it when it's time to dance!
A mix between vintage and modern
Are you wearing a white dress to your wedding ceremony? In this case, you are probably looking for a black dress to wear at the afterparty. There are lots of options out there, but we can assure you that none of the options will look as good as this one.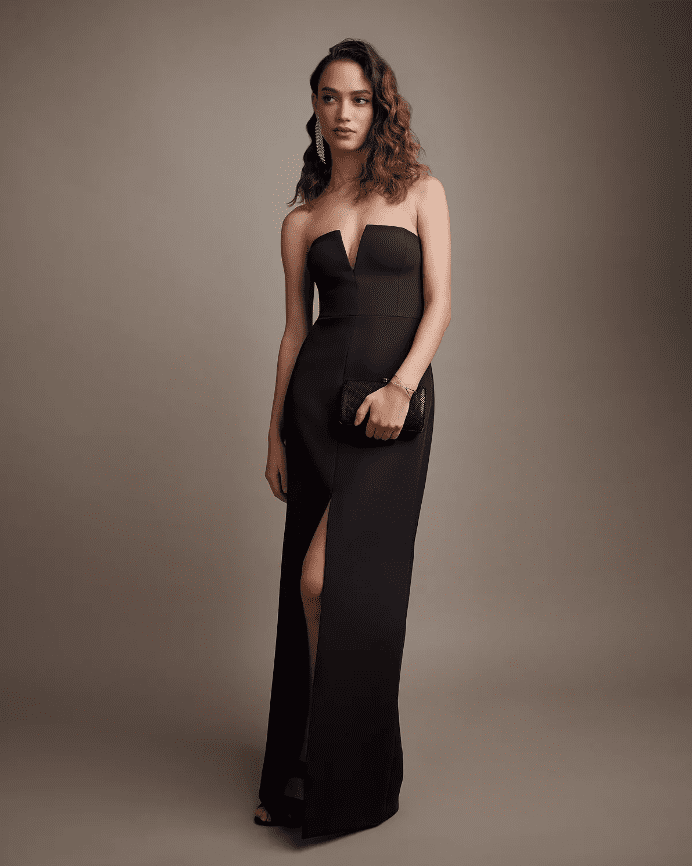 This dress is the perfect mix between vintage Hollywood dresses and modern dresses. While you can't wear a bra with this dress (thanks to the plunging neckline), you can always use boob tape. Because the upper half of the dress is tight-fitted, you might want to get a size or two up just in case.
The sexy dress you're dreaming of.
White dresses represent innocence and purity. But if you're wearing a black dress to your wedding, that is probably not the vibe you want to give off. Black dresses are bold and sexy, and this next wedding dress is perfect for that aesthetic.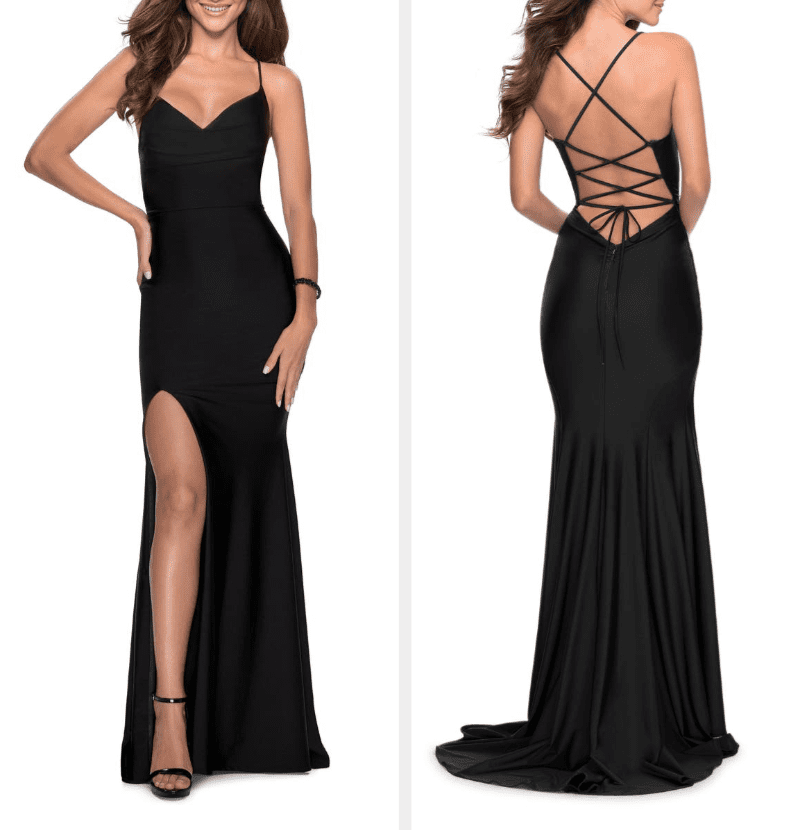 The back of the dress and the high slit are a magical combination. This sultry dress is the ideal outfit for the ladies who want to show just how sensual they are. Also, this dress is not too fancy nor is it too simple, so you can wear it on other occasions as well!
This is the outfit for all the rock'n'roll ladies
You don't have to be a fan of rock 'n' roll in order to wear black — but if you are, you will certainly want to wear a black dress to your wedding. This next outfit is the ideal look for any rockers out there who are tying the knot.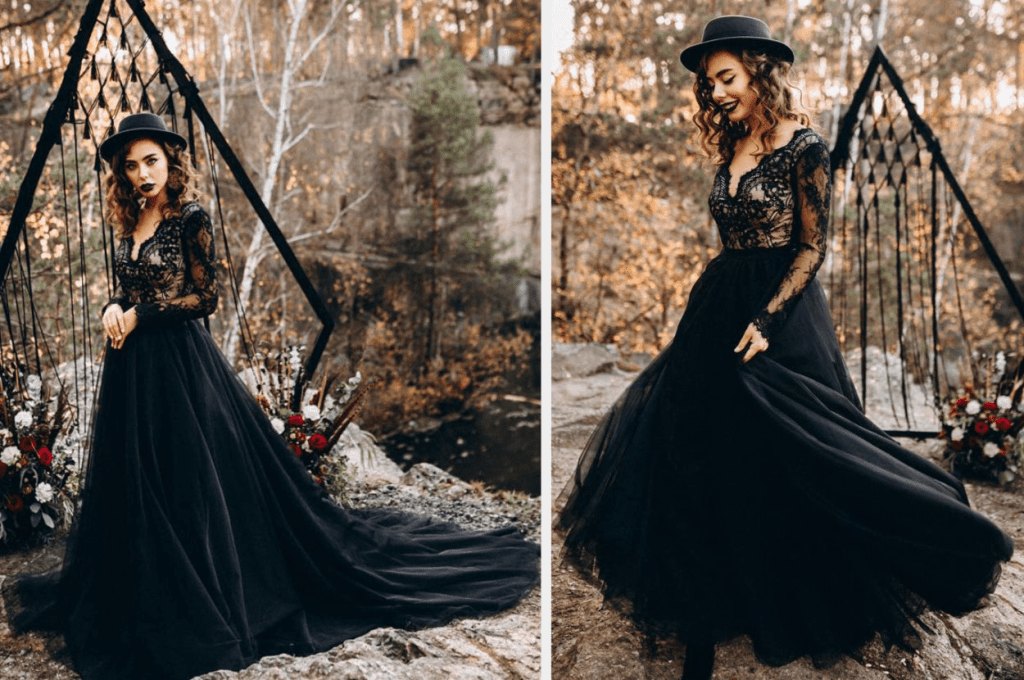 From head to toe, this outfit is perfect. The black dress is magnificent, and the long sleeves will keep you warm if you have an outdoor wedding. The only complaint you'll probably have is that you'll have to drag the train across the floor — which is not pleasant for an outdoor ceremony.
A dress for all the unsure ladies
Choosing the perfect wedding dress is not the easiest of tasks. Not only because there are many options to choose from but also because every woman has her own opinion of what constitutes the ideal wedding dress.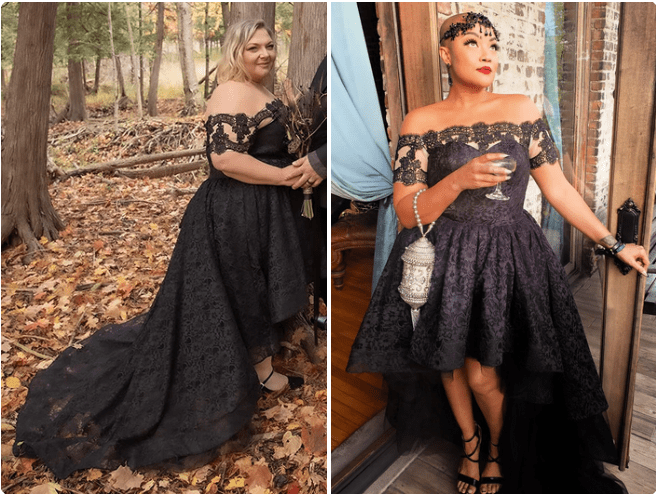 Some women prefer to wear maxi dresses, while other ladies prefer mini and midi dresses. If you're torn between the two, why not get a hi-lo dress like this one? You'll get to enjoy the best of both worlds, plus you'll look like a queen in this dress that costs less than $100!
A sequin-covered mermaid dress
If you love sequin, you will love this next wedding dress. It is covered in sequins from one end to the other and will make you look like a fun bride who's more than ready for the afterparty. This dress is pretty and comfy — and really affordable.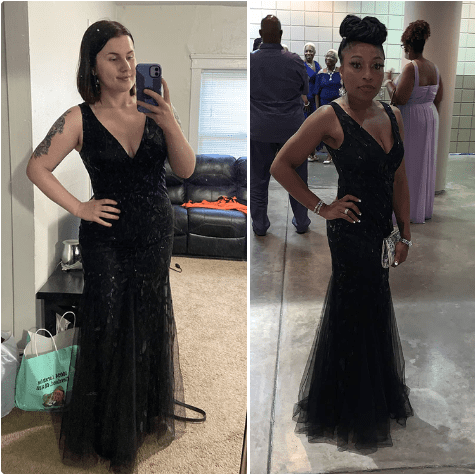 Lots of women tend to think that wedding dresses are expensive, but that's not always true. You can get this beautiful mermaid dress, which comes in sizes four to 22, for only $69.99 on Amazon. And don't let the low price put you off — the quality of this dress is impressive!
The dramatic sleeve for the outgoing bride
Being the bride automatically makes you the center of all attention, but you can still add more details to your look. This way, you'll definitely get all eyes on you, including your partner's. The best quality about this dress is that it will make you look fancy and sensual.
And let's not get started on those beautifully dramatic sleeves. Put this dress on, and you'll be the talk of the town! And the good news is that this dress comes in different sizes, from extra-small to 3XL, and it only costs $50!
A plus-sized dress
The trouble with buying wedding dresses is that they don't always come in all sizes. And these dresses are expensive enough as it is, so getting a custom-made wedding dress is not affordable in most cases. If you're having trouble with sizing, here's a lovely dress.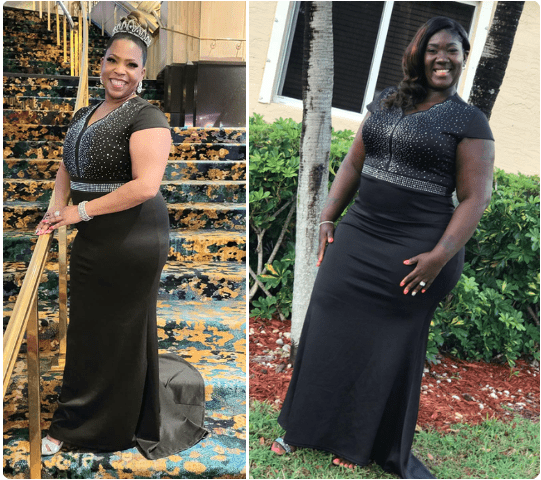 This beautiful dress is tailored specifically for ladies who wear larger sizes, starting at XL and going up to 4XL. The rhinestones on the dress will make you shine like the brightest star! The only thing to keep in mind is that the fabric is not so stretchy, so you might want to get a size up.
A fairy-tale dress!
We don't know if you have noticed, but all the dresses in this article either had sleeves or were strapless dresses. But what about asymmetrical-sleeved dresses? These types of dresses are really beautiful and will make you look like a fairy!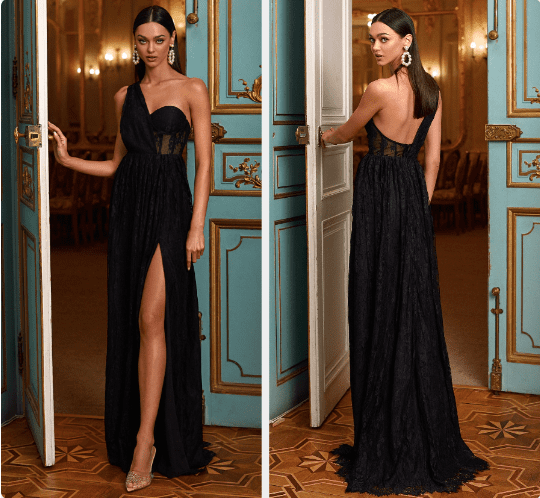 Well, the black dress will make you look like a dark fairy, and that's awesome. See how cute the model looks? You're going to look amazing in your wedding pictures if you get this dress — and it comes in extra extra-small sizes for the tiny ladies, as well as in extra-large sizes!
The versatile dress you want!
Depending on the kind of celebration you're having on your wedding day, chances are that you will spend hours wearing a dress and heels. That is certainly not a comfy combination, so you're probably looking for a dress that will feel comfortable on your body.
Charmeuse dresses are basically satin dresses that are lightweight and are perfect for the brides who are going to spend at least a couple of hours celebrating. These dresses are elegant and delicate. Thus, you have to take good care of the dress — or else you might risk leaving it with permanent wrinkles!
As elegant as one can be!
When we think of wedding ceremonies, we usually imagine the bride wearing an extravagant white dress with a long train and a veil. But who said that you couldn't have the same thing — except that the dress is black instead?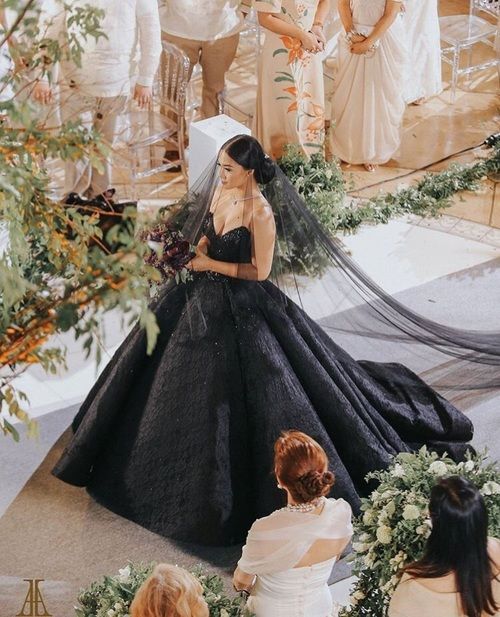 See what we are talking about? This bride looks extremely elegant in her beautiful black dress. This strapless dress is perfect for ladies who have larger breasts. And because the guests are wearing white, her outfit stands out even more!
A sexy and elegant dress
This next dress is yet another example of how a black wedding dress can make you look sexy and elegant at the same time. All you have to do is pick the right outfit, as well as the right hairdo and makeup.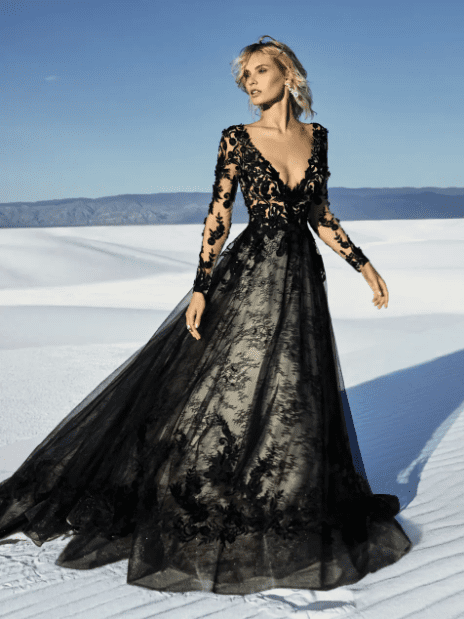 This beautiful dress has a layer of tulle and Chantilly lace, which is why it looks like a mix between black and white. The details on the sleeves and upper half are really eye-catching — but not as eye-catching as the 3D flowers decorating the bottom half!
The right dress for the afterparty
Once the religious ceremony is over, it's common for brides to change into a more comfortable dress and shoes. This way, they can greet the guests and dance around the venue with no trouble at all and without getting tired before the party is over.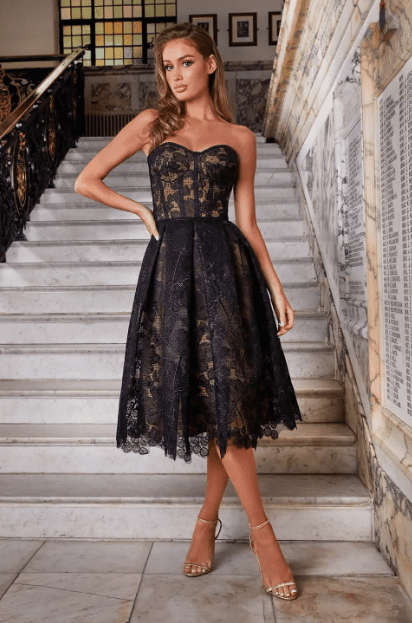 This elegant Olivia dress is ideal for the party you'll be throwing after the ceremony is over. The beige fabric underneath the lace will keep you from showing too much skin, but the corsetry bodice will highlight your best features!
Even celebrities are wearing black dresses!
Your wedding dress should match your personality. If you're a bold, independent woman who wants to show her sultry and elegant side during her wedding, wearing a black dress might be ideal for you. And you shouldn't worry about whether or not it's "acceptable" to wear such a dress.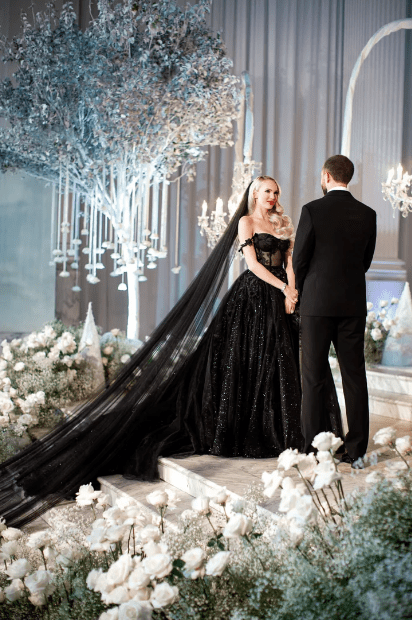 Black wedding dresses are becoming increasingly popular, and even celebrities like Christine Quinn from Netflix's Selling Sunset wore one to her own wedding. Her dress had a long train and an even longer veil, as well as being covered in crystals. If you look up the word 'elegance' in a dictionary, it will certainly show you this dress!