Expectations Vs. Reality: 40+ Times Beauticians Misunderstood The Assignment
By Amy M April 27, 2023
---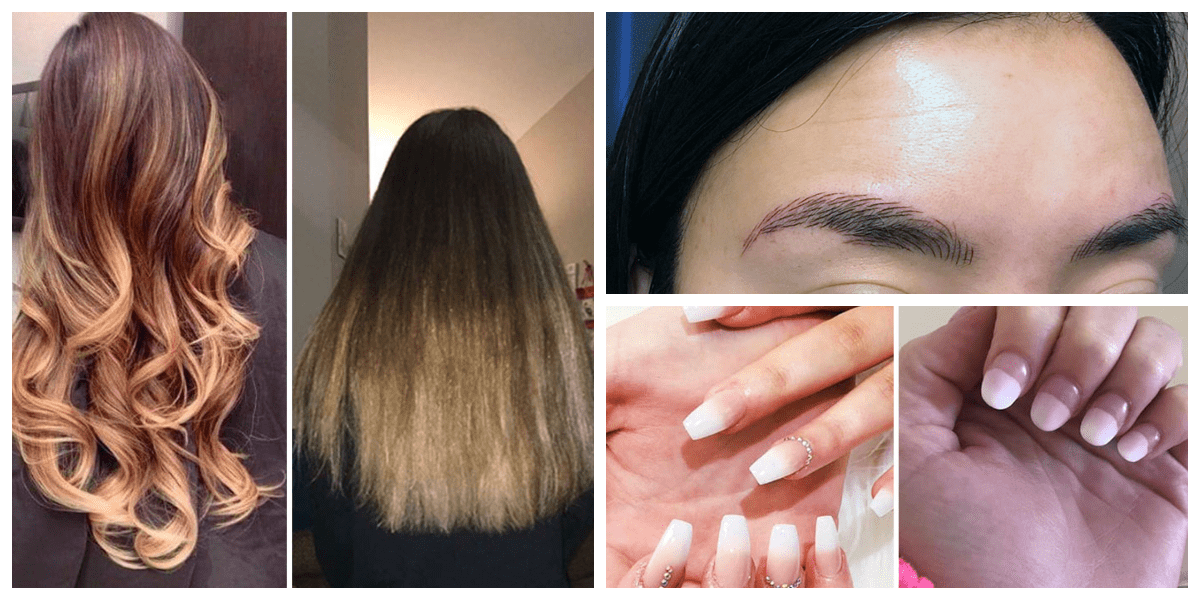 There's no better feeling than walking out of a beauty parlor with a set of fierce acrylics and a new hairdo. Let's face it, when you look good, you feel good. People all over the world spend thousands of dollars a month on salon beauty treatments since we know professionals do it best.
But one mistake could have you tinting your hair in the bathroom or trying your hand at a DIY mani and pedi for years to come. So, the next time you decide to treat yourself to a makeover, consider checking the reviews first.
These pictures will tickle your funny bone but, at the same time, make you wary of potential beauty fails out there. Scroll down, laugh, but also learn something out of this.
Scissor Happy
Someone will be hearing from a lawyer soon because this has to be criminal. All this lady wanted was a simple shape and trim, but they gave her a choppy mess instead. Word to the wise; try and avoid strip mall haircuts.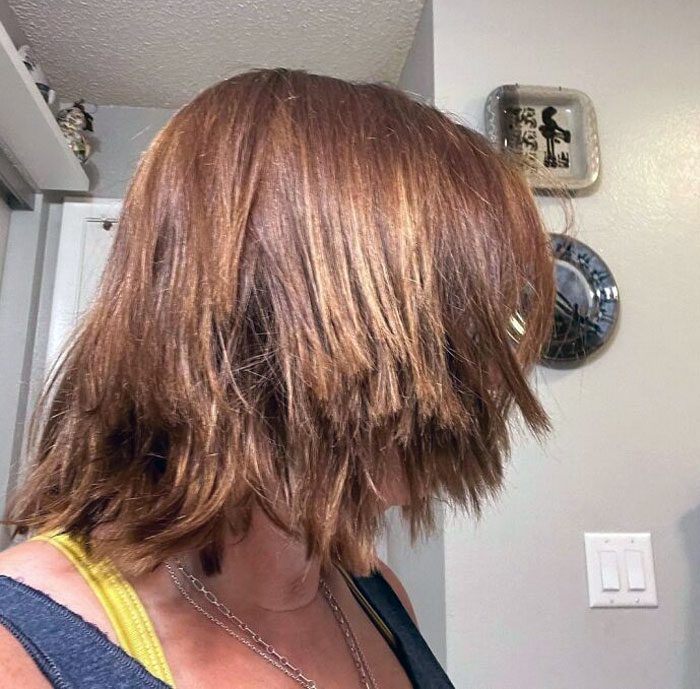 If you are insecure with your haircut, you can rock a beanie till it grows to the desired length. But that, too, is not a very comfortable choice. If that's not an option, straighten your hair and call it a day. Maybe that's precisely what she did.
Three-Layered Hairdo
This hairdresser misunderstood the assignment. When someone requests that their hair be cut in layers, this is not what they mean. When done correctly, layers add volume and give dead straight hair some movement. But they should never look like a tiered dress.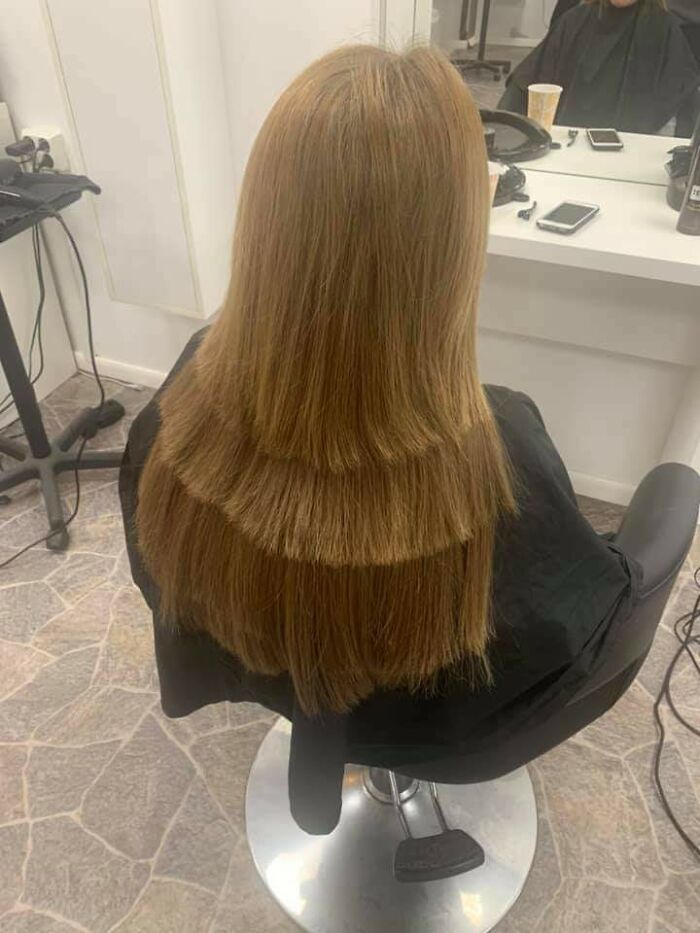 There's a hairstyle called a three-layered haircut, but even non-professionals know this is not it. This poor girl must have had a meltdown the second she saw this! Why didn't anyone think to stop this wicked stylist? Anyway, we're certain she won't be returning to this salon!
Makeup Regrets
Looks like someone did their makeup in the dark! Oh, wait, it's actually a makeup artist who did this. Yikes! This is what happens when you go to someone without asking or checking their reviews. You can see from her facial expression that she definitely has regrets.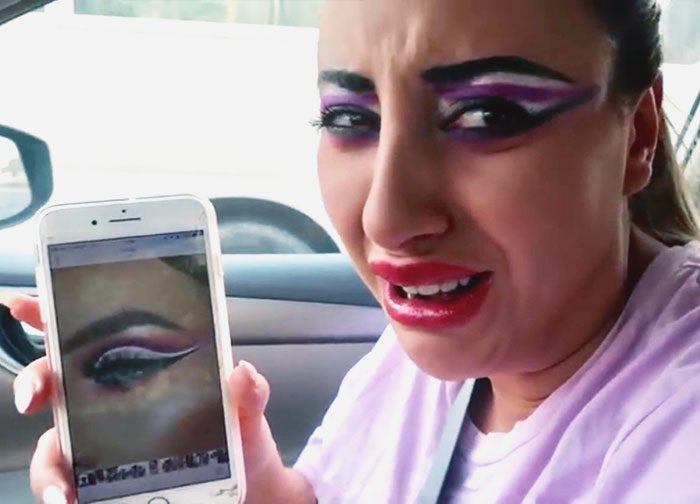 Eyeshadow might look easy-peasy lemon squeezy to apply, but that's only because skilled people make it look that way. You're better off splurging on a highly-rated makeup artist if you want a flawless makeup look, especially if you have an important event to attend.
So Random
When you show your nail technician the nail design you'd like, you don't expect them to include the mouse cursor from the screenshot! To be fair, it was placed directly on the nail, so maybe that's why they thought to paint it as well.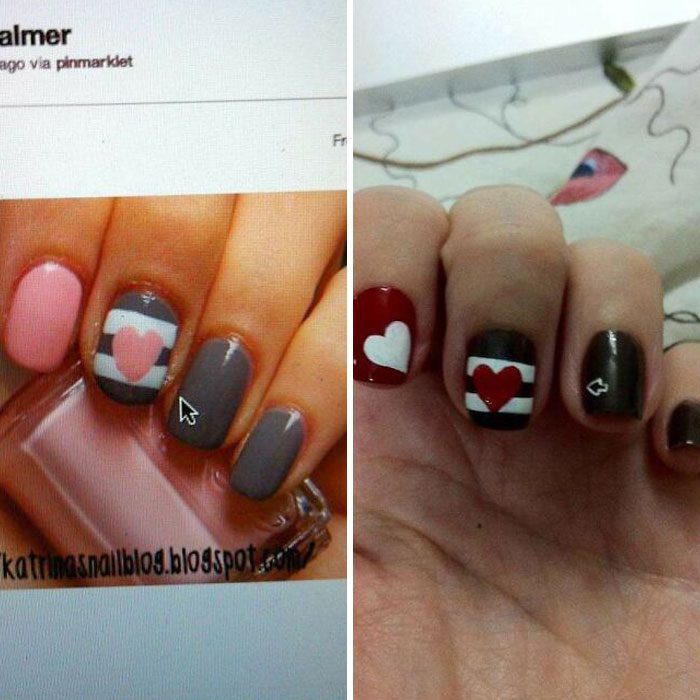 Honestly, this is hilarious. Just as well, they painted a small arrow so it wouldn't look too out of place. If they weren't happy with it, in a week or two, they could've gotten a new design. That's the beauty of manicures; you're not stuck with the same thing for months, like a bad haircut.
Underwhelming Undercut
Feeling bored with your hair? If so, an undercut is a great way to spice up your hairdo. The shaved pattern looks fantastic when you tie your hair up. Just ensure your stylist has done it before because this is not the way you want to leave the salon.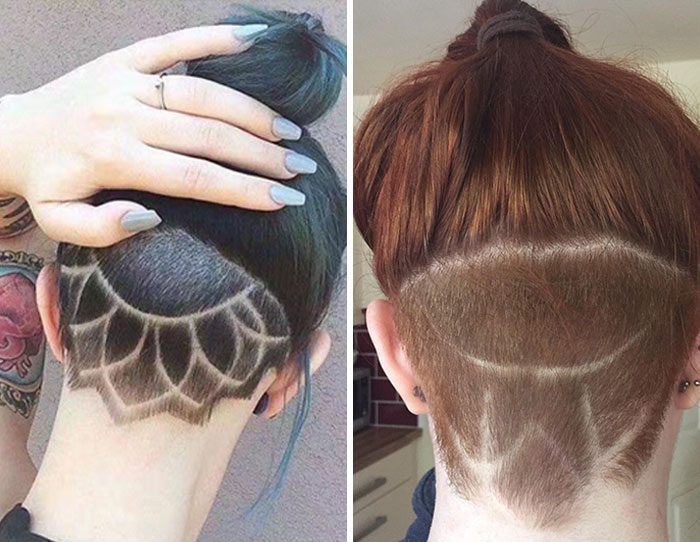 It seems that the hairstylist was just like, "nope," and gave up halfway through it. In the end, the person shaved it all off and was happy with the final results. You can say she made the best of a bad situation.
Balloon Art
This is what happens when you ditch your trusted nail tech and go to a different salon. This girl paid… wait for it… 35 pounds only to look like she had inflated balloons for nails. She must have left feeling so cheated!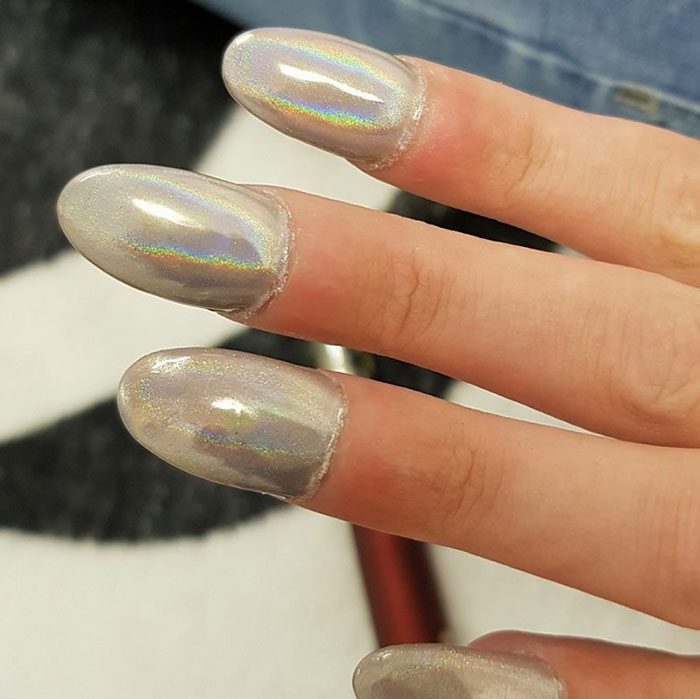 The polish is really pretty, but your eyes aren't focused on that. It's already difficult to do day-to-day activities with acrylics, so imagine how much more challenging it would be to do anything with these on. We bet they didn't last a week!
Bang-Bang
Ahh, bangs. Who hasn't thought of changing up their look with them? Many people try and fail to cut it themselves, while others concede and go to a hairstylist for a professional job. However, in this case, it's the stylist who made an oopsie.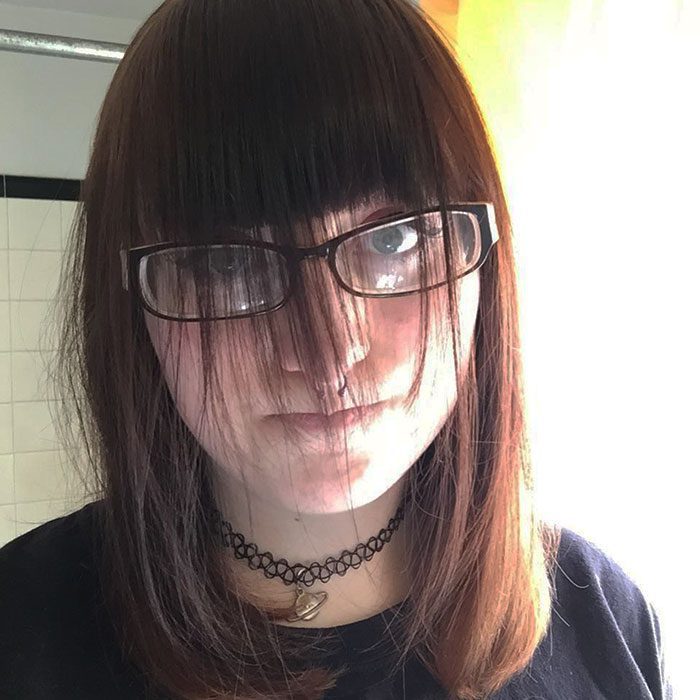 This girl brushed out her new do only to discover that there were more than a few strands of hair that still needed to be cut. Luckily, the salon was kind enough to fix it for free. People should seriously consider purchasing clip-on bangs instead of committing to this haircut.
Oopsie Daisy
Daisies are a fun floral print to sport on your manicure or pedicure during summer or springtime. Yellow nail polish with that delicate flower will have you confidently wearing your sandals during the heat. Sadly this person won't be able to do that.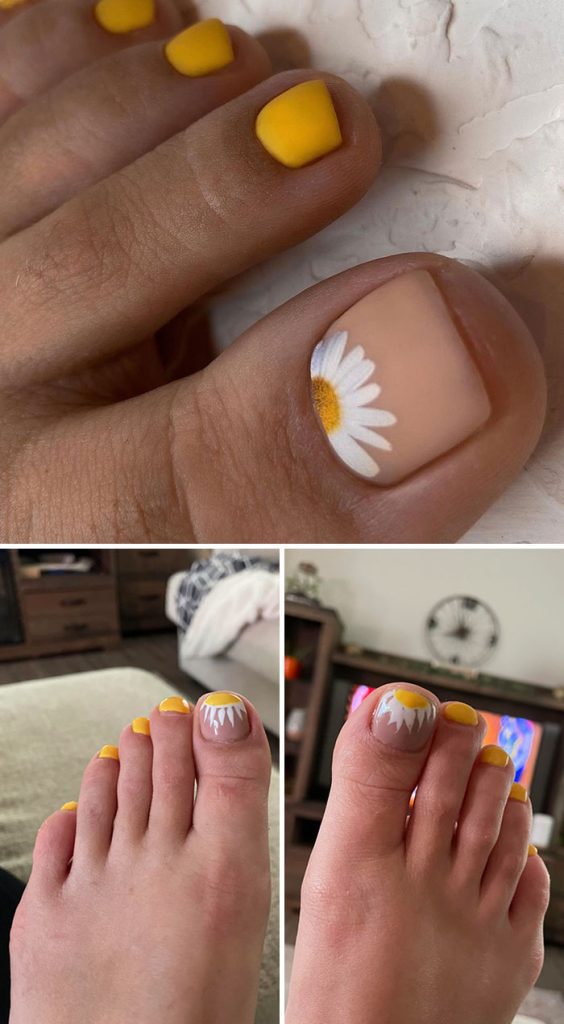 What was meant to be a pretty floral design turned out like a runny egg! Luckily, nail polish remover was invented, so errors like these could be rectified immediately. Hopefully, the nail technician got it right after the second try.
Temporary Fail
If an inspiration picture wasn't provided, would you have believed this was meant to be a henna tattoo? Henna looks absolutely gorgeous when applied, but this didn't do it justice. If you squint your eyes, you can almost make out the pattern.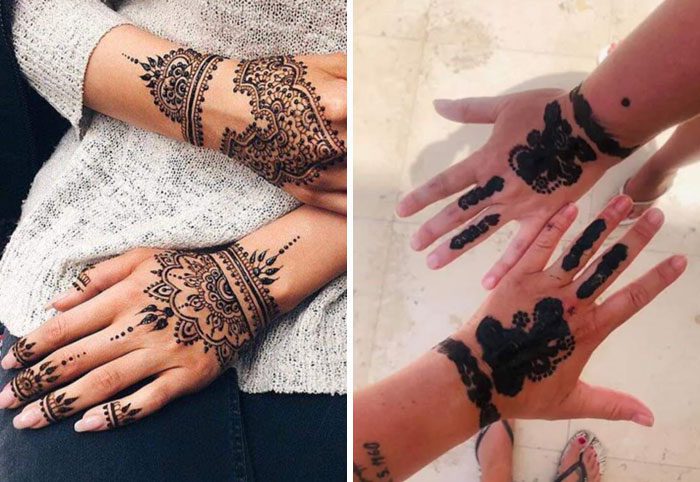 Within one to three weeks, and with constant scrubbing, this should have come out. If you decide to apply this temporary design, try to avoid black ink since a number of people have reported experiencing allergic reactions after using it.
Bad Hair Month
Well, someone was having a bad hair day. Actually, it is more like a bad hair month, depending on how long it took to grow back. Who knows how something like this could happen? Maybe the hairdresser accidentally sneezed mid-cut?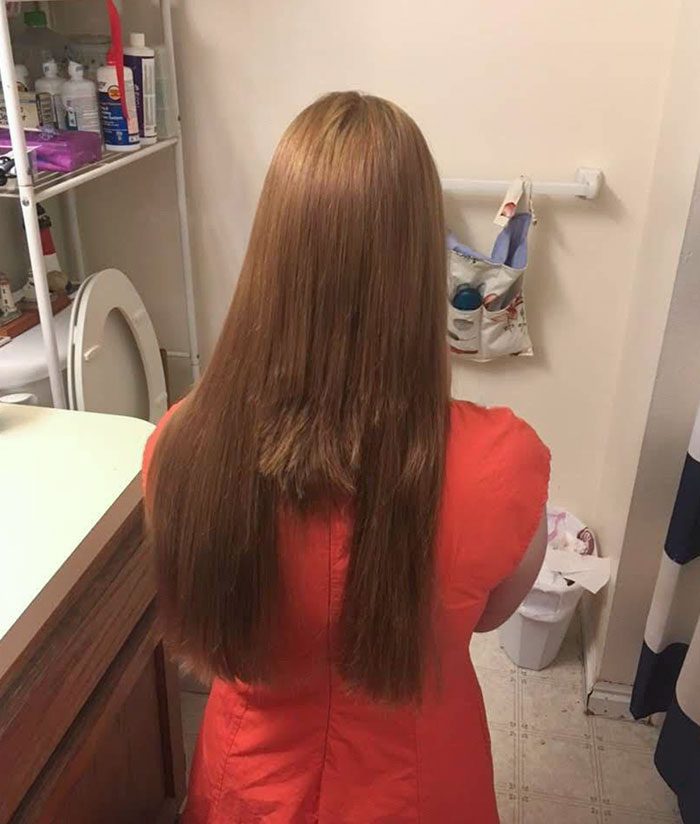 This girl had to go back and style her hair into a bob. We're not surprised because one can't be expected to walk around with part of their hair chopped off. It's a travesty when you've had long hair for a while, and it unexpectedly gets cut short.
Curly-Wurly
In the 1980s, curls were the word of the day when it came to hair. People with straight hair did everything they could to get bouncy curls. To this day, some still turn to salons to either perm their hair or quickly curl it with a curling iron.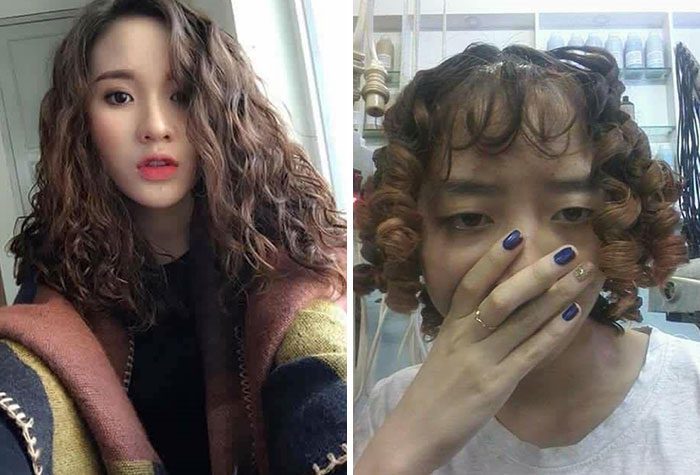 As you can see, this lady wasn't happy with these results. All she wanted was simple loose waves for a touch of glamour, but she unwittingly ended up with unflattering tight curls. Lucky for her, running a brush through that can easily fix it.
Eyelash Mishap
Flawless eyebrows: check. Eyelash extensions: still a work in progress. You don't notice at first, but when you look long enough, you will note that half of this lady's eyelash extensions are missing. Her saving grace is her incredible eyebrows.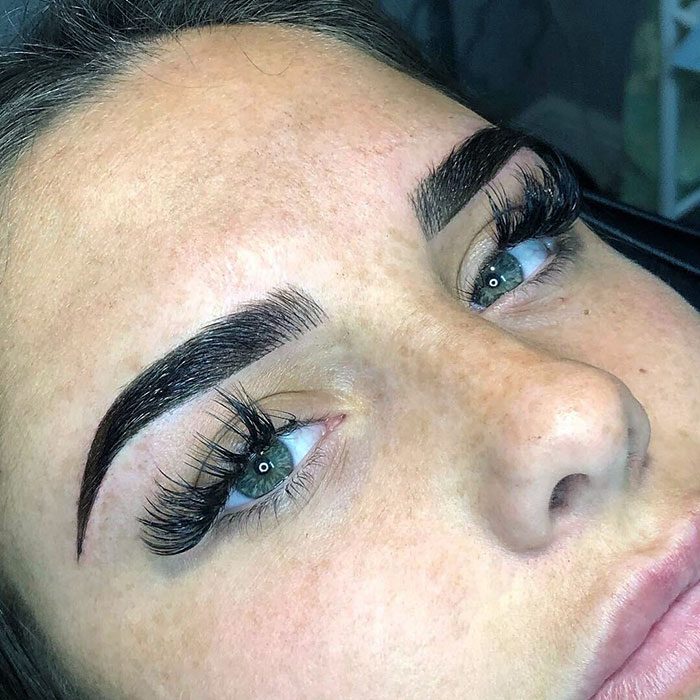 False eyelashes have the power to make your eyes appear bolder and create a dramatic look. But they can be quite heavy if they're very thick. They can also be very uncomfortable and make your eyes droop. Fortunately, she won't have this problem.
Lacking Lilac
The end result this person was left with is honestly not the worst one that you will see on this list. Even though the color itself looks quite nice, no one would be thrilled leaving the salon with hints of lilac instead of a full head of it.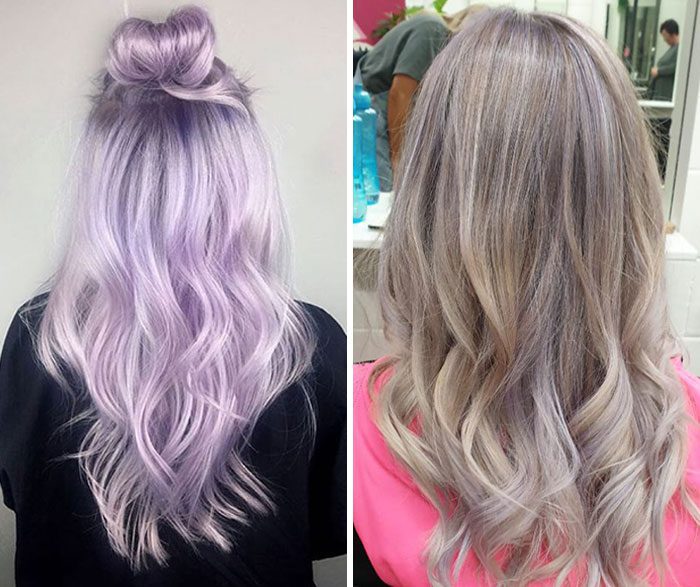 After four and a half hours, this is what the colorist presented to her. She must have been so disappointed to discover her hair had been dyed a blonde, silvery color. It's such a pity because that purple shade would've really stood out in a crowd.
Chicklet Nails
Let's play a game. How many layers of polish do you think were painted on these nails? We're guessing it's around 50 coats. Just kidding. But it does look like a ton was applied on there. Dip nails shouldn't be so thick that they resemble gum.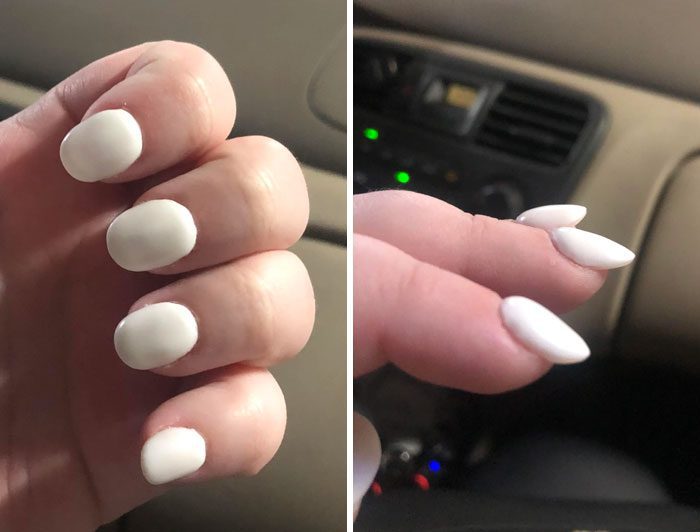 Dip powder nails are lightweight and very pigmented. One of the benefits of this type of manicure is that it can last up to five weeks, which is a bit longer than gel or acrylic nails would. You just need to get thinner layers of base coat, so it doesn't become too thick.
Ginger Spice
Chunky highlights are so 2000s. This girl didn't set out to revive the fad; it just happened to her. Although she asked for auburn hair, she left with these stripes that appear to be an attempt to imitate Ginger Spice's hairdo!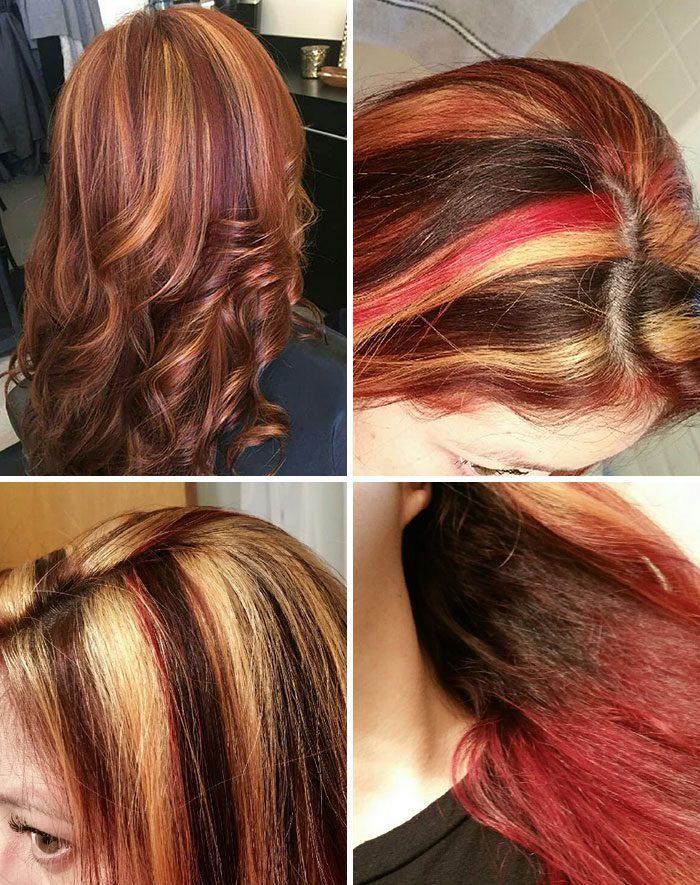 Constantly dying hair can weaken it and cause breakage. Having to change her color again was definitely no picnic. On the bright side, if this wasn't fixed for a while and it was the right time, she could've just said she wanted to look like Ginger Spice for Halloween.
Let Your Hair Down
When you dye your hair at home, it's hard to avoid getting the dye on your skin as well. However, when you pay a professional to do it for you, you don't expect the hair color to get into places other than your head. But that's not how things went down here.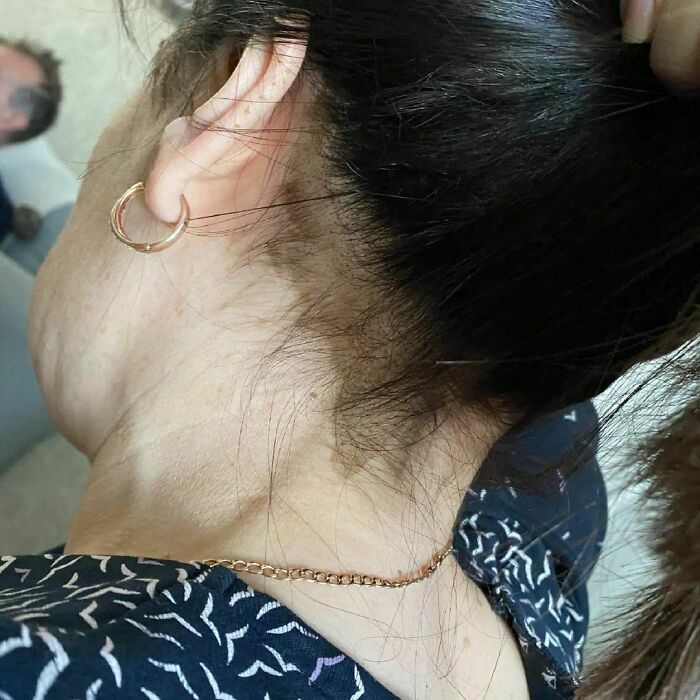 She can thank her lucky stars that it didn't drip down further. Also, she's lucky that it isn't visible with her hair down. The dye only stays on the skin for about one to two weeks, so she just wouldn't be able to tie her hair up for a while.
Close Enough
French ombré nails, also known as the French fade, are the perfect minimalistic nail design. Trends come and go, but this one, which was inspired by classic French tips, will always look stylish. Unfortunately, that is not the mani this person received.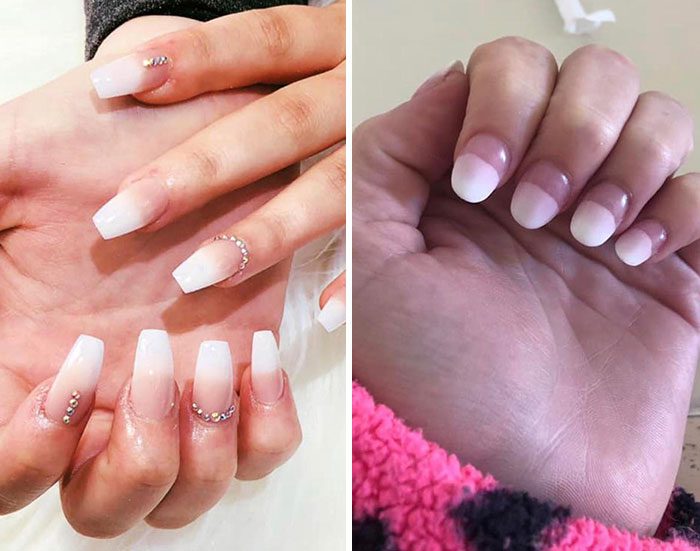 C'mon, this is not even remotely close to the nails she wanted. The inspiration pic has a lovely coffin shape and rhinestones, but the result looks like a set of teeth! The colors don't even blend into each another like in the other photo. We hope she got her money back.
Golden Nail Fail
A bride wants these three main things to go off without a hitch on her wedding day; hair, makeup, and nails. However, in the real world, things tend to go wrong. This lady expected a simple golden manicure, but instead, she got nails that no woman would want to walk down the aisle with.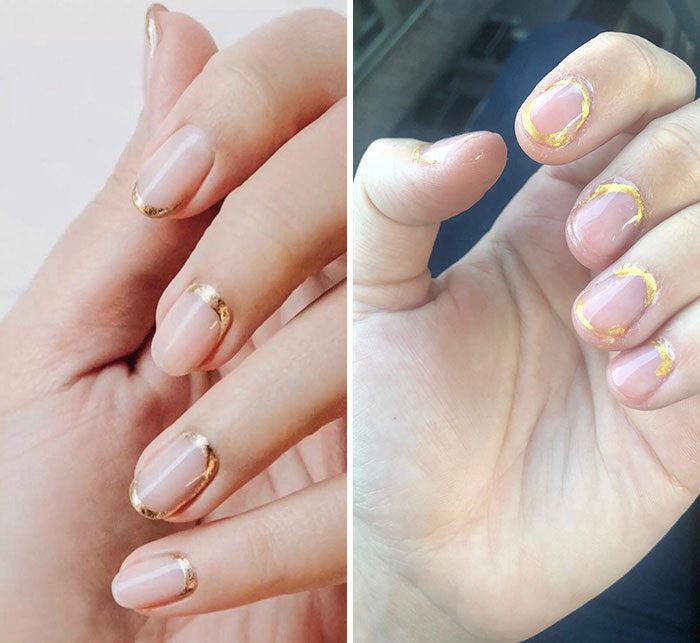 We're happy to report that she redid her mani for her special day. The only person who was more upset with the whole situation was her fiancé because he gave her the gift card for the manicure! But at the end of the day, their wedding was more important than the nails.
Uneven Crowning Glory
When your hair is cut unevenly, it can be very frustrating. Sometimes it's best to not let a hairdresser style your hair after they finish cutting it so that you'll be able to notice if it's crooked. You wouldn't want to experience what this person did.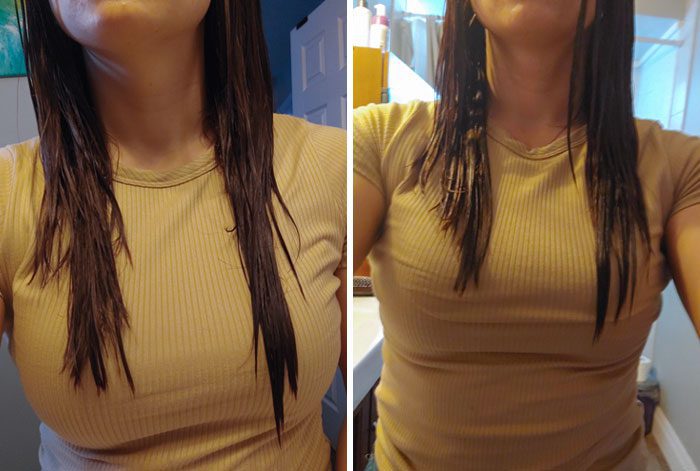 Don't stress too much if you find yourself stuck with a lopsided haircut; there are ways to hide it. You can curl it with a curling wand and mask the unevenness. Plus, hats were also made for a reason; to protect you from the sun and to conceal a bad haircut!
Cartoon Brows
Do you have non-existent eyebrows due to over-plucking? Then micro blading can be the way to go. However, after we saw this person's disastrous results, we were a bit hesitant. This isn't a cartoon camera filter; they're actually the brows an aesthetician tattooed on her!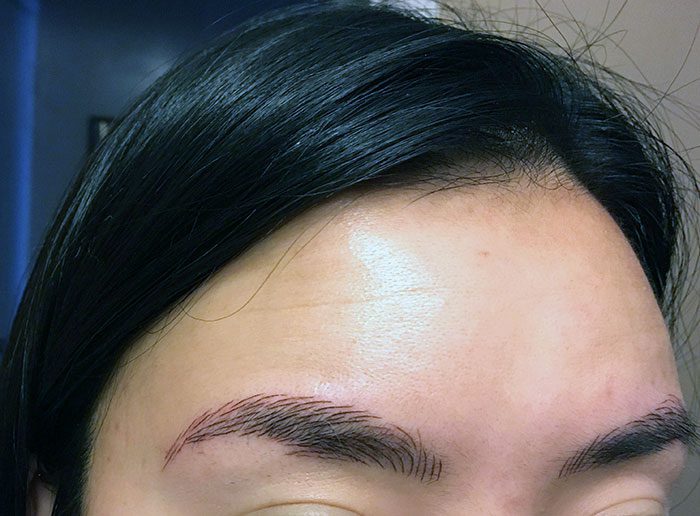 Micro blading involves using a tool that has multiple small needles that add a semi-permanent pigment to the skin, which resembles eyebrow hairs. After you learn how long it lasts, you will feel twice as sorry for her. This treatment sticks around for 18 to 30 months!
Bold Mani
Red nail polish has been around since ancient Egyptian times. Cleopatra and Queen Nefertiti are known to have started the trend. However, we're sure they didn't wear red polish like this. These bubble nails need to be filed down a lot.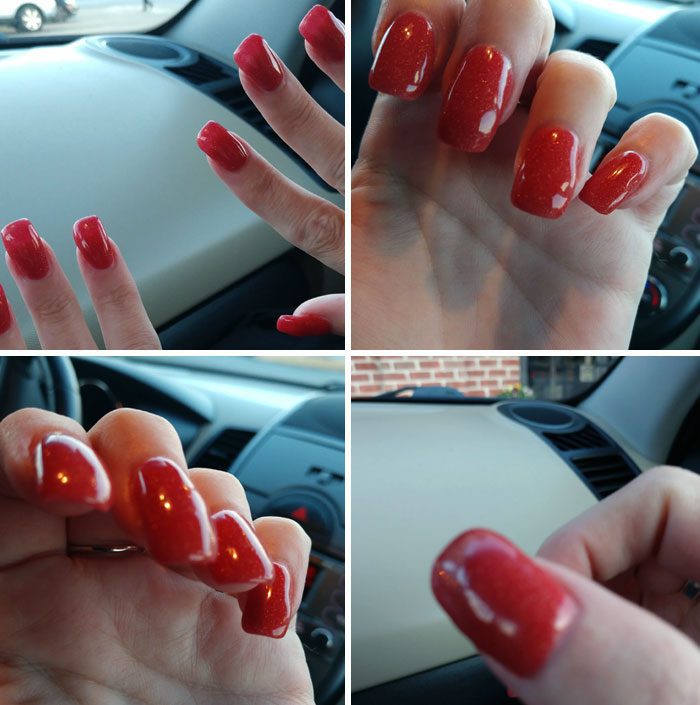 The one positive thing about this manicure is the sparkly red varnish. It would have been so gorgeous if it was just shaped correctly. We would really love to see this bold go-to color that radiates confidence on another set of acrylics.
Mish-Mash
If you're a fan of all things rainbows, then you would love magical pastel unicorn rainbow hair. We're thinking more along the lines of the inspo pic, not the other one with the harsh colors, which unfortunately left this lady's precious locks damaged.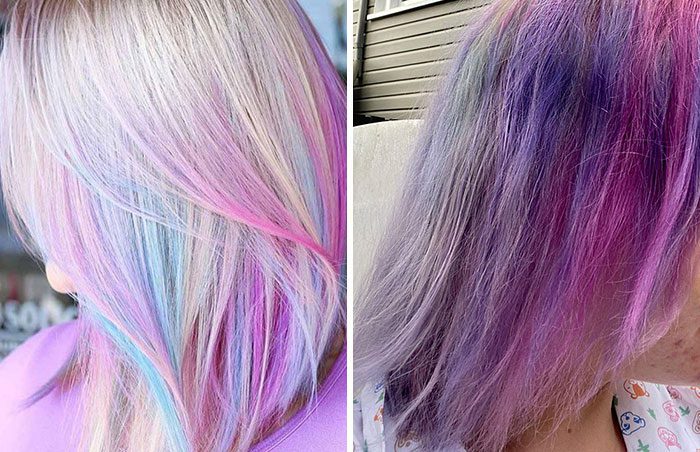 To achieve the proper pastel color, the hair needs to be bleached a bunch of times, depending on how dark your hair is. A good moisture treatment is also advisable, so you don't end up with dry and brittle hair like she did.
Plain Jane
Essie Weingarten, the creator of Essie cosmetics, said it best, "You are never fully dressed without a good manicure." That can't be used to refer to this mani, though. Fortunately, it's a nude shade, so it won't be very noticeable.
People love nude nails because they give you a simple yet elegant look. Another advantage is that they match any outfit that you wear; no need for color coordination. Unfortunately, this person won't be able to appreciate any of that since she'll probably be too busy crying over the rough appearance.
Ladybug Shell
This person envisioned an animal print design for their nails, but their manicurist had other plans. This looks more like a ladybug shell! Once you see it, you can't unsee it. The ones she wanted are a perfect fit for autumn, but we don't see these being suitable for any season or occasion.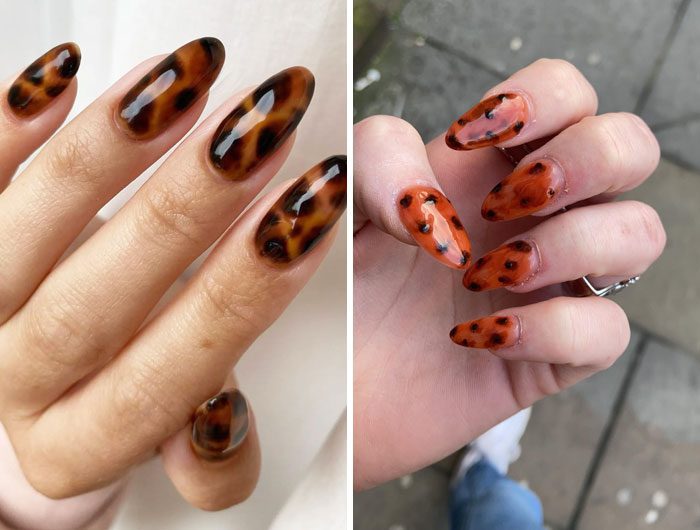 Let's just take a moment of silence for her nails because even her cuticles look damaged. This might have been acceptable to someone who loves ladybugs, but even so, the polish didn't cover the whole nail. That's forty pounds down the drain.
Oh No!
Folks, we are shocked, and here's why; these pictures are of the same person! The first image was taken in the salon straight after the hairdresser finished styling her hair, and may we say it looks picture-perfect. The second one, not so much.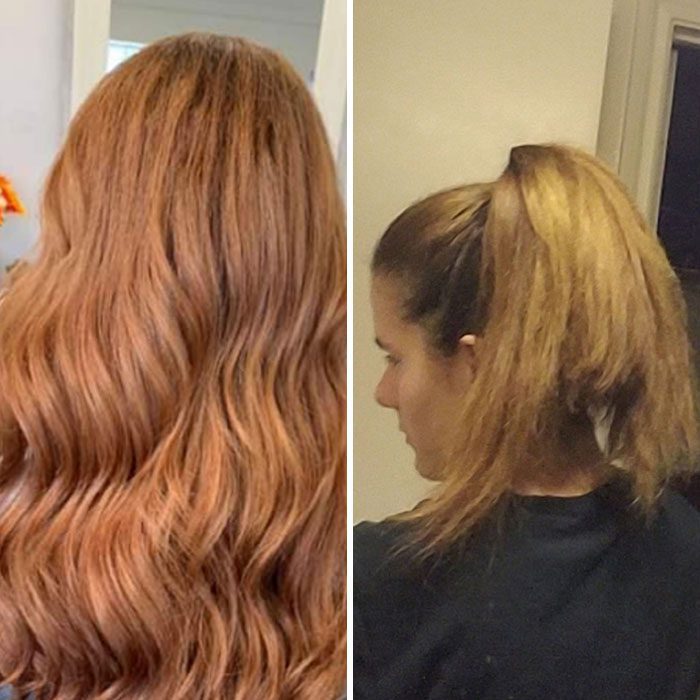 The curls did a great job of hiding the fact that the haircut was uneven. Plus, if you have great lighting, anything can look spectacular, as you can see. The color looks different because she washed it out with blue shampoo to strip it of the orange shade. Talk about a total transformation.
Work in Progress
It appears we have another French ombré nail fail on our hands, or more like theirs. We're hoping that the manicurist was still in the process of blending the polish to create the ombré design when this photo was taken. If not, then all we can say is yikes!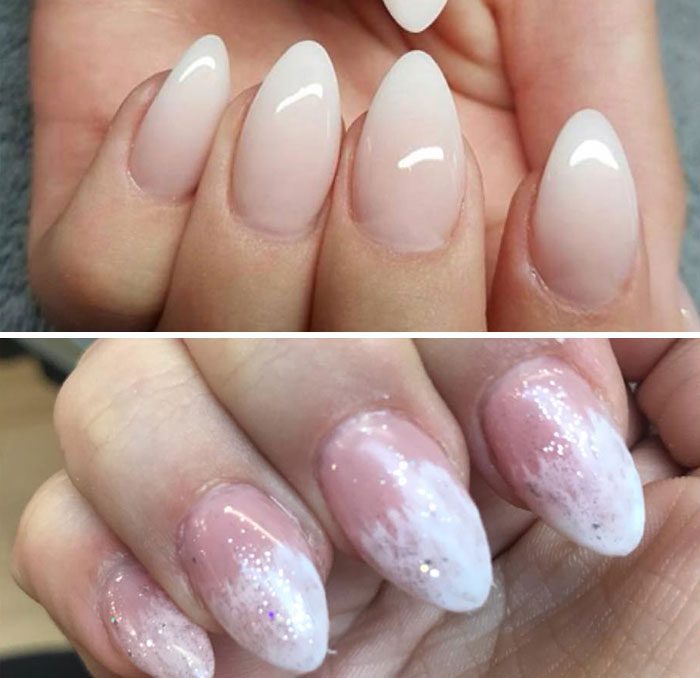 It looks like a bit of sparkle was added to make up for this manicure flop. Usually, glitter can make anything look good, but not even a beautiful shimmer can save this. We would like to know how much they spent on this. But at the same time, maybe it's better not to know.
Dye Disappointment
People often say that social media is fake, and they're probably right. We are saying this because the pictures of dyed hair you see on the internet are very different compared to real life, and not in a good way.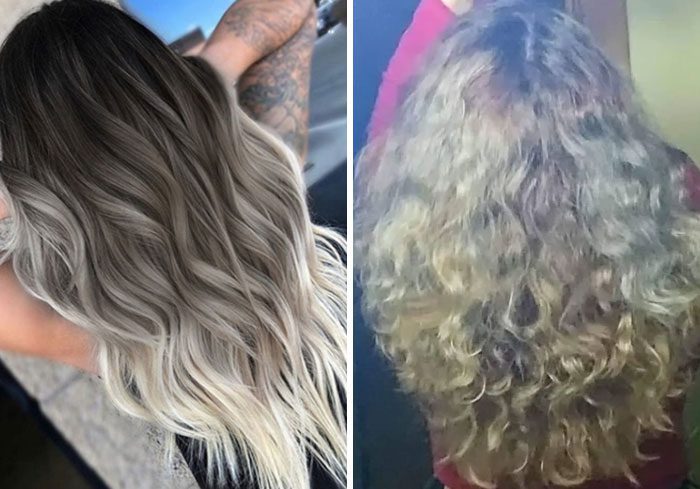 This lady expected the hairdresser to dye her hair a stunning ash blonde. However, she gave her more of a green tint instead. Curls can suffer damage if coloring is not done correctly, but surprisingly it seems that hers survived!
Gelish Disaster
Nail fail alert! These aren't play-doh nails; they are regular old gel acrylics. Though the pink shade is quite pretty, that doesn't make up for the fact that the polish is too chunky. Not to mention, the nails are all different lengths.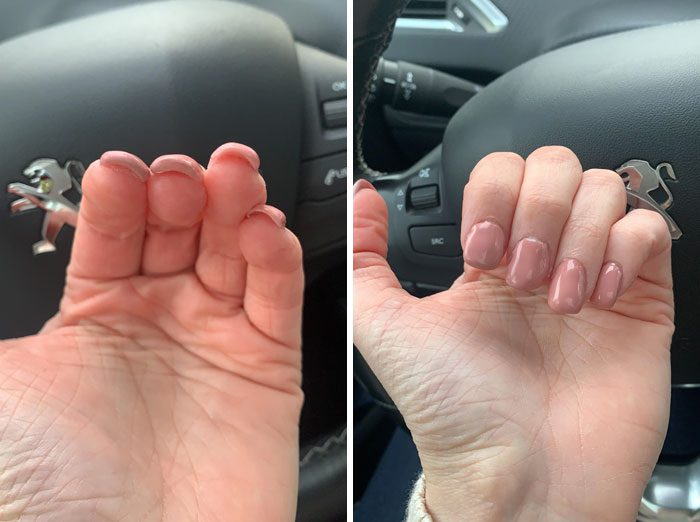 It's probably best to save yourself a couple of hundred bucks by purchasing a set of press-on nails. They can look like the real deal if you buy a good brand. There are a ton of fun colors and patterns to try out, and they're less damaging than acrylics.
Carrot Top
Most people yearn to have their redhead moment at some point in their life, and we say go for it. This lady wanted spicy cherry red hair, which is so gorgeous, by the way, but they did her so dirty by giving her random streaks of orange.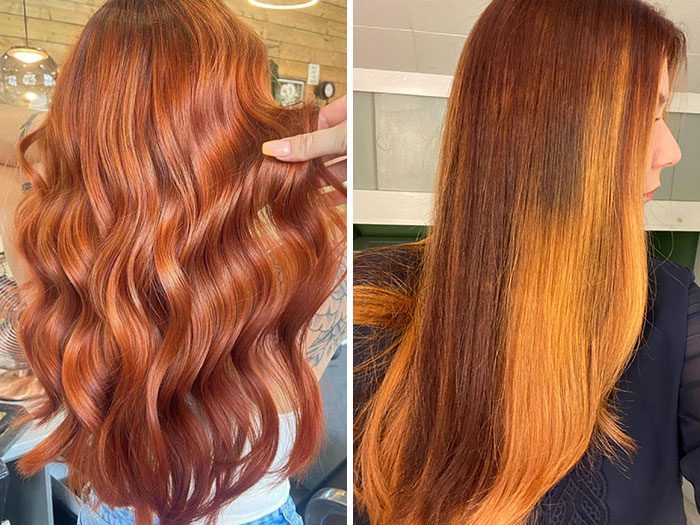 We can't get over how beautiful that color is. We're talking about the spicy red, not the botch-up. Run, don't walk to another hairdresser if a colorist does this to you. There are ways to remedy a situation like this, so don't do anything extreme, like cutting off all your hair.
Yikes!
What on earth is going on with this manicure? First of all, it looks unprofessional, and second, it has an unattractive bandaid color varnish. Though Tammy Taylor once said, "I've never seen nails go out of style," these ones sure will!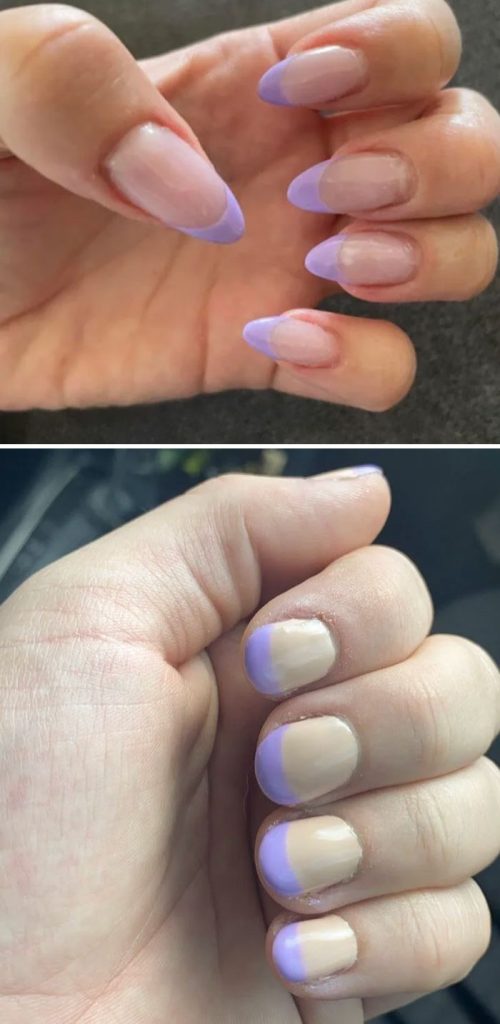 This person should've been advised to get extensions like in the inspiration photo rather than using her natural nails for this design. We understand that many people find acrylics uncomfortable, but if she wanted that exact look, she needed long acrylics. And a better manicurist wouldn't hurt.
Electric Purple
Holy smoke, that hair is bright! This girl was looking forward to dyeing her locks a shade of rose gold. However, the salon didn't come through and gave her a very vibrant purple as opposed to pastel pink. Though people have gotten this color before, it's definitely not what she wanted.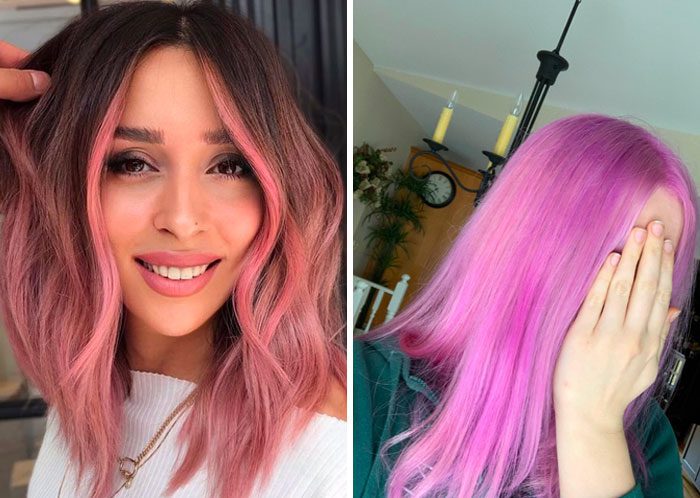 She wasn't down in the dumps over her hair for long because she got it fixed. Yay! Obviously, whatever color they dyed it again wasn't going to be similar to the inspo pic, but she was happy with the outcome. Additionally, bright colors eventually fade, so that's comforting.
Peekaboo!
Multi-hued peekaboo highlights are what she wanted, and that is what she got. Well, sort of. These highlights are applied to the bottom layer of the hair. When you tie it up or comb your fingers through it, the color peeks through, hence the name.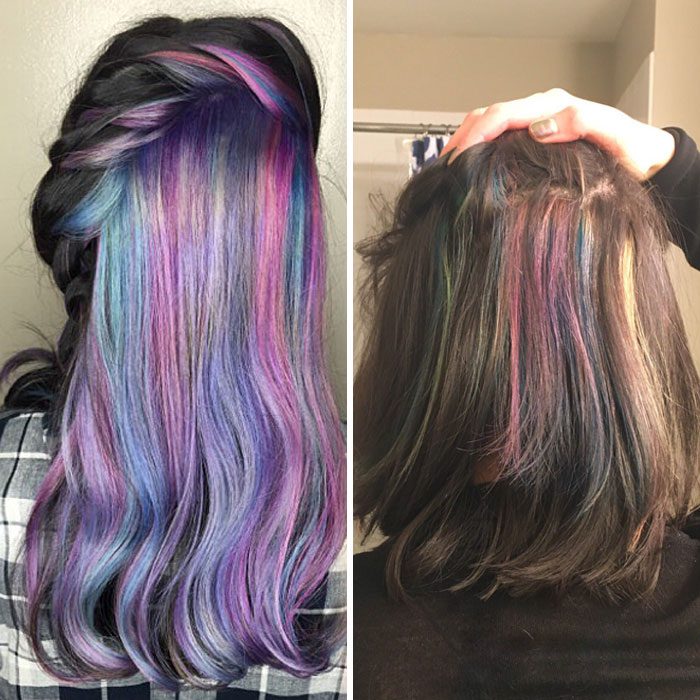 Though some streaks of color were added, this wasn't enough to qualify as peekaboo highlights. This was meant to be an in-your-face type of style, but the result was quite underwhelming. Her hair deserves justice! Where is the pop of color she wished for?
DIY Manicure Look
This, dear friends, is what people would call a flop. A person could easily do this mani themselves at home since all that was used was nail polish. The other manicure has matte acrylic nails with a gold sticker trim.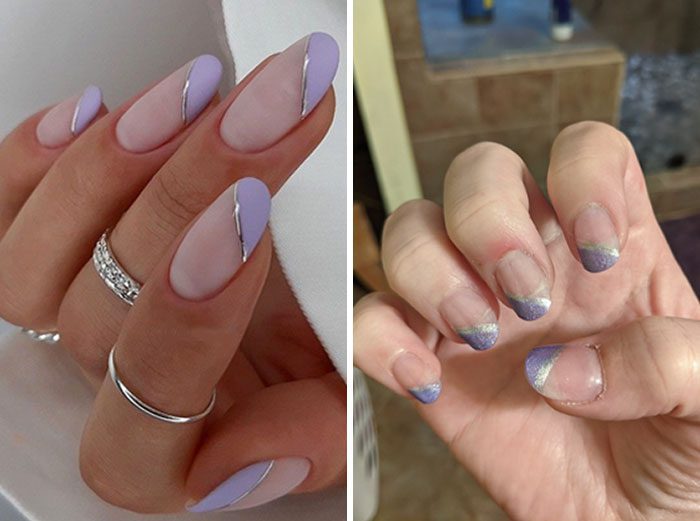 Speaking of acrylics, did you know that a dentist named Frederick Slack invented them in 1954? During work hours, he broke his nail, which prompted him to create an artificial one using dental acrylics as a temporary replacement. You'd think with the technology we have now that, people would be creating incredible acrylics.
Abstract Design
Some people steer clear of hairdressers to avoid something like this happening to their hair. If you want an undercut, you certainly can't do it yourself, so a trip to a salon would be required. Just ensure you select a stylist with a steady hand.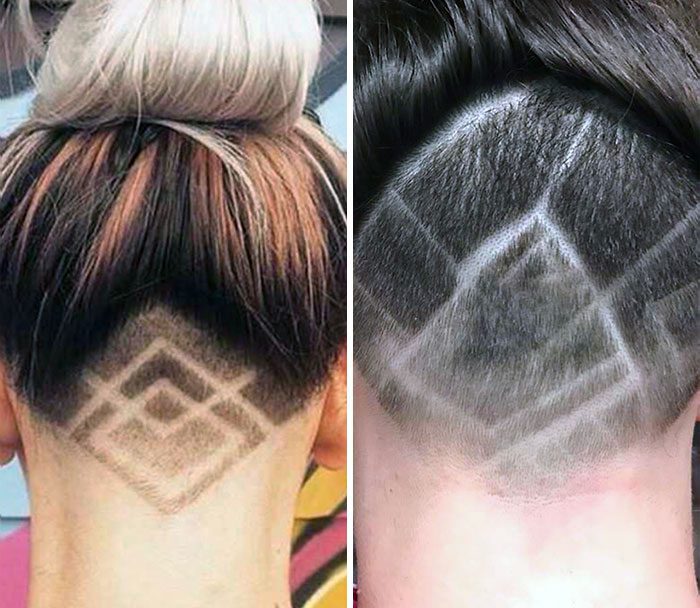 The undercut they were thinking of getting had perfect lines. Sadly we can't say the same for the one they got. At least with this, one doesn't have to worry about concealing a bad undercut since long hair will get the job done.
Eye of the Tiger
Welp, this person undeniably has the eye of the tiger. Get it? Because she has tiger-striped hair! Though we can certainly see the humor in it, we doubt that she can. This is a caramel balayage gone wrong. It's supposed to look subtle, not streaky.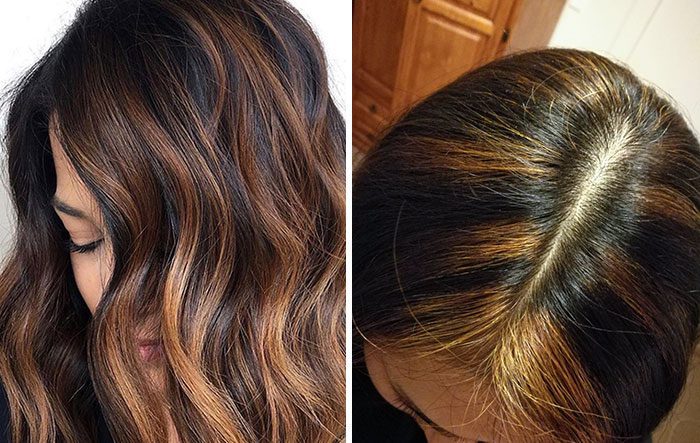 Balayage is trendy due to the fact that it looks stylish and is low maintenance. However, what was supposed to be a natural, effortless look turned into a complete nightmare. It was clearly not blended properly. Hopefully, blue shampoo will get rid of those orange undertones.
Streaky Locks
Oh no! This balayage was a complete dud. She needs to lather, rinse, and repeat until the color fades. Another quick fix is to try different updos to hide the uneven streaks. The best option, however, would be to dye it again. But we all know that that will fry the hair.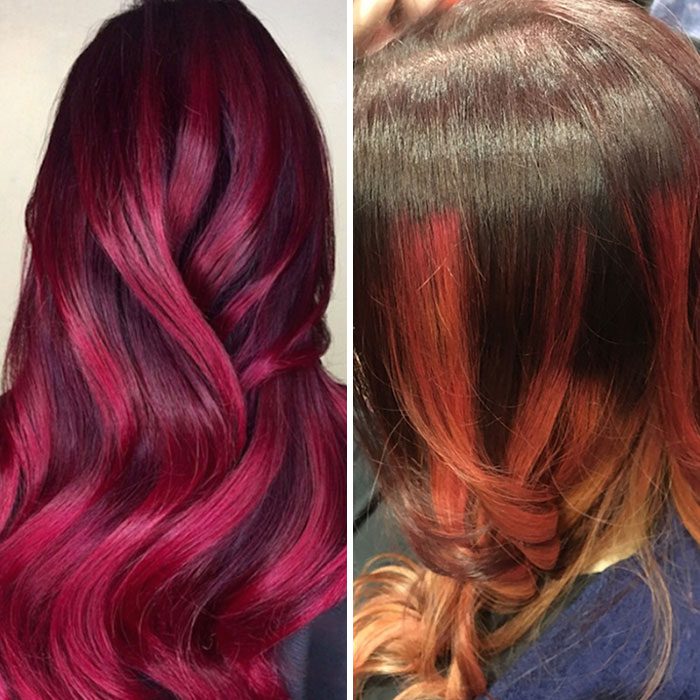 Balayage was created by Dessange Paris in the 1970s in France. The word balayage comes from the French word "balayer," which translates to sweep. The name was inspired by the way the technique is applied to the hair. The highlights are added in sweeping strokes. This hairdresser needs to perfect their technique.
Frizz Ball
What is up with all these balayage disasters? The highlights here don't appear to be too awful, but it's hard to tell with all that frizziness. They really damaged her hair, probably because of all the bleaching that balayage requires.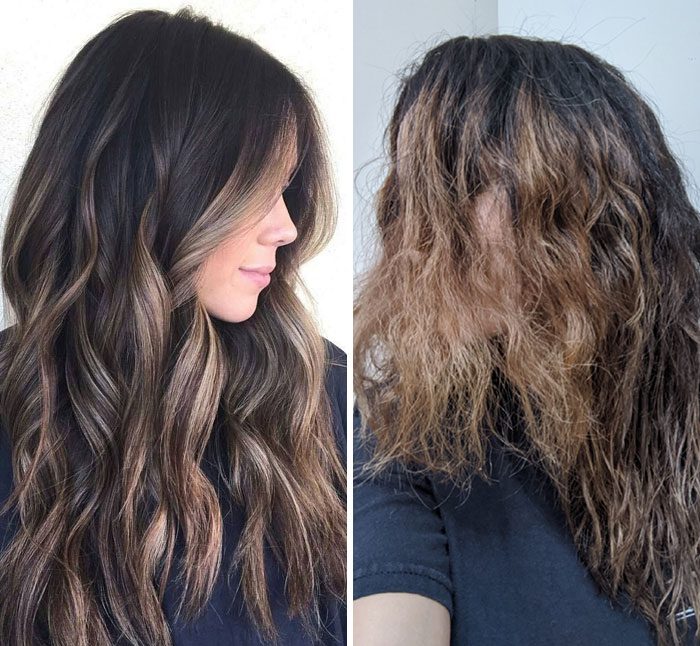 For her hair to be somewhat healthy again, she had to cut her long locks to shoulder length. She must have been furious since it allegedly took her four years to grow, and before this, her hair was super healthy. We certainly feel her pain.
Dip Dye Hair
Emerald green can be a great color to dye your hair for a pick-me-up. Anyone would feel confident rocking this funky shade that symbolizes balance and harmony. This girl wanted exactly that, but instead, she got blue hair dye on the ends of her hair.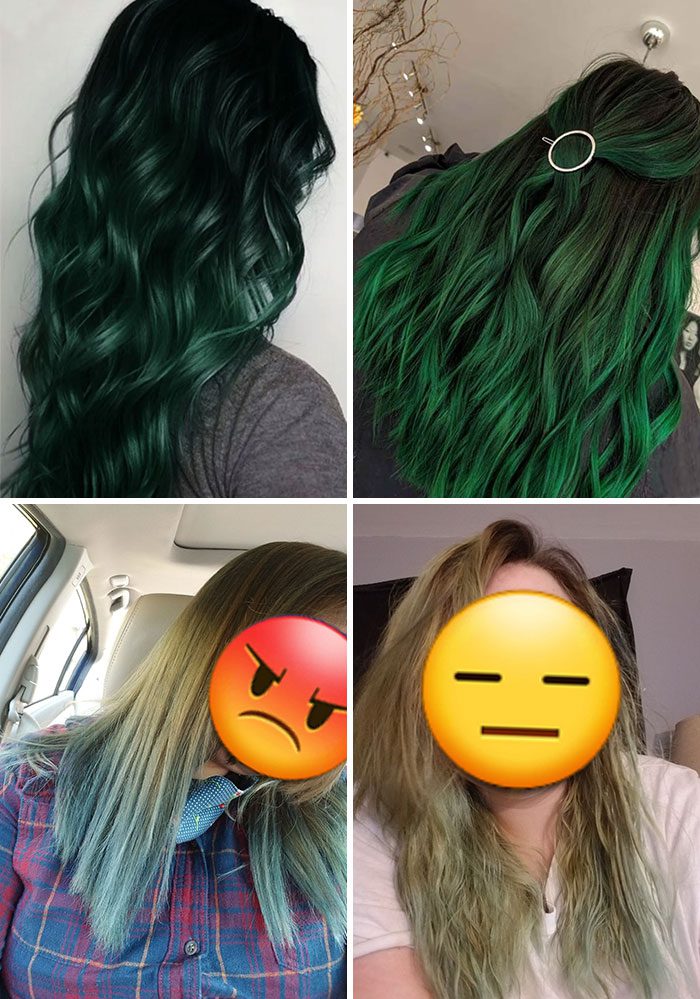 She was hoodwinked by a popular salon school. Unsurprisingly, she demanded a refund, but they refused. That's because the so-called sign-in sheet was actually a contract stating that they didn't issue refunds! Always make sure you read the fine print.
Frizzle Frazzle
This dry hair needs some deep-conditioner stat. This lady exited the salon with frizzy blonde hair rather than beautiful grey silky smooth locks. You might as well wait till you're old for your hair to turn gray if this is what could happen if you try to dye it!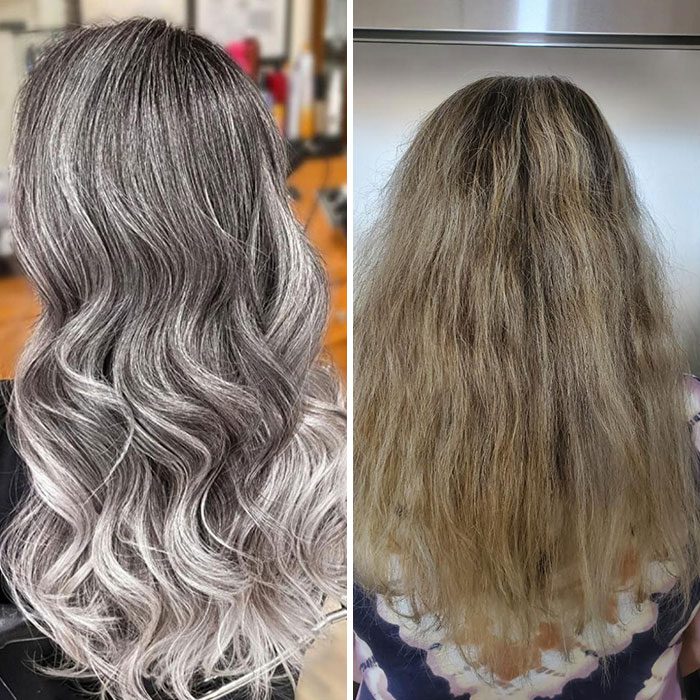 Gray is a tough color to get right. It can be done, but it will take a lot of work. So, it might be best to avoid dying your hair this shade. Still, if you're happy with the results, you'll still need to go to the salon every four to six weeks to maintain it.
Happy Accident
This is only a hair fail because she didn't get the right colors. That said, we think this actually looks really lovely. Out of all the photos we've seen, this one definitely had the best results. It looks nice, and the layers were cut very well.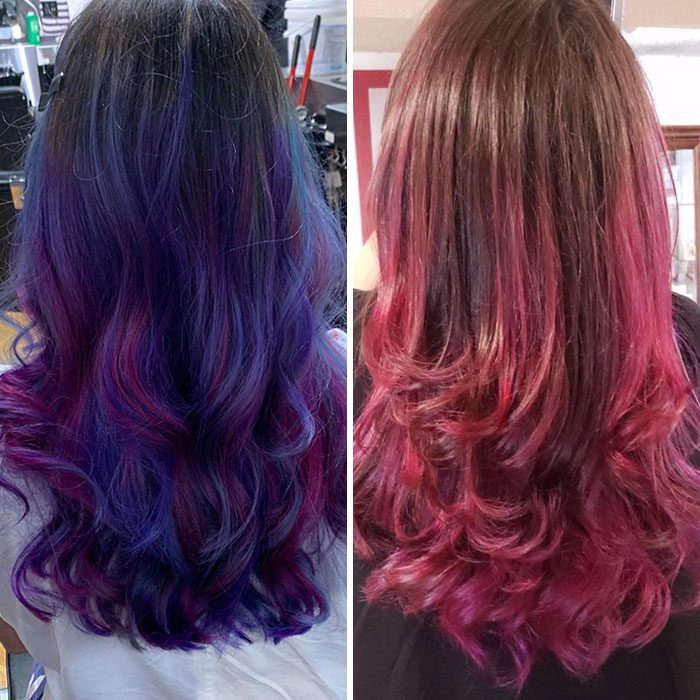 This bright pink was made for her. Even though the blue and purple mix would've looked nice, the pink suits her brown hair better. She even said she was happy with it, so her hairdresser must've been relieved. To quote Bob Ross, "there are no mistakes, just happy accidents."
Red Surprise
So apparently, pink dye can come out as red. According to a hairdresser, brown hair has underlying pigments of red. When hair is dyed lighter than your natural color, then the underlying pigments will be revealed. We hope we haven't unlocked a new fear for girls with dark hair!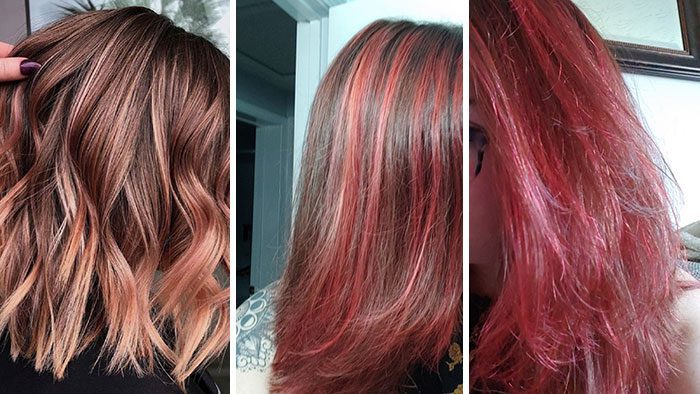 The hairdresser that did this could have at least curled her hair or thrown in a free updo. Though it wouldn't have completely made up for her hair coming out the wrong shade, it might have made this girl feel a teensy bit better.
Double-Toned
Many people dye their hair in two tones. However, this person wasn't trying to join in on that trend. What she really wanted was a balayage, but it turned into a two-tone disaster. Balayage can typically cost around seventy to 300 dollars, which makes this an expensive mistake.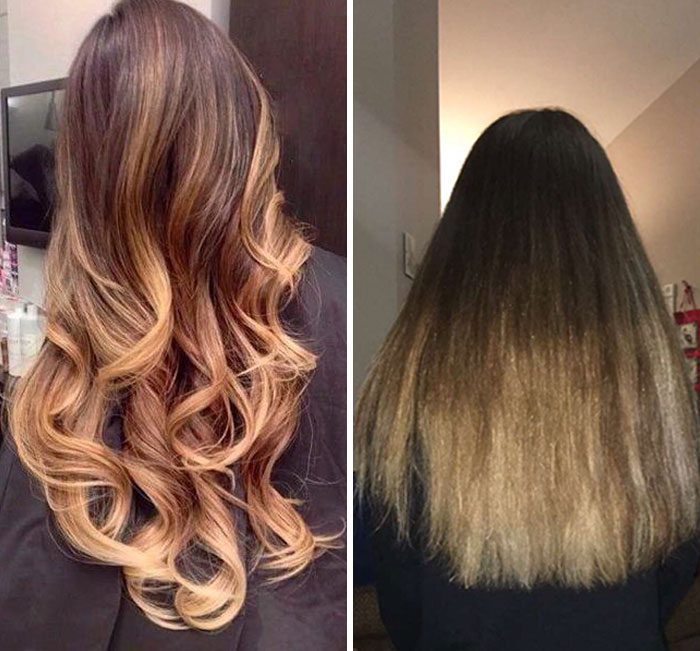 This technique is supposed to give you hair that's dark at the roots and lighter at the ends. But we can all agree that the hairstylist went overboard with the lighter shade. The colors are also meant to blend, not split into two tones.
Hashtag Granny Hair Flop
Ninety percent of people dread the day when their hair starts turning gray. Then, there's the other group of people that are super eager to join in on what people are calling the "granny hair" trend by dyeing their hair silver. This person sadly didn't get to participate in the said trend.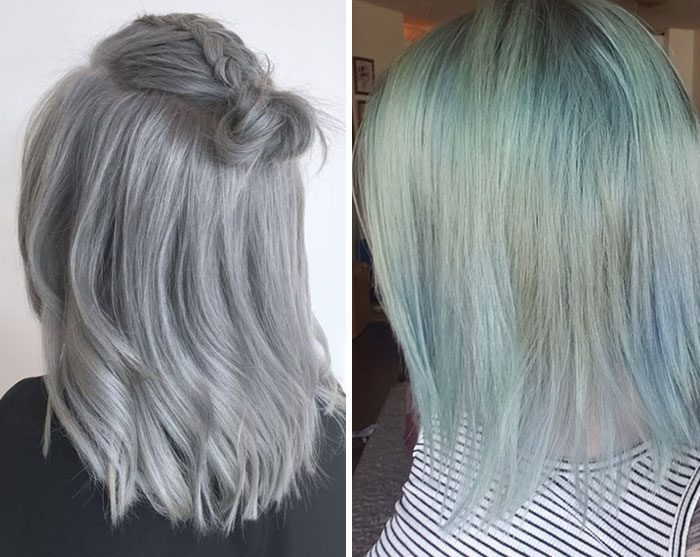 For hair not to turn into such a disappointing shade, you need to start off with platinum blonde hair. If that is your starting color, but you're still afraid to end up looking like this, then test a strand of hair first.
Asymmetrical Hairdo
This lovely two-tone hair was cruelly cut unevenly. Though it's not that noticeable from the back, the front is quite atrocious. But the good thing about hair is that it eventually grows back. However, that doesn't make it any less annoying when someone cuts your precious locks all skewed.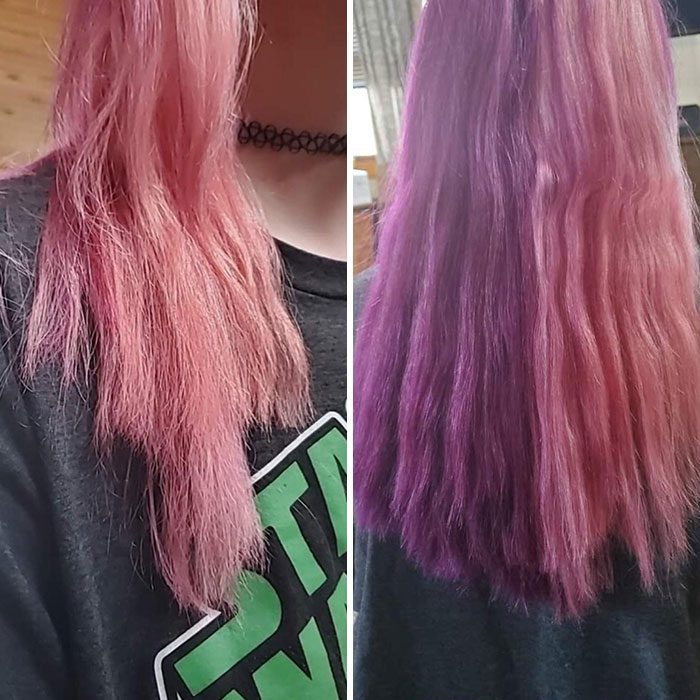 The worst part is she asked a family friend to fix it, but they messed it up even more! She'll never trust anyone to cut her hair again. Everyone eventually gets to a point where they need a trim, but if you have trust issues, buy a pair of hairdressing scissors and do it yourself.
Balayage Nightmare
Guess what? We have another balayage fail for you. The moral of the story here is never to get a balayage! Just kidding. But as we said, do your homework before going to a salon to get this popular hairstyle done.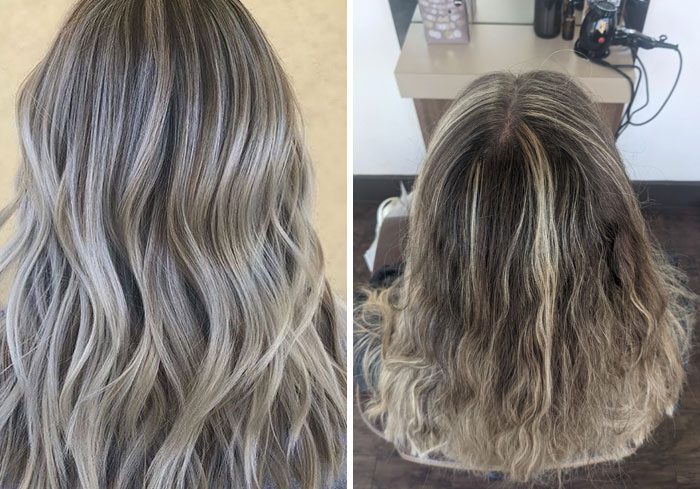 It turns out you can't always rely on a stylist that you've been going to for years. This lady had been going to the same salon for a very long time, but they had never done anything like this before. Apparently, this was the stylist's last day, and we can see why.