45+ Sewing Hacks That Everyone Needs In Their Kit
By Harpreet K February 1, 2023
---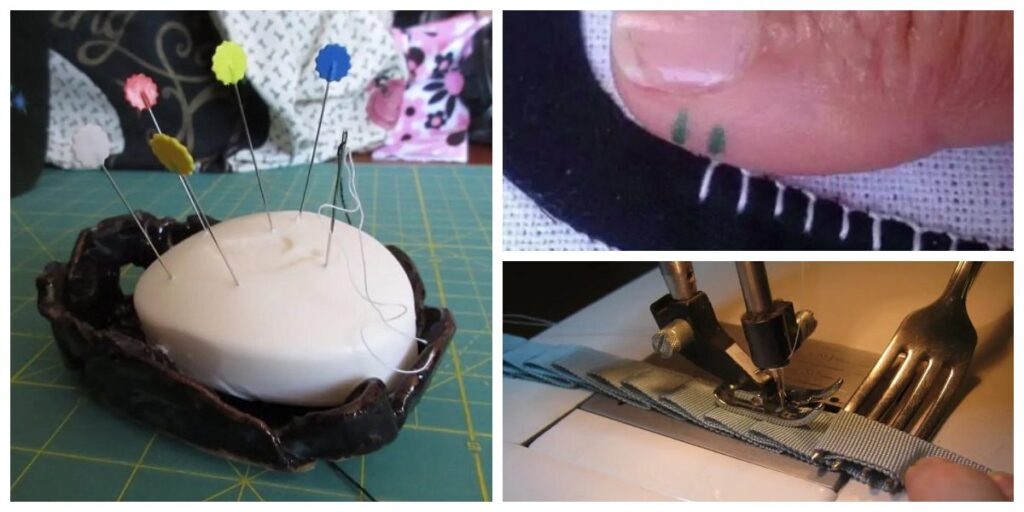 This article was originally published on
morehackz
The priceless skill of making fabric come together using a needle and thread will always be valuable as it requires a lot of patience and expertise. Even though you can buy ready-made clothes from the market, making them with your two hands is always more satisfying. With so many sewing resources and supplies available, it can be troublesome for a beginner to understand the value of each one. While some sewing tools are essential, others are just fun and optional. For all the sewing lovers out there, we have compiled some hacks that you can use to prevent your threads from getting tangled and your stitches from becoming wonky. These tricks will help you with various sewing projects, whether it's keeping your sewing materials organized or keeping your scissors sharp. So, let us explore resourceful ways to use multiple items to make the sewing process easier than ever before.
Keeping Scissors Sharp
Cutting the fabric evenly is an integral and foremost part of the sewing craft. If you have dull scissors, the fabric will tear and fray, leaving you with less to work with, or ruining a project altogether. Hence, keeping your scissors sharp is extremely important.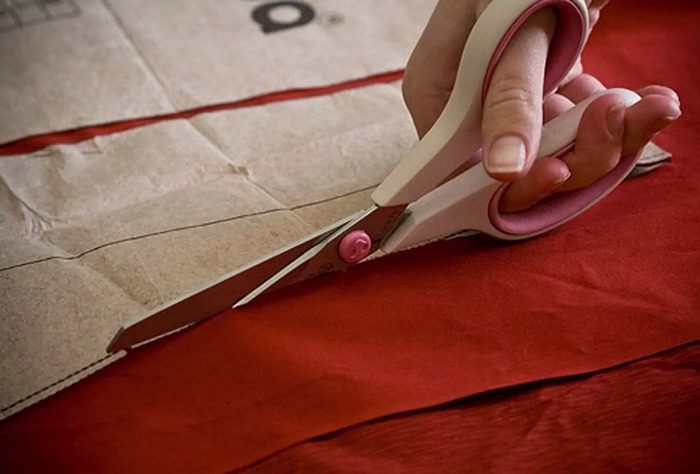 The best way to keep your scissors sharp is to clean them frequently and dry them off immediately if they get wet. Also, ensure that you only use them to cut fabric and nothing else. These tips will surely keep your scissors sharp for a long time.
Pipe Cleaners to Clean Machine
If you want to keep your sewing machine intact, you must always ensure it is taken care of and cleaned relatively often. The pipe cleaners get into the nook and crannies of your machine and clean it in an efficient and effortless way.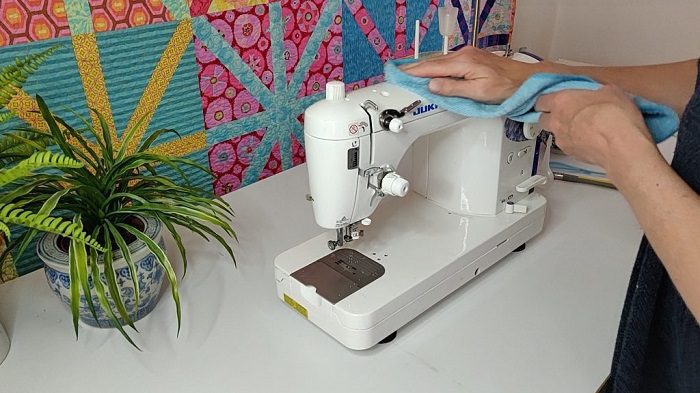 The pipe cleaner cleans the bobbin case very meticulously and gets the lint out of it in no time. The tiny parts that you can't clean with your hands are able to be perfectly cleaned with pipe cleaners. Isn't it amazing!?
DIY Weights
Holding light fabric down while trying to trace out a pattern can be challenging, especially if you are using those thin tissue paper patterns, and not a cardboard template. Often, you do not want to use a pen or too many pins if the fabric you are cutting is delicate.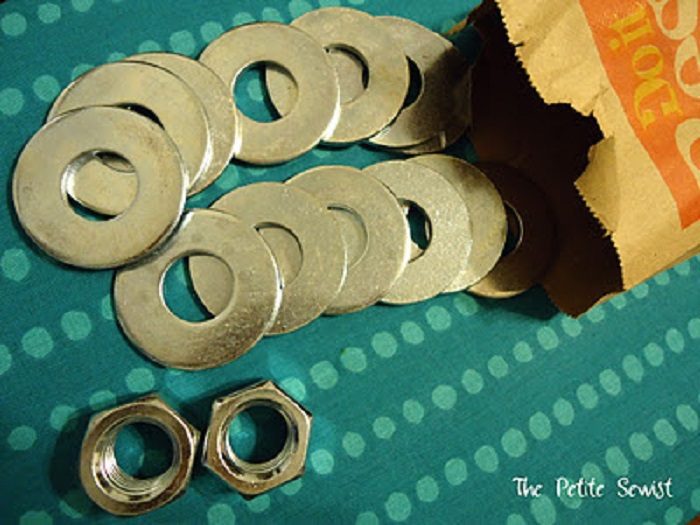 Use nuts and washers as fabric weights to hold the cloth down. These small steel or iron nuts are very handy, and it's easy to place them wherever you wish. Plus, they will not damage or mark the fabric underneath, allowing you to trace the pattern cleanly and easily. Use a small tin container to keep them in one place.
Staystitching
All those who stitch professionally or frequently know the importance of staystitching. It is a row of stitches on a piece of fabric to keep its shape intact, and it's especially used on curved edges. This amazing hack will help you with this task!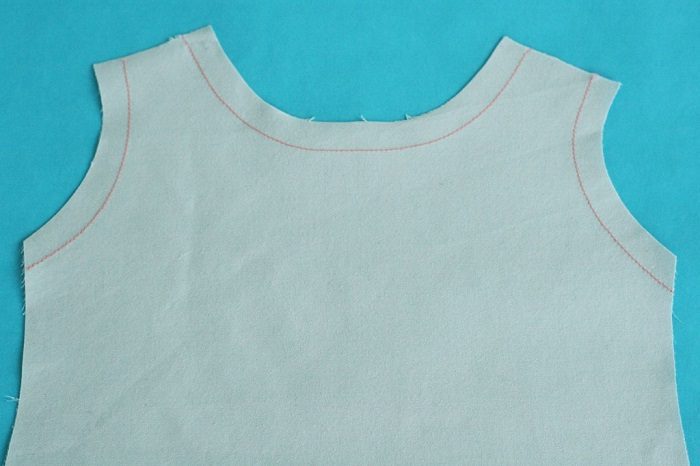 Staystitching makes it easy to hold on to the fabric, making the process more efficient. Just like tucks that keep the fabric in the right place while you attach the other pieces. It is also helpful while working on diagonal edges.
Fray Prevention
If you are tired of finding frays in your fabric while stitching and want to stop it immediately, try to use a pair of pinking scissors that have serrated edges. These pinking scissors are spring-loaded and pop open after every cut.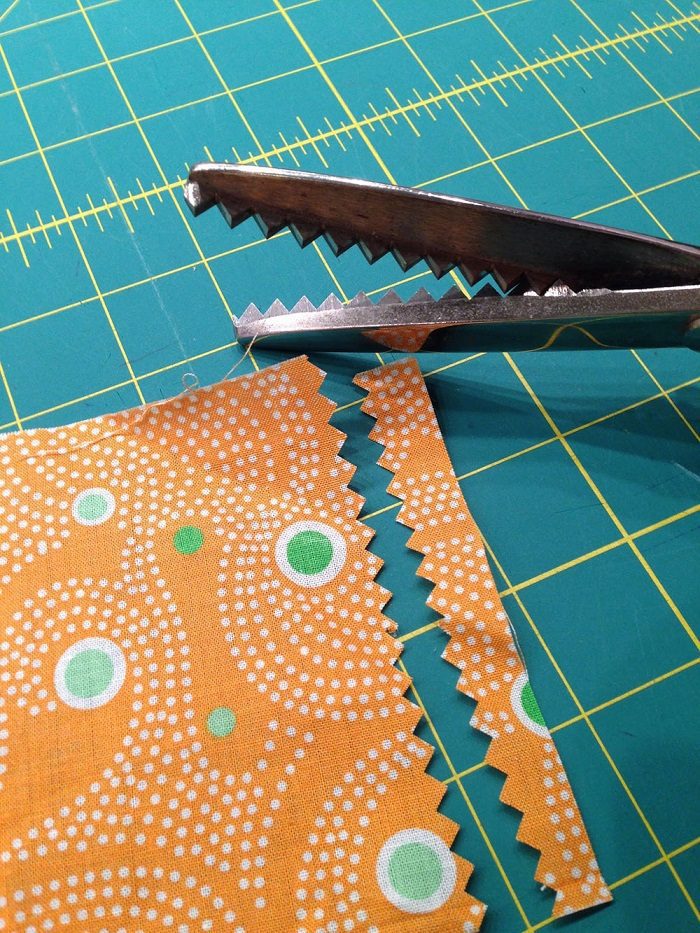 Their blades cut a zigzag pattern in the fabric and which makes it less likely to fray. If you have ever tried this hack, you will find it really helpful, especially with old fabric that is bound to become frayed with time.
No More Thread Tangling
Threads might tangle a lot while sewing. So, don't worry, as we have a hack for no more thread tangling endeavors. If you ever took a look your tailor's sewing kit, you would have surely noticed a circular beeswax box.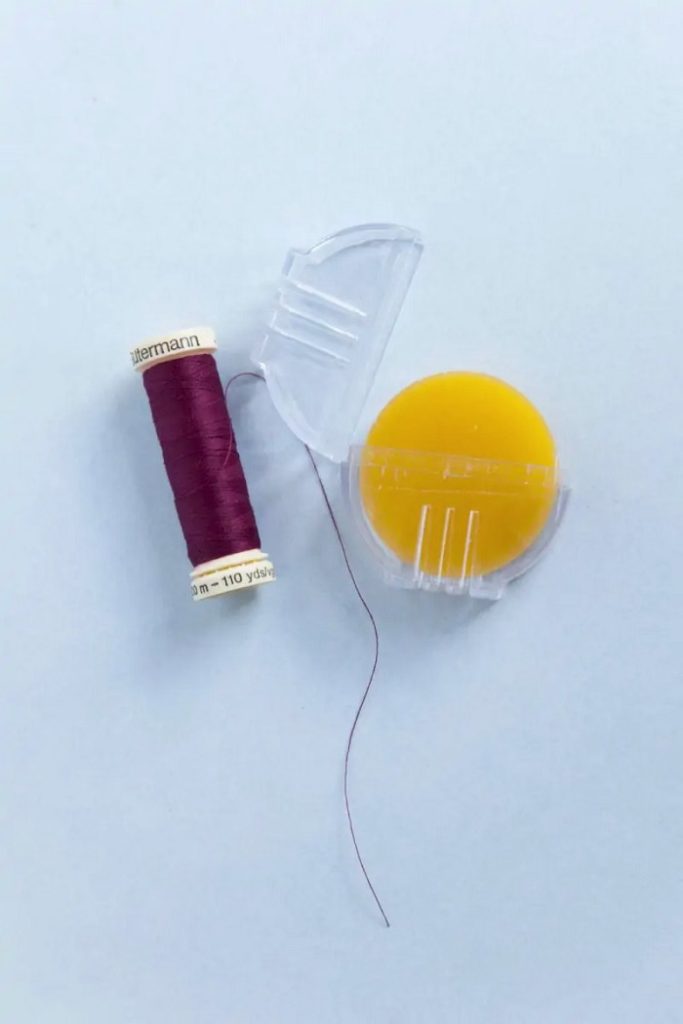 Coat your thread with beeswax and see how easy it is to work with! The wax makes the thread effortless to use and doesn't let it meddle anywhere. Now, you can find it available in a plastic case with notches to pull the thread through the beeswax.
Avoid Pin Hitting
Suppose you are exhausted from hitting the pins you use to keep the fabric intact while sewing; you may try to place them horizontally. This way, the pins will not be in your way while you work, plus they will be visible.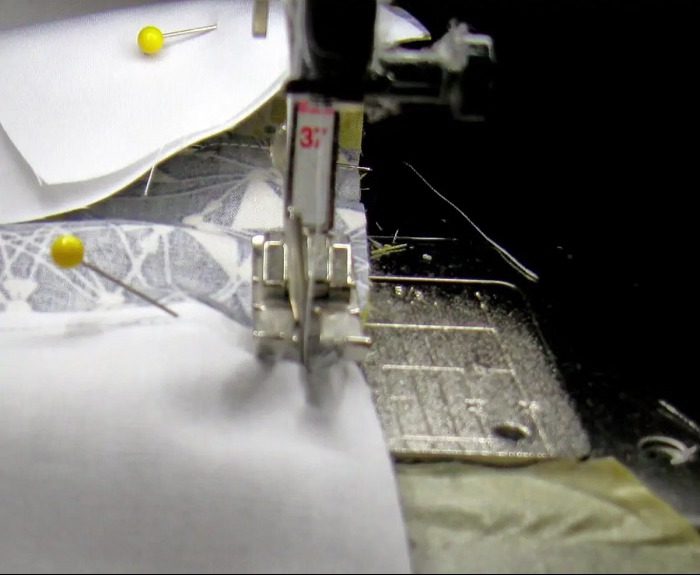 By doing this, first, you won't hit the pins with the needle, and second, they won't damage your machine. It is a simple trick but becomes very handy when you are doing intricate sewing projects that require many materials.
Making Scissors Handy
To say that scissors are only required when you need to cut the fabric at the beginning would be a wrong assumption as they are needed throughout the sewing process. However, many times, you might forget where you put your scissors.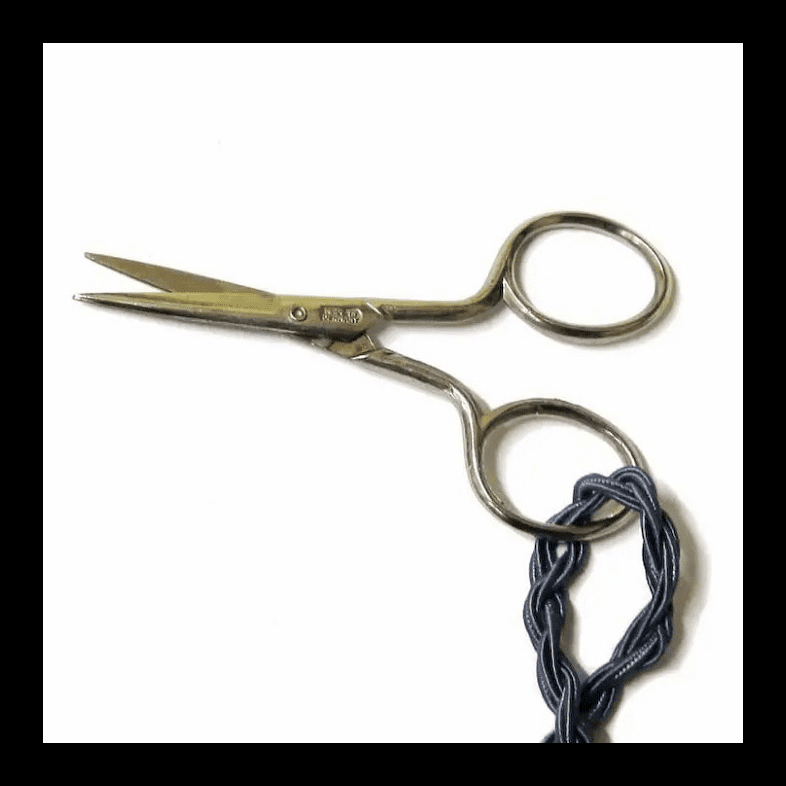 Tie a string to the loop of the scissors and ensure that the string is long enough so you can place it around your machine or table edges. This way, they will always be reachable by your side when you need them. Simple!
Use Binder Clips
The most common problem while sewing a lightweight fabric is holding them intact on the surface. There is a fantastic hack that will help you when the situation arises. Use a binder or office clips to hold your fabric in place while sewing.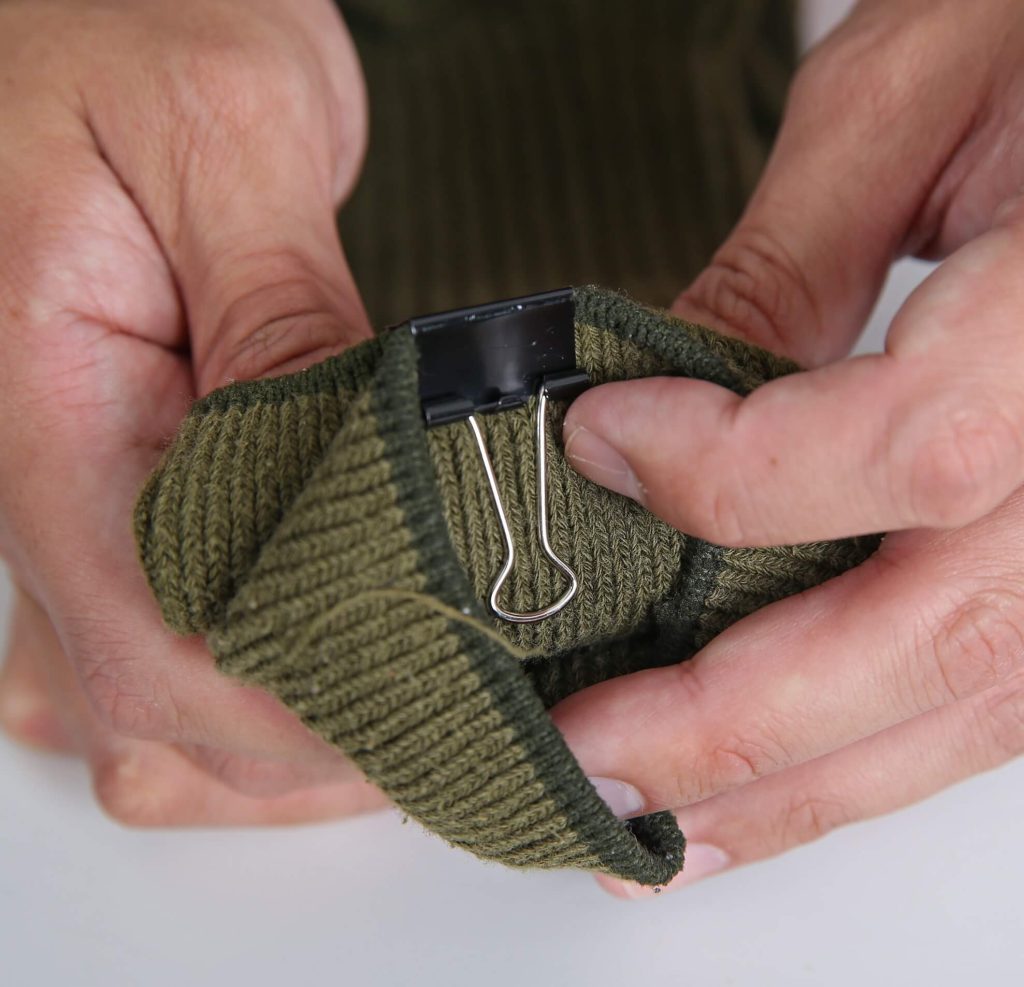 These tiny clips will surely let you keep the layers of the fabric fixed in one place together while sewing around the edges. But keep in mind that when your needle comes near the clip, remove it and continue sewing.
Steel Wool to Sharpen your Needles
Overusing needles and pins can make them dull over time. But don't worry since this hack will surely help you out with this problem. We suggest you keep your needles and pins in a steel wool cushion. The stainless steel wool will never let your precious needles rust.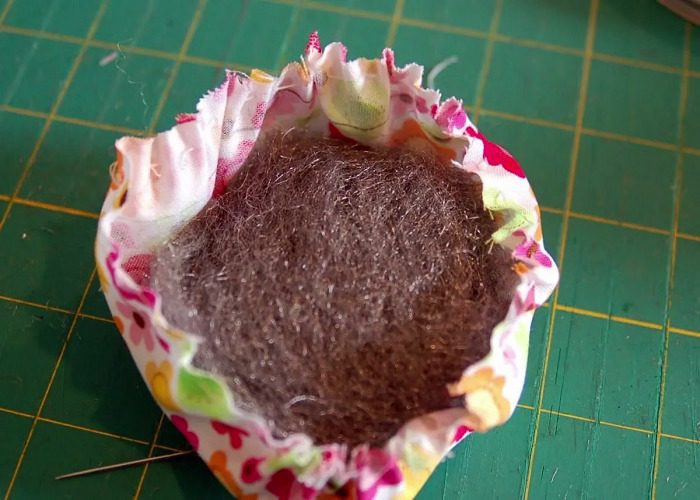 To make a perfect steel wool cushion, place a ball of steel wool in a piece of cloth and sew it closed. Pin your needles in the steel wool when you don't use them and keep them sharpened and handy with practically no effort.
Creating Extra-wide Panels
It is a common problem to feel short of the fabric you need when you are adding a new design to something. This may mean adding an extra piece of fabric to the main fabric to widen it. Let us share a great trick with you!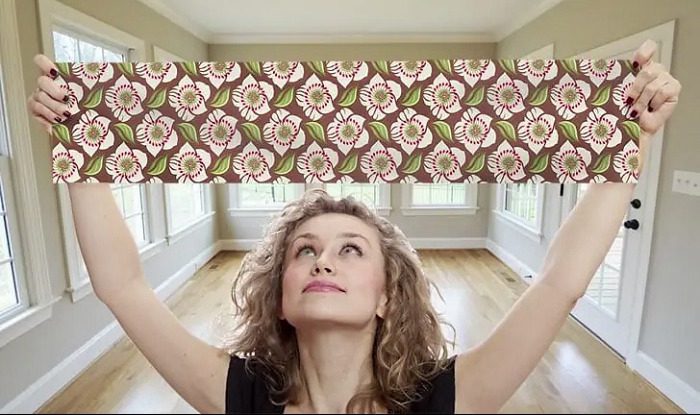 Instead of sewing two pieces together, cut the extra piece in half and sew each half to either side of the main fabric. By doing so, you make a wide symmetrical panel, and the sewed fabric will look more stylish than before.
Push the Needle Eye
Whether you sew with your hands or with a machine, the most taxing task is threading a needle because the edge of the thread generally frays. It becomes annoying for you to cut the end of the thread over and over again.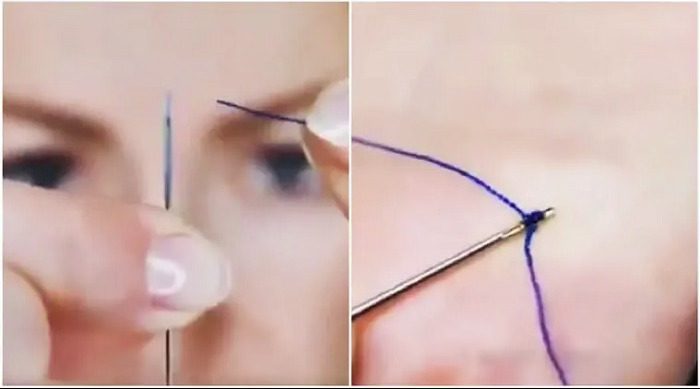 Push the needle eye onto the tip of the thread instead of pushing the tip of the thread into the needle eye. Also, try to pinch the tip to compress it into a shape that can easily glide into the needle eye.
Magnet Hack
Finding all the equipment when you need them the most is what everyone wants, especially when they are very tiny yet extremely important, like needles. But there is a hack other than a pin (or steel wool) cushion to keep your needles in one place.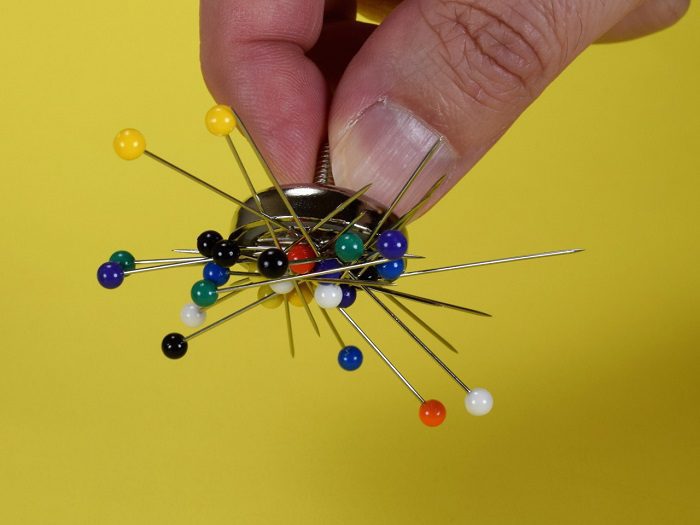 A nifty way is to keep a magnet in your sewing kit to keep all your pins and needles in one place. After you have finished working, simply run the magnet over the entire work area and watch the power of attraction before your eyes!
Soap Pin Cushion
Pins are crucial for the sewing process, whether you are using a machine or just sewing by hand with a needle and thread. And, it's vital to keep all the pins within easy reach, as you don't want to lose your place while searching for the much-needed pins.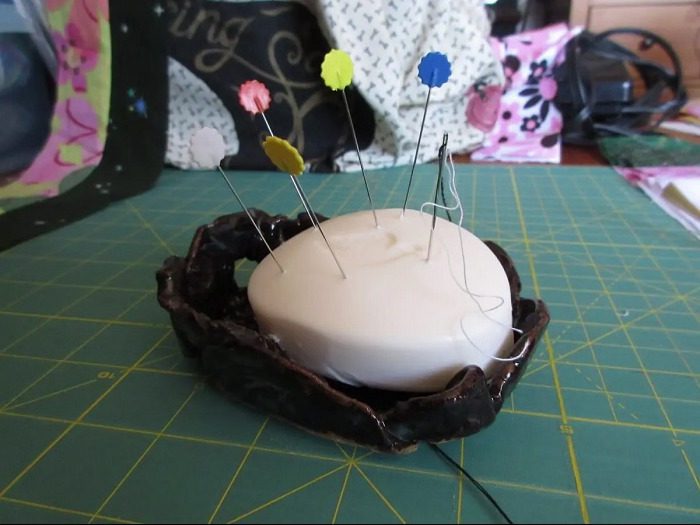 Try using a soap bar to help you with this. You can also cover it up with a spare piece of fabric as it makes a perfect cushion for your needles. The soap will also spread, adding a light fragrance to the room and will keep all your pins together.
Old Blankets for Batting
Old wooly blankets are still preferred these days as they are warm, breathable, and are made up of natural fibers. But with time, their shine starts fading away. However, you don't want to discard them. Here is a way you can use them efficiently!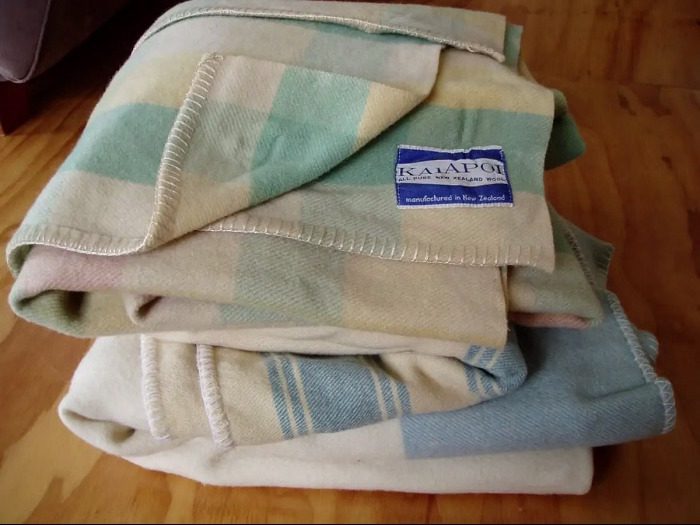 Instead of buying costly new batting for your next quilt sewing project, you can also use the old blankets as the batting because they are very soft and give a perfect finish. Plus, they are easy to fold as well.
Hold the Drawstring
You all love to wear hoodies in winter since they are super snuggly, and you don't have to worry about putting on a beanie or earmuffs. Yet, sometimes the most difficult task with the hoodies is keeping their drawstring intact.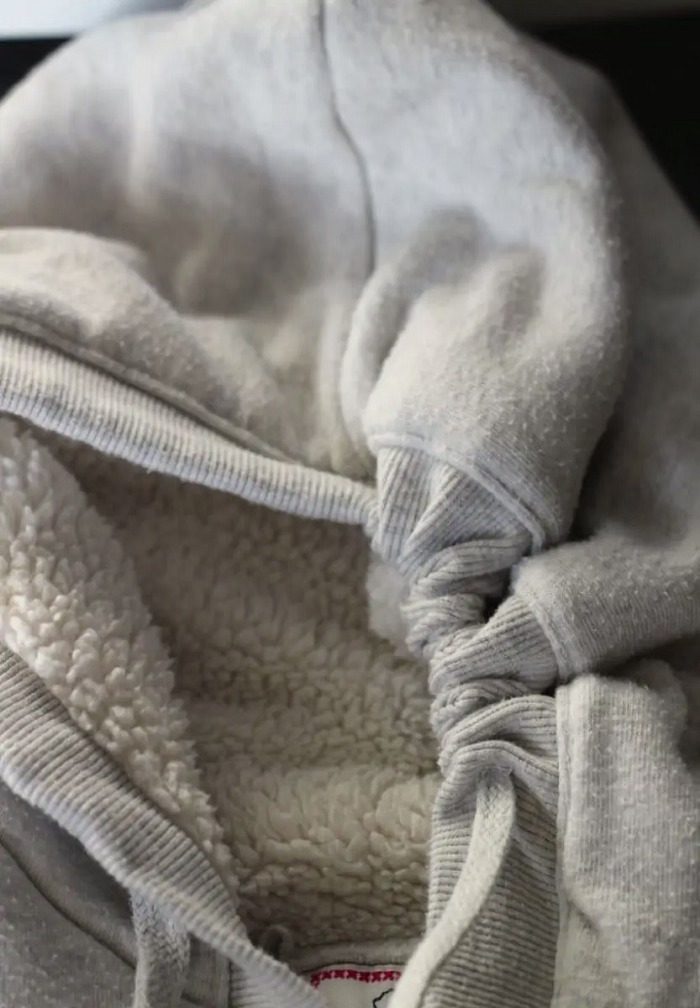 We have something you should try! Make a stitch in the middle of the back of the hood to hold it in place. With this, the front of the hood will look the same, and the drawstring will remain intact in the loop of the hood.
Serger Spool
While sewing on a machine, some people have a hard time dealing with changing the thread over and again, and you might not know that you can use more oversized serger spool pins with a non-serger-type sewing machine. Yes, you can do it!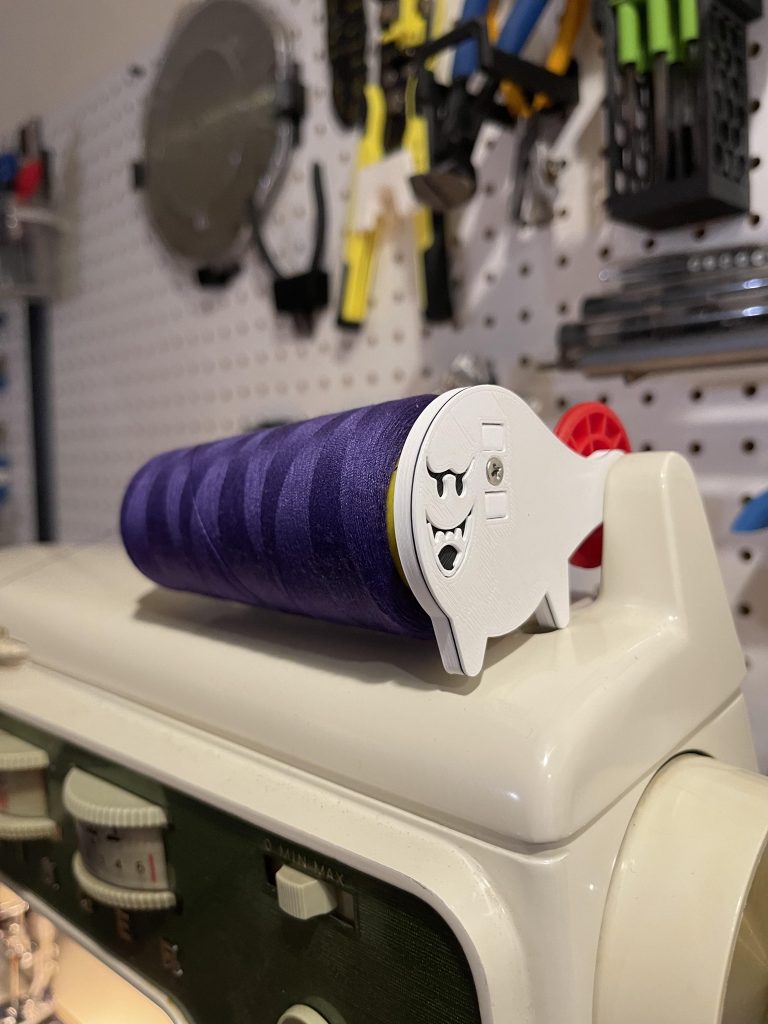 You have to put a slightly bigger serger spool on a smaller one before putting both the spools on the machine. Trust us with this hack. You don't have to change the thread frequently and can sew for long!
Seam Allowance
Seam allowance is the area between the fabric edge and the stitching line on two pieces of cloth that are sewn together. To get the seam allowance accurate is not a daunting task, especially if you take into consideration this simple hack.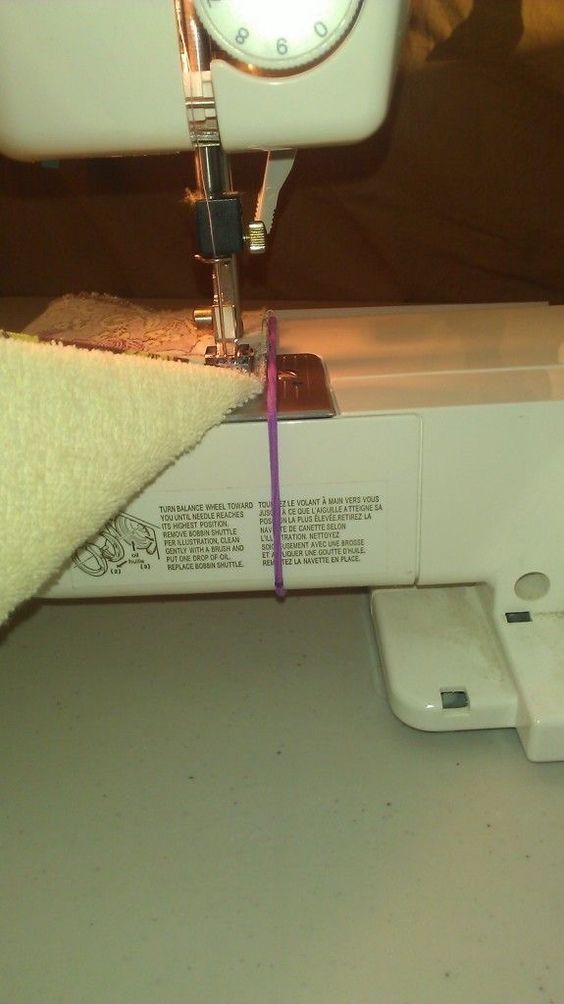 A rubber band around the surface of your sewing machine is the best way to mark a visible and broader seam allowance. Plus, you can also move the rubber bands into place on your material whenever you need them. Simple!
Make Your Bias Tape
Bias tape is very much needed while making quilts and sheets as that allows you to place a border around the edges. You don't need to run to the market when you're in need of expensive bias tapes as they are very easy to make.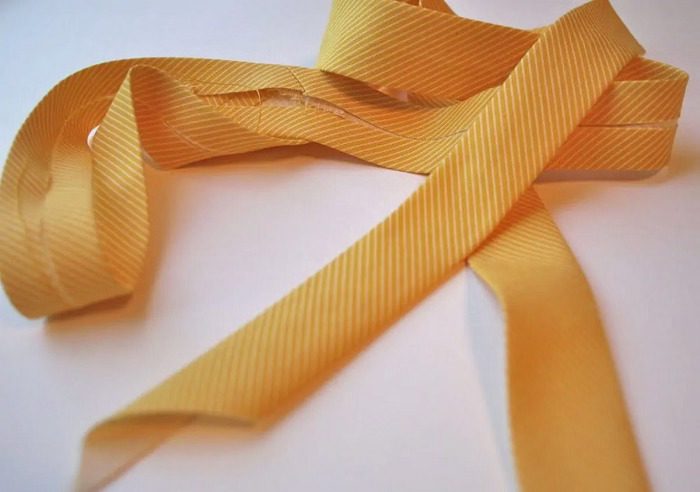 Open the material and draw lines along the edge. You may choose the width depending on your preference and the project at hand. Fold it on both the edges and iron. Your bias tape is ready. You can make it as creative as you want.
Stitching Tip
Whether you are a beginner or a professional, you must ensure that your sewing machine is executing proper stitches. Otherwise, the fabric can get ruined. So, always do a trial run before actually working on your main material or project.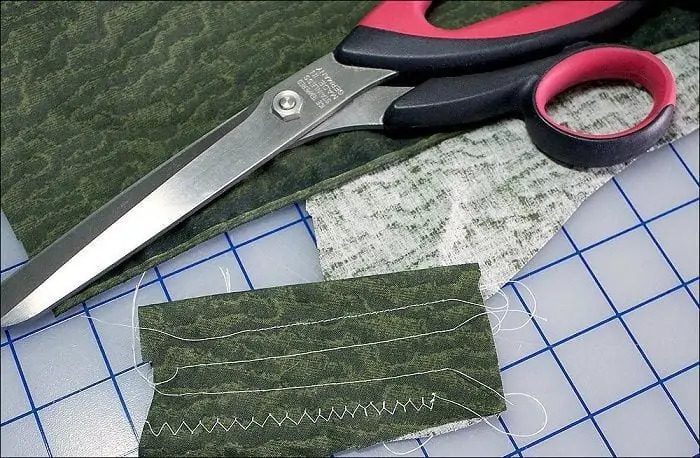 Take a piece of tattered cloth and ensure that your machine is set up correctly. Try a few stitches on it and see if they are coming out well. If not, you might end up ripping out the stitches and starting over.
Elastic Threads
Custom pieces and one-of-a-kind clothing items add charm to your personality. Instead of using regular thread, you can also use elastic threads as they are perfect to sew shirring and smocking on lightweight fabrics for all kinds of garments and home decor.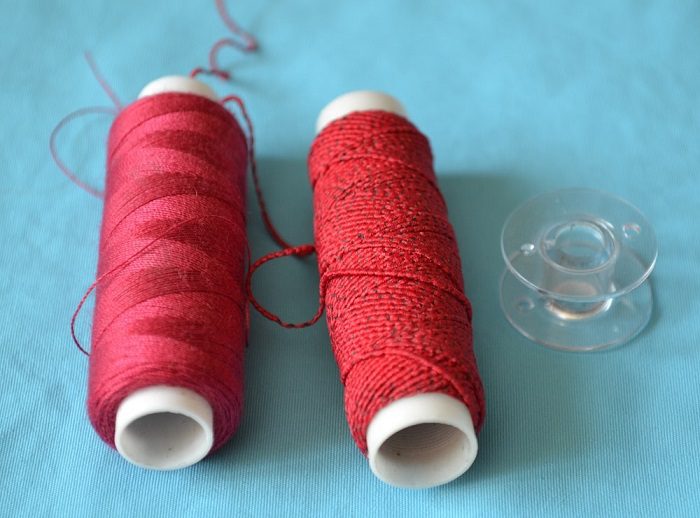 Shirring makes your fabric shrink around half of its original size and gives a perfect shape when you put it on another garment. Smocking adds a touch of sophistication to your clothing. Elastic threads also give you the liberty to make ruffles.
Wash Your Fabric Before Stitching
Those who sew frequently know how different the various sorts of fabrics are and what it takes to handles them properly while sewing. So, here we have a simple hack that can surely make your work go much easier than ever before.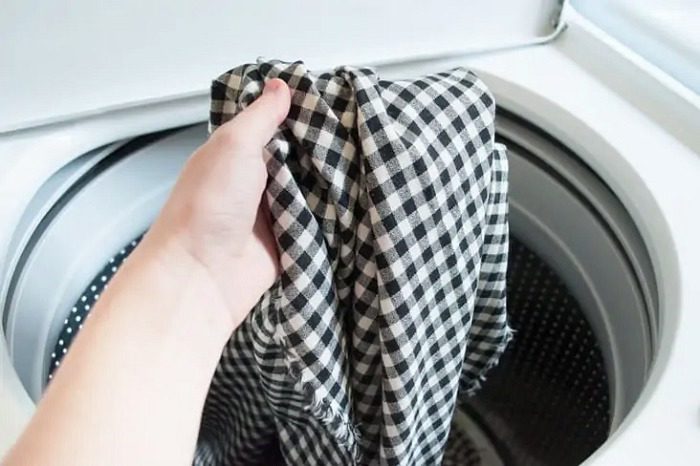 We suggest you wash your fabric before sewing it because by washing the material, you avoid any kind of shrinkage that you might run into after you finish the project. This trick works well with almost all kinds of fabric, except 100% polyester.
Safety Pins for Bodkins
While stitching loops in hoodies and waistbands, you need to make sure whether the loop is wide enough to let the string smoothly through it or not. However, there are many times when your strings do not have bodkins.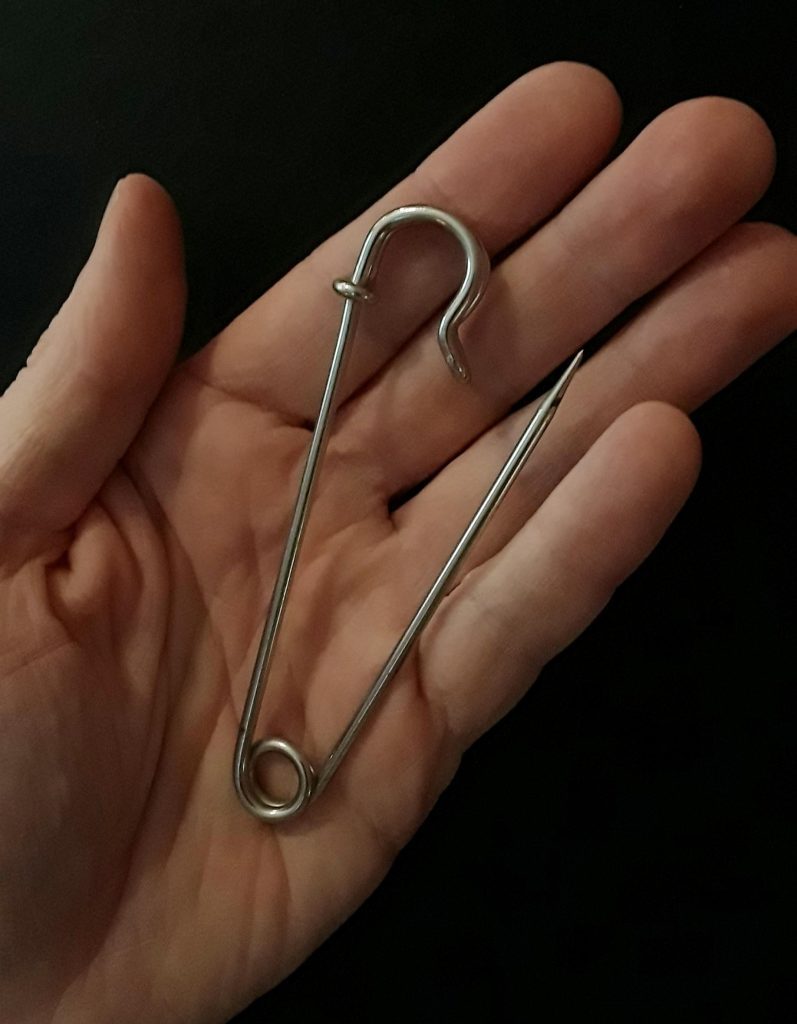 In the absence of bodkin, you can use safety pins as their easy replacement options. The hard steel of the safety pin helps you pull the string easily to the mouth of the loop in no time. You will use your time more efficiently.
Thumb Marker
Making evenly spaced stitching patterns are very important, especially when you're sewing by hand, as these things are already customized in sewing machines. Besides, these even spaces show your expertise in sewing. We have a fantastic hack that will help you a great deal!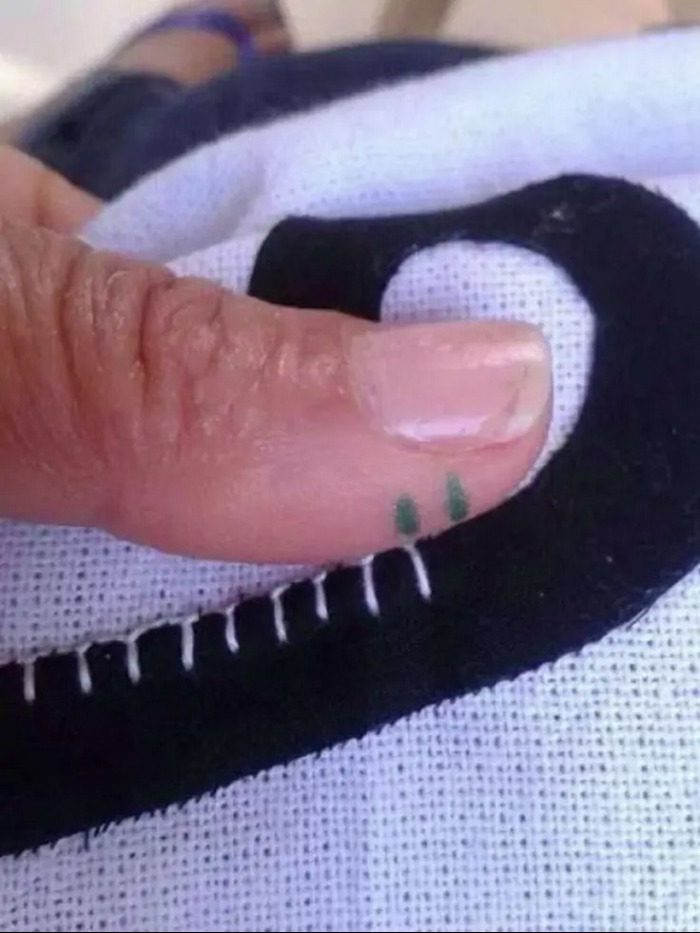 While sewing by hand, your thumb already plays a great role in holding the fabric intact. Try to use it more by making even marks on your thumb using a Sharpie. It will make you stitch evenly without any hassle.
Jean Repair, No Tailor or Seamstress Required
A high-quality pair of jeans will actually save you money in the long run, because after all, jeans were originally designed to take a beating. Nevertheless, there are a few hot spots that wear out faster than others. Fear not, you'll simply need a sewing machine and a matching-color fusible interfacing for this fix.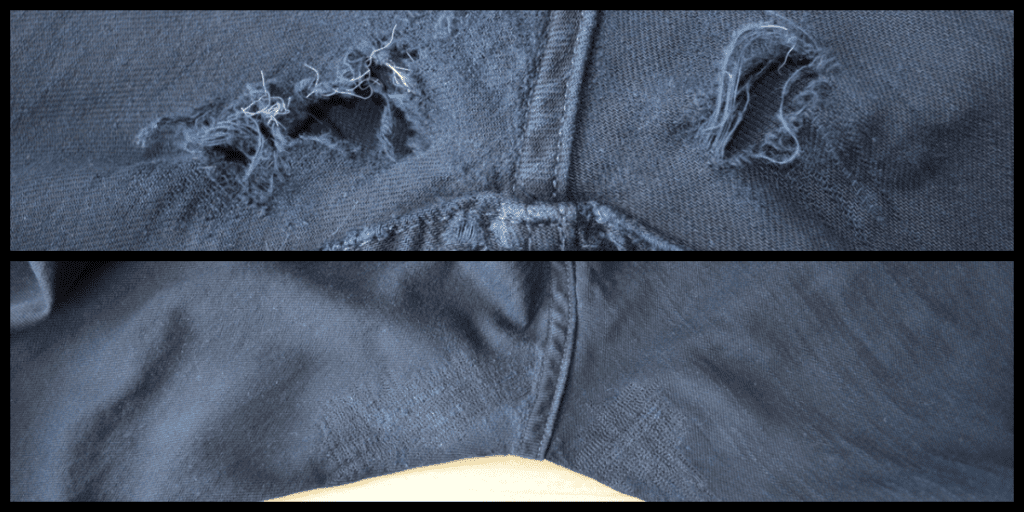 All you need to do is sew fusible interfacing over the holes while making sure to follow the grain of the original fabric. A stitch length of 1.5 should do the trick. The result isn't fully like new, but it's sure as heck better than putting those perfectly-good trousers in a landfill.
Make Skinny Jeans
Sometimes, that good pair of jeans don't have holes in them but, instead, aren't quite your style anymore. Fashion trends come and go, and it can be difficult to keep up without buying into fast fashion. So, why don't you try this trick?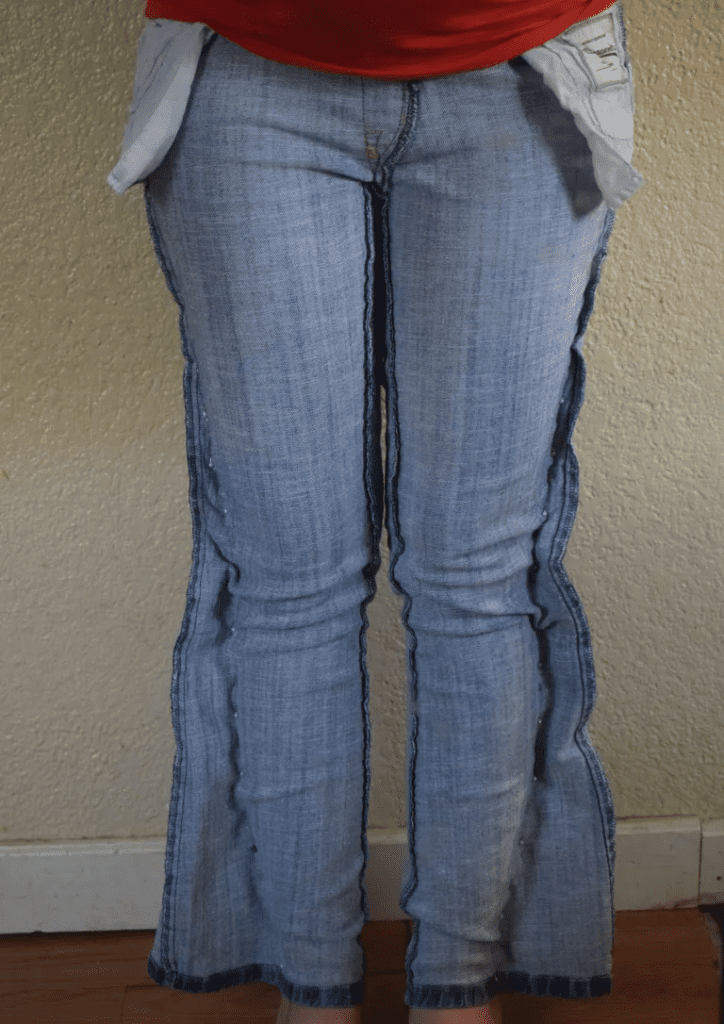 To give your jeans a trendy face-lift, find baggy jeans that you aren't wearing anymore. Put them on inside out and then pin them according to your preferred fit. Then, sew along the pins and cut off the excess fabric. Turn them inside out, and there you have it—a new pair of skinny jeans.
Make Ruffles with Fork
Ruffles, lace, or ornamented fabric are often used to embellish the wrist or neck of a dress as they enhance the look of the attire. If you are fond of sewing, you need to learn to make them by yourself.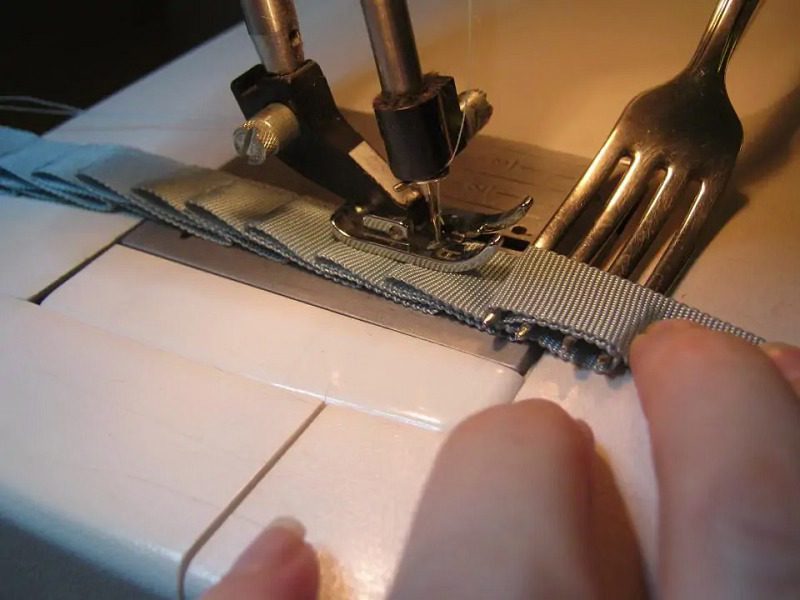 Believe us that you can make ruffles using a fork! The fork allows you to efficiently fold the fabric to make proper and even pleats in your material. With this hack, you can also make stunning ruffles from satin, velvet, and other materials.
Seam Ripper
It's natural to make mistakes. With sewing, it's easy to fix some accidental stitching. Whether you pieced together the wrong fabrics, or just don't like how it came out, you can easily undo the stitching and give it another try.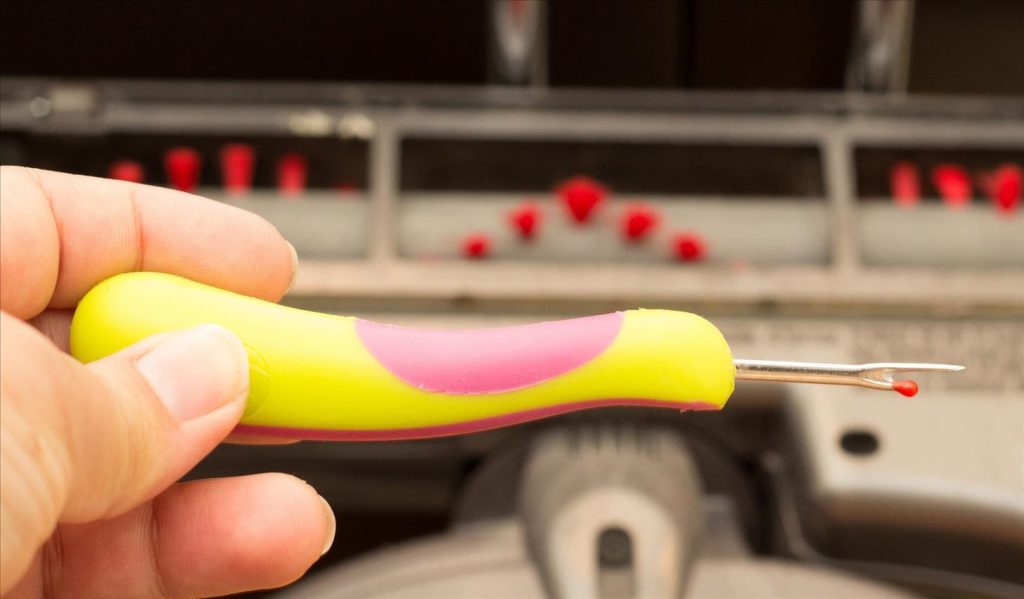 Don't use scissors to undo bad stitching. Get a seam ripper for this delicate job. The thick steel is sturdy enough to slide in between even the narrowest of stitches, and the sharp blade in the bend will cut through the thread with ease.
Easy way of Using Serger
Many prefer sewing with the machine since it speeds up the process. The credit goes to the serger that makes sewing easy! But you must know the right way to use the serger to maintain good speed and smoothness.
Lift the top knife of the serger by pulling the upper blade to the right and then turning it upwards. Fold the corner of the knit fabric twice and press the folded hem. Now, let's finally hem knit fabric perfectly.
Sewing Buttons
When you have to sew only a few buttons, it is ok to do it by hand, but you need a machine when there are several buttons to attach to a given article of clothing. Sewing many buttons with a machine is not taxing. Let's see what we're talking about.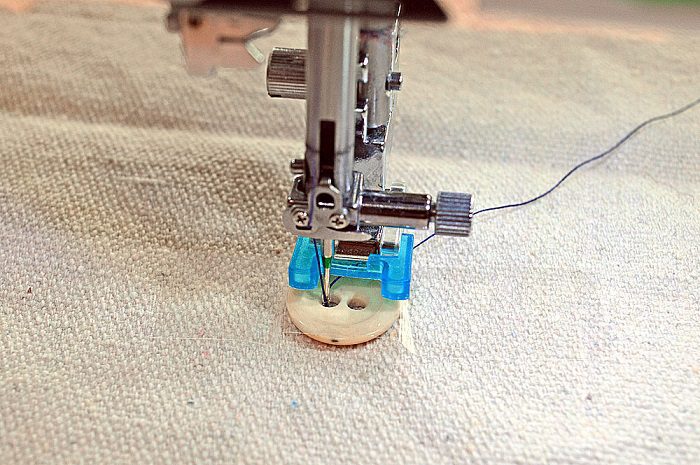 Lower the feed dogs so that the needle can repeatedly stitch in one particular location. Usually, the feed dogs get lower automatically when you choose the button sewing function. You can also check the machine manual for better clarity.
Install Zipper Easily
If you think that installing a zipper is hard, it's a myth. Now, you can install a zipper very easily with this trick. Keep the needle on the left-hand side and begin sewing along the right side of the seam.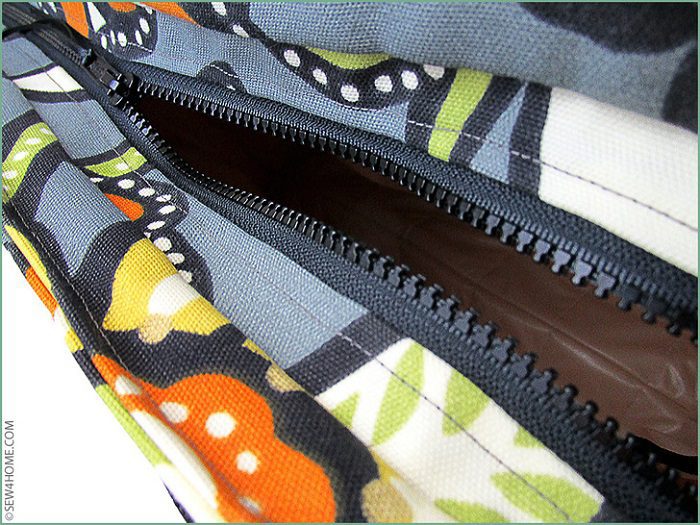 Slide your fabric underneath the presser foot and mark the bottom of the zipper. Backstitch a couple of times and then start sewing. Keep sewing the zipper until you are about two inches from the end. It's done!
Stitching Bulky Fabric
You love to sew home decor at home. However, the fabric used is too bulky to be sewn. Don't worry, as this amazing hack will sort out your problem in seconds, leaving you in shock. We are sure this trick didn't strike you before.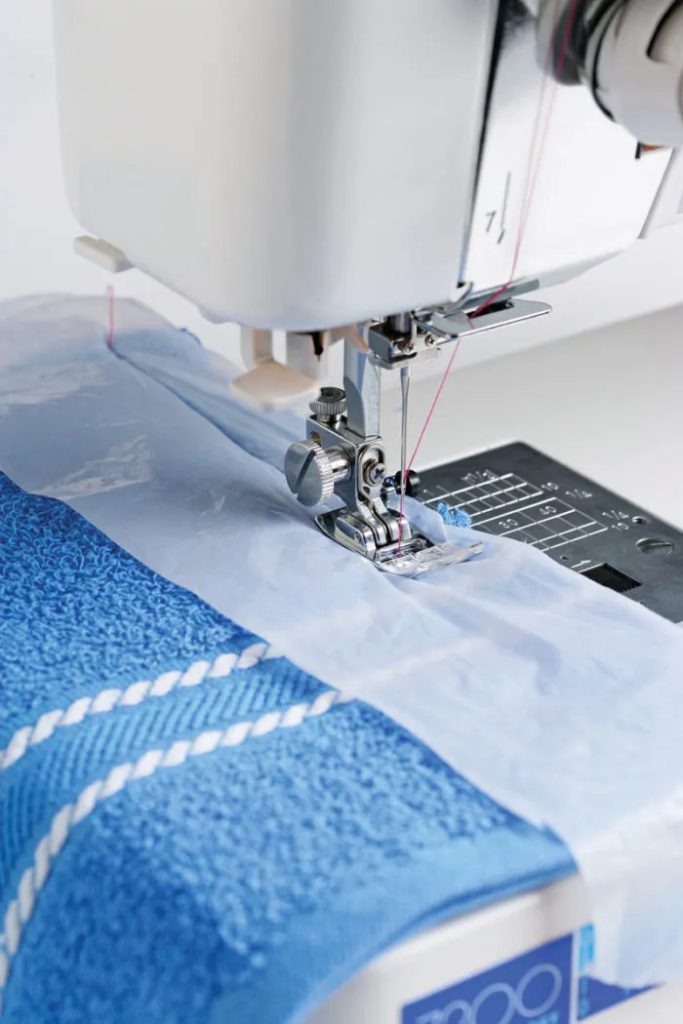 Try using a plastic strip on your main material when you start sewing it. Using this strip before attempting to sew can make the material slide more easily and smoothly than before. Try it once and see the difference.
Sewing Buttons by Hand
Sewing buttons by hand is a helpful skill. You may be all set to go out, and all of a sudden, a button from your dress falls. It's very annoying, but we can surely let you in on a trick that will help you sew a button in no time.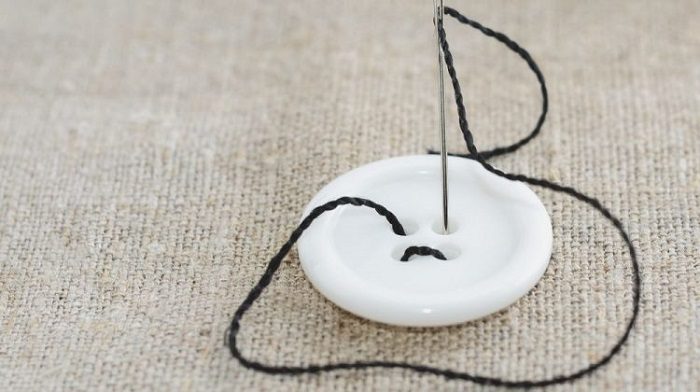 Just make sure the thread is the right length before you start and is not pulling the fabric along with it. Keep the button static in one place and sew it along with the pattern of the button like the picture. Isn't it easy?
Making Crisp Corners
While sewing shirts, you might become anxious about making crisp corners as they make the garment look neat and professional. Let's discover some ways of making crisp corners. You can always turn the fabric inside out when sewing for a perfect corner.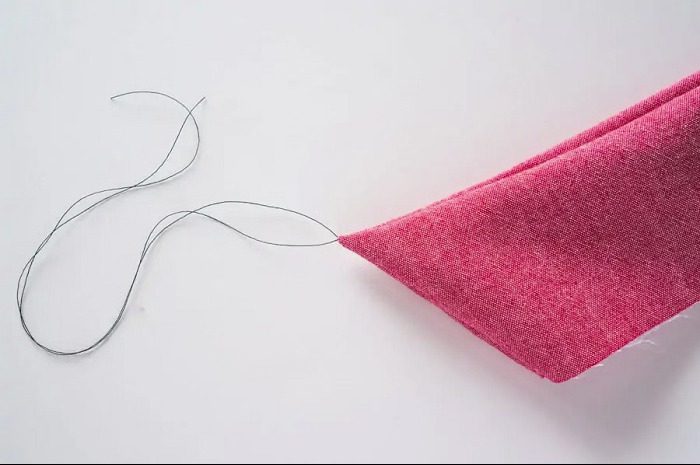 Besides, you can use a short stitch length to square it off with 1-2 shirt stitches as you approach the corner. You can also sew the corner stitch over a piece of thread and then use that thread tail to pull the corner.
Circular Sewing
If you sew frequently, you know that there are times when you have to stitch in shapes like circles. It could be for the pattern or the project at hand. But don't fret because this hack will help you tremendously.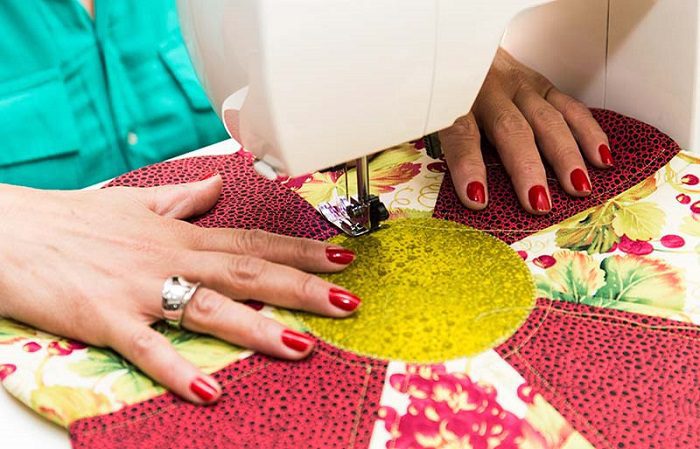 You should try to use a round object like a plastic cap with sandpaper attached to the bottom of it. It can work as a template for sewing and help assist you in constructing a proper round shape with no edges.
Remembering Skirt Length
When making skirts, it is very difficult to remember the length as each skirt has specific measurements. And of course, you can't remember all the things. Let us go back to our school days for a perfect solution to the problem.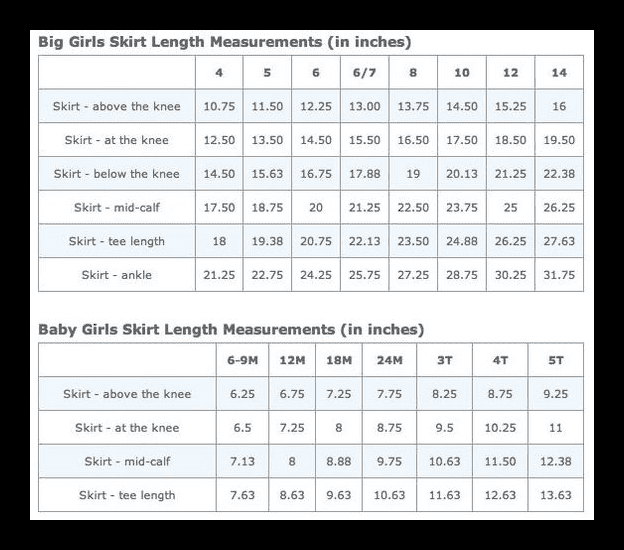 You can always prepare a chart by printing out the required length measurement for various kinds of skirts and keeping it close for when you need it. This way, you can refer to it whenever you wish without hassle.
Toe Separator for Bobbins
You must have a collection of bobbins if you sew with a machine. However, they are very tiny. Reeling them when you are in a hurry is not acceptable. Let us share a simple hack to keep your bobbins safe.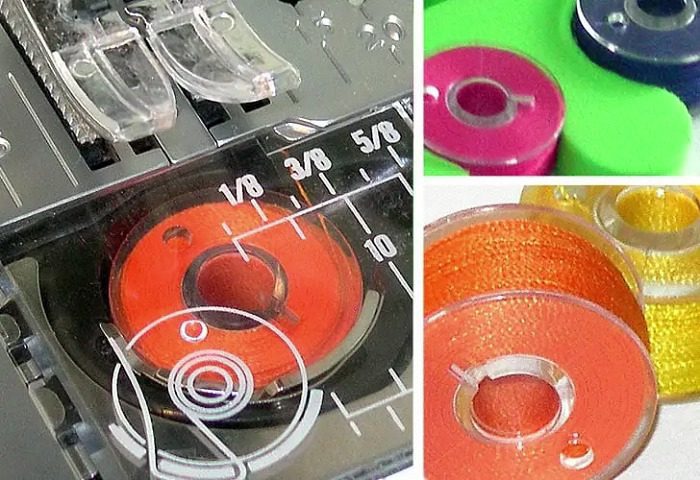 The best way to keep bobbins safe in one place is to secure them by using toe separators which are easily available in dollar stores or sewing shops. They keep the bobbins in one place and make them visible and easy to select.
Stitching the Perfect Quilt Line
Those who are fond of stitching quilts at home understand the struggle of stitching perfect quilt lines, as the excessive width of the quilts makes it tough to stitch proper lines. We believe this hack will help you with this problem.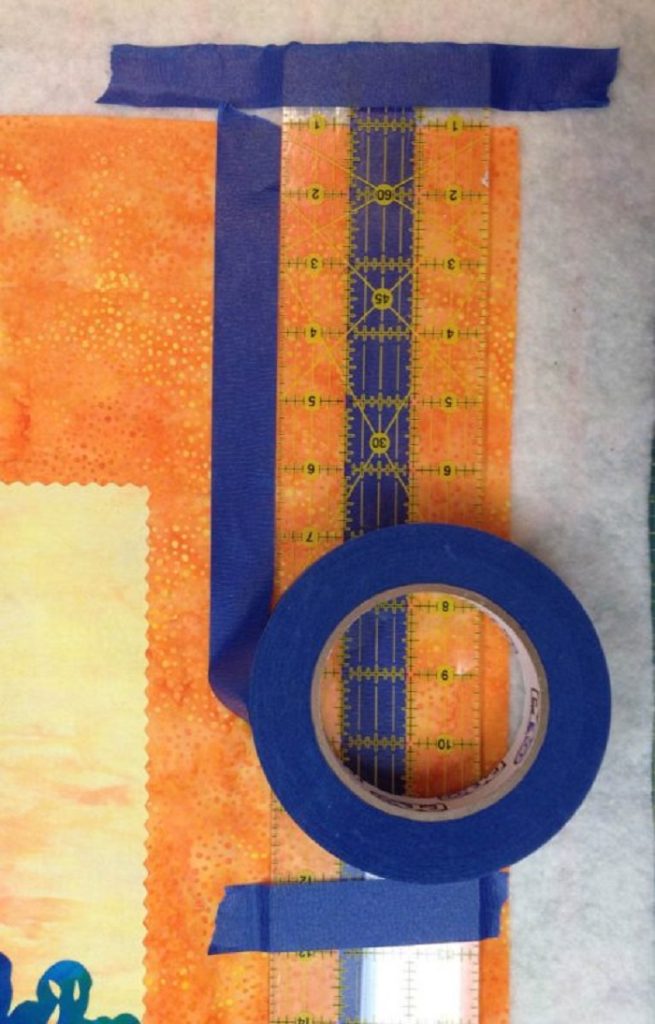 You can use masking tape at the place where you wish to draw lines and then mark the edges of the tape with a pencil. The tape will not let the squares move, which will help you create the perfect margin to sew.
Marking Perfect Seam Allowance
While stitching the edges, you always ensure that the seam allowance is the proper width. In the beginning, it makes it easy to loosen the attire if you wish and provides double protection to your stitches. This hack is simple yet very effective.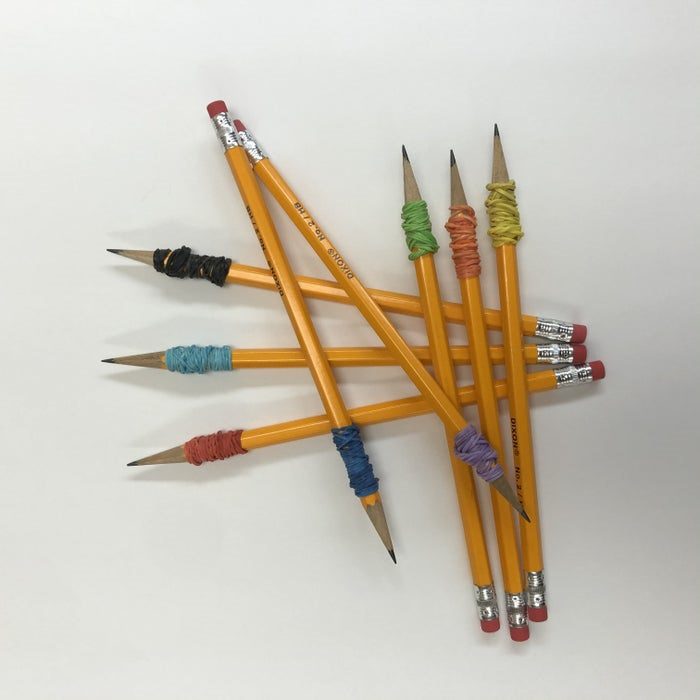 The best method to mark a perfect seam allowance is by tying two pencils with a rubber band and then drawing a seam allowance. You must ensure that both the pencils should be around 3/8-inches apart from each other.
Secure Your Buttons
Buttons make the attire look fabulous. And losing a button is losing a lifeline of your dress. Don't get tense, as this hack will surely help you out in keeping your buttons intact for longer and stop their thread from fraying.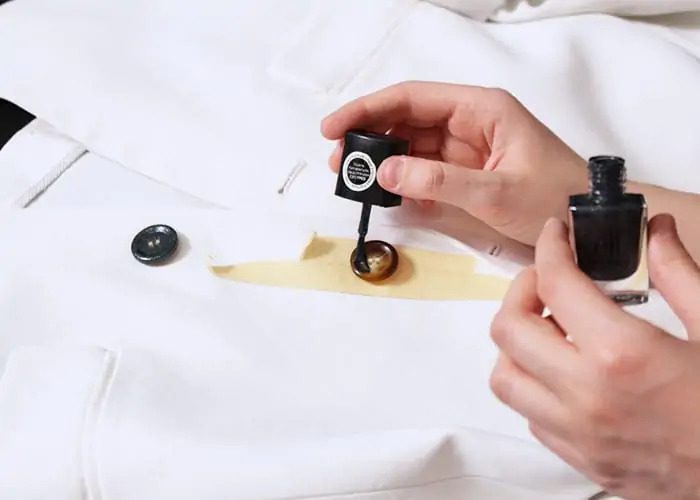 The best way to stop this from taking place is to put a thin layer of transparent nail polish on the top of the threads of your button. It will surely stop the thread from fraying and the button from losing its grip.
Organize Your Trim
Trims are applied ornaments, such as gimp, passementerie, ribbon, or ruffle that you use to enhance the beauty of the attire. Most of the time, they are very thin, and you need to keep them safe so they won't get tangled.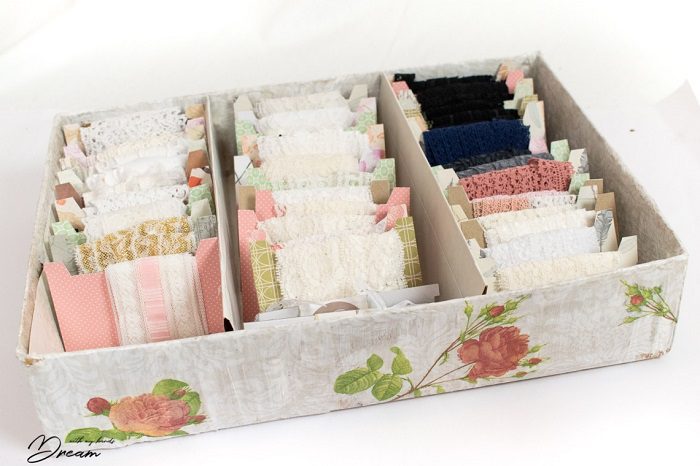 The best tool to help keep your trims organized is cutting off a rectangular piece of cardboard. You may take the cardboard either from a shoebox or a cereal box. Now, wrap the trim around it and keep it safe from tangling.
Quick Hem
Hems add beauty and style to your garment, especially when the thread is of a contrasting color to the fabric. And to make a sleek hem, you need bias tape. However, stitching a bias tape to make a perfect hem is not that easy. Wait for it, because we have something for you here!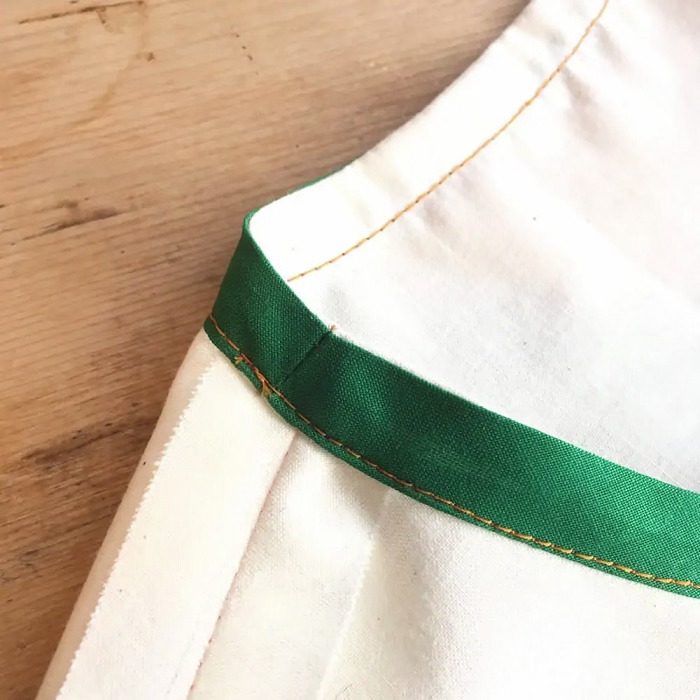 When you align the bias tape with the curve, little waves appear. This is a sign that the excess fabric is falling away from the curve. Your machine should be able to sew along this line without creating bunches or pleats.
Doing Double Needle
For beginners in sewing, knowing the process of double lining is very important. Double needles help you make the double lining that you see in your clothes to keep the edges intact even though most sewing machines have it. If your machine doesn't, pay attention to this!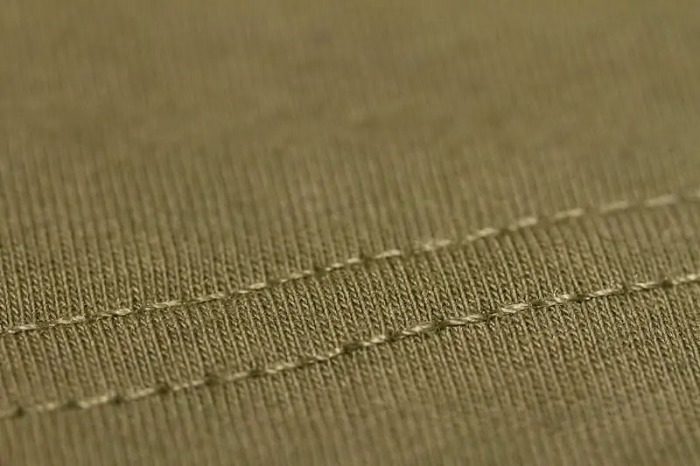 Just cut off a dowel and tape it to the edge of your sewing machine. Now, keep a thread spool on the dowel, and place the second spool of thread in the color you want the stitches to be. It's that simple!
Dress Clothing
After losing weight, the first thing that comes to your mind is getting your once oversized dresses altered so they can fit again. By taking a piece of clothing, you can reduce its size. But, wait, there is something you should know.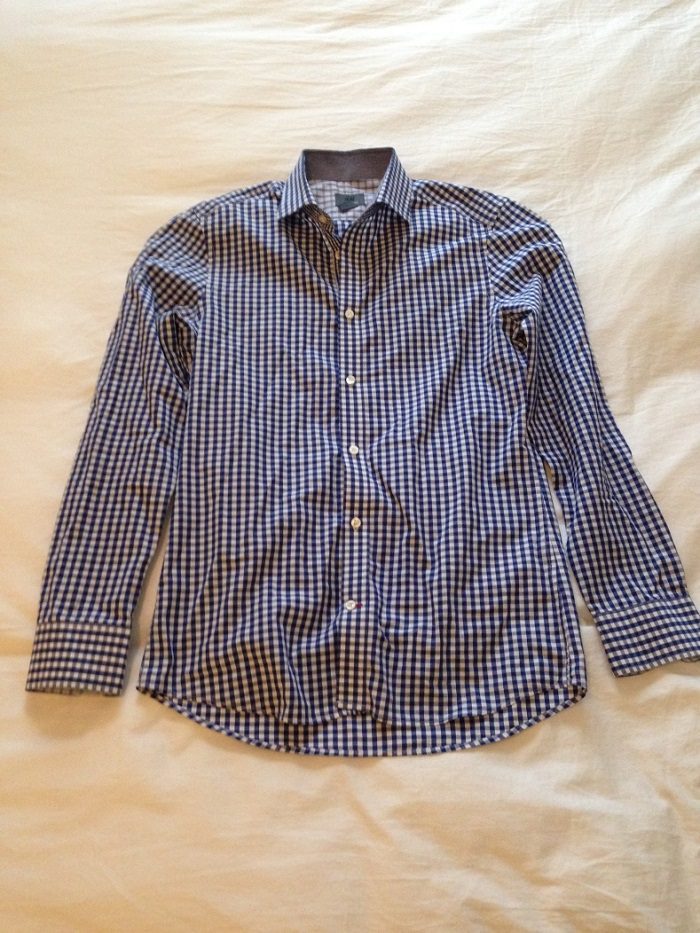 You can't fit in all the garments. Dress clothing such as tailored shirts can not be taken in. Otherwise, the overall look gets spoiled. Even simply taking the base of the shirt in, you make the overall shirt unsymmetrical like it originally was.
Gathering Fabric Easily
When you are making a garment with many pleats in it, such as a skirt or a vest, you need to gather fabric very quickly. And the fabric used for these garments is usually too hard or stiff to be messed with easily.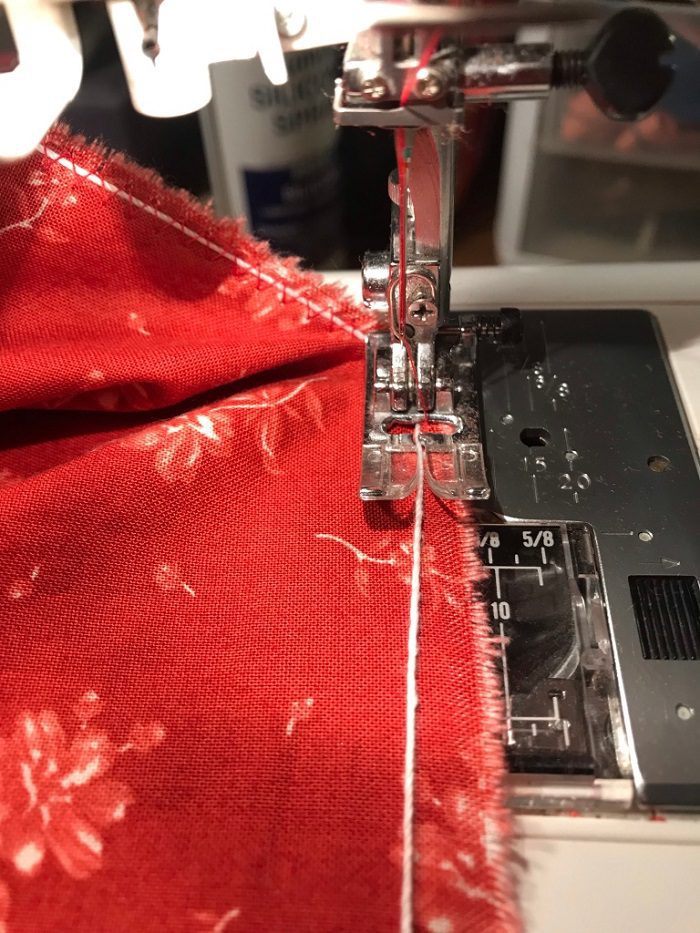 You can use the crochet thread here since it is thick, so you don't have to worry about it snapping. It helps tremendously to hold the fabric in place when creating ruffles and pleats. It is a must-try hack!
Pinning Button Holes
When sewing at a high speed, we sometimes make mistakes. While sewing shirts with so many buttons on them, it becomes tough to remember not to sew up buttonholes. This amazing hack can help you not make blunders while sewing.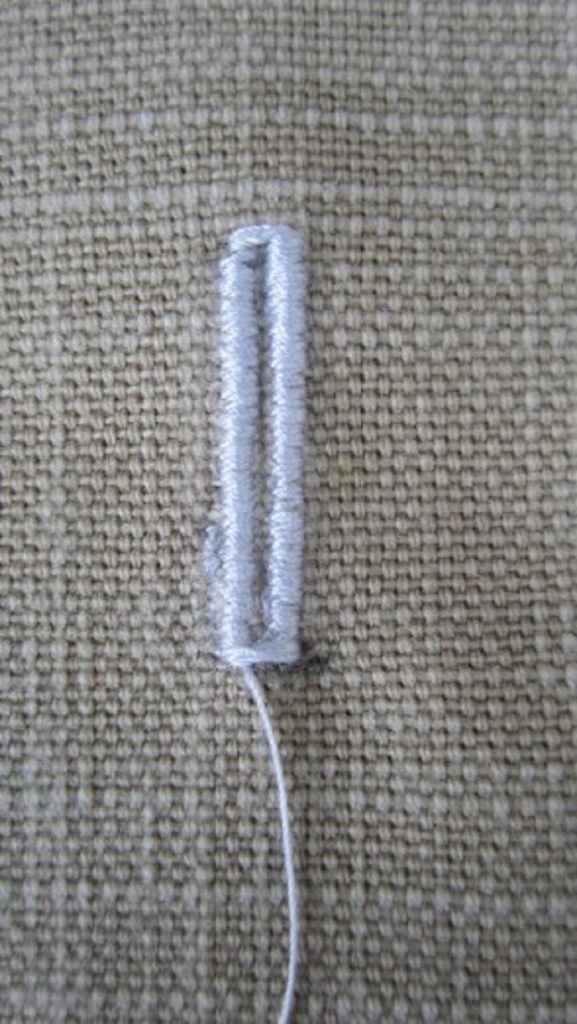 Try using pins to pin the hole so that you see it when sewing. With this, you can avoid sewing up a buttonhole. This reminder also helps you in avoiding cutting the buttonhole open again when finished. It works!
Organize Your Sewing Pins & Needles
Pins and needles are the tiniest yet the greatest equipment for sewing. You can't replace them with anything else. However, keeping these pins and needles safely in place is very challenging. This hack is here to save the day.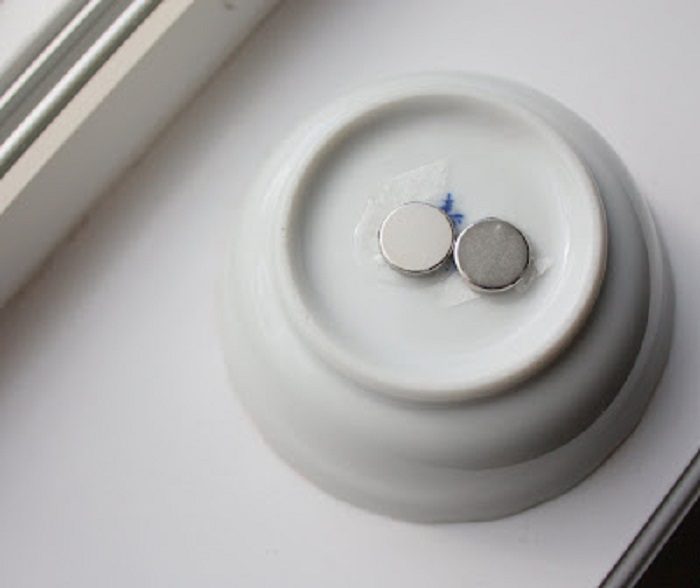 Stick a small steel or iron bowl to the top of your sewing machine to keep your pins and needles in one place. You can even glue two small magnets to the bottom of the bowl and then keep them on your machine.