40 Vintage Bridesmaids' Dresses We Hope Will Stay Alive Only In The History Books
By Harpreet K April 10, 2023
---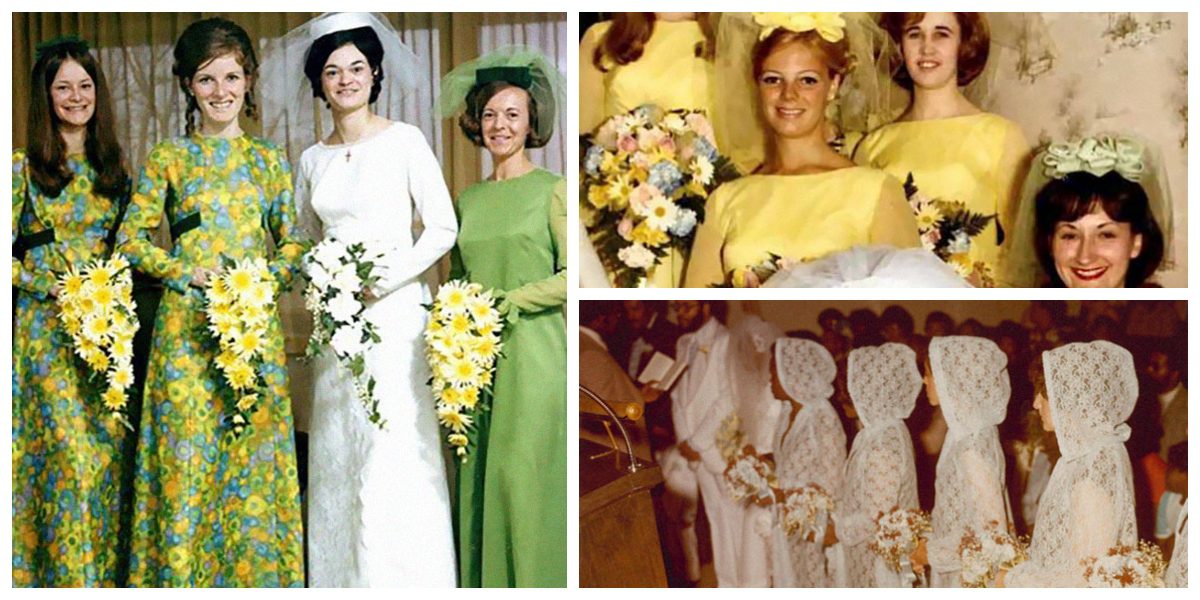 Brides are notorious for picking their bridesmaids' dresses so that they don't take away the limelight. It is also an unsaid rule from past generations that bridesmaids should follow the bride's guidelines for the dress. She may even pick the dress color, fabric, and accessories. Even the maid of honor has to comply with the bride on her big day. We know how fashion changes with time. Some may find inspiration for their new outfits from vintage dresses, while others may add their own sparkle. The 70s fashion, particularly weddings, is full of floppy hats, unflattering hairdos, tacky flower patterns, bulky silhouettes, and shoulder pads. These dresses will make your modern silk nightgown look like formal attire. Here are 45 vintage bridesmaids' dresses in their glory days. Enjoy this virtual fashion time travel, and you'll see exactly what we are talking about.
A wedding and a parade
This wedding party looks like people who are dressed for a parade right after the ceremony. This is maybe because of the red and white theme. It seems as though people that were involved in weddings dressed up for shows more than they did a wedding ceremony.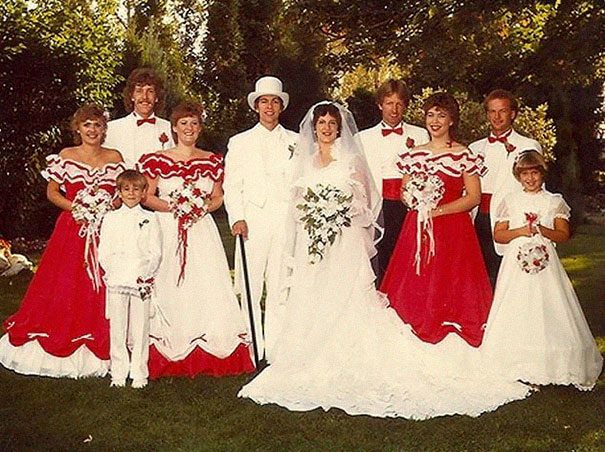 They would make the perfect parade float if you stuck some wheels under them. Besides, the groomsmen are wearing the same white and red combo in their suits and bowties. However, they did achieve that classic 80s look that everyone was crazy over.
We believe in flowers
This must have been a breezy, summery wedding where the bride and bridesmaids chose flowery dresses. And here we go with the floral. This group just screams Little House on the Prairie, especially with those hats and matching flowers.
The little flower girl with the bonnet on her head looks like a deer in headlights. Honestly, the looks on those little girls' faces say it all. They all look upset at the photographer, too, thinking to themselves, "Will you take the picture already!"
Why should bridesmaids have all the fun
This is a classic example of the bride loving the Red Riding Hood classic story way too much. She must have considered these red gowns with capes to be a great idea for a cosplay theme. The groomsmen are dressed well in their black and brown tux.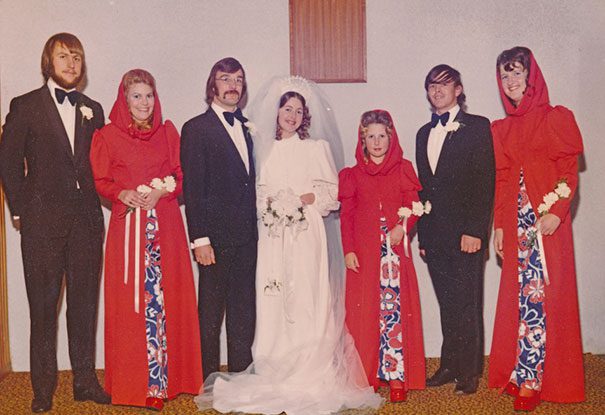 However, once you lay eyes on the groom to the far right, it's hard to focus on anything else since you probably can't take your eyes off his hairdo. Where is the big bad wolf in this party? Why is he not making an appearance?
When is Santa coming
This bride may have used her wedding as an excellent opportunity to make her Christmas card as well. Otherwise, why would she let her bridesmaids dress up exactly like Santa's helpers in red gowns with white fur? We also see something wrong with the background.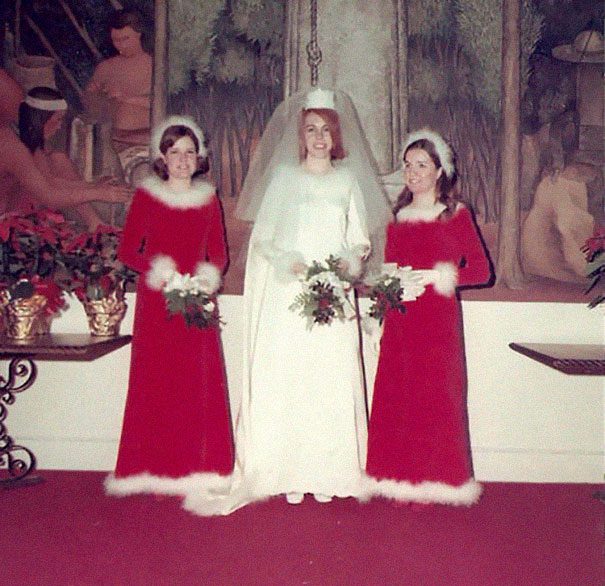 The rope behind the bride looks like a noose. We bet they didn't plan that one. Even their headband is white and furry as if they will sing some carols in the ceremony. We know she was probably planning on a Christmas dream, but it looks like it turned into a Christmas nightmare.
Go green energy
Bold patterns and bright colors are very common themes for vintage bridesmaids' dresses, as we've seen so far. It's honestly hard to imagine that this was the style back in the day. There are a lot of tinted eyeglasses going on in this picture.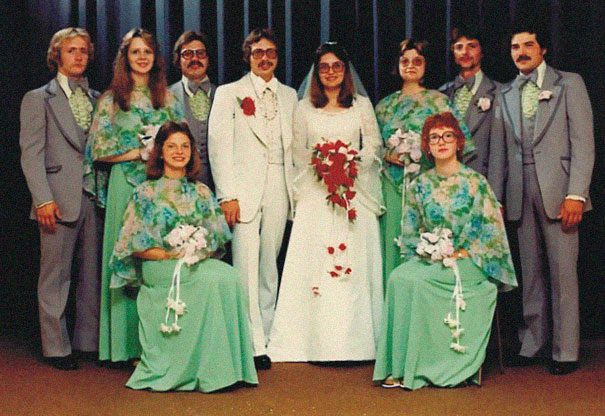 Although mint green is actually a nice color for this time and a break from the traditional pastel colors we've seen so far, the green ruffles that the men are wearing are just too much! However, it's not the worst we've seen so far.
Classic in pink
Pink bridesmaid's dresses were definitely a thing back then. They're an amazing way to show off your favorite hue without being too revealing, and this is actually a very stylish choice of the time. They look like a bunch of southern belles!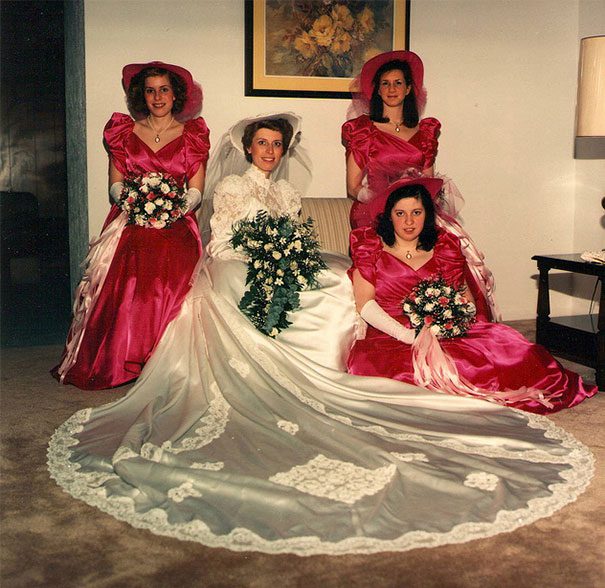 For some reason, the bride's train is silver and not white. We are not sure what inspired that. Also, what is with the background in all these photos? It sort of looks like they took this in a thrift store instead of an actual wedding venue.
Decorated more than just tables with flowers
The bride is definitely a fan of fresh flowers and dark colors. She picked a beige wedding gown instead of a white one. It looks like they are ready to perform in a ballet show rather than a wedding.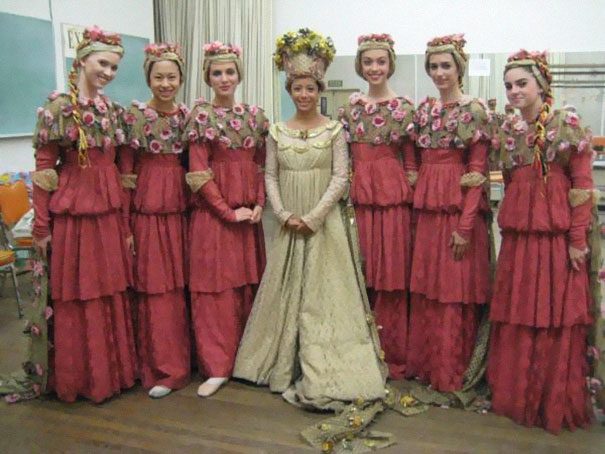 However, we can't imagine anyone dancing ballet in those dresses, especially with those headpieces. Why does the bride have a literal planter on her head? We know headpieces were all the rage back then, but this takes it a little too far.
Women do it so much better
Finally, a background that is suited for a wedding photo. We can finally say that these bridesmaids' dresses are quite beautiful and flattering and not made out of material that could also be used to cover the sofa. The groomsmen, on the other hand, are a different story.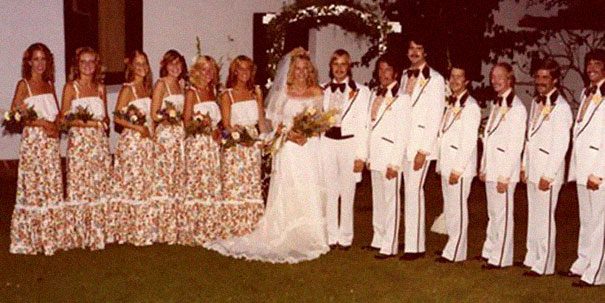 It looks they are getting ready to audition to work on a cruise ship. Or they are a part of a hotel concierge. They definitely have some disco fever vibes going on here, which is fit for the time.
Yellow for the happy bride
Bridesmaids are the best as they make sure the bride looks her best and listen to whatever she says. They make every event more fun and exciting with their hilarious outfits. From bright colors to styles you can't find anywhere else, there is truly something for everyone.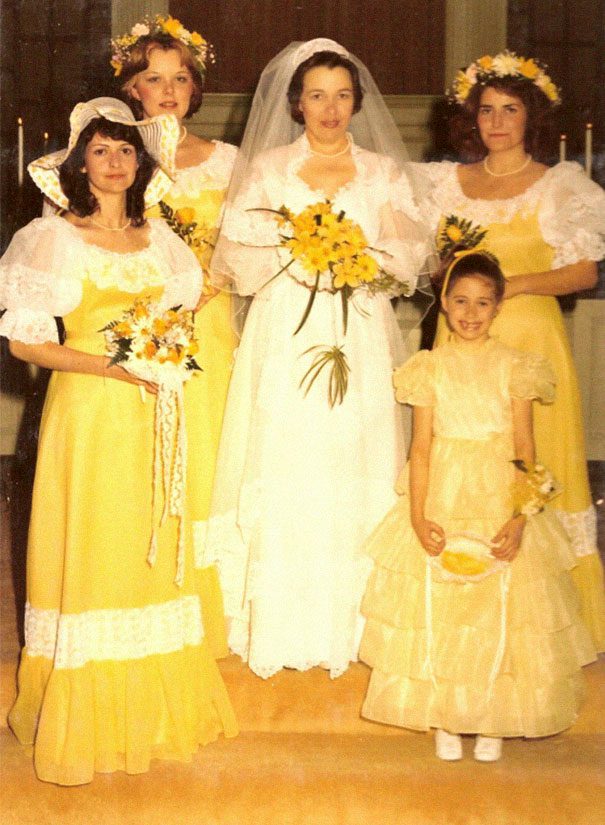 However, when we look at these blinding yellow dresses, we can't help but think of The Simpsons or a yellow submarine. Or you can look at it as a fluffy, yellow meringue pie. At least the flower girl is smiling for the photo.
Almost made it
We are not sure if they did it on purpose, but it could also be a clash of colors for some bridesmaids. They are all in different color outfits stitched in an almost similar design. But they also look different on a close inspection.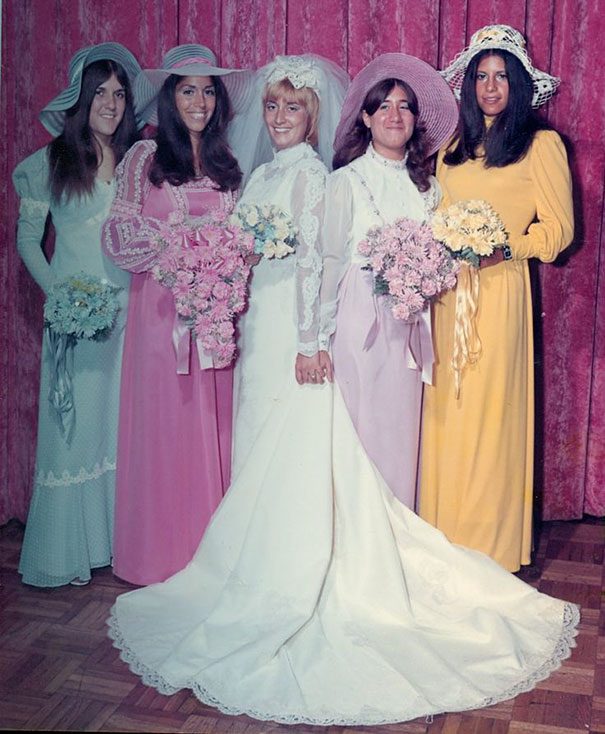 Also, their large sun hats are not working with the dresses as much as they would have liked it. But we appreciate how the bride gave them the option of picking their own style of dresses since they all see to be different.
Blushing sunrise zone
Here is a picture of the most vibrant and no-so-happy-looking group you'll ever see! The girls all look amazing in their matching bright pink and orange bridesmaid dresses, but they all kind of look like Tequila Sunrises when we really inspect them.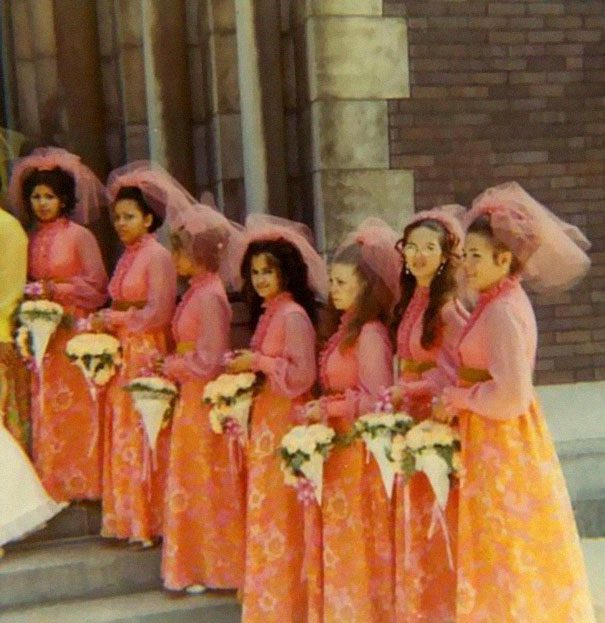 We would have never thought that you could make a dress out of this color combination, and the only one that seems to be enjoying it a little bit is the one in the middle! At least they are taking the picture outside.
We don't need floral decor
Flowers always make an event more memorable and romantic- especially if they're fresh and smell good. Moreover, floral bridesmaids' dresses are a great addition to the theme. But these, on the other hand, look like wallpaper instead of something refreshing.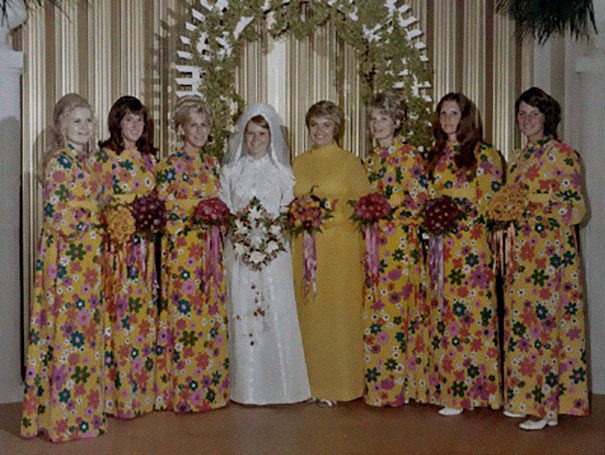 We are sure that this vivid multicolor flower pattern of yellow can't be found anywhere else because it stayed back in the '70s! The bridesmaid is happy because she doesn't have to wear those floral monstrosities. We would be cheesin' too!
Leaf to the rescue
This bride may have taken the garden wedding theme too seriously. Here is a picture of bridesmaids in white dresses with leaf patterns on them. The dresses are perfect for the special day because they probably match the wallpaper in the church.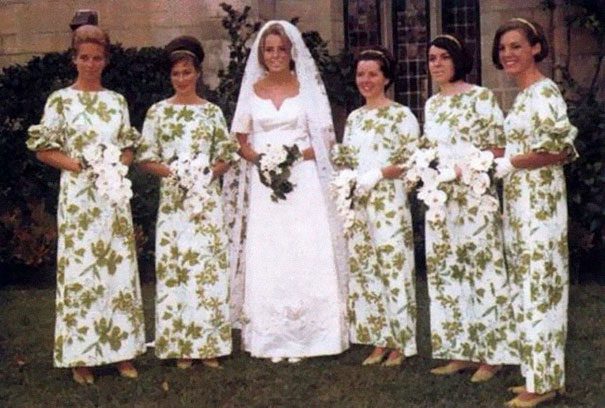 These bridesmaids are definitely not 'growing on us' (pun intended). They are actually reminding us of that part in The Sound of Music when Maria picks out new floral outfits for the children. "The dresses are alive, with the sound of music."
Icy blue cocktails
Forget about those traditional floral dresses for your bridesmaids. Give them something blue with a bit of extra edge that will turn heads on any occasion! And we don't mean that in a good way. They will turn heads for all the wrong reasons.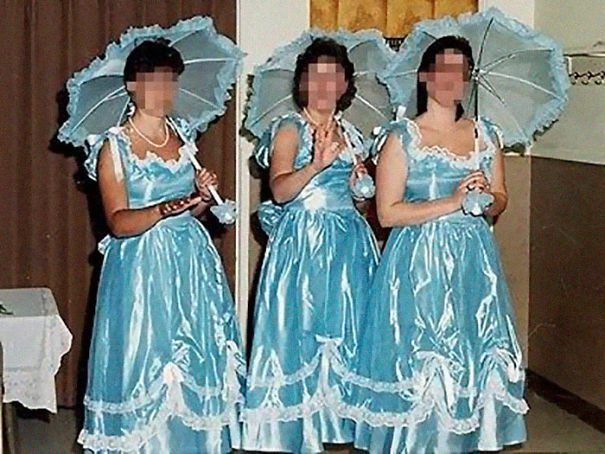 They look all look like little Southern Belles. Or, they kind of resemble Little Bo Peep that lost her Sheep on the way to the wedding! We understand why they wanted to blur out their faces. Imagine if you had to pay for these dresses!
Pink and magnificent
Did the bride pick out matching prom dresses for her bridesmaids to wear? Look at the large frame of the dresses as they blend into each other. The pink color choice was nice, but why does it look like they used plastic for the fabric?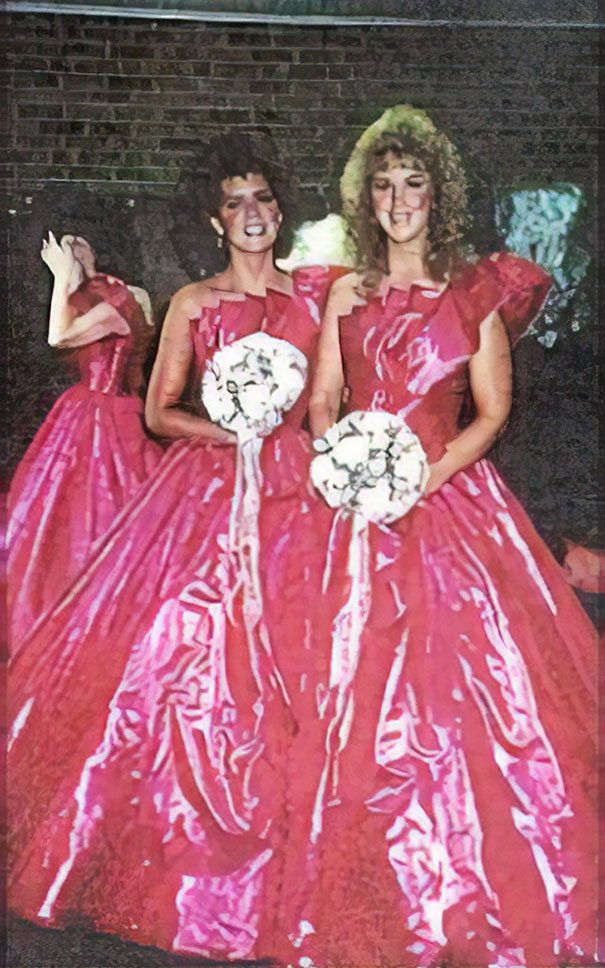 We can just hear the material crunching with every step as we look at this photo. This honestly made us give up the tiny amounts of hope for the rest of this list. Well, all we can say is if you're going to go big in the '80s, go BIG.
Glazed velvety look
This looks like a young, teenage wedding seeing that no one in this photo looks over the age of 15. What is with all the velvet, though? We guess they were so young that they didn't have much of a fashion sense at this point.
We have to say, though, the little girl in the green looks adorable. But we can't stop thinking about the line in Seinfeld when George says, "I would drape myself in velvet if it were socially acceptable." Also, those bows make them look like they have an extra set of ears.
Blue bridesmaids, happy bride
Why are the bridesmaids' dresses louder than the bride? They have large white hats on top that are floppy and attention-grabbing. Their blue and white dresses also have an intricate design in the neck and the sleeves that resemble, you guessed it, wallpaper!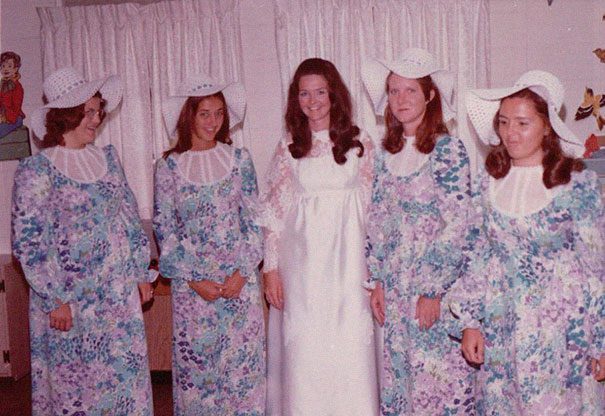 These dresses could have been so much better without the neck design and white lacework. The chances are that the bride wanted to dress simple and comfortable. But these pretty girls are a bit too young to be dressing in granny nightgowns.
Solids over patterns
We think this is the first time we feel bad for the maid of honor who is stuck wearing an awful color compared to the other bridesmaids. To be honest, this isn't the worst floral pattern we have seen so far, and the bride looks striking.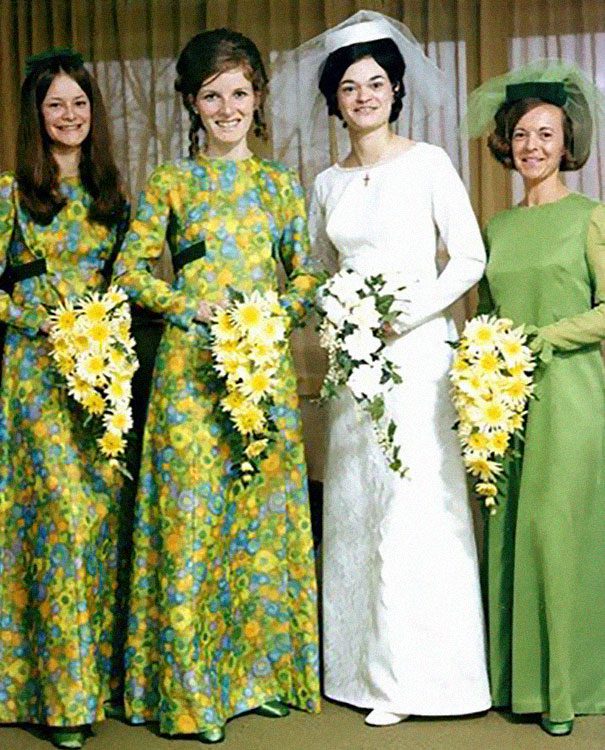 They still look great together because of how well-coordinated everything is! This looks like a group of close-knit friends who genuinely glow with happiness at their friend's wedding. But we have to wonder what is the point of the black fabric tape on the floral dresses?
Floral concepts
A floral dress is a fun way to make sure your friends stand out in the crowd. There are so many designs and colors! For example, there's this shade of dark blue with white and orange flowers for an evening wedding.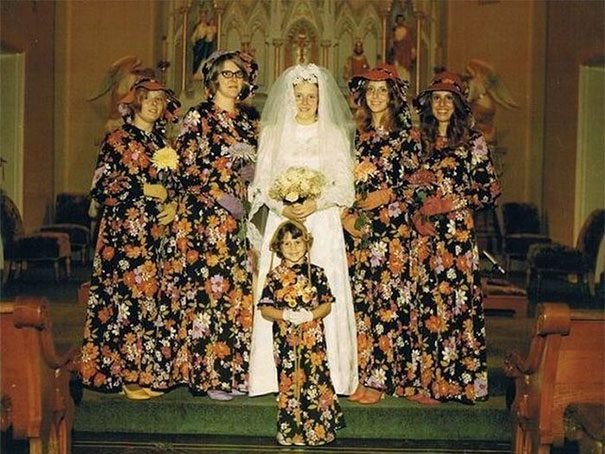 All the bridesmaids are wearing the same dresses along with the flower girl who looks adorable in her costume. They all are also wearing matching hats to complement their outfits. But, we have to be honest. This material looks like it should be used for upholstery and not dresses.
Pastels for days
These pastel dresses are the perfect color for a daytime wedding. The different colors make it a bold choice from that era. Also, the cape adds an element of depth to the dress. The bridesmaids definitely look fresh and ready for the big day.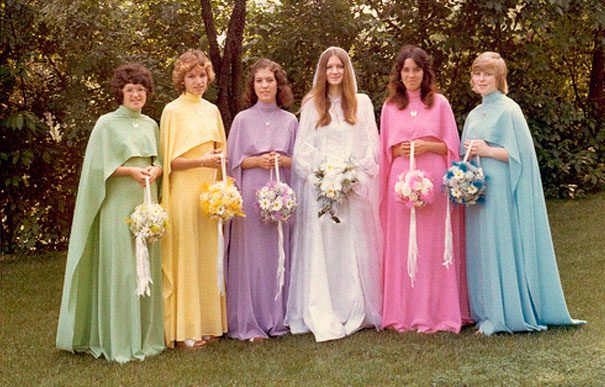 But we have to say that they look a little bit uncomfortable because it looks as though they are dressed in draperies—the dresses made for a safe choice since there is literally no skin showing except for their arms. However, we believe we can modify these dresses with a modern twist.
White riding hood
These bridesmaids appear to be a part of some secret club. They may have taken inspiration from the red riding hood but opted for white color instead. The lace fabric is pretty, but we are not sure what kind of theme this bride was going for.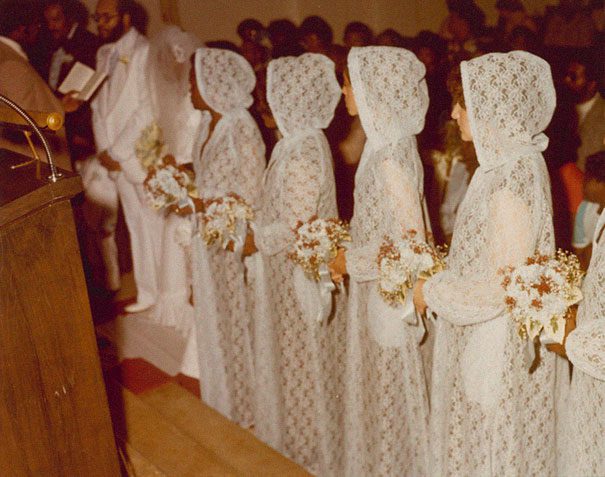 The hoods attached to the dress somehow make it appear a religious church communion or girls who have a high school singing performance. We hope they put them down for the photoshoot! Anyways, we hope the bride was happy with their looks and had the time of her life.
Matching decor
The bridesmaid may have taken an extra step in choosing their dresses here. Their dresses match the curtains, and they are just blending into the background in the picture. The bride does stand out a lot standing in the middle.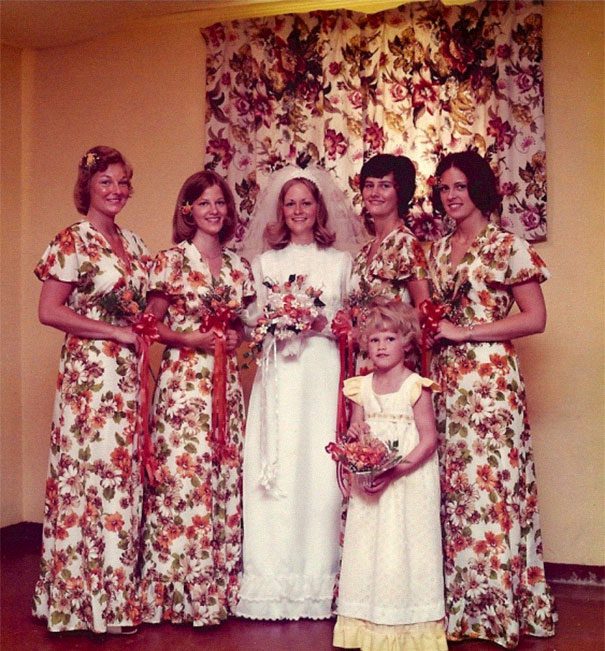 At least the bride did not make them wear matching headbands in the same fabric and pattern. Looking at the flower girl, we know she was comfortable in her adorable pattern-free outfit because she doesn't blend into anything! If the bride really wanted to stand out, well, she got her wish.
Rainbow power
The bride may have taken inspiration from easter eggs to choose these bridesmaids' dresses. The vintage bridesmaids' dresses range from different shades of baby blue and baby pink. There is also a slight pop of yellow. This must have been a popular style back in the day.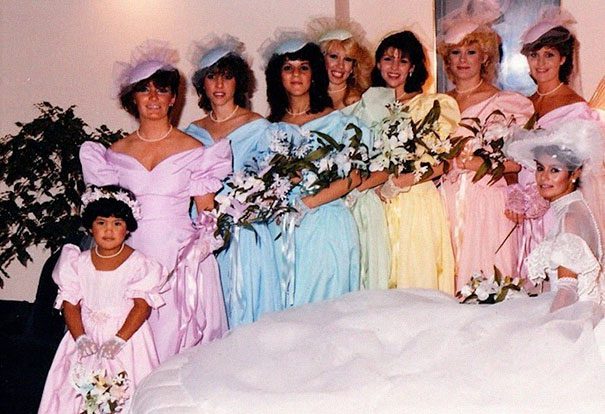 Their matching tiny headgears kind of look inspired by celebrities or royalty of that time and seem high on fashion. However, if they tried to sport this look at a modern wedding, we are almost positive they would be the stars of the show, and not in a good way.
Princess and her minions
This picture is like a rendition of an old princess movie with the main character and her friends. The bridesmaids' fluffy gowns in silky pink fabric look expensive as they have stylish asymmetrical hems. Another thing that screams vintage is their choice of shoes.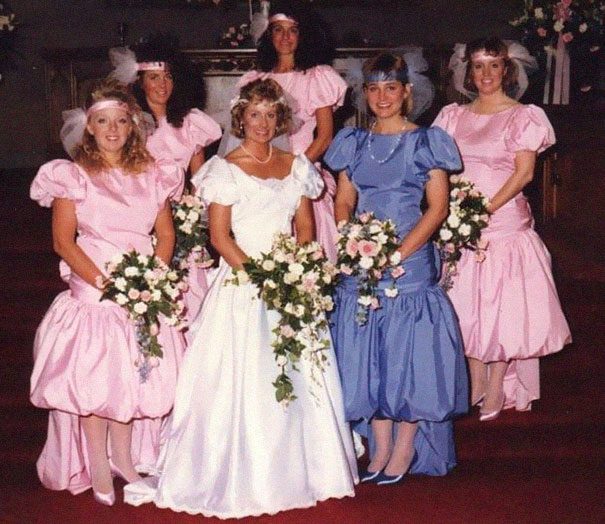 Each bridesmaid has matching pointed heels in silky fabric. We also like minimal jewelry and not so much the random headbands. But, it's hard not to look at these dresses and not think about puffy pink and blue marshmallows. Also, what's with all the pastel?
Sunny happiness
Polka dots and yellow vintage bridesmaids' dresses scream summertime. The huge smile on the bride's face says it all. Her bridesmaids also look happy in their attire with bold polka dots and tiny waist belts.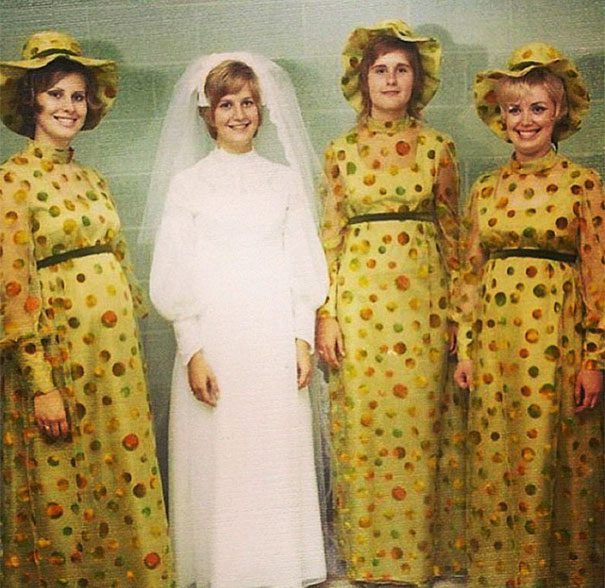 However, it looks like the last place they are going to is a wedding. We feel like this is something that should belong in a circus. They could have done without the hats. We know it is the bride's big day and she should steal the show. And we are sure that she did.
Silky, shiny church dresses
The fur headbands and edges of the dress are obviously included in their attire to match the bride's gown somehow. This is a giveaway for an eclectic vintage style. Moreover, it seems like they are having a wedding in the middle of winter.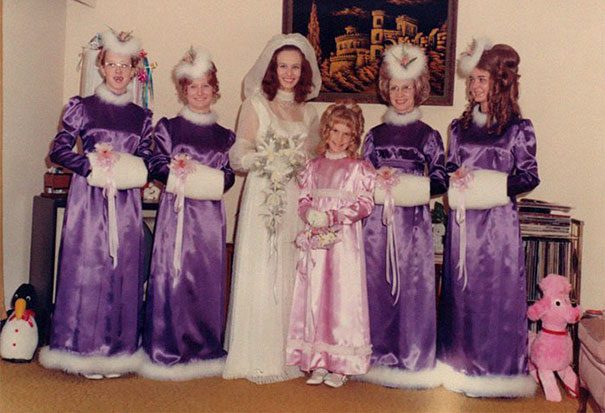 The silhouette of the dresses could have been more form-fitting and flattering. We are not so sure if the bride outshines her bridesmaids because they stick out like a sore thumb. We'll let the flower girl slide. They can usually get away with anything.
Springtime fun
The search for the perfect spring-themed bridesmaid dress can be an overwhelming experience. There are so many different styles and fabrics, not to mention colors! With all these options, it's hard to know where you'll find something that matches your style.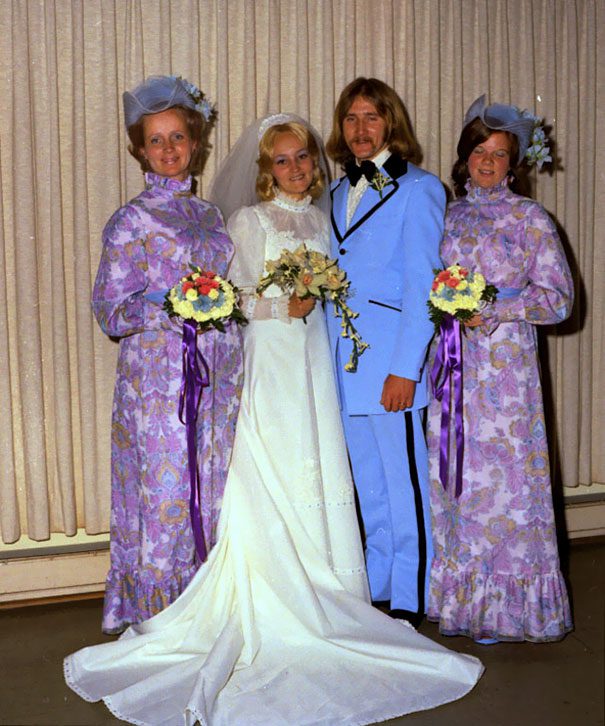 In this picture, though, the bride seemed to have stuck to her purple and blue theme almost too well. It looks like even her makeup matches their dresses. We wonder if they matched the curtains and the drapes, too?
Bride and her band members
The bridesmaids and the bride look like a member of some jazz or rock and roll band. We commend the bride's decision to pick and a black color scheme. It is a far cry from florals, so we can't complain about it.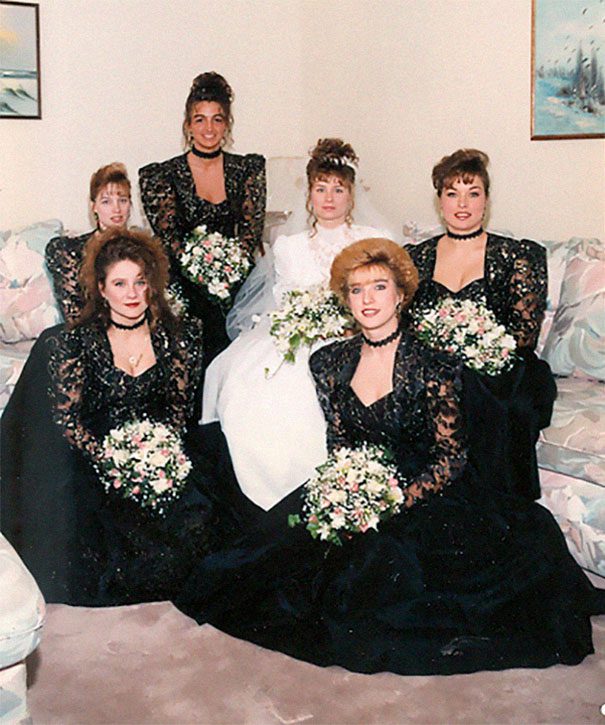 In this picture, the bride does not look as thrilled as her band members. Maybe she is nervous that she didn't go the traditional route of wedding fashion of the time. Her classic black and the white wedding must have been a blast back in the day, though, so we hope she cheered up!
Stealing the show with hats
Everything about these pink dresses screams vintage and classic. The flowing dresses look flattering on these bridesmaids from what we've seen so far on this list. But here we go again with the pastel theme. Can someone tell us why this was so popular back then?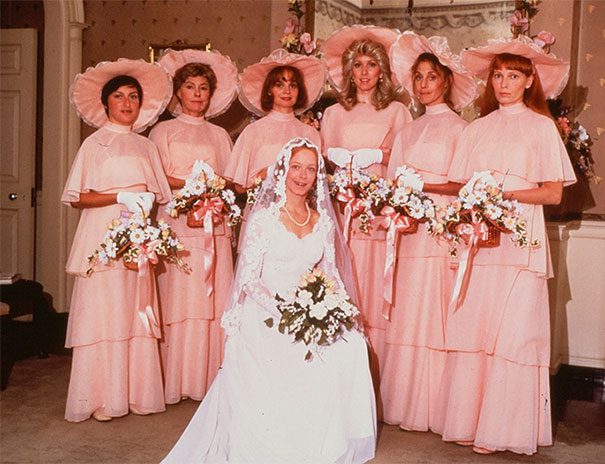 One unique thing that stands out the most is the large pink hat that matches their ensemble. But we can't get over how these dresses look like tailored drapes like so many on this list. Why would you want to wash out your beautiful bridesmaids?
Tropical wedding theme
What a breath of fresh air! It seems as though not all brides ask their bridesmaids to be dressed up to the neck in multiple layers of fabric and silly headbands. Here is proof from this sunny tropical wedding where the bride is comfortable and all smiles in her simple wedding dress.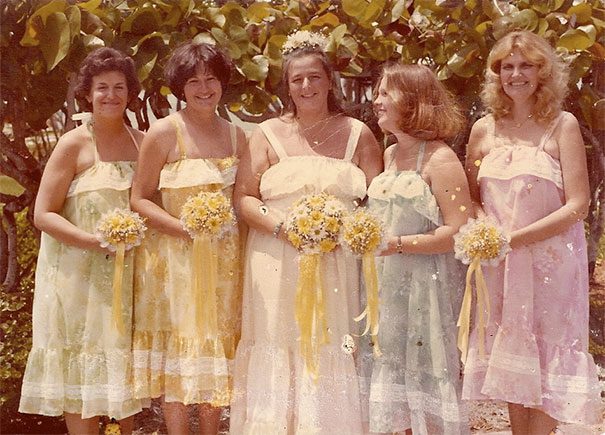 The bridesmaids are in similar outfits in different colors and look just as happy as her. They have her hair loose and feel breezy in the sunny daytime. The yellow and white flowers also make them look fresh and ready for the big day. We can't complain about this ensemble!
Matching dress and hair length
Somehow, all the bridesmaids look identical here with their similar length of hair and matching white and blue ensemble. The sheer blue shrug over the white dress was probably something to marvel at, even for the seventies and eighties.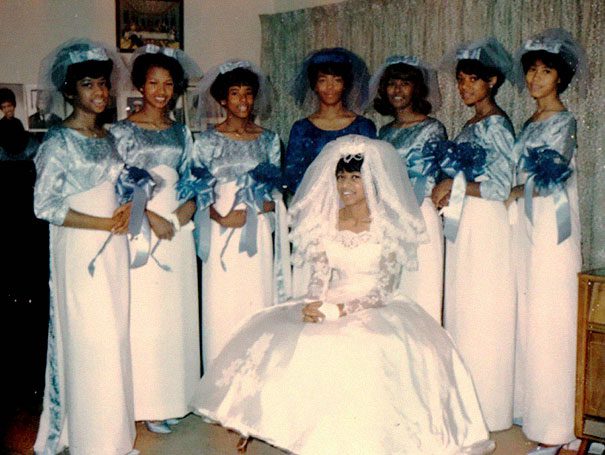 However, it's so matchy, especially with the bows and the ribbon around their dresses that make them look like a wrapped present. One bridesmaid in navy blue does look a bit out of place. Also, the bride doesn't really stand out because of all the white going on in the photo.
Pink paradise wedding
The historical tradition of wearing pink has been carried on by many women around the world as it is seen as girlie, charming, or simply just fun! Well, this bride took this idea way too seriously when she planned the ensemble for her bridesmaids.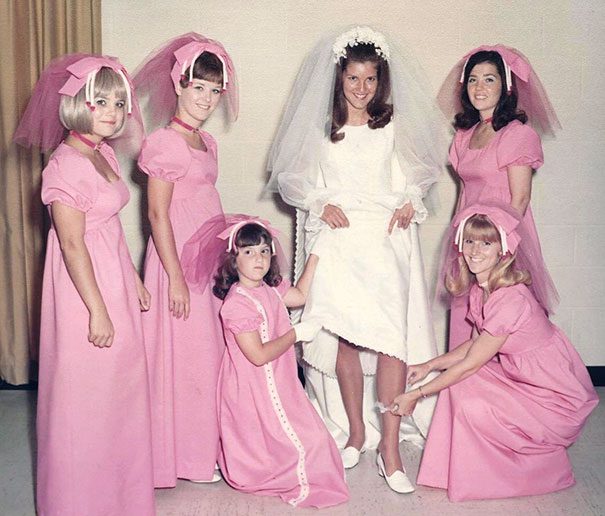 We can't help but think about bottles of Pepto Bismol when we look at this picture. We mean, the color is spot on, right? Also, what is with all the bow headband accessories? If these were not in the picture, they would look a little less washed out.
Tinkerbell bridesmaids
The bridesmaid dresses here look inspired by childhood Tinkerbell fantasy weddings. They are dressed in blue and peach Tinkerbell gowns that are touching the floor. Besides, the colorful wings in pink, red, blue, and yellow are actually adding more charm.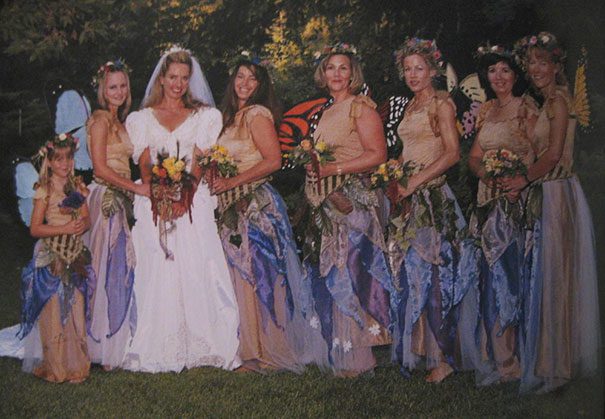 Hopefully, the bride got her dream wedding alongside these adorable-looking bridesmaids. Also, we kind of love how she didn't follow the traditional themes we have seen so far on this list. It seems that the garden wedding affair must have also had a fantasy-based dress code. Bridesmaids nowadays may shy away from wearing anything as bold as this.
Gaga over golden
We are sure these next dresses were even shinier in person than they appear in the photo. However, they do not look wedding-ready. Instead, they all look like they have a dance recital to attend. Well, maybe they did have a dance performance at the wedding.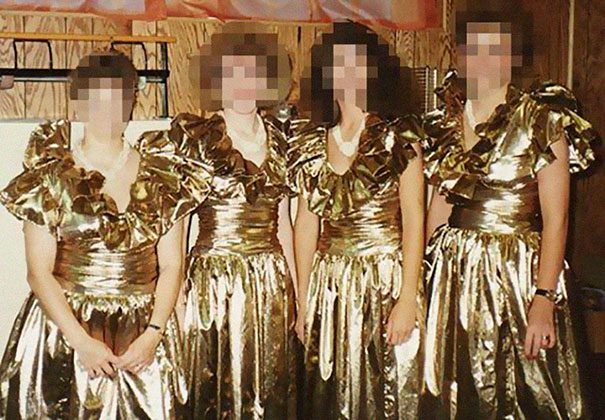 They look like they are going to any other event other than a wedding. These dresses scream high school prom or homecoming more than they do a wedding. However, this is still a bold choice of gowns for bridesmaids even in that era. We're sure these outfits drew a lot of attention.
Lime and the coconut
This picture reminds us of the classic song lime and the coconut. The placement of the bride in the picture is a bit weird and confusing. She should be standing in the middle to get that undivided attention on her wedding day.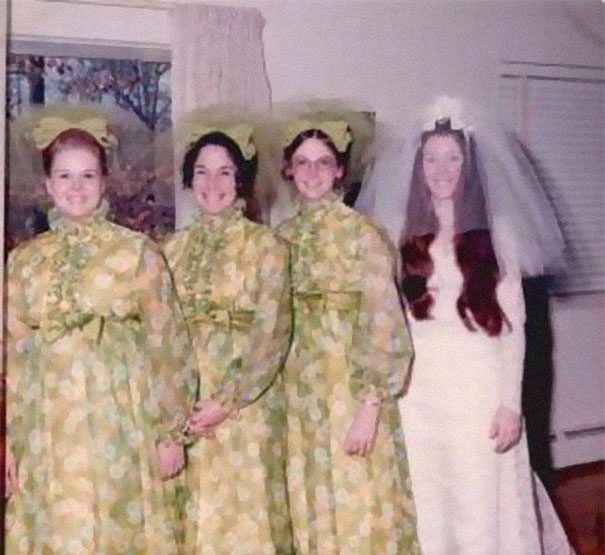 The bridesmaids in the green floral outfits with vintage frills cover most of the picture's space. We understand empire waist dresses were a thing of its time, but we hope they never make a comeback in our lifetime.
Wine and dine for the win
Ok, this is definitely something wrong with this picture. Did you notice that the bride is nowhere to be found? It looks like the groom realized he is no longer a boy and is now a full-grown, married man.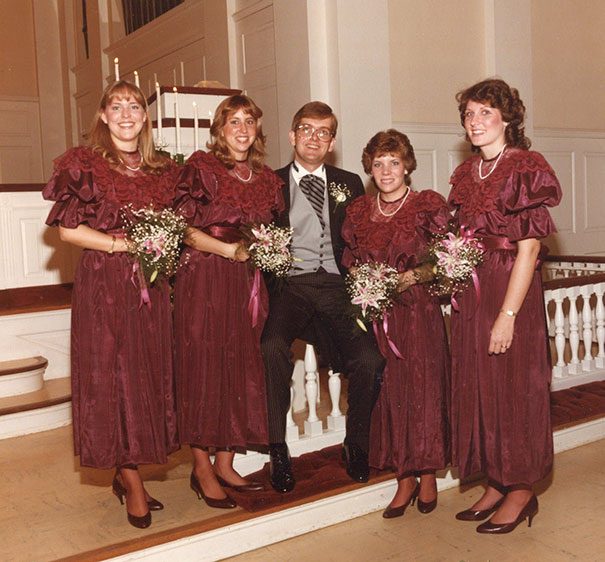 However, we digress. Let's get back to the fashion. The silhouette of the dresses is very impressive for its time, but we have to say they all look like a cup of fine wine. Also, what's with the brown stockings?
The confetti theme is fun too.
These white and blue dresses look busy with their pattern and don't look formal enough for a wedding. They have polka dots on the dresses and appear as if someone threw some confetti in the air that landed on them.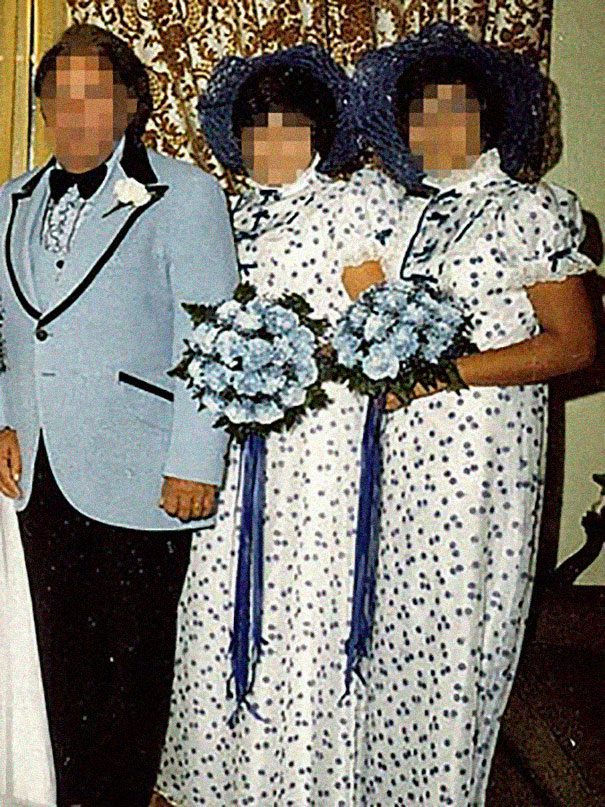 It never ends well when you try and sneeze and hold confetti at the same time. You might end up with these monstrosities. And honestly, the dresses look like nightgowns that our mother would wear back in the day.
Custom made and chic
All the dresses in this picture are simple and designed at home. They do not appear to be high-end or designed by a professional. But it was also much more affordable to make your clothing back them, especially if it's for a special occasion.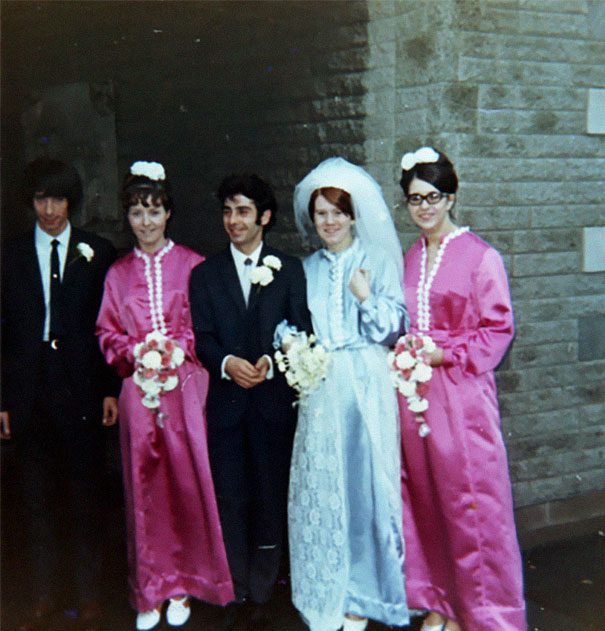 The bride may have let the bridesmaids copy her style in pink for them to look cohesive in style. Even after copying the basic style, their dresses do not really have any flattering curves or flow, and that makes them look dull.
No more bridezilla
The bride and all the bridesmaids look happy and proud of themselves for choosing this ensemble. We honestly love the colors, but what is up with the hats that are made for gardening? It seems as though this is just another Easter wedding.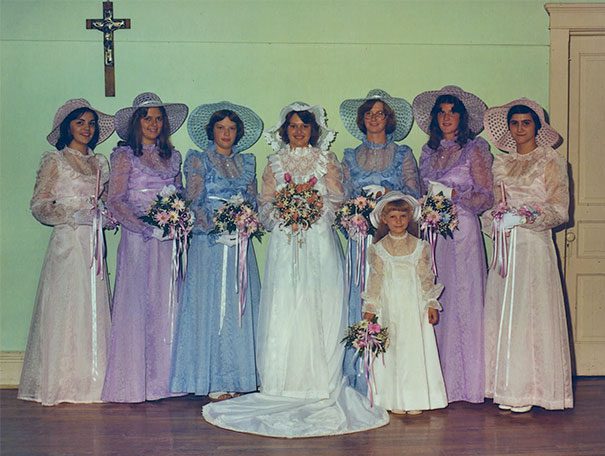 We have a feeling that it was a radical move for a bride and her maids to wear hats during this time. It was probably such a bold fashion statement. However, this obviously didn't stick around for too long since hats are not a thing at modern weddings.
Nothing but traditional
By now, you know that you cannot spot a bridesmaid from the 70s and the 80s without a floppy hat that matches her dress. Did they all have the same designer, or did they choose the same boutique? And why are they all wearing white?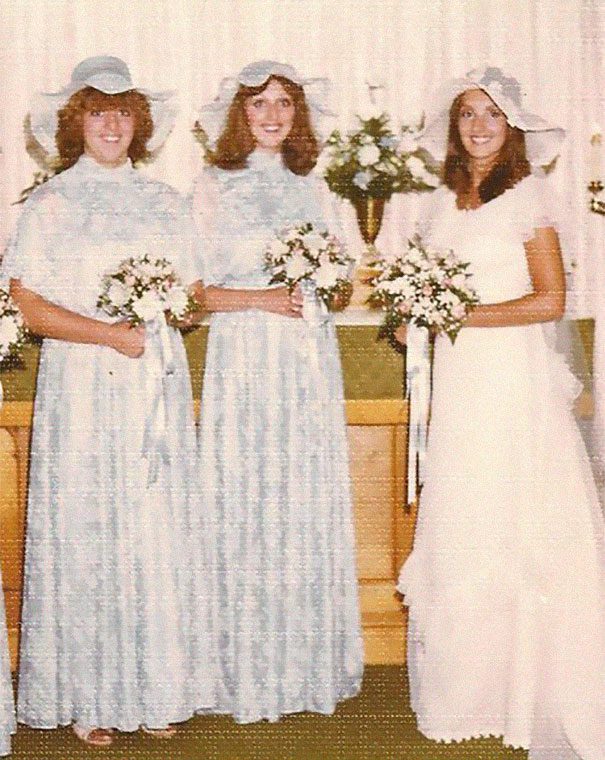 The baby blue color looks nice and festive, but the bride definitely doesn't stand out from them. Although they could have all picked a less dramatic hat for the event. Also, the bridesmaids look way more excited than the bride.