Style Without Sacrifice: 40+ Comfy Clothing Items That Embrace Relaxation And Style
By Joyce S May 31, 2023
---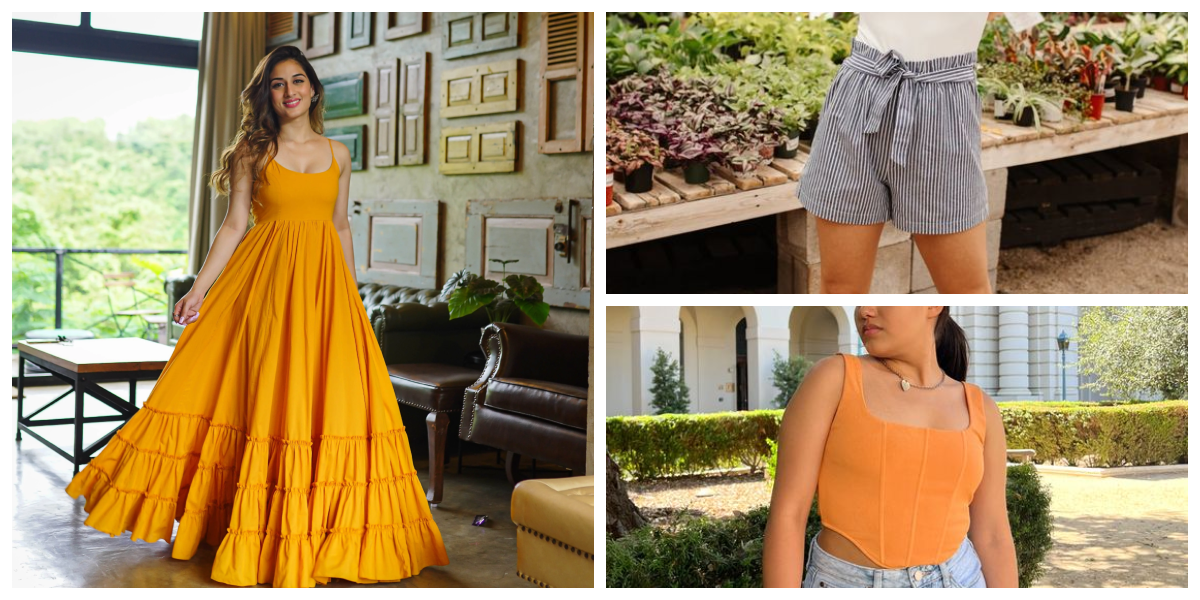 Versatile outfits that can be worn in various ways and prioritize comfort are highly sought after in these days of remote work and closet tidying guides. Though we still appreciate an impeccably-tailored pair of pants, we're always on the prowl for those elusive wardrobe essentials that allow us to relax while maintaining a bit of self-confidence.
Wearing semi-structured clothes, or even just matching loungewear pieces, makes you feel ten times more productive than rolling out of bed and onto your work desk in an oversized tee and shorts. We guarantee that just knowing an outfit was picked on purpose for the day will completely change your work dynamic.
Now, more than ever, it's crucial that we learn how to dress comfortably without feeling like we're compromising on style. There's a common ground between cozy fits and put-together looks, and we are here to help you find it!
Flawless Palazzo Pants
The Italian word "palazzo" loosely translates to "palace" in English. The iconic Italian architectural style, which is narrow at the top and broad at the bottom, is likely why palazzo pants are called so. These chic, wide-legged pants are known for their dramatic silhouette.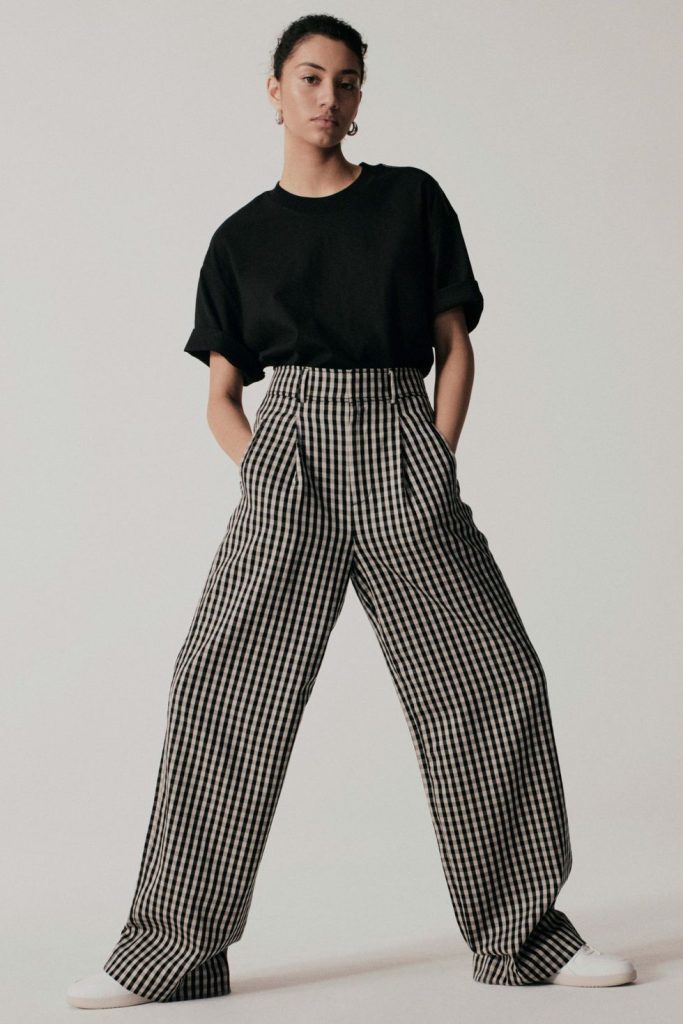 Pants like these are a must-have in every wardrobe since they bring out the best in any ensemble. These pants are quite popular thanks to their flared-out design from the waist to the hem. They are also quite easy to style and, most importantly, extremely comfy.
Pairing Comfy Loose Blouse and Pants
This shimmering outfit is everything. And since we're always up for a good time, we would totally rock this! You can sparkle from head to toe because it's part of a matching set. In this outfit, you'll look like you stepped off the streets of NYC!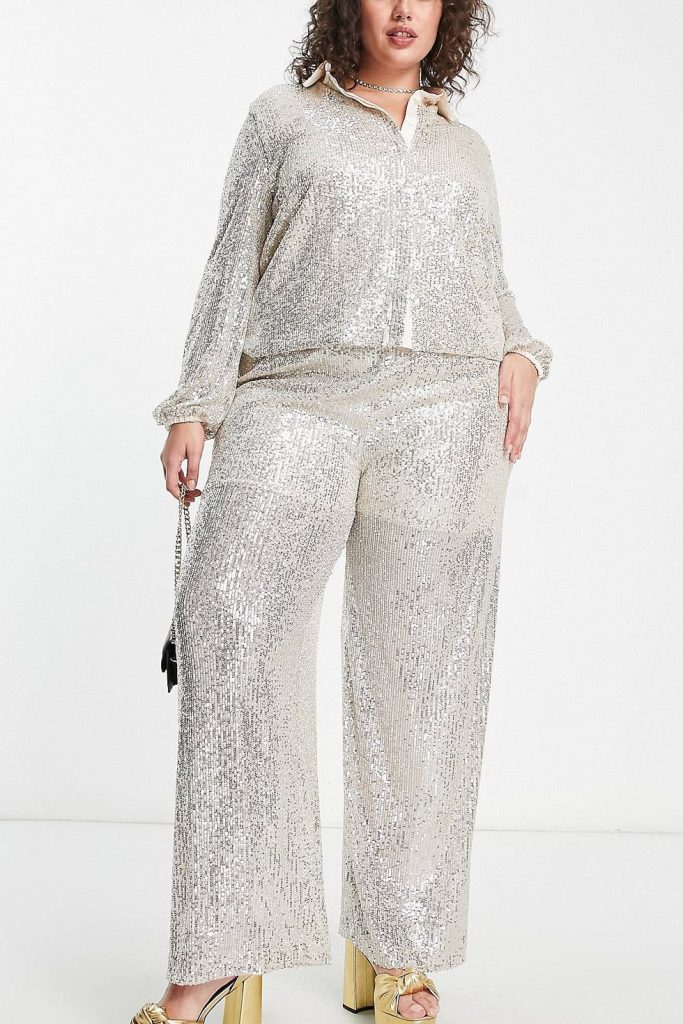 It's no secret that some of the light and dark neutrals that will make everything you wear look more put-together are the staples; black, olive green, gray, cream, and navy blue. Having several neutral-colored clothes in your closet makes it simple to throw together an outfit that is both relaxed and fashionable.
Oversized Sweaters Are So Cool
For those chilly evenings when you need a second or third layer to keep you warm and comfy while also giving you a huge lift in the style department, invest in a knitted sweater vest. Adding this staple to your clothing collection should be an obvious choice.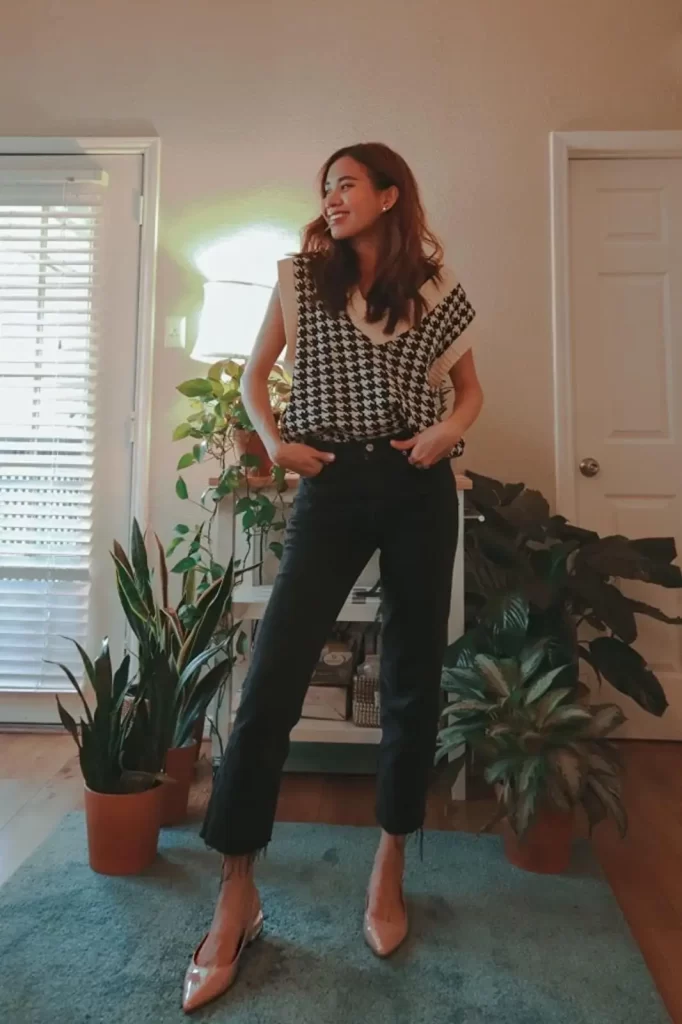 Get one that's lightweight, has a comfortable shape, and is ideal for layering. Most are available in a variety of colors and patterns, so we're confident you'll find something you like. Oh, and to round off the look, wear your go-to straight-leg jeans and a white shirt with the knitted vest. Effortlessly graceful.
That Chic Button-Up Dress
During those hot summer days when you just want to throw something on and go, this loose V-neck shirt dress is the best solution. This lightweight piece comes in a wide range of basic hues and interesting prints, so you're sure to discover one that perfectly suits your style.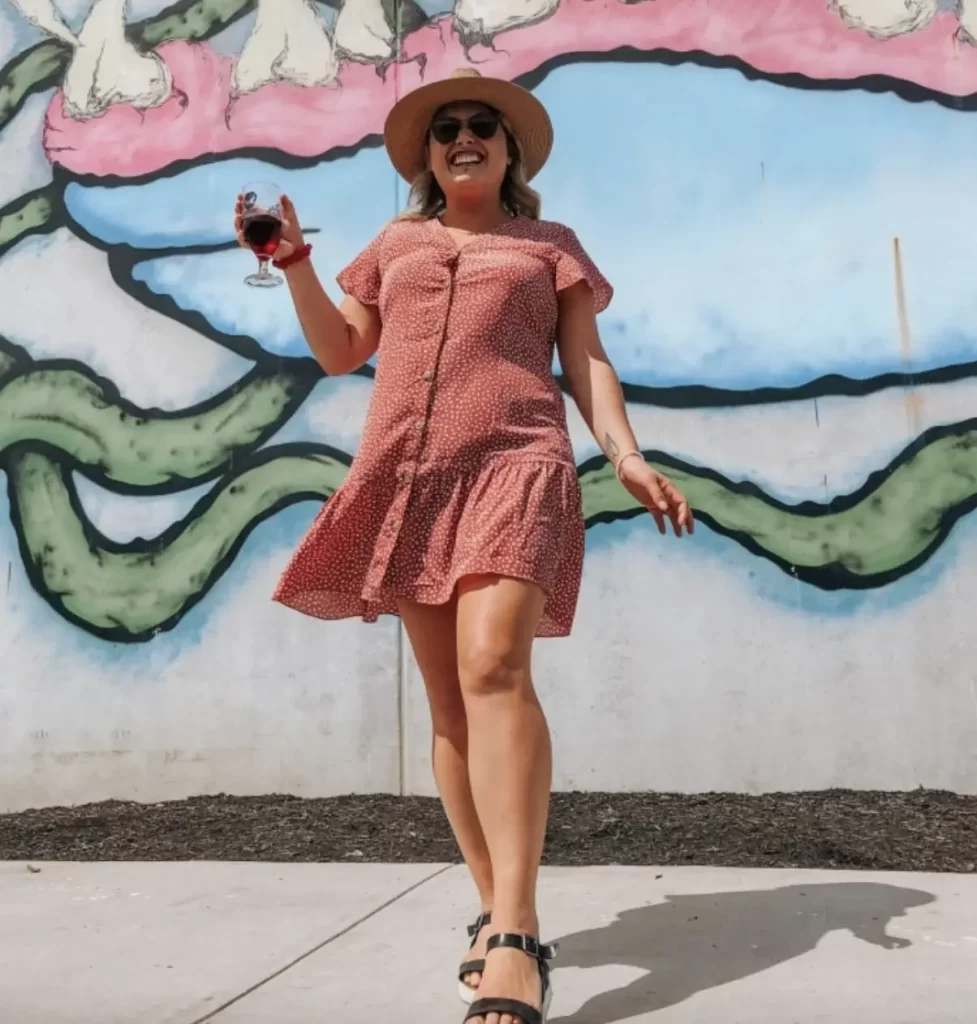 Pick from a rainbow of colors and witness how it transforms even the most basic hair and no-makeup look into your new favorite look. If you take our word for it, you won't want to change into "comfy pajamas" the second you get home because you'll just be as comfy in this!
Classic Cotton Button-Up
These lightweight cotton blouses look and feel incredibly cozy, and some of them include handy details like raw hems. Prices range a lot, but, in general, they are pretty affordable compared to other gauzy cotton tops sold online. They are neither too expensive nor too cheap.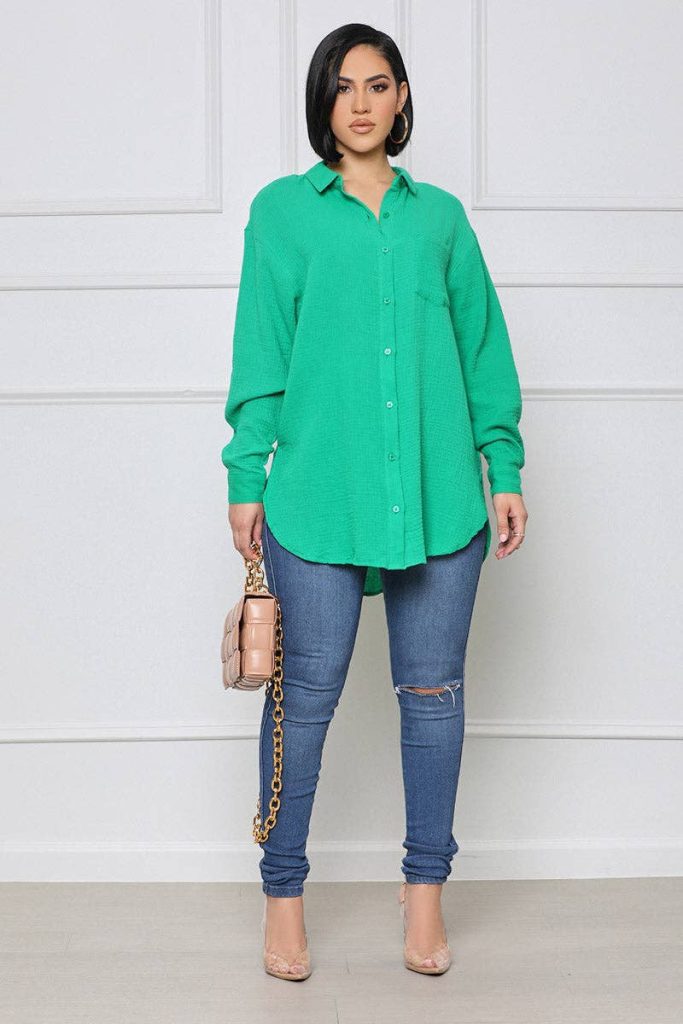 This button-up is available in an array of colors as lovely as a meadow of fresh flowers. It's a loose-fitting garment that doesn't limit body movement despite its long sleeves. It's super comfortable and stylish whether you're running errands in the morning or dressing up for lunch with friends.
Fantastic Baggy Pieces
Overalls are those types of clothes you either love or hate. They come in many cuts, fabrics, and styles for every season. They're versatile and suitable for most settings, from a wintery afternoon at a café to cute springtime bike rides at the park. The combination options are also vast.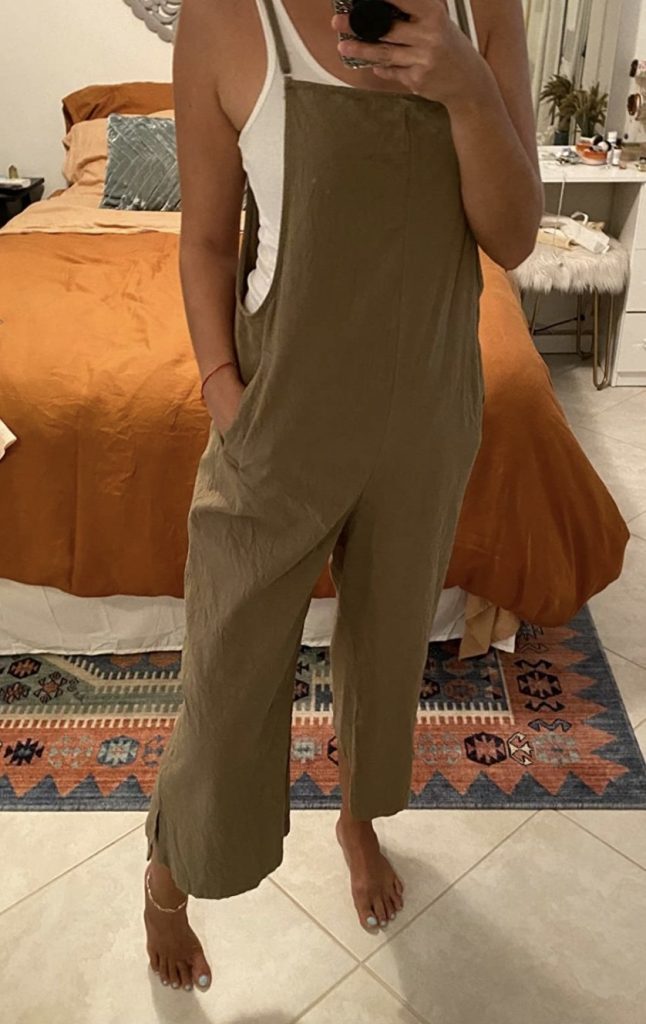 This trendy jumpsuit can be worn or layered with anything. Just throw it on with a T-shirt or a turtleneck sweater, and bingo, you have one of the most stylish off-duty outfits! On warm summer days, an airy fabric like cotton works well as an all-purpose garment.
Floral Patterns and Mesh Top
Mesh tops, which are often made from polyester or nylon and are see-through, are another stylish staple. And if you know how to style them, they can be the focal point of your entire ensemble. They're a great option that will ensure you look your best no matter where the day takes you.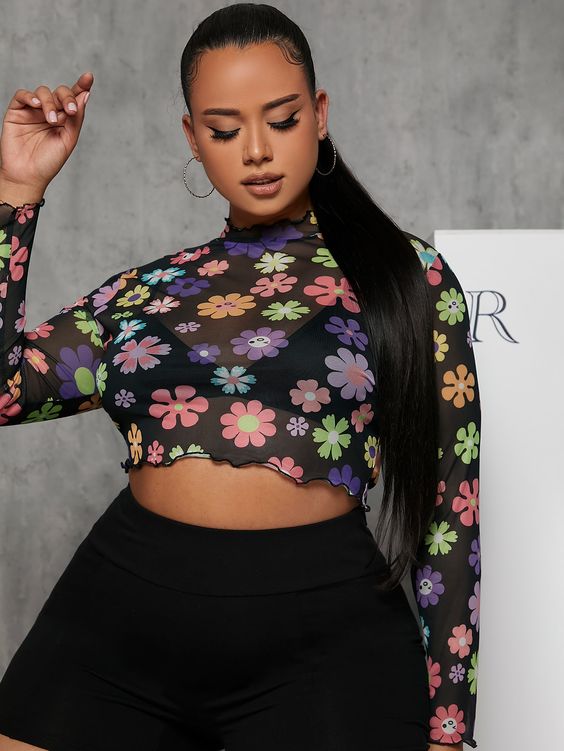 Whether it's a brief errand run, a night of partying with friends, or a lunch date with the girls, you will look hot in this! A wide variety of patterns and styles are available, from floral and leopard prints to polka dots and ruffled sleeves, and even crochet.
Gorgeous Leggings
With the rise of "athleisure," leggings are no longer just worn to the gym but also to run to the store or work from home. But that's not all. These comfy pants are what most of us reach out for, whether it's hot outside or when we want something cozy to wear to the movies.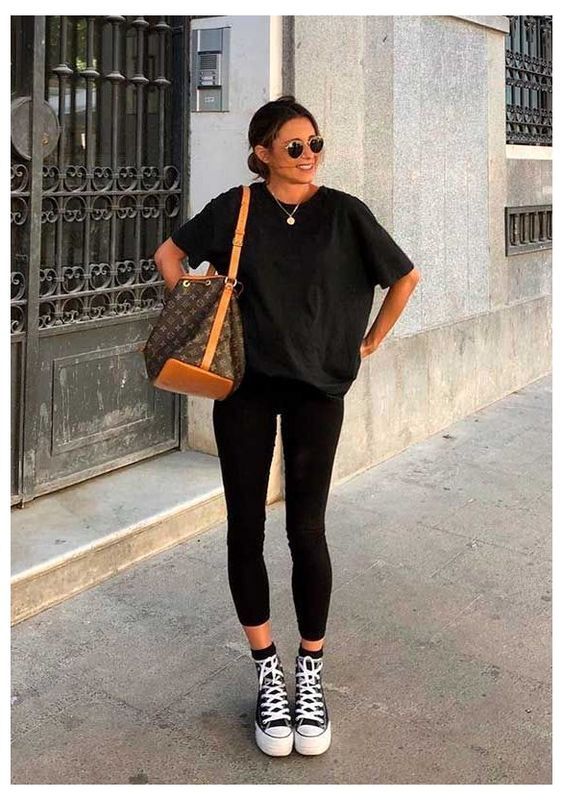 If you want a little more coverage but still want to try out a crop top, put a jacket or cover-up on top. Since temperatures can drop dramatically at night, having a denim jacket on hand just in case adds another layer of style and also keeps you comfy.
Go For A Ribbed Jumpsuit
What are the most versatile pieces of clothing to throw on for a lovely casual summer look? Rompers and jumpsuits, of course! Most people have at least one of each of these in their wardrobes. If you don't, maybe it's time you went shopping for a couple of them.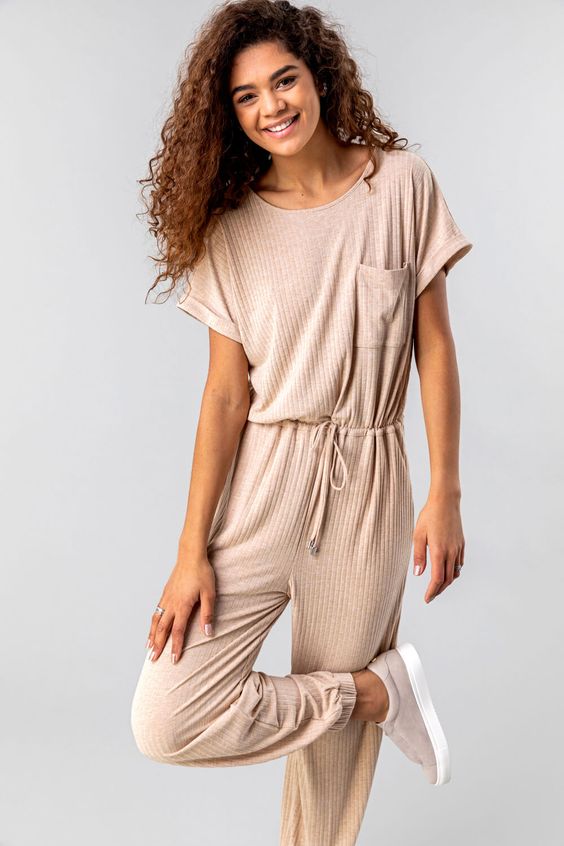 We love simple outfits that make us look put together and are suitable for most occasions. And this reliable costume is the right mix of style and practicality. A pleasing cut and elasticized waist will show off your body's curves. Additionally, jogger-style legs are always a hit!
Pullover Sweater For A French Touch
Even though we like the warmth of summer, we are eager to rock our trendy fall clothes. Balance is the key to combining sweaters into a trans-seasonal style without overheating. It's possible to stay as cool as possible while the weather is still summerlike.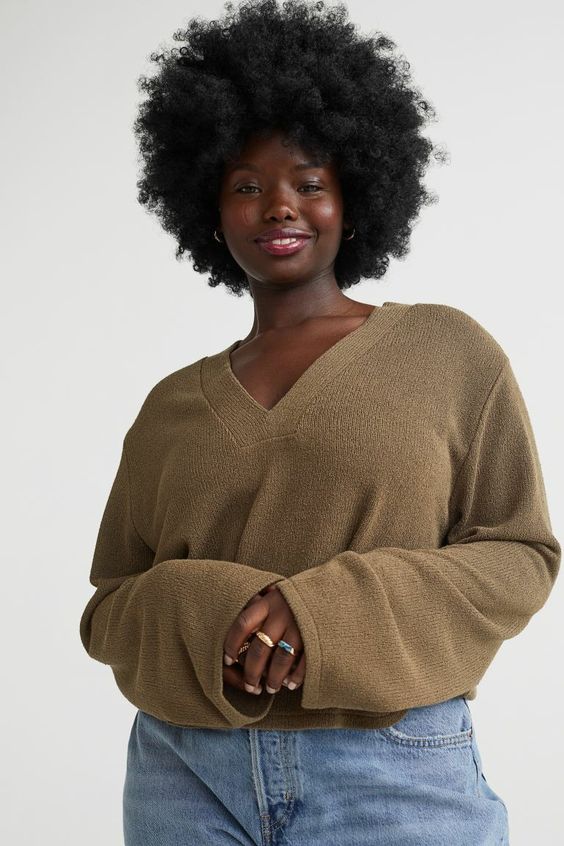 If you have an incurable love of sweaters, it's advisable to go for lightweight, open-weave, and breathable styles in summer. Even though thicker ones can still be worn, it's important to pair them with lighter clothing to avoid seeming out of place or risking overheating.
Lovely Linen Pants
Linen! What a fantastic fabric! Linen pants are a reliable wardrobe staple, whether you're going for a laid-back daily appearance or a formal evening out. For summer, there is no better option. They're perfect for the beach or just a day of errands because of how cool and comfy they are.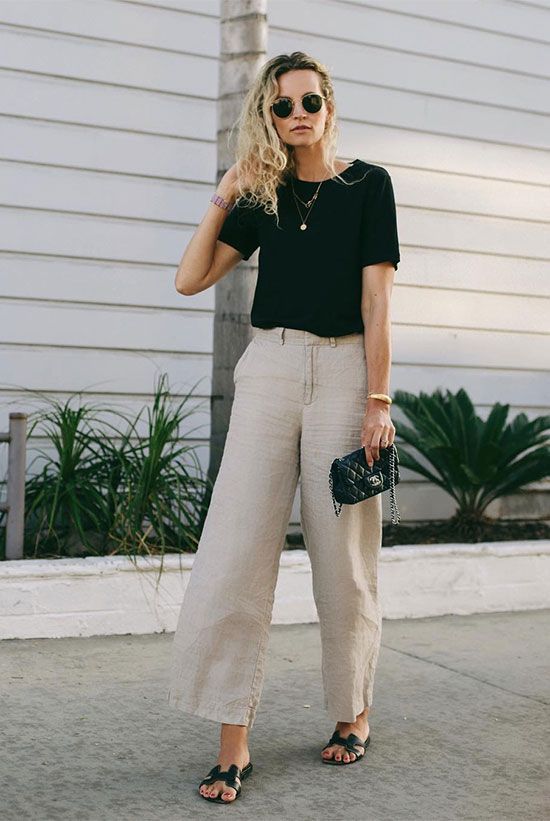 They can also be the ideal option in chilly weather when accessorized right. Wear them with a comfy sweater or jacket for a fashionable and practical winter ensemble. Overall, linen pants are a must-have since they are versatile and can be worn at any time of year with any number of tops and accessories.
Rocking An Apron Dress Pattern
An apron is like a superhero's cape that protects you from the mess and chaos of the world, whether you're sculpting clay or making lasagna in the kitchen. Apron dresses have been a staple in the fashion world since before avocado toast was even a thing!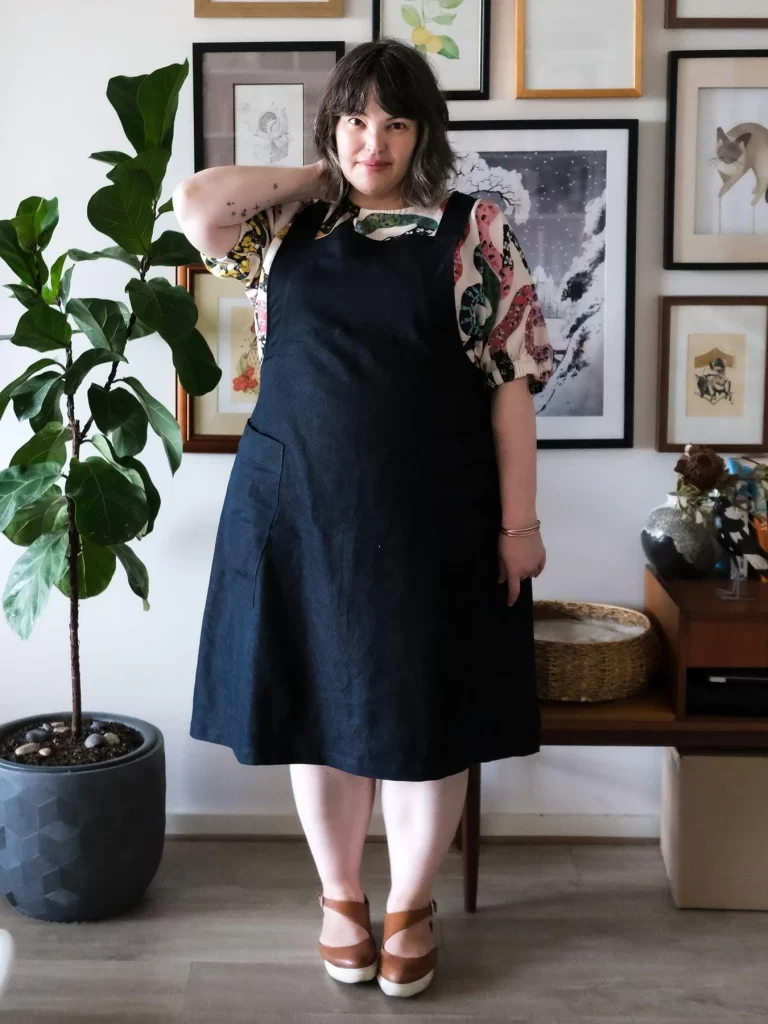 Back in the 1940s, people knew how to make the most out of a small piece of fabric. It was like adding a dash of spice to a bland outfit. Why settle for a regular dress when you can rock an apron dress made from any dress pattern?
V-Neckline Midi Dress To Impress
Fashion is like a revolving door, constantly spinning with new styles and trends. The plunging neckline is a timeless classic that never fails to turn heads. Not only does this style turn up the heat, but it also gives you an air of class and sophistication.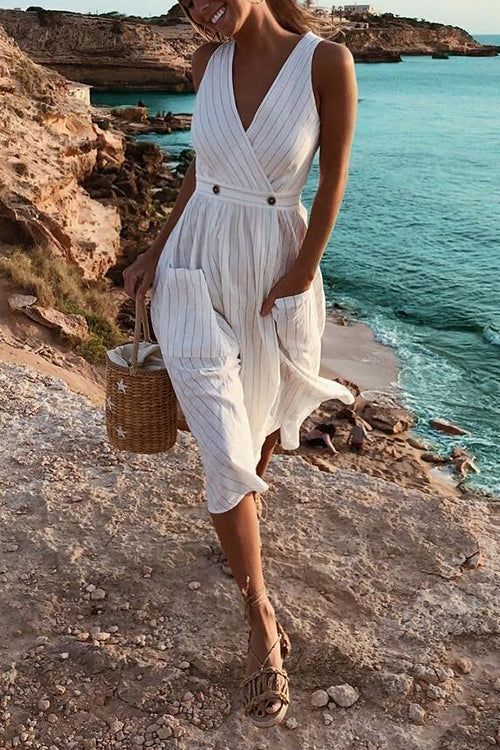 If you're planning to rock a deep-v neck dress, there are a couple of things you should consider. Darling, your dress only needs subtle and sophisticated adornments. When it comes to a plunging neckline, less is more. So, keep your bling simple and let your natural beauty do the talking!
Spectacular Vintage High Rise Jeans
Like a classic black dress, high-rise jeans never go out of style. Allow us to help you navigate the art of rocking high-rise jeans, so you can slay every time you slip them on! Whether you consider yourself tall or short, these jeans will always flatter you if you know how to work them.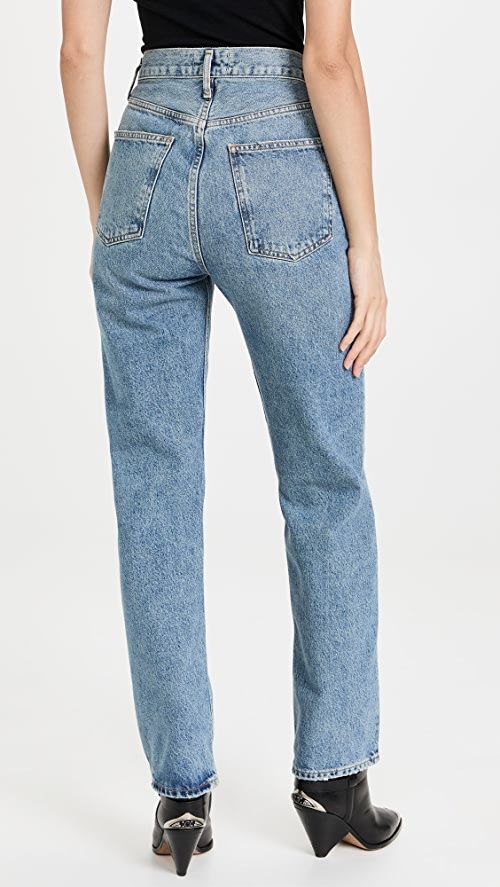 Jeans have come a long way from being just a basic pair of pants. Now, they have more personalities than a Pop diva. From the boyfriend shape and the rebellious distressed ones to the groovy bell bottoms and casual mom jeans, they've ensured you can't live without them!
Sleeveless Tanks For The Hot Days
While a tank top may not be as flashy as a sequined gown, it's still a piece that can elevate any ensemble to new heights. Say goodbye to the days of this top being a mere gym or lounge attire. It has undergone a fabulous makeover in the past few years.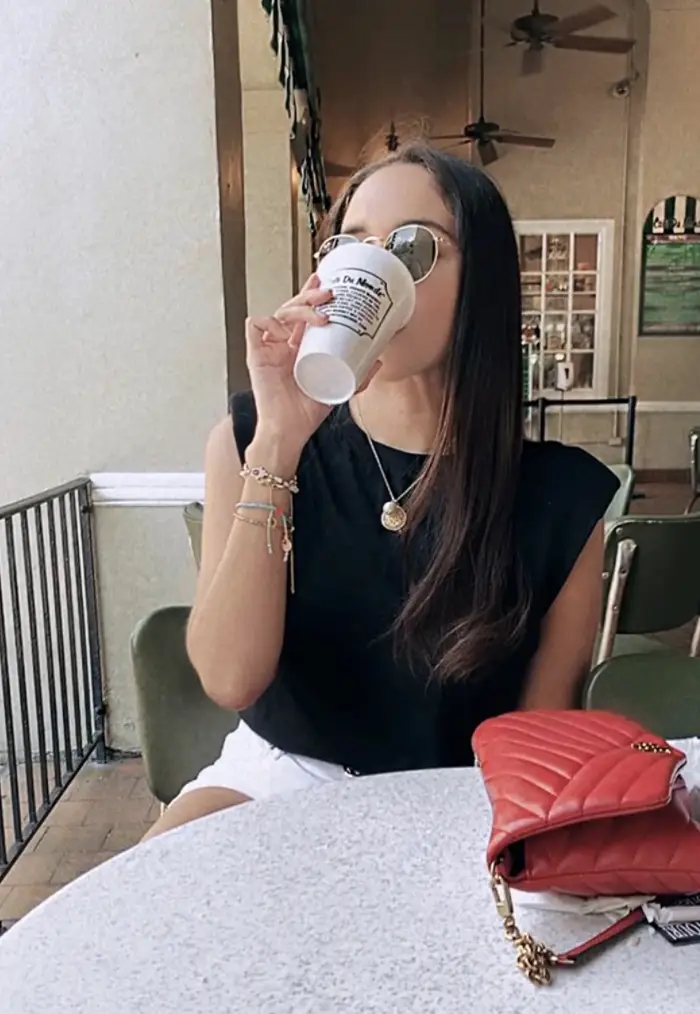 So, be sure to choose cuts and fabrics that will make your closet staple a true road warrior. Why settle for a neckline that screams "basic" or a v-neck cut? Our choice for today is a sleeveless cut that's as chic as it is practical.
Flowy Tunic Dresses
Why wear anything tight when you can let loose in a tunic dress on the weekend? From meeting your girls for coffee to strolling with your furry friend, tunic dresses will keep you comfy and chic. With plenty of wiggle room, you'll be breezing through your day like a pro!
A short length-sleeved tunic dress is the perfect attire for those indecisive weather days. It's the best way to stay modest without breaking a sweat. Float like a butterfly and stun like a queen in a floral tunic dress for your next evening out.
Jean Shorts
Pants are the ultimate solution for those who prefer to keep their activities and comfort levels in check without compromising on style. However, when the sun starts blazing, shorts are the perfect wingman (wingwoman?) to keep you cool and stylish. Embrace your love for them and show off those legs!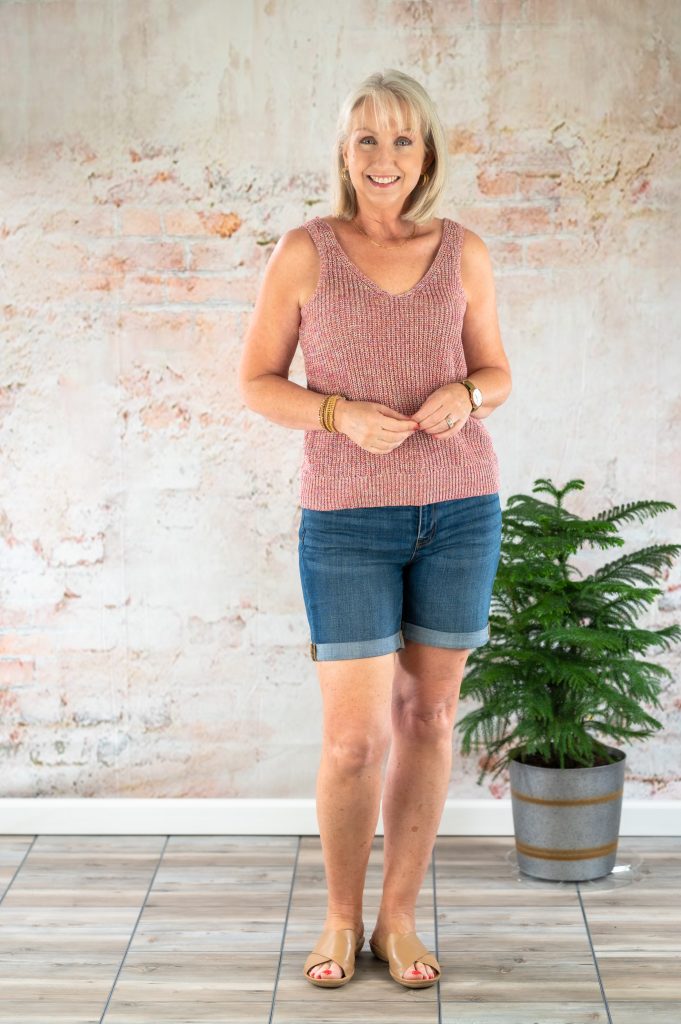 Pick a pair that will flaunt your fabulousness. It's no secret that the right hue can make or break an outfit. So, when it comes to shorts, tall ladies should embrace their inner goth and opt for darker tops, while shorter women can bask in the sunshine with lighter-colored tops.
Wrap Skirt For Flashy Looks
Wrap skirts are making a comeback, and we're here for it! These garments are like chameleons of fashion, effortlessly adapting to any body shape and style preference. They seamlessly blend from spring to summertime with endless possibilities, which makes them super versatile.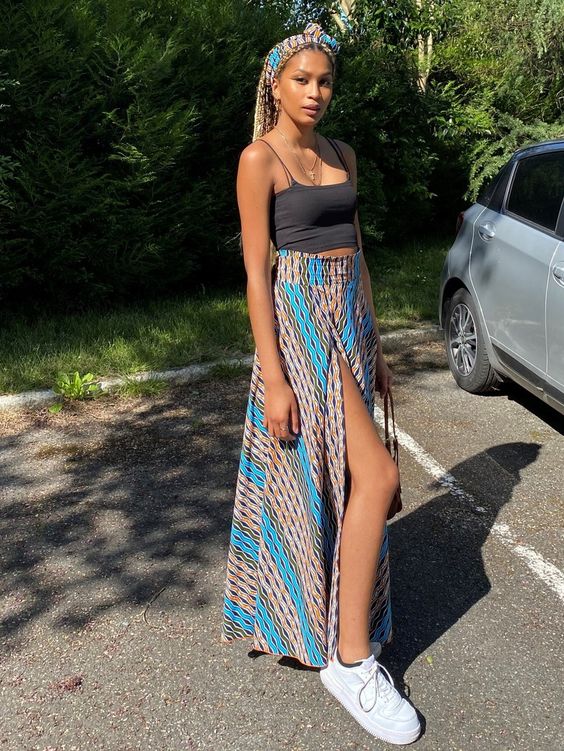 They'll have your back when you're brunching on a Tuesday and vacationing on a Wednesday. Match them with your fave graphic tee and some laid-back kicks or even chunky heels. And remember, accessories are like the cherry on top of a sundae – they just make everything better.
The Bike Shorts Trend Is Everywhere
While denim cutoffs and pleated mini skirts have their place, when it comes to effortless summer style, biker shorts are the real MVP. This versatile piece of clothing is as cozy as a hug and as low-maintenance as a houseplant. It's basically the T-shirt's cooler, more flexible cousin.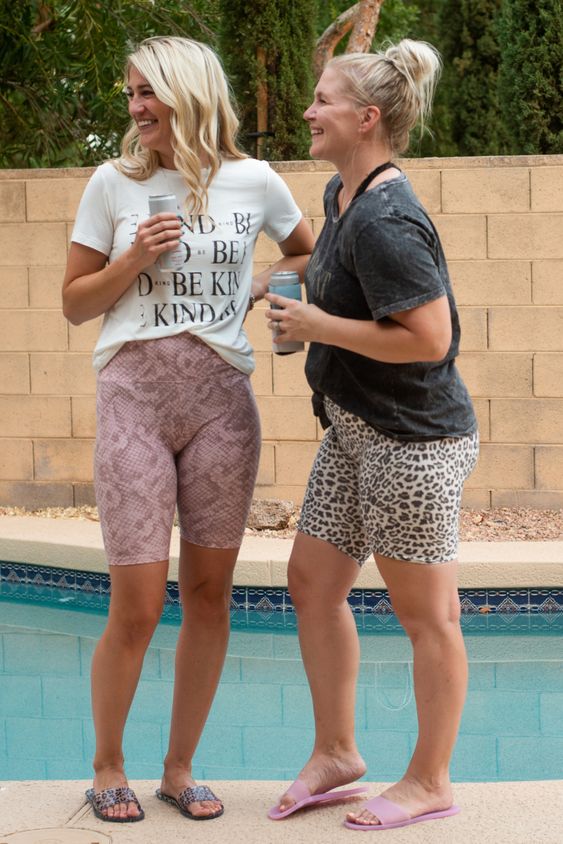 Rock those biker shorts with a tee or button-down, then add some flair with kitten heels and a printed bag. You'll be turning heads all the while feeling like you're in PJs! Opt for an oversized tee and your favorite kicks for a casual combo that's perfect for any low-key activity.
Feeling Fresh With A Strapless Dress
Strapless dresses: because who needs pesky shoulder straps when you can just defy gravity? This is a terrific, versatile piece that can easily shift from a beach bash to a black-tie event. It brings to mind the classic dress dilemma: to slip or not to slip, that is the question.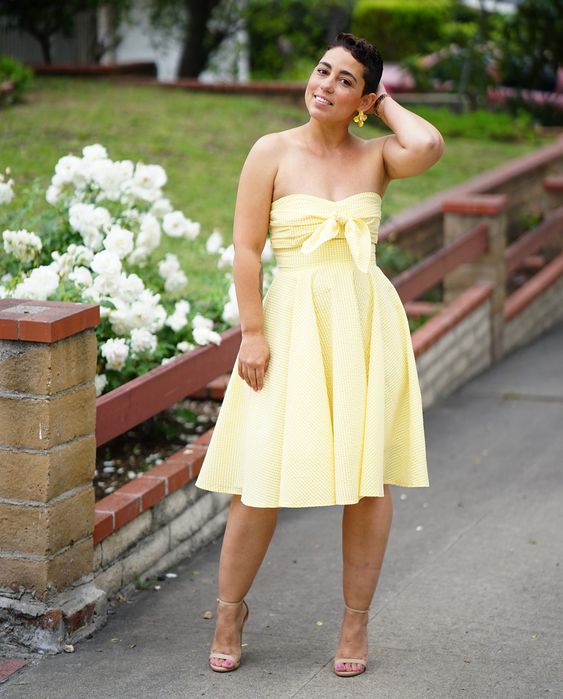 Fear not, our dear fashionistas! With a few tricks up your sleeves, you can rock a strapless dress with effortless grace and beauty. The most important thing is to remember that this dress is like a clingy friend; it needs to fit just right, so pay attention to measurement.
Cute Floral Romper Dress
A romper dress is the perfect combination of playful and chic, available in an array of sizes and designs. It's the go-to attire for beating the heat! This one, in particular, seems like a real triple threat — it's a short, top, and wrap skirt all in one!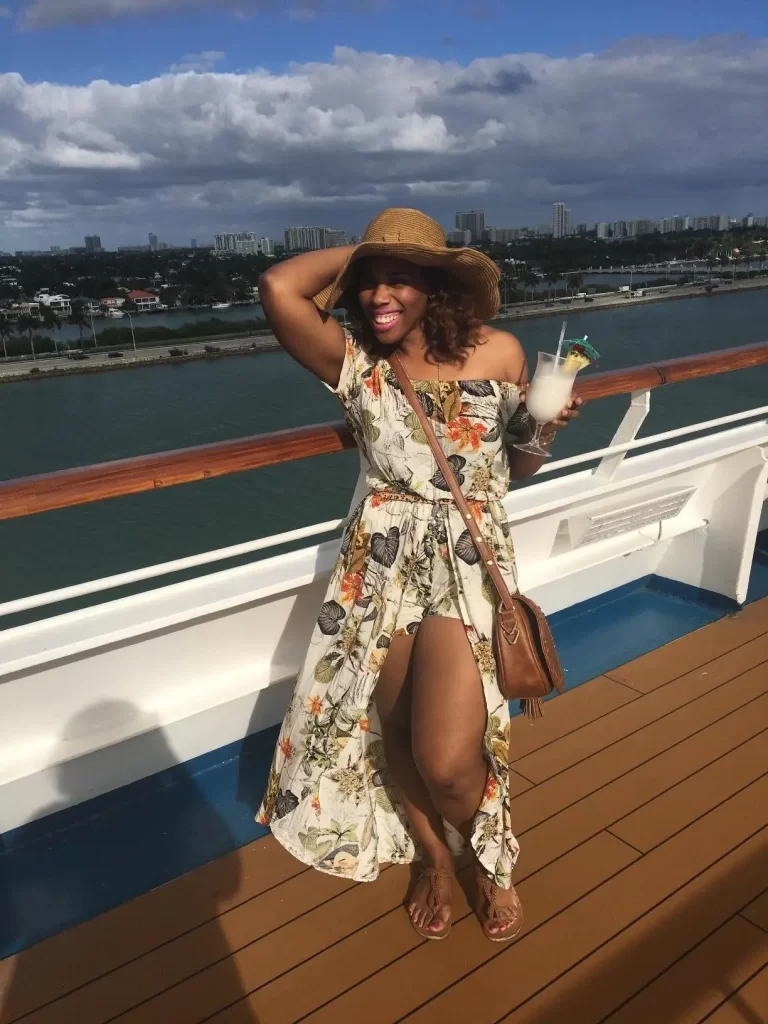 This incorporation adds a touch of sophistication and brainpower. Bear in mind that they're not only casual. Black romper dresses can be dressed up for any special occasion. Not only are they fashion-forward garments, but they're also a breeze to put on.
Looking Good in Corduroy Shirts
If you don't live under a rock, you must have noticed that corduroy has gone from being a fashion disaster to a fashion phenomenon. One would almost go so far as to say it's the new black! A timeless trend that's here to stay, joining the ranks of denim and leather.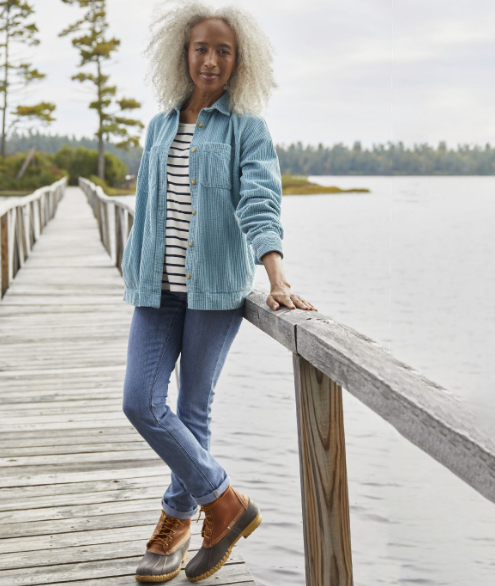 Why bother tucking in your corduroy shirt when you can effortlessly rock a laid-back vibe? To achieve maximum style with minimal effort, don a suave t-shirt and some killer boots. If you're willing to try other pieces with the Corduroy fabric, give a colorful bag a try.
The Refreshing Touch Of Maxi Dresses
Maxi dresses have been a big thing ever since Oscar de la Renta decided to take the hemline to new heights in the '60s. They can effortlessly transition from work to brunch to church to weddings and even fancier occasions. A simple addition of a cardigan, jacket, or belt can magically transform this outfit.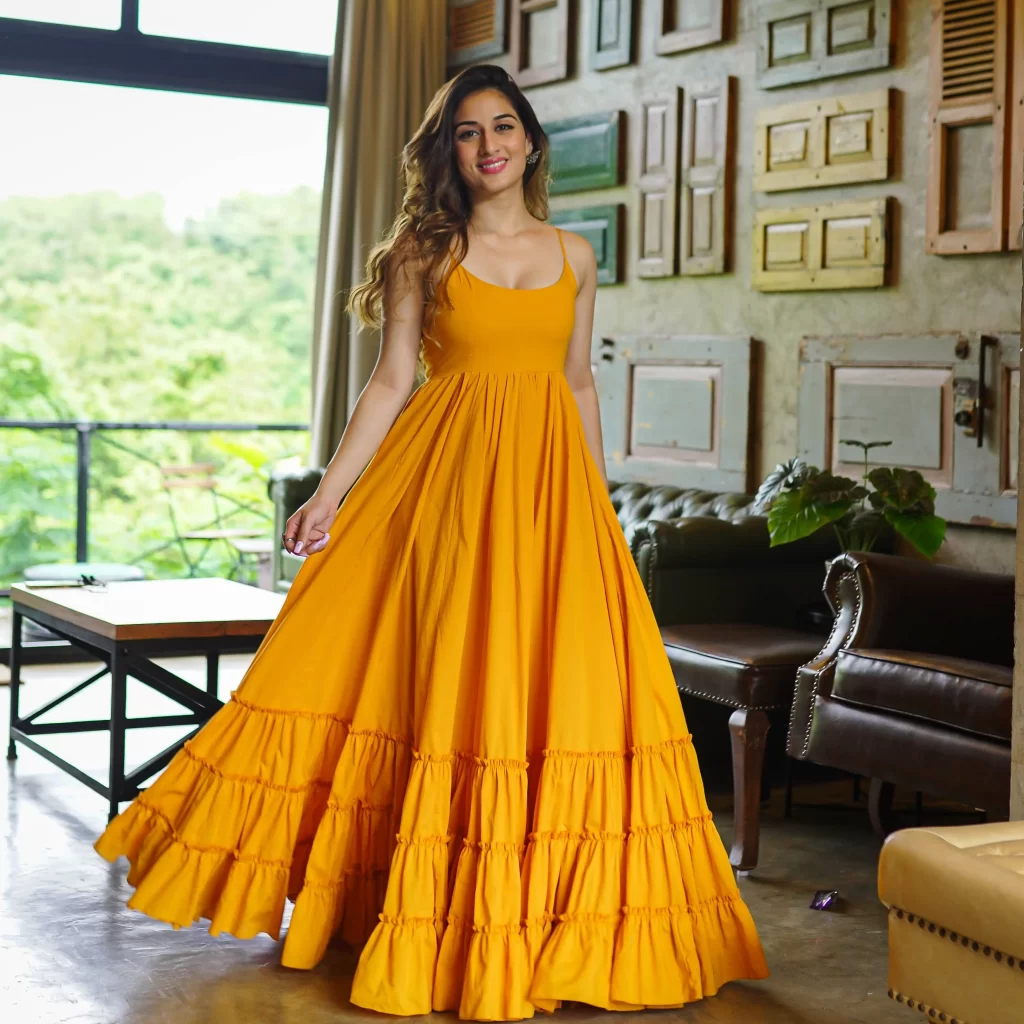 And don't mistake simple for boring since these staples can make dazzling outfits with the right accessories. So, consider adding a touch of elegance to your ensemble with some delicate gold jewelry. Small is tall when it comes to this style.
Henley Shirts And Tunics
An effortless way to look stylish and prepared for anything is to pair a henley shirt with a pair of ripped blue boyfriend jeans. This outfit can be put together in no time at all. Add glam to your ensemble by finishing with a pair of leather heels.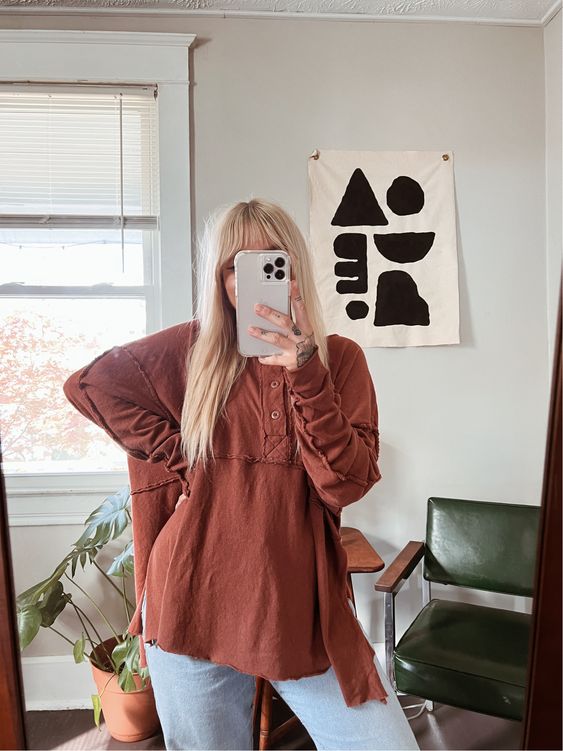 For an even more laid-back look, pair blue denim shorts with a henley shirt and a colorful jacket. And why not give your feet a break by slipping into some comfy and gorgeous flat sandals? Your toes will thank you.
Groovy and Elegant Flare Pants
Flare pants are a fantastic treat to the fashion world. They adapt to any style you want, whether you're feeling groovy or just keeping it simple. Take your basic white button-down and black tote bag from drab to fab by pairing them with your favorite pair of flares!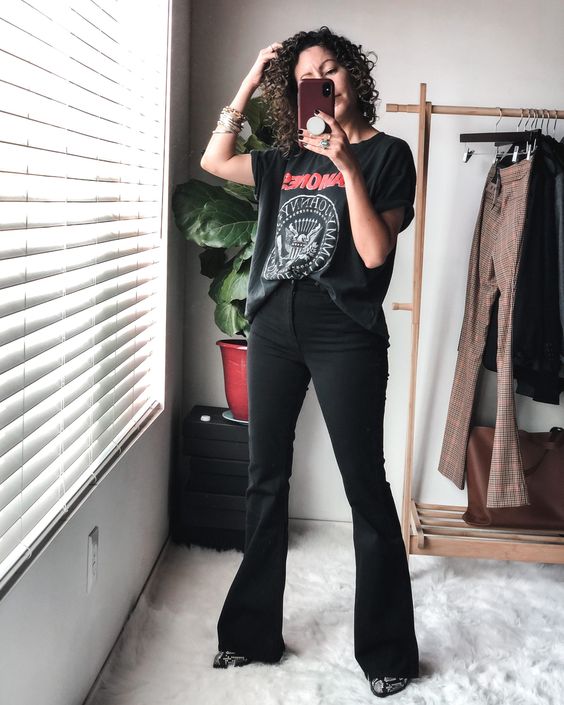 Why settle for a minimalist look when you can go all out with a gorgeous trench coat cinched at the waist? It will take the flare of your jeans to new dramatic heights. Let your inner fashionista run wild and play with layers, mixing and matching prints and textures.
Lace Trimmed Tunic
Tunics are the perfect garment of choice for those who can't decide between a shirt and a dress. It's versatile enough to take you from the boardroom to brunch without skipping a beat. These clothes fit and flatter every body type while feeling like a dream.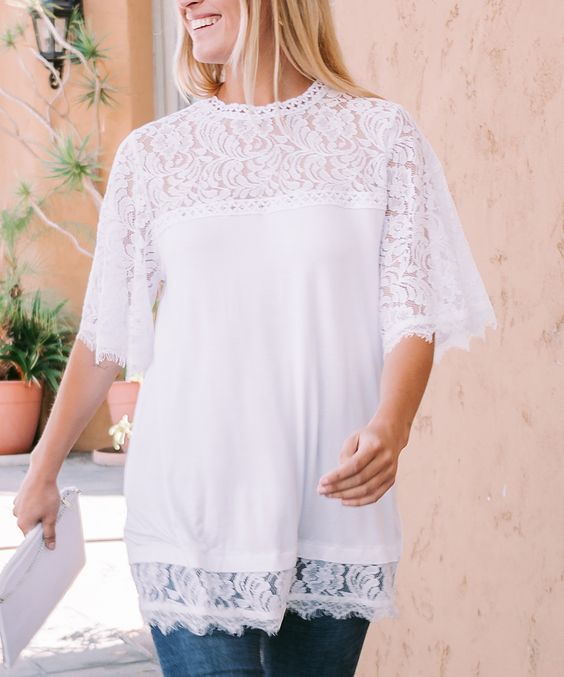 These delicate pieces are the perfect match for bottoms like leggings, skinny jeans, or cigarette pants. Ripped jeans and a scalloped lace combo are the perfect blend of edgy and feminine that add just the right amount of glam to your outfit.
Wrap Dress For An Exquisite Look
A wrap dress is like a fashionable hug that you tie around your waist. They're both open and closed until you wear them and collapse the wave function. Whether you're a wrap dress aficionado or a newbie, there's a wrap dress out there with your name on it!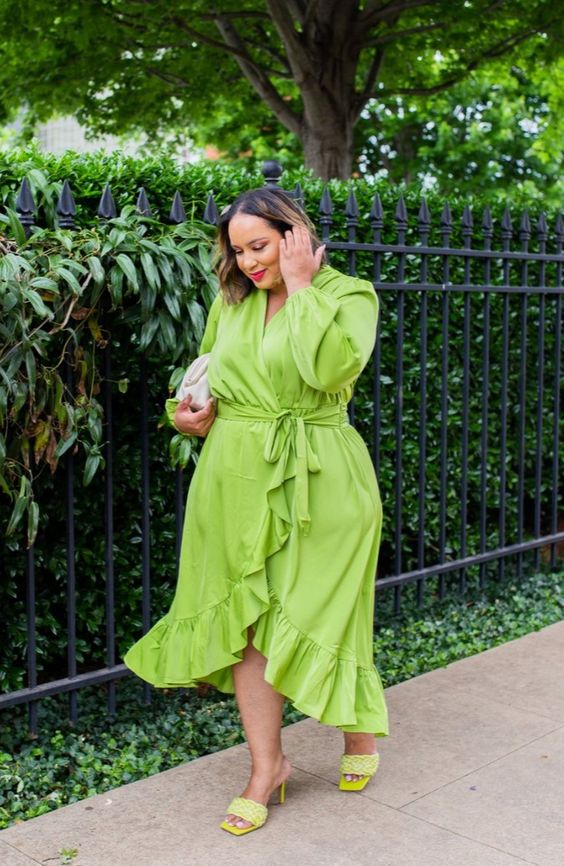 This style knows how to flatter, thanks to the wrap ties that cinch at the waist and show off that coveted hourglass figure. The V-neckline is like a spotlight on the tie waist, showcasing that stunning silhouette. A pair of sandals in the same hue brings a monochromatic 'wow factor' to the table.
Stylish Joggers
If you want to upgrade your fashion game and look like a suave superstar, rocking a white jacket is the way to go. Why not mix things up and wear your white jacket with a dark blue long-sleeve top, topped off with trendy sage jogger jeans?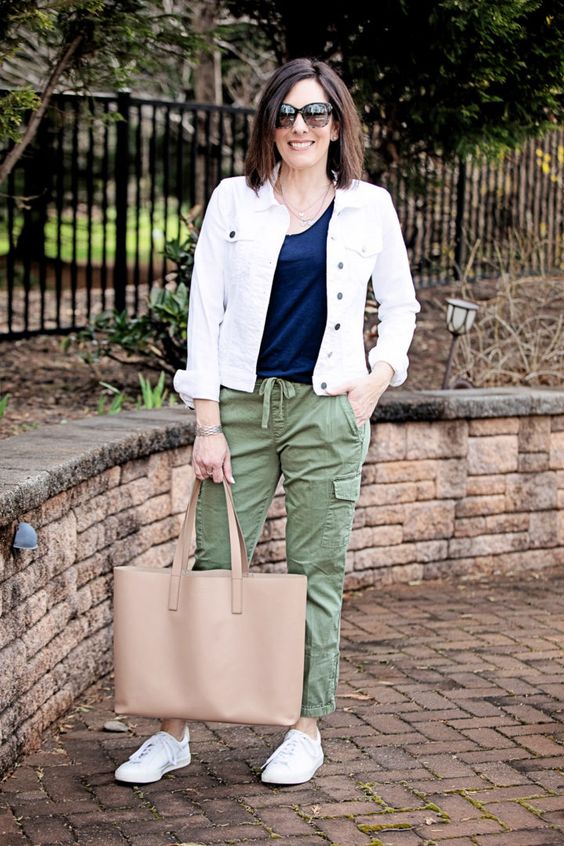 Step up your fashion game with these legendary jogger pants that will elevate your outfit to a whole new level of clean and stylish. Finish by lacing up some white kicks and slinging on a simple shoulder sack to inject some sporty spice and youthful pep into your ensemble.
Preppy Skirt and Tank Set
The midi skirt is like a timeless piece of art, it has been around for ages, and it's not planning on retiring anytime soon. Well, let's face it, this piece of clothing has become as essential to a woman's wardrobe as avocado toast is to brunch.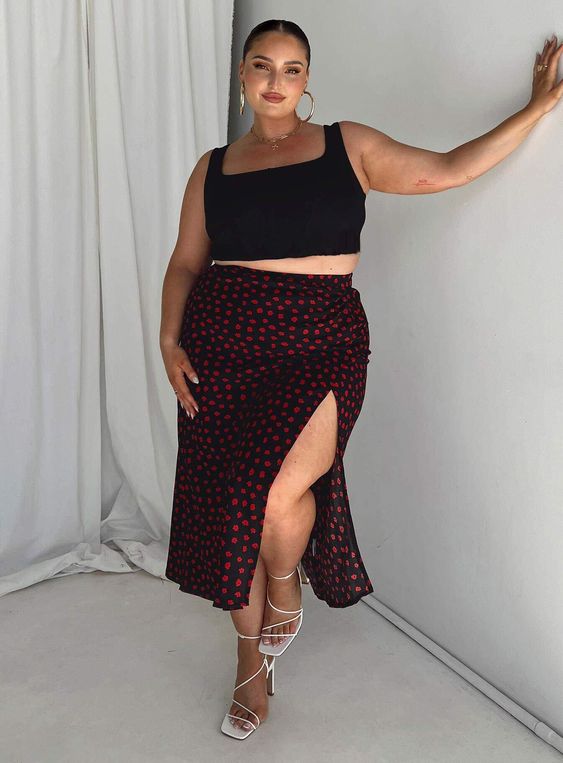 It can adapt to any body shape without breaking a sweat. When you're torn between feeling like a boho queen or a casual cutie, a mid-length skirt is the perfect mediator. It's the go-to piece for any occasion – not too long or too short, but just the right length for any casual setting.
Casual Crop Top
Looks like these tops have been around longer than some of us have been alive, yet they're still cooler than the other side of the pillow. That said, you wouldn't want to be caught with a fashion faux pas, so it's best to master the art of styling.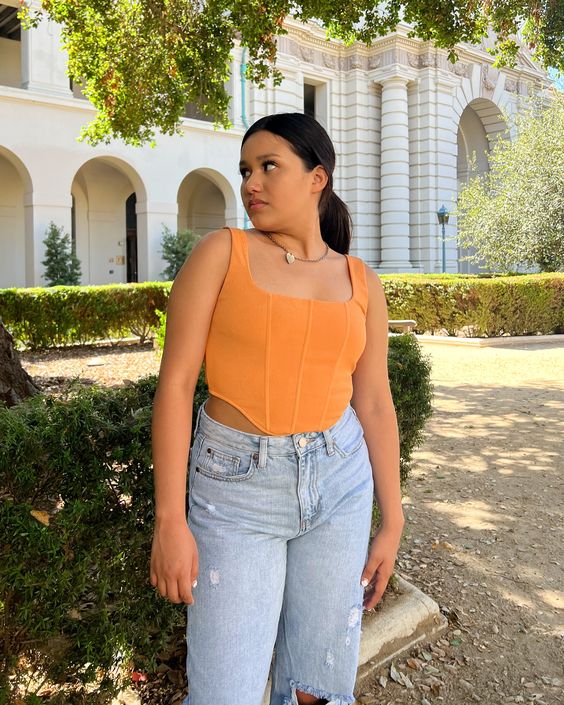 When in doubt, just crop it out and pair it with denim pants. Voila! Don't sweat it. This top can rock any kind of jeans like a boss, be it high-waisted, mom jeans flared, or bootcut. Also, wavy skirts and crop tops: the perfect combination of breezy sophistication.
Posh Lace Tops
Why choose between comfort and glamour when you can have both with our latest obsession: lace tops? This outfit is so stunning it practically pulls itself off. Layer up, buttercup! Slip a white semi-sheer mock neck long-sleeve lace top over a white tank for a chic and sophisticated look.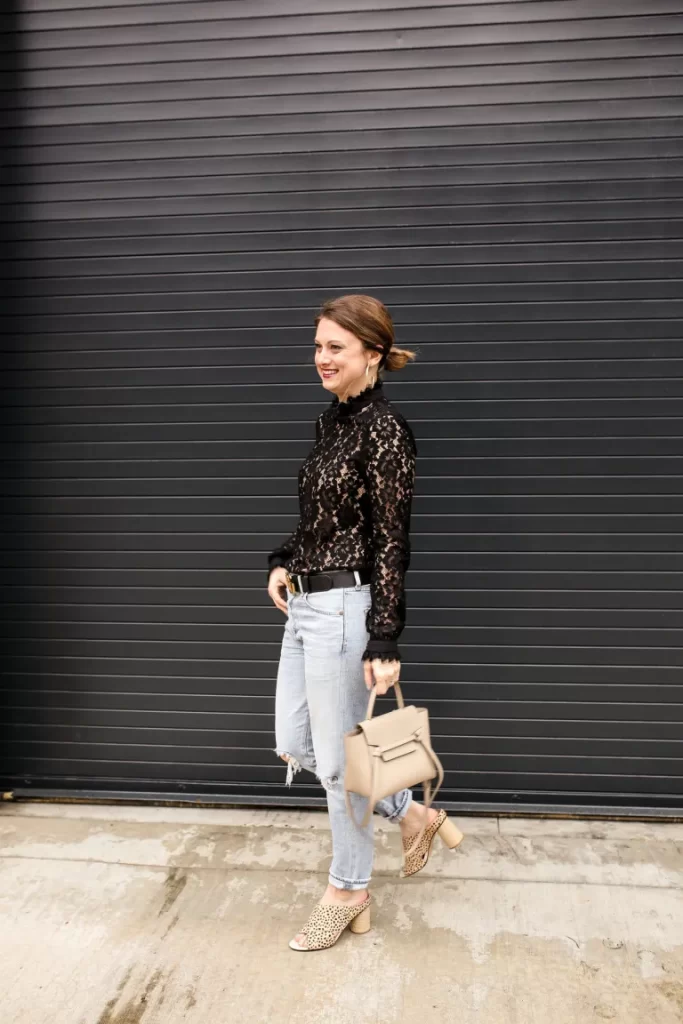 Match that with some sleek black skinny jeans and elegant ankle boots to take your fashion game up a notch. You can also rock a white lace top, sleek dark blue skinny jeans, and pointed-toe heels with this look. Who knew simplicity could be so stunning?
Dashing Halter Neck Bodysuit
The next one is a single piece of clothing with numerous personalities. Bodysuits are the ultimate shape-shifters with their long-sleeve, short-sleeve, backless, and turtleneck variations. Well, well, well, looks like someone's neckline is getting all the attention and stealing the show!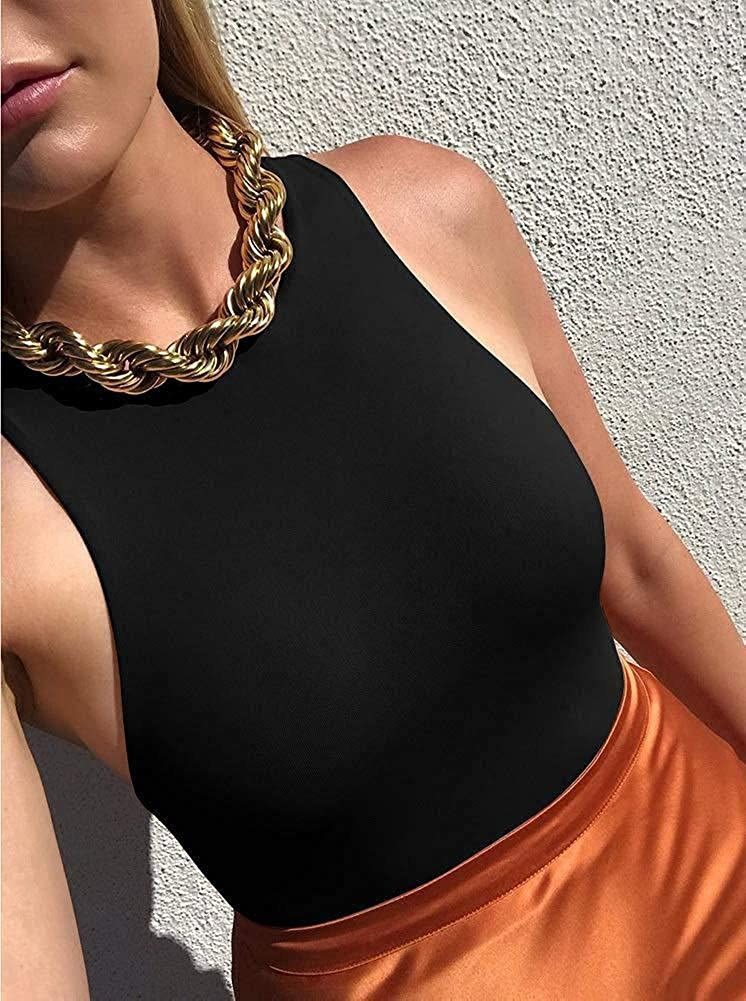 Match one with your go-to denim pants, drape a blazer over it, and that one pair of dark-colored high heels! With that, you've just concocted a chic and effortless ensemble. Remember, mom jeans and bodysuits are like peanut butter and jelly – they just go together.
Longline Jackets In Summertime
Spring is all about embracing the beauty of nature, so add a touch of whimsy to your wardrobe with some pastels. Lilac, baby blue, and sage green are all excellent options to try out. A longline jacket is the perfect companion to keep you snug without weighing you down.
So, if your wardrobe is missing a longline jacket, it's time to give it a stylish upgrade. This fashion treasure is a true all-rounder, effortlessly adapting to any season. It's the perfect layering piece, whether you're baring arms in the summer or bundling up in the winter.
Cute and Practical Sleeveless Shirts
If you're one of the fortunate few who bask in eternal sunshine, don't be shy about showing off those shoulders with some stylish sleeveless shirts. Who needs seasonal trends when you can rock a cute and comfy outfit all year round?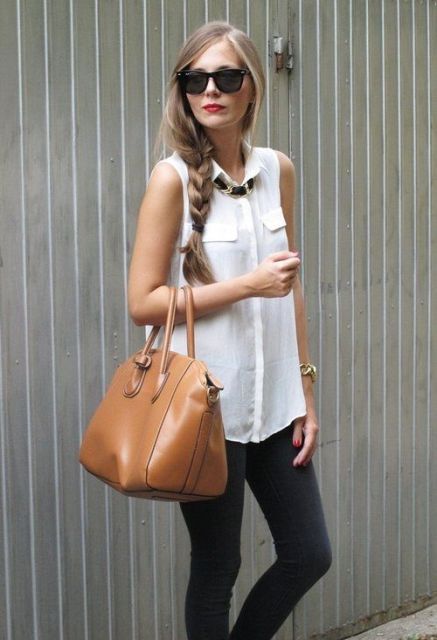 Plus, there's no need to settle for a plain and boring shirt when you can jazz it up with some ruffles, beads, or a funky print. Don't be afraid to make a statement with your wardrobe. Pieces like a sleeveless button-down blouse will elevate your style game without stealing the show.
Have Some Denim Dresses In The Closet
We know we talk about versatility quite a lot, but this pick is, indeed, listed among the top 5 versatile outfits of all time. Denim dresses are the ultimate staple, from maxi to mini, shredded to pleated, and distressed to pressed with ease.
The basic blue is a must-have, but you can rock a denim dress in a daringly different shade. Spring and summer are the best seasons to shine bright with vibrant shades like orange and pink. That said if you really want to make a statement, floral and pattern prints are the way to go.
Versatile Elastic-Waisted Shorts
There's no denying that a pair of denim shorts can instantly elevate your style. But if everyone else is dressing the same, you might as well stand out a little. Fire up a pair of elastic-waisted shorts in neutral hues like grey, white, and brown.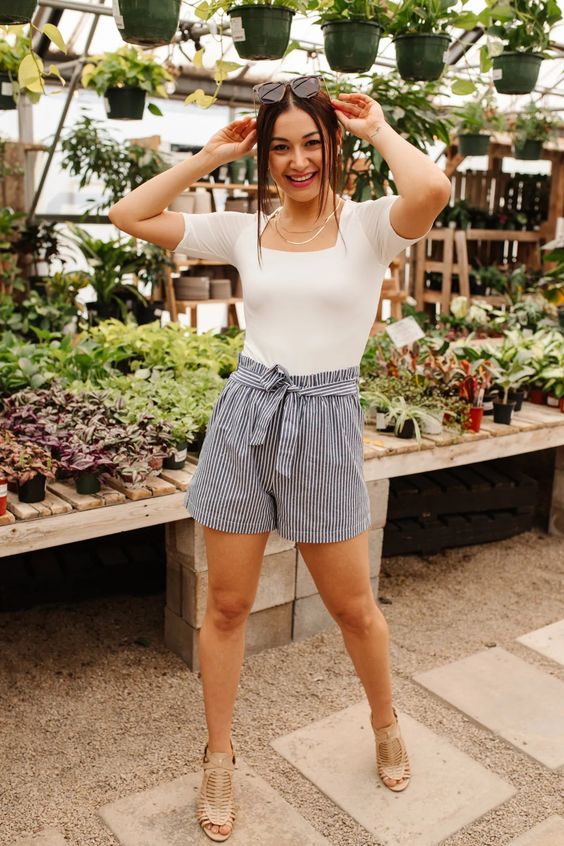 Combined with a white sleeveless top – we've already listed that here – this look is just a breath of fresh air. You can bet on patterns such as stripes or even a floral one to bring some color and joy. A pair of classic white sandals will go great with this ensemble.
Lace Sleeves and Loose Fit Bring A Delicate Feel
Lace always adds a delicate quality to any clothing item. It's so romantic, nostalgic, and lovely. Now, it looks like lace is making a comeback in fashion after taking a break longer than a sabbatical year. If you haven't added a lace blouse to your wardrobe yet, you're missing out on the latest fashion craze.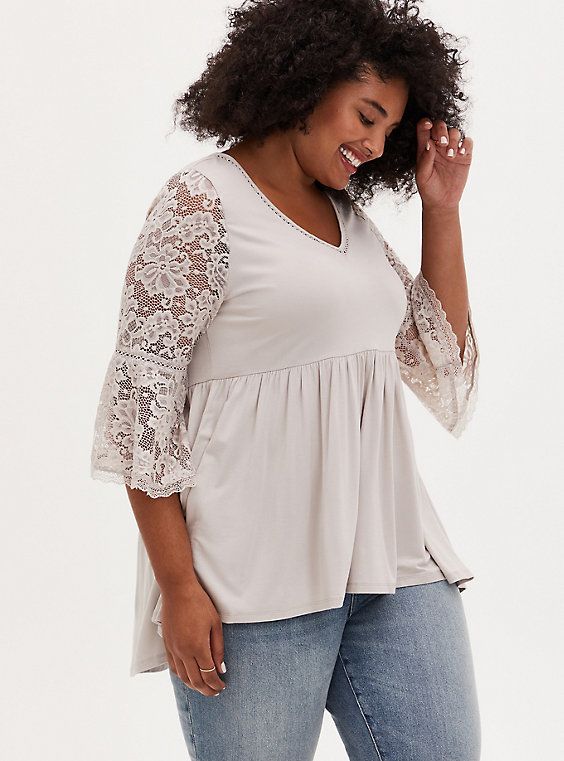 The options are endless. From dawn to dusk, these versatile pieces will have you looking fabulous. If you're aiming for a relaxed date night, slip into a cozy peach or soft pink loose blouse, rock your go-to dark wash skinny jeans, and strut outside in a pair of adorable sandals.
Batwing Sleeves
Many people believe that the batwing dress has a sleeve pattern that is excessively pronounced, but that's not the only way to go with this flowy cut. It effortlessly adds a touch of elegance and uniqueness to any outfit without trying too hard.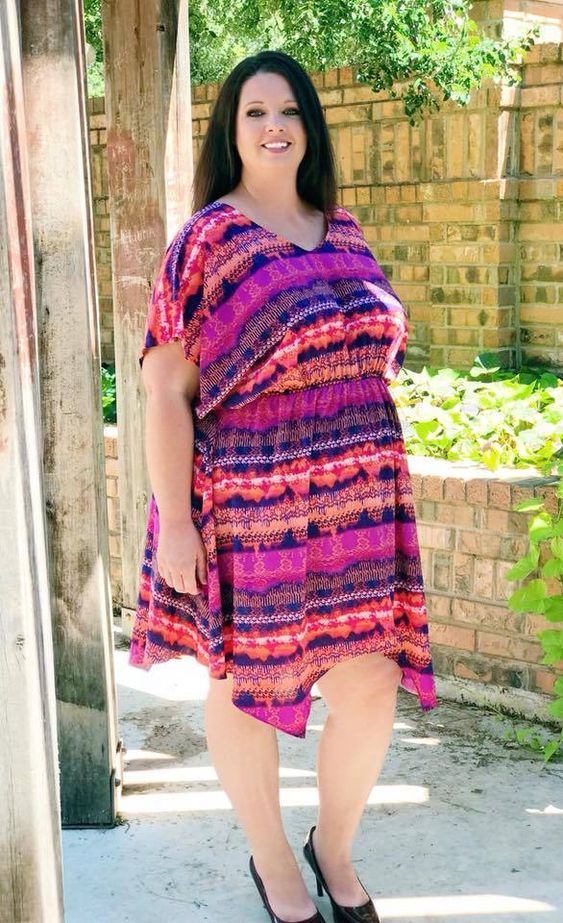 Wrap yourself in a pastel-colored batwing sleeve dress, or unleash your playful side with a V-neckline dress to achieve maximum beauty. Just picture yourself donning this lively mini dress at a Sunday brunch gathering. If it was a competition, you'd definitely be in the running for first place!
T-Shirt Dresses For Every Occasion
Since these dresses fit in a variety of ways and are comfortable to wear all day, they're a summertime staple for us. With such a basic item, your style options are endless. A T-Shirt dress is perfect for any occasion, whether you're going to the office, out on the town, or just staying in.
You should check if the dresses' silhouettes will look well on you. For women with a curvier figure, a straight dress is the greatest option. Adding a stylish belt is a great move for slender women since they draw attention to the waist, which is never a bad thing!
Ultrachic Backless Bodysuit
Bodysuits are miracles in a single clothing item, combining structure, mobility, and personality. If you are new to this gorgeous clothing item, be sure to pick the ideal shapes and cuts for your figure. That shouldn't be hard to do.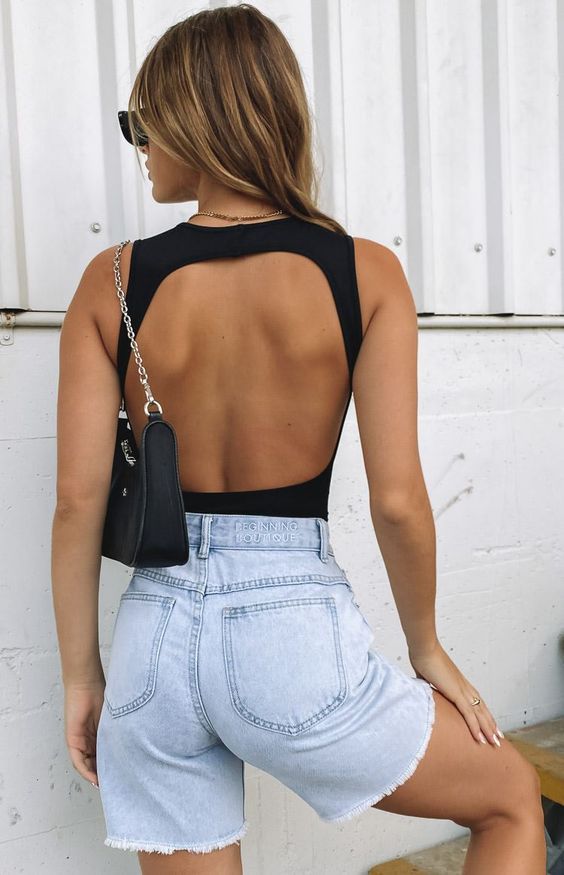 When it comes to rocking a casual bodysuit, keep it effortless with stretchy fabrics and simple styles. It's the perfect grab-and-go look for any occasion! Striped or rib-knit bodysuits are the perfect match for denim shorts, giving you a classic look that's sure to turn heads.
Faux Leather Shorts
Leather shorts give denim and lace shorts a run for their money since they're quite a popular trend. They can go from a picnic in the park to a fancy dinner party with just a change of accessories. They come with more bling than their counterparts, like metal satchels, printed text, and all that jazz.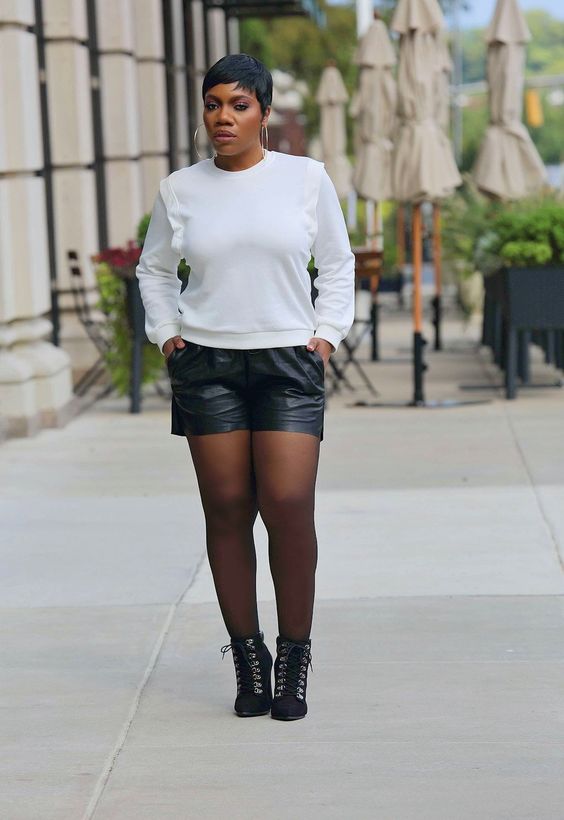 Faux leather shorts are the ultimate piece to add texture to your wardrobe, as they take your outfit to new heights. Styling them is also quite easy. From lacey crop tops to cozy sweaters paired with tights and jackets, you'll be the fashion envy of all your friends!
Flawless Sweatshirt
Well, what can we say? Whether you're hitting the streets or hitting the couch, an oversized sweatshirt has you covered in both style and comfort. But you can't just throw on an oversized sweatshirt and call it fashion, unless you want to look like you're wearing a potato sack!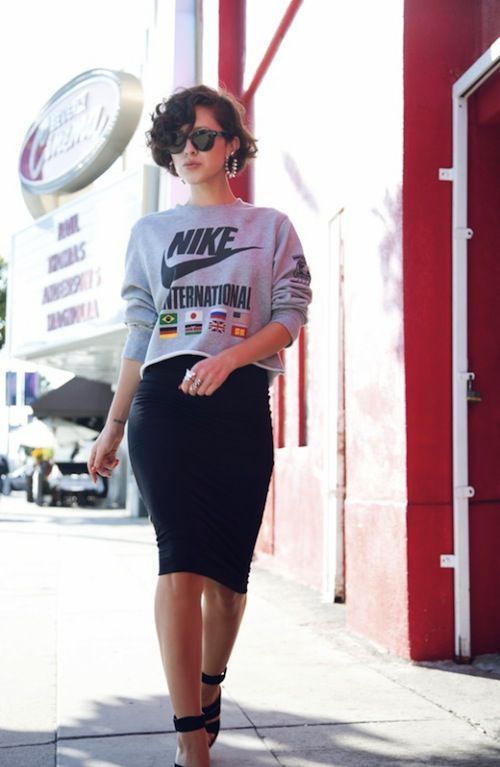 Accessorize wisely, friends. Cropped sweatshirts are the perfect gems for pairing with chic high-heeled sandals, a clutch bag, and a trendy hat. This youthful look can be worn all year round. Since not every country has a hot summer, check your local forecast and rock your sweatshirts next time you go out.