Crafters Who Show They Can Do More Than Make Blankets With Their Crocheting Skills
By Ziyee N January 18, 2022
---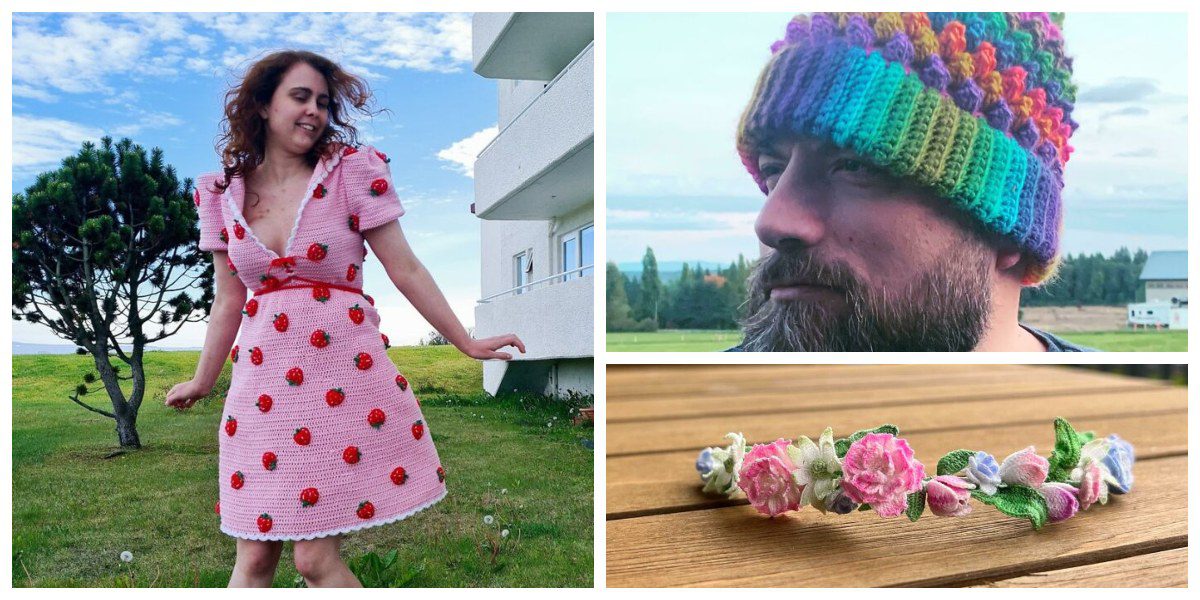 Because of all the DIY projects and handy how-to videos, we have been introduced to a whole world of crafts we might not have known about. Many of us have turned to fun and interesting activities that we wouldn't try under normal circumstances to help us pass the time and ease the stress that life can cause. We have even discovered some latent talents. Some of these activities include crocheting, knitting, and yarn-crafting which requires laser-sharp focus that can effectively relax the human mind and distract it from reality. If you need further convincing to try such activities, crocheting in particular, take a look at all these beautiful designs submitted by Reddit users onto a crochet-loving thread and draw some inspiration for your own project.
Crochet Bearded Dragon
This Redditor crocheted a bearded dragon so that his other crocheted lizards wouldn't feel too lonely. We are stunned; this bearded dragon looks so lifelike that we had to do some digging to ensure this was indeed an art piece.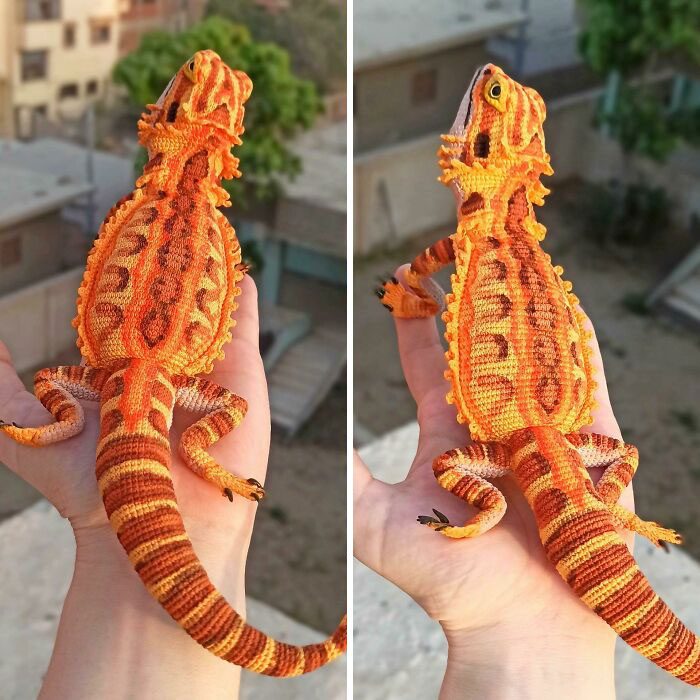 This user's awesome animal crocheting skills have got many users doubting their vision while asking if they can make a purchase from the user for such lifelike works of art; if these little creatures were available for sale, we'd be first in line!
Crochet Octopus
Speaking of animal crochet designs, another user shared their take on a very cute animal – an octopus. With its googly eyes and big head, this guy is absolutely adorable and has definitely grabbed our attention and melted our hearts.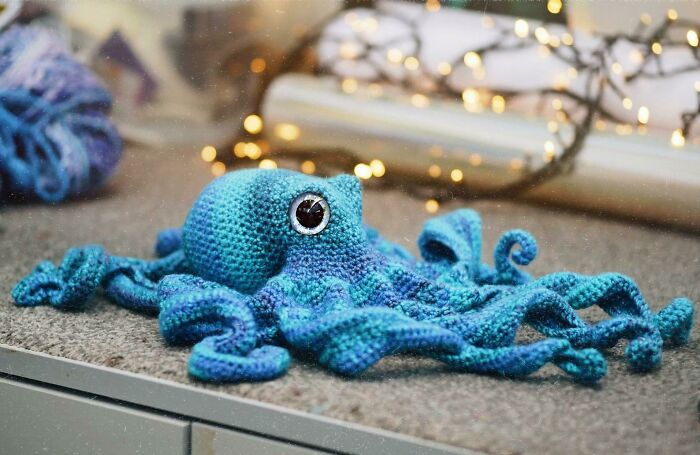 This would be the perfect decoration for a beach house or seashore-themed home; the blues remind us of the view we'd normally see while chilling on the sand. Although it may not seem as lifelike as the lizards, many are still trying to get their hands on this cutie.
Crochet Bird
If you're looking for crochet decorations for your backyard, you may just want to draw inspiration from this birdie; it'd be the perfect decoration for your porch, and there is a small chance that this piece would attract other birds.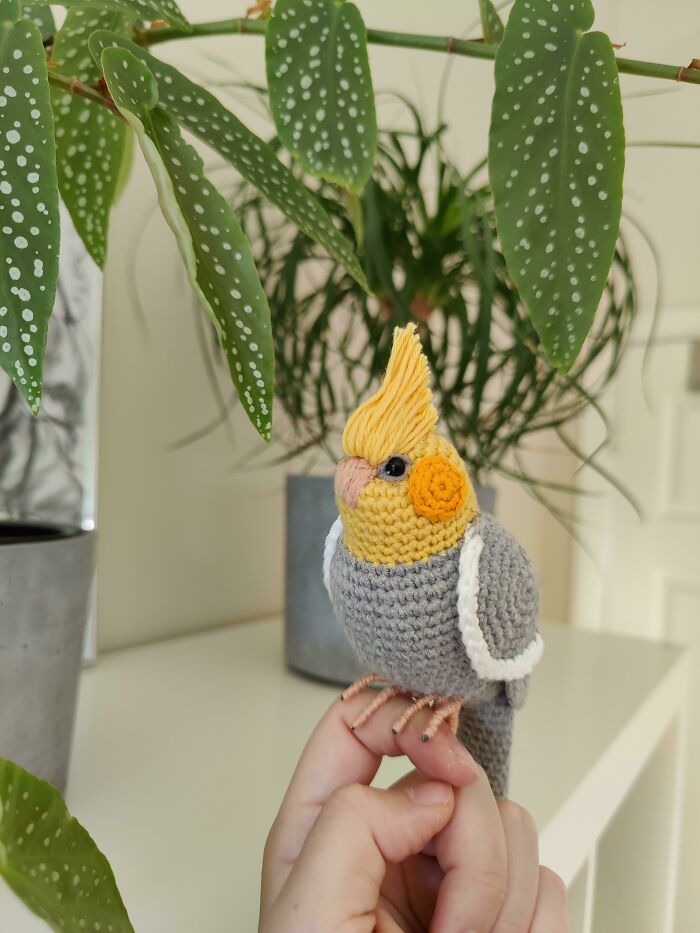 This artist took months to overcome procrastination and complete the job of crocheting this little bird. Still, the final outcome is absolutely beautiful and not at all disappointing, so it is safe to say that this person's procrastination paid off!
Air Plant Holder
As mentioned, many have taken up activities such as knitting, crocheting, and yarn-crafting in the past years, but gardening has also been a crowd favorite when looking for a new hobby; plants nurture the soul and act as wonderful "companions."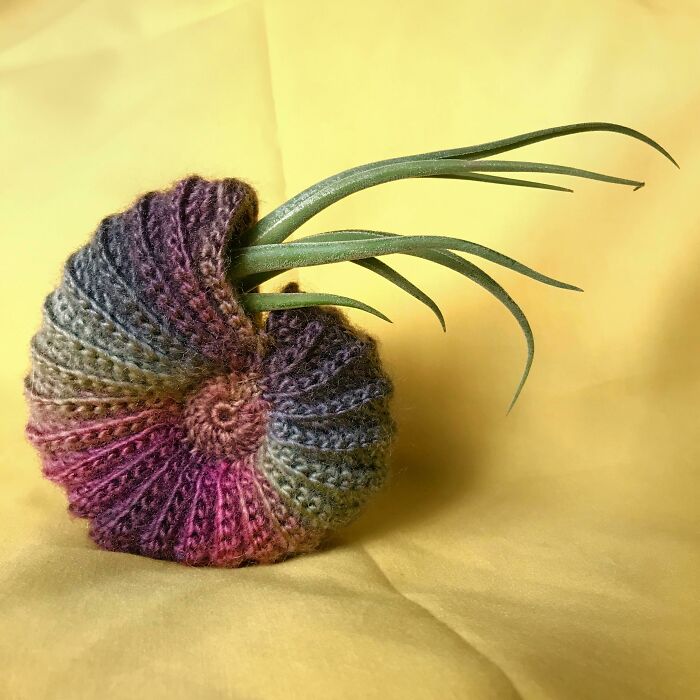 Air plants are a popular type of plant amongst beginners; naturally, these guys require holders which you can easily make. This particular user made a seashell-like air plant holder out of a combination of stunning colors. It looks like a lovely snail.
Crocheting Kids' Artwork
Adults aren't the only ones who need a creative outlet. Children are especially in need of a buddy to help them through confusing times. We all had a favorite plushie as kids, but we can't say we had one that came to life from our own imaginations!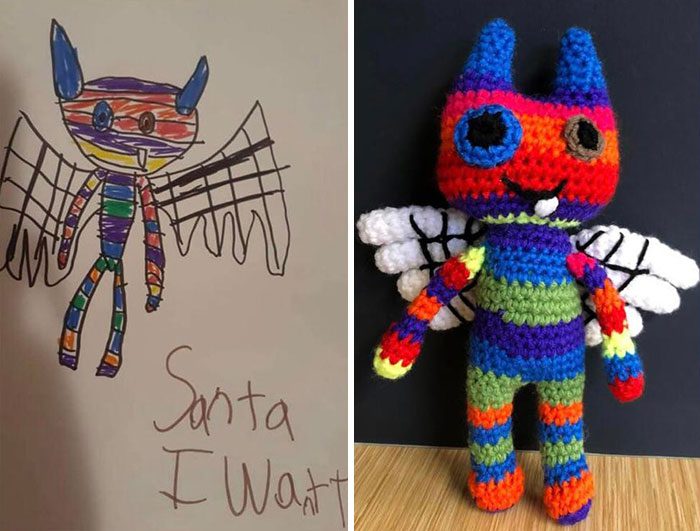 When it comes to cheering children up, toys work wonders which is why this parent crocheted a toy based on their child's artwork. Comparing the drawing and the toy, we'd say that this person nailed it, and their kid must have been thrilled.
Crochet Toy
Alternatively, you could pick your child's favorite cartoon character as your design. Since your child would already be familiar with the character, it'd make them feel more safe and secure, which is the goal to be achieved at the end of the day.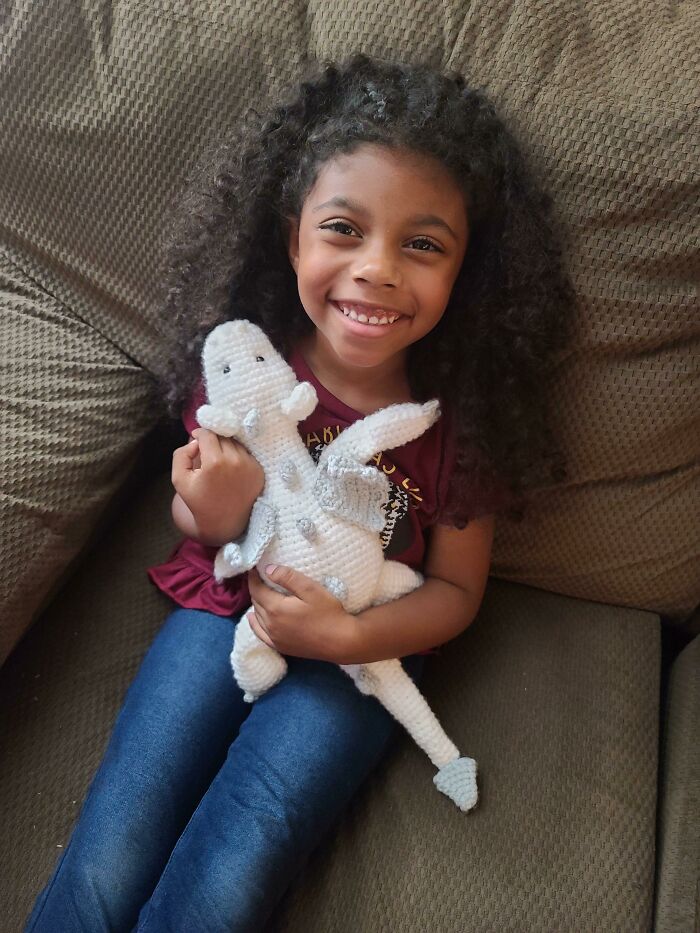 This mom chose to crochet a white dragon for her beautiful daughter; if any of you are a fan of How to Train Your Dragon, you are probably also getting the major Light Fury vibes that we are currently feeling.
Crochet Disney Princesses
Disney movies are probably the most popular children's movies ever. There are several Disney princesses, and they are especially popular amongst little girls. We reckon that almost every little girl would appreciate any gift as long as it involves Disney princesses.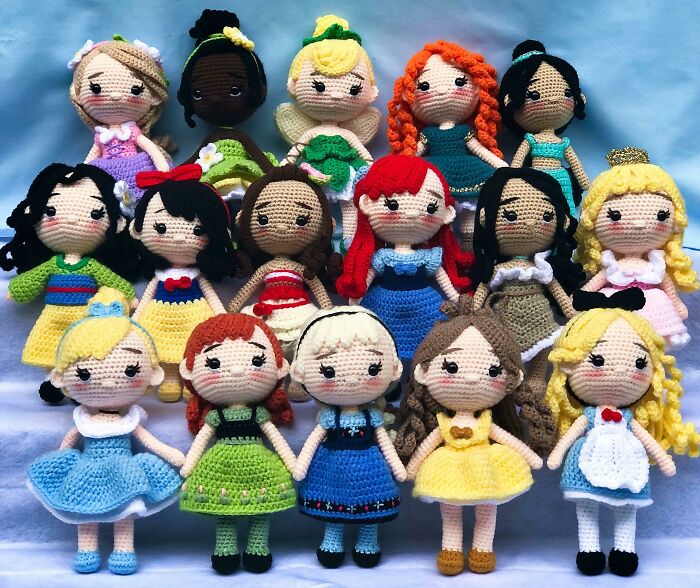 Therefore, you could crochet a full set of Disney princesses for your little girl. This way, you'd be able to provide your girl with the full collection and save some bucks on it (because Disney merchandise is typically quite expensive).
Colorful Crochet Blanket
Handcrafted gifts are the best gifts to present to your loved ones; they show the amount of care, love, and effort that you put into the heart-warming gift. Crocheted goods are one of the most common handmade presents and have been forever.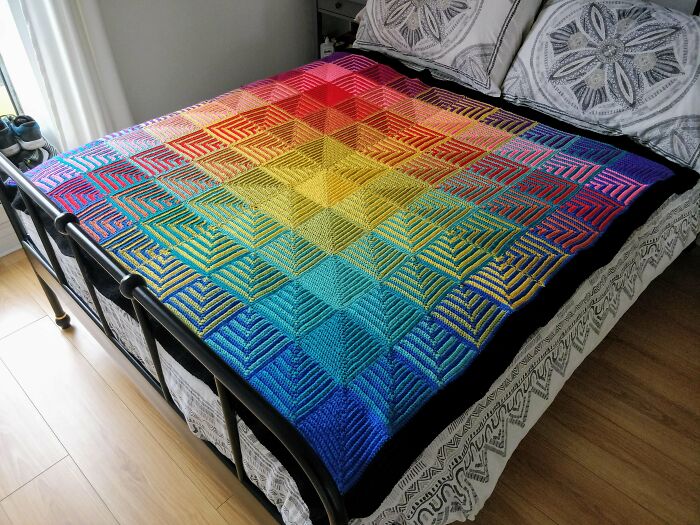 With this colorful crochet blanket, you'd be able to warm your loved one's heart as well as their body. The pattern on this blanket is both soothing and playful that the moment we laid our eyes on it, we fell head to toes in love with it!
Coral Blanket
Modern chic home designs are rather popular nowadays; if your home is styled this way, you'll naturally need the decor to match. Challenge your crocheting skills and create a coral throw blanket for your couch. (Tip: you can make this no matter your style!)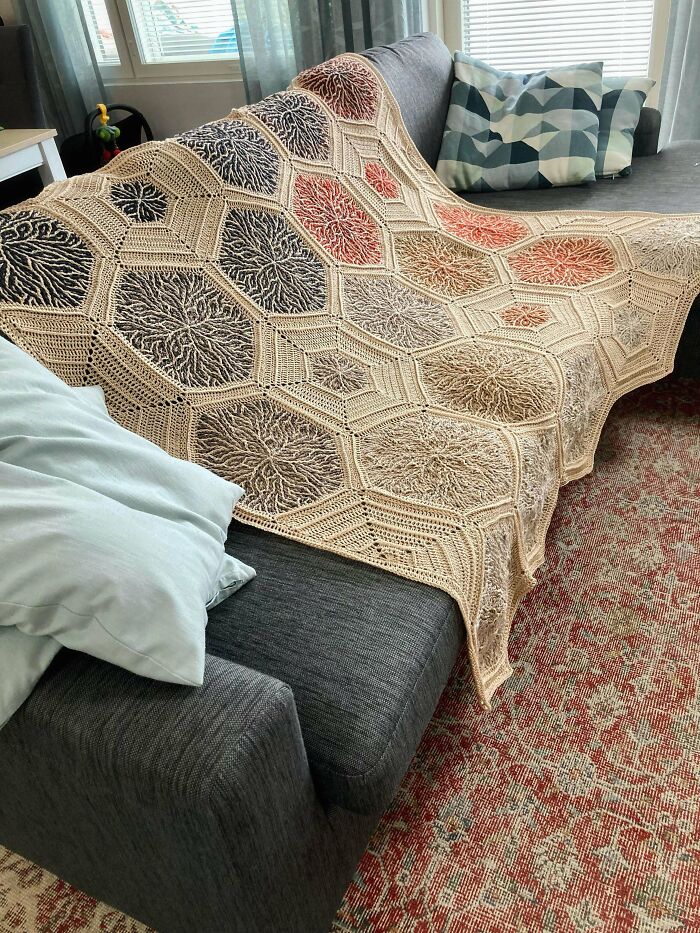 The base of this blanket is beige, which would look rather bland and ordinary on its own. However, paired with a coral design, you'll be able to add pops of color throughout. Combining the two, you'll get yourself a perfect and minimalistic blanket.
African Flower Styled Blanket
Other than those mentioned above, African flower-styled blankets are another type of crochet design to try; this particular style involves crocheting multiple flowers of different patterns in pentagon shapes and combining them all to make a glorious collage.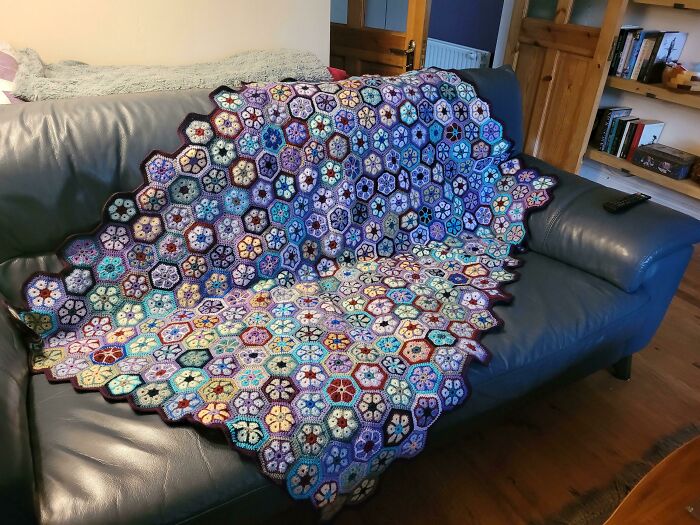 Because the flowers are made in different patterns and colors, it wouldn't be necessary to buy a large amount of yarn in a particular color; this way, you'd be able to upcycle your leftovers from any of your previous crochet projects.
Science Decorations
Alternatively, if any of your loved ones is a science geek, you could present them with this very cool and cute set of lab equipment such as beakers, Bunsen burners, test tubes, and test tube racks. You can add little smiley faces for personality!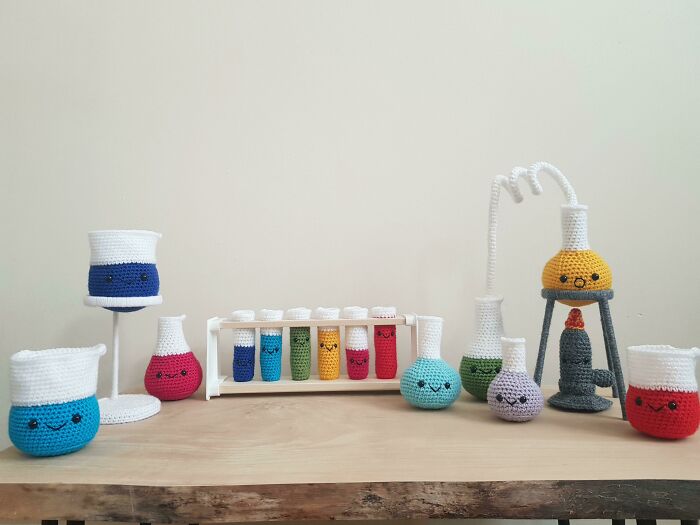 This is a great chemistry set to add to your lab as a fun decoration to spice things up, although it would indeed require some time to make. Additionally, it's a great and safe way to get your children hyped up about science!
Reversible Christmas Decoration
Christmas is a time when gift-giving is pretty much necessary. Many also scratch their heads thinking of the perfect gift for their picky loved ones. One thing that can make everyone happy, from kids to grandparents, is a homemade decoration.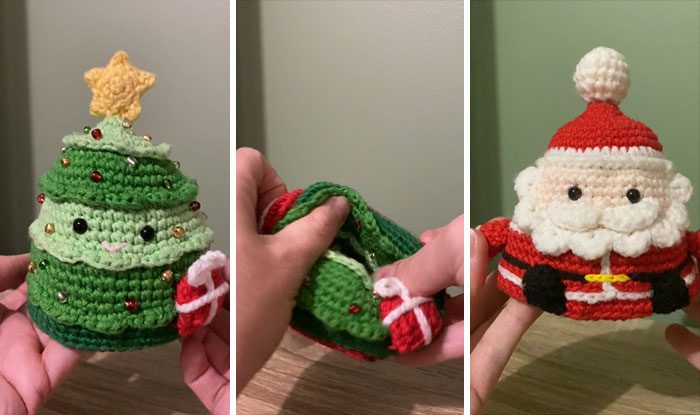 So, why not combine these two problems by gifting your friend this reversible crocheted Santa/tree? You're hitting two birds with one stone as you're solving your gift problem and your friend's decoration problem! This can be easily made into an ornament too!
Leafy Crochet Shawl
Another handcraft gift that warms the body along with the heart is this crochet shawl in leafy colors. This shawl would give its wearer the ability to feel one with nature, perfect for your friends or family who love the outdoors!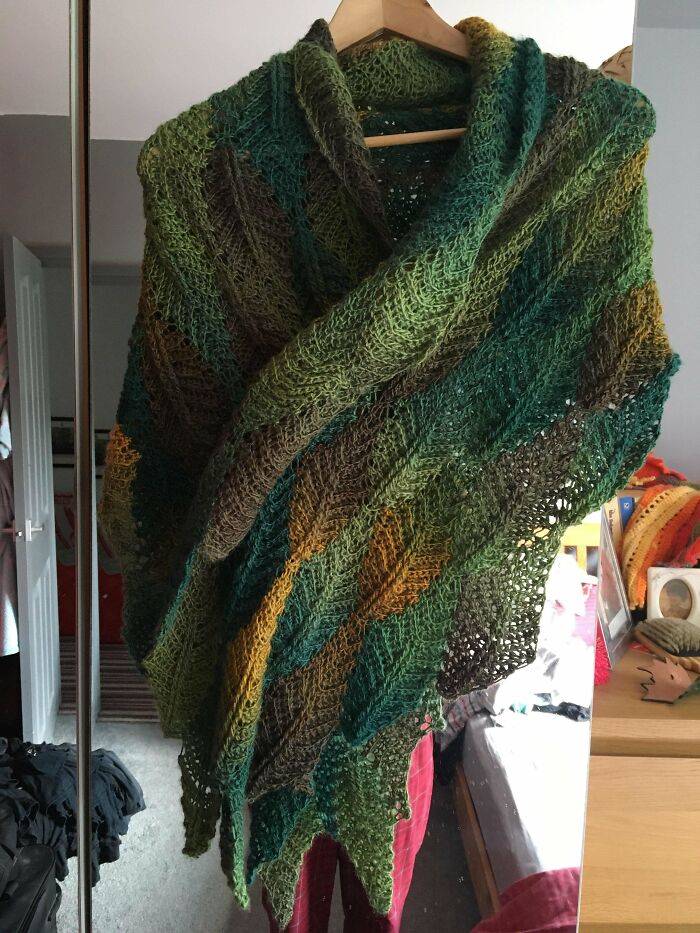 Not only is this shawl the perfect outdoors fashion item, but it also has an emotional story behind it; in hopes of bringing the outdoors indoors, this particular shawl was originally made for the user's friend who was going through chemo.
Rainbow Crochet Blanket
Instead of the crocheted blankets we've seen so far, you could give this rainbow crochet version a try! Even though the choice of colors used here is rather similar to the others, this piece requires a different pattern, which has different vibes.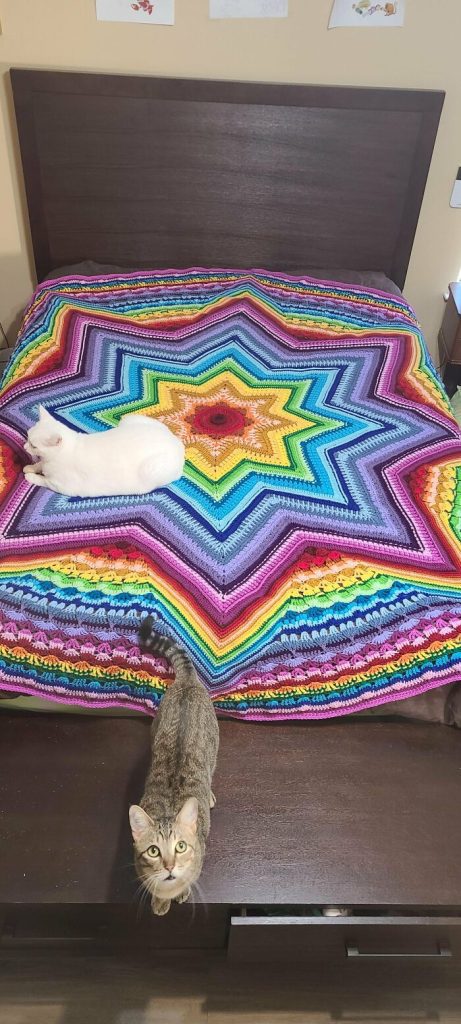 We're glad that the cats approve of this blanket, and we surely hope that this user's son fell absolutely in love with the product of his mom's hard work. She said this was the hardest pattern eh could have chosen for her project!
Act of Kindness
Hospitals are one of those places most of us fear; most of the people there are probably in a not-so-good mood. Therefore, little acts of kindness in hospitals are essential as they can easily brighten someone's day and fill them with hope.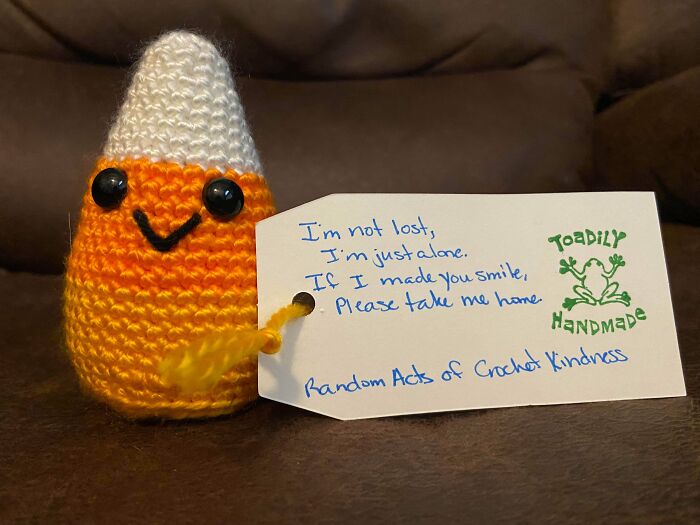 This kind person has been crocheting these adorable cardholders and leaving them around hospitals' high traffic areas. Of course, acts of kindness aren't only needed in hospitals. We are sure that simple acts of kindness like this are needed everywhere.
Pregnancy Gift
Of course, being at a hospital doesn't always mean its because of something sad. On the contrary, it could be something wonderful; welcoming new life is definitely one of the things to be happy about at a hospital, and is surely worthy of a gift.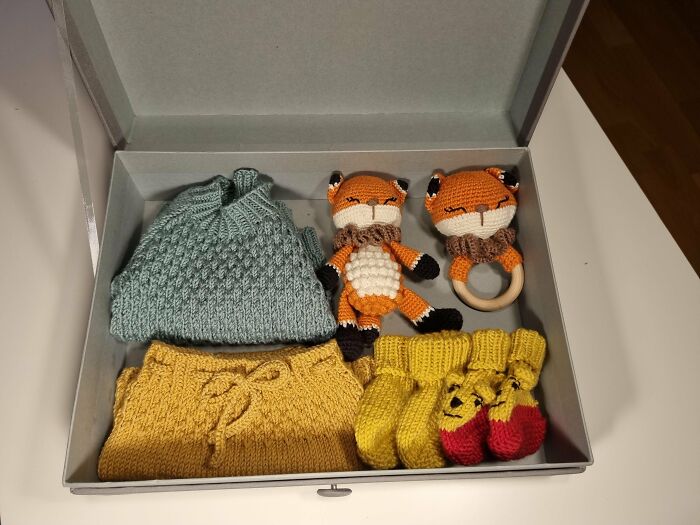 This pregnancy gift set filled with baby clothes, toys, rattles, and socks would be a pretty great gift to the newborn. Crocheting these items yourself would show the love you have for the mother and child through the efforts you put into your gift.
Dark Green Sweater
Here's an example of a beautifully crocheted sweater. Sweaters like this look simple enough to make, but the amount of patience and concentration needed to create this is enormous. So, if you're attempting to start your new hobby with sweaters, be prepared.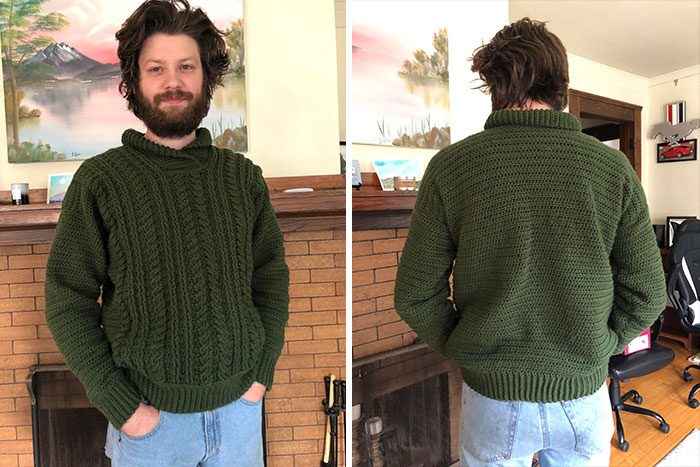 Instead of using just one color, you could advance to the next level and incorporate other colors down the line. Monochrome sweaters may seem too simple at times, but it is easy to create a stunning outfit with them.
Cat Sweater
Speaking of taking a sweater to another level, there are many ways you can upgrade a simple one. For example, you can incorporate multiple colors by adding details like pom poms or other small prints, and of course, making patterns.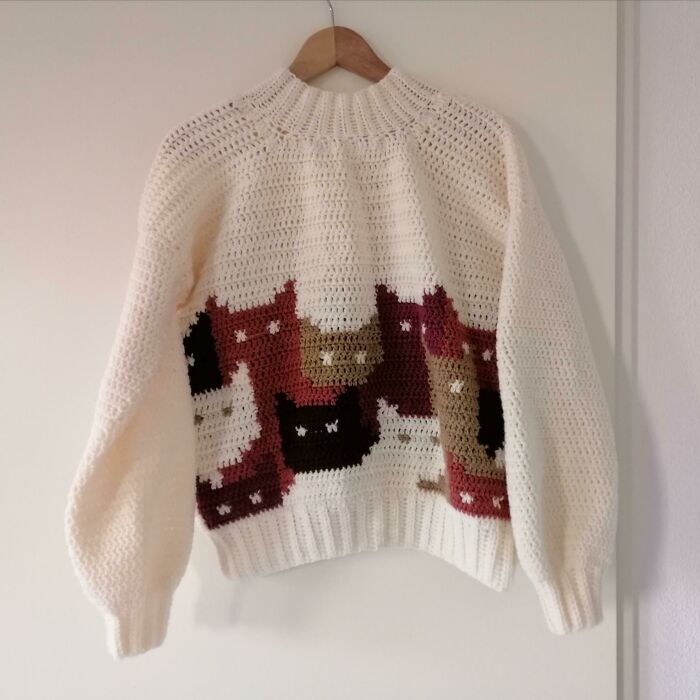 This cat-loving person crocheted some fine felines onto a plain white sweater; the pattern instantly took this piece from ordinary to extraordinary. Looking at this sweater, we're getting Taylor Swift vibes; we bet she'd rock this while snuggling her cats.
Mountain View Sweater
Honestly, you could add any pattern you like on a plain sweater. If you're an outdoors lover rather than a cat lover, you could try to crochet one of your favorite views, just like this user did. It looks professional, doesn't it?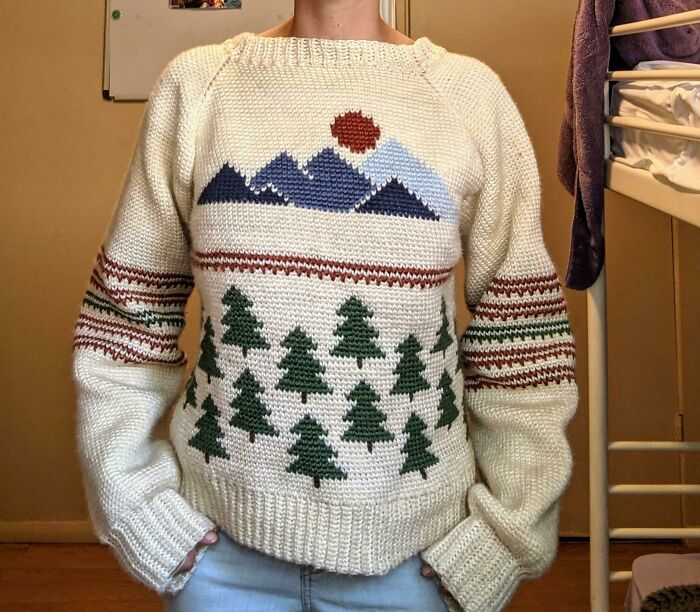 For the top part of her sweater, she crocheted some mountains and the sun; she used different shades of blue crochet yarn to signify the distance between each peak. For the bottom, she added some trees to make a forest.
Patterned Sweater
Go all out on patterns as this person did! This one is colorful and fun, and the artists also used a unique design for the sweater itself. She added a pointy hem to this square granny sweater, and we are loving it.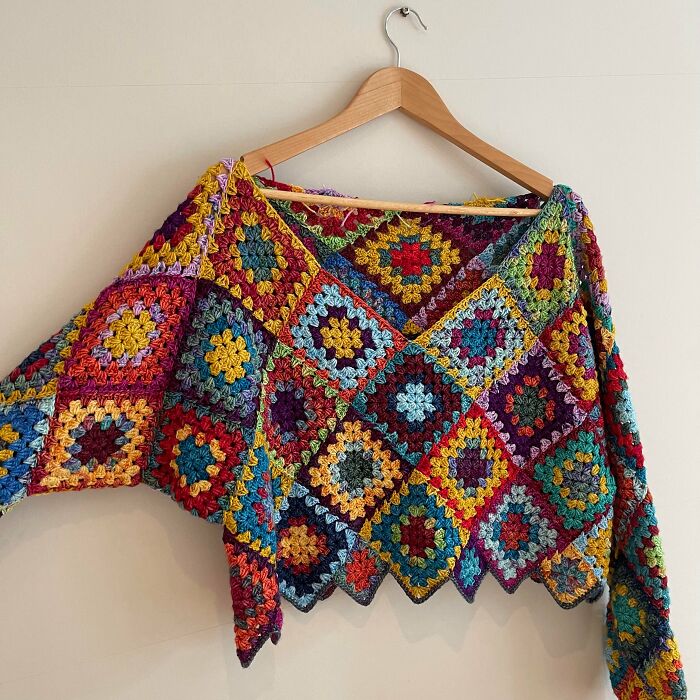 This sweater started with a bunch of patterned squares. Then, all the individual squares were connected to form a stunning pattern. We have seen this method before, but that doesn't make it any less special. We'd wear this for sure!
Cloud Detailing
Alternatively, you could combine colors as well as add details to a regular sweater pattern. For this light blue sweater, the artist added dark blue to the sleeves to add dimension. And we are living for the adorable clouds she added.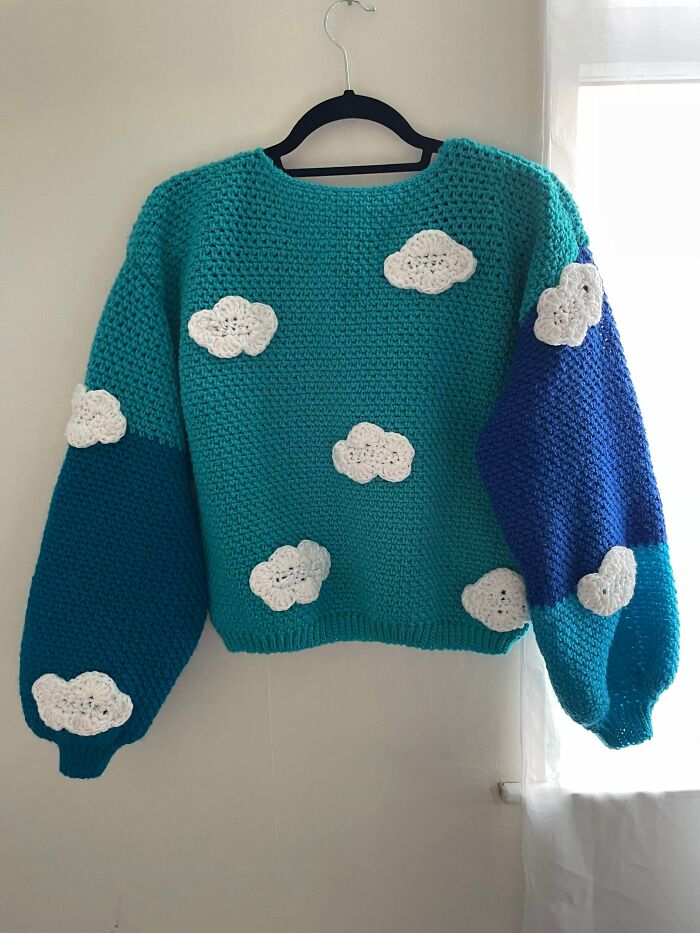 We think it was pretty smart for this woman to use up her "odd blue yarn" stash to make this lovely piece. This sweater is simple yet beautiful; there are no complicated patterns but it certainly does not need it.
Trial and Error
Now let's examine this example of a Reddit user who got his sleeve measurements wrong and ended up having to redo them several times. Luckily, after multiple attempts, he finally got the measurements right. And wow, does it look fabulous!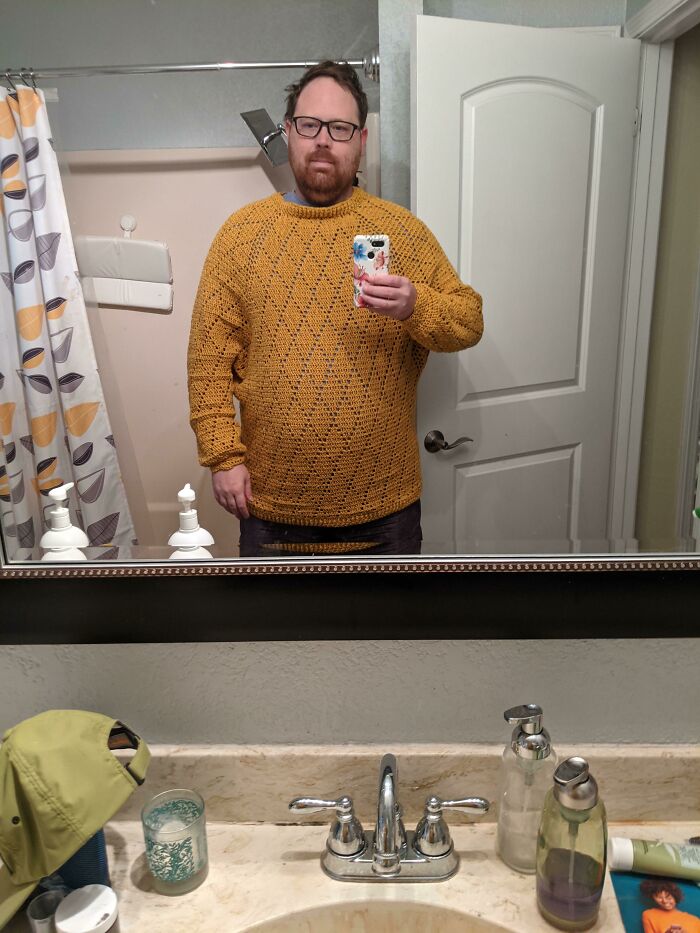 This just shows how tricky it is to make a sweater; there are so many things to pay attention to, not to mention the amount of determination one must have to redo parts of the project many times before getting it right.
Fairy Dress
Little boys may be more prone to dressing up as Jack Frost, but this is not the case for little girls; they may want to be Elsa from Frozen, any one of the classic Disney princesses, or mythical creatures like mermaids and fairies.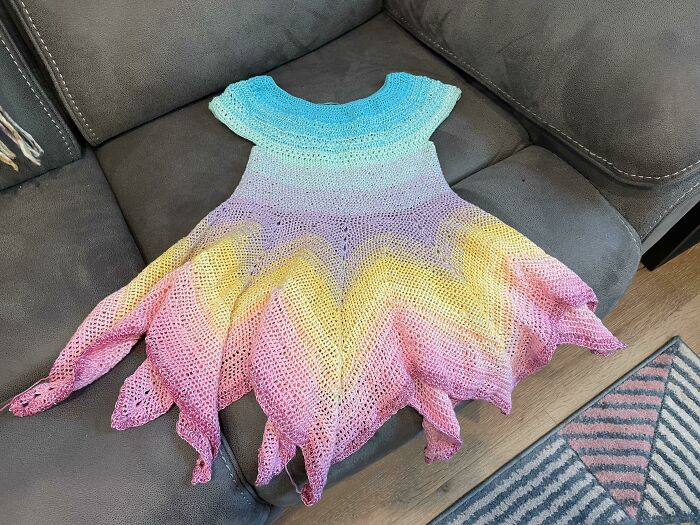 This grandmother personally knitted a fairy dress for her granddaughter to wear to her birthday party. She made it using rainbow colors with an ombre effect which makes it look magical and more fairylike. We can already imagine her granddaughter twirling around in the dress for hours!
Jack Skellington
While little girls and boys look forward to dressing up as one of the Disney or Marvel characters, older kids may want something cooler like Jack Skellington. He is a character and the main protagonist of the 1993 movie The Nightmare Before Christmas.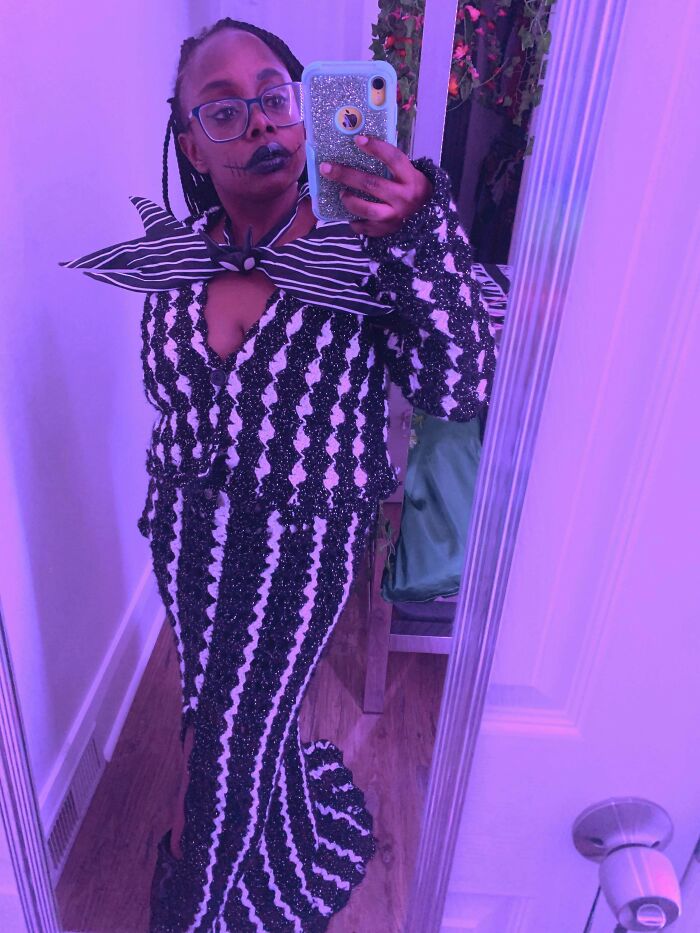 This Reddit user turned Jack's classic black and white suit into a classy black and white crochet dress and paired the dress with a big bow similar to Jack's. She even drew on an extra-wide mouth that is a signature for Jack Skellington, making the perfect Halloween costume.
Flower Cardigan
Sweaters may be great for keeping you warm during the winter, but they may not be the first thing you pick to throw on during a cool summer night. Regardless of how chilly the night is, wearing a sweater during summer may just melt you.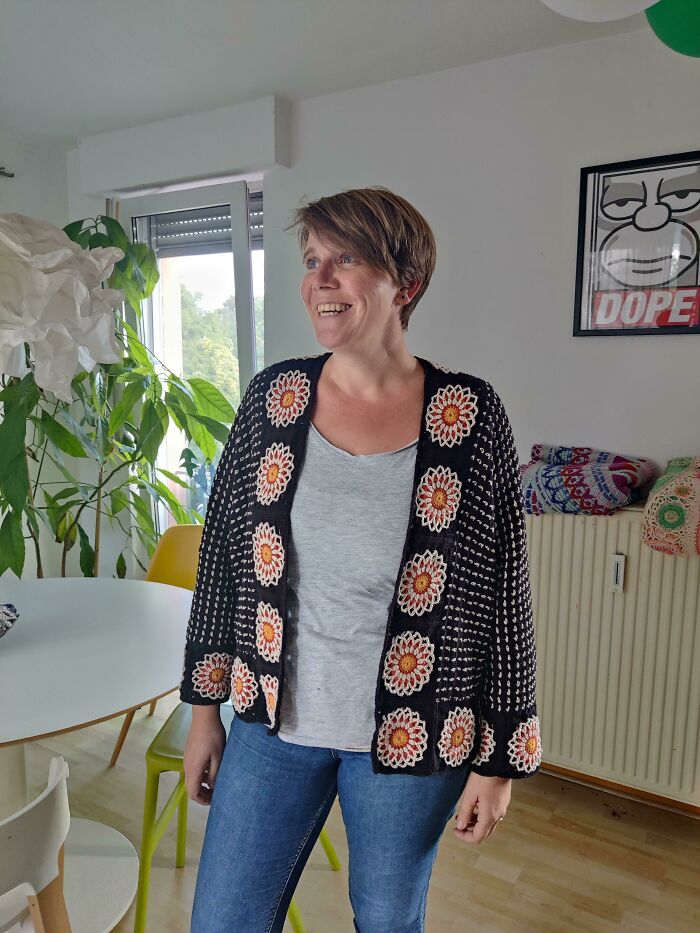 One great option to keep you warm on cool summer nights is a cardigan. You can crochet your own, by the way. We just love how pretty flowers and other little details were added to enhance this piece, which is anything but plain!
Strawberry Summer Dress
Summer is the best season to wear flowy dresses, so maybe you could try to crochet your own this summer. This particular Reddit user made her version of and it is giving us major Strawberry Shortcake vibes! Add to that its flawlessness.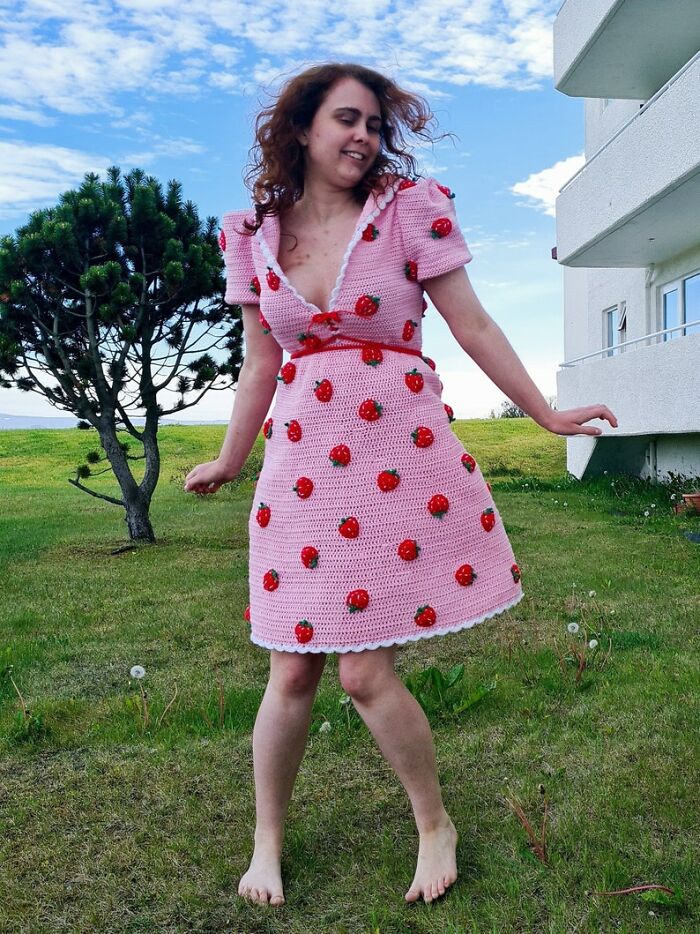 She chose a light pink crochet yarn as the base color and added strawberries as details and lace fringes. What's worth mentioning is the fit of the dress; it's rather difficult to make a crocheted piece that fits the body so well.
Crochet Leopard Gecko
If you live alone, you're bound to become pretty lonely at some point; this is when a pet would seem like a great option for a companion. This user crocheted their very own pet lizard, and it almost looks like the real thing!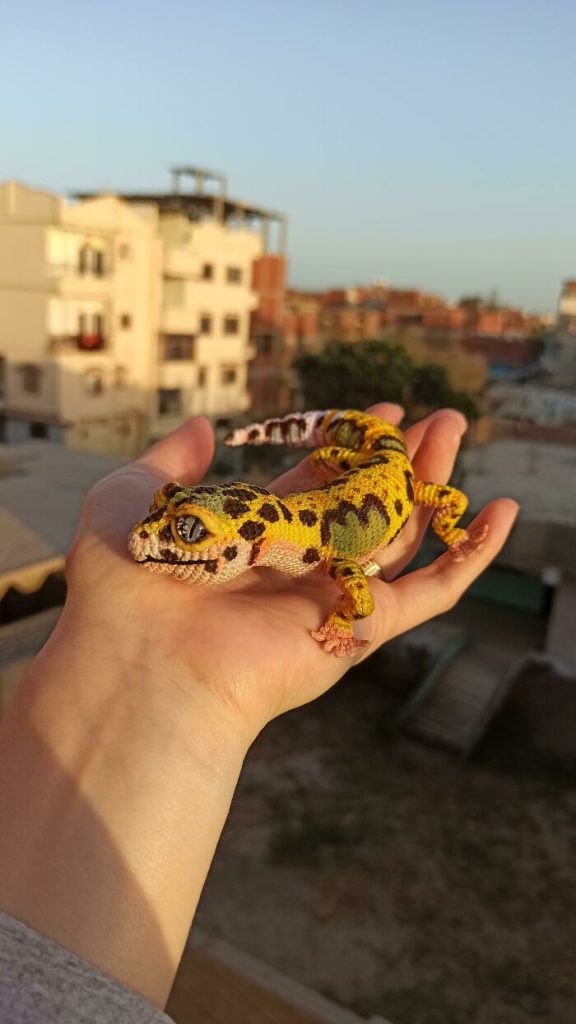 The crochet leopard gecko seemed so lifelike that we had to take a second look to make sure that this little fella is indeed fake and merely the work of a fine crocheting job; you wouldn't be surprised to know that we're not the only ones who were fooled.
Sunflower Dress
Here's another purple crochet dress design that is more everyday wear compared to the one above; this user is a crochet genius. Adding sunflower details to a plain purple dress made all the difference. This dress and cover-up are anything but boring.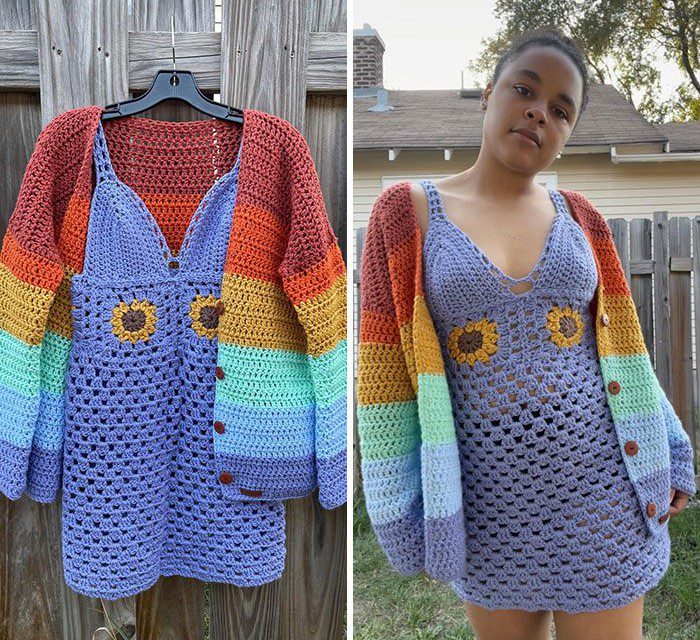 Nights can get pretty chilly, so to accommodate for the cool night air, this woman crocheted a matching pastel cardigan to go with the dress. The rainbow shades she used really bring the whole outfit together. Think she'd make us one too?
Flower Crowns
Of course, if you have crocheted clothing, you'll definitely need accessories to go with your outfit. Flower crowns are beautiful, but unfortunately, they don't last long if they're made out of actual flowers. Lucky for you, there's an alternative. You can create stunning flower crowns that last.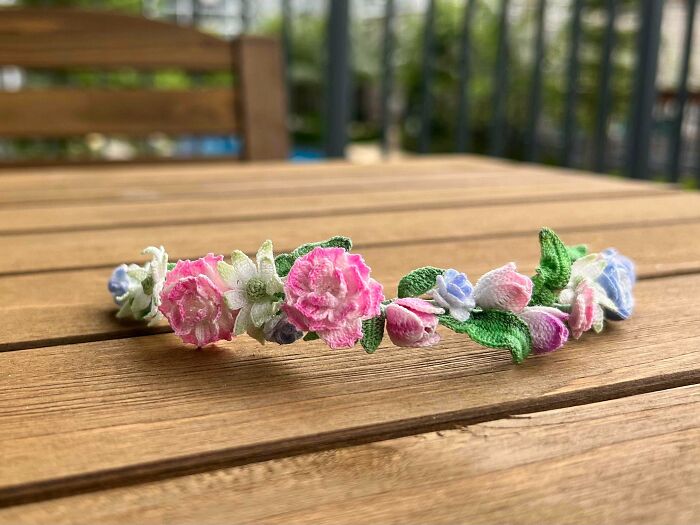 Simply substitute actual flowers with crochet flowers; this way, the flower crown will last longer, not to mention that you can crochet flowers of the exact size, shape, and color you have in mind. Flower crowns go really well with dresses as they make their wearer look graceful and girly.
Pie Beret
Alternatively, you could crochet a beret. They are really in style these days; you could crochet them in a single color and add simple detailing to keep it from looking too ordinary. Or you can go completely out of the box.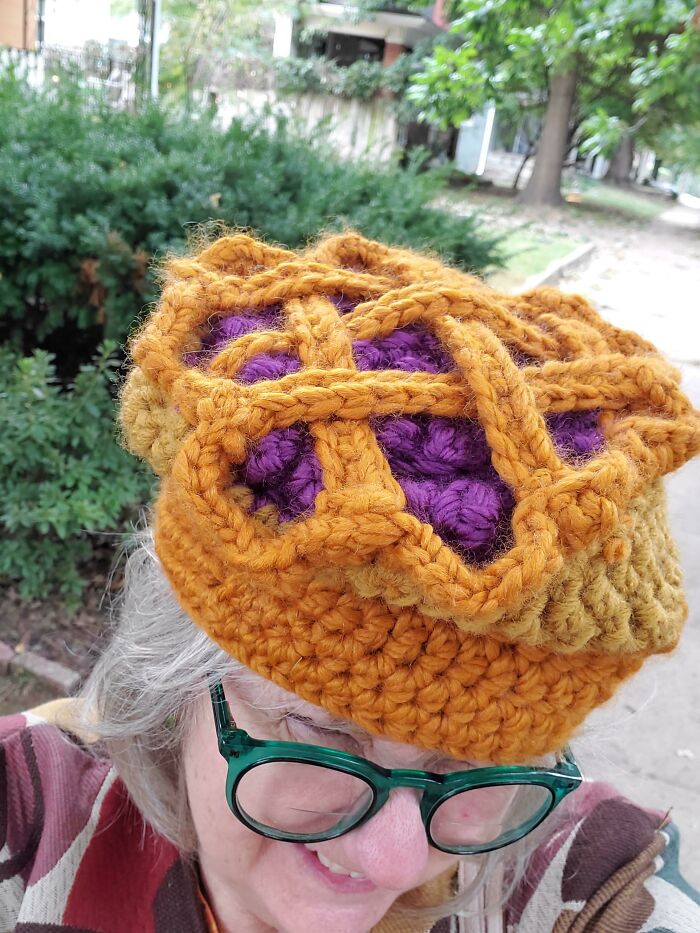 This woman, however, turned an ordinary beret into one shaped like the most popular food/dessert during the holidays – pies. And if the ingenuity wasn't enough to enchant you, look at her smile! She is proud of her creation, and she should be!
Girly Fisherman Hat
Fisherman hats are a trendy fashion item, and it's not too late to jump on this wagon. You can make yours unique by making it yourself! Not only will the hat fit your head perfectly, but it will also suit your taste.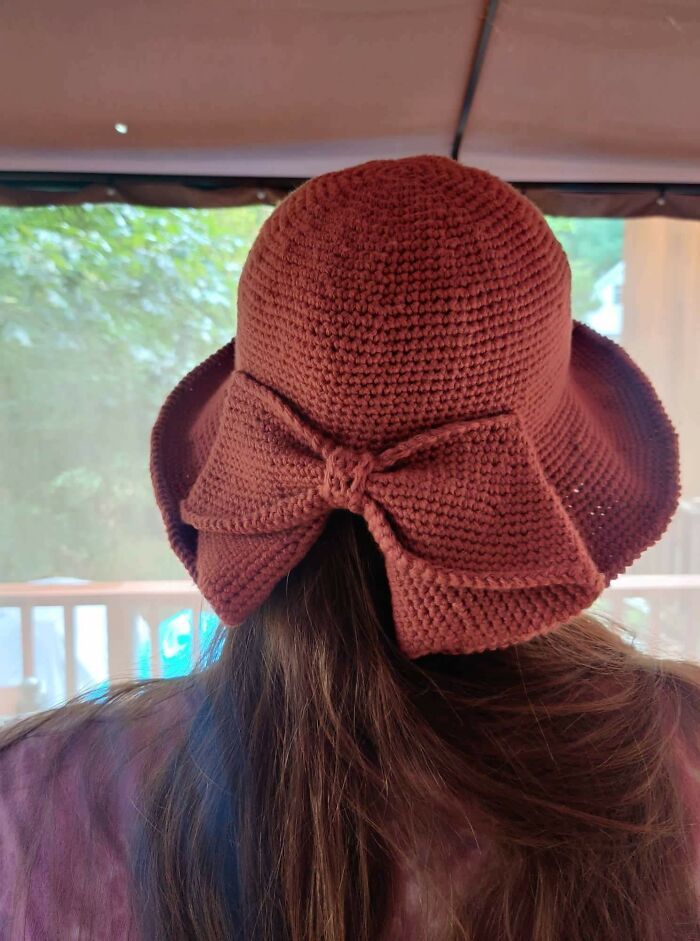 If you're more of a girly girl, this fisherman hat with a bow would be perfect for you. Note how there's a slit in the back of the hat that allows a woman's ponytail to go through it which makes the hat more comfortable to wear.
Rainbow Beanie
During wintertime, you may need a hat that would keep you warm; beanies are top choices for winter hats. They are rather easy to crochet too, so if you don't wish to purchase one from the store, you may want to try and make it yourself.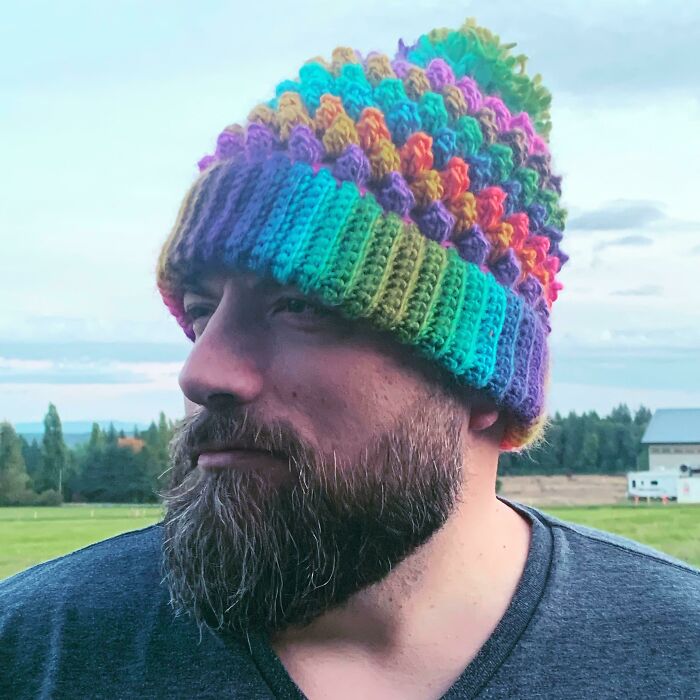 This rainbow beanie is full of personality and creativity and was originally made for the lady herself. Still, ever since her partner modeled the beanie for the photo, she thinks it actually looks better on him than it does on her.
Crochet Bag
You'll definitely need a bag to go with your outfit, crocheted or not. So why not attempt this pretty purse? We love how two different materials were used in creating this minimalistic bag; with this, you'll surely become the fashionista amongst your friends!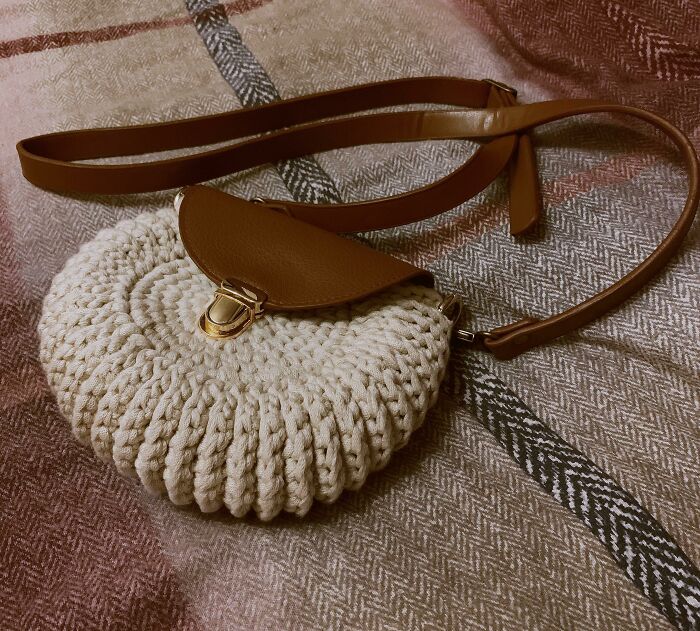 The bag itself is crocheted with white crochet yarn, the flaps and straps on the other hand is made with leather; this may seem like it's complicated to create, but believe it or not, this bag took only a week to produce.
Grocery Bag
Since most grocery stores are trying to go green and slowly eliminate the use of plastic bags, it'd be wise to prepare your own grocery bag whenever you shop for groceries; even if your local store doesn't ban plastic bags, it helps to bring your own!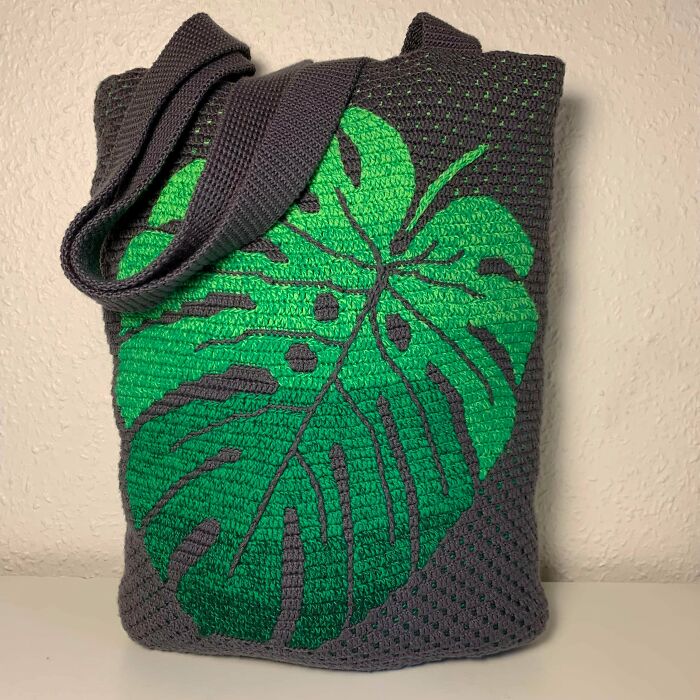 This Reddit user made her own crochet grocery bag; she made sure it was sturdy enough to hold all the groceries she'd be buying and chose a dark color so that the grocery bag wouldn't show dirt quite as easily.
Peacock Feather
An outfit is not complete unless you accessorize with earrings, necklaces, and bracelets; did you know you can actually crochet your own earrings? They have a bohemian vibe to them, and if you use colorful crochet yarn, you can make a plain outfit into a fabulous one.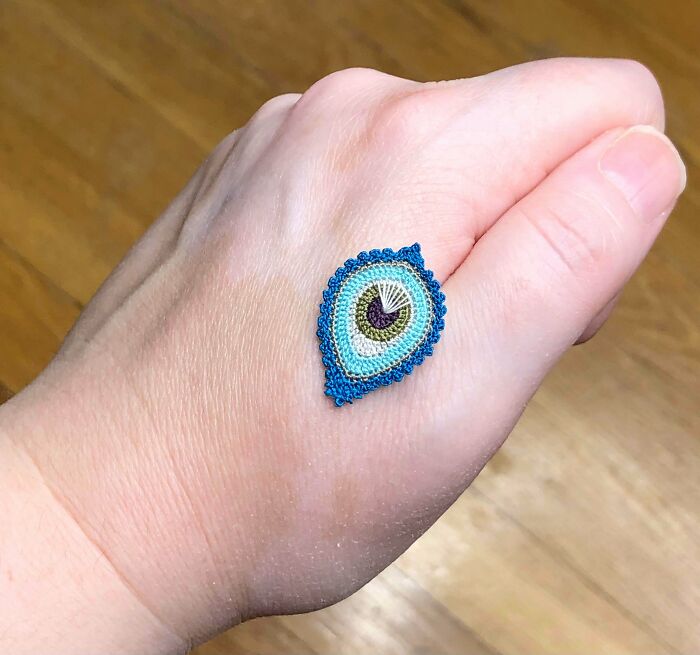 This is a crochet earring "pendant" that was based on a peacock's feather; the pendant is currently not complete yet but will be once its creator adds earring clips to it. You could also crochet a matching necklace to go with your beautiful earrings.
Pet Accessories
Since you're making outfits and accessories for yourself, why not crochet something for your pets while you're at it? Your doggies will definitely love this bone hat that makes them look even more adorable than before, which you might not have thought possible.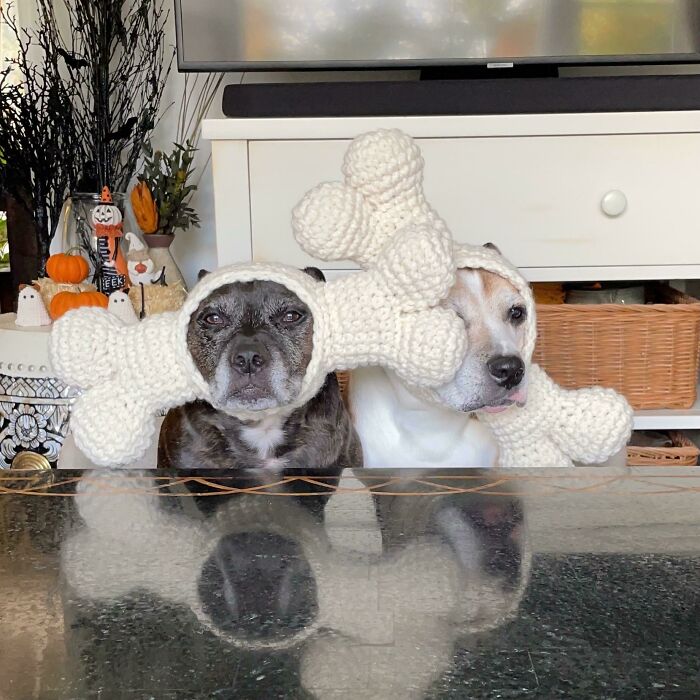 Other than the typical dog's clothes, this is the next best thing in dressing up your pets; you could even crochet yourself a white beanie or beret to coordinate with your doggies the next time you take them on their daily walk!
Unicorn Cupcake Hat
Instead of a bone head, you could turn your doggy into a unicorn cupcake with this very beautiful hat. Other than the cupcake itself, this Reddit user even added some ears, a unicorn horn, and some flowers and leaves as decoration.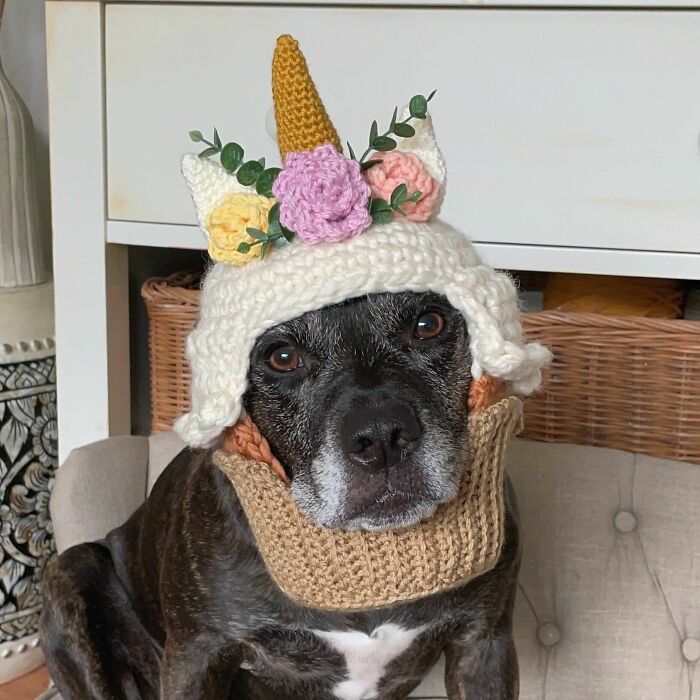 Just by the looks of it, we can already imagine the difficulty of making this; there are so many details and different crochet techniques that go into creating such a sophisticated hat like this one. But if you're up for the challenge, who's to stop you?
Triceratops
Doesn't this one just make you feel full to the brim with joy? This might be a pretty advanced project, but if you start now, you can get to this level! This artist said herself she had used other complicated patterns, so she's obviously a pro.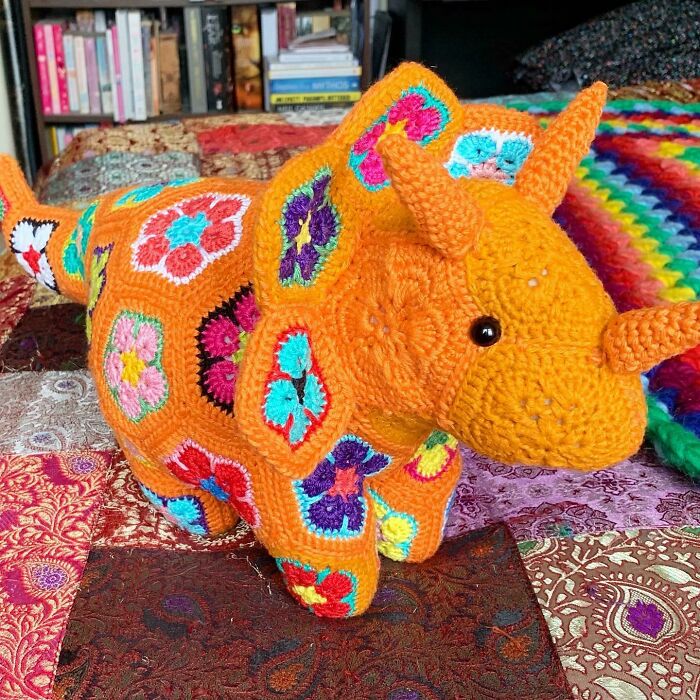 Never let these crazy fabulous creations deter you. Remember, you have to start somewhere, and even if it is not a triceratops, whatever you make will be unique. No one else can make your beautiful, special, one-of-a-kind artpiece for you!
Hobbits!
Of course, we couldn't go on without mentioning that one artist made our two favorite hobbits, Sam and Frodo. We are astounded that they look not only different, but each clearly has their own personality! That requires some serious crocheting skills.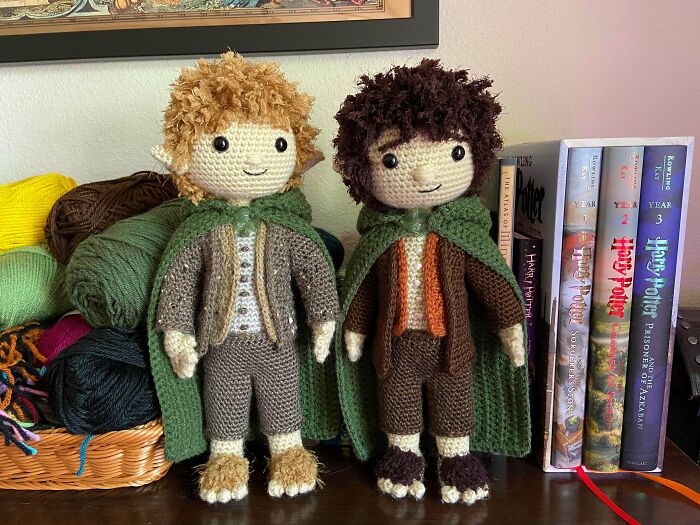 These, as you could imagine, exploded on the Reddit thread. They were so impressive and received such a positive response, the creator made bigger versions of the whole gang. By the way, do you see their coats and shirts? You can take them off and switch them!
Purple Evening Gown
Looking at the picture, we can't help but applaud the effort, time, and patience that has been devoted to making this gorgeous evening gown. If this were on sale, we'd happily pay for it so that we could wear it to the next party that we attend.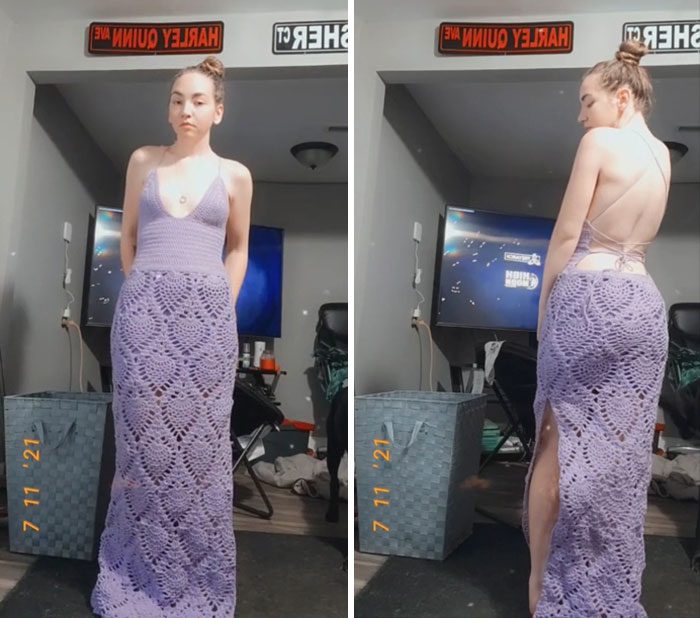 With the low V-neck and the open-back design, the dress makes its wearer look stunning; the mermaid tail-looking bottom just tops the dress off with a touch of elegance. We just love how the dress flatters the user's curves and the color just makes her skin glow.