Fashion Gold Mines: 40+ Outfits That Were Popularized By Celebrities And Made Designers Instantly Wealthy
By Ekhama O January 30, 2023
---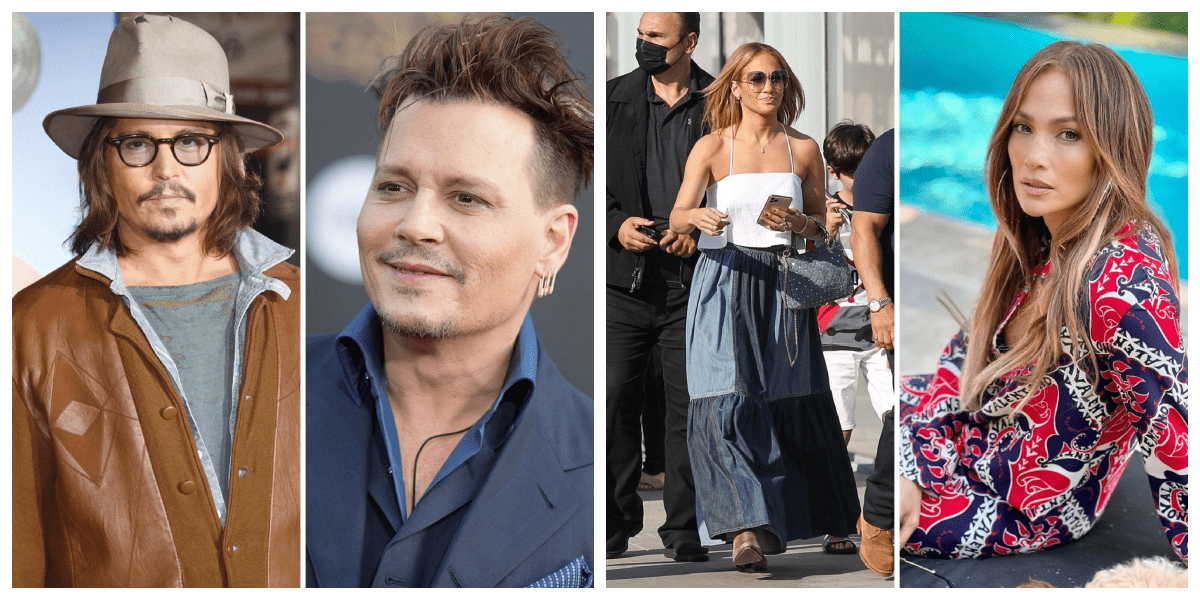 Celebrities, being at the front and center of the media's attention, have everything going on with their lives evaluated. From their place of work, homes, cars, and even their very own families, it's all always either being praised or harshly criticized.
One aspect of their lives that seems to receive a lot of judgment wherever and whenever they're spotted has got to be their fashion sense. The media, and let's face it, the fans and haters, always have loads to say about whether whatever they had on was a fail or if they understood the assignment.
As much as they've had some fails, they've also had plenty of solid wins that have been so great that they influenced the masses and made big bucks for the big dogs in the fashion world. Thus, here are 45 simple celeb wears that made major bank for stylists and designers.
Ray-Bans
Sunglasses have been around for thousands of years, but Ray-Bans are newer contrivance. Their lightweightness and stylish nature were enough to make the line a hit. But they weren't as popular as they are now until Tom Cruise was spotted wearing them.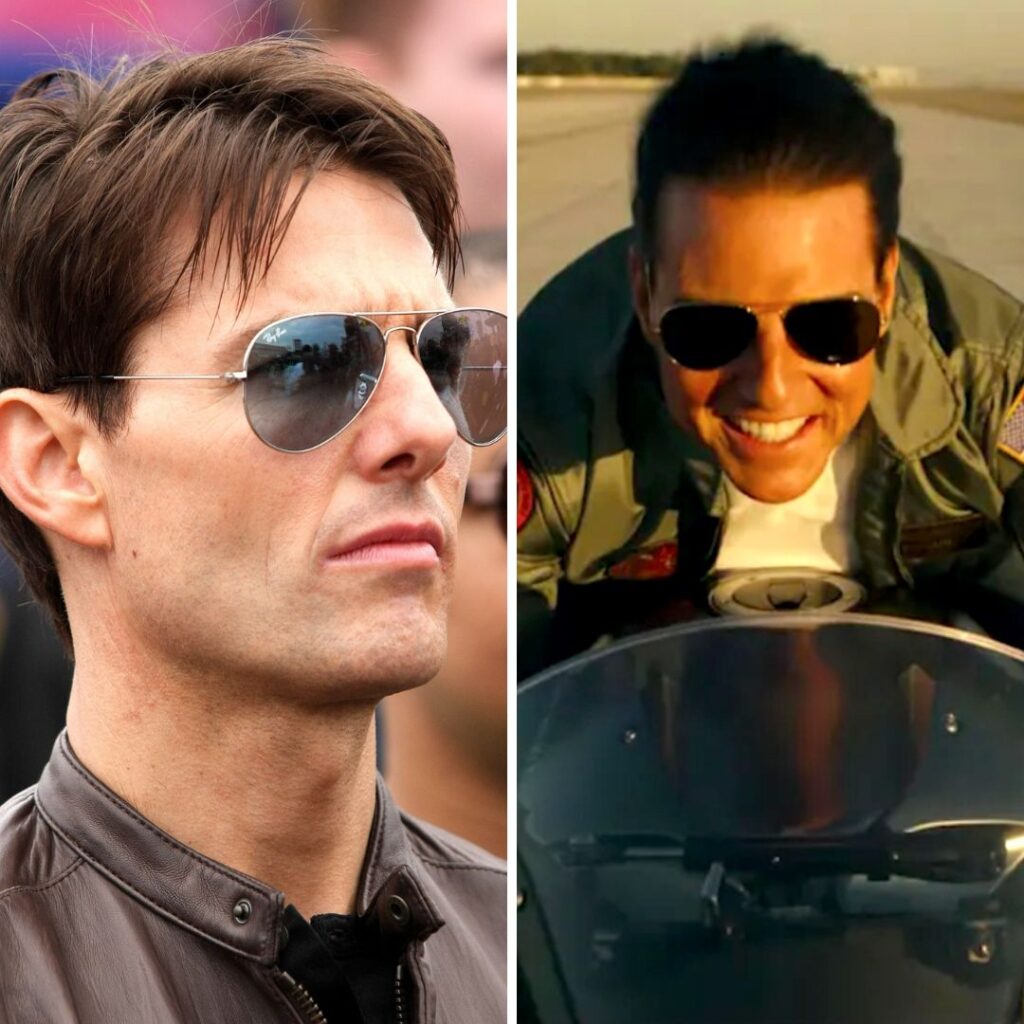 Many sources even credit the Hollywood star for saving the brand by increasing yearly sales to more than twenty times their original volume! Now, Ray-Bans are worn all around the world and are considered one of the most trendy and luxurious brands of sunglasses.
Beyonce's bandana tops
The late '90s and early 2000s gave birth to some of the most iconic stars that influenced the era, whose impact is still being felt today. For instance, one of the top Grammy winners, the Queen herself, Beyonce, who was once a member of one of the most successful girl groups.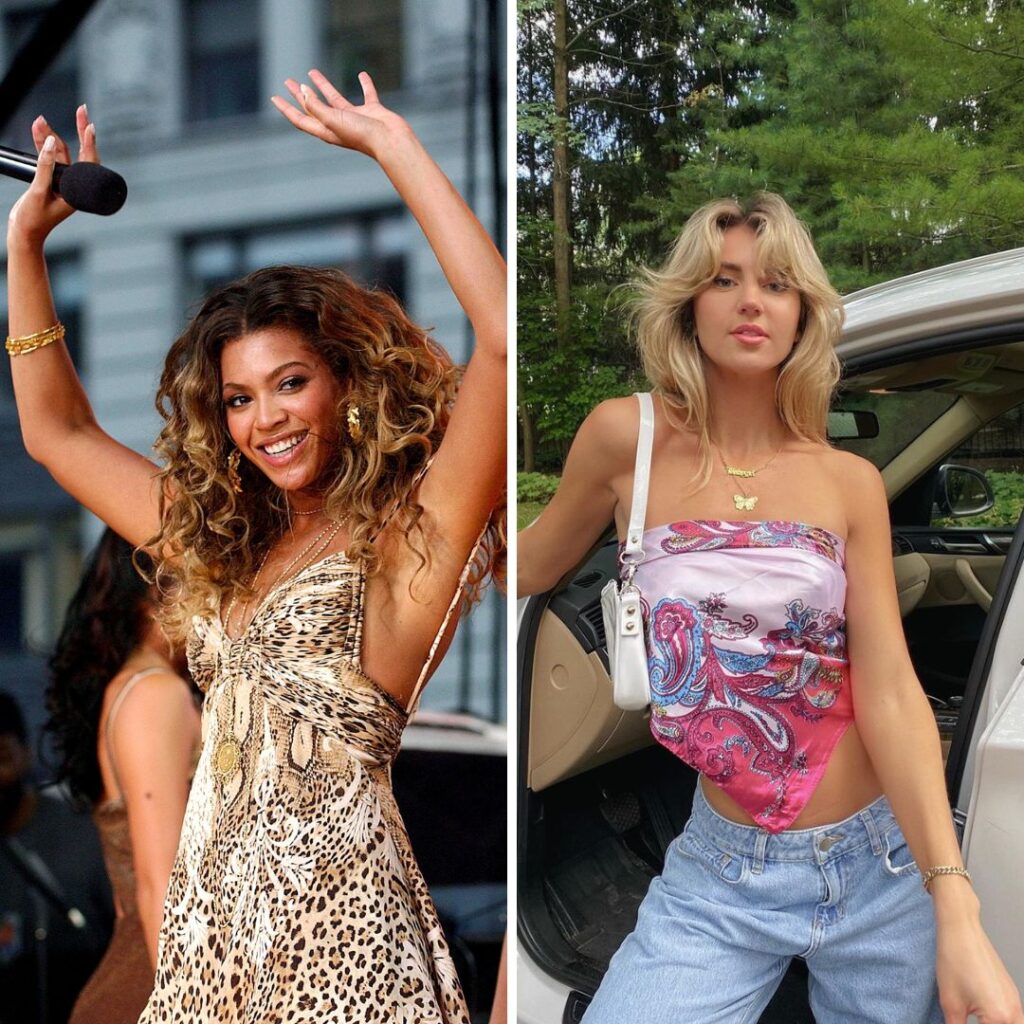 The vocals, style, and aesthetic of Destiny's Child had the whole world in a chokehold, with one of Beyonce's style choices having a long-lasting impression on the youth till the day. Wearing a bandana as a crop top might be a simple idea, but thanks to Beyonce, it's become a staple in the Y2K aesthetic.
Nicole Richie's Print scarves
Scarves are by far one of our favorite accessories. They can be worn during all sorts of weather and styled uniquely to fit all kinds of fits, as evidenced in Nicole Richie's style. She's been spotted a couple of times with the accessory around her neck.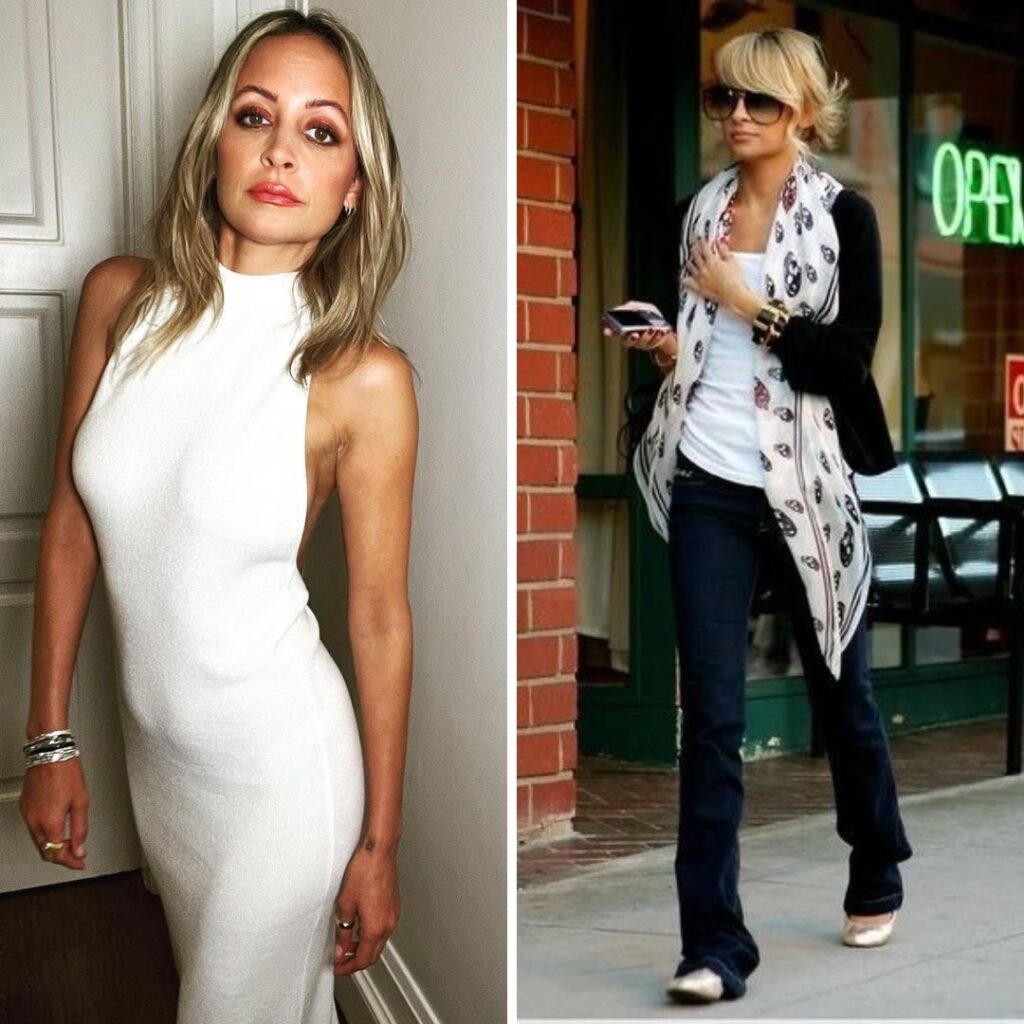 The TV personality doesn't wear just any regular old scarf, though. She especially favored a designer one with a unique skull print. And not just any designer, Alexander McQueen. They might not be popular now, but they were a huge hit back in 2010.
Converse sneakers
Converse shoes shot to prominence not long after spectators noticed that popular baseball player, Chuck Taylor, wore them during games. They were considered athletic shoes at the time, but that isn't the case today. We are almost 100% sure that you own a pair yourself!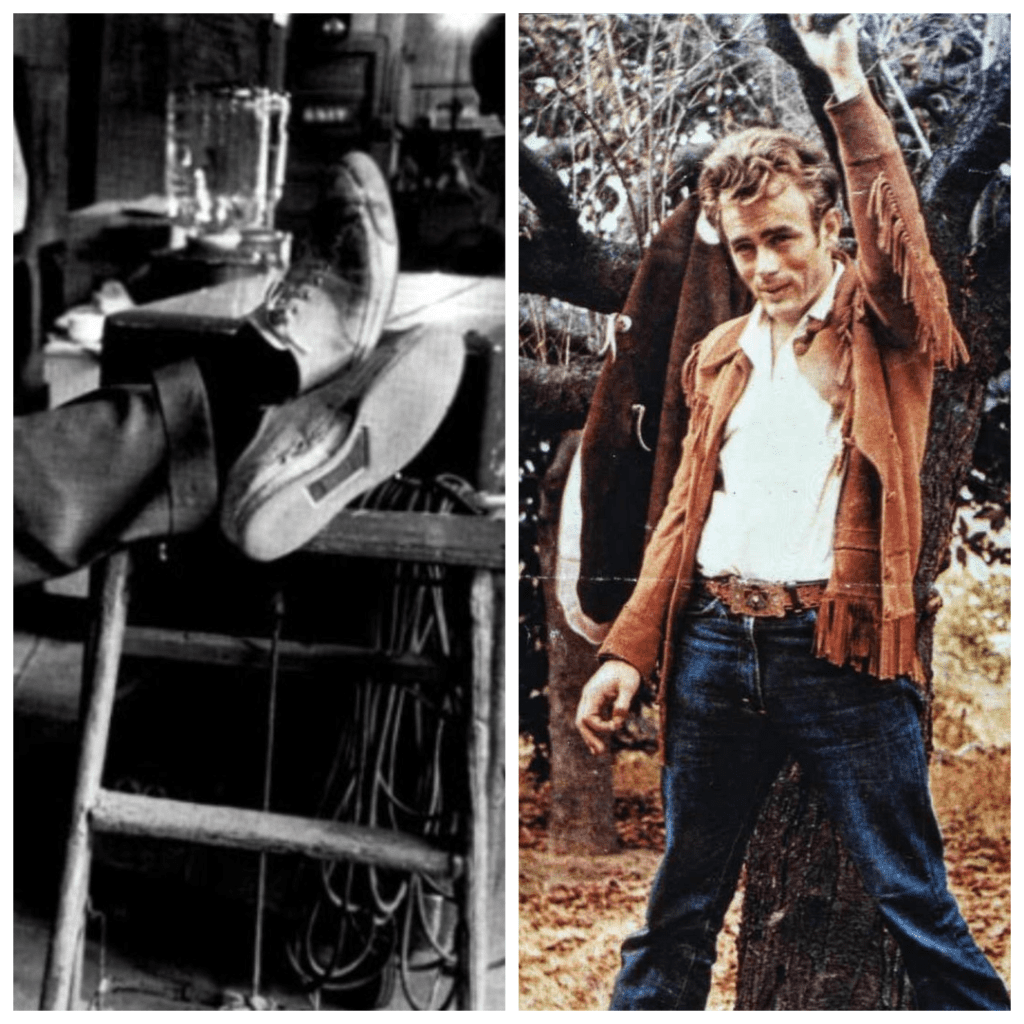 It wasn't until the '50's that they were considered fashionable kicks. Actor James Dean wore them during a photo shoot, and after that, people slowly started viewing the shoes as stylish rather than simply practical, just like they do today.
Sarah Jessica Parker's Manolo Blahnik shoes
Sarah Jessica Parker might be known for playing the funny, irresponsible, and optimistic girl in Sex and the City, but what stood out to us – and many others – besides her character was her style. And by her style, we mean those heels she always rocked.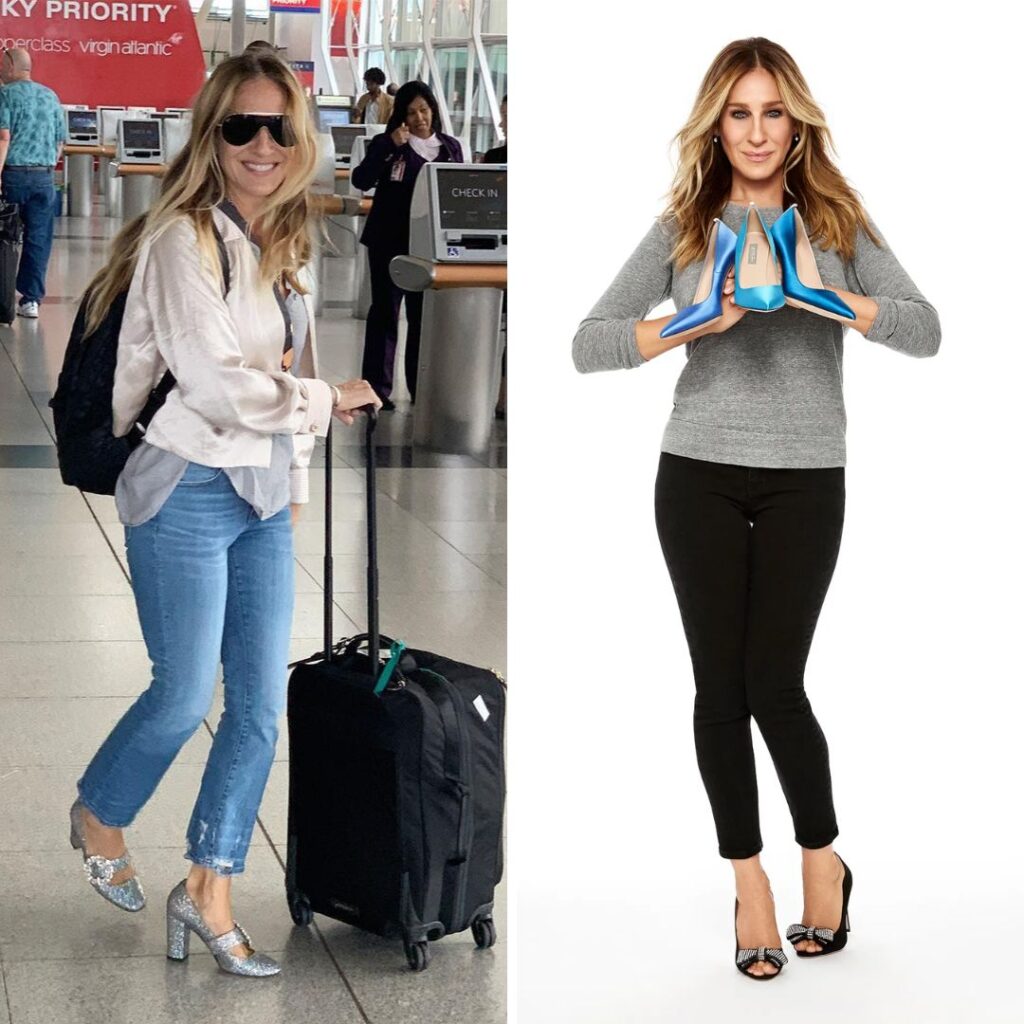 The series, alongside Marie Antoinette, catapulted Manolo Blahnik's shoes to international fame. Now, the designer is known worldwide for his luxurious, elegant, and stylish footwear, and a huge part of that is thanks to "Carrie" prancing around the Big Apple in them.
Paris Hilton's Velour Tracksuits
No one can ever deny the prominence tracksuits had in the early 2000s. They were absolutely everywhere and worn for all sorts of casual occasions. They were also a trend that the personality and businesswoman Paris Hilton rode on till the very end of their popularity.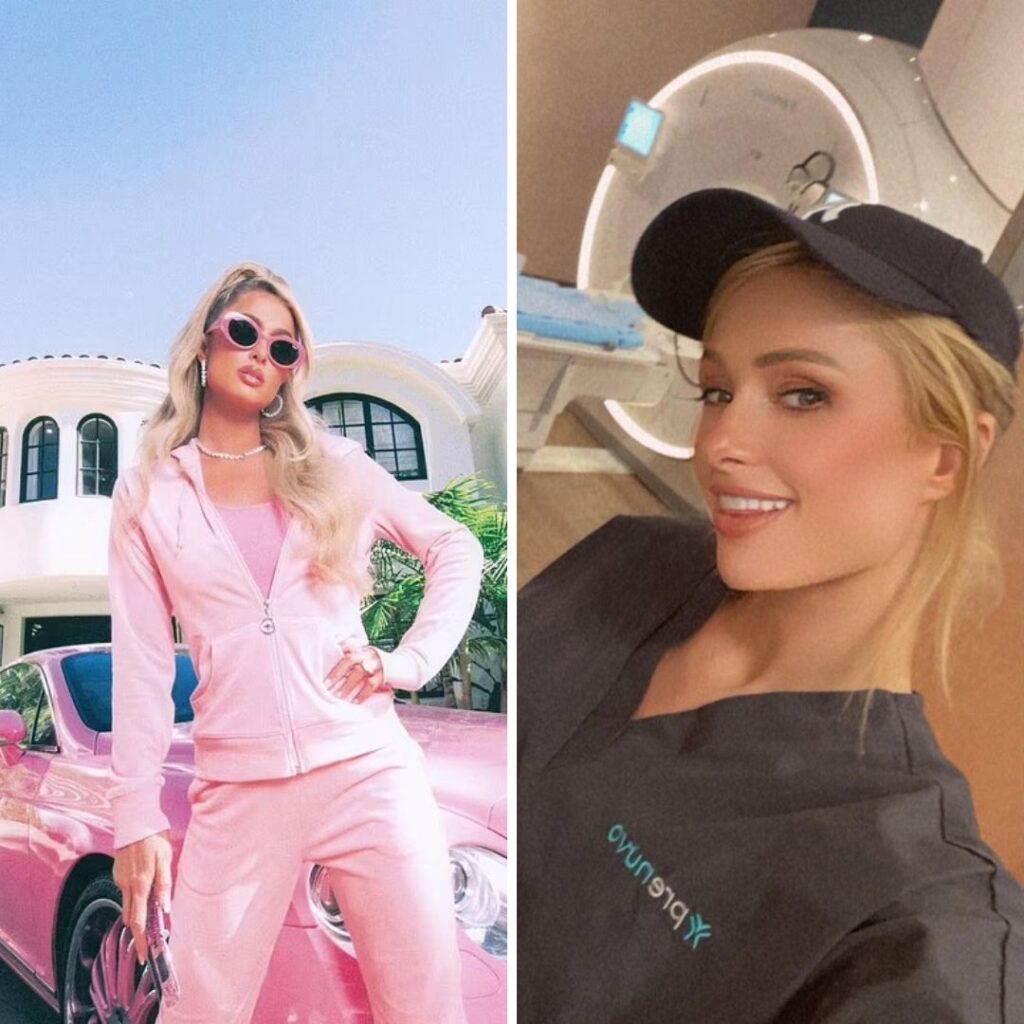 When they were in style, the socialite was rarely ever spotted without them, making the two-piece even more of a hit and drawing large wads of cash in for Juicy Couture, the designer behind her Valour tracksuits. They might not be as popular today, but they're still a super comfy and chic piece to own.
Crocs
While we don't particularly consider ourselves fashionistas, sometimes we can't help but get behind whatever fashion trend appears to be comfortable, like baggy pants, oversized tees, and crocs. We've always sported the first two, but crocs are a relatively new addition for us.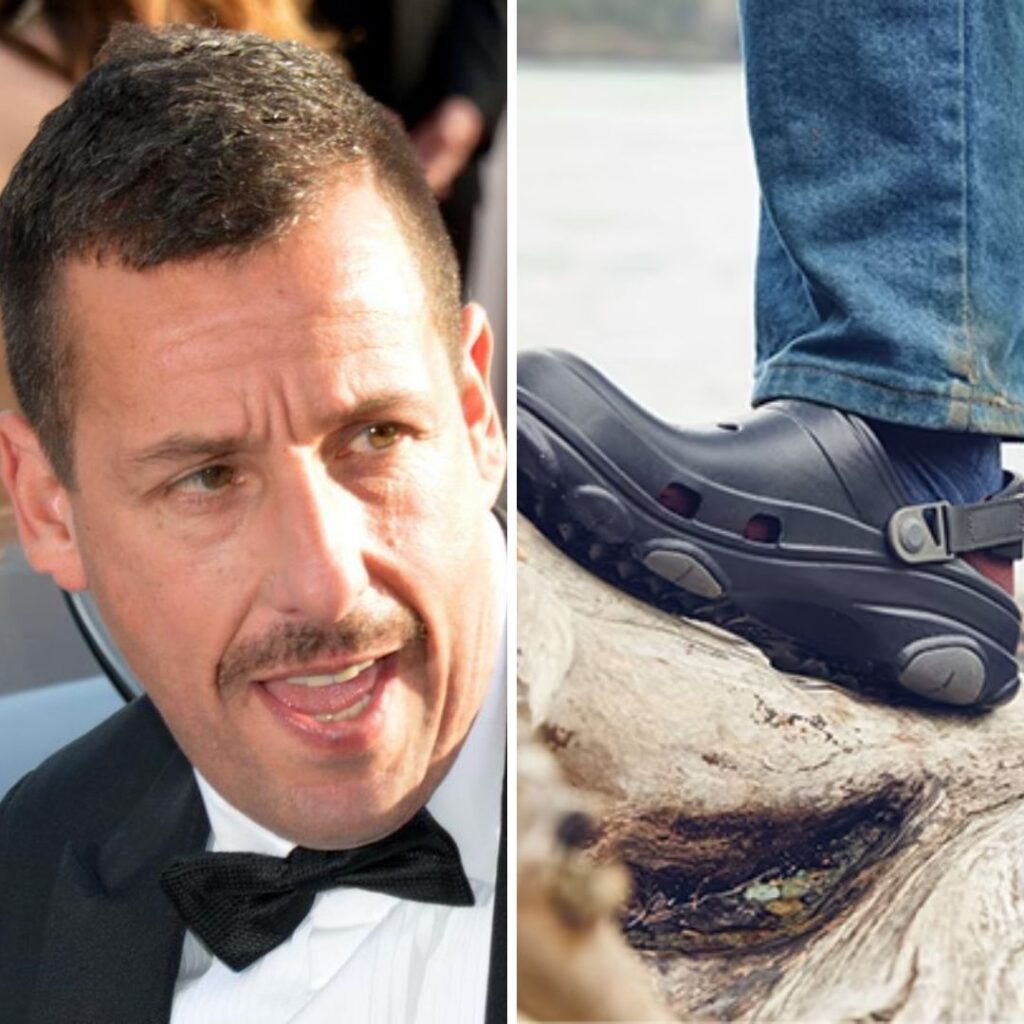 Apparently, they were made popular by actor Adam Sandler as he was frequently spotted wearing them. This is no surprise to us, as they fit perfectly into his aesthetic as well as ours, and now, millions of people around the globe wear them.
Bike Shorts
Many stars have seen a great rise to fame and huge falls from grace. The R&B band, Milli Vanilli, is just one of them. But, besides being remembered for the lip-syncing scandal that took them out of the spotlight, they were also known for being fashion icons.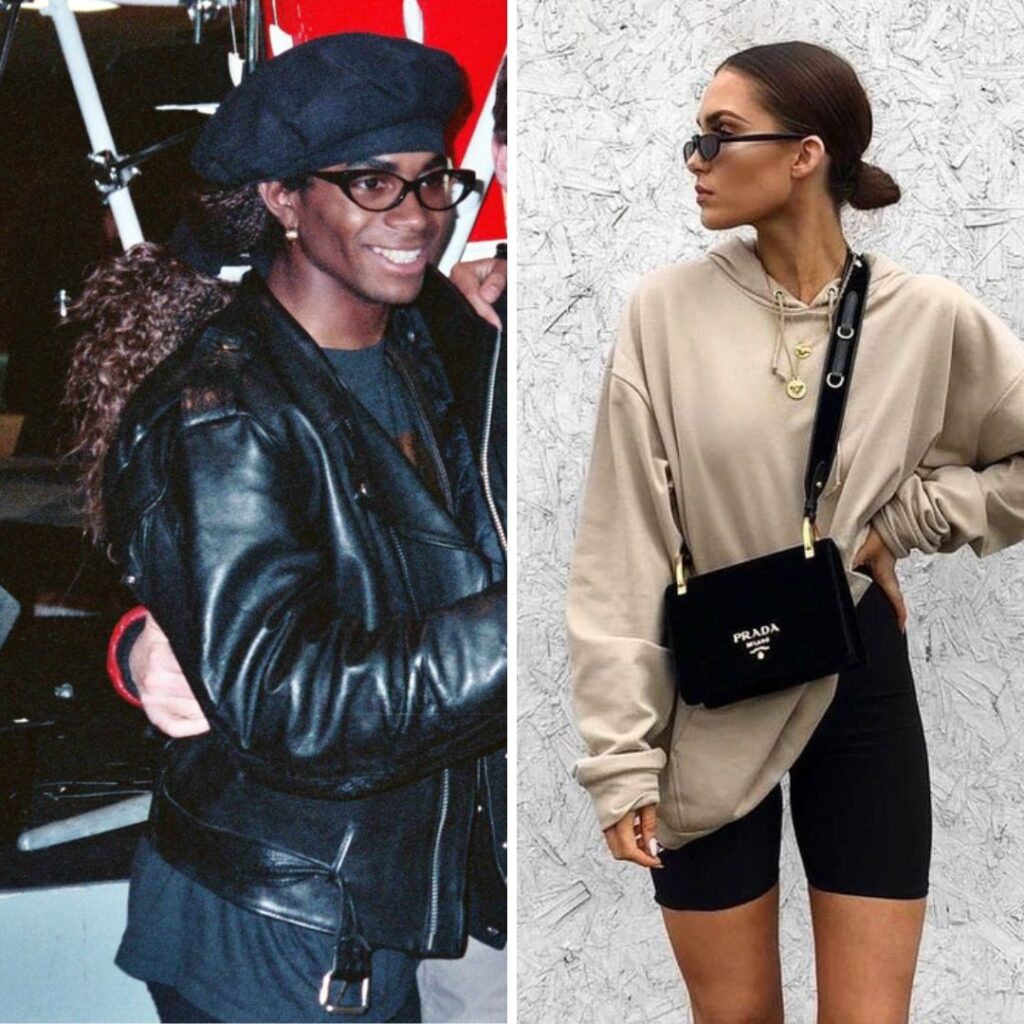 We've already seen that tracksuits were a huge trend, but before then, Biker shorts were in style, and we can attribute that to Milli Vanilli. The duo was often spotted sporting a pair, and it quickly became a mega-hit, one that's still prominent today.
Little Black Dress
While it's mostly people who are classified as cultural icons, some legendary clothing items are also described like that. The little black dress is one of them. They've been worn by almost every woman in Hollywood, from Marilyn Monroe to Audrey Hepburn.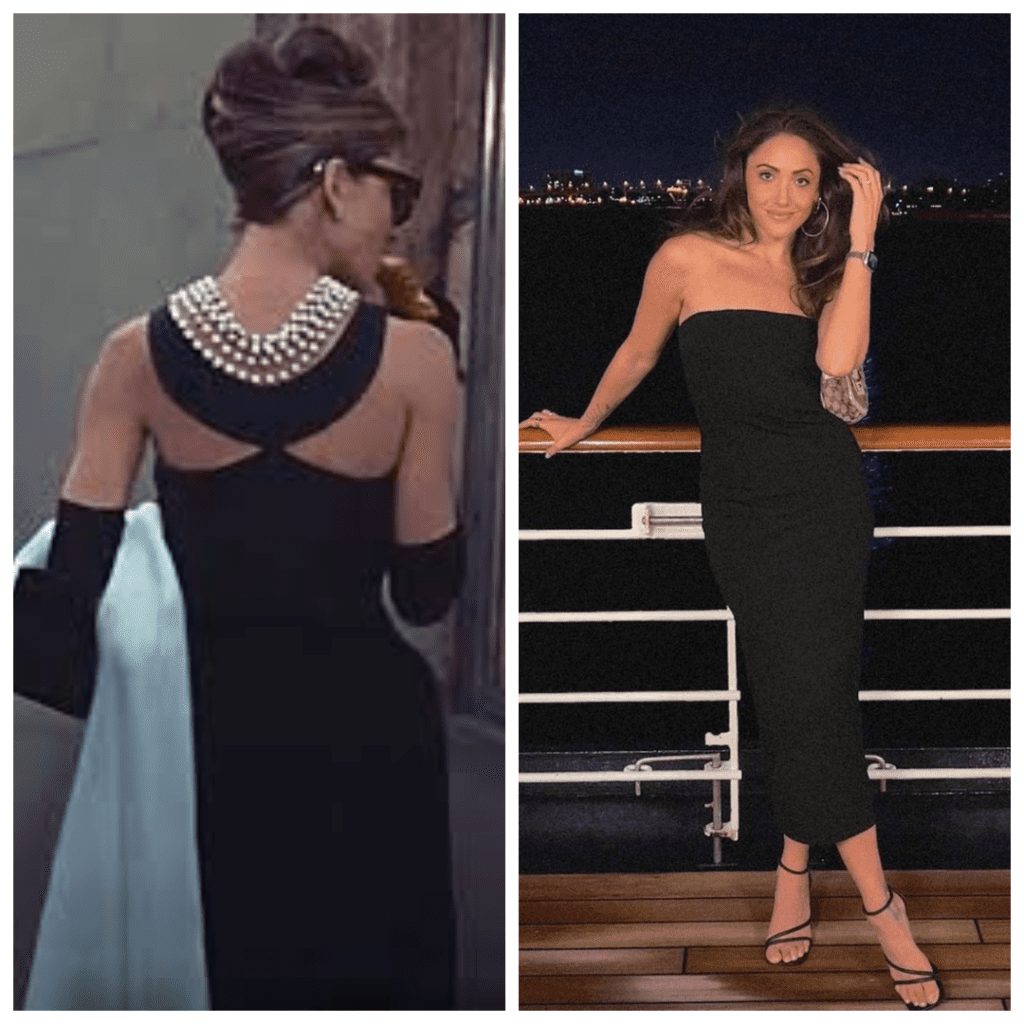 Actress and fashion icon, Audrey Hepburn, popularised the glamorous dress with the help of her friend and designer Hubert De Givenchy. The latter gave her a black satin dress so gorgeous that it's still being imitated all over the globe today.
Rihanna's socks plus heels look
Everyone who knows the tiniest bit about celebrities knows Rihanna is a certified fashion trendsetter. Really, guys, at this point, Rihanna could wear a garbage bag and still make it look chic, and that's why we weren't shocked when this also turned out fire.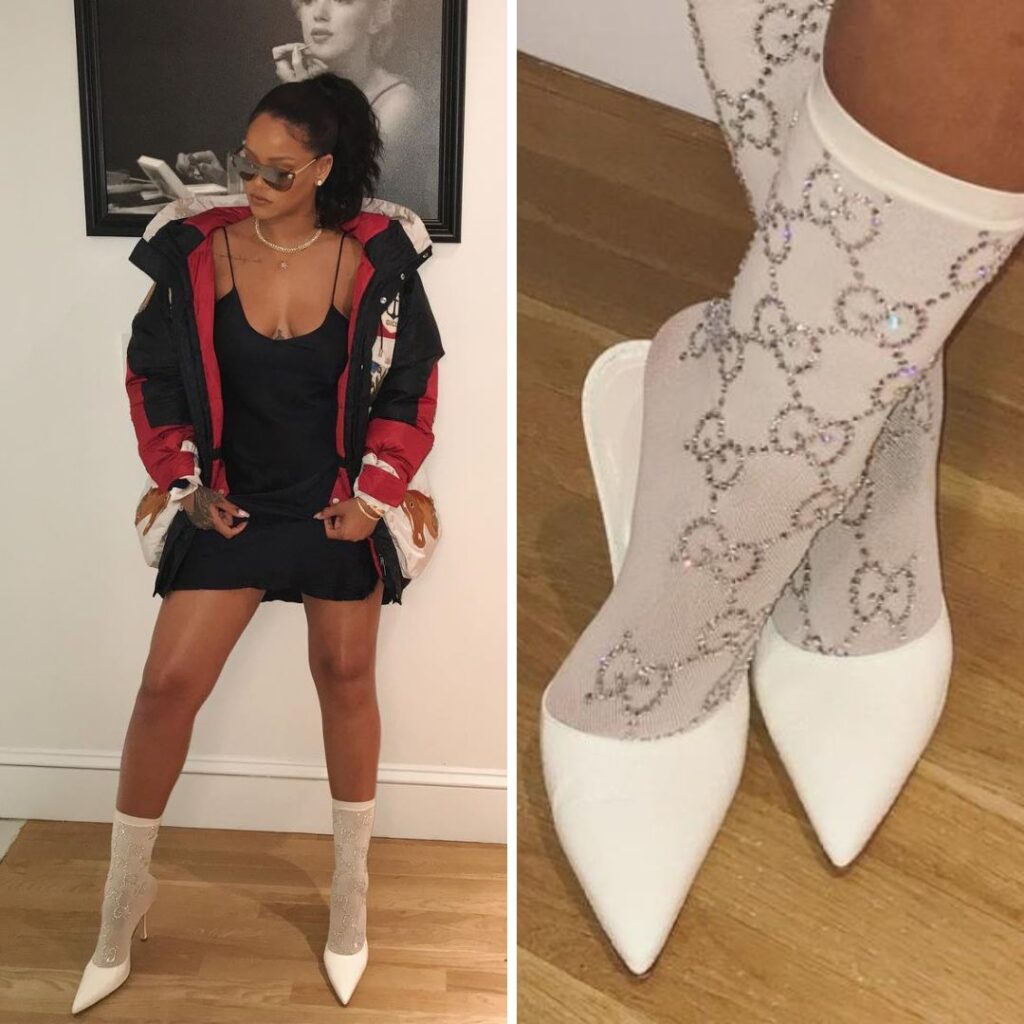 The thought of wearing socks with some pointed-toe heels is sort of outlandish to us, but after seeing them on Rihanna's feet, we couldn't help but admire how good they looked. Maybe it's the designer socks and shoes, or maybe it's just because it's RiRi! How do you walk in those, though?
Kim Kardashian's bodycon clothes
The '90s saw the rise of a number of trends, like hip-hop music, streetwear, and bodycon dresses. Bodycon dresses would have gone out of style if not for the businesswoman Kim Kardashian, who revived them after being seen in a couple.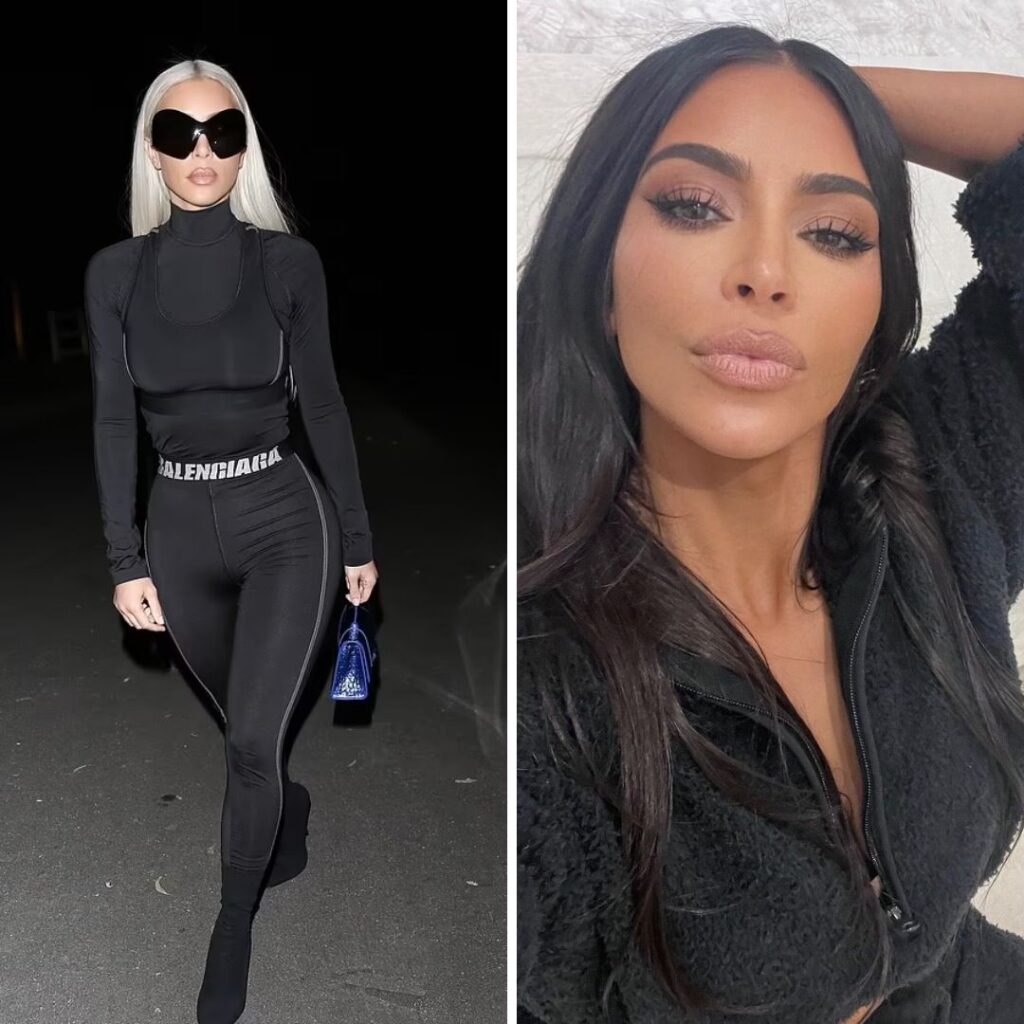 The fitted dresses and apparel were perfect for accentuating her curves. After seeing how great they looked on her, many women who could also pull off the look were inspired to rush down to a fashion store and grab themselves at least one for special occasions!
Jane Birkin inspired Birkin bags
Anyone who has even the slightest idea of what's trending in the fashion industry today must have heard about Birkin bags. This line of luxurious Hermès bags was inspired by the English-French singer and actress Jane Birkin and brought to life by the former executive chairman of the company.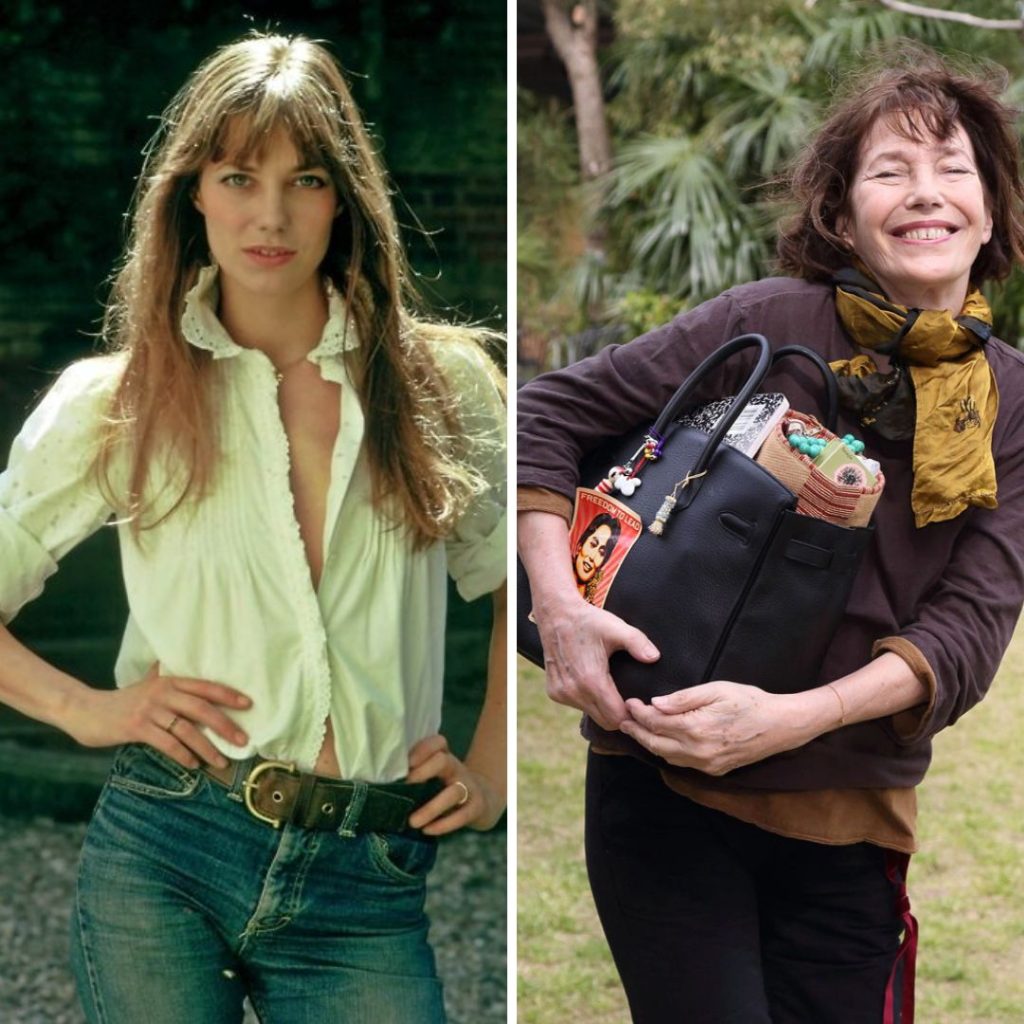 Jane was sitting on a flight next to the executive and complained about how hard it was to find a bag that catered to her needs as a young mother. Although they were made to accommodate more essentials, they're now a major fashion statement for whoever can afford them.
Kanye West's shutter shades
In 2007, rapper and fashion designer Kanye West collaborated with the now-split French electronic duo Daft Punk on the hit song, Stronger. This collaboration also marked the debut of Ye's iconic shutter glasses, an accessory he would occasionally rock after that.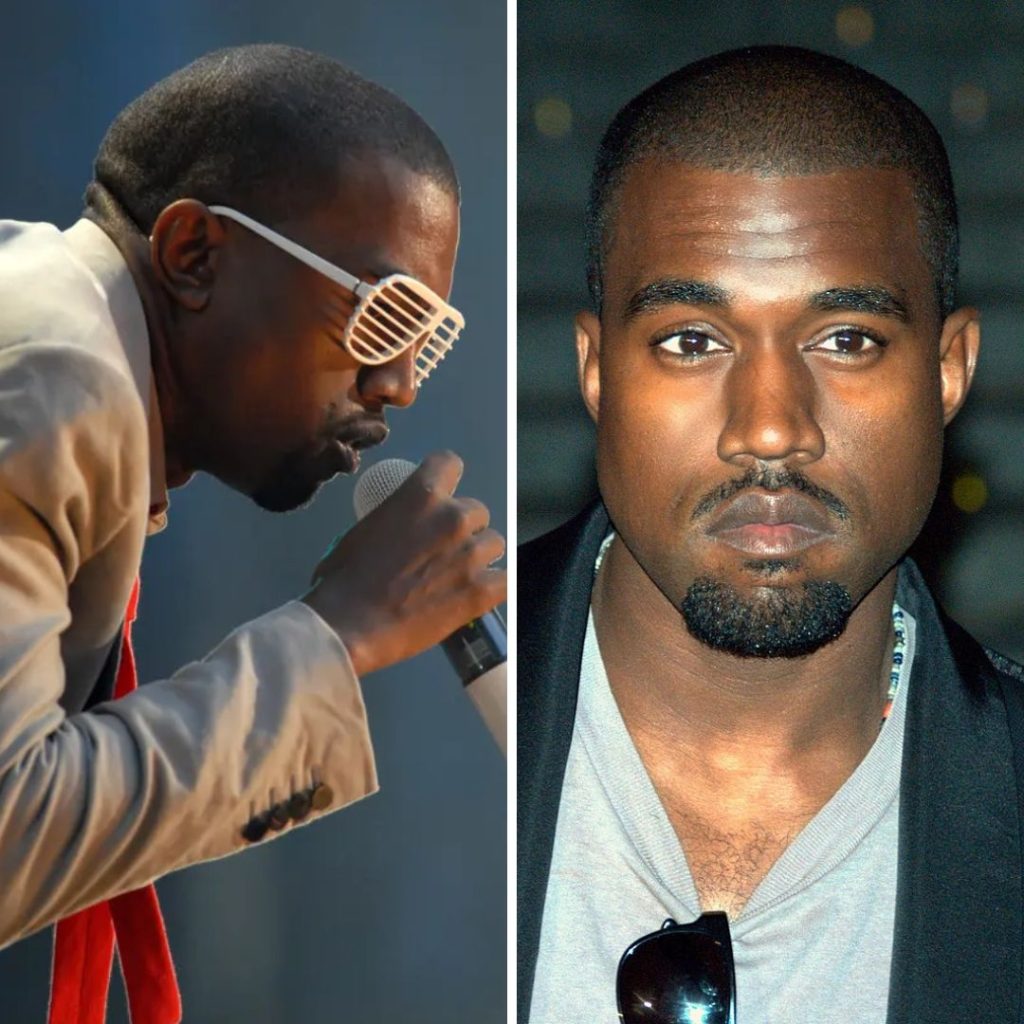 The impractical sunglasses were designed by eyewear designer Alain Mikli. After the song video's dropped, they became so popular all across the country that people started mass-producing imitations of them since not everyone could afford thousand-dollar glasses. Would you rock these?
Double Denim
Although Justin Timberlake and Britney Spears' relationship might not have been the most successful, they had some pretty solid appearances together. Additionally, their individual and coordinated styles will forever stand the test of time, especially their iconic denim on denim trend.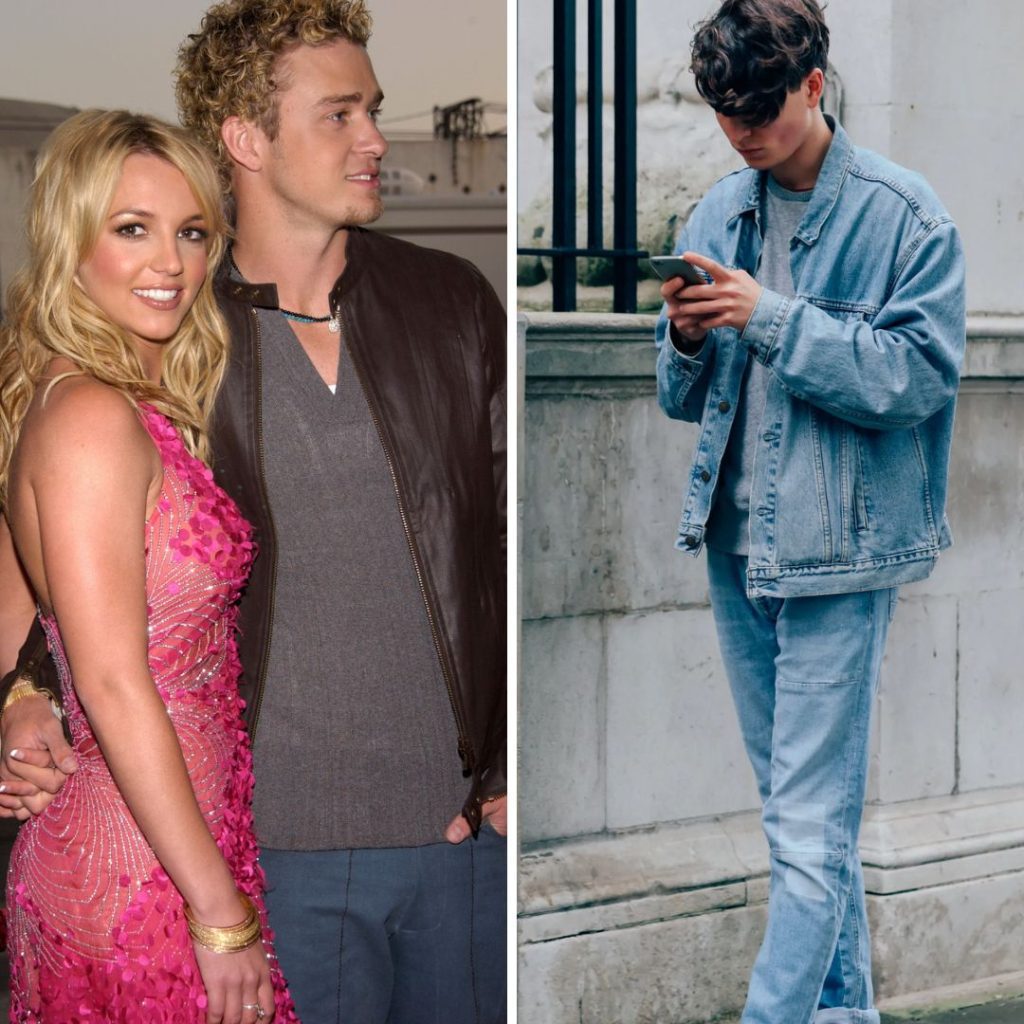 Denim over denim was usually seen as a bad fit (and still is to some extent), but Justin and Britney made it work. They made an appearance together where Justin donned denim from head to toe, and Britney wore a stunning denim dress with accessories to match, and people have been recreating it ever since.
George Michael's one earring
It's not just clothing and shoes that can be the inspiration for a new fashion trend. Even simple accessories can be, too, as evidenced by George Michael's signature look. Who could have thought wearing something as simple as a solitary earring would end up being so legendary?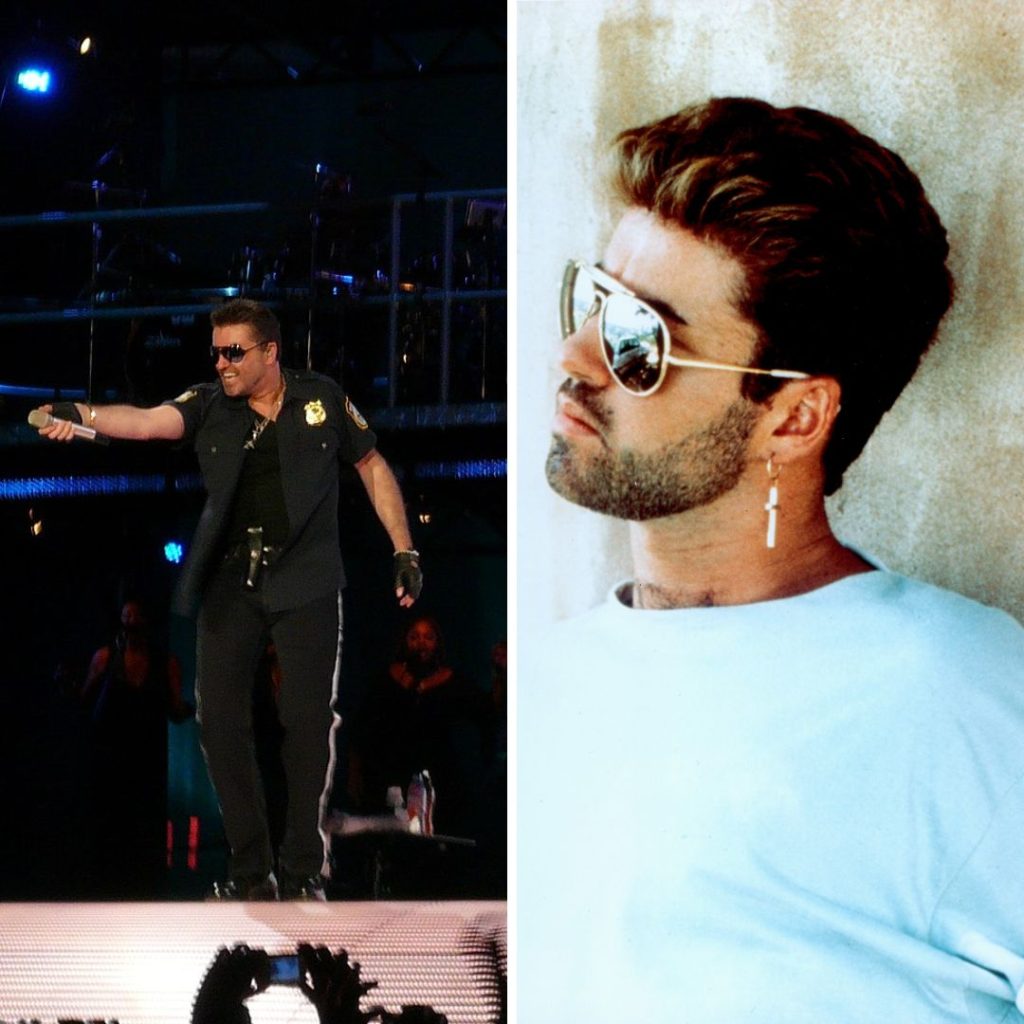 George Michael was known for sporting just one earring instead of two. And it was not just any earring; it was a dangling one with a cross, which made him look edgier. Now, many artists and celebrities have taken the cue from George and also wear the same.
Denim Maxi Skirts
Maxi skirts have been around for as long as we can remember. The calf-length flowy skirt might have come into fashion in the '60s, but it wasn't up until the popular singer and actress Jennifer Lopez wore one made out of high-quality denim that everyone wanted a go at the skirt.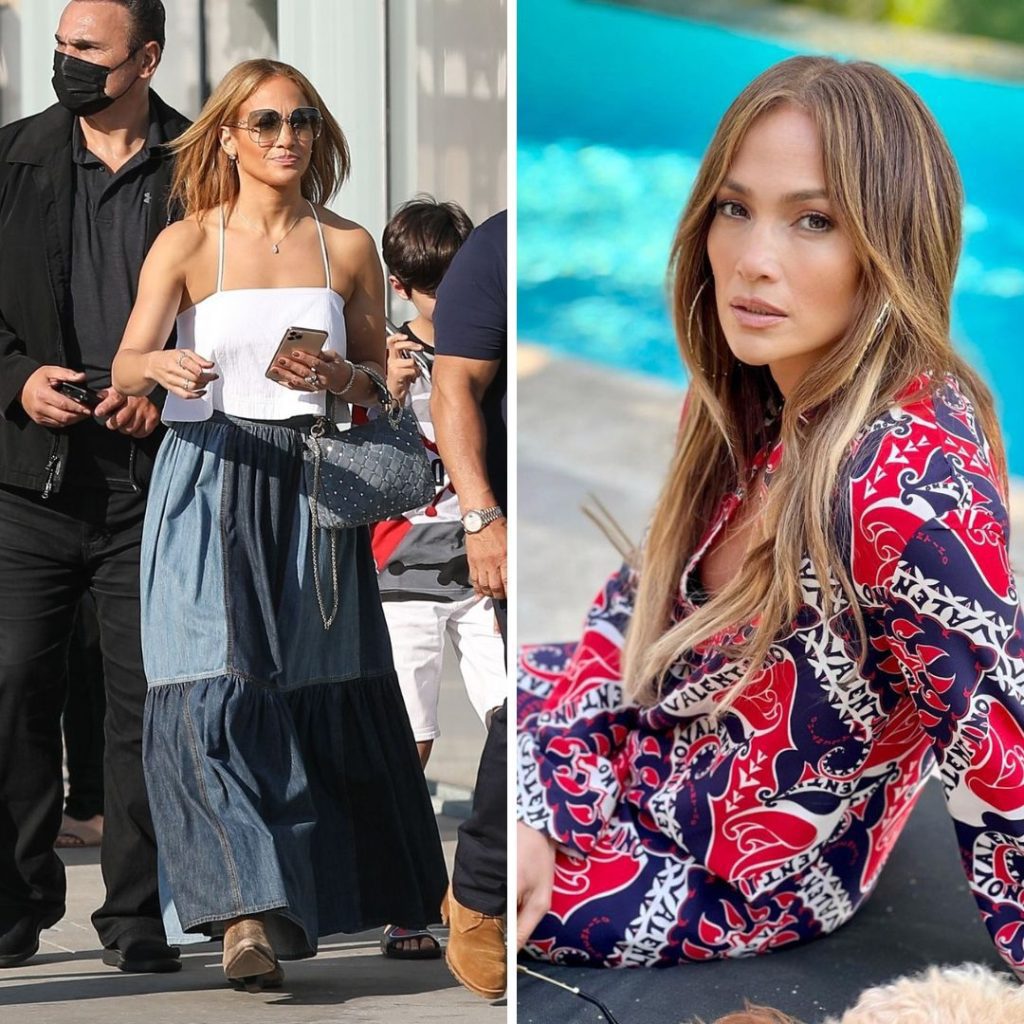 Jennifer wore a particular piece that was made by Dior and was worth thousands of dollars. It's got this boho look to it, and although many people can't afford to spend that much on just a single article of clothing, it's a solid piece and would make a fantastic addition to anyone's wardrobe.
Small Sunglasses
Sunglasses with small and thin lenses were popular in the '90s and were worn by the youth during the summer. They have made a huge comeback recently thanks to some stars who have been seen wearing them a few times.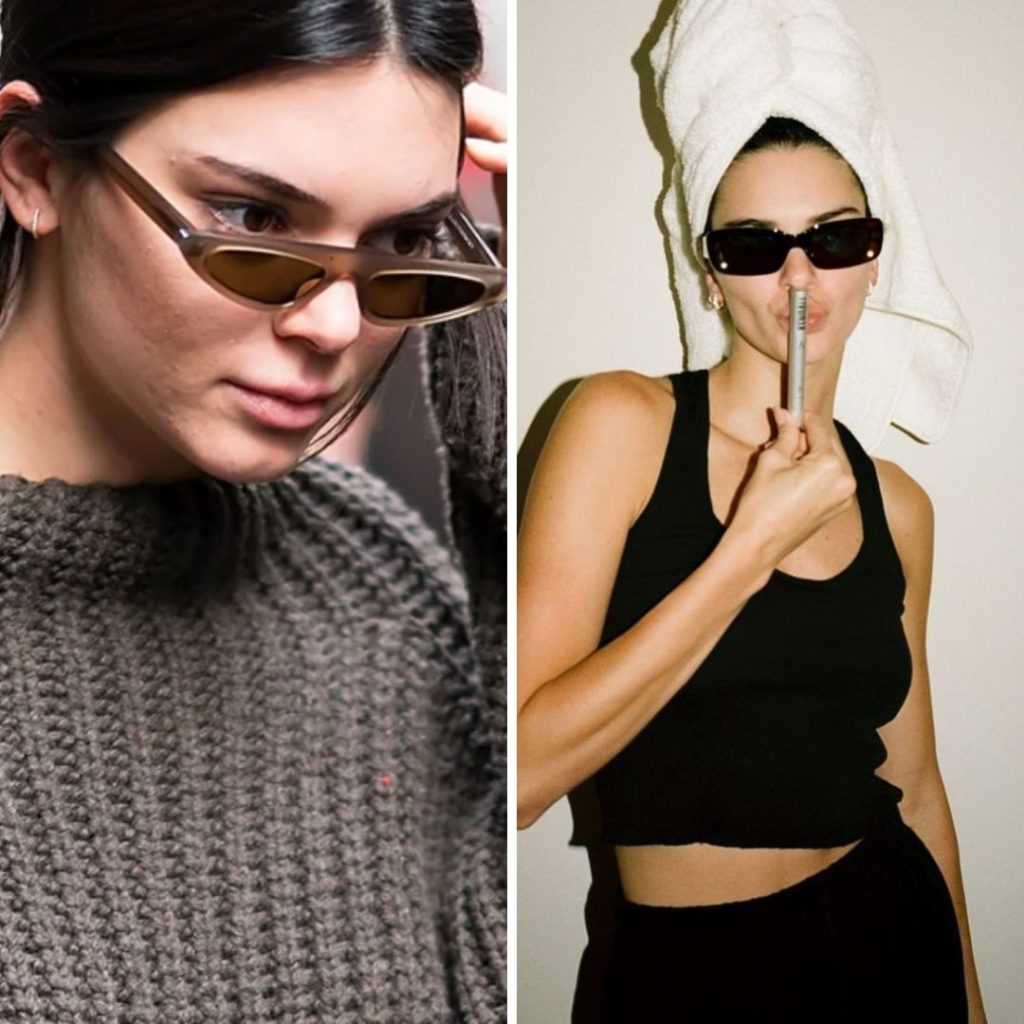 Runway fashion models Kendall Jenner and Bella Hadid are known for stepping out in these unique shades. Although they don't provide much protection from the sun's glare, they are super stylish accessories and are worthy of being mainstream. Do you own a pair?
Avril Lavigne wore ties without a suit shirt
Cooperate wear is cool and all, but sporting it anywhere outside the office or at official events might make you seem a bit stuck up. However, that doesn't mean we can't take a piece from the look and make it into something more everyday-friendly, and that's exactly what this singer did.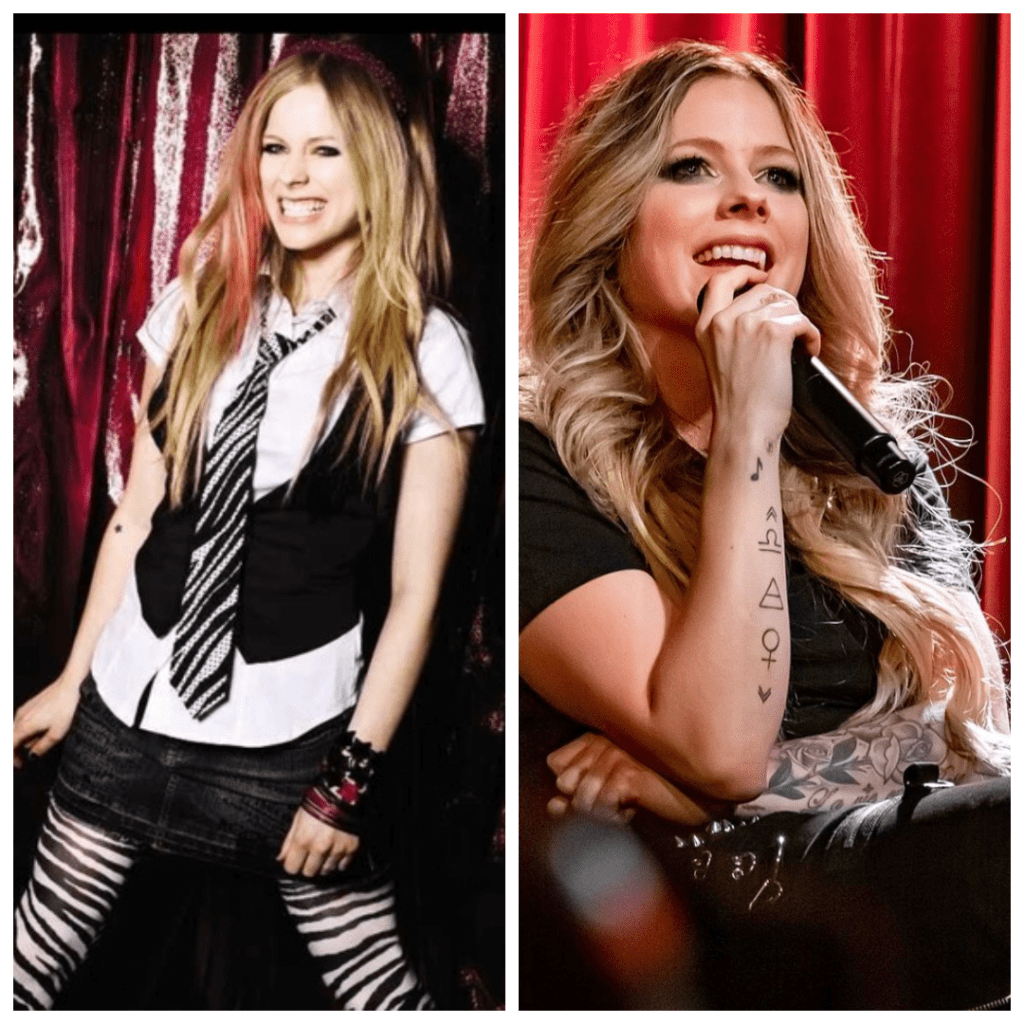 Avril Lavigne star was one of the biggest names in the female punk niche at the time of her prominence, and as her songs gained recognition amongst girls, so did her style. Before anyone knew it, young girls wearing ties with tank tops and baggy trousers were everywhere!
Kate Bosworth's Studded boots
Many celebrities have their signature accessories or aesthetic (like Johnny Depp's hats and Adam Sandler's dad aesthetic). So, it didn't exactly surprise us when we noticed Kate Bosworth is a gal who's always rocking this uncommon yet stylish piece of footwear.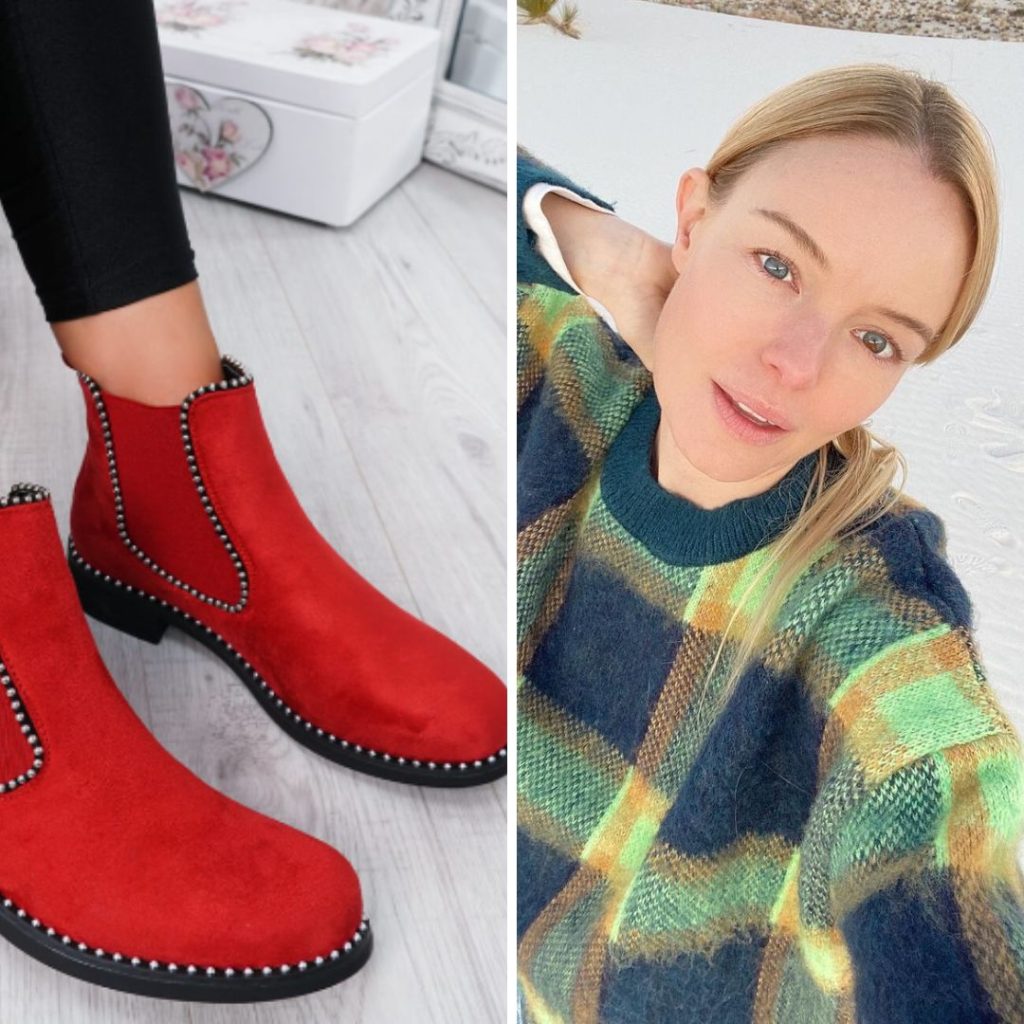 Her signature accessory is a pair of fab studded boots. She was once spotted wearing a pair by Chloe that sold out not long after she was seen with them. Kate also featured a couple of designs in her 20-pair collection in collaboration with Matisse.
Sliders with Socks
Snoop Dogg isn't just a pioneer in the rap sphere. He's also played a decent role in influencing the laid-back look of our day. The rapper popularised the slides-with-socks style, seeing as he was seen sporting the look many times he was out.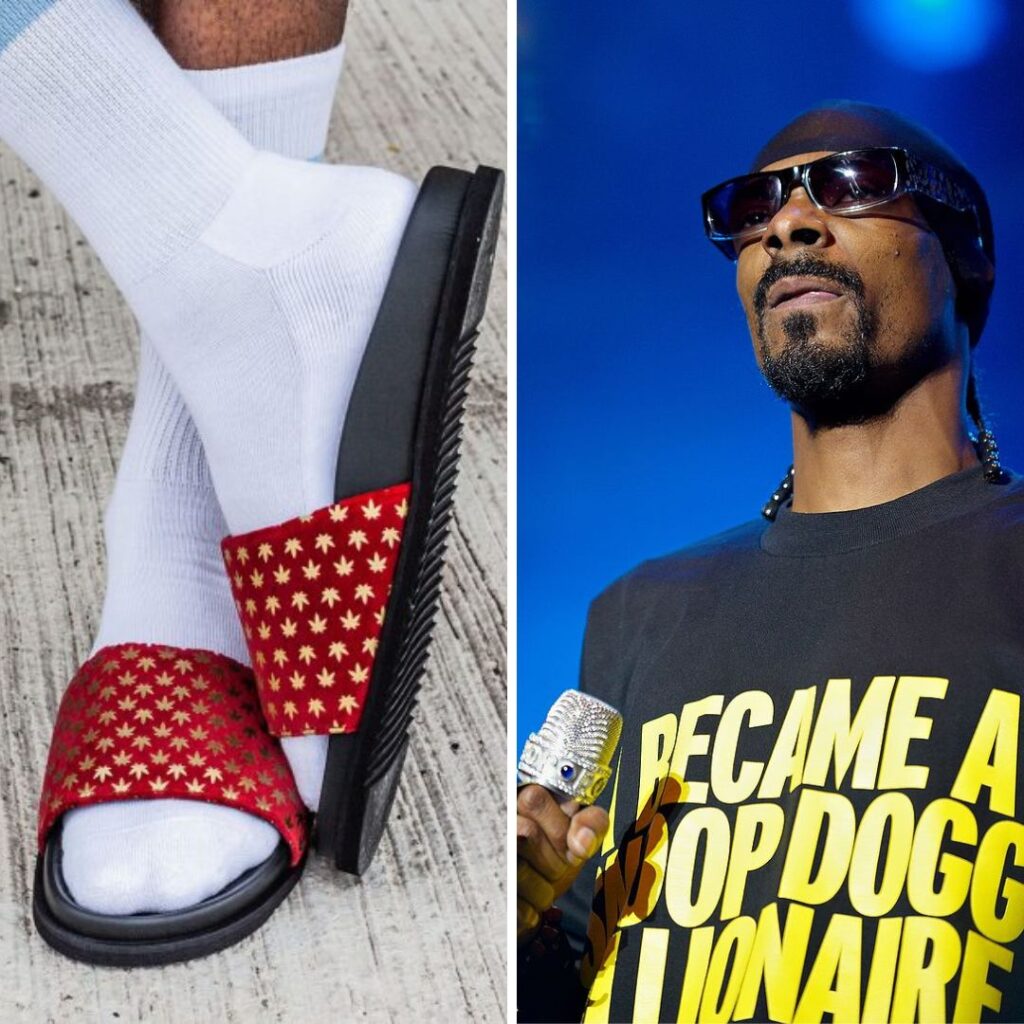 Although anyone could emulate this look with just about any brand of slides or socks, Snoop usually wore a pair made by the famous company Adidas. Now, the comfy dad trend is worn by people of all ages and statures.
Off-the-shoulder tops
The off-the-shoulder kind of neckline has been trending all across the world for the past few decades. It's proof of the quick evolution of women's fashion from conservative wear to outfits that showed off more skin. Nothing has the ability to nail the sexy-yet-elegant vibe better than off-shoulder dresses and tops.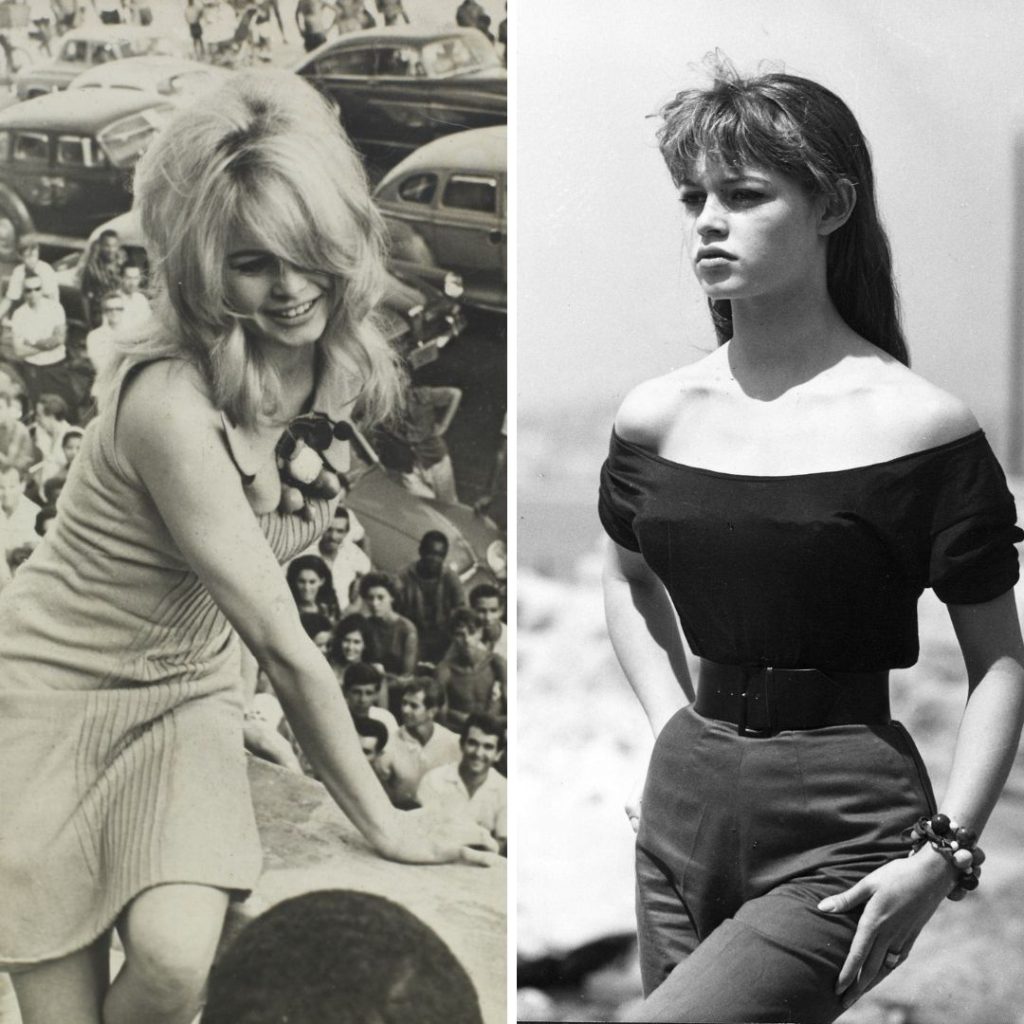 While this style has been around for a while, it was really Brigitte Bardot that made off-shoulder tops popular. It was her signature style, and people know her for it so well that today, tops with the style are being sold with the nickname "Bardot" tops.
Billie Eilish's puffer jackets
The youngest recipient of the album of the year award from the Grammy, Billie Eilish, got her big break in 2015 with the song Ocean Eyes. Ever since then, she's been wowing the audience with her dark pop style and incredible streetwear.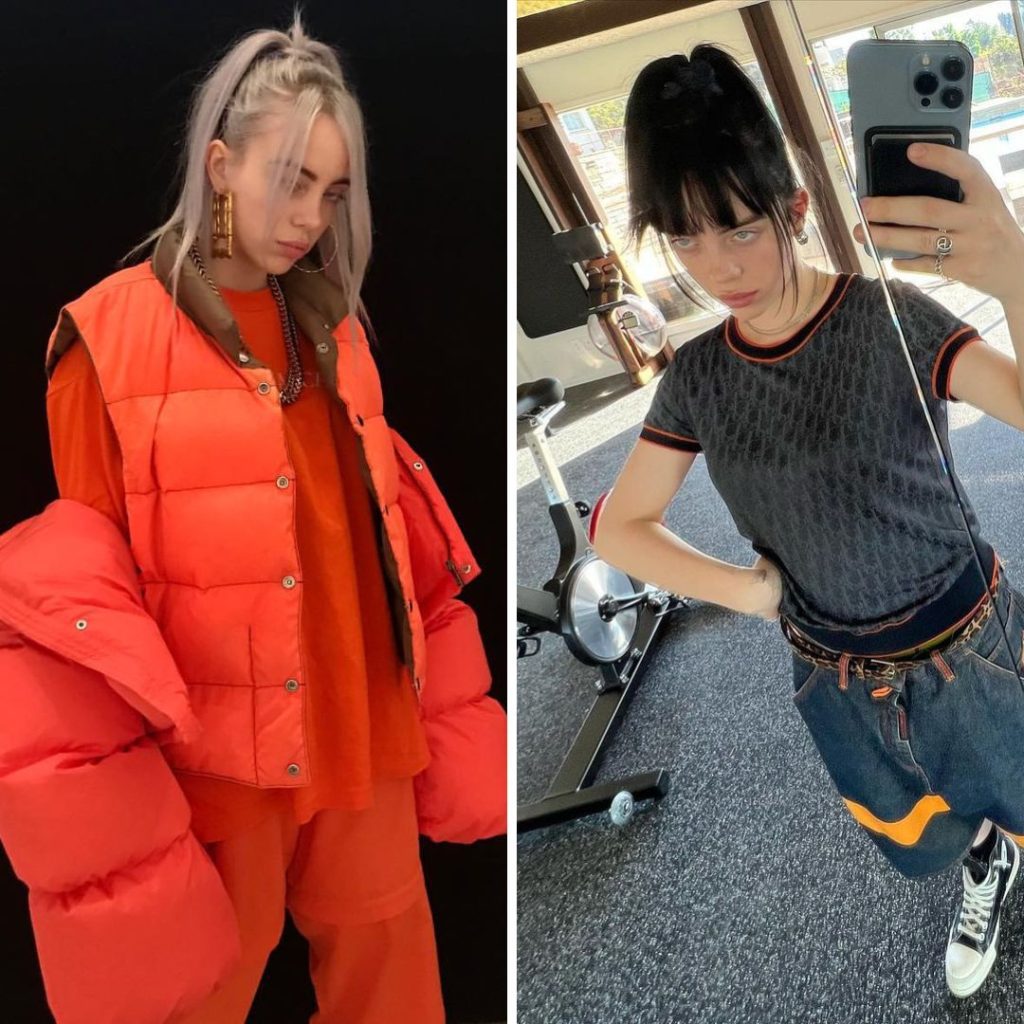 Billie's signature accessory has got to be the large puffer jackets from Gucci and Louis Vuitton she often sports. She played a big role in bringing back the '90s trend that many thought was dead and buried by giving it a whole new refreshing vibe.
Snapbacks
Snapbacks have been around way before the '90s. They were initially made for baseball players as easy, comfy, and practical caps they could wear to keep away the sun's glare from their eyes during games. They became casual pieces of wear soon after, but it wasn't until the '90s that they became a trend.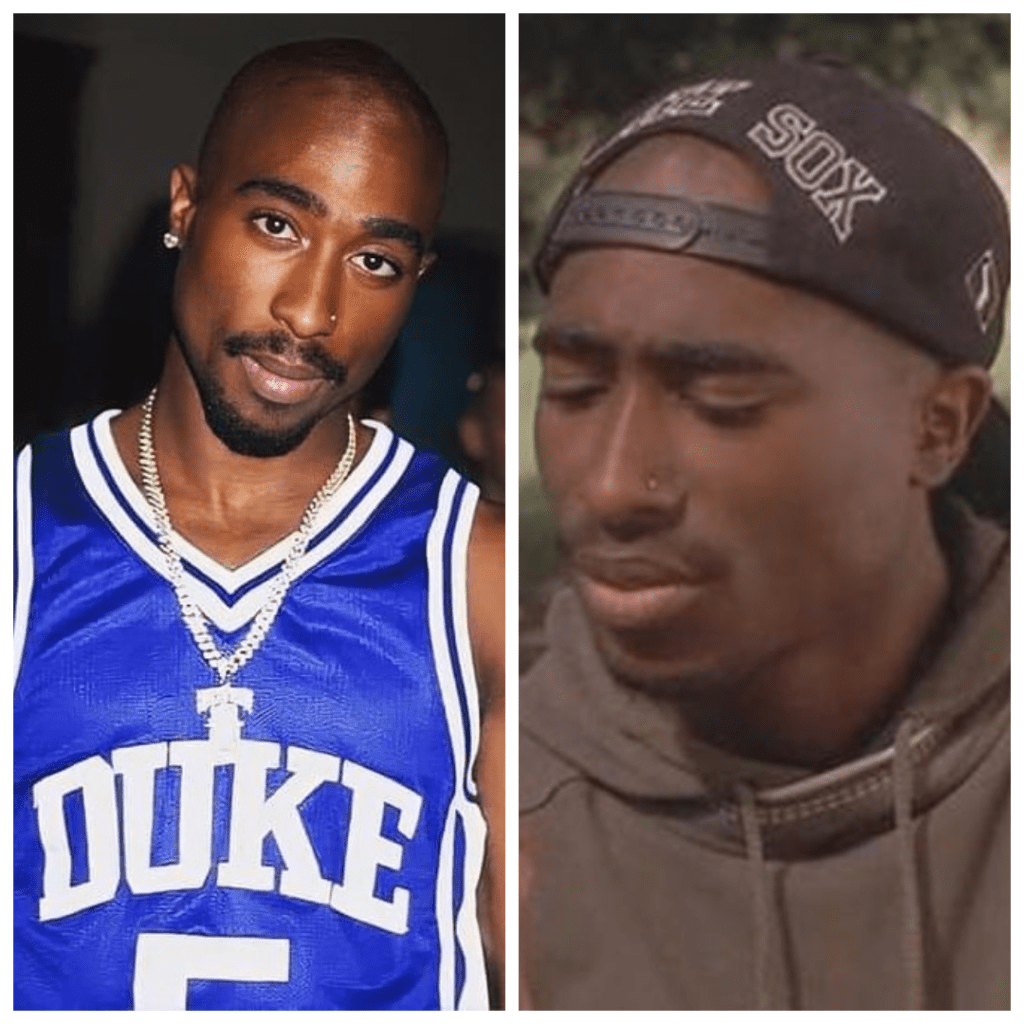 With the explosion of hip-hop came the rise of many trends, one of them being these snapback hats. Rappers like Tupac Shakur, the Notorious B.I.G, and Ice Cube were frequently spotted wearing them (often backward), and soon enough, there was a massive wave of teens and young adults wearing them.
Joan Jett's leather jacket
The rock star, Joan Jett, is by far one of the biggest women in the business. She was the lead singer in her group, Joan Jett and the Blackhearts, and as a certified legend in the rock music industry, you can bet her fashion was just as legendary as her.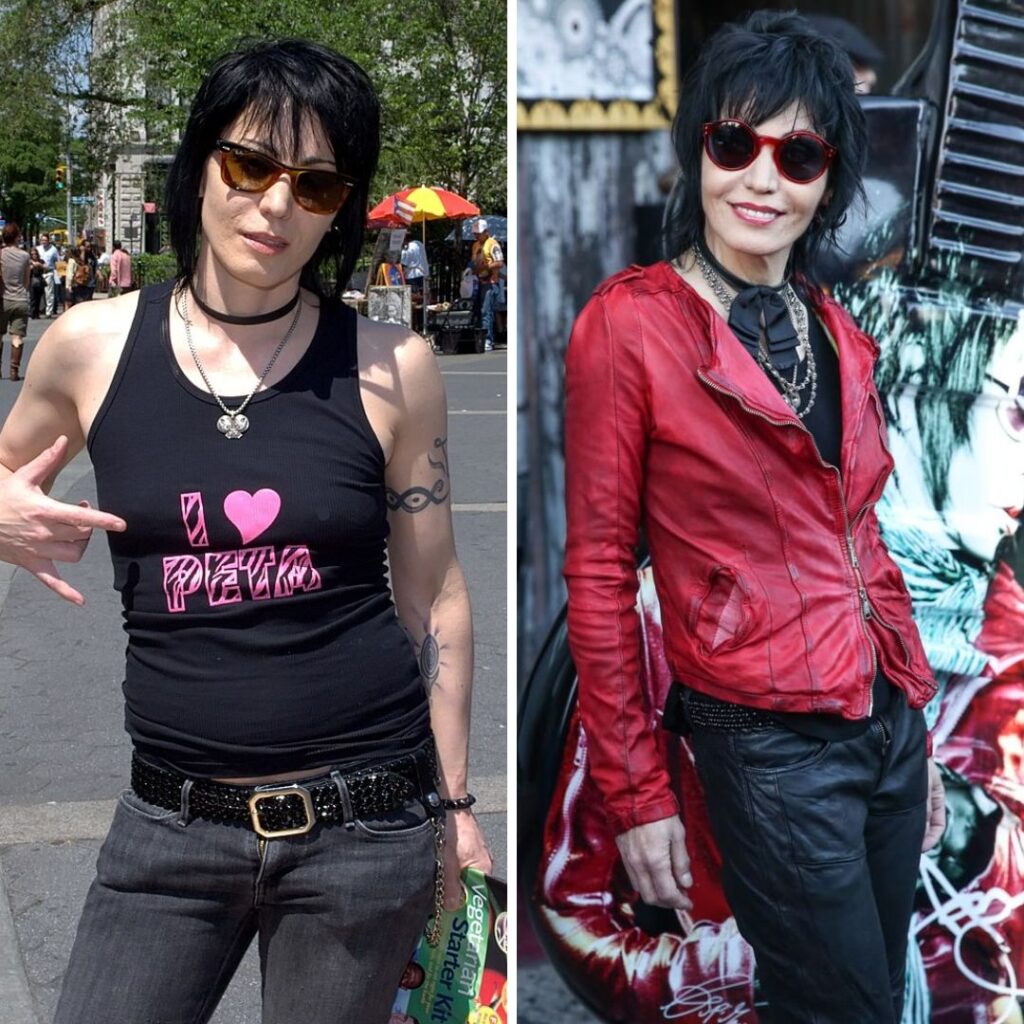 Joan also helped increase the popularity of the punk aesthetic among the youth, especially by wearing leather jackets, making them more of a fashion trend than they already were. Today, faux leather jackets are still in style, with many designers capitalizing on their popularity.
Kurt Cobain pioneered grunge styling
Rock bands have spearheaded a number of trends in the past century. From combat boots to ripped jeans and leather jackets, they were known for making a variety of accessories, outfits, and styles popular, one of them being grunge styling.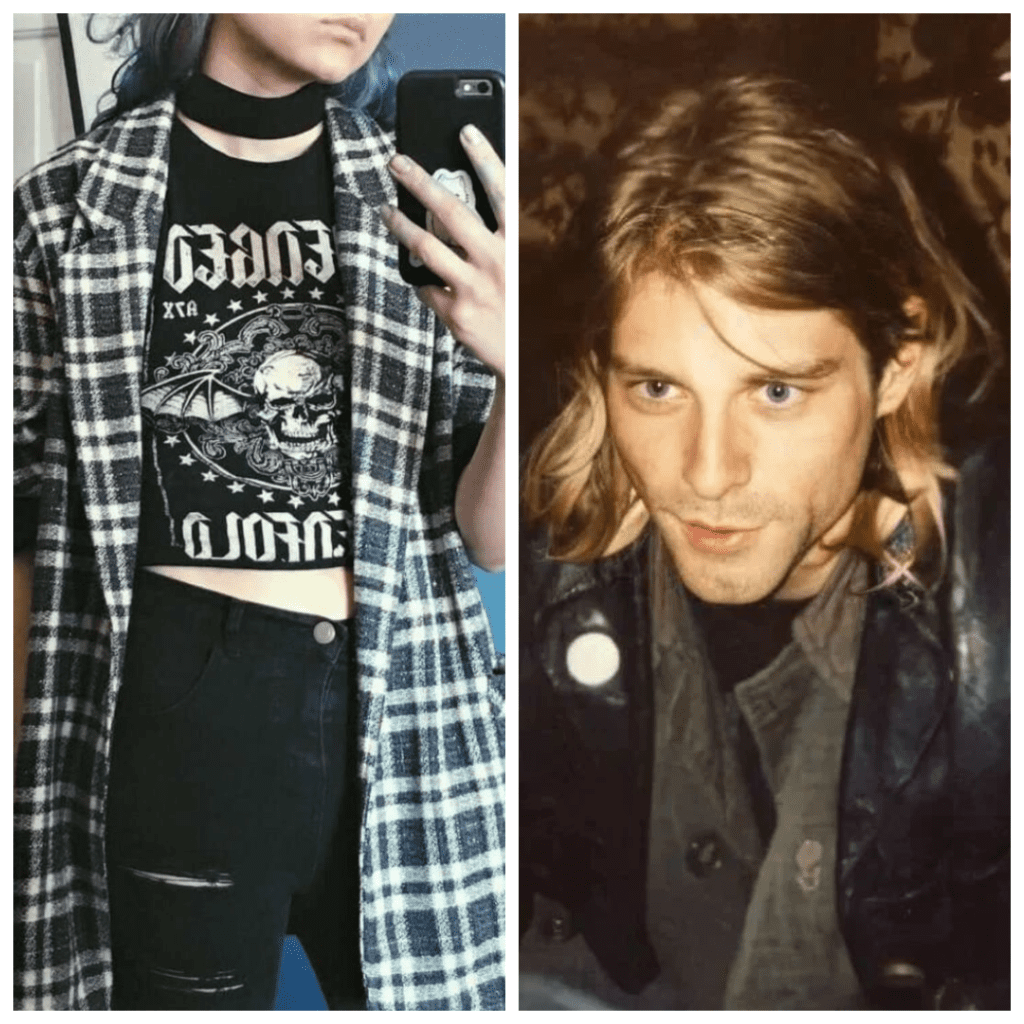 Kurt Cobain, of the popular rock band Nirvana, played a particularly huge role in popularising grunge fashion. His loose-fitting, thrift store-worthy clothes and white Christian Roth glasses were some of the biggest trends in those days for people who subscribed to the aesthetic.
Off-shoulder sweatshirts
American actress and former teen model Jennifer Beals is known for playing "Alex" in the 1983 romantic drama Flashdance. The hit movie gave us a lot of memorable moments as well as outfits, one of them being the off-the-shoulder sweatshirts Jennifer was constantly seen in.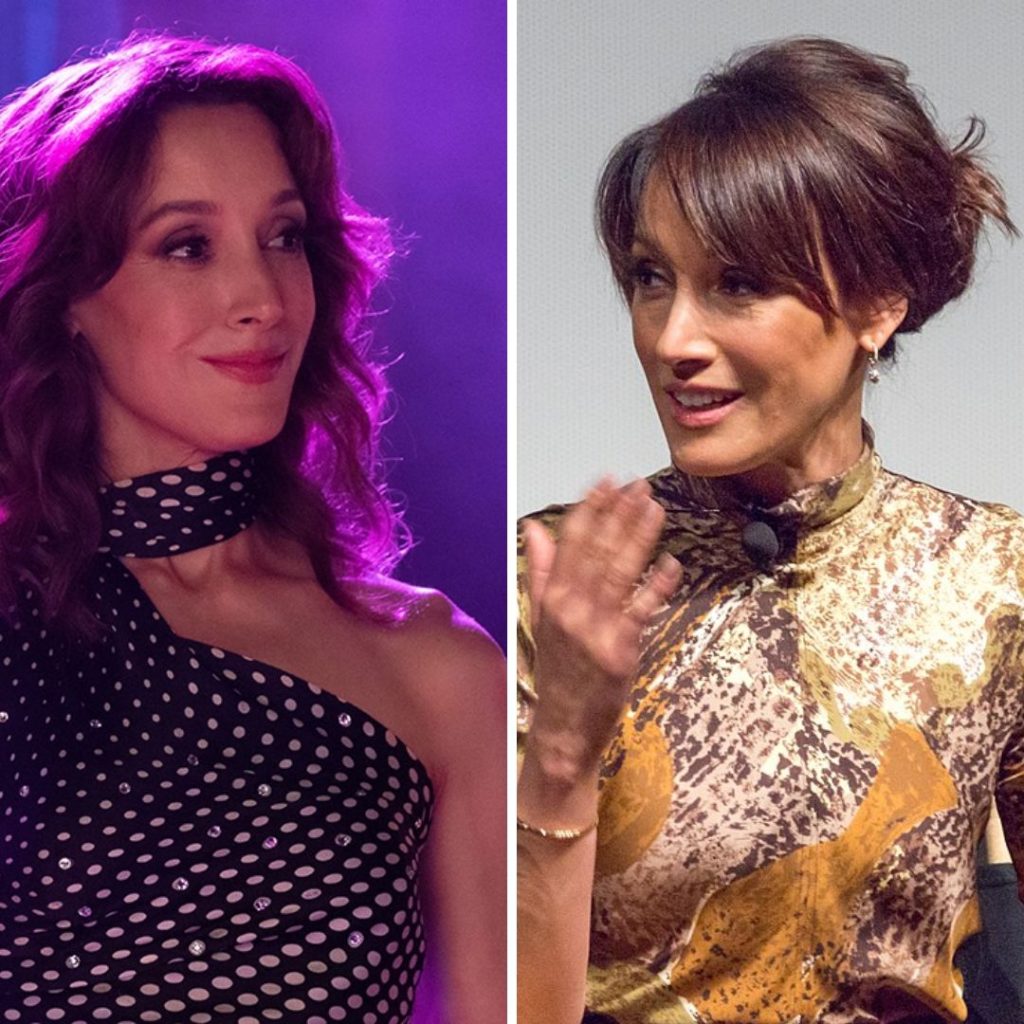 All Jennifer had to do to make this fire article of clothing was cut off the neckband of a shrunken sweater, and after the movie was released, off-shoulder sweatshirts were everywhere. Even to this day, some people still make room for one of these in their wardrobes.
Johnny Depp's Fedora hats
Johnny Depp stepped into the acting scene as a soft grunge heartthrob of tween dramas. Shooting into prominence as a young boy, he is now one of the most renowned actors in Hollywood today, so it's no surprise that people have kept an eye on his style.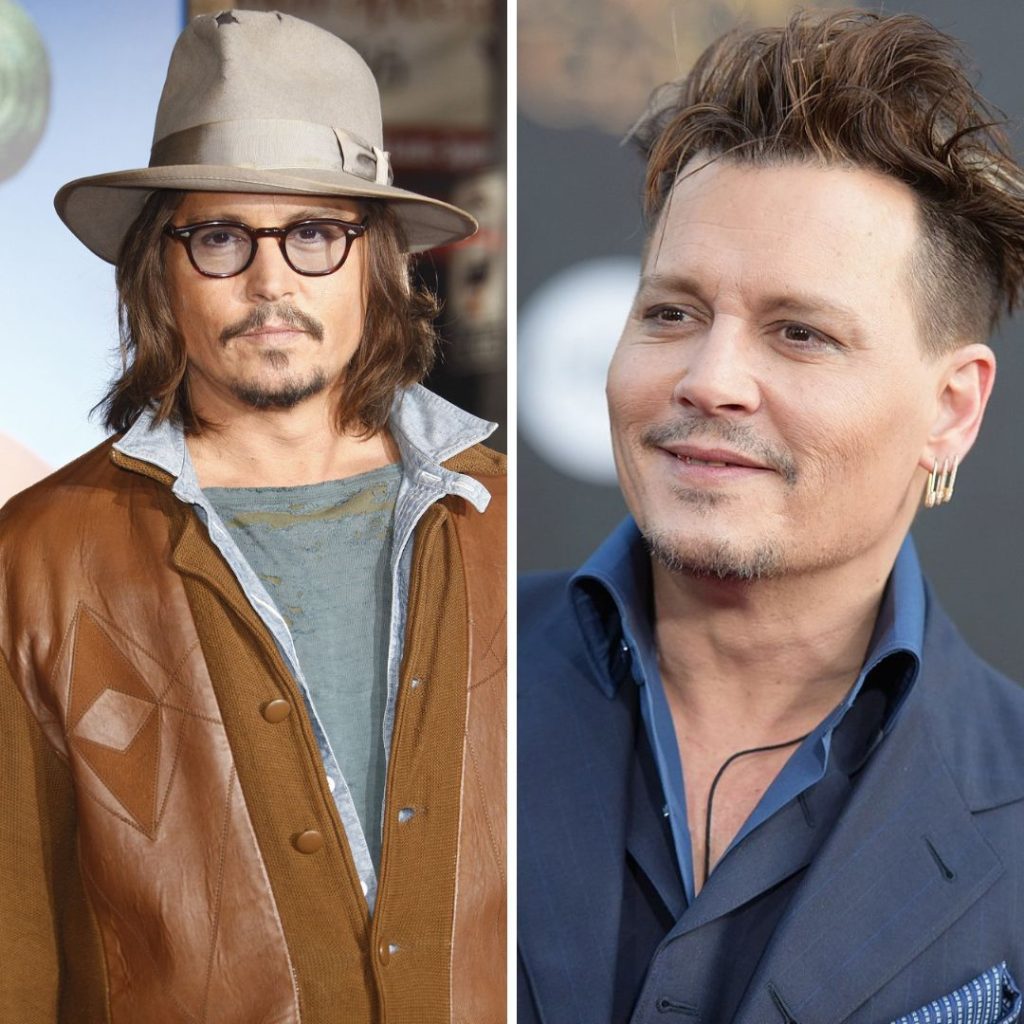 Johnny's known for sporting fedora hats of all styles and colors, bringing back a trend that was popular in the past century and making it modern. The classic headwear is now sported by all kinds of people, most of whom got their inspiration from him, making a pretty buck for fedora hat designers.
Oversized sweatshirts
Celebrities of the '90s played a huge role in influencing the streetwear aesthetic. Aaliyah might be credited for redefining contemporary R&B, but she also deserves a lot of recognition for pioneering the streetwear of today with her oversized clothes, particularly the sweatshirts.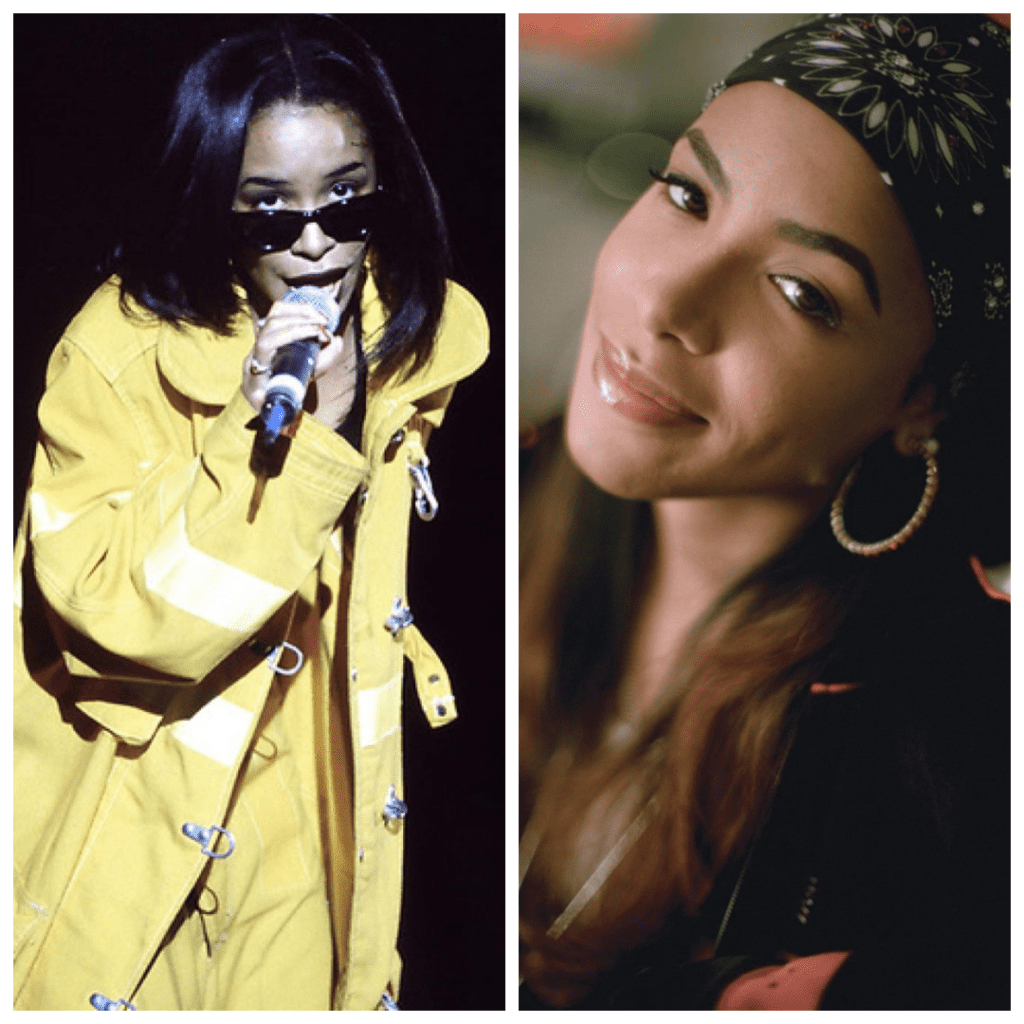 Her style was the perfect mix of masculinity and femininity, and all her outfits were timeless pieces. Aaliyah's signature accessory was her oversized sweatshirts, and often, ones designed by Tommy Hilfiger, which drew even more attention to the already well-known brand.
Jean Seberg's pixie cuts
Very few hairstyles accentuate a woman's features like the pixie cut and seeing how selective it is, it's pretty hard to find a woman who can pull off the style well. Jean Seberg was an icon and actress who could pull it off with ease.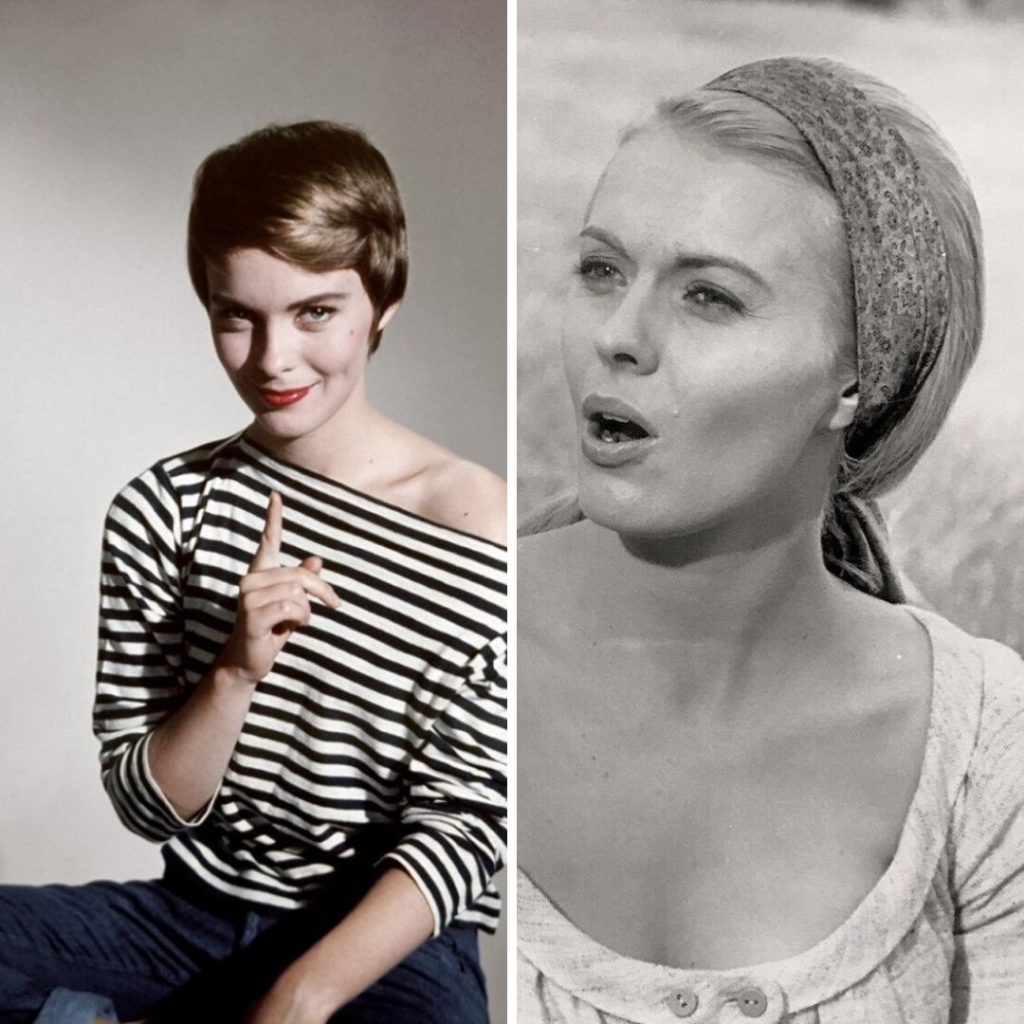 It was her signature look during her prime, and when she became popular, the hairdo did too. Now, a plethora of Hollywood stars are also known for rocking the look, and while they all look gorgeous in it, Jean's was still on a whole other level.
Mini Dresses
Jean Shrimpton might be an actress, but she's also considered an icon in the fashion and modeling industry, being one of the first supermodels in the world. But the English model didn't rise that high without having a few fashion gems of her own.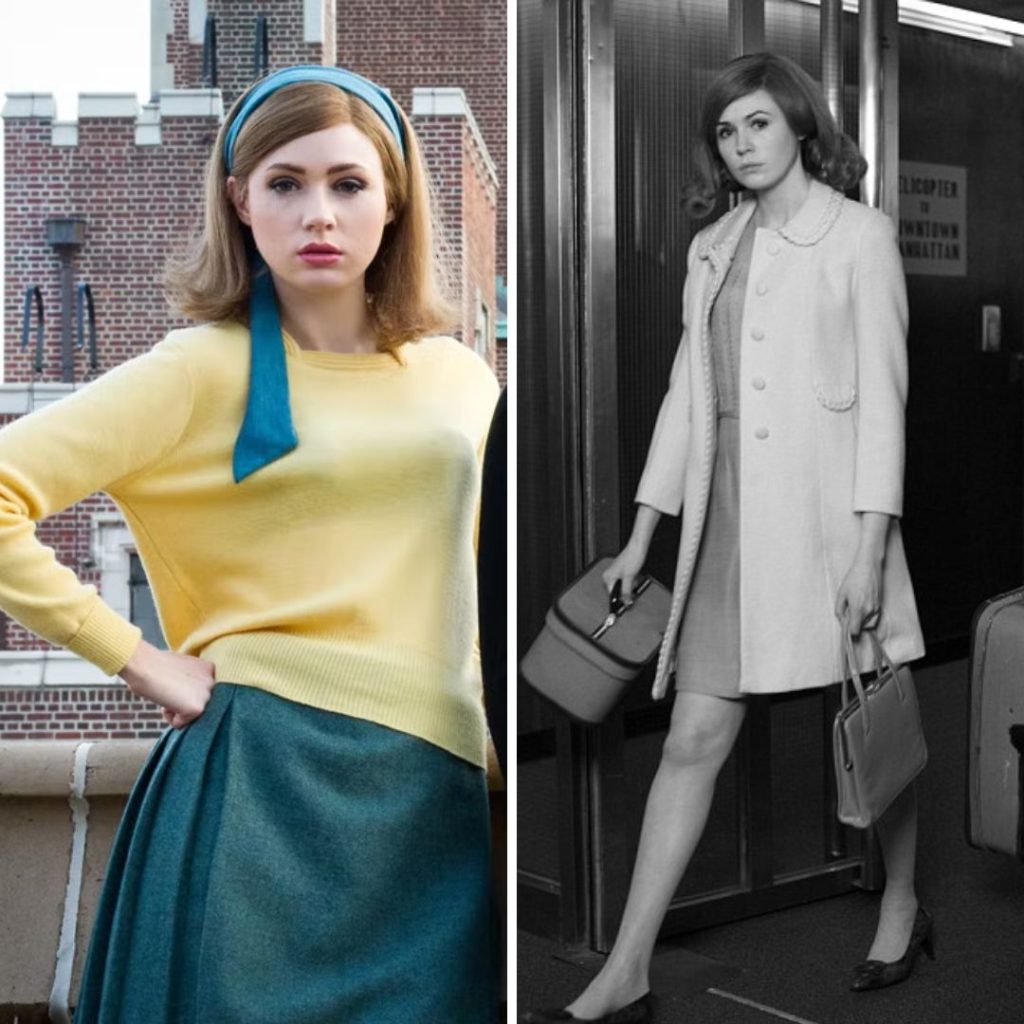 A dressmaker was tasked with making an outfit for her for an event, but since he didn't have enough fabric, he decided to make one that was a bit short. It might have made the media go gaga then, but it quickly became a hit among women in the '60s.
Ballet Shoes
There are a number of things that defined Audrey Hepburn's impressive wardrobe, and it wasn't just the gorgeous little black dress she popularized. She was also known for those waist-clinching belts and the simple yet comfy and versatile ballet shoes.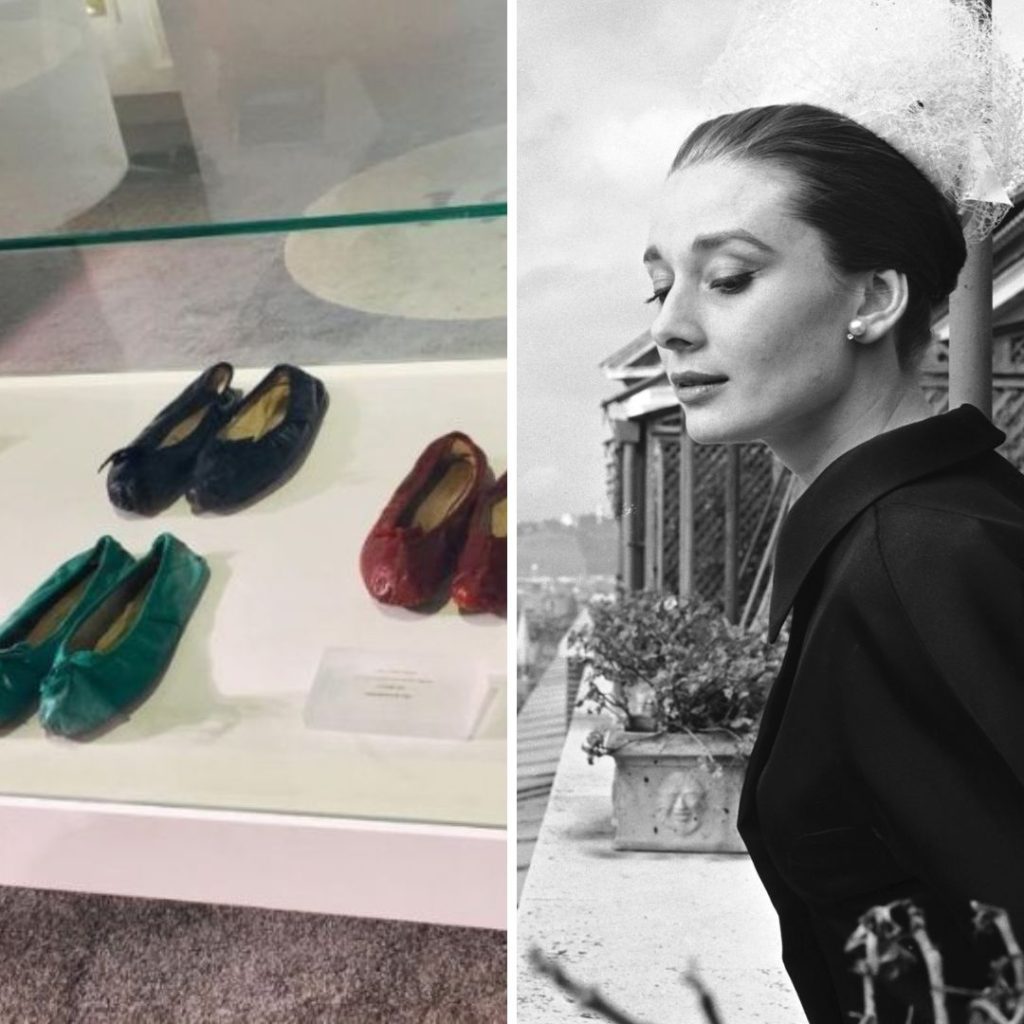 Her flats were custom-made by the designer Salvatore Ferragamo, and she paired them with absolutely everything, from dresses to two pieces. Although incredibly simple, Audrey made the shoes look elegant and glam, and now, they're a staple in nearly every lady's wardrobe.
Plaid
The 1995 teen comedy and coming-of-age movie, Clueless was a hit for a number of reasons besides its lightheartedness and high school drama. One of them was the incredibly stylish outfits the characters, especially the two besties "Cher" and "Dionne," were always seen draped in.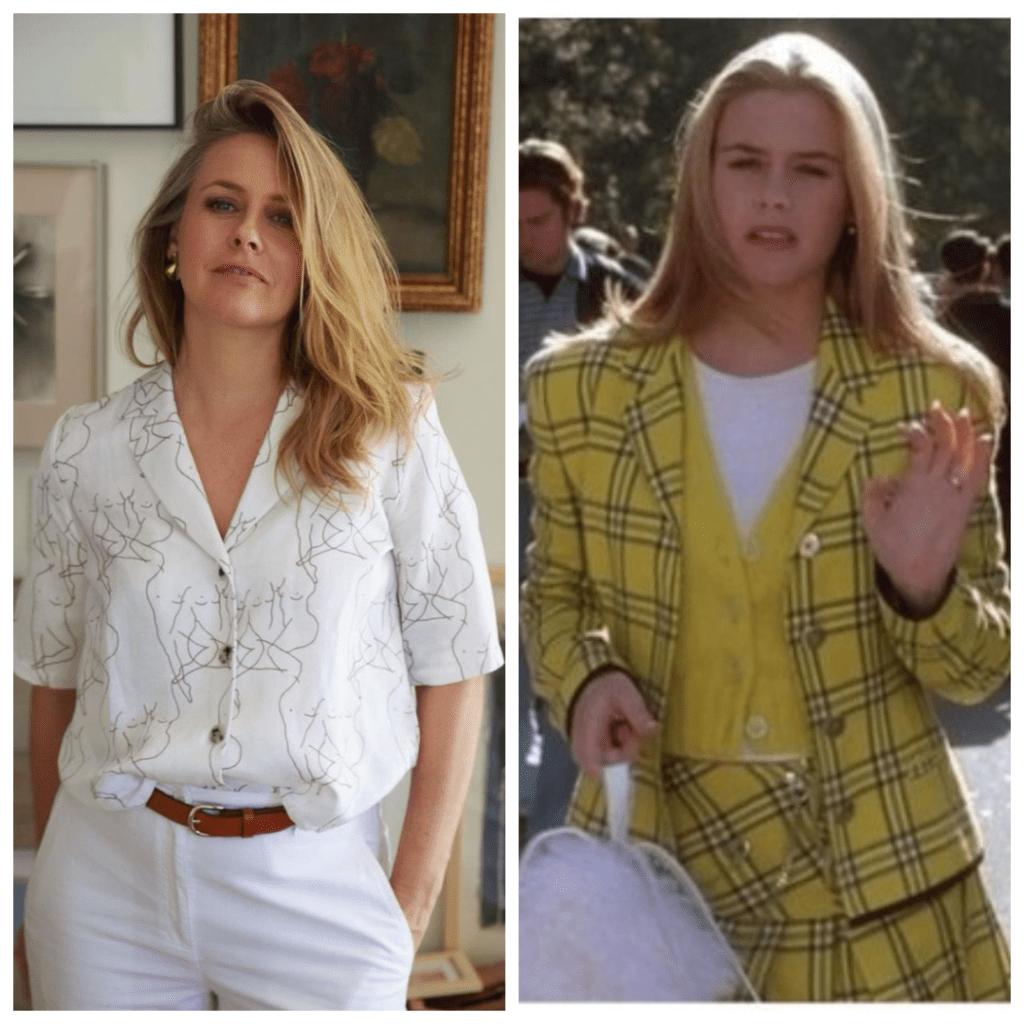 People will forever tag the yellow plaid schoolgirl outfit "Cher" wore as nothing short of chic and iconic. Today, plaid is worn by so many people in so many kinds of outfits, and while we can't say their appearance in the movie is the reason behind that, it certainly served as inspiration for some.
Newsboy Hats
Britney Spears had an early start to her career, signing a record deal at just fifteen and rising to fame with her debut song, Baby One More Time which became a mega-hit. Being the pioneer of teen pop, Britney not only rocked the world with her vocals but with her style as well.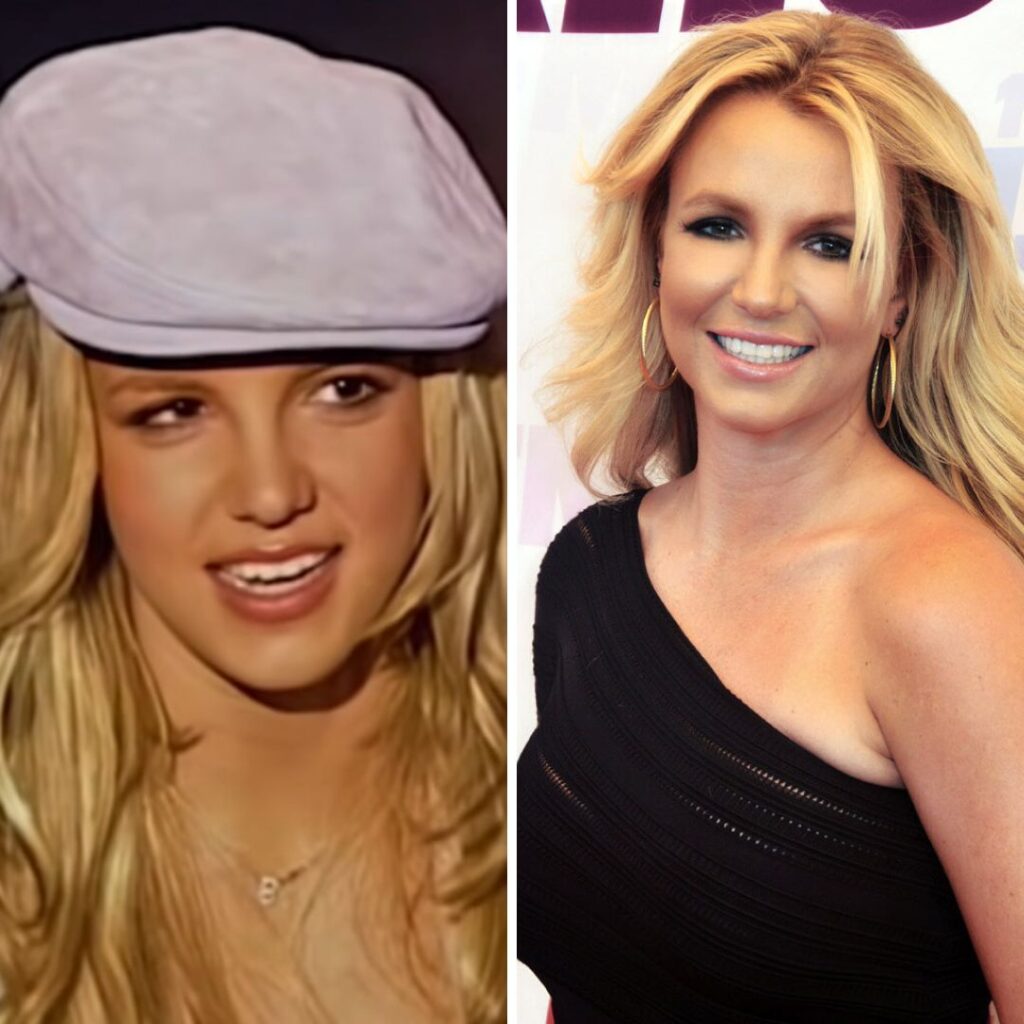 Newsboy hats were articles of clothing no one even cared to look at twice, but Britney took them and turned them into pieces worthy of a star. They were a staple in her closet, and as she was often spotted wearing them, people began rushing after them.
Brogues
Men's fashion isn't half as dynamic or exciting as women's, so it's always a breath of fresh air whenever we see a new trend pop up in that sphere. Although Brogues have been around for a while, David Bowie had his way of making them look trendy.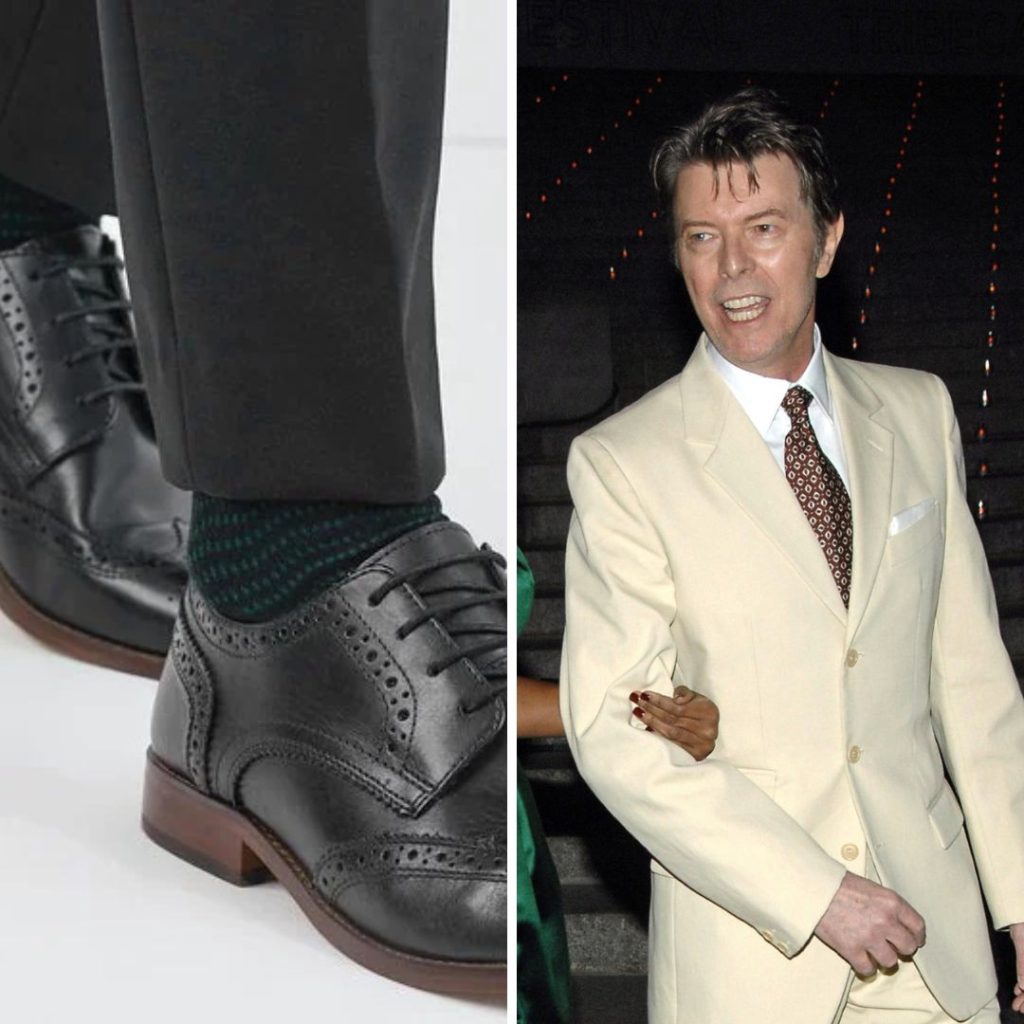 He was a prominent figure in the industry and heavily influenced the glam culture of the '70s, so it's no wonder his fashion was the subject of discussion. Anyone who's ever seen snaps of him must have noticed he's a man of the brogue, pairing these shoes with all sorts of outfits for various occasions.
Madonna's pointy bras
As the Queen of pop and one of the most successful and renowned musicians of the 20th century, this woman is revered in the music industry. Being the legend she is, it's no surprise Madonna's fashion choices have been the source of some major trends.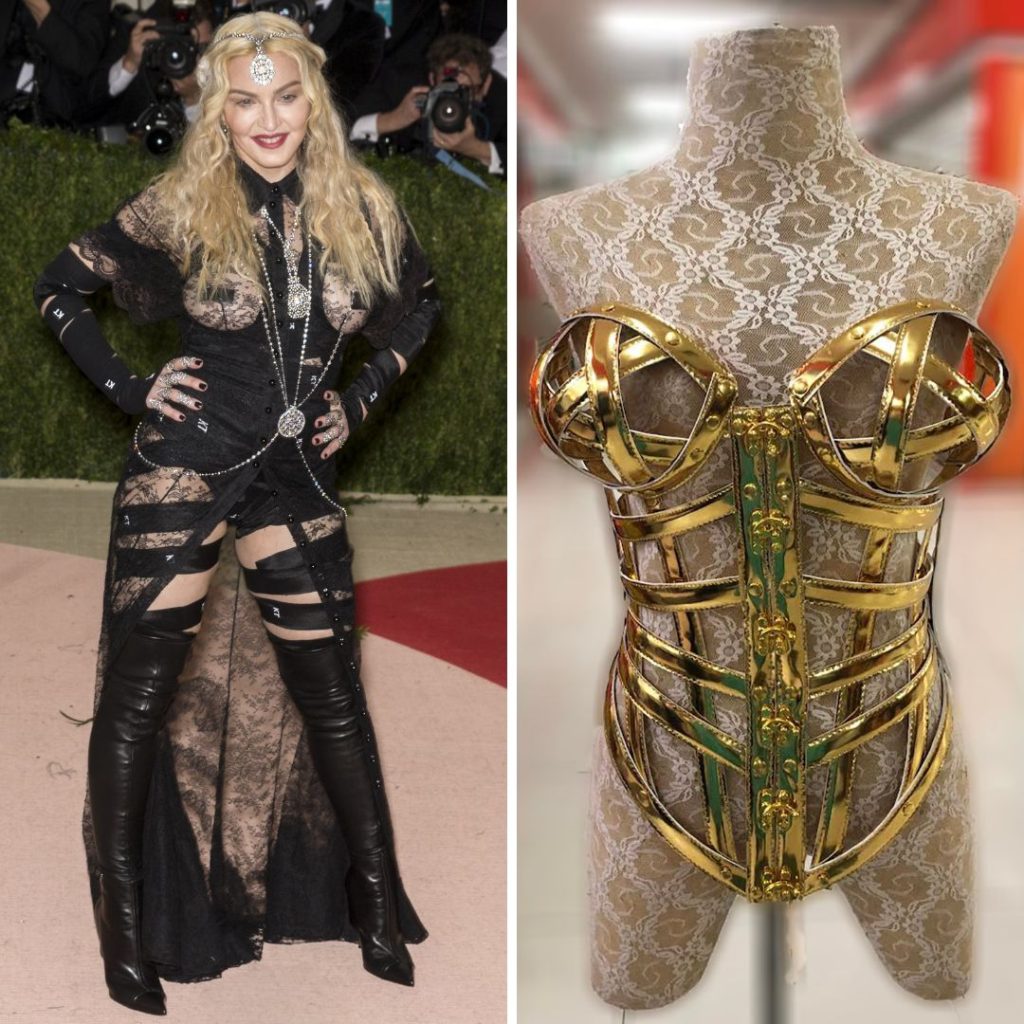 Through her collaborations with some designers, she made pointy bras a trend. We especially adore the one she wore for the video of her hit song, Vogue. They might not have been the most practical articles of clothing, but they were still worn by people who wanted to emulate her eccentric and iconic looks.
Red Lipstick
While the makeup industry keeps evolving each and every day, there are just some products that will never get old. You may not know the most about what new products are in and what they're about, but you can always count on red lipstick to stand the test of time.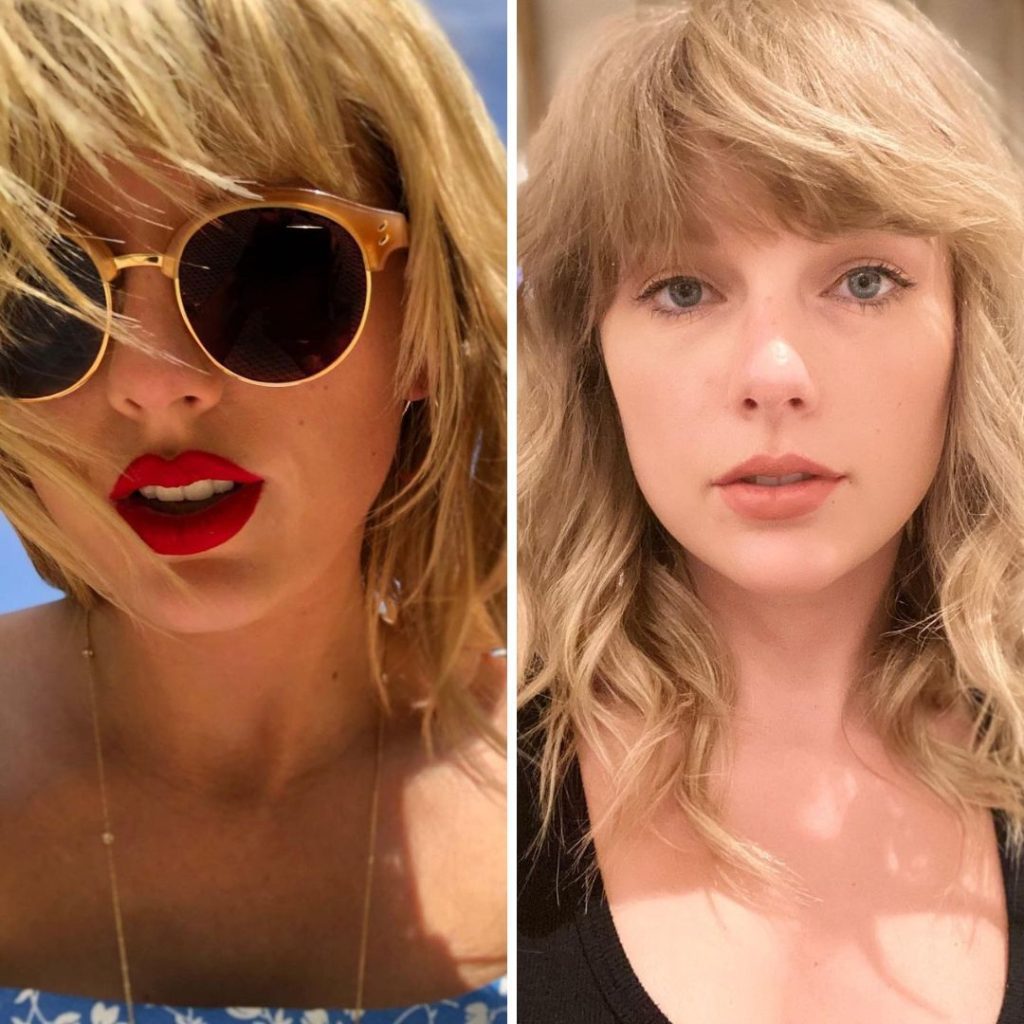 It's been worn by all kinds of women all around the world, but only a few rock it as their signature look. One of the biggest celebs who love this lippie is Taylor Swift. She even has an album called Red! Seeing how stunning she looks in it, it's no wonder she loves it.
Kate Moss' Leopard print
You don't get to become one of the world's most renowned supermodels without making some fashion trends of your own, and Kate Moss has done just that. If you're an avid follower of her style, then you have surely seen her wearing leopard print.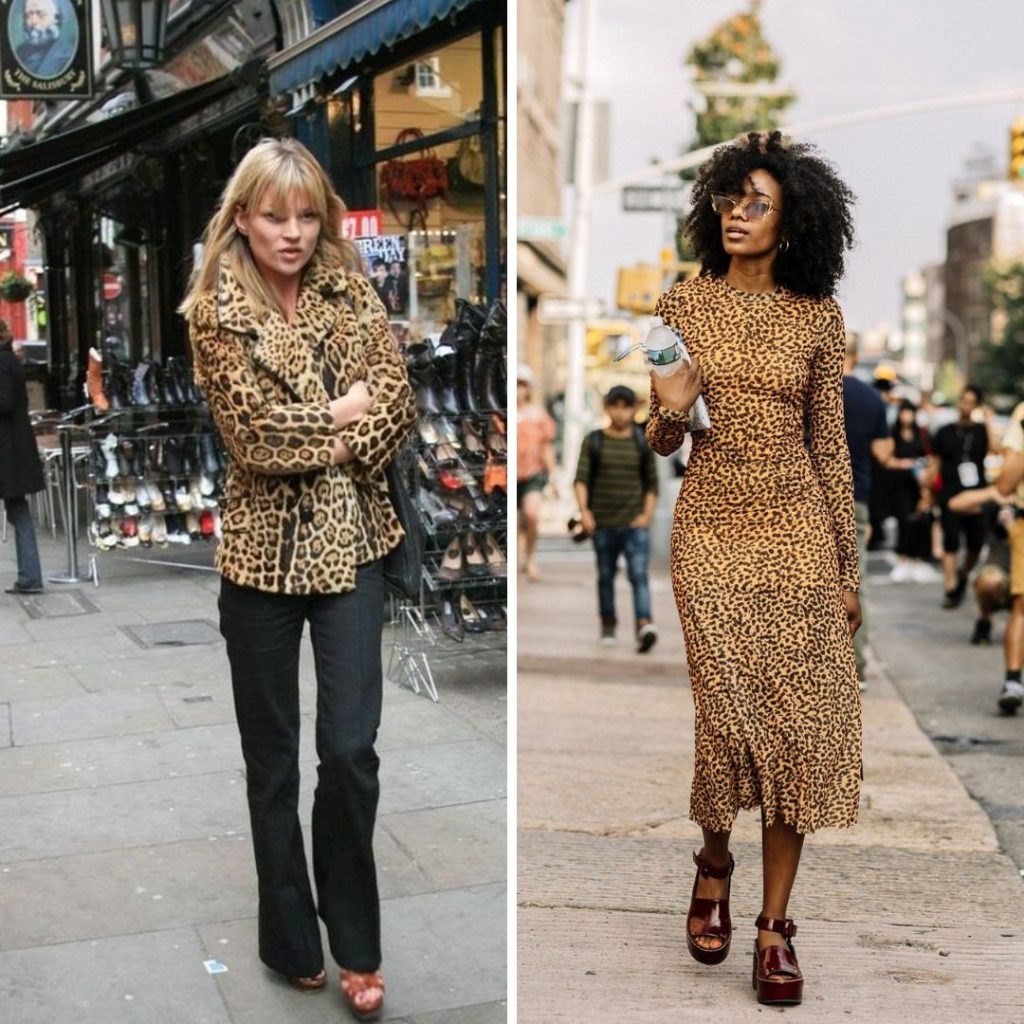 The supermodel has won the pattern to all sorts of events, in all sorts of styles and with all sorts of accessories, making many people hop on the trend, and designers release all sorts of clothing and apparel with the print to capitalize on that.
White suits with black shirts
Most of these trends have been pioneered by celebrities seen in real-time, but some of them also came about from what they were seen wearing in movies, shows, and even music videos. John Travolta's black shirt underneath a white suit is one of these.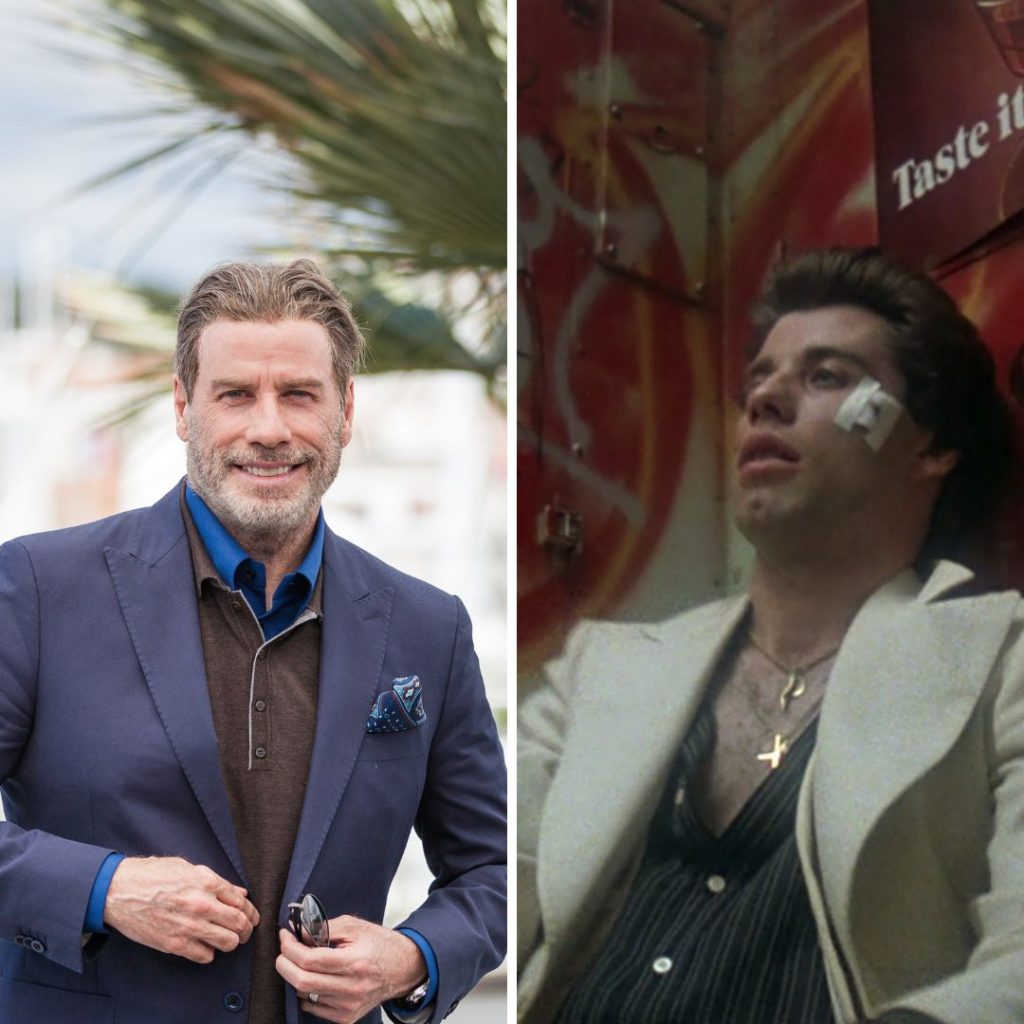 The actor starred in the 1977 dance drama Saturday Night Fever, and one of his most iconic outfits in the film quickly became a fashion trend during the era after the movie's release, and it's easy to understand why. The fit perfectly embodies what '70s fashion was all about.
Elton John's Tinted Glasses
This list would be incomplete if we failed to mention one of the most legendary singers, Elton John's most copied looks. The man was everywhere during his prime, so it's no surprise one or two of his looks caught on with the public.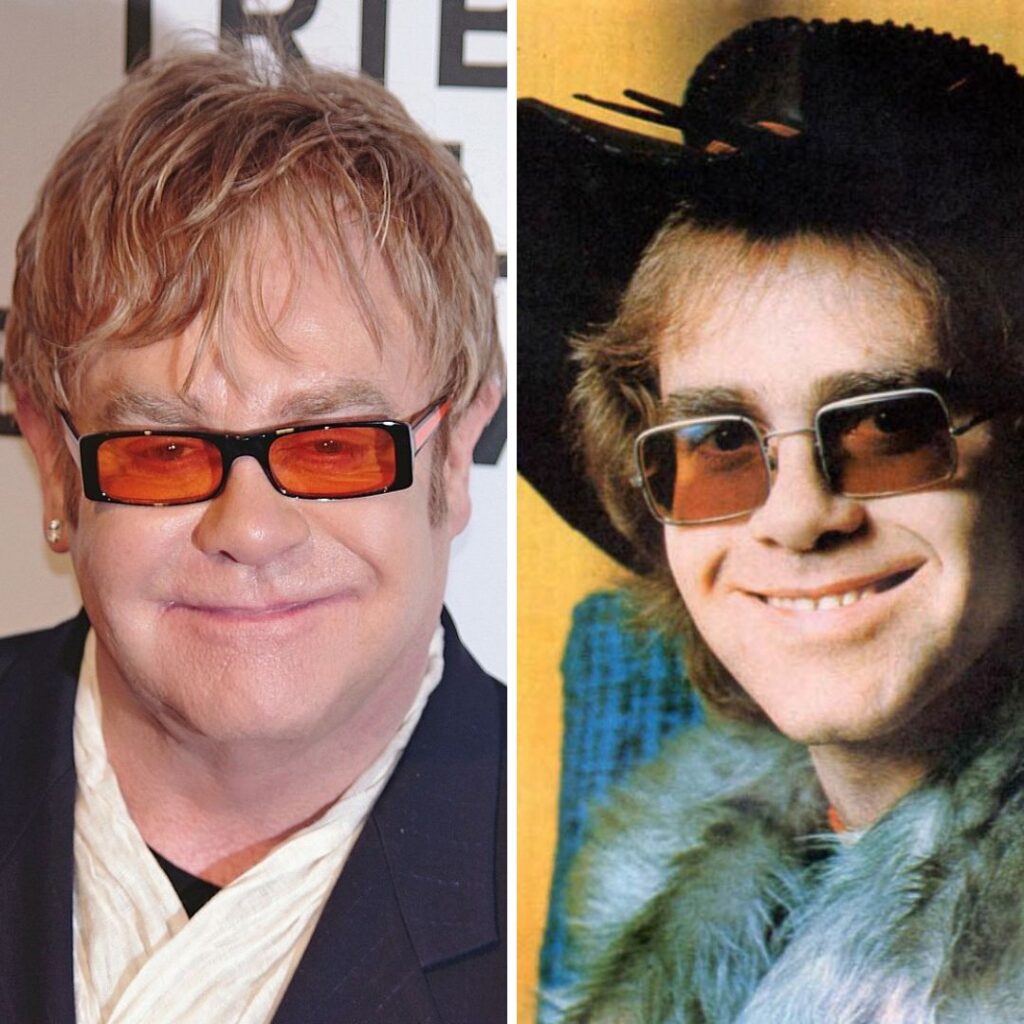 Elton John is known for his eccentric clothes and accessories, too, like his over-the-top outfits and unique tinted glasses. He's rumored to have thousands of pairs, and we're pretty sure each and every one of them looks amazing on him.
The Rachel
Sitcoms have dominated TV for as long as we can remember. From Modern Family to The Office and Seinfeld to The Big Bang Theory, they have all been mega hits around the globe. One of the biggest ones, and our personal favorite, happens to be Friends.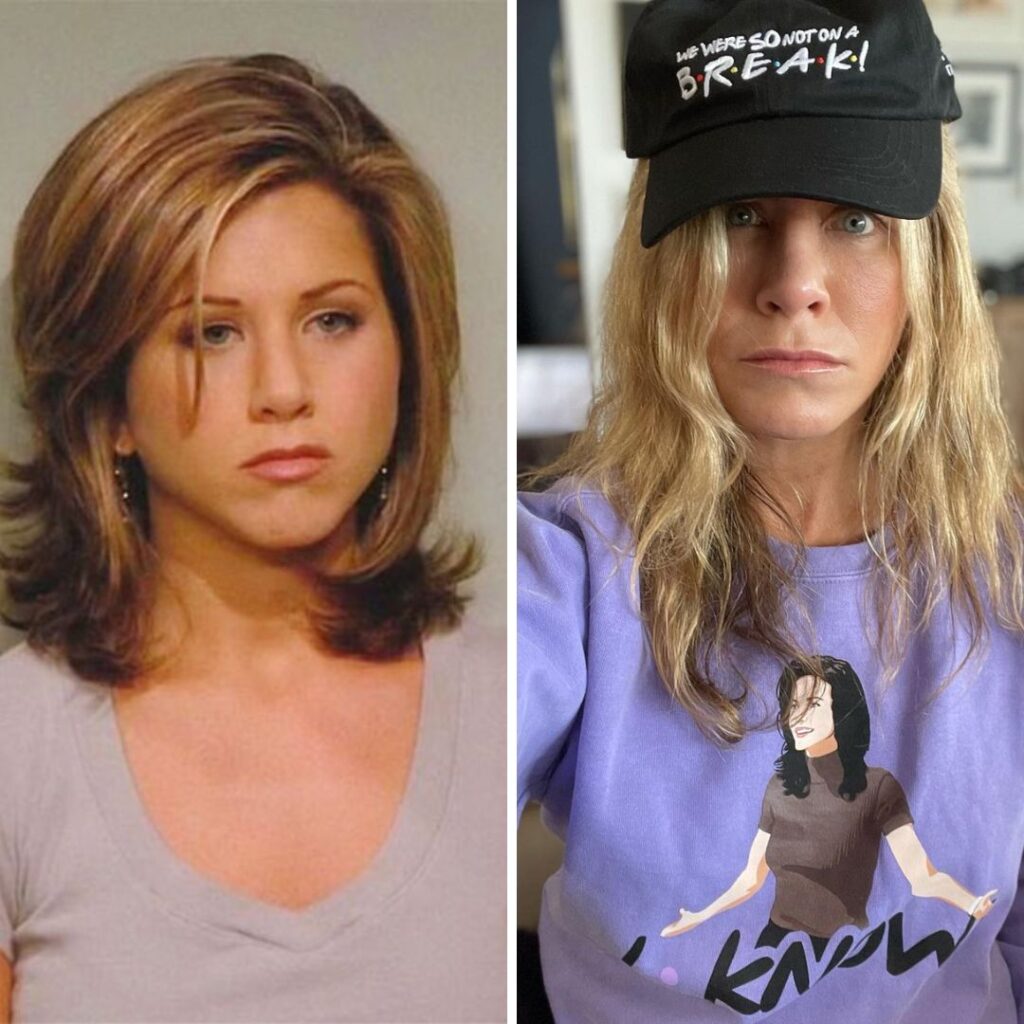 It was the show that birthed many amazing actors and actresses, one of them being Jennifer Anniston. Her character, "Rachel," was known for being stylish and had this signature haircut that gained popularity during the first years of the show's airing.
Red Hair
Rihanna has been selling out shows with her hits and setting trends with her style from the moment she stepped into the spotlight. The singer and businesswoman started a number of hairstyle trends, from her signature pixie cut to her red hair.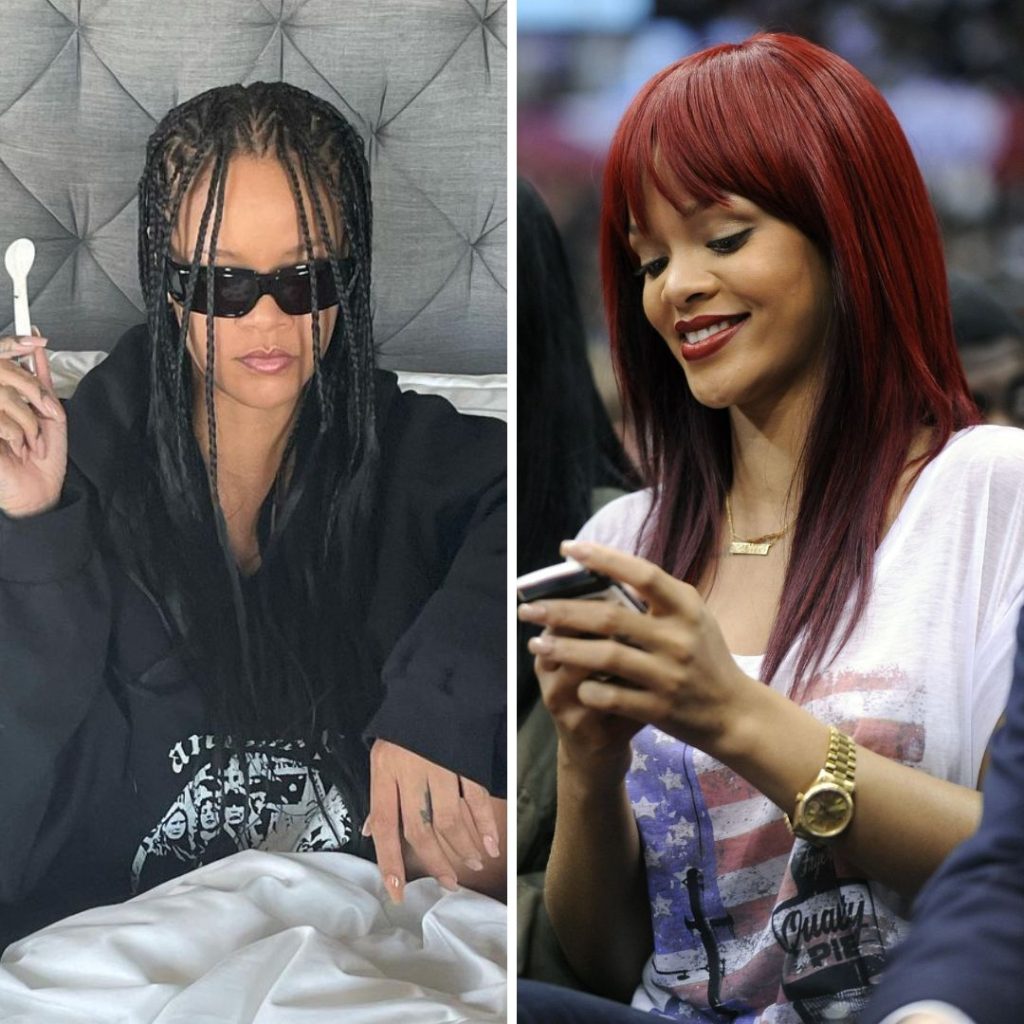 Just about every music video from each song in her hit album, Loud, featured her with red hair, and it soon became a sensation. Many people rushed over to their stylists to give them a cut with fiery red hair like Rihanna's! We wonder how many actually managed to pull it off.
Headbands
The American teen drama series, Gossip Girl, gave us lots of drama with all the lies, secrets, and mysteries, but it also gave us some pretty iconic characters with amazing fashion senses. One of those happens to be "Blair Waldorf."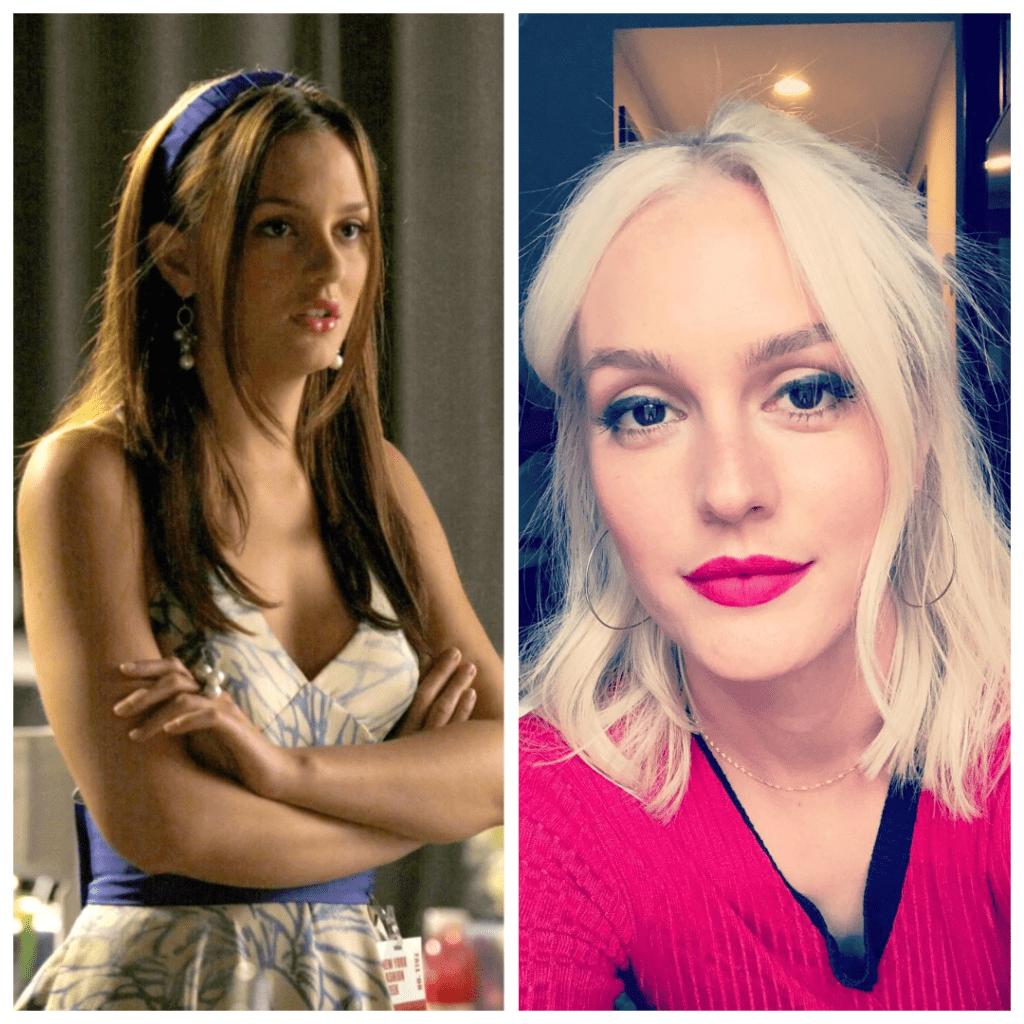 Played by Leighton Meester, she had a classy, polished, and preppy style, and we couldn't help but admire those stylish headbands she always wore. The Jennifer Behr headbands might cost over a hundred bucks, but teens all over the country would get much cheaper ones just so they could imitate her look.
Madonna wore underwear over her clothes
Madonna is by far one of the most famous and celebrated pop stars of all time. With all her memorable appearances, it's no wonder some of her looks made the rounds for being super cool and often unique. One of the most unconventional ones was wearing undergarments over her actual clothes.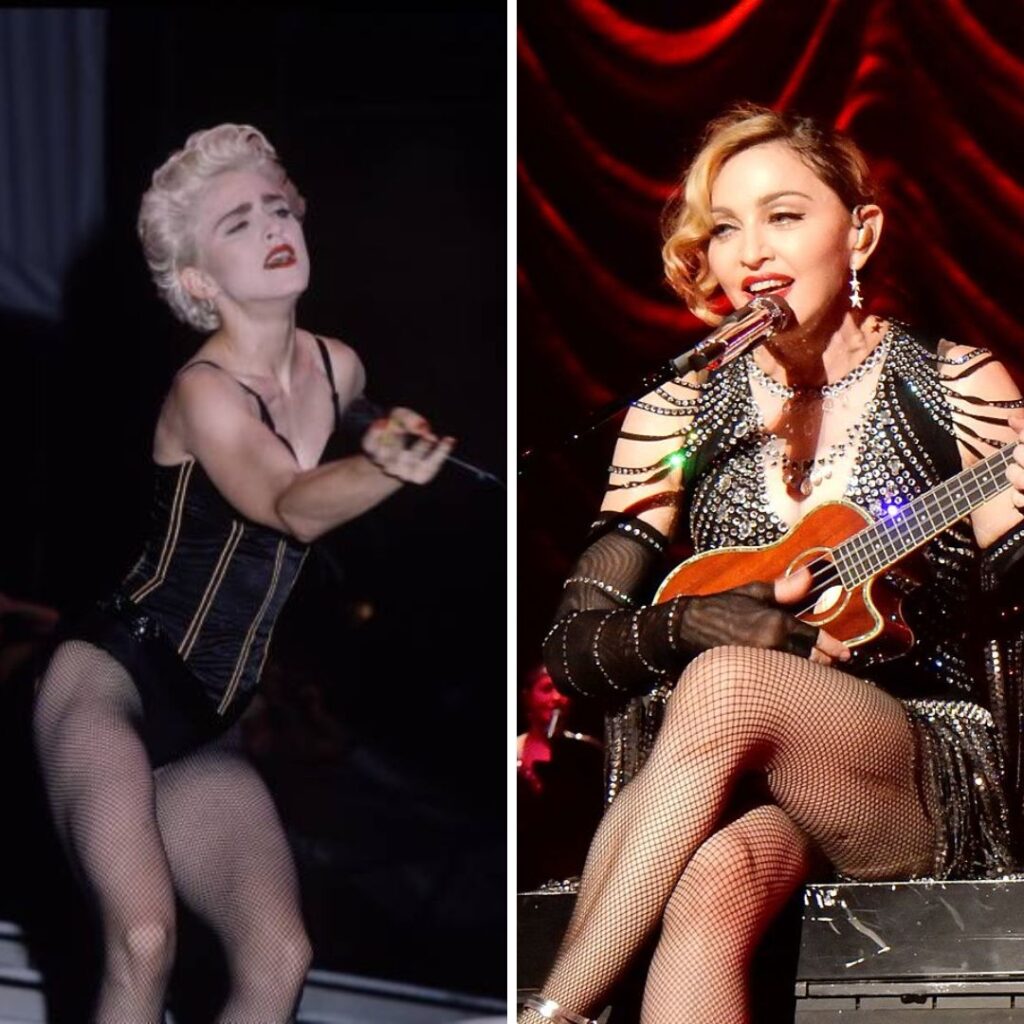 What used to be seen as super outlandish and weird became a sensation among the youth and a fashion trend that was now acceptable. Today, many people wear bralettes and corset tops in public as actual clothes, and no one bats an eyelid.
Prince's Colourful Suits
You can call a variety of celebrities fashion icons, but they all pale in comparison to those who challenged the norms and broke down barriers in the industry. Some of those revolutionaries in men's fashion include Elton John and the legendary Prince.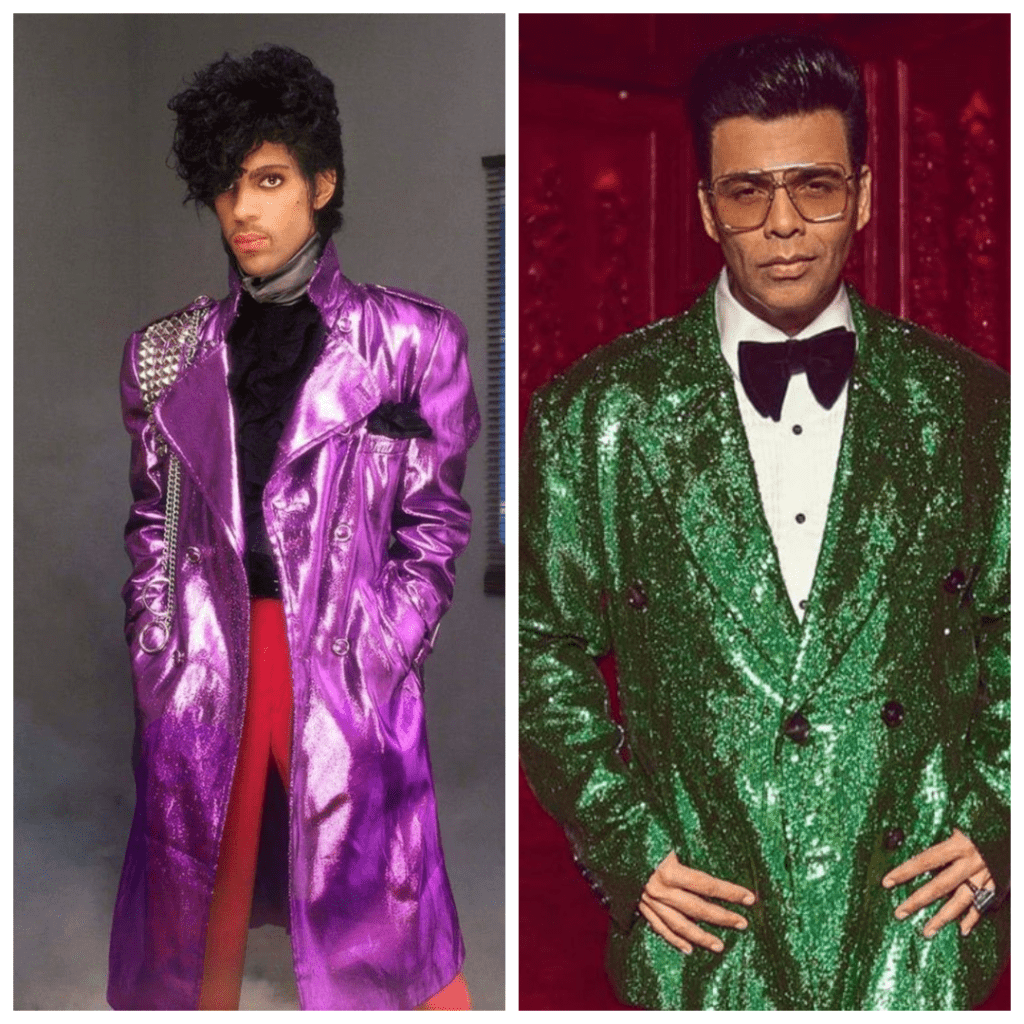 Prince's style was extremely fluid, being frequently spotted in high heels and extremely tight clothing. He was quite bold when it came to his fashion and wore bedazzled colored suits, paving the way for over-the-top dressing in the industry today.
Pink clothing for men
Elvis Presley is considered one of the greatest artists of the 20th century and a pioneer of the genre he was most famous for, rock & roll. But many people often forget the star was also a fashion icon who revolutionized men's fashion during his era.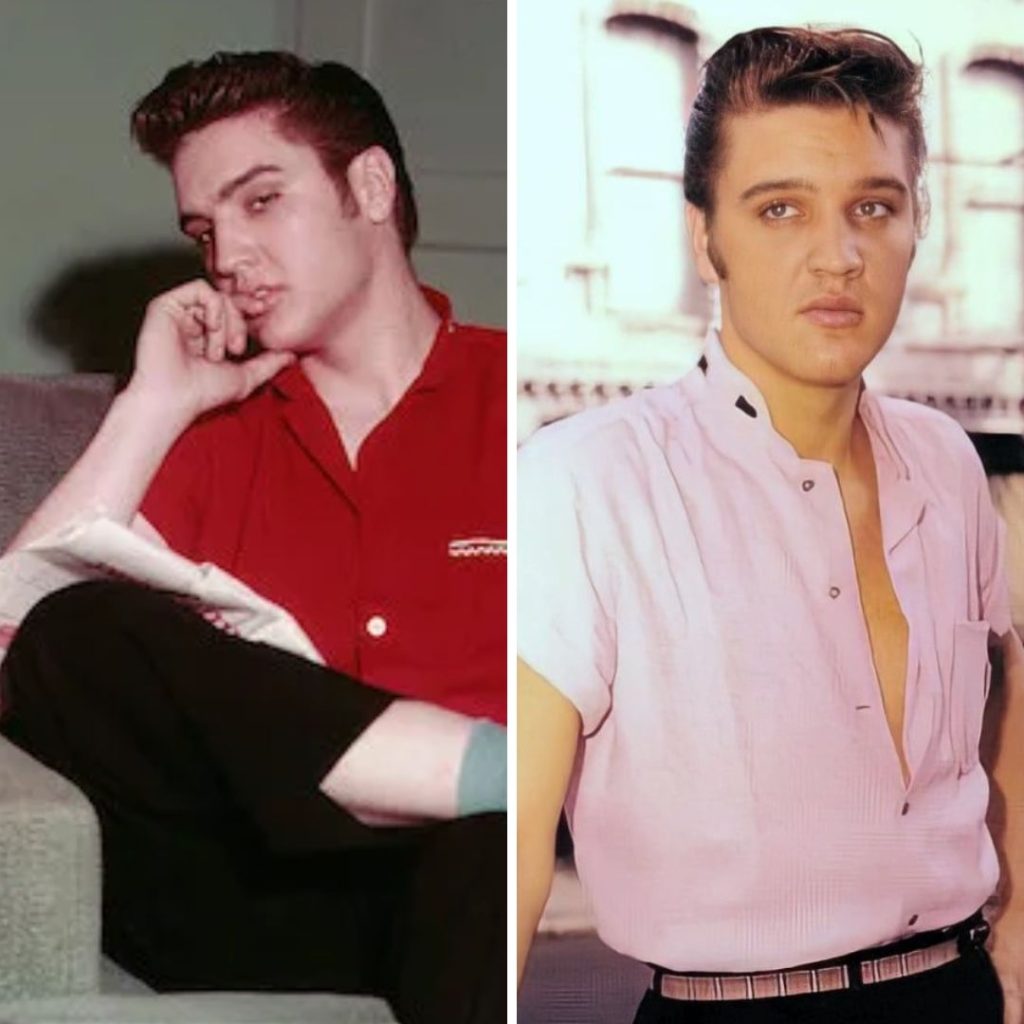 Pink is widely considered a soft and effeminate color, but Elvis challenged the notion and wore the color frequently, making it more acceptable for men to sport clothing with pink. Nowadays, people rarely bat a lid when a guy walks around with a pink shirt.