A Touch Of Color And Sparkle: 45 Glitter Tattoos That Stole The Show
By Jana I January 19, 2023
---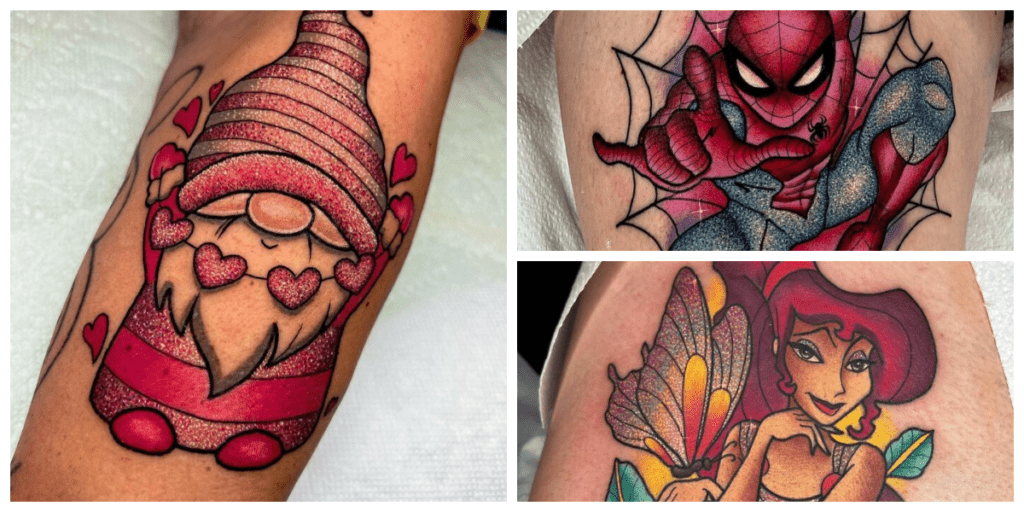 We are gathered here today to admire 45 amazing glitter tattoos we've found all across the internet. They range from ethereal and gorgeous animals to strange and humorous celebrity sketches. We guarantee that there is something for everyone, and that's why we like them so much.
Do you know why humans are so drawn to glitter? Allow us to explain. Glitter glistens and resembles the way light dances on the water. And said water is essential for every human on this planet. So, our fascination with glitter literally stems from our primal instincts for survival.
Now, you are smarter with this piece of information. You are welcome! Anyway, let's end this biology lesson and move on to the first image in our awesome collection. Enjoy!
Dancer Tattoo
For all our readers who love dance, we have this glistening tattoo. We expect more women to be inclined to this since it depicts a girl dancing as far as we know. We especially love that glittery detail around her. It made us curious about how artists create that effect.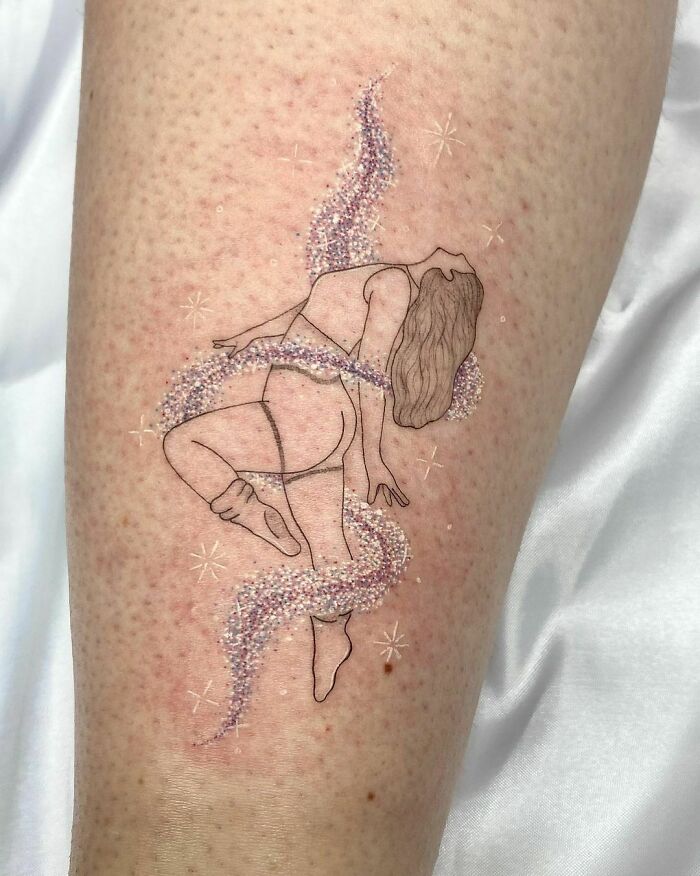 We are huge fans of these simple, one-lined tattoos that look like they came straight out of a Rupi Kaur poetry book. The glittery detail only sets the deal here. It gives the tat a bit of pizzazz. The pinch of spice that it needs. Perfect for a dancer.
Magic Wand
This one is far more complicated and detailed than the previous one. It is much more colorful, as well. If we had to guess, we'd say this was most likely the tattoo of choice for a hippie that loves to meditate and read tarot and astrology charts.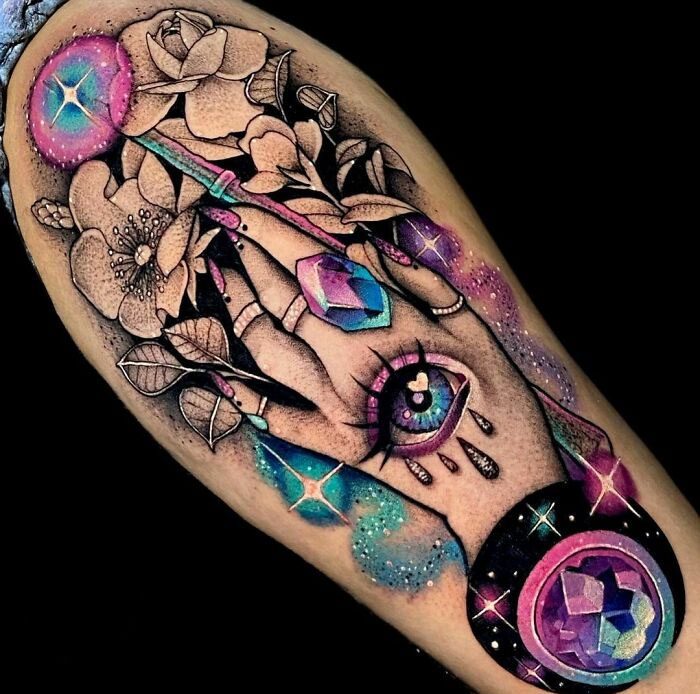 We love the color palette. The artist used such bold colors here's and the end result was something truly magical. Look at the eye with a little heart inside. It must have meant something. However, not everyone can wear this and look fabulous.
Sand In A Bottle
This one was the first one that had us go, "Woah! Stop. That's actually drop-dead magnificent!" We like the two previous ones, don't get us wrong, but this one is something special. It is magical, the colors are wonderful, and the idea is creative and original.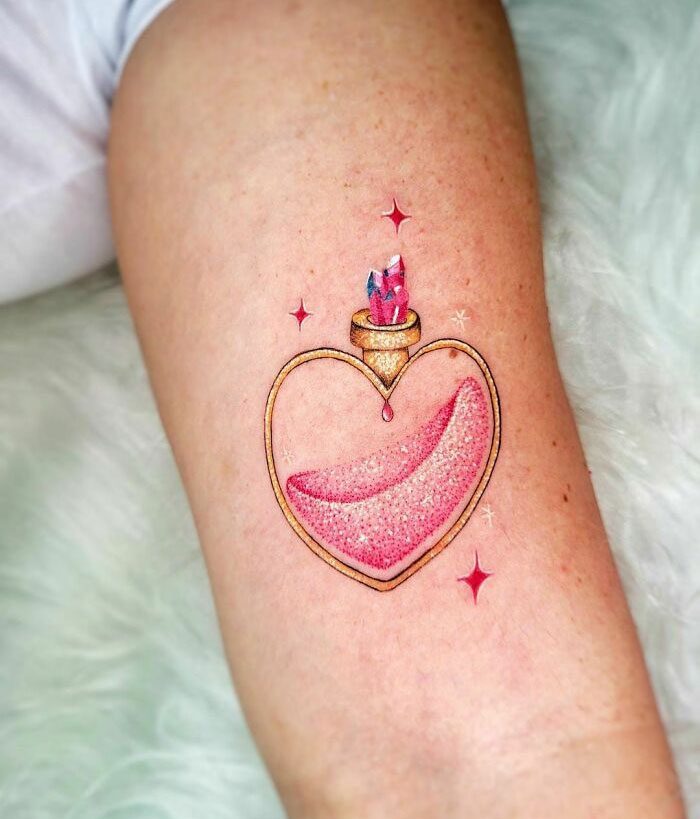 Look at it! It's a bottle in the shape of a heart with a ruby-covered cap at the top. There is some glittery substance inside. Maybe some kind of special sand? We can't quite tell what exactly out of all that makes it most interesting. We would definitely get this.
Niffler, Is That You?!
Someone said this looked like a baby platypus, and we thought that, too. However, upon further inspection, we figured out it's actually a niffler from Harry Potter! Nifflers are, according to lore, attracted to shiny, glittery things. How on par!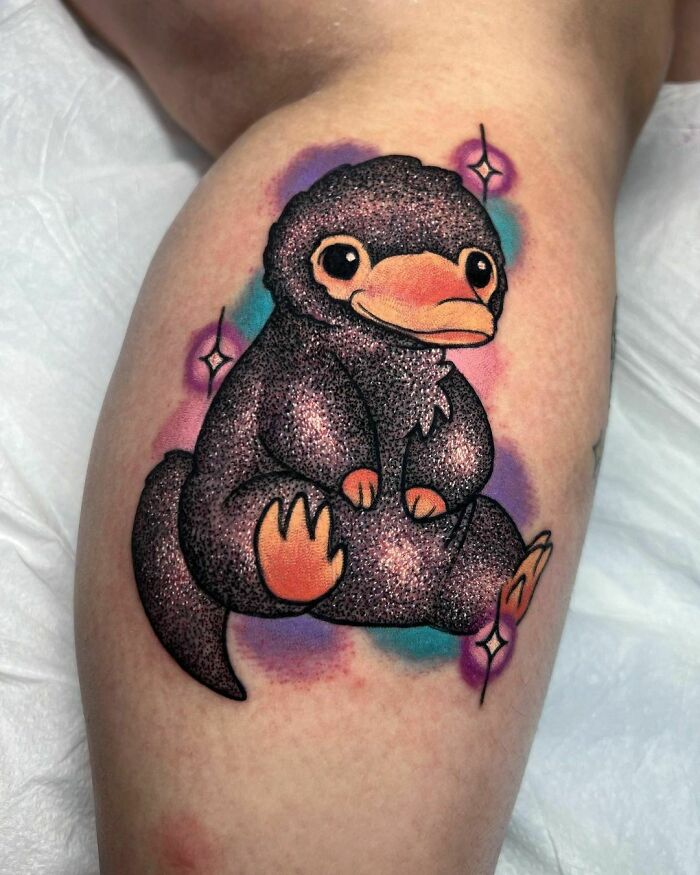 We are sure that people don't tattoo nifflers often, so whoever did this can brag that it's unique. After all, the rarer any kind of art is, the more valuable it gets. It's no wonder that people like to be different and stand out.
Adventure Time Tattoo
He is a dog/shape-shifter hybrid and "Finn the Human's" constant companion, best friend, and adoptive brother. If you are a big fan of animated series, then you must know "Jake the Dog" from Adventure Time. We're still kinda sad it got canceled.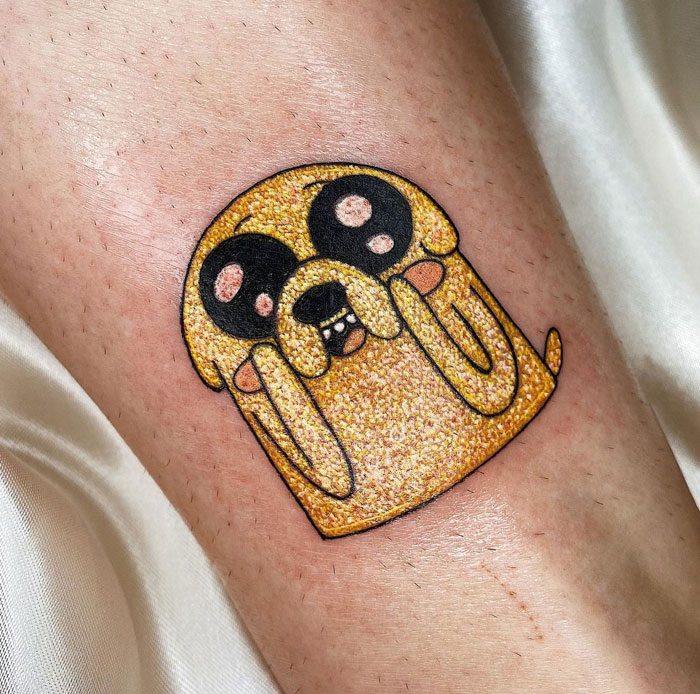 On the other hand, props to the artist for this fantastic tattoo! What we learned from researching this topic is that the artists don't use glitter after all. They just carefully distribute colors and include lighter hues to give the tattoo that glittery effect. Did you know that?
Ursula
We loved The Little Mermaid when we were younger, and to be honest, we still adore it to this day. However, we didn't like "Ursula," that's for sure. She and her disgusting eels gave us nightmares. Now, we think she is not all that bad, though, after seeing this.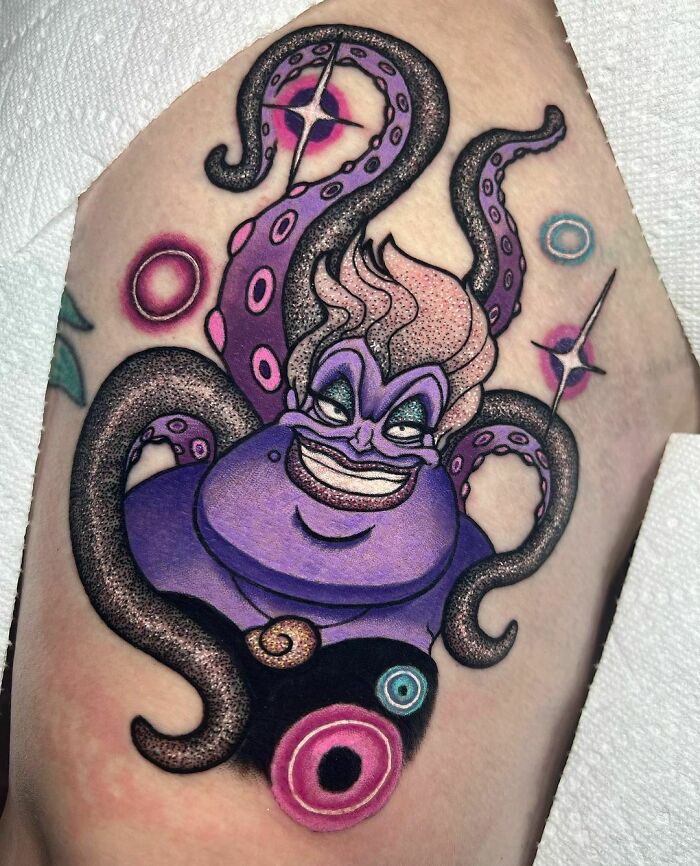 We love what the artist did with the colors here. It's so vibrant! The color purple is what we noticed at first glance. "Ursula" looks just as kooky and insidious as we remember. It's almost like the artist captured her just after she'd finished belting out Poor Unfortunate Souls!
Crossover
While we are still at Disney, let's hang out here for a while longer. We have a lot of House of Mouse moments to share. Here is one that caught our attention. It's a crossover of Aladdin and Cinderella. Wondering how that's possible? Take a look.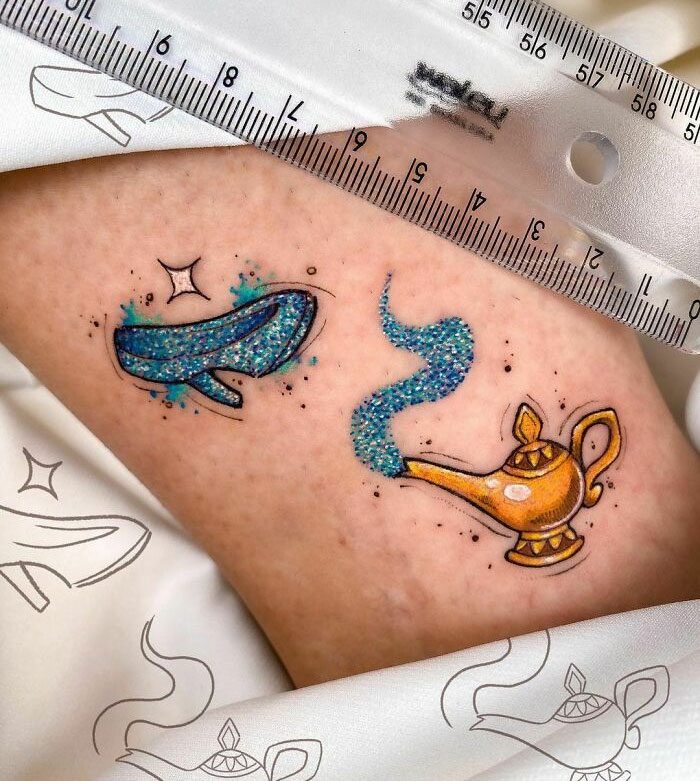 We love how this was made. These two objects are clearly inspired by the two movies. Random? We doubt it. You can go deeper and say all "Cinderella" wished for was her other shoe, aka, a prince, and the lamp (and, of course, "Genie") made her wish come true!
It's a Rhino In a Cup
That's it. That's the whole image. It's a freaking baby rhino in a teacup! That's as literal as it gets. However, it's one of the most adorable glitter tattoos we've seen. It's almost like a literal version of a teacup pig but with a teeny tiny rhino instead!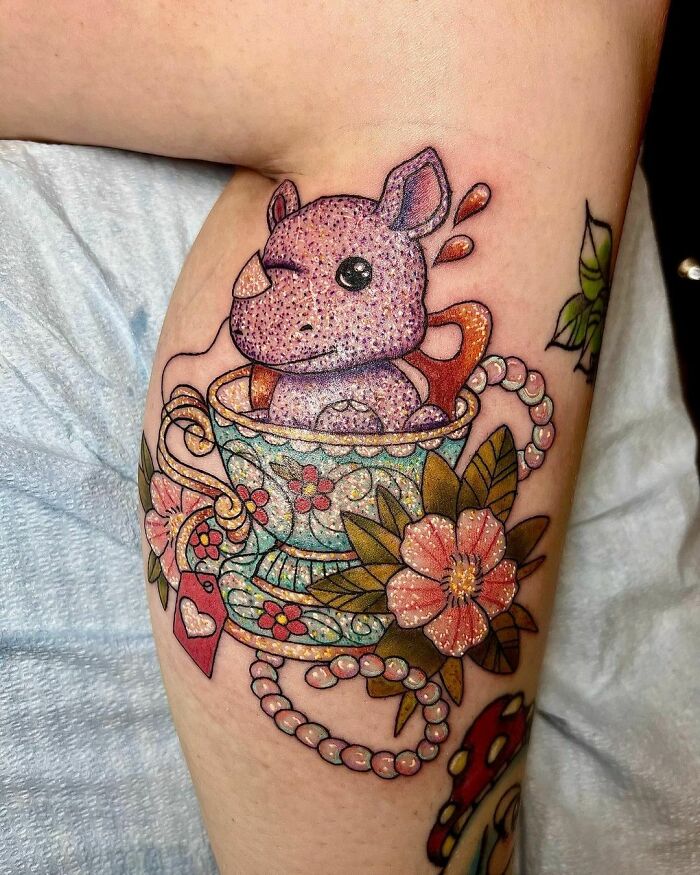 This tattoo either has some special, hidden meaning we are unaware of, or it's just as random as it looks. Perhaps the customer really likes rhinos and is sad over the fact that they are endangered. We can't know for certain. But, it's irresistible.
Slim Shady
There are only a few artists that we have loved and supported ever since we were kids and the most memorable among them has to be Eminem. The real Slim Shady has proved to everyone that his songs, and epic lines, will always stand the test of time.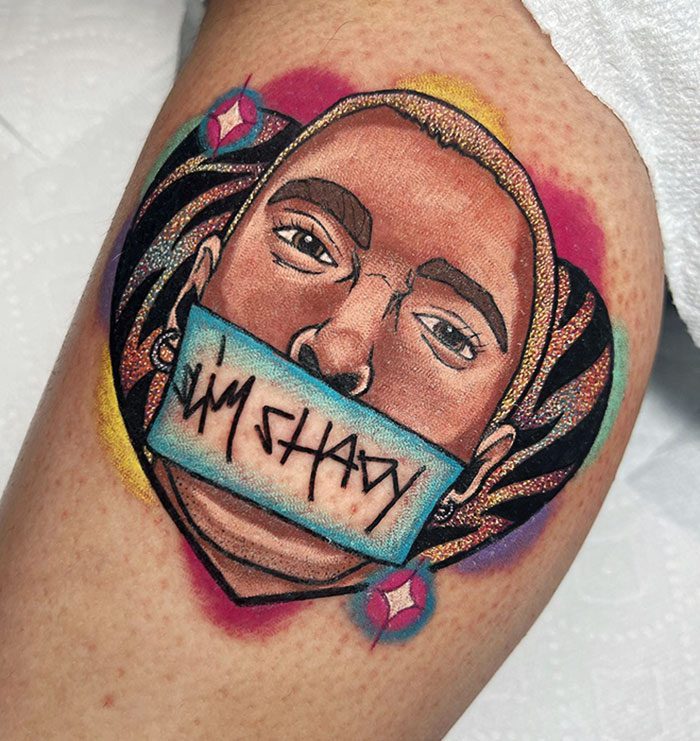 Not only that, but he talks about good values to both his younger and older audiences. He gets so vulnerable in his music, talking about everything he's been through. He is relatable, and we aren't surprised that someone, to this day, would tattoo his face on their body. Eminem is, after all, a (rap) god.
Sparkly Mushu
We are back at Disney. "Mushu" is the tiny, fast-talking red dragon on the 1998 animated classic film Mulan. As a character, he is hilarious and the self-appointed guardian of "Fa Mulan." We are happy to present a ✨ "sparkly Mushu!" ✨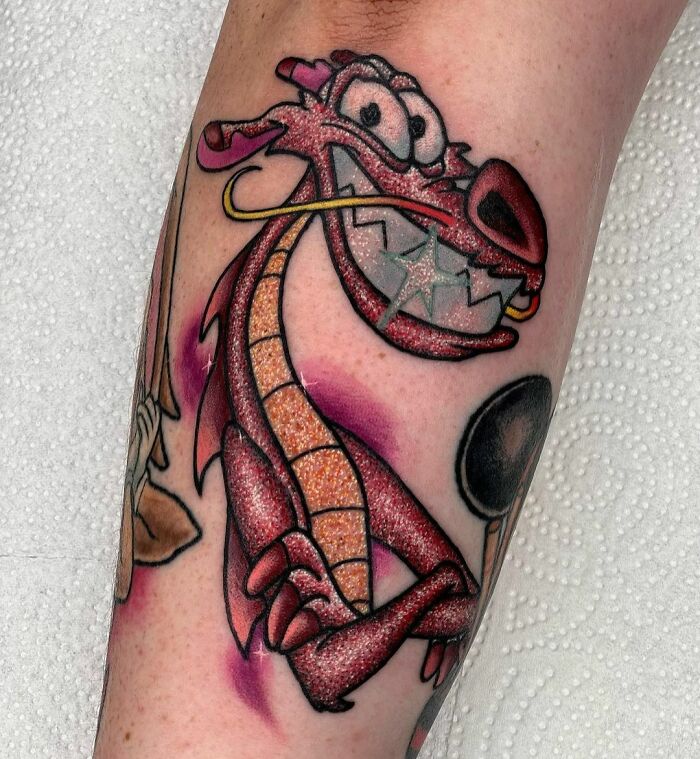 This Amanda Graves girl is so insanely talented. We have come across some amazing glitter tattoos on her Instagram page! "Mushu" looks more dashing than ever. The person who got this tattoo must be such a huge fan of the movie.
Beeautiful
No, that's not a typo, you cheeky reader. When we say 'beeautiful,' we mean exactly that! This bee is beautiful! Get it now? All jokes aside, we are impressed by how someone thought of this idea and how they brought it to life so incredibly well!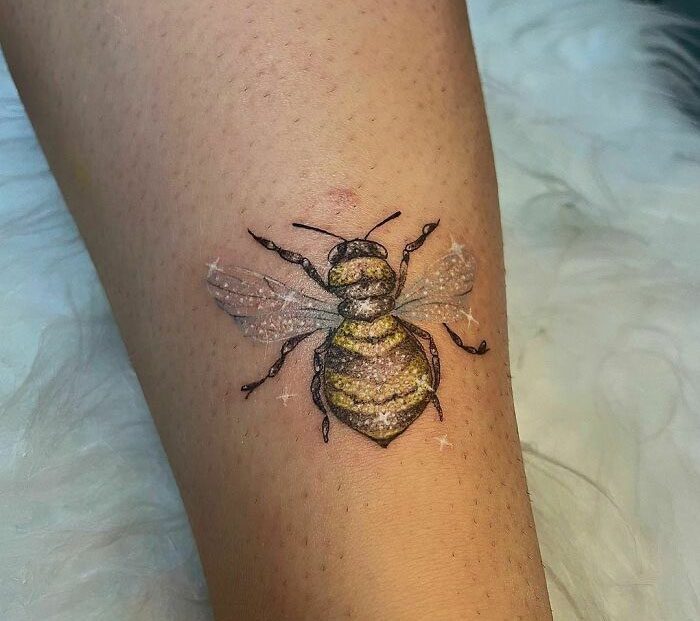 Bees are essential for human survival. We love them and the honey they make too. This tattoo, though, we love it slightly more than anything we have mentioned so far. It's so clean, so simple, and yet so beautiful. Needless to say, we are impressed!
Katy Perry Fever Dream
So far, we've shown you tattoos we loved and wanted to get done on our bodies, too. However, there are some we don't like as much and thought to share since everyone's tastes differ. Maybe, you will find something you enjoy!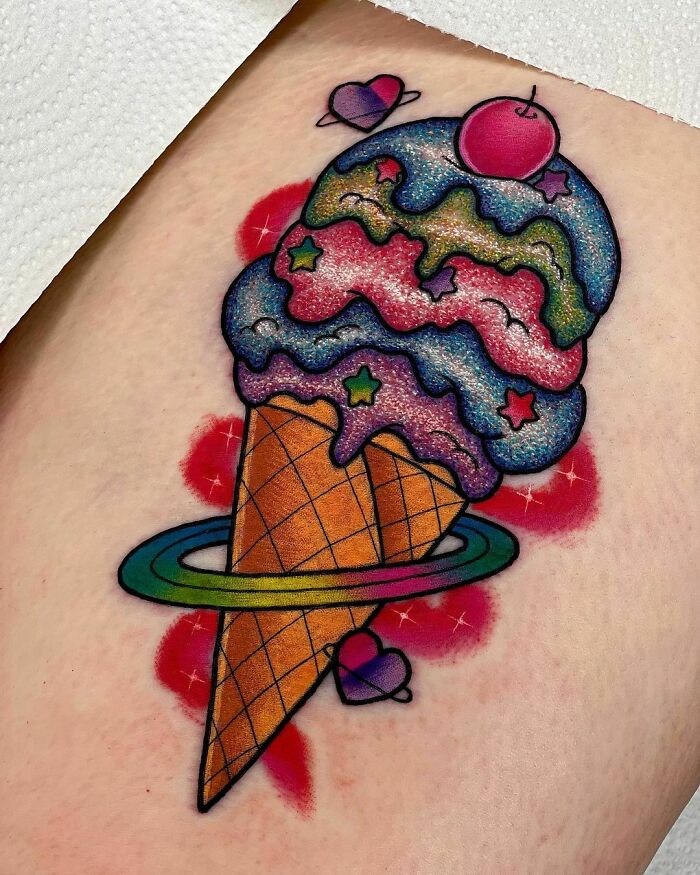 Our girl Amanda created another project. Although it's just as skillful and perfect as the previous ones, we can't say we are fans of this color palette. It reminds us of Katy Perry for some reason, and we are traumatized. Don't ask. The ice cream looks yummy, though!
Religion Made Cute
We respect religious people, and we admire their devotion and faith. However, who's to say that you can't make religion cute and aesthetically pleasing, especially with an awesome tattoo? With that in mind, this tattoo artist created something rather interesting.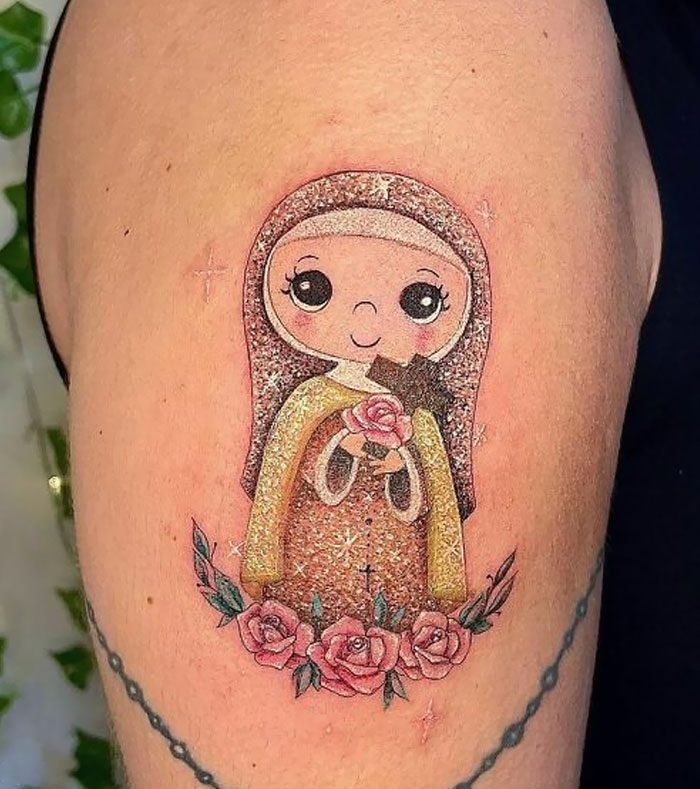 As far as we know, this is Teresa of Ávila, also referred to as Saint Teresa of Jesus. She was a Spanish Carmelite nun and a prominent mystic and religious reformer. Now, the person that got her tattooed can be at peace. She will always be by their side.
Eevee
If you head to this artist's Instagram page, you will find a video of how the tattoo really looks from different angles, and although it doesn't differ a lot from the picture, it's still worth your time. The tattoo in question is of "Eevee," the adorable, fox-like Pokémon.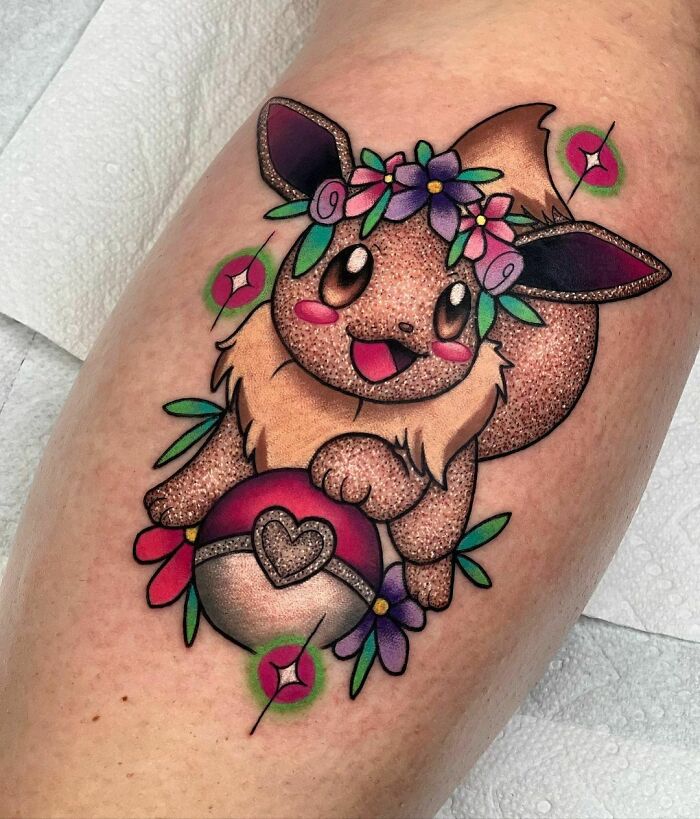 We love the details around it: the flowers, the sparkles, and a Pokeball with a heart-shaped button. It's so creative since it's a fantastic spin on the original. It was made more feminine and appealing to girls and women, probably on purpose.
The Golden Snitch
We are back at it again with the Harry Potter-themed tattoos. There's no stopping these Potterheads! This time, it's not a character nor a magical creature. It's an object. Someone wanted to get a golden snitch tattoo, but not a regular one. Oh, no.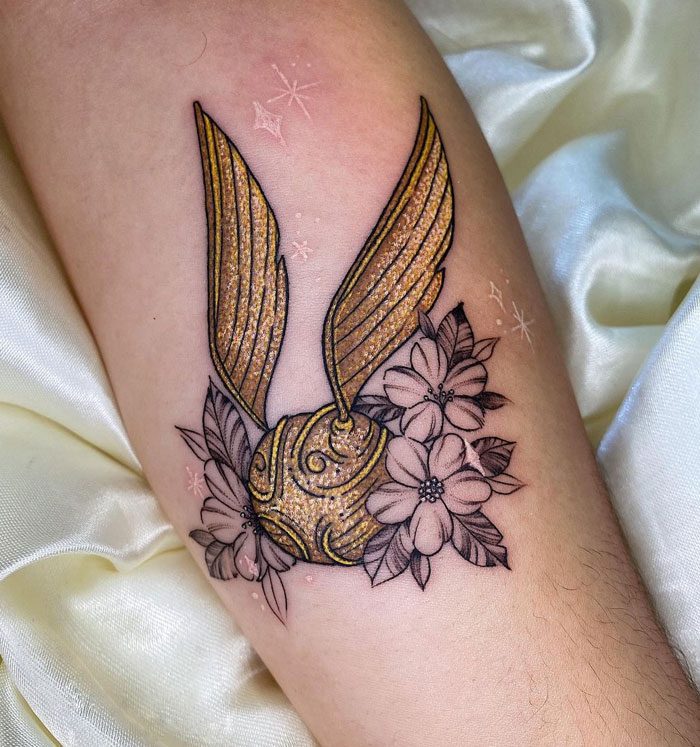 This golden snitch got the representation it deserved. It's in glitter, so it looks more golden than ever, and it's surrounded by beautiful, simple flowers. We love it. Now this person won't have to worry about the "Snitch" getting away from them since they'll always have it!
Spooky
Some people love to get spooky tattoos, and we fully support that idea. Whatever floats your boat, honey. If those tattoos are somehow made beautiful and artistic, we are sold. We have an excellent example of one that embodies that description.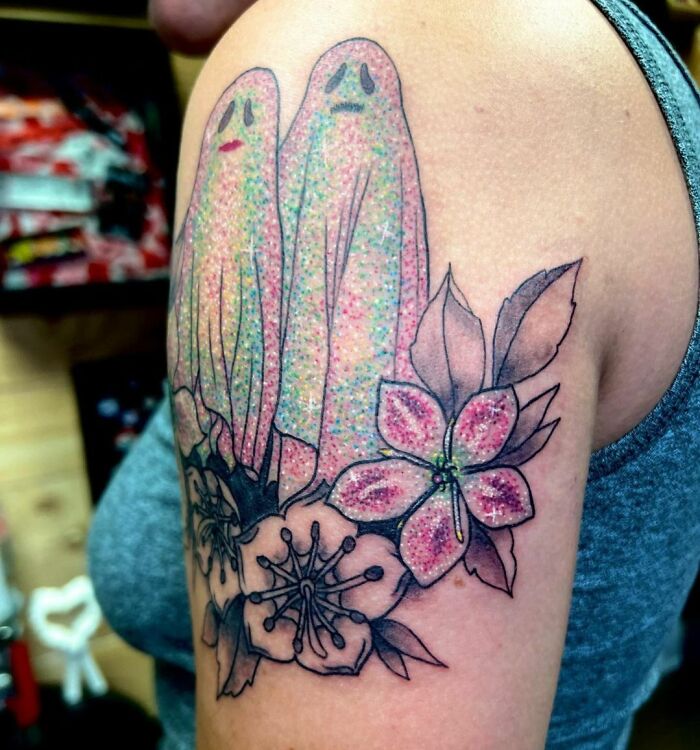 We aren't quite sure how to describe this. It is both sad and pleasant and, frankly, a bit confusing. We feel like some people use tattoos as therapy. Perhaps this lady was dealing with something hard and wanted it represented in some way.
Hot Dog
This is one of the funniest and cutest tattoos so far. If you love dogs or animals in general, we believe this one will be as equally appealing to you as it is to us. You may not have the courage or 'sense' to get it but that doesn't mean you can't adore it.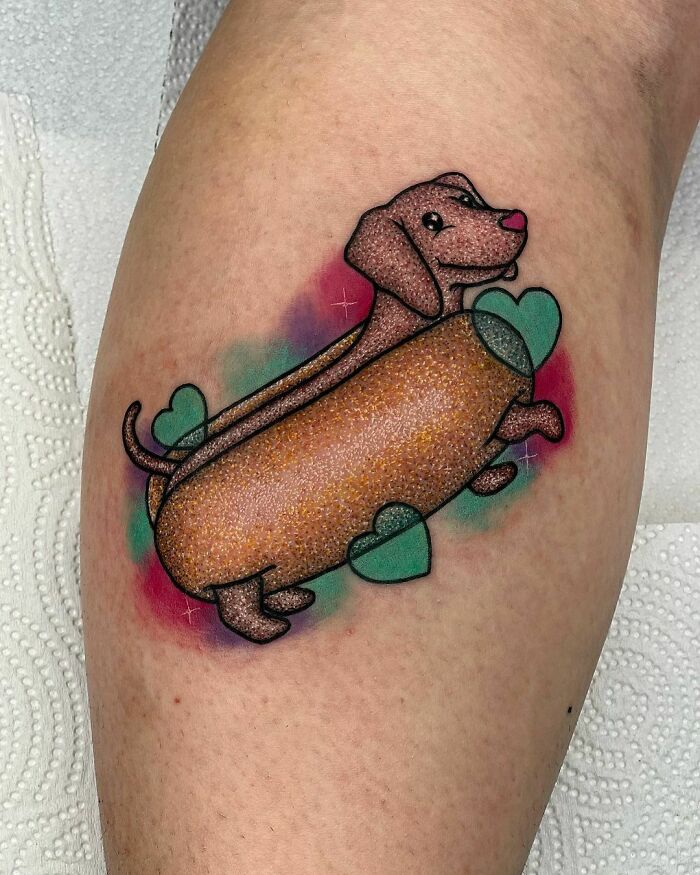 Dachshunds are one of the funniest, cutest, and most intriguing dog breeds we know. They are very intelligent, loving, and protective. No wonder someone wanted them to become a permanent mark on their body. Now that is one hot dog!
"After All This Time?" – "Always"
One of the dialogues that broke everyone's hearts in Harry Potter was the one between "Snape" and "Dumbledore" after both watchers and readers found out that it was "Snape's" Patronus of a doe that helped "Harry" multiple times. It was gut-wrenching.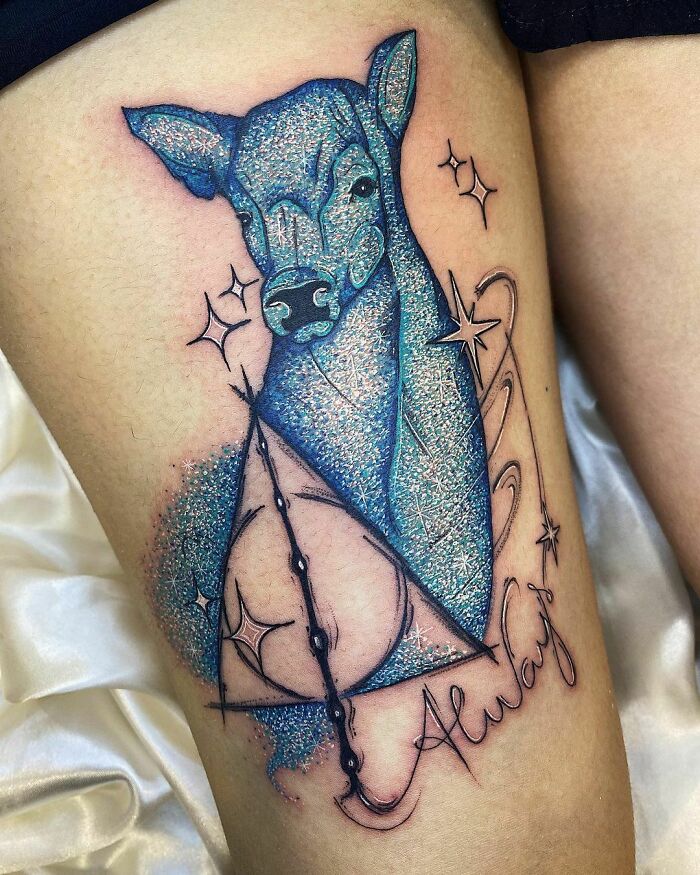 "Snape" was deeply in love with "Harry's" mother, "Lilly." Harry Potter fans were deeply devastated upon finding out his real story. This tattoo is a perfect representation of "Snape's" love and dedication to the love of his life, even after her passing.
Strawberry Milk Cow
We get more and more impressed by Amanda Graves and her artistic expertise the further along we go. The girl is dominating the tattoo industry one tattoo at a time. We are obsessed! This one is of a strawberry milk cow. Like, how cute is that?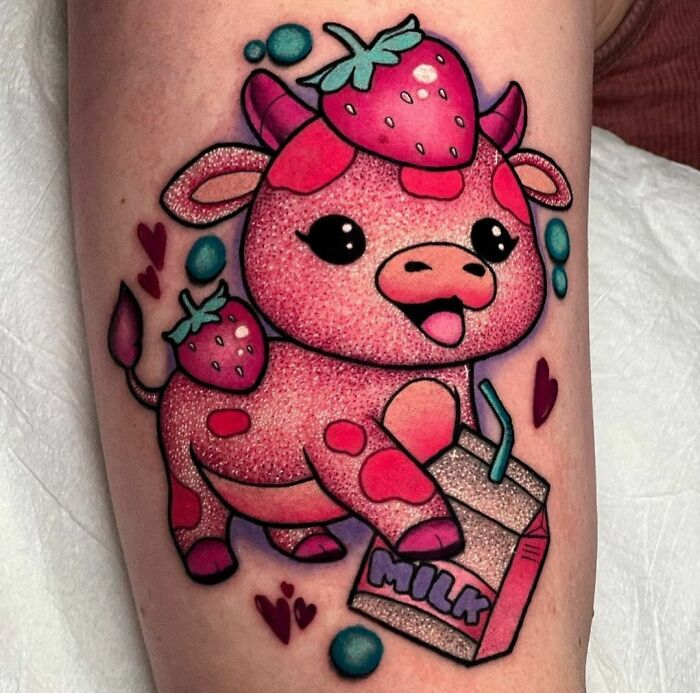 The comments on her Instagram page are super supportive. It seems like everyone always wanted to get a strawberry cow tattoo, lol. We have to give it to her and her customer; this one is so cute even we are considering getting it.
Only One Dalmatian
This one is just as adorable, and it's also an animal. If you guessed it was another Disney character, you're right on the money! This time we are talking about "Patch," one of the 101 Dalmatians. Ya know him; he has a black patch around one of his eyes.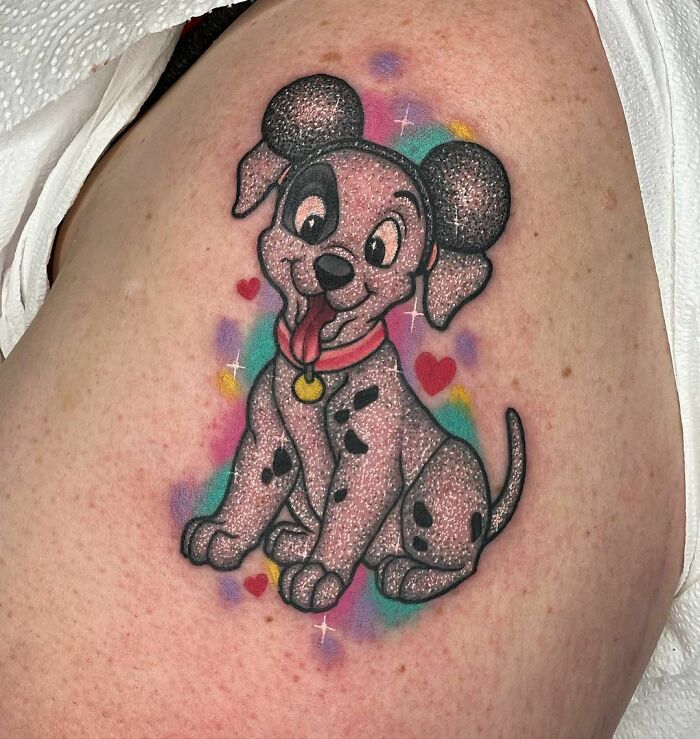 The tattoo artist also gave him some cute "Mickey Mouse" ears and a beautiful watercolor splash in the background. Maybe "Patch" was on another adventure here only instead of London, he went to Disney Land! We didn't know so many people loved these movies!
Hi There, Spidey!
You know, sometimes, when you see certain tattoos, you just know they are for boys. It's quite rare to find a woman with a tattoo of a male superhero. That's a fact. Don't ask us for our sources; they want to remain secret. Just trust us on this.
Apparently, this customer traveled all the way from New Orleans to Maryland to get tattooed by Amanda. That's how popular and respected she is in the community. This "Spiderman" tattoo is great, although it's not to our personal taste. The detail is impeccable.
Venom
Not only does she tattoo heroes, but she can also tattoo a good villain, as we've already witnessed with "Ursula" and a few others. This time, she stuck to Marvel and did one of "Venom." This intriguing character looks even better, covered in glitter.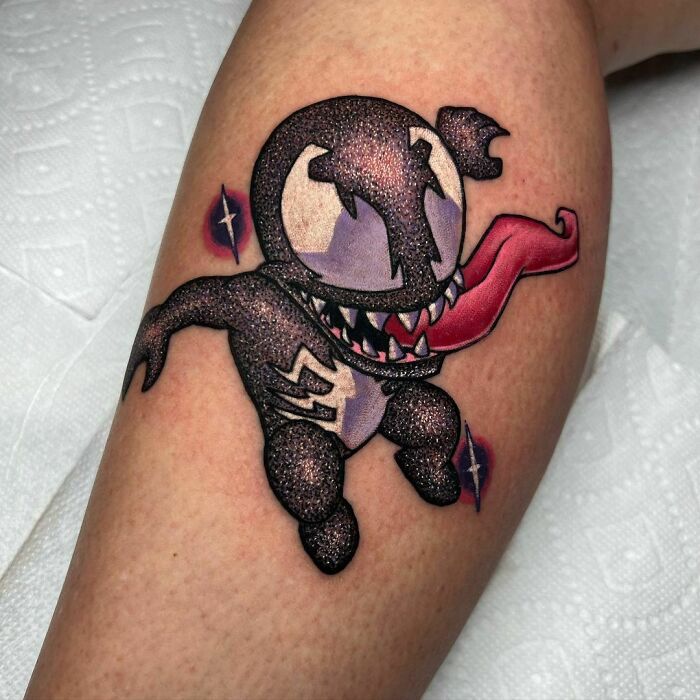 After seeing this tattoo, someone said they wanted their whole leg to be covered in glittery Marvel characters. We understand where that came from. The work is amazing. If you look at the details, you will get even more impressed, if that's even possible.
It's Getting Weird
We are glad that this next one is not by our beloved amandagravestattoo. Like we said before, people have different tastes, and that's what makes the world so interesting. Call us biased, but we are not sure we would be rushing to get ourselves on the artist's chair for this.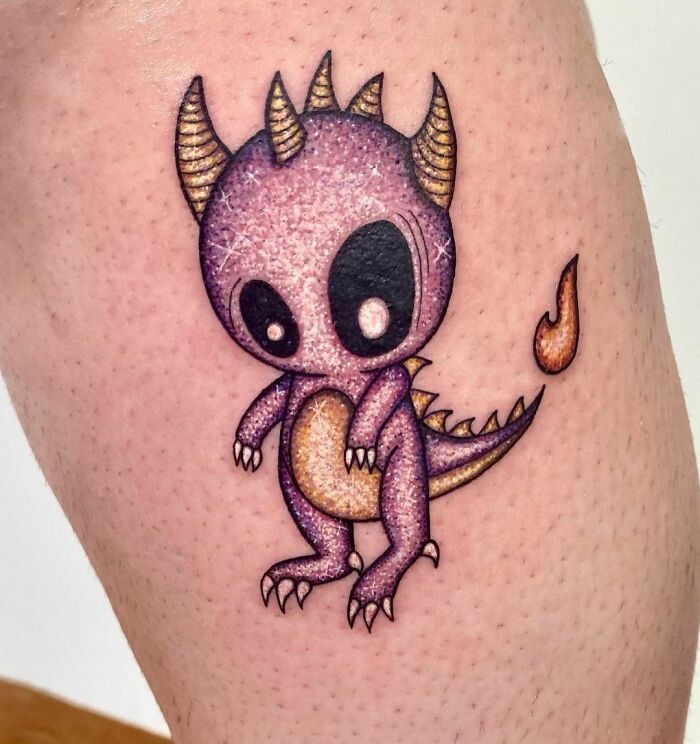 It's kind of weird. It's a dragon, but then again, it looks kooky. It doesn't have a nose or mouth. Also, the eyes look strange, and the claws are a whole other story. It doesn't even have some funny or interesting aspects. Overall, it wouldn't be our first choice.
Ohana Means Family
"…and family means no one gets left behind." Pardon us; we're huge Disney fans. This is a glitter turtle; what else can you really ask for? Well, first, it looks absolutely beautiful. It's by the artist who did Saint Theresa. The distinctive art style is easily recognizable.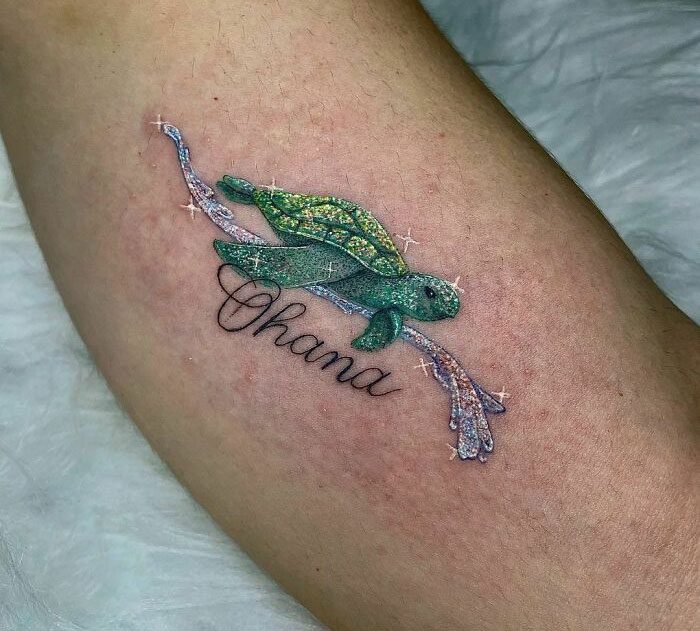 If you haven't watched Disney's Lilo & Stitch, you will probably struggle with reading the word: Ohana. Someone said they read China, Ghana, and even Obama! Ohana means family. Maybe this person was a fan, or perhaps, they come from Hawaii.
Cinderella
We have shown a crossover tattoo between Aladdin and Cinderella. However, now we have one dedicated to the latter only. It is subtle yet show-stopping. The glitter makes it so much better and true to the movie. Wouldn't you agree?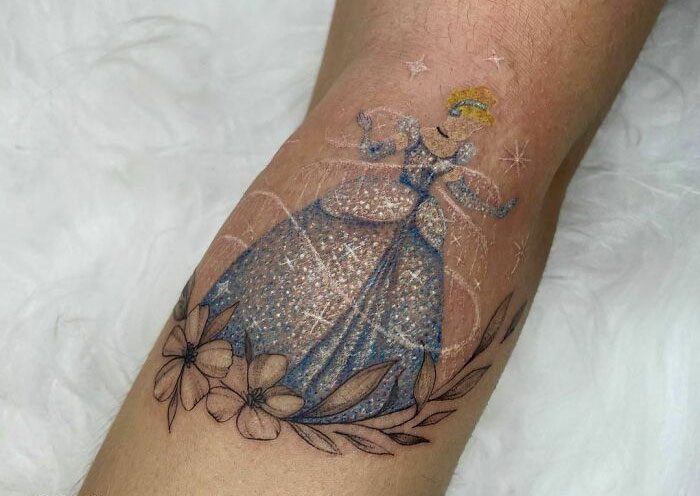 Cinderella's dress, tiara, and slippers were all glittery and sparkly, so deciding to get this tattoo with said style was a very smart decision. The black and white flowers and leaves at the bottom might be overkill if you ask us, but overall, it's another win.
Coraline
We're still on animated characters. When we said some of the tattoos are kooky and spooky, this is one of them (we guess). Coraline is not necessarily a horror movie. However, it still has some horror elements. There is a difference.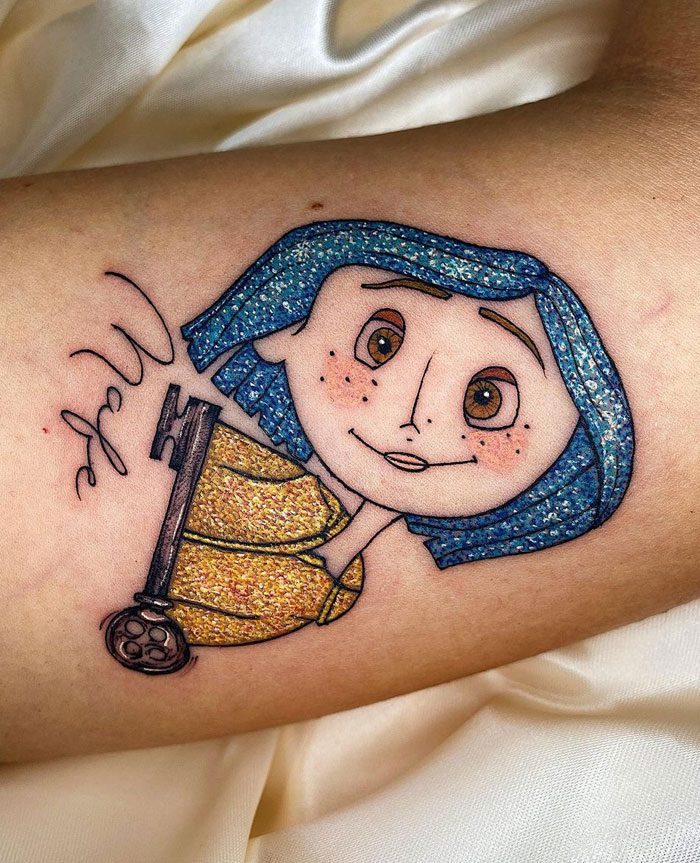 "Coraline's" hair here looks exceptionally beautiful and sparkly. It's like a starry night (yeah, we know). We can't quite decipher what the letters say on the left, but maybe that is something personal to the customer. Overall, another great one!
Fantasy Mickey
Well, it's about time we stumbled upon the one and only, the legend himself, "Mickey Mouse!" He is the face of the whole Disney franchise. His ears are sometimes used as the logo; ever noticed that? Nonetheless, this tattoo is not as basic as you'd think.
We love "Mickey Mouse," the wizard. It unlocks a special memory in our brain of a really old version of Mickey Mouse. It was called Sorcerer Mickey. We even love how the shoes kind of look like loaves of bread.
Garfield
Whenever we lay our eyes on this cat, we get an intense craving for lasagna. Ever since we were young, we loved and admired Garfield and his carefree attitude. His hatred for Mondays and any kind of exercise made him oh-so relatable!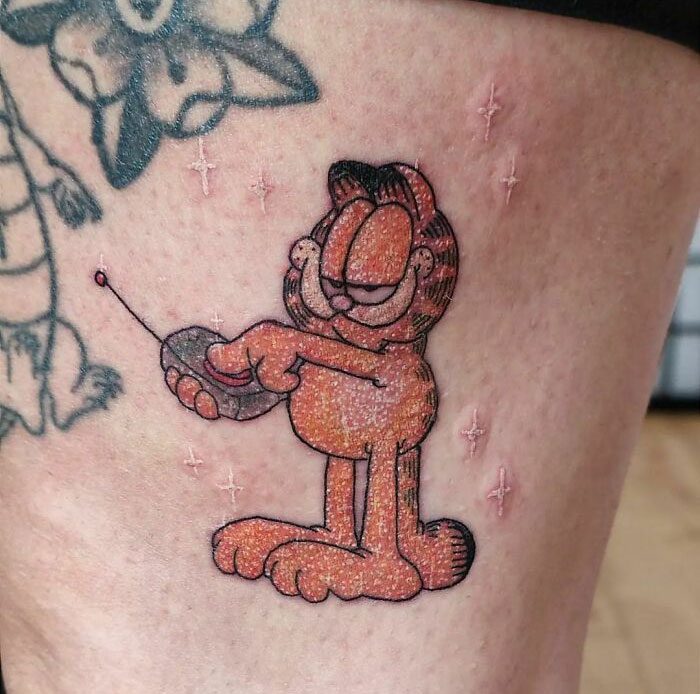 Judging by this, something cheeky and terrible is just a button away. The artist nailed the cat's style. The only thing we don't like is how the sparkles blend in with the skin too much. Also, they forgot to add the lasagna, which is a bit disappointing.
Marceline
We have already seen "Jake the Dog" from Adventure time. Now, it's time for "Marceline." At least, that's who the artist said this was in the description of his Instagram post. "Marceline" is a fun-loving and playful 1,000-year-old vampire queen in the show.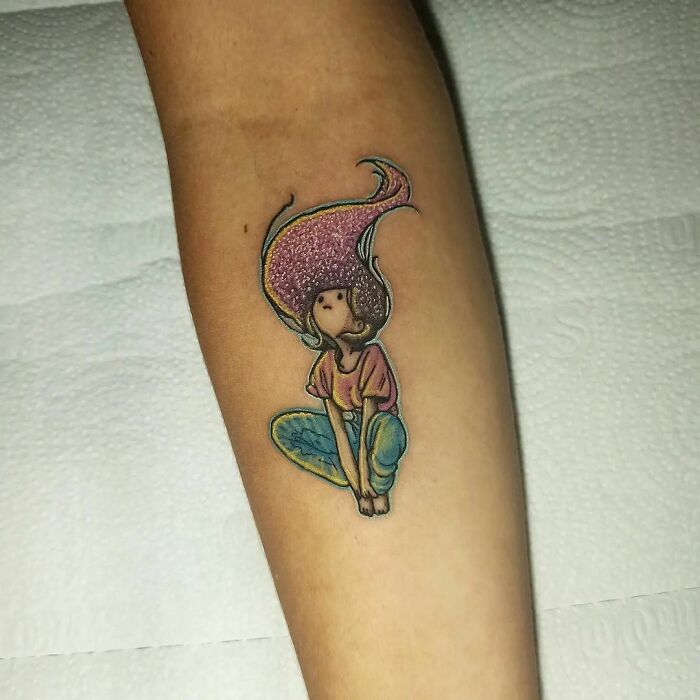 However, do not fret! She doesn't drink blood. She consumes anything else that's red. We really like this tattoo. It is so simple, yet her hair contains a glittery effect and purple hues, which adds to the fantasy. It's a win.
It's a Sushi Eevee
We know we already showed one "Eevee," and at first, we thought to ourselves that that was it. However, when we saw this one, we just couldn't resist. It's "Eevee" as a sushi roll! We wouldn't have been able to picture it without this.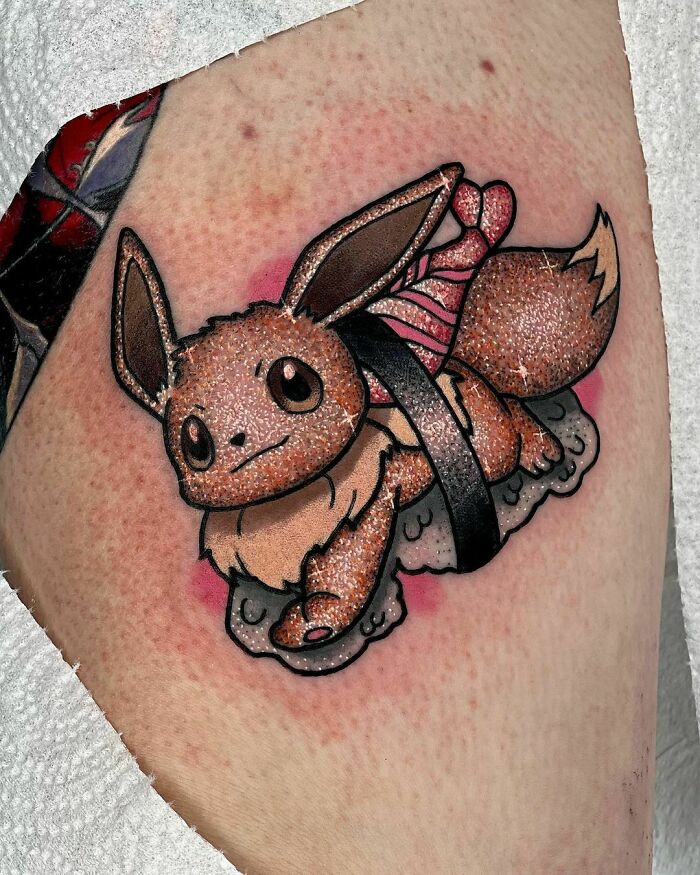 Although we would never eat this piece of sushi, we can still admire it! Whoever thought of this is a genius. Looks like when it comes to sparkly tattoos, all you need is a cute character, creativity, and an imaginative artist for a masterpiece.
Perfect Harmony
It's tough making harmony between the mind and the heart. They are often the cause of most of the dilemmas we face in life because they rarely see eye to eye. However, this tattoo shows us that they, after all, are not that different.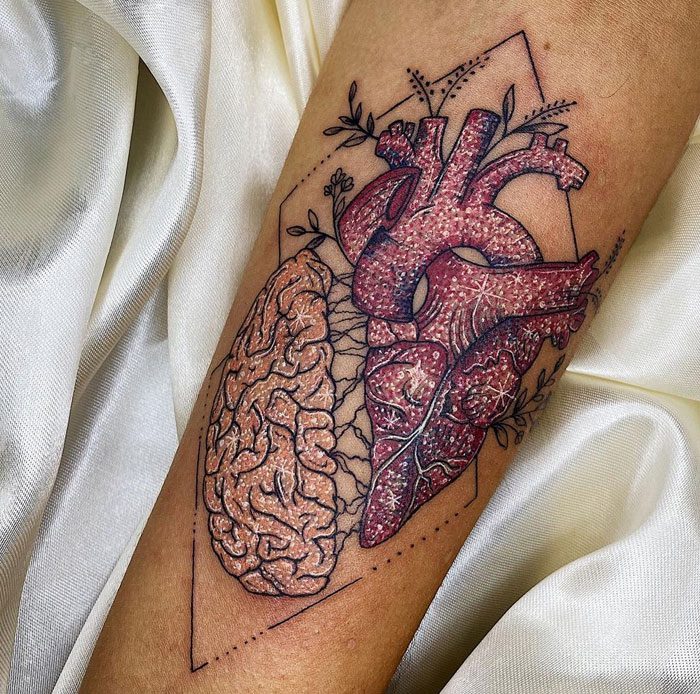 It's important to act with reason. However, our hearts need to be heard, too. Maybe this person was struggling with that at the time, so they got this. The artist presented that in a beautiful way, and we are obsessed. It seems quite big, too. We bet it makes an excellent icebreaker!
Espeon
Pokémon fans are back at it again. Besides the cutie pie "Eevee," another character our tattoo artists chose was "Espeon." If you don't remember which one this is, it's the rose cat-like Pokémon with a red dot between the eyes.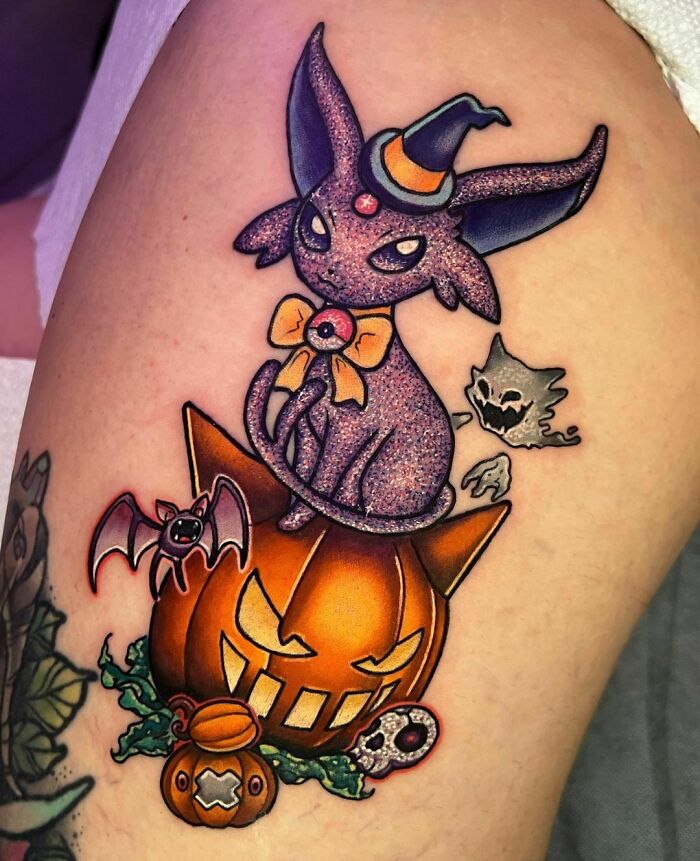 This tattoo is so original! We love the Halloween theme, and we think "Espeon" fits the atmosphere super well! The spooky pumpkin vibe is so on point, and we can't get over the level of detail. The artist who did this is very impressive. Great job!
Fawkes
If you are a Harry Potter buff, you will like this one. At least we do. It's a tattoo of a baby "Fawkes." "Fawkes" was "Dumbledore's" beloved pet and companion, phoenix. It saved "Harry" multiple times, too. What a beaut!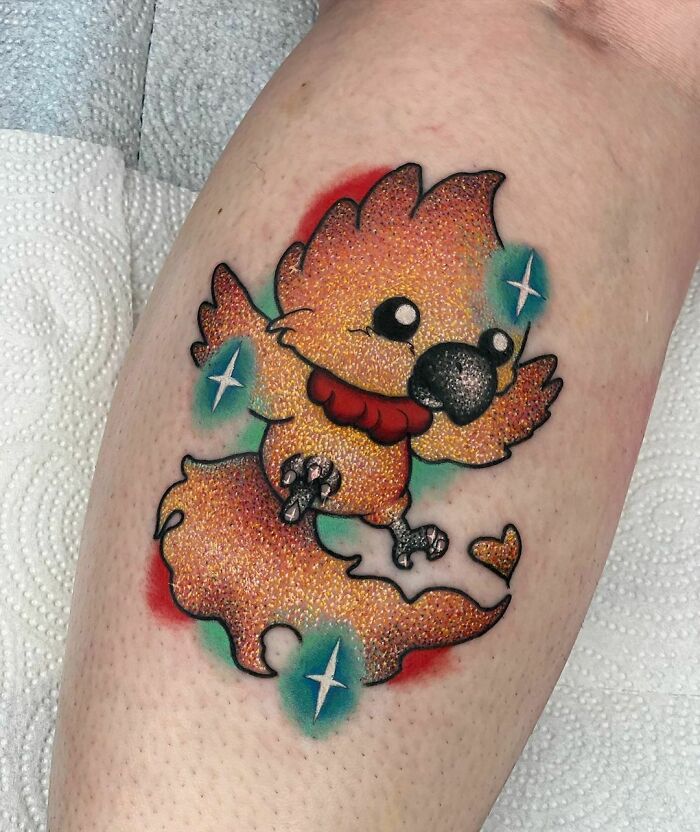 Who knew that a tattoo of it as a baby would look this good? The colors are spot on, and we love the glitter and sparkling details around its body. Also, that little fire heart at the top of its tail is such a nice detail we needed to point out.
Megara
One of Disney's most iconic and attractive female characters must be "Meg" from Hercules. Her sass is also unmatched. Especially when her dress is made and tattooed in glitter! Take a look at this artwork. We are really enjoying it!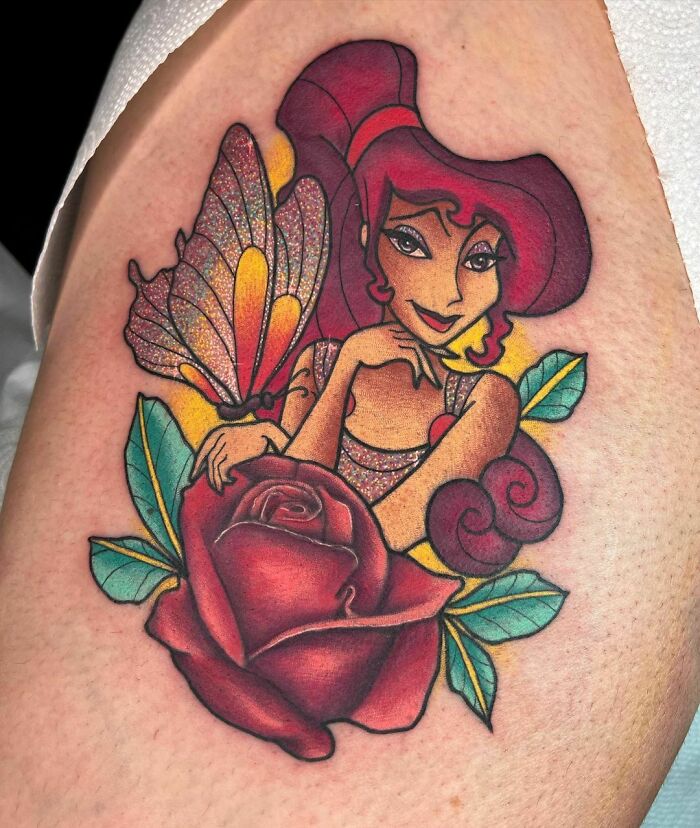 We came across a comment somewhere that read: 'Is this "Ariel" after she's been out of the water for a year?' Although it's super ignorant, it's still hilarious! They obviously don't know their Disney characters well. Either that, or they were just being obtuse on purpose to be funny.
Zero
The next one comes from one of our absolute favorite holiday movies. Can you guess which one it is based on the tattoo? "Zero" is a supporting character in Tim Burton's 1993 stop-motion Disney film, The Nightmare Before Christmas. He is "Jack Skellington's" pet ghost dog.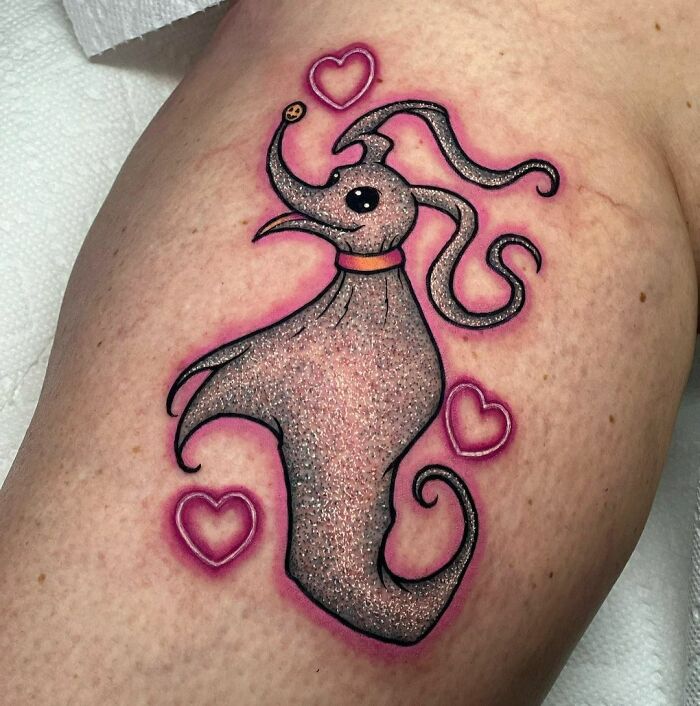 The tattoo is absolutely gorgeous. According to the artist's Instagram page, a lot of people love it. This picture alone has more than 12.5k likes, which just shows just how popular "Zero" really is. The glitter art style only solidifies and emphasizes the beauty.
Aristocats
We looooved Aristocats while we were growing up. If you are a fan of cats, you must have loved this movie. It's an old but wholesome Disney film, so if you've never heard of it, try looking for it. What's more, it was the inspiration for these fantastic tats.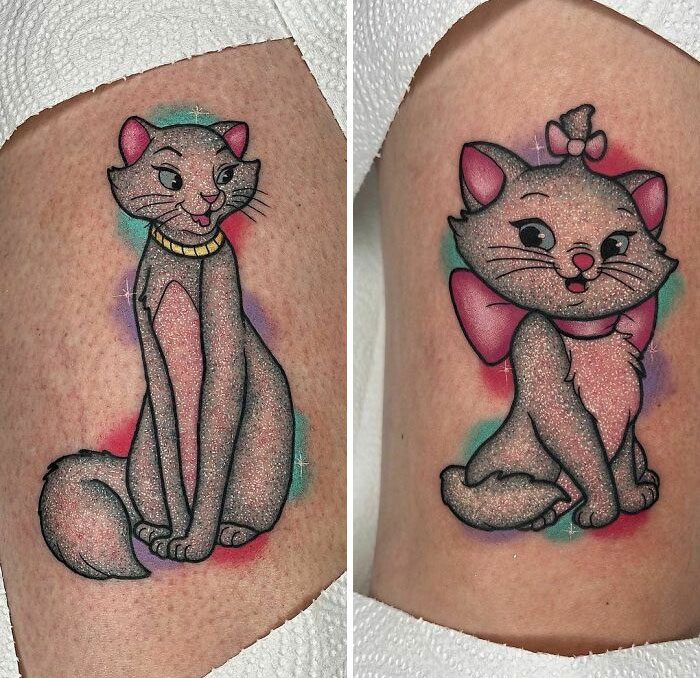 We just hope that the mom tattooed the momma cat and the daughter tattooed Marie. Hopefully, the suave "O'Malley the alley cat" was featured somewhere too! That would be so iconic! As always, Amanda Graves slays and makes no errors.
Gummy Bear
This tattoo is not a simple gummy bear tattoo. As you can see, it has distinct elements that make us think it's European. French, to be exact. No, it doesn't speak, but it holds some baguettes, and everyone knows how much the French love their baguettes.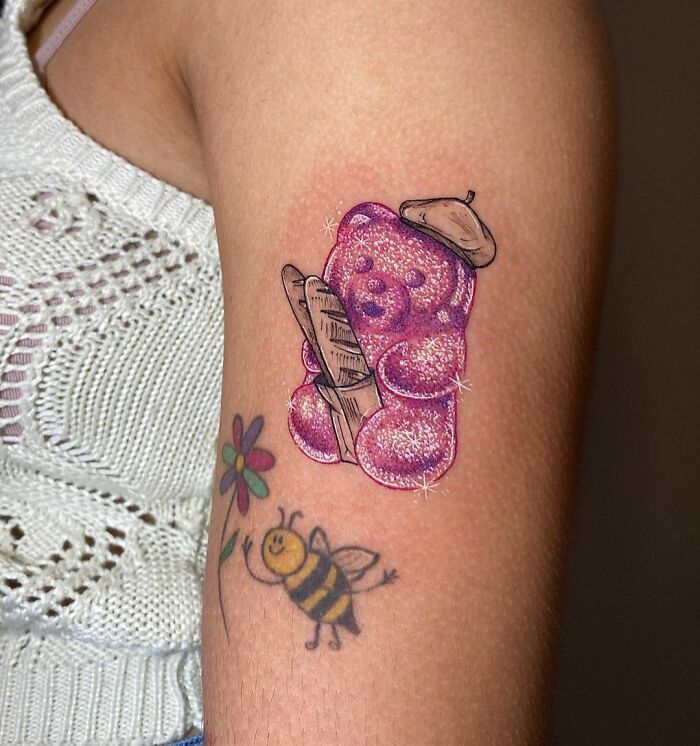 That bee and flower kind of ruin it for us, though. The art style and colors don't match at all. The customer should consider covering it or at least updating it. Though, in our opinion, the glittery bear deserves all the attention!
The Winged Keys
Now, we are back with more Harry Potter symbols. This is a winged key from the first book when "Harry," "Ron," and "Hermione" try to get to the philosopher's stone by overcoming some obstacles that their teacher had put up.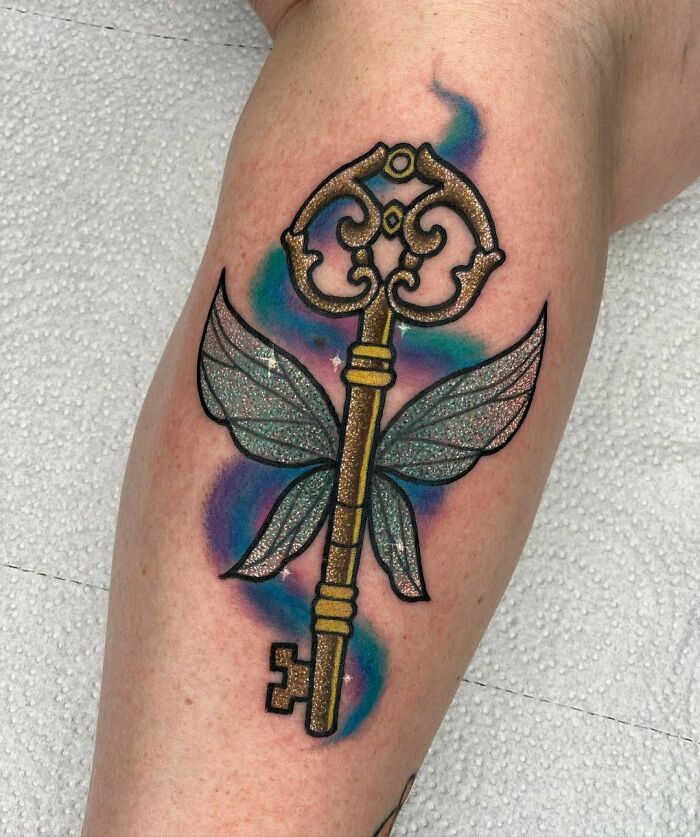 Look at that gorgeous tattoo! It is so detailed, sparkly, and almost looks magical. Although "Harry" was only a first-grader at the time, he still managed to catch it using his fantastic broom: Nimbus, 2000. Ah, what a time! We are due for yet another HP marathon!
Moth
Some tattoos look like fever dreams, to be honest. We are still unsure if we like this or not. The moth's design is superb, and the color combination slaps! However, having a tattoo with that many colors, we don't know how we feel about it.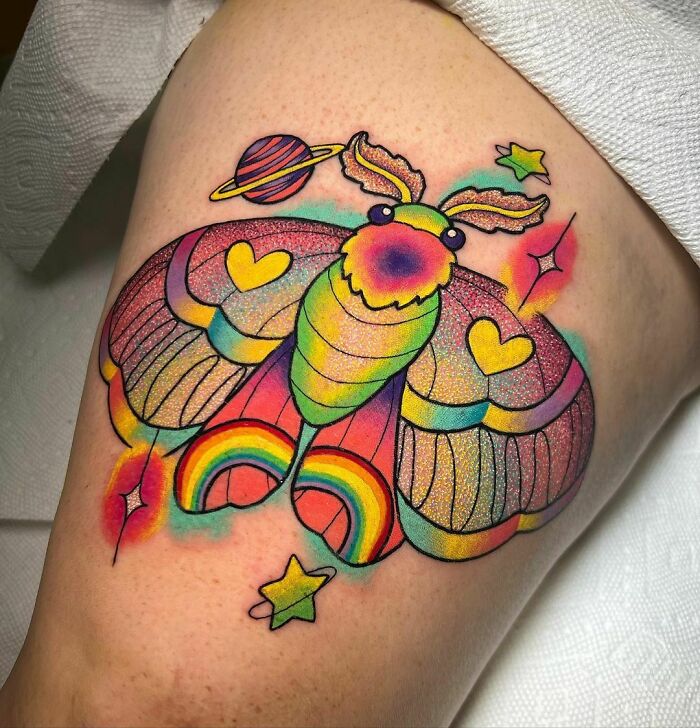 We are fans of more subtle colors and color palettes. However, this would look really cool on someone that can wear it with pride and joy. The space elements are cute, with the tiny Jupiter, sparkles, and stars. It's impressive overall. Just not our style.
Kirby
"Kirby," although small, pink, and fluffy, is a legendary Star Warrior who works with his friends to battle the dark forces! We had almost forgotten about this creature, but luckily, these amazing tattoos brought it back to our memory, and now yours as well.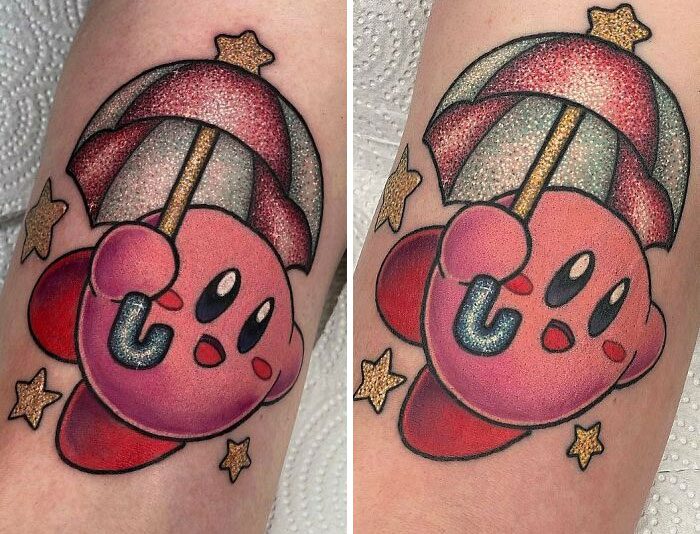 The tattoo and character remind us that no matter how small and harmless you look, you can still be fierce and tenacious and fight for what you believe in. A tattoo can hold so much meaning, or even none at all. It all just depends on you.
Beauty and the Beast
We wanted to leave this princess and her prince as one of the last ones in the article because she holds a special place in our hearts. We could even say that she is our favorite Disney princess, but let's not jump the gun here.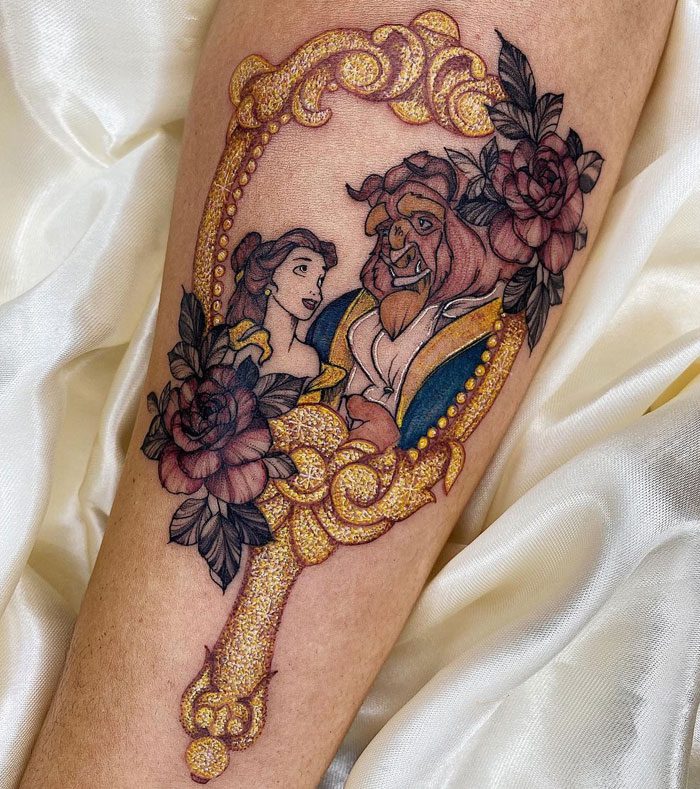 The way the tattoo artist created this masterpiece and the world continued spinning got us bewildered. This is absolutely gorgeous. The way "Belle's" skin is the customer's skin, and there is no color; it's incredible. This is evidence of pure talent.
Deatheater
This is the "Deatheater's" symbol made cute. Maybe you find that hard to believe, and we don't blame you. We are not at all confused or surprised by it since it's by the artist we mentioned so many times and researched like crazy!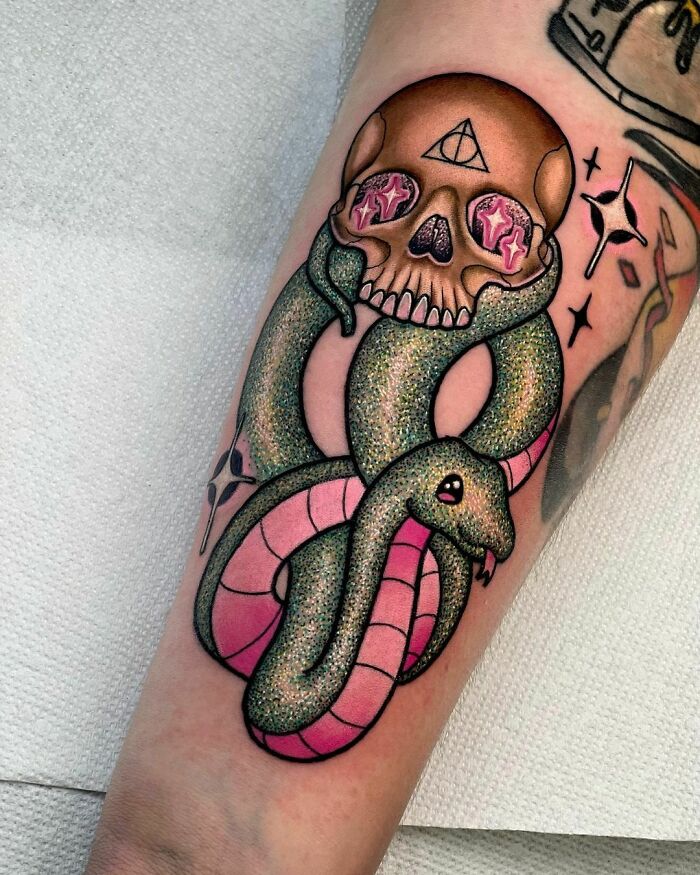 The snake is super cute, and its little tongue looks kinda playful. The skull also has a "Deathly Hallows" symbol on its forehead. To make things even better, the Dark Mark is covered in the glittery technique we've been talking about. We LOVE.
Golden Boy
We are so confused about why this tattoo does not have more likes on Instagram! It's just so good, simple, original, yet gracious and beautiful. This artist needs more followers and traction; she clearly deserves it! Look at this dachshund.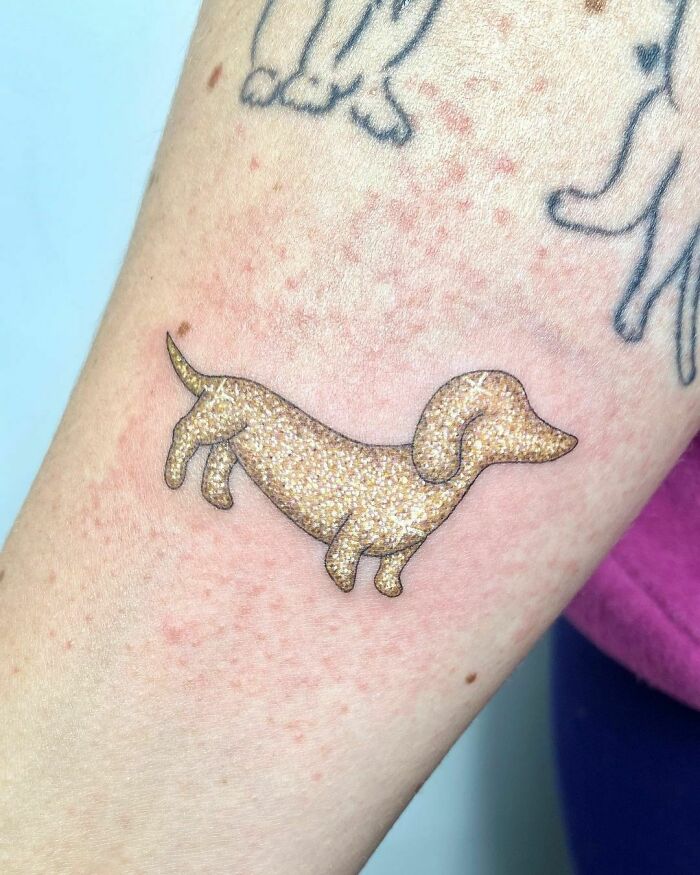 Someone said that the dog is missing an eye, so it doesn't look too good, but we have to disagree. It looks much better like this and almost eternal, covered in gold flakes. We adore it. It warms our hearts. If you own a dachshund, you'll probably feel the same.
Gnome
With Christmas right behind us, we still feel comfortable showing this to you. It was not that long ago, right?! Right. We love the design of the tattoo. However, we are kind of confused about why anyone would tattoo this.
It's adorable, don't get us wrong, but, like, why and who? Christmas is not all year long, so it's kind of awkward. But, nonetheless, it's pretty. Also, the hearts can quite possibly make it pass as a Valentine's Day gnome.
Princess Peach
The last one for today is a tattoo of "Mario's" damsel in distress, "Princess Peach." She is cute, she is the moment, and she knows it! She is also covered in glitter. Amanda Graves nailed this one! If you are a "Mario" fan, enjoy!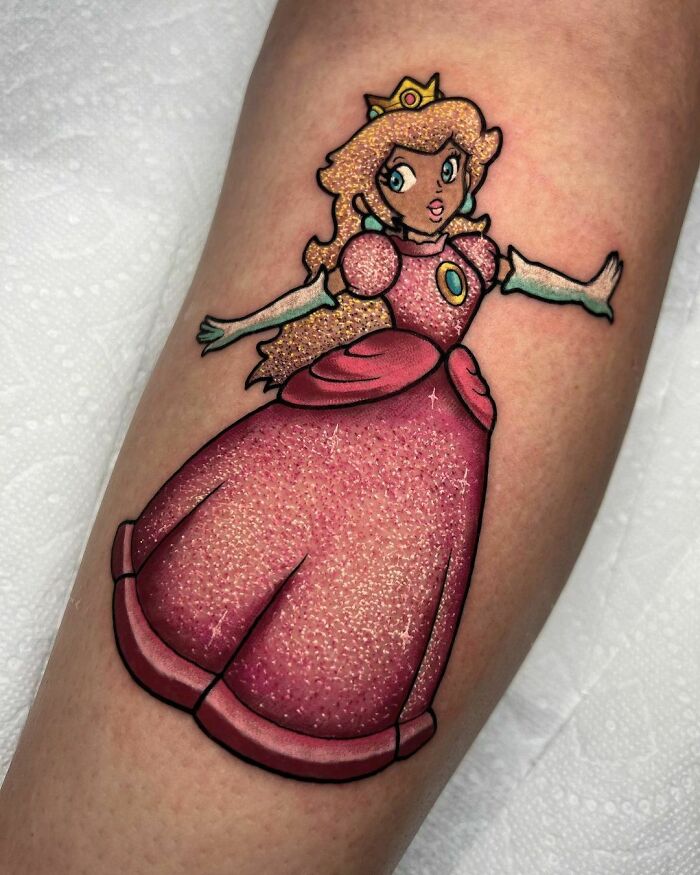 With this picture, we conclude our little glitter tats adventure. It was certainly a great experience. We got to see all the different designs and ways artists incorporate this new technique and create some unique, original, and gorgeous works. If you're brave enough, go get yourself one!