Polish Perfection: 40+ Gorgeous Nail Art Designs That Made A Statement
By Jhoana C March 3, 2023
---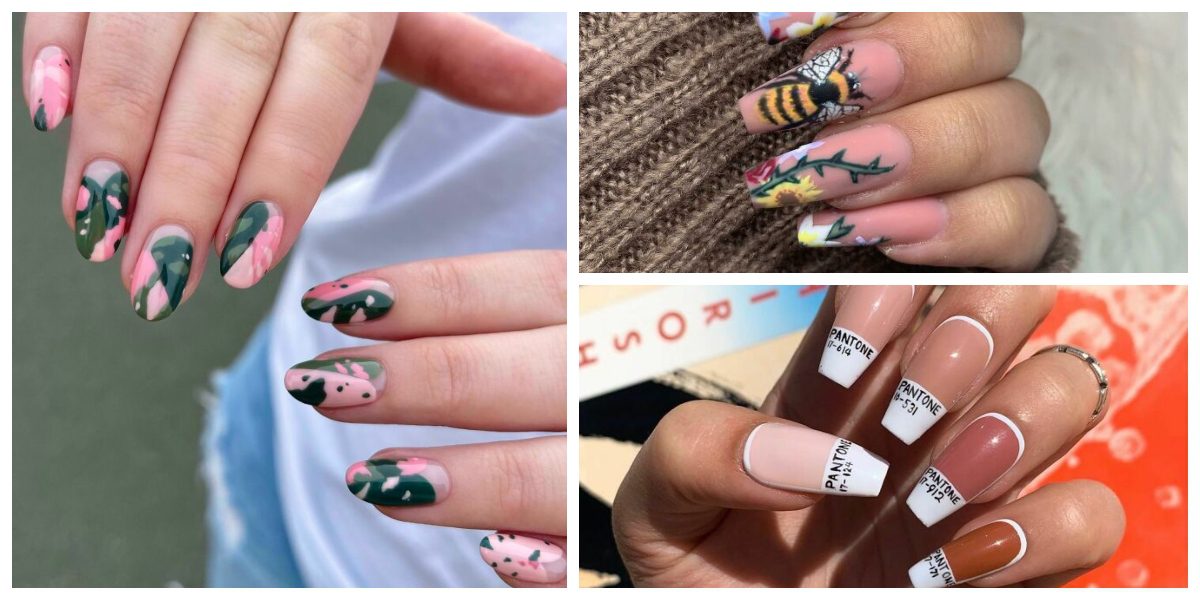 Back in the day, people were satisfied with simple manicures and painting their nails a single color. However, times have changed, and nowadays, nail art is more intricate, realistic, and detailed. Nails have become canvasses on which nail techs attempt to bring their most artistic and creative ideas to life. Trends may come and go, but beautiful works of art will always be admired.
Whether you are a nail technician or someone who admires nail art, we have compiled some of the most cutting-edge and incredible nail art ideas to finally inspire and push you to try something new for a change. It's even better if your nails are in desperate need of attention since you'll get multiple ideas. So, what are you waiting for? Start scrolling now and get your creative juices flowing.
#1 This made us think of pumpkin-spiced lattes
Looking at this makes us want to go to Starbucks to get a pumpkin-spiced latte even though it's no longer fall. Curious how random things remind us of something we love or of times gone by. Anyway, who's to say you can't have pumpkins in August or February?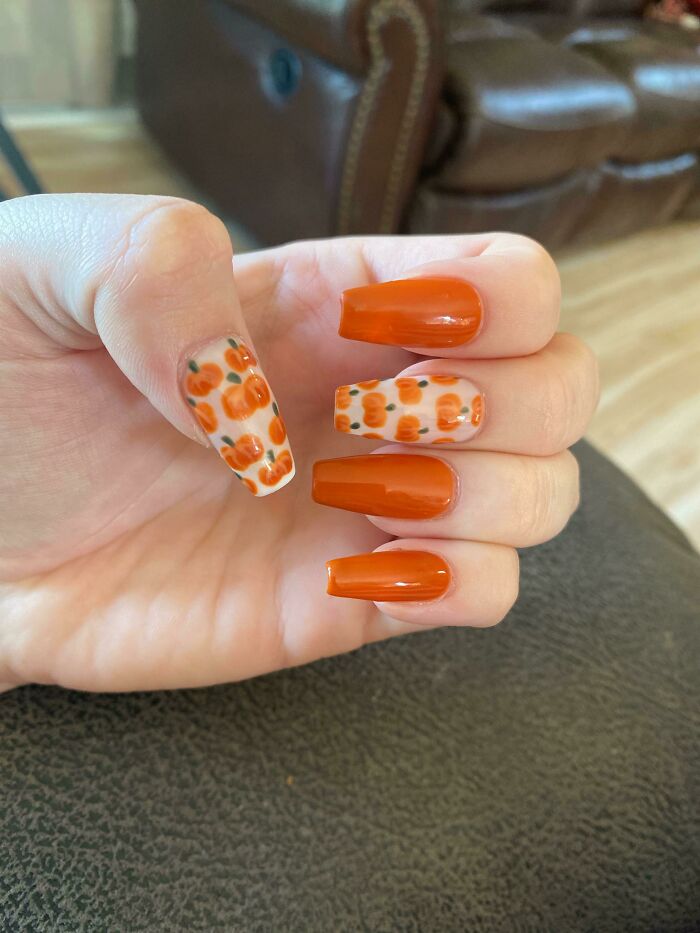 There's so much detail in this creation, and though it may not seem as intricate or as complicated as the other designs here, we love it just the same. For those who want to go for fewer colors and less complicated designs, you can save this one.
#2 Fit for car races
Nail polish originated in China and has been used by people there since as early as 3,000 B.C. However, nail polish from years ago didn't have some of the ingredients used today. Back then, it had beeswax, gelatin, egg whites, and vegetable dyes.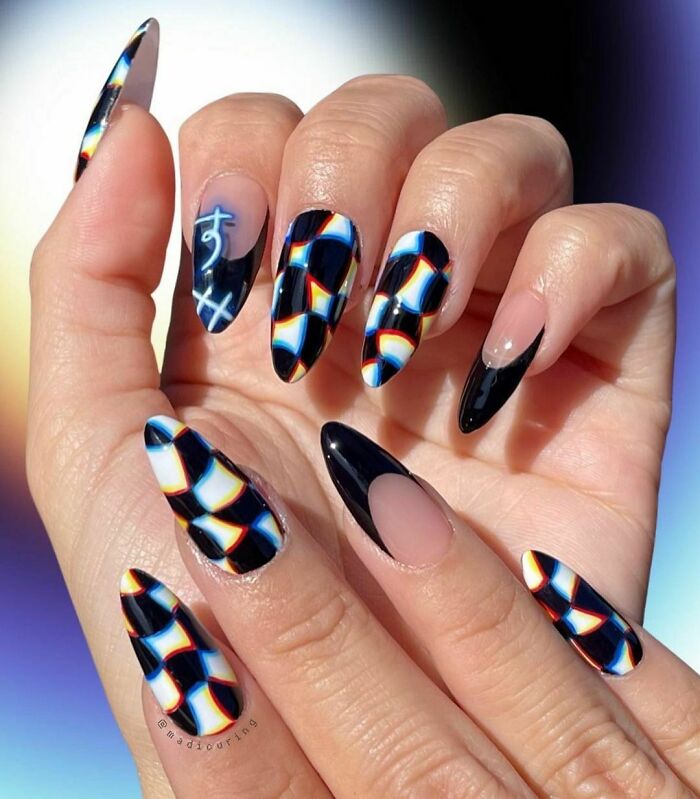 This nail polish might use different ingredients, but it still looks fantastic. It would fit perfectly in a movie about cars or racing, like the Fast and Furious franchise or Tokyo Drift. Now, all we need is for "Dominic Toretto" to appear with his family!
#3 She hit the nail on the head
Nail art did not hit mainstream fashion until the 2000s, and its popularity in the media started with women's magazines. Today, it's not unusual to see people on the street wearing nail art, loud and proud. It adds to their style and reflects the wearer's personality.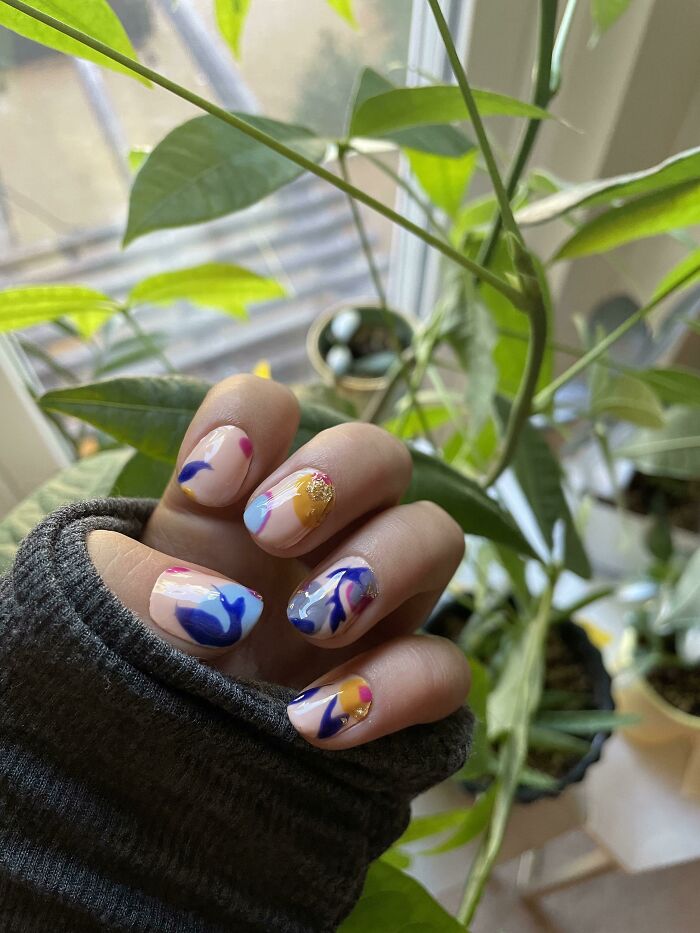 The photo above was the OP's first foray into nail art using gel polish, and we can safely say that she did a great job. She nailed it (wink, wink!) Don't be afraid to try something new, even if it's only nail art. You might end up loving it!
#4 Why pick just one color?
If you're having a hard time deciding on one color for your nails, why not get them all? Who said you can't have fun with your nails and have as many colors as you want? The only part that will be challenging is fitting everything on such a small surface.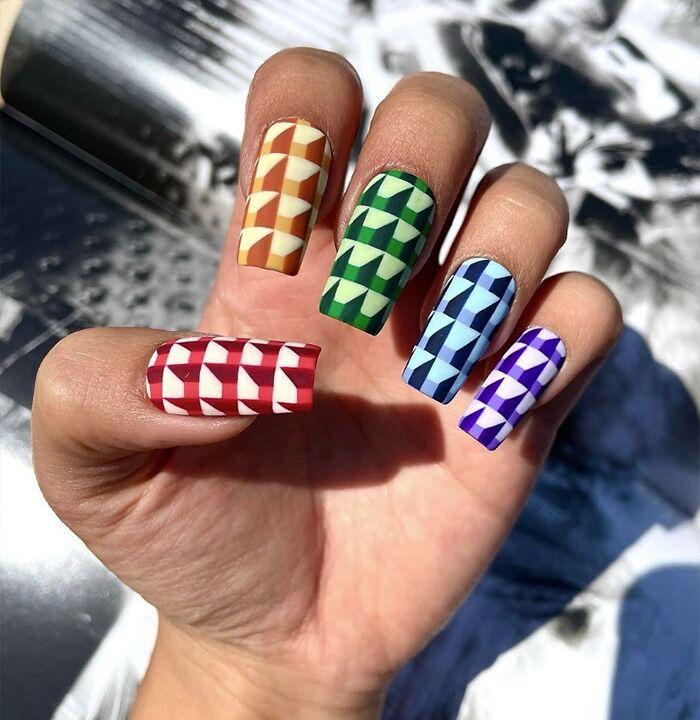 Do what this woman did and paint each nail a different color. She even went the distance and got geometric patterns for good measure. Our verdict? She must have an awesome nail tech, and we would gladly pay to get that design.
#5 On Wednesdays, we wear pink
This is a design girlie girls would line up for. Aside from the fact that it's super cute, it also comes in pink. What more could you ask for? If you wear pink on Wednesdays like "Regina George" and her crew, this is the type of nail art you should aim for.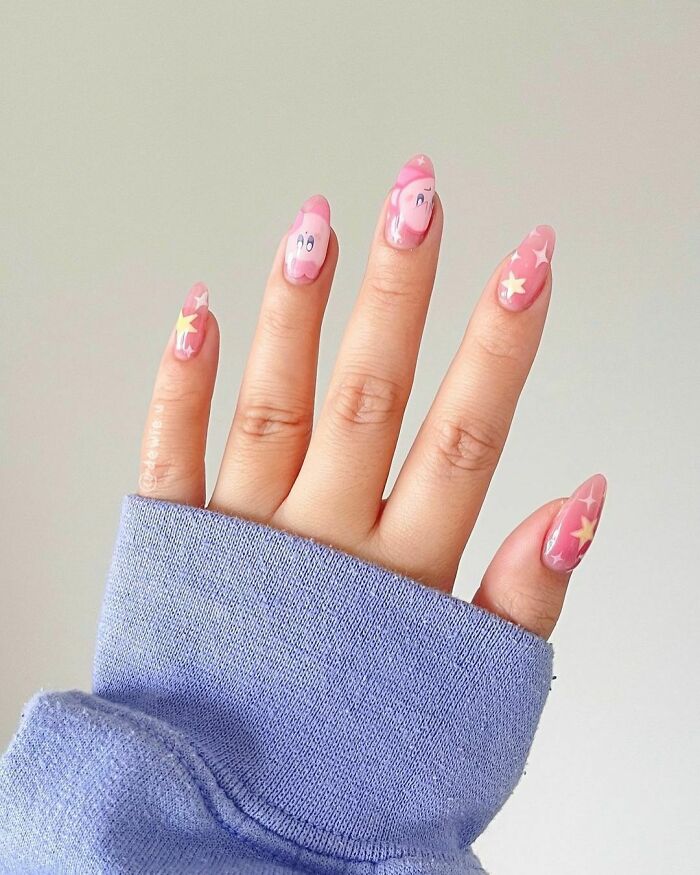 Even the plastics and the mean girls in your school will be impressed by this, not that we are advising you to impress them. You should stay true to yourself, and if part of who you are is loving pink polish, stick to that and don't seek anyone's approval or validation.
#6 This is fancy!
If you're going to be wearing a fancy dress to a cocktail event, a wedding, or any kind of formal party, you also need fancy nails to complete your look. You wouldn't want to be caught with plain nails on such a momentous occasion.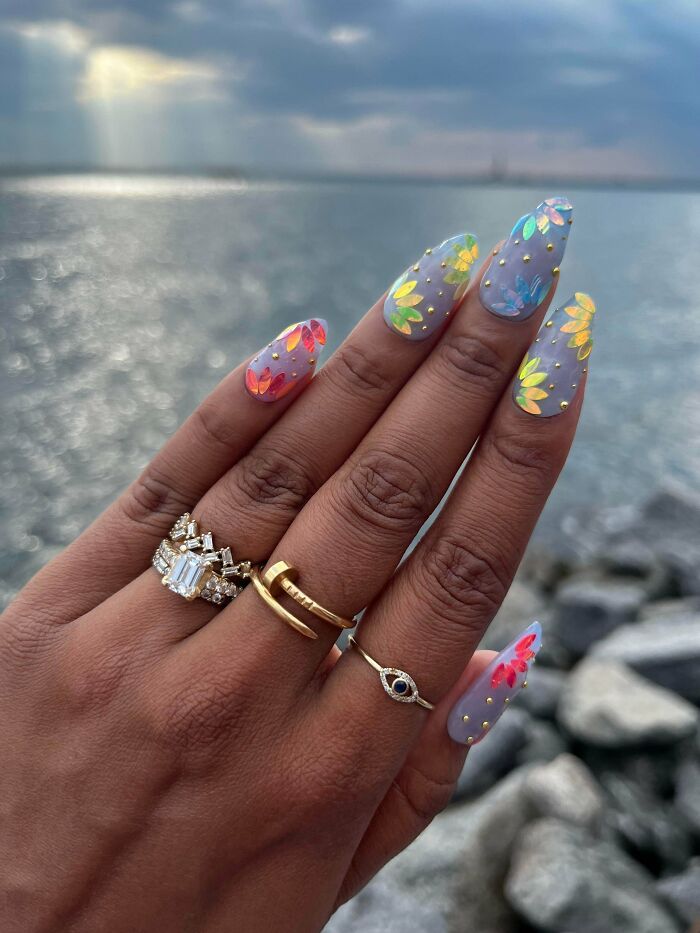 This lady knows how to look fab, and she made sure her nails looked the part too. Aside from matching her nails to her dress, she also used color-changing polish. The thing with this kind of polish is it works best when the weather is warmer since that's what prompts the change. So, choose wisely.
#7 Glow in the dark nails for the win
Consider this your sign to jump on the glow-in-the-dark nail trend. The OP was super happy with the outcome of her nail art endeavor, and who wouldn't be? Her nails look fabulous, and we're sure they look even better at night.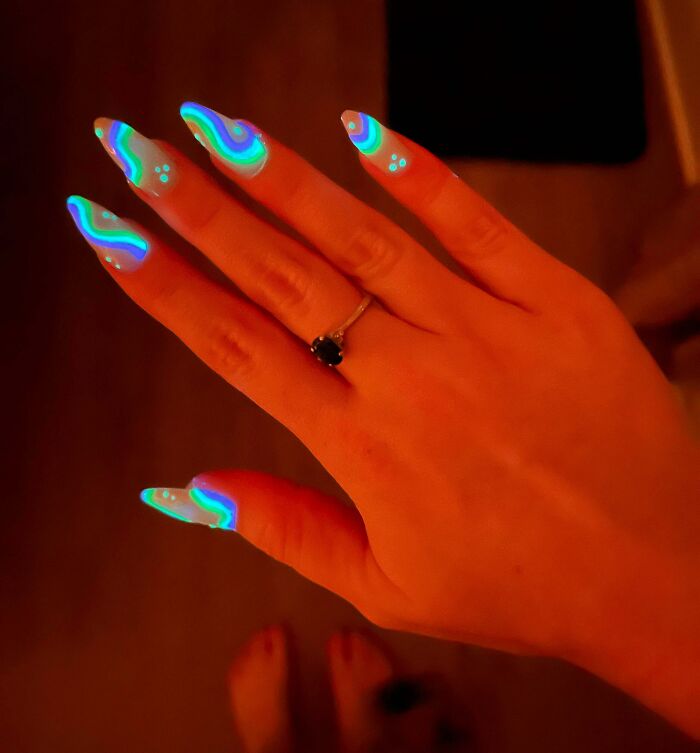 The OP said she did this freehand, and we can only imagine the amount of time she spent on her nails. That said, we are of the opinion that it was time well spent because we're certain people are going to be complimenting her nails everywhere she goes.
#8 Get yourself a good nail lady too
It's important to have reliable people in your life. Individuals you can depend on when you need help the most, and that includes a good nail tech. You wouldn't want to bump into your ex and his new girl with nails that have seen better days! Trust us on this one.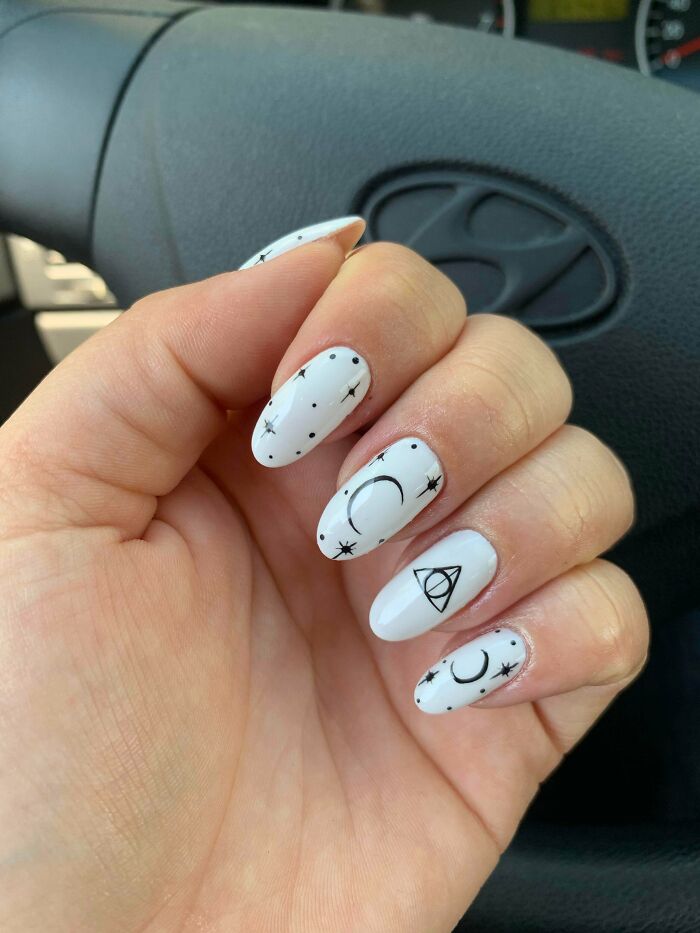 This lady is one lucky gal because she has got herself a very cool nail tech. How do we know? Well, just look at those nails! Aren't they a beauty? We would be smiling all day if we walked out of the salon with nails like these. We also doubt we'd ever get anything done.
#9 Various shades of blue
The color blue is associated with many things, including freedom, sensitivity, inspiration, imagination, and intuition. Many people also associate it with the sky and the sea. What does this color mean to you? Is it, by any chance, one of your favorites?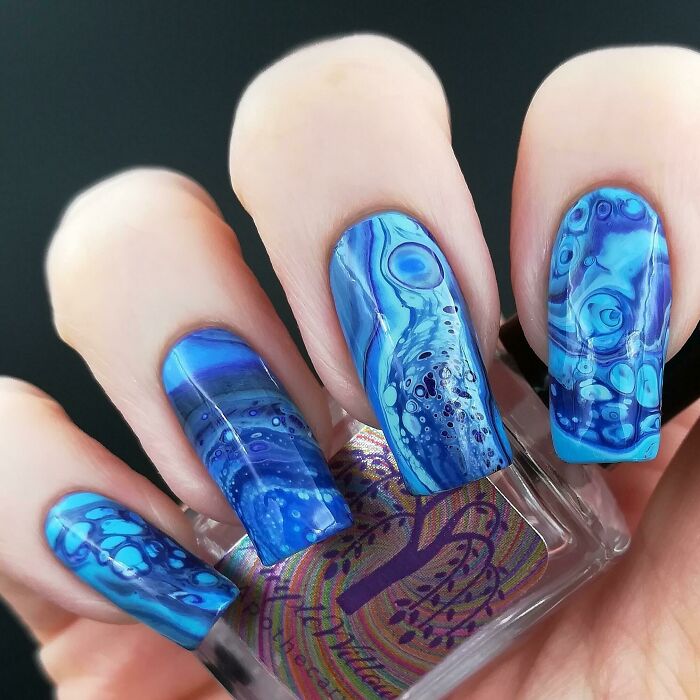 This lady must like blue so much that she asked her nail tech to paint her nails in varying shades of blue, and needless to say, they understood the assignment. Would you ever consider getting something similar to this yourself?
#10 This looks like it belongs on Pinterest
Pinterest is the home of all stylish and lovely things, and this gorgeous nail art certainly belongs on its pages. The OP mentioned that she has been stepping out of her comfort zone lately and experimenting with more colors and different designs.
We say good for her, and if the end result of her experiments looks like this, she should continue. This pastel dream of rainbows and flowers looks like it would be suitable for sunny days at the beach. Wouldn't you agree?
#11 Nails to match her kimonos
Whoever says it's a bad idea to match your nails to your clothes hasn't seen this masterpiece. We love how the nail tech was able to copy the colors and drawings from the kimono and transfer them to the nails.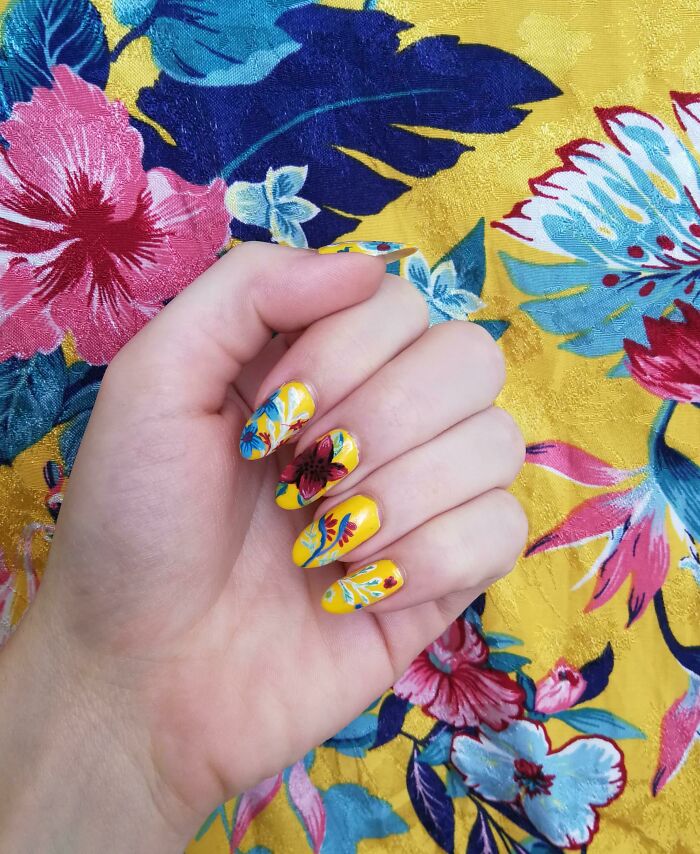 We bet that this lady felt quite happy and satisfied after seeing her nail artist's masterpiece. We'd be elated if we were in her place, and we'd gladly give the tech a generous tip! After which, we would probably walk out of the salon with a spring in our step.
#12 These nails are nothing short of amazing
If only one word can be used to describe these nails, it would be a pick between amazing or breathtaking, or wonderful. How was this even done? It looks super complicated and tedious, and we wonder how long it took to finish.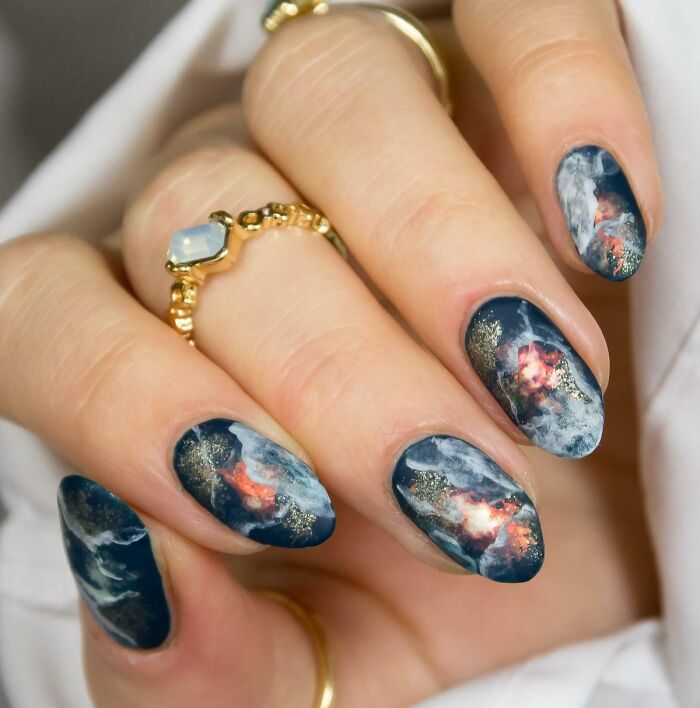 It looks like the Milky Way has been painted on her nails, and that's not a small feat. Let's see "Thanos" attempt something as complicated as that since we can guarantee he'd be greatly disappointed. Now we have too many nail design ideas in our heads!
#13 Cute ladybug
When you've been cooped up in your home for too long, the only thing you can think about is going outside and enjoying the beauty of the outdoors. That must have been what happened to this lady because she couldn't wait to have the beauty of ladybugs on her nails.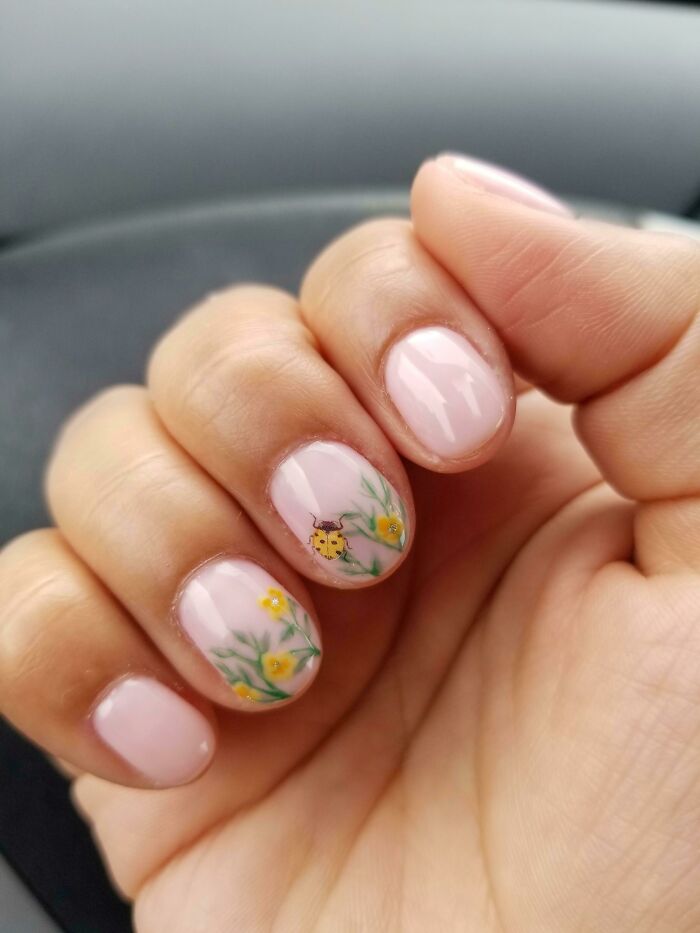 Something as intricate as this must have taken hours to finish. Well, for someone who has a ton of experience, it must have taken significantly less since, like most other mediums of art, nail art gets easier with time. Cheers to the one who did this one!
#14 This makes us want to go to the beach
Looking at these nails makes us want to put on our bikinis and drive straight to the beach with no detours! Who could resist diving in and having a good time with waves as nice as that? We would spend the whole day out in the sun.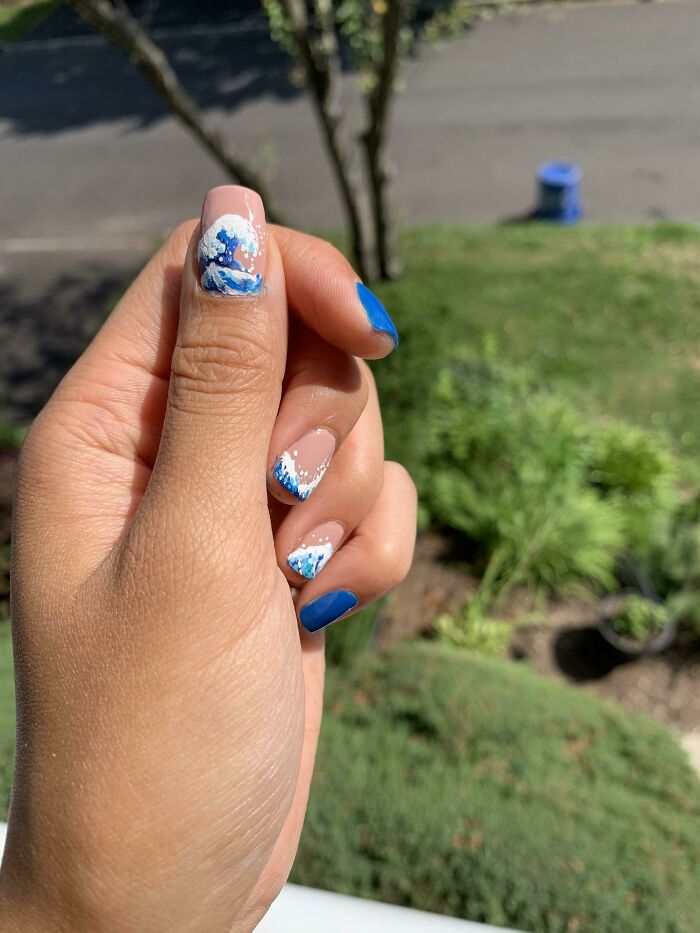 The details on this one are so intricate, and someone clumsy; namely us, would have a hard time replicating this. We're just glad that there are talented people out there we can rely upon to create masterpieces such as this.
#15 We love the color combo
Though we might not know the specific colors used for this nail design, we still love it! All these ideas are just the encouragement we needed to grow our nails longer. We're sure every woman who sees this will stop whatever they're doing to admire it.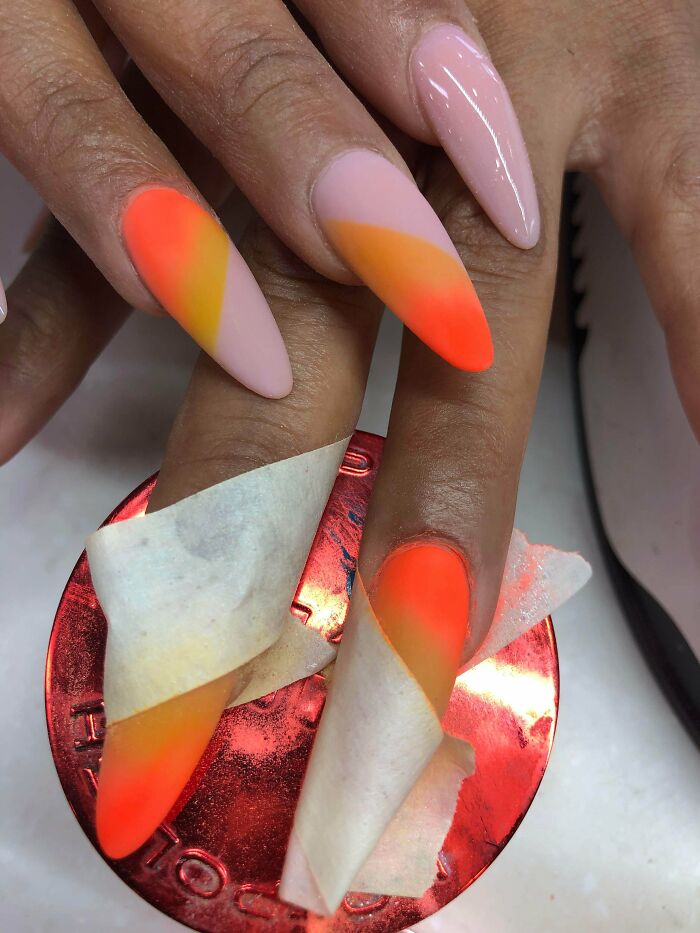 We wouldn't be surprised if they all screenshotted this so they could replicate it! We used to think that pink and orange shades didn't go together, but now we stand corrected. Time to fix an appointment with our nail tech!
#16 In awe of this
If you want to become a nail technician or artist after seeing all the works of art on this list, you need to know that nail techs can work in different settings, which gives a the chance to meet a variety of people in the process.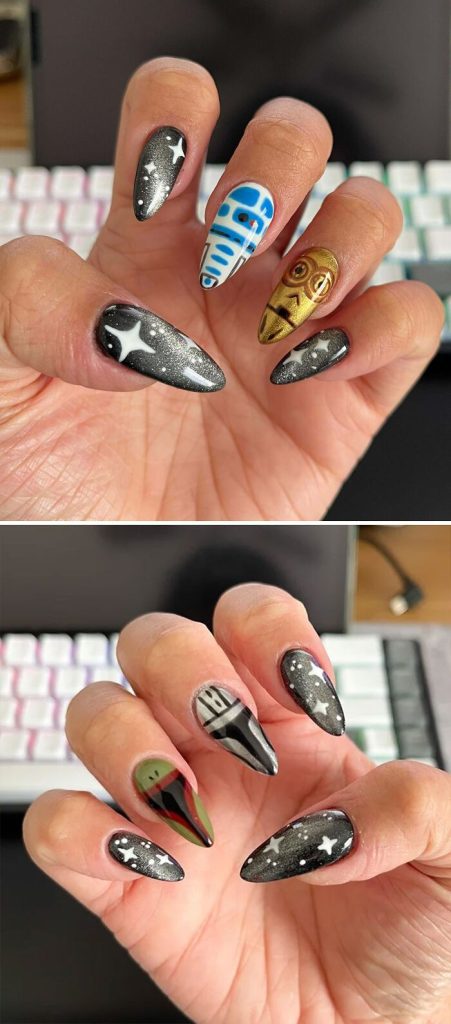 In most places, you need to be at least 16 years old and a high school graduate to become a nail tech, but if you can create beauties such as the one in the photo above, you will go a long way and earn good money in the process.
#17 Great for the festive season
The festive season calls for not only a festive attitude but nice dresses, too. And don't forget fab nails because they complete the look. Nobody wants to be caught dead with drab-looking nails at the end-of-year office party. You can't live that down!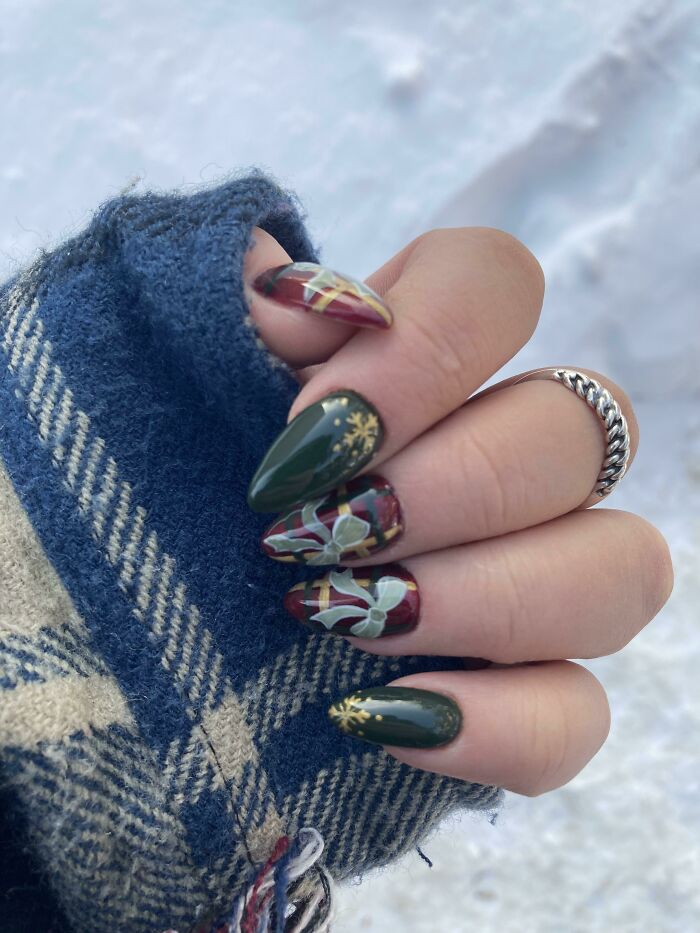 With nails like this, you're going to be the talk of the party, and if you think this is already out of this world, wait till you hear that the OP did this without stickers. She drew everything by hand! Why can't we have this much talent?
#18 These would look great at night
Anything that glows in the dark scores plus points from us. How could you not like something that comes to life when the lights are out? We sure do, and that love has been carried over to nail art, particularly this style.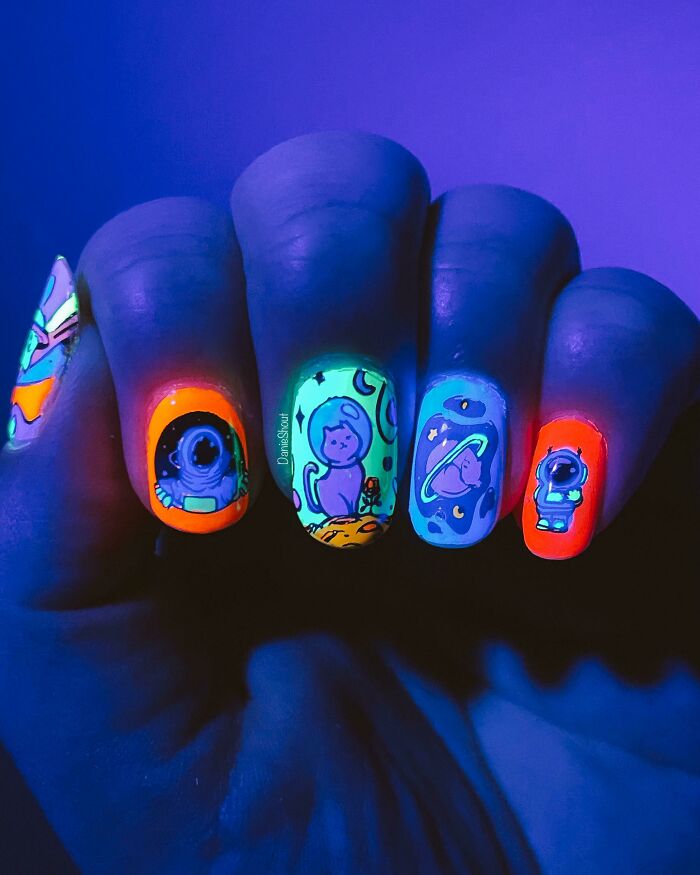 Aside from the fact that it glows in the dark, would you just take a moment to marvel at the intricate design and illustrations? It's more difficult to draw such detail on nails because the surface you work with is quite small, but this artist pulled it off.
#19 Snake x-ray on nails
If you're still questioning the talents of people on this list, here's a photo of a design that might convince you that their pores are oozing with talent. Have you ever seen an x-ray of a snake painted on nails? This was our first time, and we were so impressed!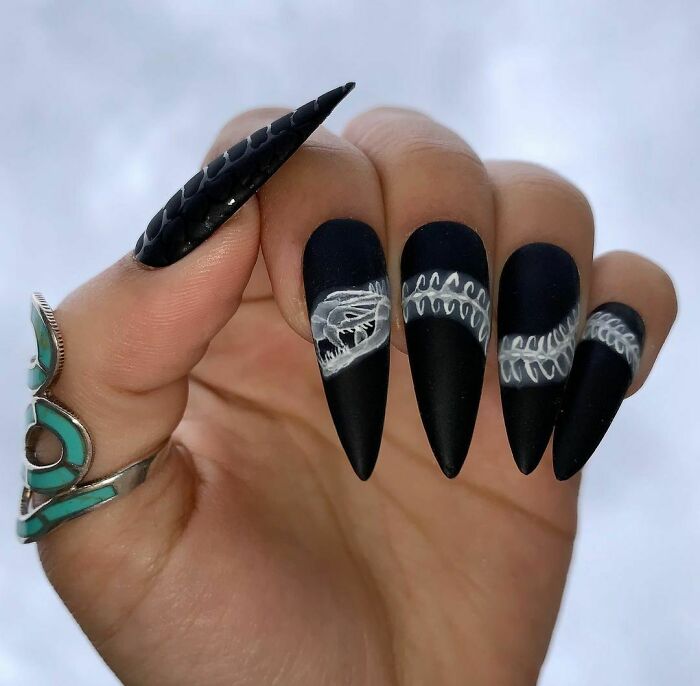 We have nothing but good things to say about this. We don't have the time, patience, or talent to do this. But fortunately for us, we can go to the nail salon and have someone do it for us! If the OP keeps at this, she's going to conquer the nail world one day.
#20 We've never wanted cartoon characters so bad
We love cartoon characters, but there are a few we absolutely adore, and that includes those created by the Japanese animation company Studio Ghibli. Some of the most iconic ones are "Big Totoro," "No Face," "Nausicaa," and "Kiki." If they are new to you, we suggest you look them up; you won't regret it.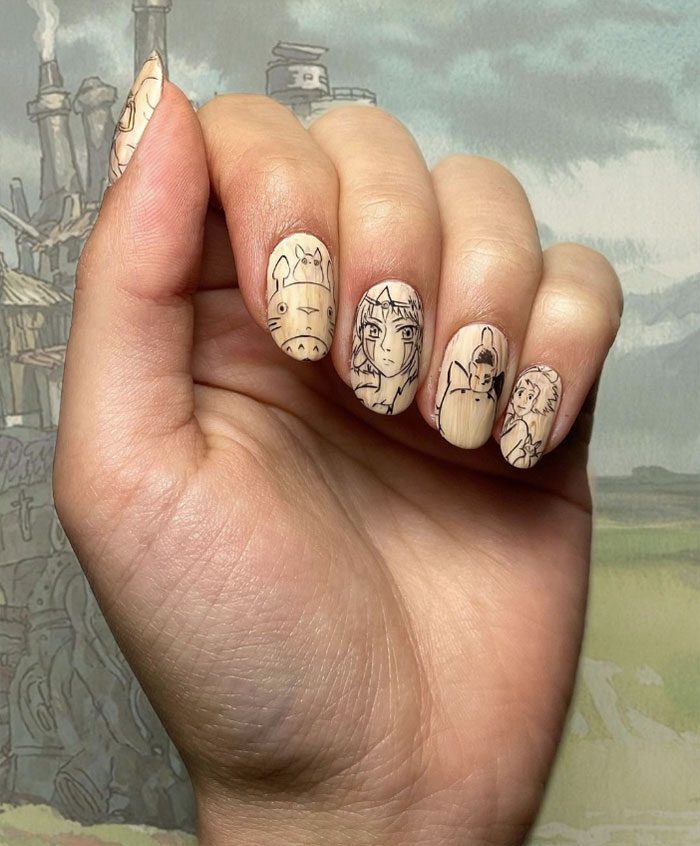 In addition to being inspired by our favorite Studio Ghibli characters, this nail art is also a bit different from the others because it has a wooden style, which adds more to its beauty if you ask us. Excuse us while we hurry to the nail salon!
#21 Halloween vibes
It may be a little late for Halloween, but at least you know what design to go with when it comes again this year. This was the OP's first attempt at nail art, and all we can say is we hope that all first attempts look as good as this.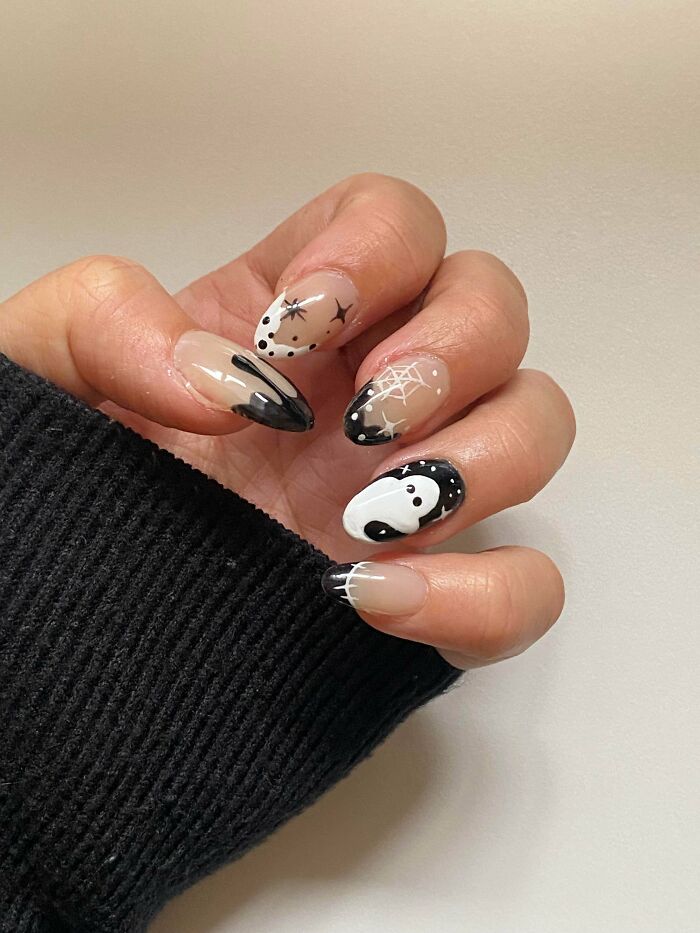 If she hadn't said anything, we wouldn't have been able to tell that this was her first attempt because it was that exceptional. It would take us hours to do something like this. We're certain that we're not alone when we say she did an excellent job.
#22 Lettering on nails
Making minute letters is a struggle even for artists, so if you want to draw perfect letters all the time, you need to spend a good amount of hours on practice. That is what this lady has been doing, and now, check out the outcome.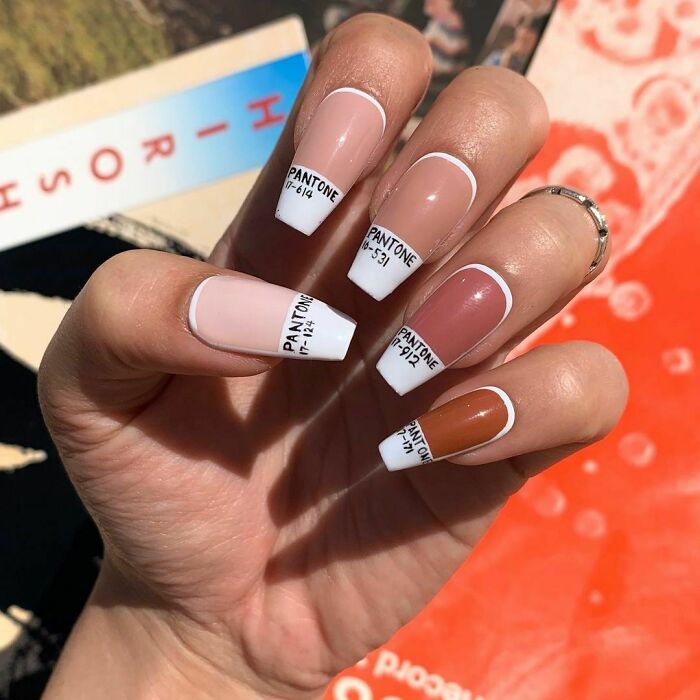 She admits that it was difficult, even with her level of skill and experience. But with dedication, she is only going to get better at her craft and make a killing when it comes to nail art. All we can do is support and cheer her on!
#23 For all the green thumbs everywhere
This is the kind of nail art green thumbs everywhere will love. We are not even plant lovers ourselves, but we love it just the same. The OP described it as her attempt to replicate the beauty of Pink Princess Philodendron on nails.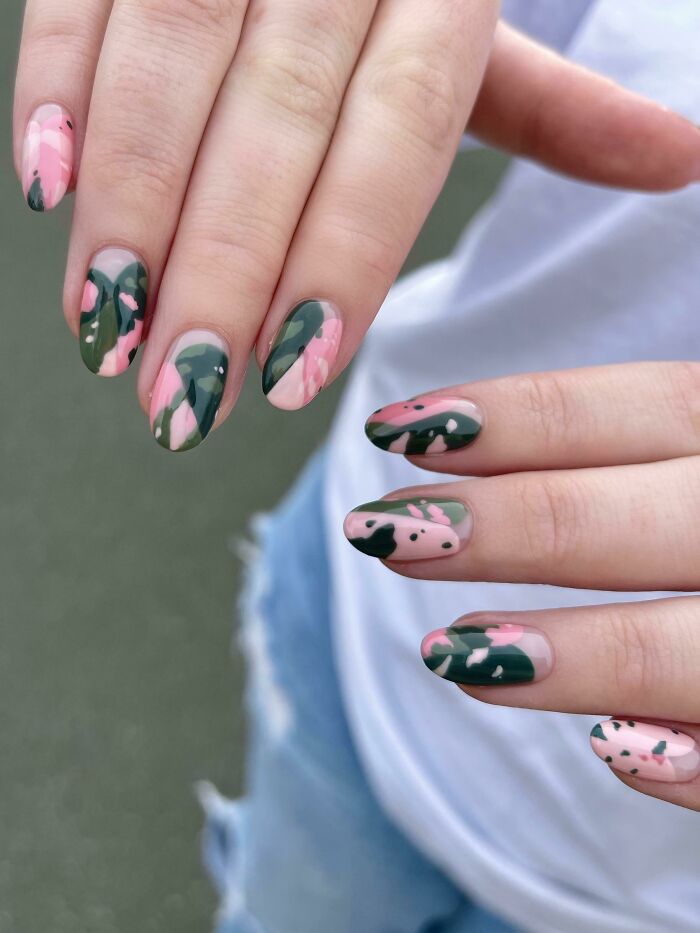 Truth be told, we had to look up the flower because we had no idea what it looked like. It may not have famous colorful flowers, but it's beautiful just the same. We might just get one for our home.
#24 Does this also make you think of Sailor Moon?
If you were a '90s kid who loved to watch cartoons, you must have come across the Japanese animated show Sailor Moon. The series followed the adventures of a schoolgirl who transformed into the eponymous character and helped fight evil.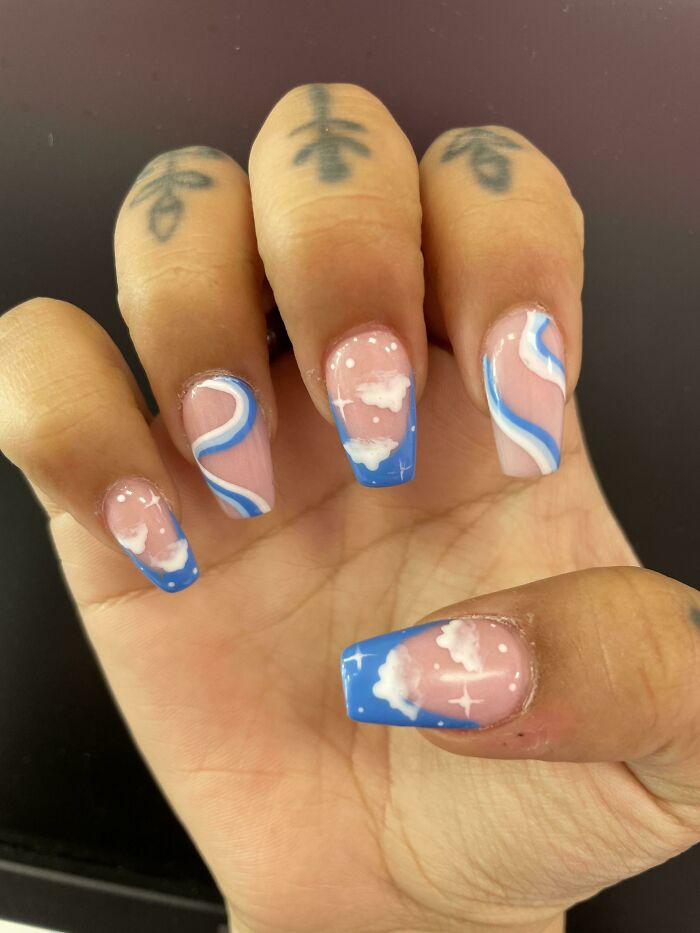 We are yapping on about this because the color and design on the nails in the photo above remind us of both the show and the titular character. Looking at these nails brings a rush of childhood memories that we look back on fondly.
#25 Vintage vibes
This wasn't what we had in mind when the word vintage was mentioned, but we were pleasantly surprised. The next time someone says vintage, this is the only thing that's going to be on our minds; lovely nails that look like works of art.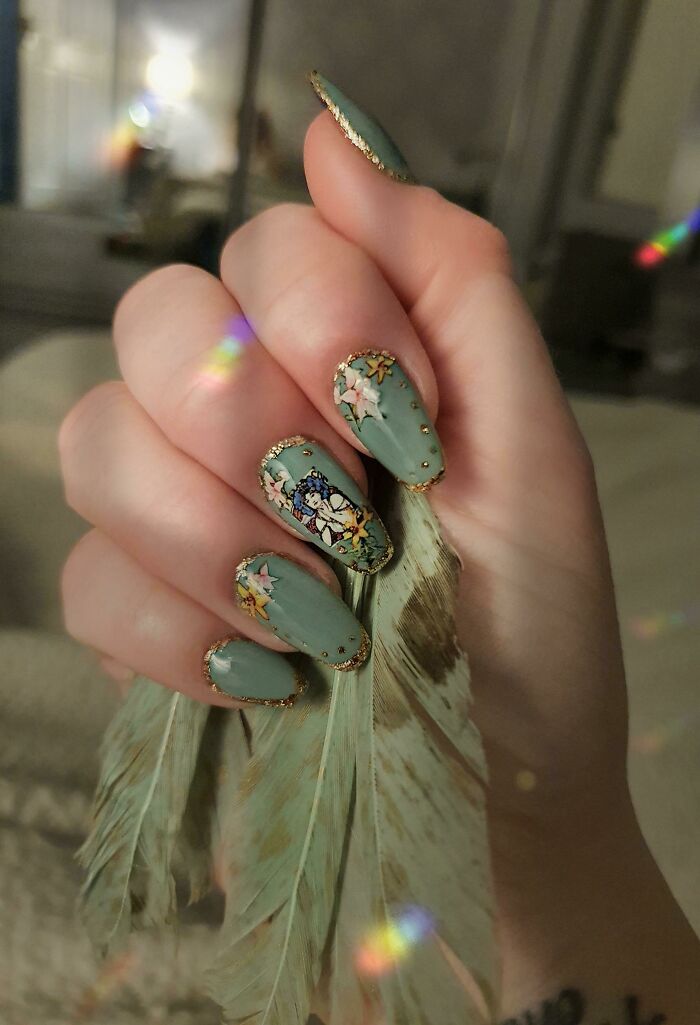 We never thought we'd like this particular shade of green, but after seeing this, it skyrocketed to the top of our list! The most intriguing detail is a miniature painting that was done by no less than a master. How do you feel about this?
#26 The greatest artists on her hands
Salvador Dali, Vincent Van Gogh, Claude Monet, Pablo Picasso, and Leonardo Da Vinci are some of the greatest artists of all time. Their works of art have inspired millions all over the world and have been displayed in all corners of the world for people to admire.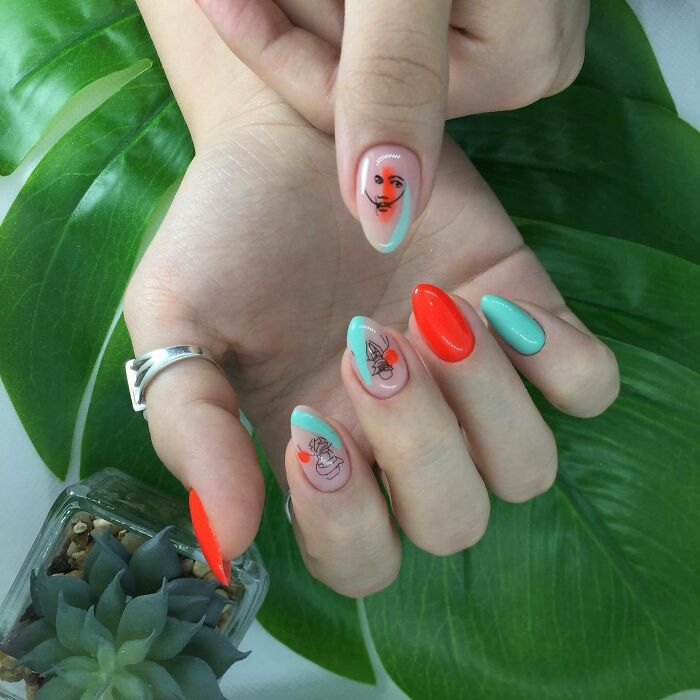 This lady must be a huge fan of them because they inspired her to paint them on her nails. It might be difficult to admire her work of art from far away since they are very small, but once you look at them closer, you'll see just how talented she is too.
#27 Going above and beyond for her client
When you work in the service industry, you aim to please. Although there are times when some customers can be a thorn in your flesh, you always have to go above and beyond to make sure they get what they want.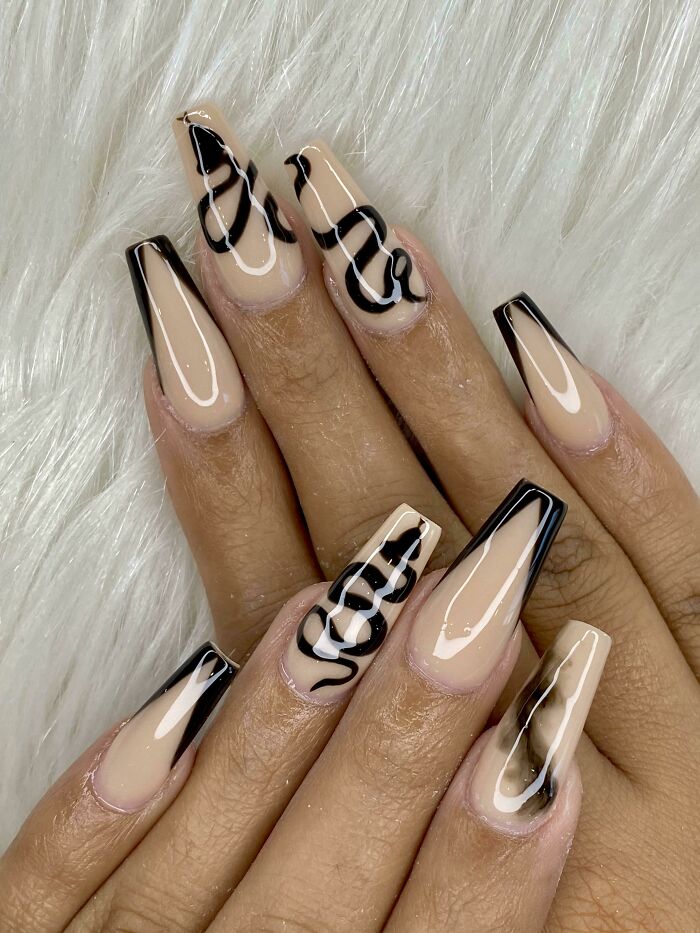 This OP's client showed her a few sticker design nails, and she upgraded the design by doing it freehand. Her client's nails came out looking clean and posh, and we feel it's only right to tell her that this turned out better than any sticker.
#28 Butterflies everywhere
We've always admired the beauty of butterflies. After all, where would we be without them? The plants in our gardens wouldn't be pollinated without them. Aside from the significant role they play in the ecosystem, they are also among the most beautiful creatures on earth.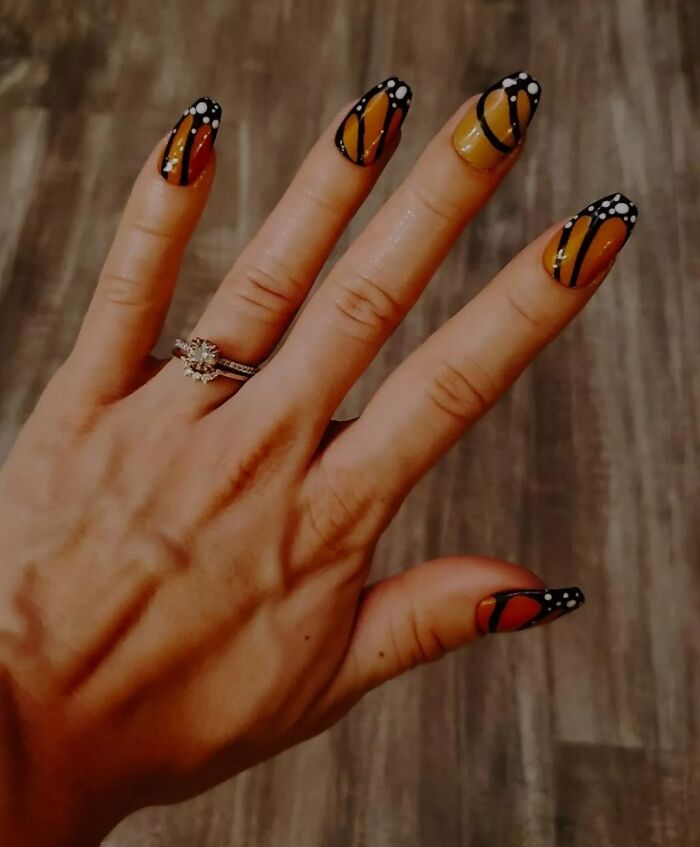 This OP must have felt the same way. Butterflies inspired her to replicate their beauty on her nails, and we are pleased with her work. Don't you think that her nails are the bomb? We think they would make the perfect design for autumn.
#29 Wedding nails
Weddings are one of the most important milestones in life. Aside from marking the union of two people committed to each other, they signal the start of something new and beautiful. So, when you're invited to a wedding, you undoubtedly want to look your best.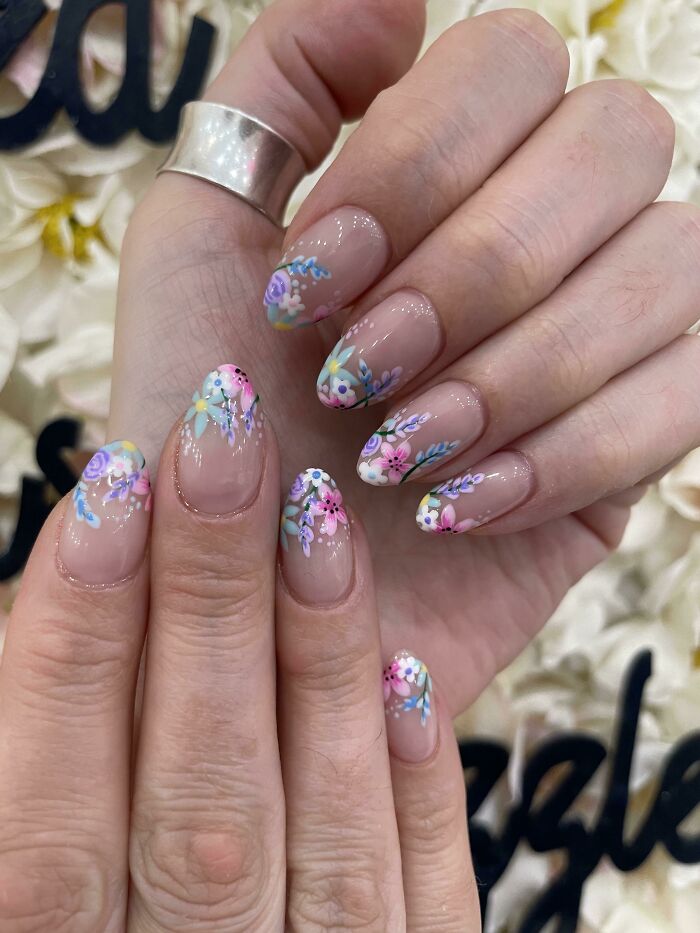 You may not be the bride, but that's still no excuse to show up looking drab and tired. Thankfully, drab was the last thing this lady had in mind, so she made sure to drop by her favorite nail tech to get nail art that would be excellent for a wedding.
#30 This will add sweetness to your nails
Who says people with short nails should miss out on all the fun the nail art world has to offer? Anybody who has thinks that has obviously never seen such a photo. Look at that cute bee! It looks so real that we almost expect it to fly away any minute now.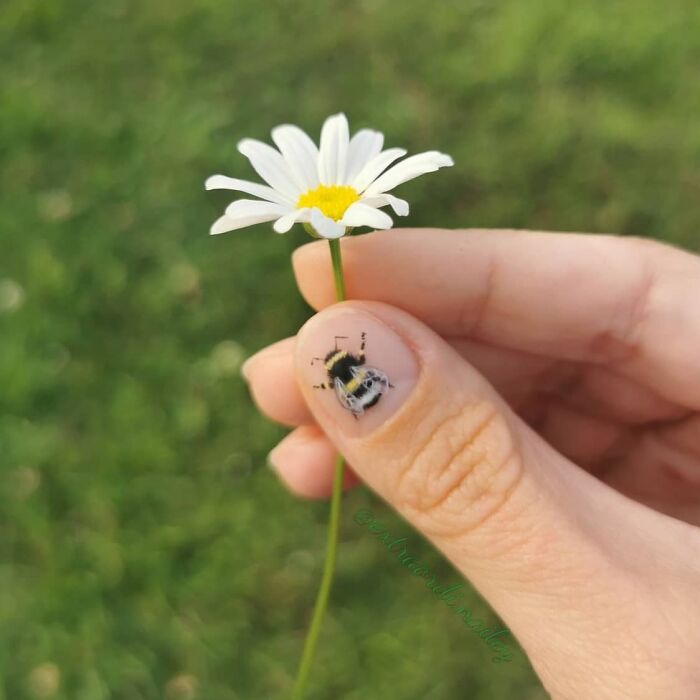 We could never paint anything as cute as this, even if it depended on our lives, but at least this lady has given us ideas for future nail appointments. Just like her, we prefer short nails to long ones because we work with our hands a lot.
#31 Perfect for summer
Put your hand up if you agree with the notion that this nail design is perfect for summer. There's a burst of orange and greens, and all we can think of are flowers and leaves. Now, we are looking forward to warm weather and days spent outdoors.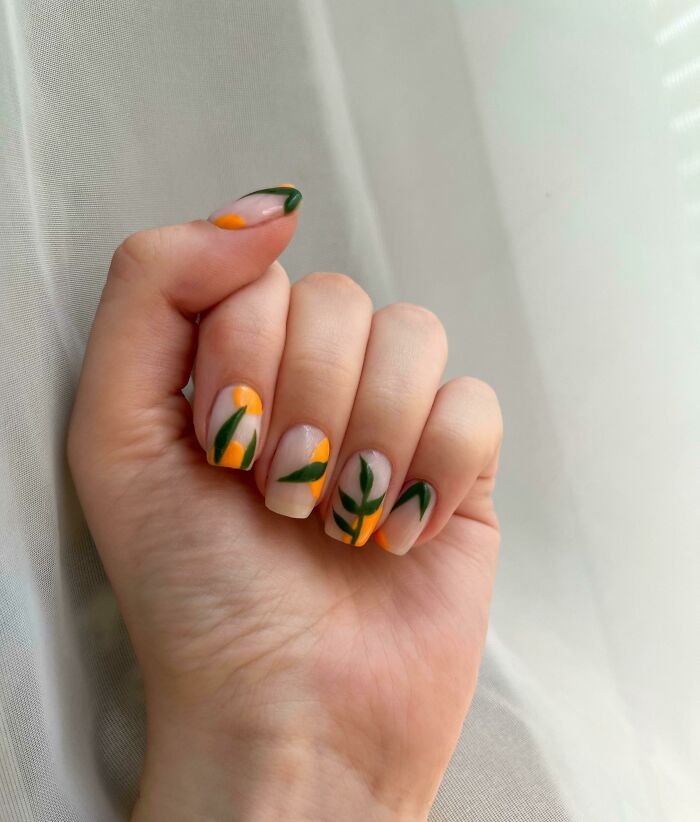 We love everything about this; the color palette, the design, and the execution. Some people said that the art reminded them of sunset, and although we may not necessarily see that, it just goes to show you that people interpret art differently.
#32 Letting out her inner child
When you are working on your nails, you have to let your creative juices flow freely. No one is going to tell you what you can and cannot do, and if that means letting your inner child out, then so be it!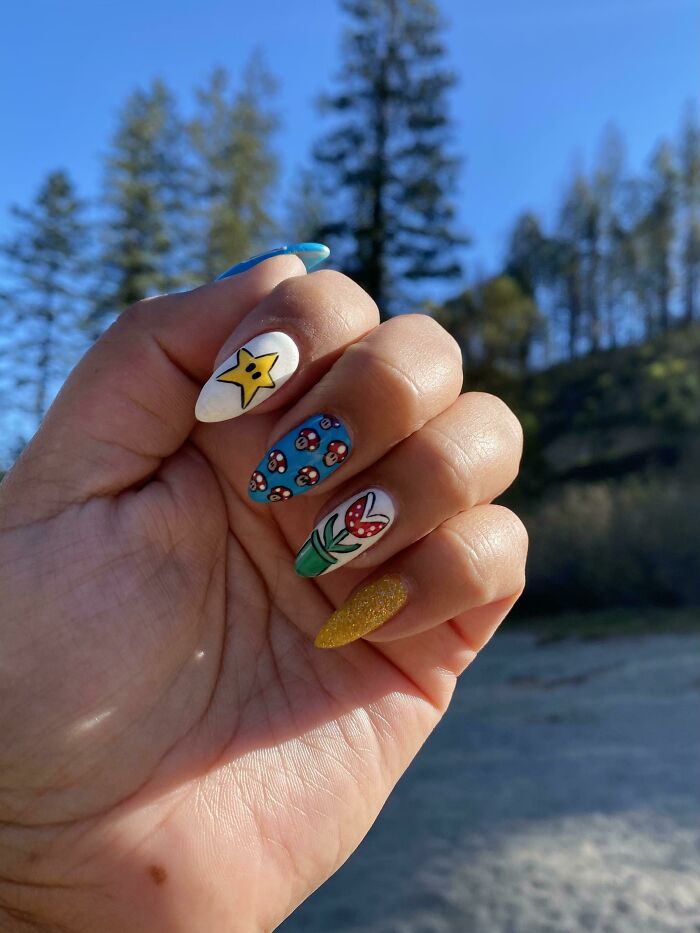 This lovely lady's nail tech must have been a huge fan of Super Mario growing up since it's they brought this idea to life so beautifully. Just like the Sailor Moon nails we saw earlier, this takes us back to simpler times when all we had on our to-do lists was TV, playing, and homework.
#33 White and blue
If you're a fan of blue and white, consider this for your next appointment with your nail tech. We love both the colors and the texture of this design. That said, the only thing we're not big fans of is the length of the nails.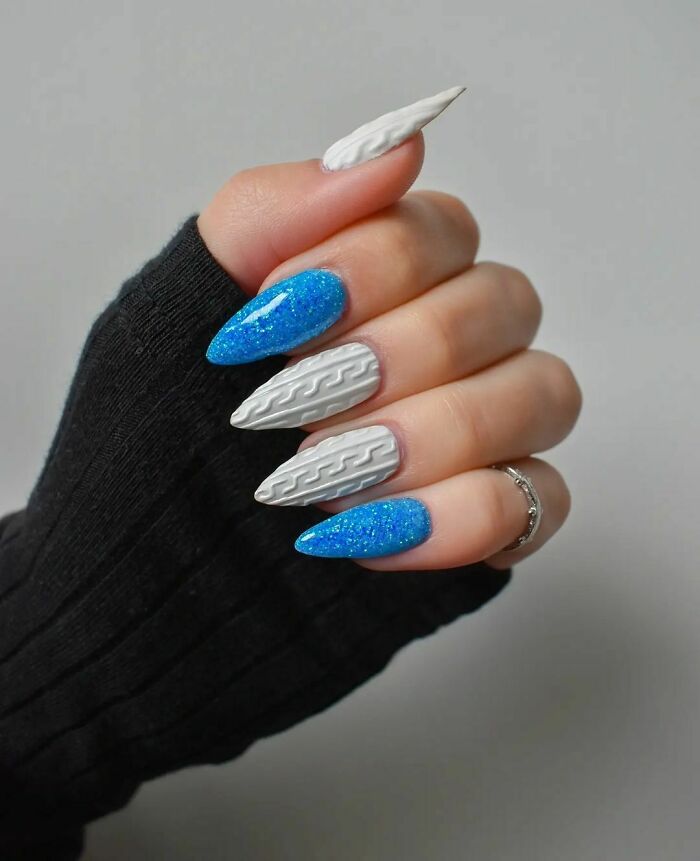 We can only imagine the difficulty of working with nails this long, especially for mothers caring for toddlers. There is always the risk of accidentally scratching your baby when you're changing, carrying, or feeding them. But that's not to say you still can't get this if you really want to.
#34 And we're off to Disneyland
This makes us want to go to the happiest place on Earth and act like little kids with no bills to pay and nothing to worry about. This was made by a chef who paints a lot and has a fiancé who happens to be a manicurist that's very conscious of her nail art.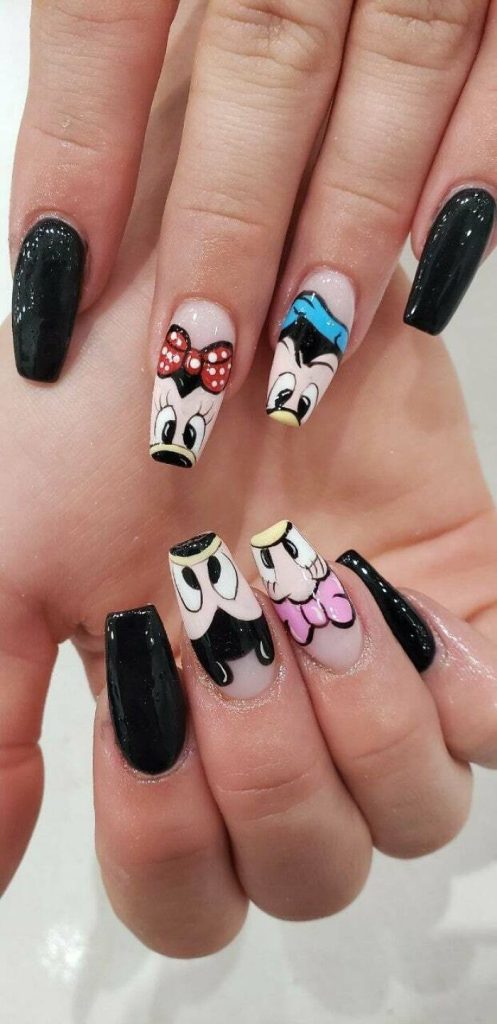 Well, this couple is a very talented and artistic bunch, and we wish them luck in their future endeavors. We have no doubt that they are bound for happier days ahead, filled with laughter and quirky yet stunning art. Cheers!
#35 For the 'gram
No matter how much we deny it, the truth is that social media has taken over our lives. People nowadays are preoccupied with looking as polished as they can be because they need to post their photos on the 'gram. God forbid only two people end up giving them likes!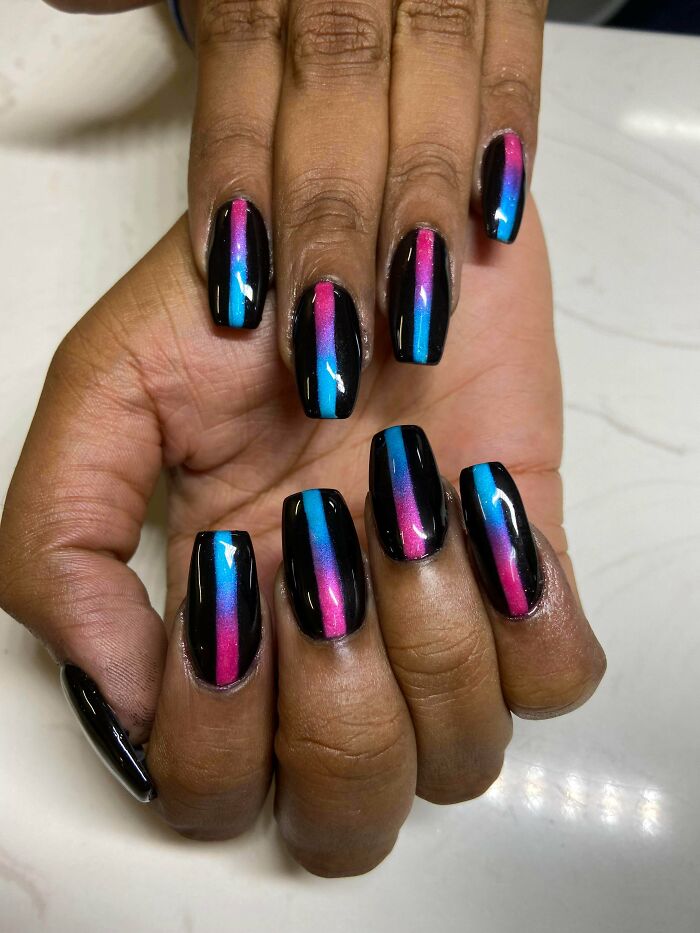 This person saw something on Instagram and wanted it replicated on her nails, and this is what she ended up with. What do you think? Yay or nay? We love the black and the splash of color right down the middle.
#36 Dipping nails
We're not nail experts, so there are more than a few terminologies we're not familiar with. For instance, this is the first time we have come across the phrase 'dipping nails.' It means dipping your finger into various containers of powder.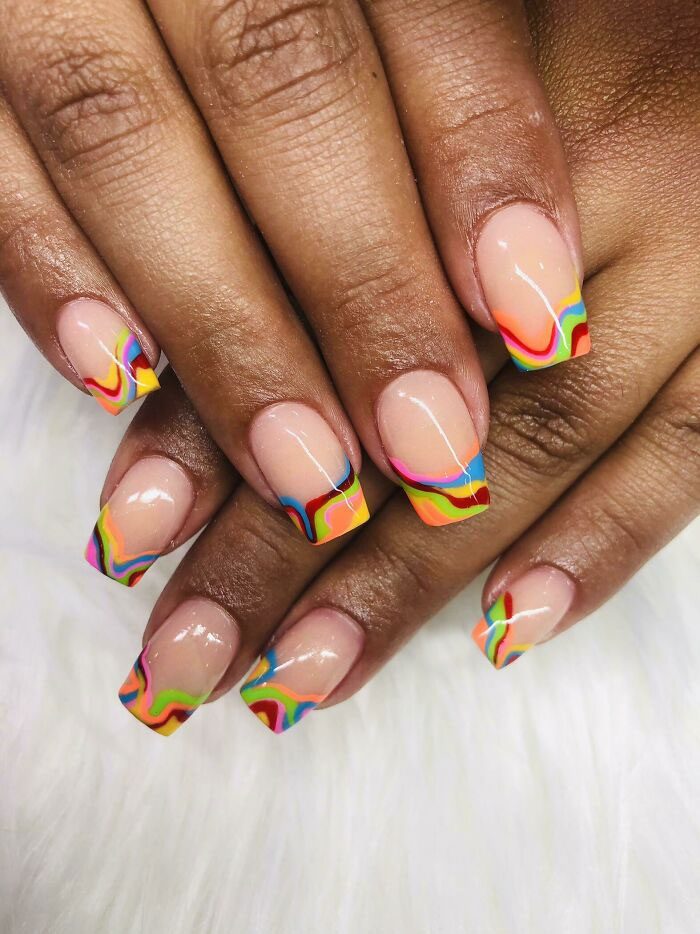 It's a manicure method that combines specialized bases and sealers with pigmented powder. If this is the result of dipping nails, then we can confidently say that we will give them a go because we think they look hella awesome!
#37 Super fun nails
For some people, creating nail art is something they do to earn a living. However, for others, it's also therapeutic and a way of practicing their art. It is an amazing way to earn money while doing something you love and being artistic at the same time.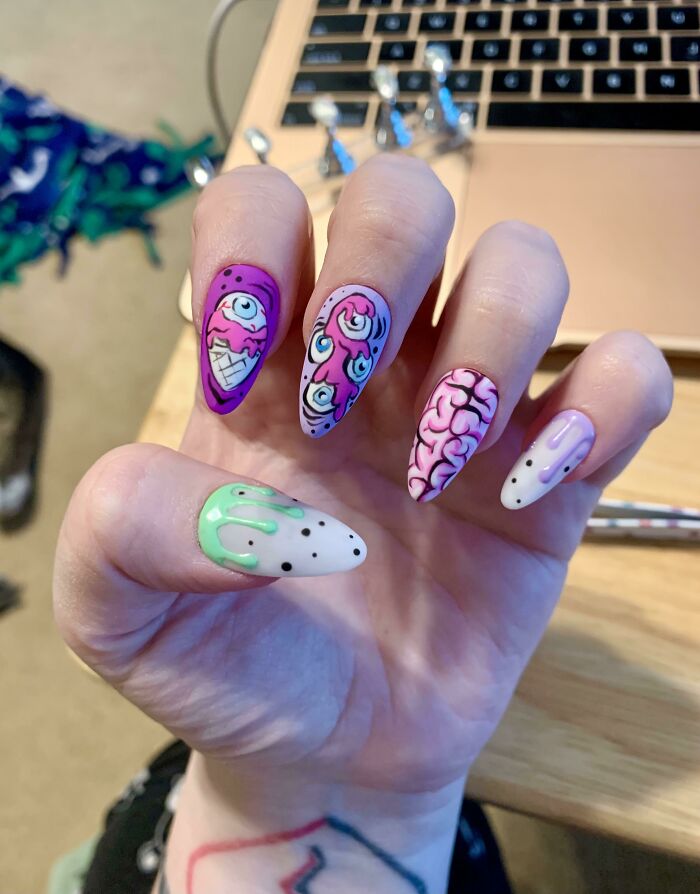 Nail art is supposed to be fun and engaging, so it doesn't have to be all plain and boring. If you need proof, just look at this. This is super fun and something we would be lucky to have on our nails.
#38 Who needs wiggly eyes?
We've never thought of putting wiggly eyes on our nails before, but now that we've seen this, we're going to ask for it on our next appointment because it looks rad! This would be suitable for a fun event or party where you can let your hair down and enjoy a few laughs.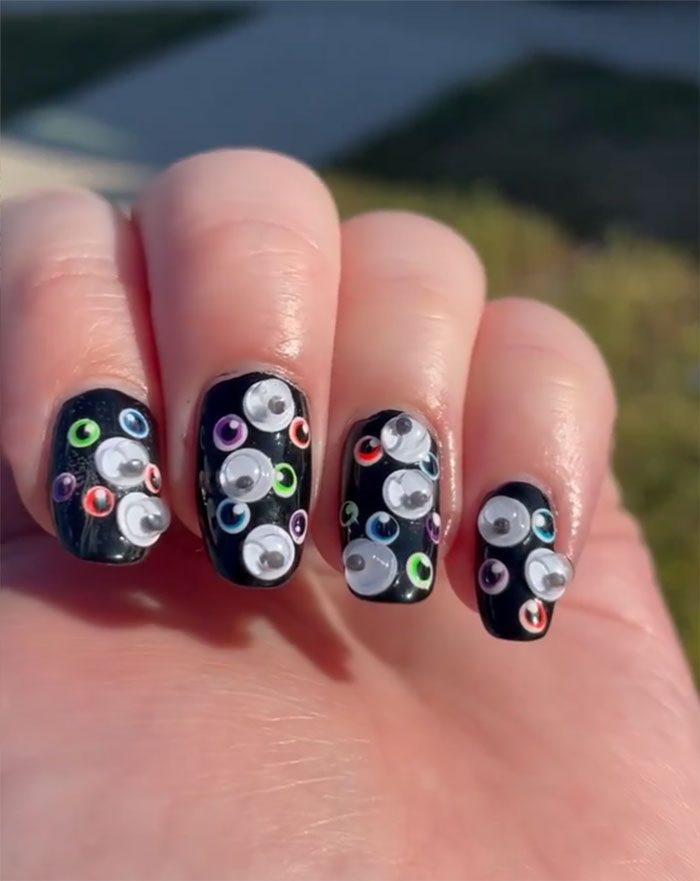 This creation was the OP's attempt at Halloween nails, hence the color and the designs. However, if you would like to wear it even when it's no longer Halloween, we'd support your decision. It would look good no matter what the season.
#39 Practice makes perfect
They say that practice makes perfect, and if this is the result of making nail art over and over again, we say good job! This stunning creation is something we'd pay good money for. The only problem is the OP doesn't live anywhere near us.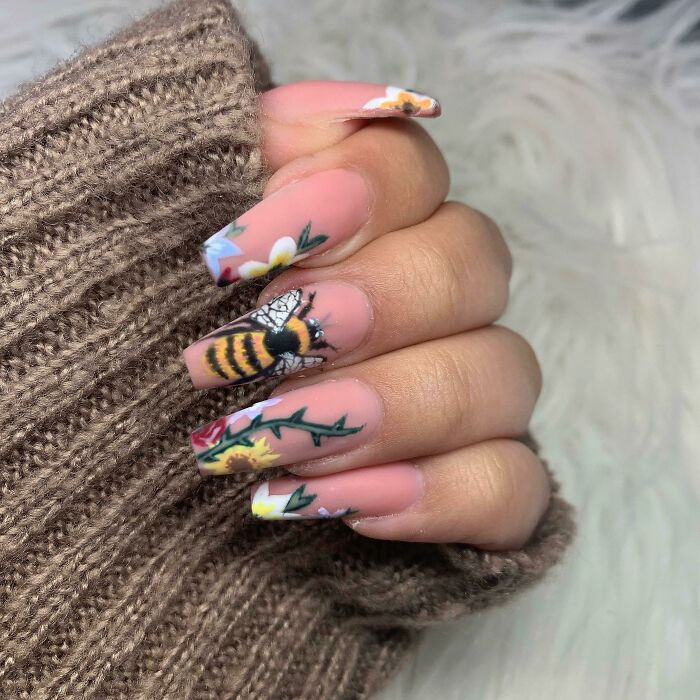 We love the bumble bee and the colors used. Suffice it to say, this lady has enormous talent. Something we can't help but be jealous of because the only thing we can draw is stick figures, and that wouldn't look good on nails.
#40 This lady is getting a second date for sure
These nails were painted to impress, and if this is what your nails looked like for a first date, you can bet there's going to be a second date! From the looks of it, it's easy to tell they were inspired by the different phases of the moon.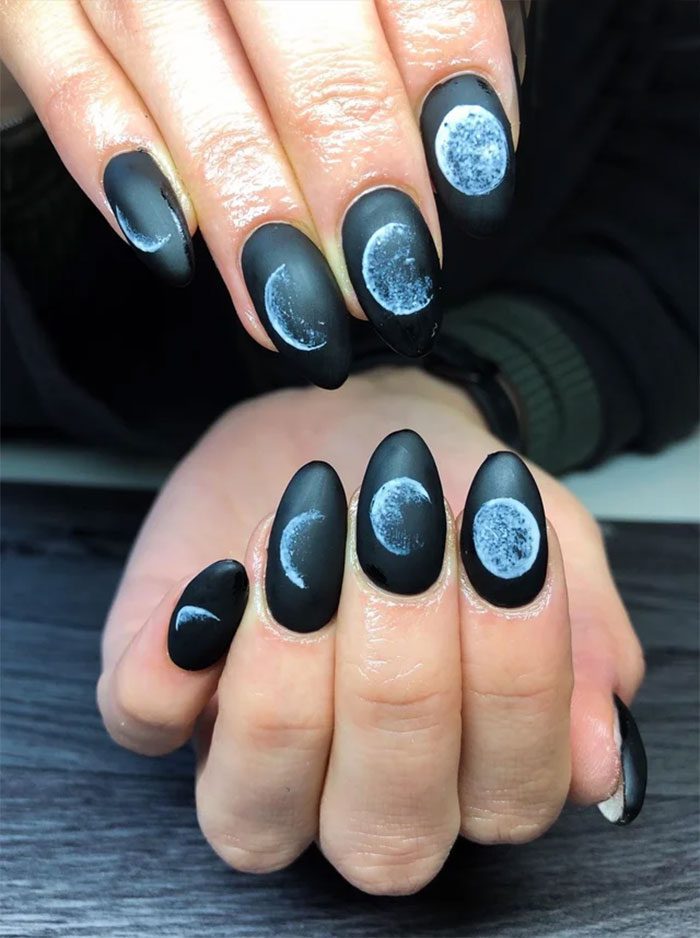 The OP used acrylic overlay with gel nail art, and people on the internet couldn't help but marvel at the end result. We hope this lady opens her nail salon soon because we know a lot of people will be headed her way to get their nails done.
#41 The work speaks for itself
The lady who did this said this was the first time she mustered enough courage to post her work. She has always been timid and afraid of people's comments. Good for her for finally letting people see her art because it deserves admiration.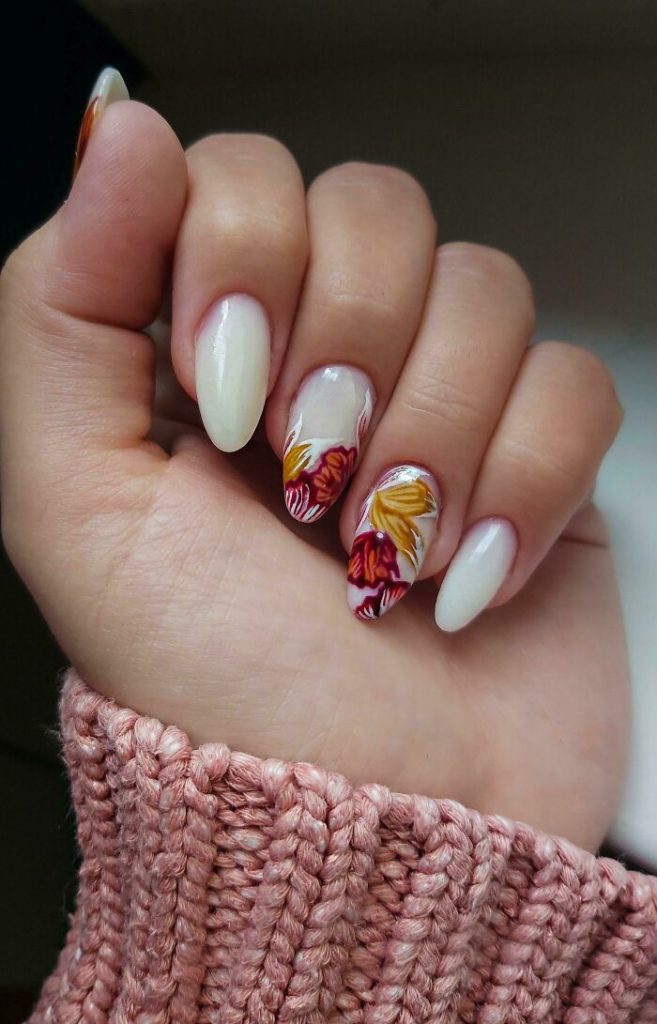 She also had advice for others who have dreams of getting into nail art. Aside from having steady hands, she said the use of thinner and longer brushes helps with optimal precision, so keep that in mind when you start buying your nail art supplies.
#42 Candy canes and sweets
This makes us think of Christmas because when else do you see an abundance of candy canes and other sweets? We may no longer be little children, but who can turn down goodies such as candy canes, chocolates, and cookies?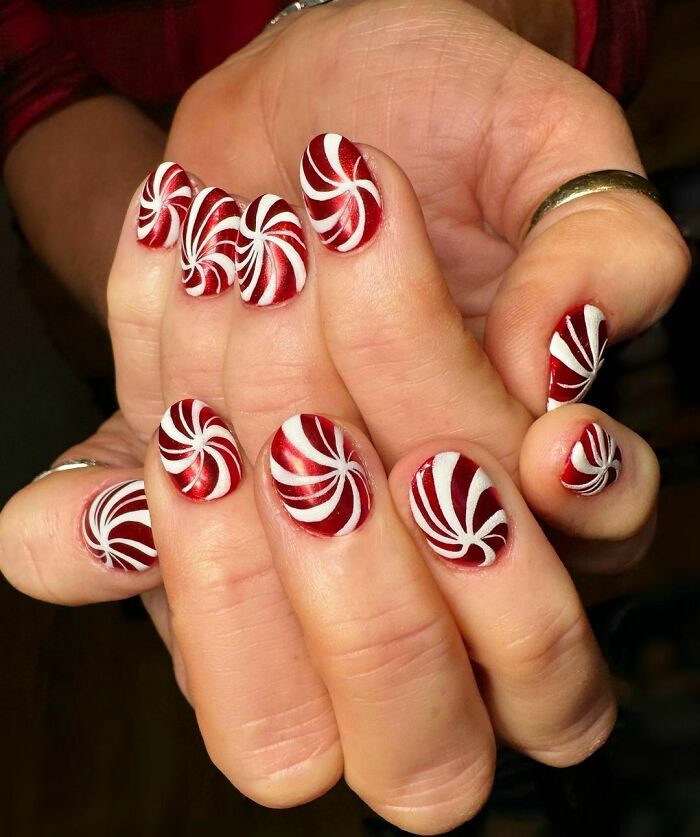 These nails are so yummy, and if you want to get something like this, you can check out the nail tech's Instagram handle. She has plenty of other equally amazing creations. The only problem is she's based in London, which we are nowhere near. But if you are, thank us later!
#43 Little Gudetama
Next up, we have another take on a popular Japanese animated character. This time the spotlight is on "Gudetama." The cartoon character was produced by Sanrio, and it follows an anthropomorphized egg yolk who is not only lazy but also sad.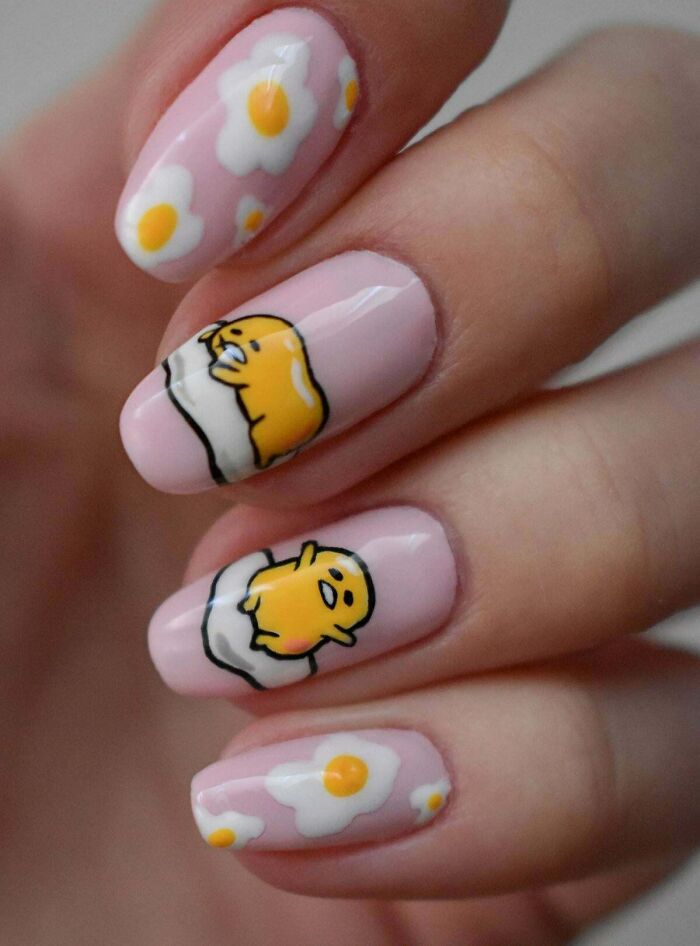 There's nothing sad about this nail art. It turned out so cute, and we can't help but smile or laugh every time we see "Gudetama's" booty! Some people may think that cartoon characters are so childish, but we're here to tell you that they're not. Well, some are, but they still inspire amazing nail art!
#44 For a moment, we thought this was a painting
If you didn't look closely at this photo, you'd think that this was a painting. How did the OP achieve such an effect on her nails? Though she hand-painted Apres Gel X natural square medium tips, we are here for the final effect and the colors.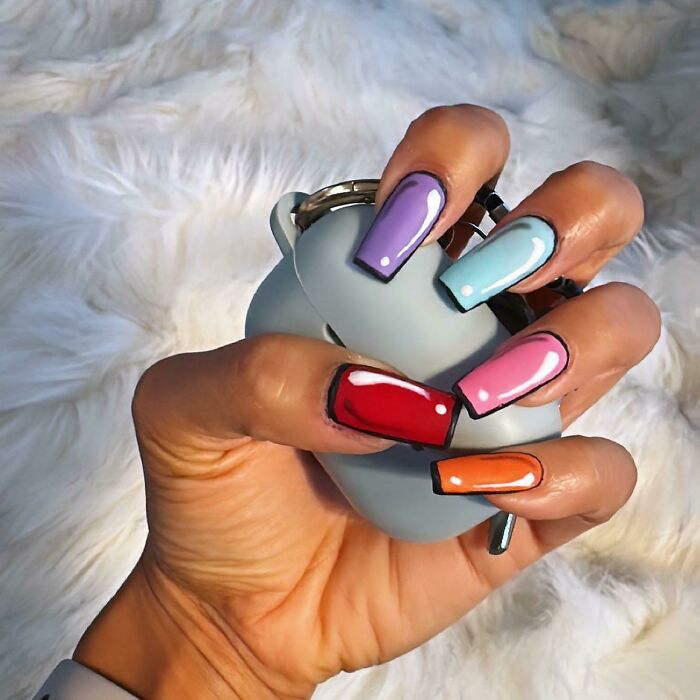 You don't see this often, and that is why it warrants more than a cursory look. People asked the OP if it also looked good on shorter nails and the good news is it does! So, don't you worry if you're not the long nails type of girl.
#45 Sugar, spice, and everything nice
"Blossom," "Bubbles," and "Buttercup" hit the mainstream in 1998. Collectively known as The Powerpuff Girls, they protected the world from bank robbers, mad scientists, and even aliens. If you were a fan, who was their formidable adversary? None other than "Mojo Jojo!" Yeah, we know we're geeking out.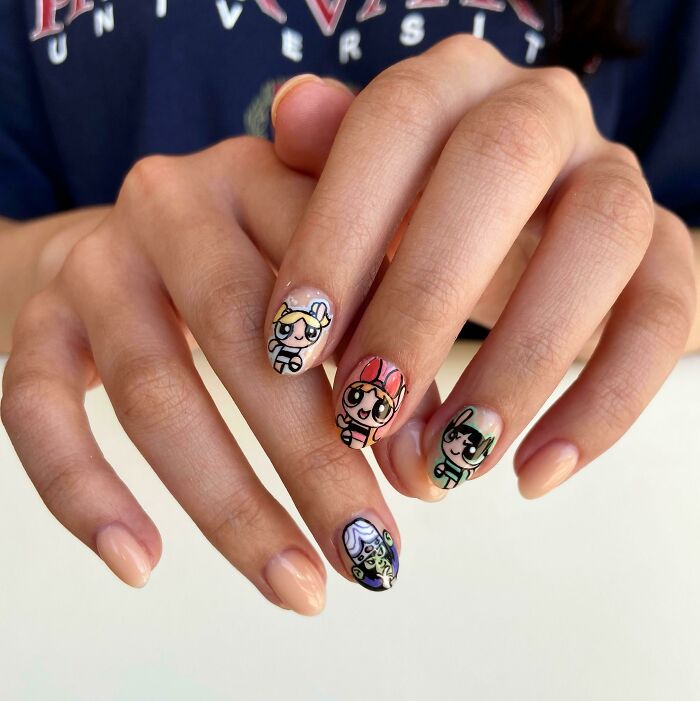 While it has been years since the last episode aired, this woman still can't get enough of the three girls made from sugar, spice, and everything nice. So, she channeled her love for the cartoon show into her nail art.