Outfit Ideas Tailored For Ballet Flats
By Martin B November 20, 2023
---
The revival of ballet flats echoes a resounding fashion statement: "I've arrived, and I'm utterly fabulous!" These shoes are celebrated for their effortless slip-on design and ethereal lightness. Their legacy includes fashion luminaries like Audrey Hepburn, Coco Chanel, and Karlie Kloss. Today, style icons such as Bella Hadid confidently embrace them, affirming that donning ballet flats remains a timeless choice, especially during bustling airport travels.
But hold on, the ballet flat extravaganza encompasses a myriad of styles. They span from glimmering metallic finishes to luxurious satin creations. Their versatility is remarkable—these shoes seamlessly blend into any setting, akin to fashion's adaptable chameleons. Whether you're stepping into a formal affair, enjoying a leisurely stroll, or mingling at a lively gathering, ballet flats effortlessly add a touch of grace to your ensemble. It's akin to having a fashion fairy godmother nestled within your shoe collection!
1. Chanel ballet flats & winter outfit
Rocking Chanel ballet flats with your winter outfit is a style move you can't miss. These flats are more than just shoes; they're a fashion statement. Pair them with a classy blazer for a color-blocking combo. Go for colored flats and a classic black or navy blazer to stand out and stay warm.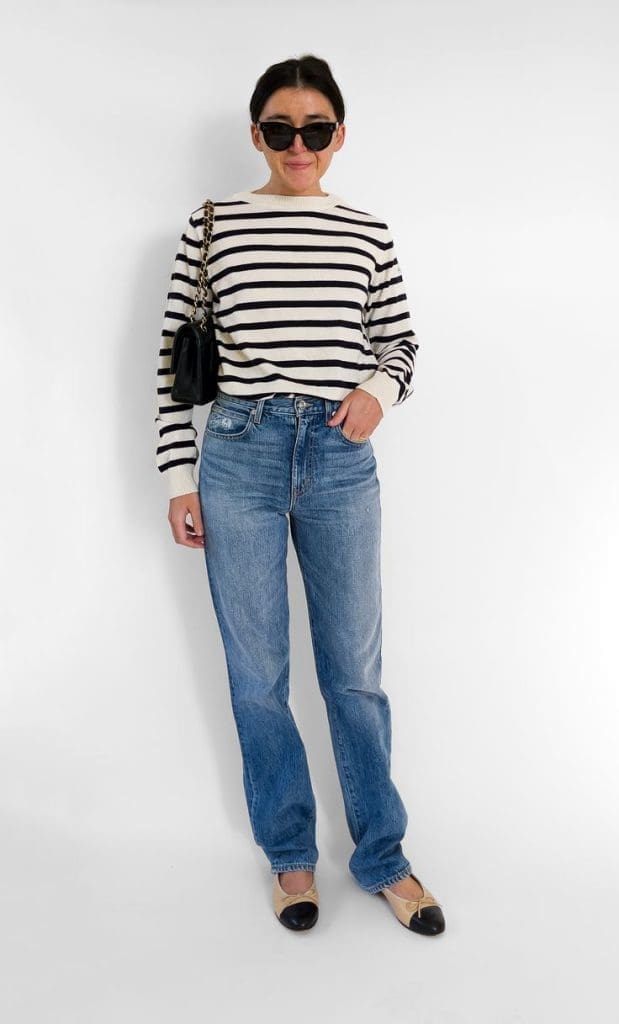 Layer this with a cozy sweater and add a cute scarf or beanie. It's all about feeling good and looking great, and it shows when you're confident in what you wear. So, stay classy, comfy, and warm with Chanel ballet flats in winter.
2. Chunky gold jewelry with black ballets
To change the whole level of the outfit in one go, consider incorporating some chunky gold jewelry, which will add a lot more to the entire look. Whether it's a statement necklace, bold bangles, or oversized earrings, these dazzling accessories can work wonders with your all-black fit.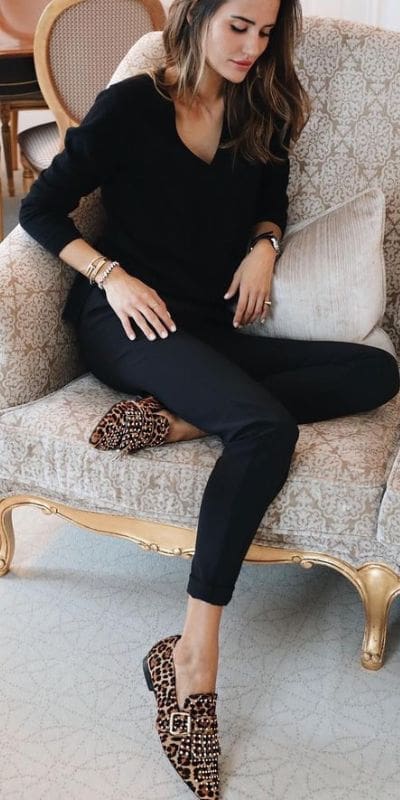 Also, you can pair this jewelry with those chic black ballet flats, and you've struck the perfect balance between comfort and effortlessness with just the right touch of sophistication. The flats provide a sleek and comfortable foundation for your overall style.
3. Leather jacket & ballet flats
This all-black outfit is absolutely on point. The leather jacket brings that edgy vibe, making it street-style perfection. For that extra street cred, you can throw in a choker, and you'll take this look to something new without any extra effort.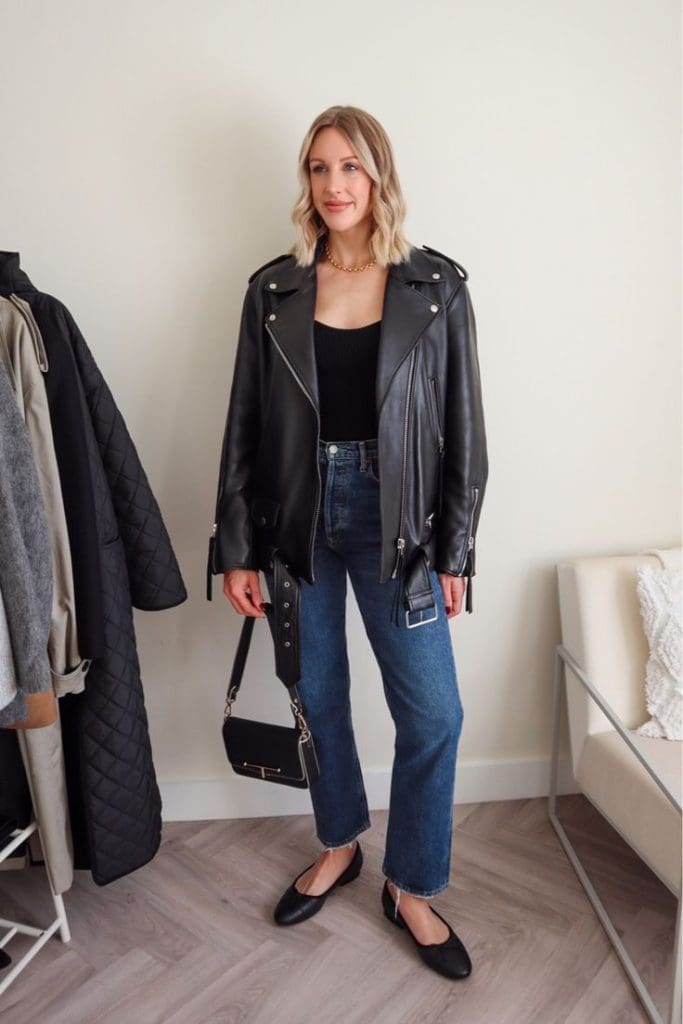 But for a more polished and put-together appearance, you can go for a trendy, sleek bun made up on the top of your head. It's all about how you style to your liking. For example, whether you're going for that street-smart look or something a bit more classy. 
4. Brown cardigan & mom jeans with bow-tie ballets
Ballet flats are for everyone, regardless of your height or personal style. This outfit beautifully demonstrates that inclusivity. It features a delightful brown crochet cardigan adorned with buttons and full sleeves, infusing a sense of coziness and charm into the overall look.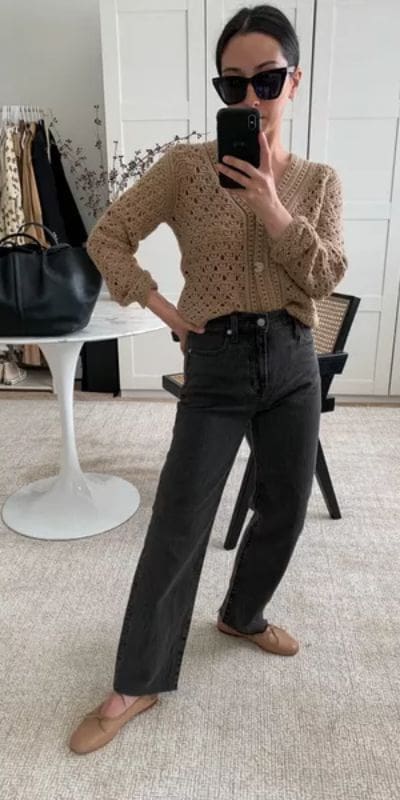 As you pair the cardigan with classic black mom jeans, you instantly embody timeless fashion that exudes confidence. However, the true stars of this ensemble are the bow-tie ballet flats. In this outfit, you feel poised yet cute as you go about your day.
5. Floral sundress & ballet flats
A floral sundress paired with ballet flats is the perfect choice for a casually outfitted summer look. The sundress, with its floral patterns, exudes a fresh and playful vibe, making it ideal for warm, sunny days. Ballet flats add a touch of elegance and keep your feet gorgeously dressed as you enjoy the season.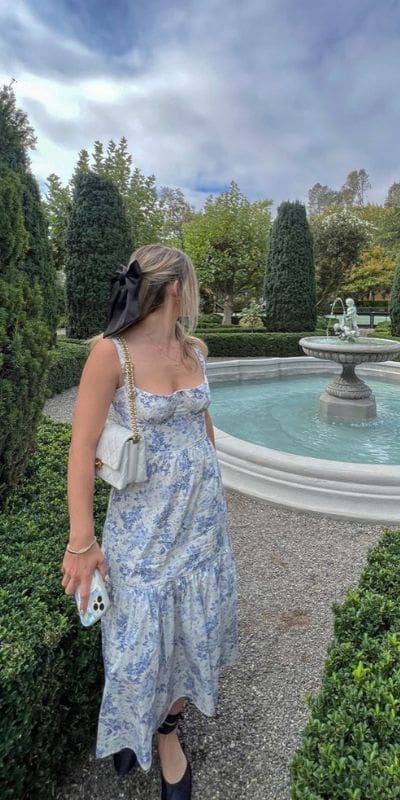 You can complete the outfit with a sun hat, sunglasses, and a crossbody bag to carry your essentials. Whether you're headed for a picnic, a stroll in the park, or a leisurely brunch, this combination is a go-to for a laid-back and stylish summer ensemble.
For more outfit inspirations, click here.