Slay The Day: 30+ Fashion Essentials That'll Turn Heads
By Navkiran K August 7, 2023
---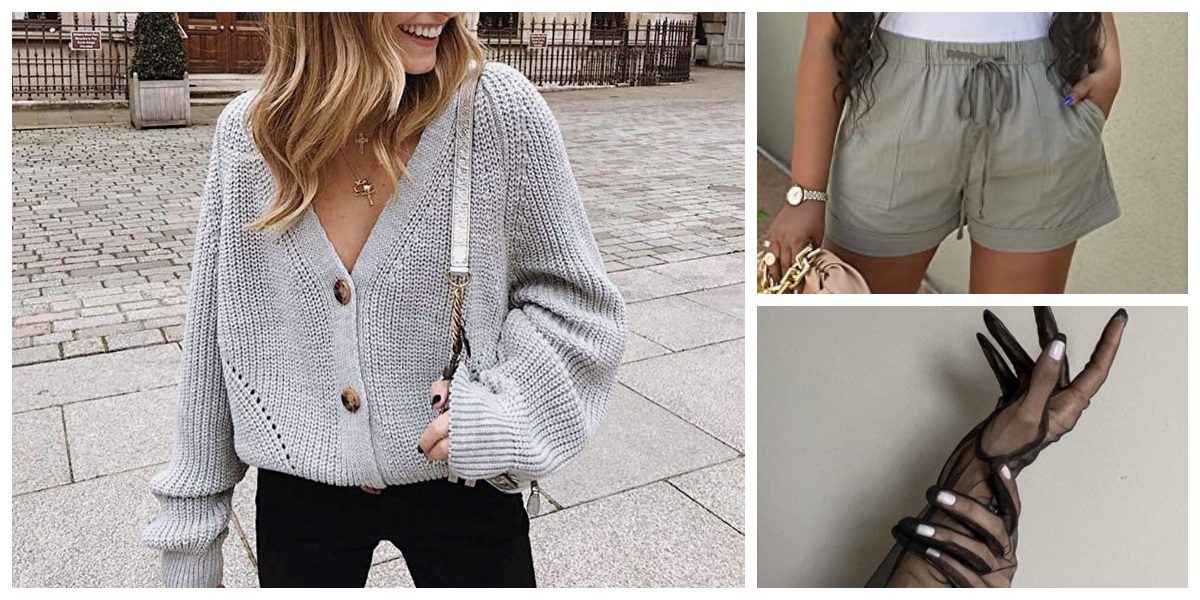 Welcome to the fabulous world of style, where creativity knows no bounds and every outfit finds a warm embrace. Your self-expression as a fashionista is beautifully evident in the creative ensembles you curate. We've lovingly assembled a stunning collection of stylish treasures to set your fashion inspiration ablaze and elevate your wardrobe to new levels of fabulousness.
Discover head-turning dresses and jaw-dropping accessories that will leave everyone in awe. Each piece has been thoughtfully curated to make you the belle of every ball and the topic of conversation in every town. Embrace the enchantment of fashion and let your unique style radiate like never before.
With these wonders at your disposal, each day will become a thrilling fashion adventure, and your impeccable taste will captivate everyone around you. So step into this world of sartorial magic and let your style shine brightly!
1. Corset top
Elegance takes a twist with the strapless mesh corset top. It's the perfect fusion of style and quality, a timeless staple for your wardrobe. With twenty color options, you can flaunt your favorite and rock the trend uniquely. Embrace the allure of style that stands the test of time!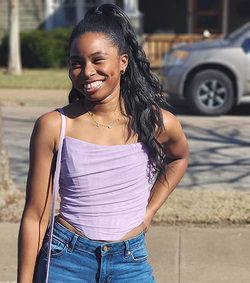 Pair them with high-waisted trousers, flowing skirts, or a classic button-down. The luxurious fabric look rivals pricier alternatives. Rest assured, wherever you go, this piece leaves a lasting impression on others, adding a touch of elegance to every step you take!
2. Midi dress
Get ready to steal the spotlight with the fabulous midi dress! It's an absolute head-turner that'll have fashion lovers gushing and admiring your style. This timeless and versatile gem effortlessly blends sophistication with a modern twist. So, don't wait another minute—hit the shops and ensure this trendy outfit finds its way into your wardrobe!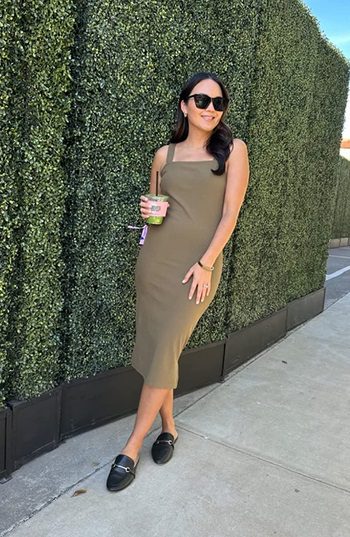 Picture this: the midi dress, the epitome of elegance and grace, striking the perfect balance between below the knee and above the ankle. Its charms lie in the comfort it offers and the ease of movement it provides. From laid-back casual days to glamorous evenings, this dress effortlessly transitions between occasions.
3. Jumpsuit
A style statement that captures hearts and inspires admiration—the jumpsuit! This fashion-forward outfit blends comfort and sophistication with ease. A top choice for those craving style and comfort, it will turn heads wherever it goes. Embrace the chic and effortless allure of this fabulous ensemble!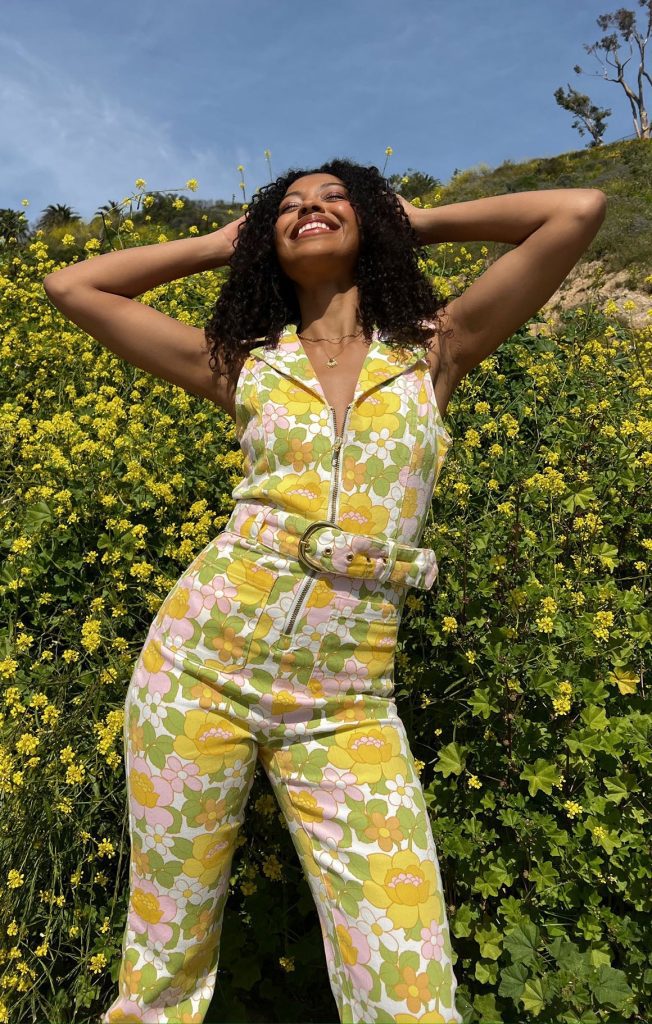 With various cuts, colors, and patterns, there's a jumpsuit to suit every taste and occasion. Whether you're attending a formal event and need a sleek and tailored option or heading out for a casual outing and want a relaxed and flowy style, jumpsuits beautifully accentuate your figure and celebrate your individuality.
4. Platform Sandals
Comfy and tall, they make a bold, eye-catching statement; platform sandals can elevate any outfit. With a wide range of designs to choose from, these stylish shoes will inspire awe and draw compliments. Embrace the height and comfort, and strut with confidence!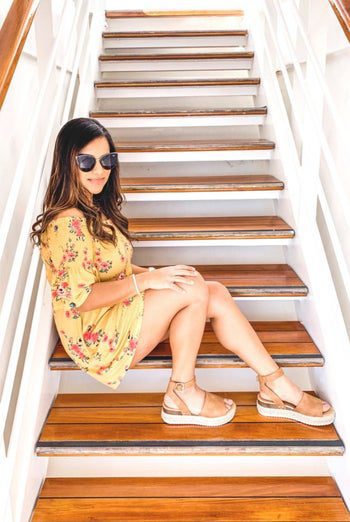 Heads turn, and compliments flow as these chic platform sandals elongate legs and add an edgy flair to outfits. Embrace daring fashion choices confidently, and people will enthusiastically exclaim, "I love your outfit!" Your impeccable style wins hearts and inspires admiration—a true fashion statement!
5. Puff-sleeve dress
Prepare to be amazed by the fashion masterpiece that is the puff-sleeve dress! This dress is the epitome of chic and captivating design, guaranteed to have all your friends showering you with compliments. With its perfect fusion of femininity and drama, this dress creates a striking silhouette.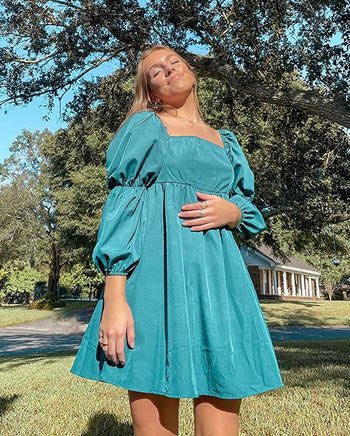 With its undeniable charm and confidence-boosting effect, this dress flatters all body types and beautifully complements every figure. From a wide array of fabrics, patterns, and colors, you'll find the perfect puff-sleeve dress to match your unique style and any occasion.
6. Satin dress with a cowl neck
The satin dress with a cowl neck is an absolute show-stopper that will inspire awe and compliments from all who look at it. Paired with strappy heels and statement accessories, the satin dress with a cowl neck becomes a true fashion statement that showcases the wearer's impeccable taste.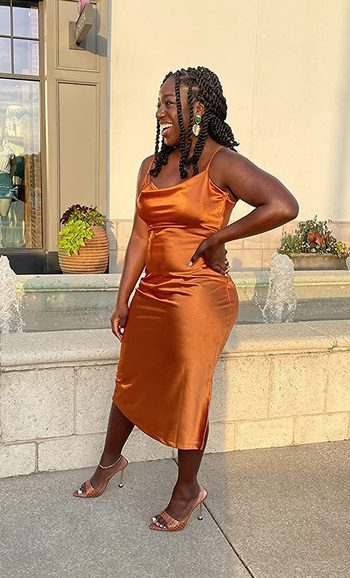 Discover the enchantment of the cowl neck, adding allure and a touch of uniqueness to this dress. The flattering neckline accentuates your collarbones and shoulders, drawing all the right attention. Whether you choose a classic solid color or an intricate pattern, this dress radiates confidence and charm in every step you take.
7. Pilgrim-style midi dress
The Pilgrim-style midi dress is a fashion-forward and vintage-inspired garment that harks back to the traditional dress of the early American Pilgrims. This dress typically features a high neckline with a collar, reminiscent of the modest and structured clothing worn during that era.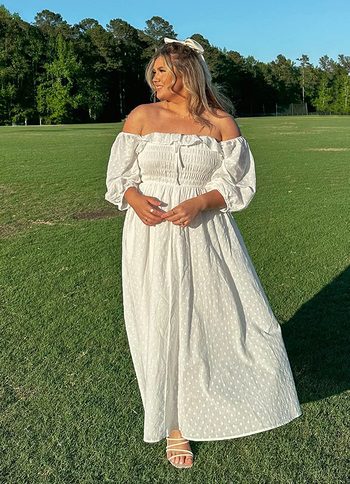 Prepare to be captivated by the epitome of classic and sophisticated fashion—this dress is an absolute charm, exuding grace with a touch of historical significance. It's a perfect choice for those who appreciate timeless elegance. Elevate the look with heels for a formal event or a more relaxed vibe with flats for a laid-back outing.
8. Overall jumpsuit
Retro charm meets modern flair in this stylish overall jumpsuit. It is effortlessly fun and chic and boasts unique suspender-style straps and a relaxed fit. Embrace the youthful energy and carefree attitude it exudes. Stand out in this fashion-forward piece—a perfect blend of classic and contemporary vibes!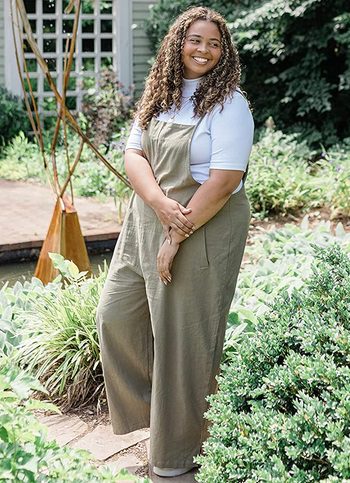 Whether it's a denim overall jumpsuit for a casual day out or a sleek and tailored version for a more polished appearance, this outfit never fails to make a statement. Its adaptability allows for easy styling, whether paired with a simple tee, a crop top, or a button-down shirt.
9. Two-Piece suit
Behold the timeless two-piece suit! This classic ensemble exudes confidence and power, making it an essential staple in every stylish individual's wardrobe. The impeccably tailored blazer and its matching trousers or skirt come together to create a polished and refined look that transcends trends and seasons.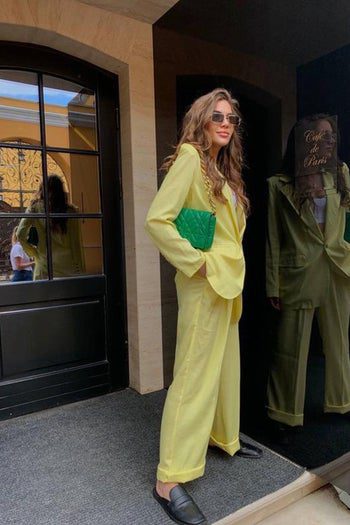 Step into the world of professionalism and chicness with the two-piece suit, available in solid colors or bold patterns. Get ready to explore endless styling possibilities—dress it up with your favorite pair of heels for a sophisticated look or sneakers for a trendy and modern twist.
10. Oversized houndstooth sweater vest
Chic and fashion-forward, the oversized houndstooth sweater vest captivates fashion enthusiasts! The classic pattern, reimagined in an oversized silhouette, exudes boldness and confidence. Embrace the eye-catching look and revel in the admiration and praise that come your way—a statement piece that never disappoints!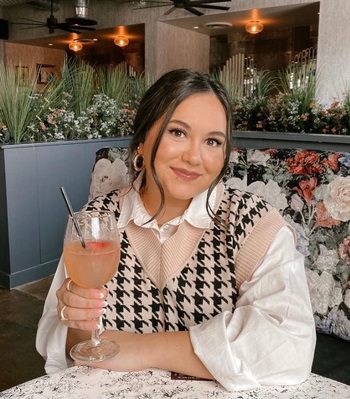 Unleash your creativity with the sweater vest's easy layering options—effortlessly pair it with a button-down shirt, a cozy turtleneck, or a simple tee. Its relaxed fit brings a touch of cool to any outfit, making it an ideal choice for both casual and dressy occasions.
11. Wide-leg jeans with a fun print
Wide-leg jeans with a fun print are a fabulous and fashion-forward choice that will elicit compliments and admiration from all who see them. This stylish ensemble effortlessly combines comfort with a playful sense of flair, making it a must-have for those who love to make a statement.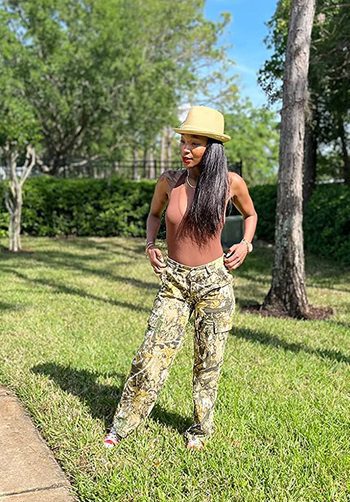 The wide-leg silhouette exudes a sense of retro-chic, while the fun and eye-catching print adds a touch of excitement and personality to any outfit. These jeans instantly elevate a look from ordinary to extraordinary. They allow endless styling options with a simple tee and sneakers for a casual day out.
12. Purple midi dress 
This purple midi dress is made of soft and comfortable cotton. Another attractive feature makes it a winning dress. Guess what? It has pockets. It is a perfect amalgamation of practical and fashion sense. So, don't wait another moment! Embrace the allure of the purple midi dress.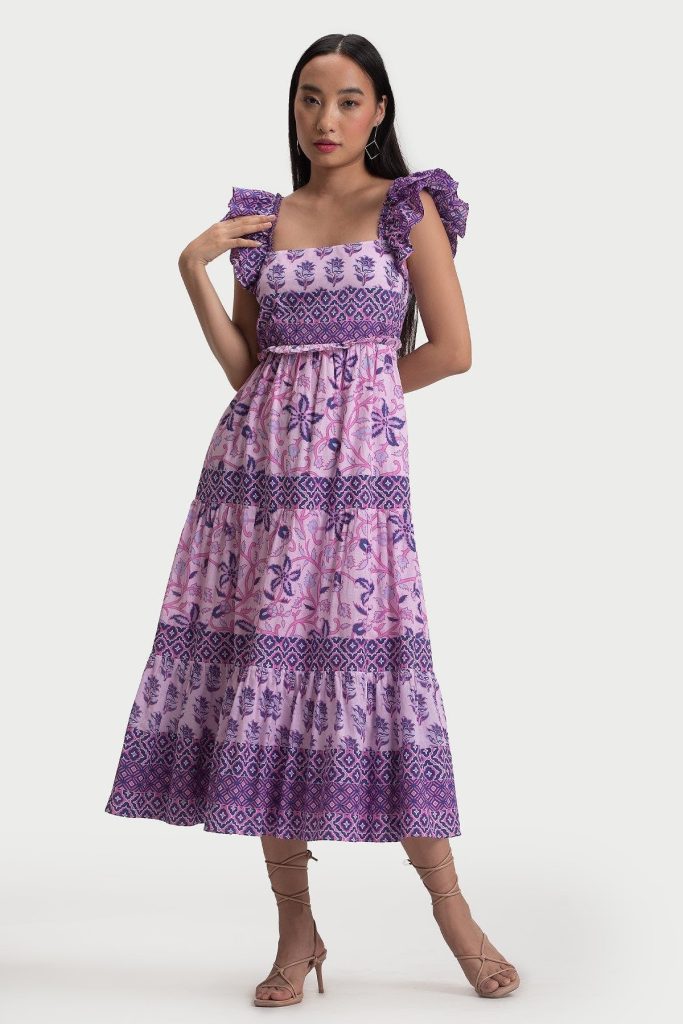 Just imagine yourself strolling around town, twirling in delight as the flutter sleeves dance in the breeze. You'll feel like the belle of the ball, radiating elegance and charm like never before. That's right; you get style, comfort, and the ultimate practicality all in one.
13. Ruffled tulle midi skirt
A ruffled tulle midi skirt is a stylish garment that features layers of soft, lightweight tulle fabric arranged in cascading ruffles. The midi length of the skirt gives it an elegant and graceful appearance, resulting in a striking silhouette. The ruffles add a playful element, bringing a pleasant sense of volume and movement to the garment.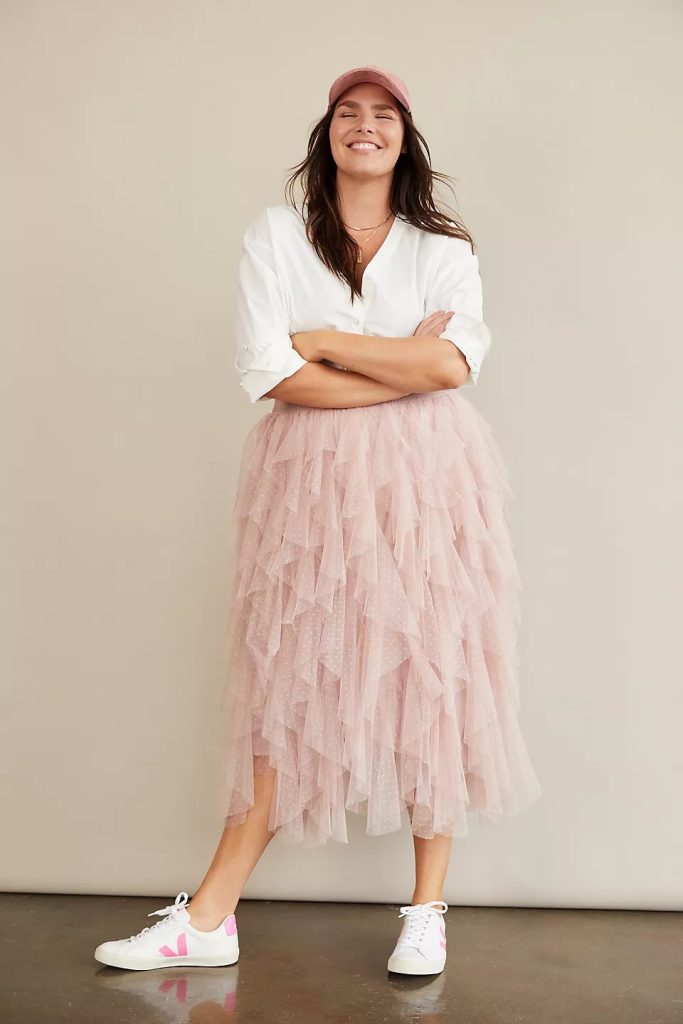 You'll find this type of skirt available in a wide array of colors. It's a popular go-to for dressy or formal events and a fantastic way to add a whimsical touch to casual outfits. It can be paired with a tucked-in blouse or a stylish cropped top.
14. Pencil pants with a bow hem
Step into sophistication and style with the elegant twist of pencil pants featuring a bow hem. This variation adds a touch of charm to the classic design. Get ready to show off your fabulous self in these flattering pants that beautifully slenderize your legs with their tailored fit.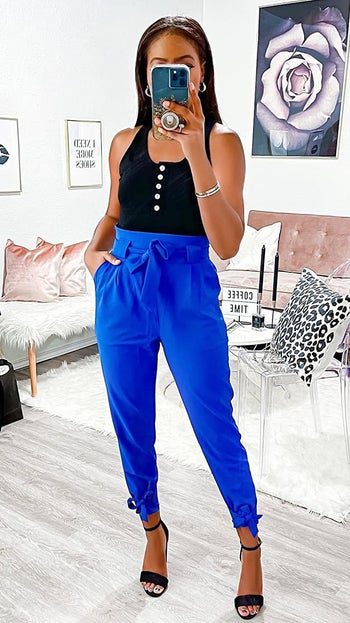 This bow hem adds a touch of elegance and playfulness to the overall look, making it a perfect choice for dressing up or adding a chic twist to more formal outfits. Pencil pants with a bow hem can be found in various fabrics and colors, offering versatility for a wide range of occasions.
15. Slouchy cardigan 
The slouchy cardigan is a stylish and cozy piece that is sure to evoke compliments and admiration from fashion enthusiasts. This versatile and laid-back garment effortlessly blends comfort with an effortless sense of chic. The slouchy silhouette drapes beautifully over the body, creating a relaxed, casual look that emits confidence.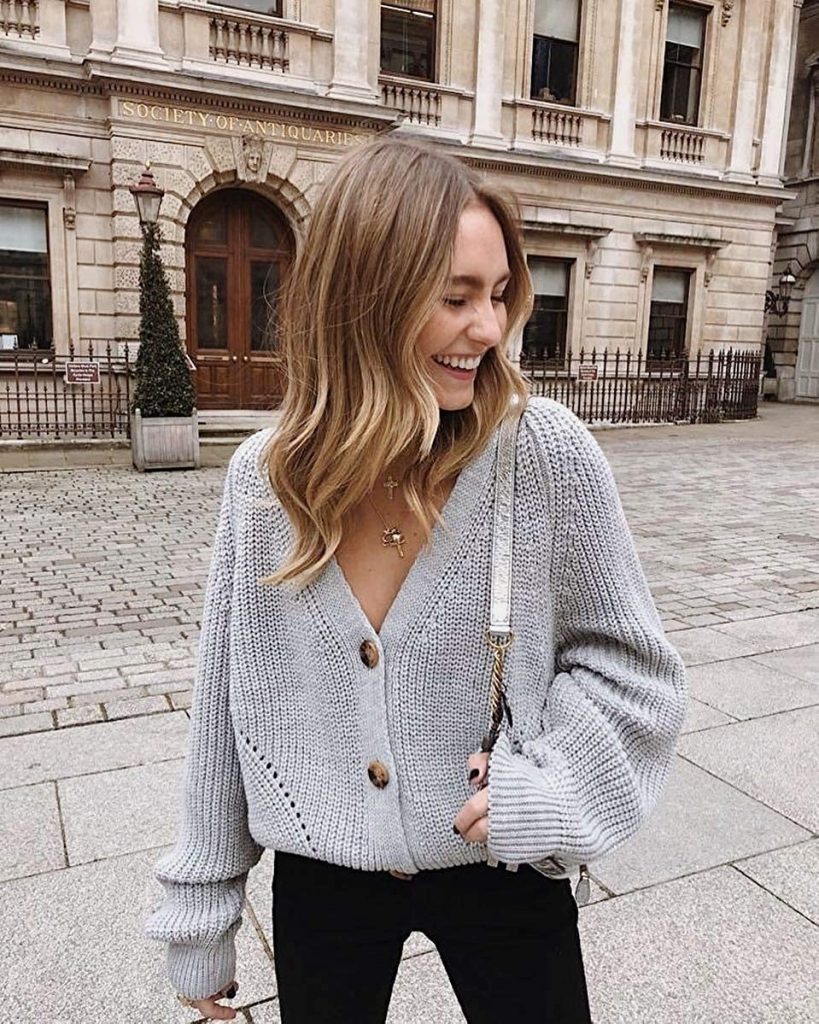 Effortless charm with the slouchy cardigan! It elevates any outfit from chunky knits on colder days to lightweight options for milder weather. Layer easily, thanks to its loose and oversized fit—a perfect addition to casual and dressier ensembles. Embrace cozy chic and conquer every look with flair!
16. Denim overalls
Denim overalls are a timeless and versatile wardrobe staple that you can rock with no doubt. These classic one-piece garments feature a bib-style front with adjustable shoulder straps attached to denim trousers or shorts. You have endless possibilities, and your fashion creativity will know no bounds.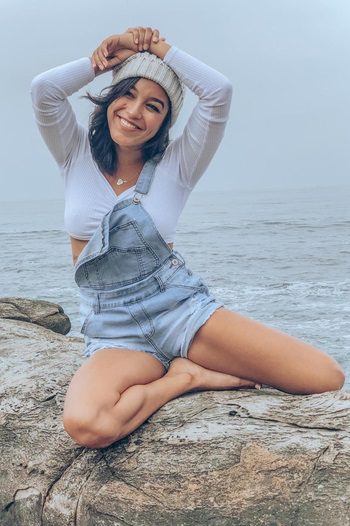 The fashion possibilities are endless with denim overalls! Pair them with a simple tee, a cute crop top, or a stylish blouse—there are no limits to the combinations you can create. They perfectly blend nostalgic charm and contemporary flair, making denim overalls a beloved fashion piece!
17. Long floral chiffon cardigan
Get ready to make a style statement with the long floral chiffon cardigan! This versatile piece is not just perfect for outdoor summer activities but also adds a delightful touch of interest to your work-from-home outfits. Whether you need a cute swim cover-up or a chic addition to your jeans, this chiffon cardigan has got you covered.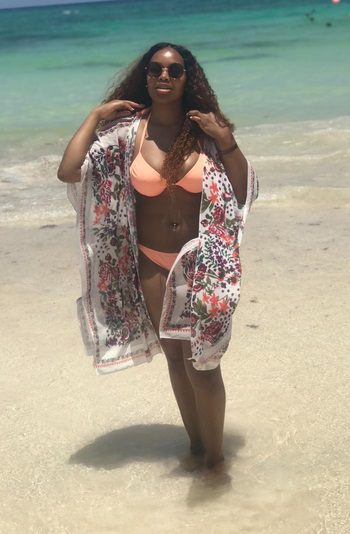 The long length and flowing chiffon fabric create a graceful aura with floral prints, and the vibrant colors of the floral print dance in the summer. This cardigan is not just a pretty face; it's made with quality chiffon that's light enough to keep you cool during the summer but heavy enough to feel luxurious.
18. Drawstring shorts
Plan a holiday on a beach and imagine the gentle breeze touching your sun-kissed skin. Wearing flawless rocking drawstring shorts can help you embrace the warmth elegantly. Here you can be free to move like a carefree wanderer. The best thing about drawstring shorts is that they blend with fashion effortlessly.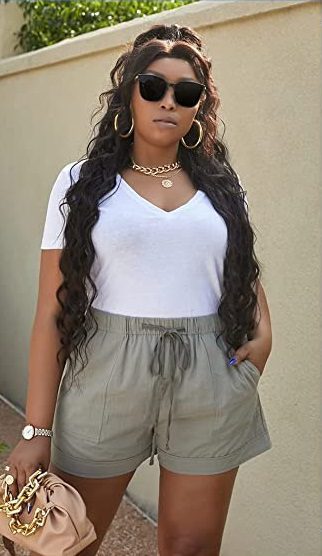 One of the best things about these drawstring shorts is the comfort they offer. You can unleash your inner fashionista while feeling as cozy as a cuddly teddy bear. So, even if you don't have a beach dress for the party, these shorts will be your reliable go-to attire for the dance floor.
19. Crochet cover-up dress
If you plan to go to a party wearing a crochet cover-up dress, prepare to turn heads and set hearts aflutter. Walk proudly with the ultimate showstopper in the world of stylish outfits. You can choose from different patterns and fabric types to make the dreamy dress.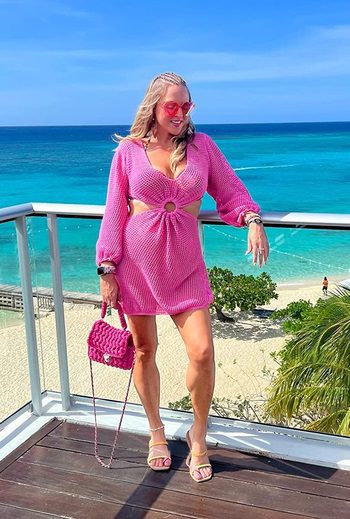 Get ready to be enchanted by the ethereal beauty of this crochet cover-up dress. With its undeniable stylish charm, all eyes will be irresistibly drawn to you, making you the center of attention wherever you go. Embrace the magic of this dress and step into a world of grace and admiration!
20. Long tulle gloves
Step into a dazzling New Year ball adorned with long tulle gloves exuding sophistication. These enchanting accessories add charm to any outfit, leaving everyone in awe of your style. Embrace the compliments that come your way and shine all night!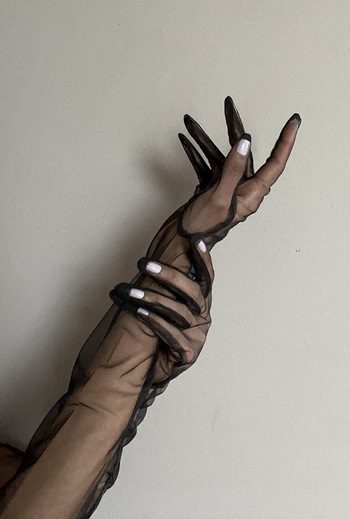 One of the most attractive features of the long tulle gloves is the way they hug your hands, even with nail extensions. The efficient way to wear them is by pulling them up to the elbows. Add the extra flair of elegance and a touch of timeless grace to your outfit with long tulle gloves.
21. Denim leggings
Oh, get ready to sizzle in style this summer with denim leggings! No need to suffer in jeans or heavy pants during the scorching heat. These denim leggings come to the rescue! They offer the perfect blend of comfort and chicness, making them oh-so-addictive.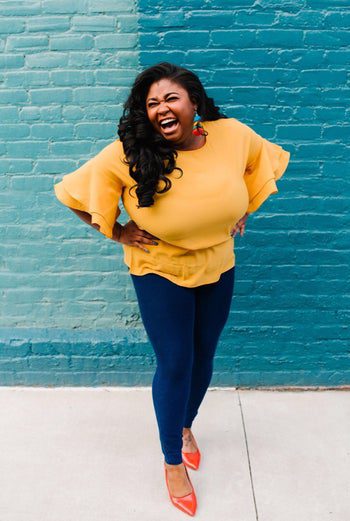 Denim leggings are your go-to option for any occasion. Whether you're heading out for a relaxed coffee date or embarking on an adventurous day, these leggings are up for the challenge! The best part is, you can wear them all day long, simply by changing the top to suit the event.
22. Floral romper
Picture yourself at a dreamy May wedding, radiating confidence in this fabulous floral romper. You can feel comfortable and carefree without worrying about sheerness, giving you the freedom to flaunt your curves elegantly. Step into the spotlight and be the epitome of grace and beauty at that special occasion!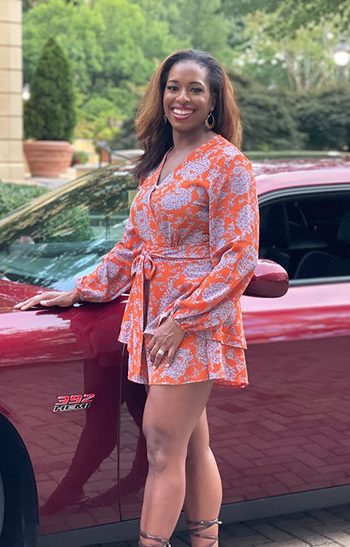 This attire isn't confined to weddings; it shines at any celebration, elevating your style effortlessly. Embrace the compliments it garners, thanks to its simple yet elegant design. With various styles and patterns available, there's a perfect romper for every occasion in the market. Let your style dazzle!
23. Wide leg pants
Step into high-waisted wide-leg pants, where elegance meets comfort in perfect harmony. These pants offer the coziness of lounge clothes yet exude a professional and chic aura. With their flowy grace, you'll feel like floating on air, enchanted by their magical charm. Embrace the fashion fairy tale!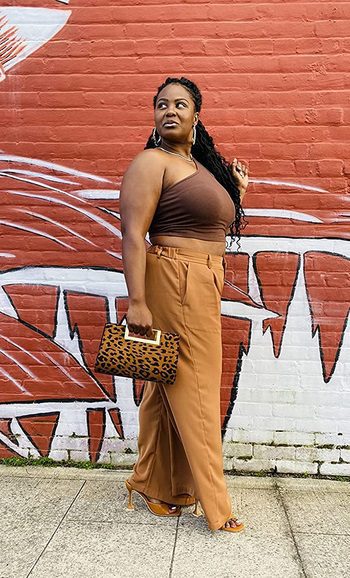 Wide-leg pants are your versatile companion, taking you from casual workdays to glamorous soirées. Pair them effortlessly with fancy shirts and heels for an elegant look. Fashion and comfort find their perfect match in these stylish pants, giving you the confidence to conquer the world with a graceful stride!
24. Two-piece set

Get ready to be the talk of the town with this sensational two-piece set that works its versatile magic! From work mode to vacation mode, it effortlessly transitions with you. Add a cute lace-up corset for an extra dose of style and flair.
Believe it or not, the compliments will rain like confetti. This comfortable outfit is your perfect companion to embrace the summer warmth. Explore the market's vast array of styles and colors—it's a delightful surprise! Pick your favorite, and you're ready to conquer every occasion with confidence and style.
25. High-rise straight jeans
Get ready to groove with the '90s vibe in these high-rise straight jeans that combine comfort and style in one perfect pair. They are not just a want; they are an absolute fashion essential. Embrace their flattering fit that perfectly hugs your figure, making you look and feel fabulous.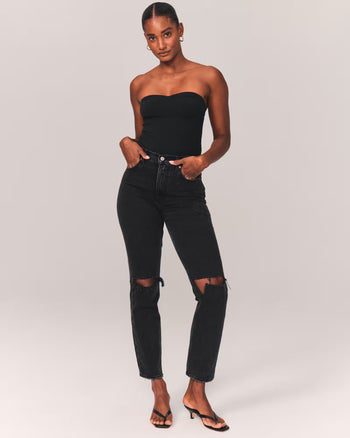 Elevate your style with a crop top and sneakers—this combo never goes out of fashion. Embrace the cosmic opportunity and slip into those High Rise Straight Jeans. You will be turning heads and setting trends with this effortlessly chic ensemble.
26. Checked sweaters
Introduce a checked sweater to your wardrobe for a fashion-forward touch. This cozy addition will keep you warm during winter nights while allowing you to experiment with new colors and excitingly elevate your style. Embrace the vibrant possibilities that come with this trendy piece.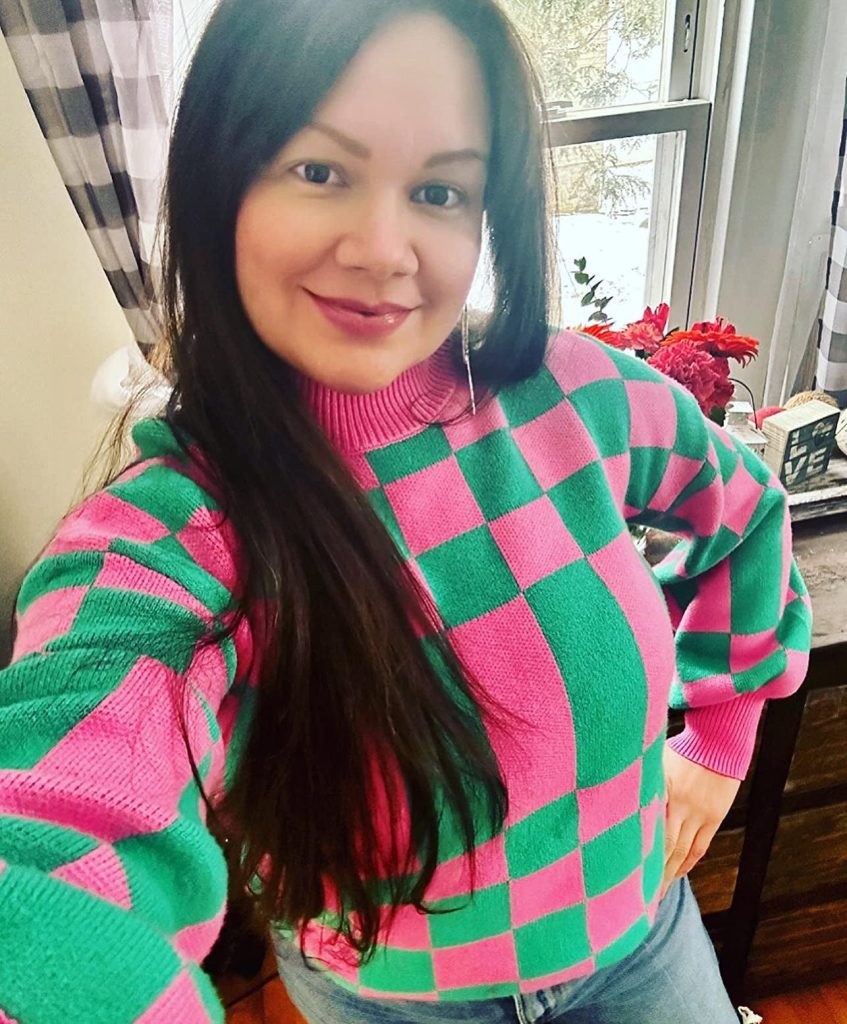 Imagine a dreamy embrace as the thick, soft material caresses your skin, free from any itchiness. This versatile gem will be your loyal companion, transitioning effortlessly from late autumn to early spring, adapting to each season flawlessly. Can you see the magic unfold?
27. Off-the-shoulder maxi dress
Indulge in the mesmerizing allure of the off-the-shoulder maxi dress – it will leave you utterly dazzled and delighted. Once you slip into this enchanting outfit, you'll instantly fall in love with its charm. The perfectly-hugging top provides comfort and support, ensuring you feel confident all day long.
Do not worry about the dress getting dragged and caught in a door because of the dual slit. This outfit can become your ultimate style weapon. Slide into it now and watch heads turn in awe as you exude the aura of a true goddess.
28. Ruffle shorts
Skip, twirl, and dance with joy in the delightful ruffle shorts. They are a total game-changer for your spring and summer wardrobe. Whenever you wear these ruffle shorts, you will feel cute and giddy with happiness. Can you picture yourself wearing ruffle shorts?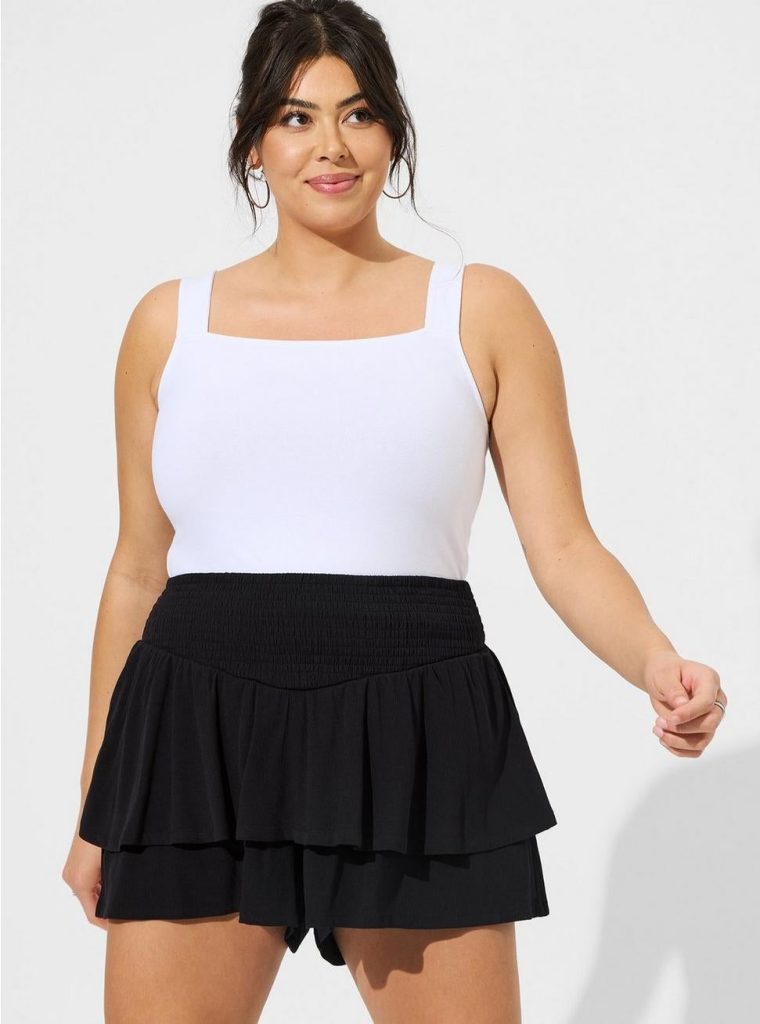 Don't hesitate; grab your favorite pair now and dive into the world of easy, joyful moments. Ruffle shorts are not just stylish but also a statement of comfort. Feeling comfortable while being stylish is key, and these shorts deliver both effortlessly.
29. Bikini with mesh skirt
A three-piece bikini set will make waves and heads turn in a second. On top of that, when you pair the complete matching set with a mesh skirt, it speaks volumes about your style and choice. How about a strappy bikini top, high-waist bottoms, and a flowy maxi cover-up skirt?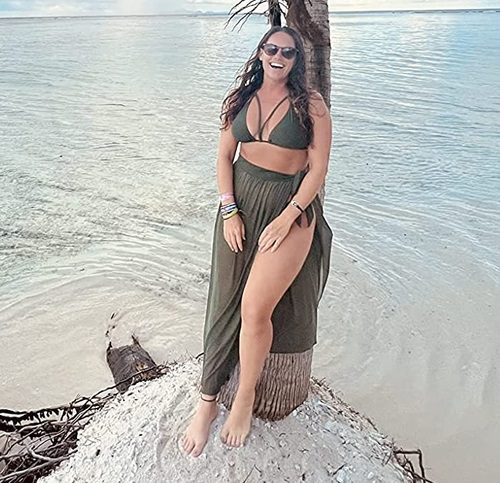 Opt for a reputable brand with high-quality materials when purchasing the dress. The super-soft mesh fabric will make you feel fantastic. Embrace the island vibes, exude confidence, and stun everyone with your impeccable fashion sense. Let your style be a beacon of elegance and allure.
30. High waisted flowy pants
Embrace effortless style all year round with these high-waisted flowy pants, your new go-to for any occasion! Say goodbye to tight skinny jeans and welcome the chic vibes of wide-legged comfort. These pants are the perfect blend of comfort and fashion, ensuring you'll look fabulous and feel amazing no matter where life takes you!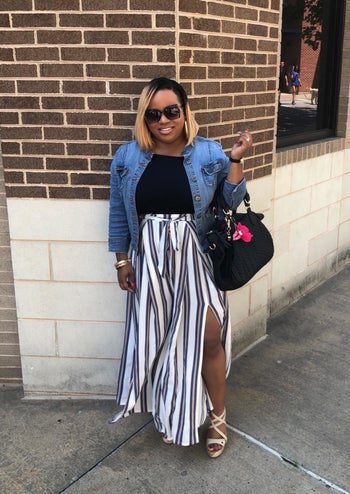 Add a touch of feminine charm to your look with stylish accessories like belts, and enjoy the comfort of the soft, lightweight material that's perfect for hot summers. These pants are a must-have in your wardrobe, elevating your fashion sense and boosting your confidence.
31. Halter neck jumpsuit
Indulge your inner fashion diva and feel fabulous in a halter-neck jumpsuit. Once you try this outfit on, it will quickly become your go-to choice. This showstopper is undoubtedly a head-turner from every angle, making you the star of the show.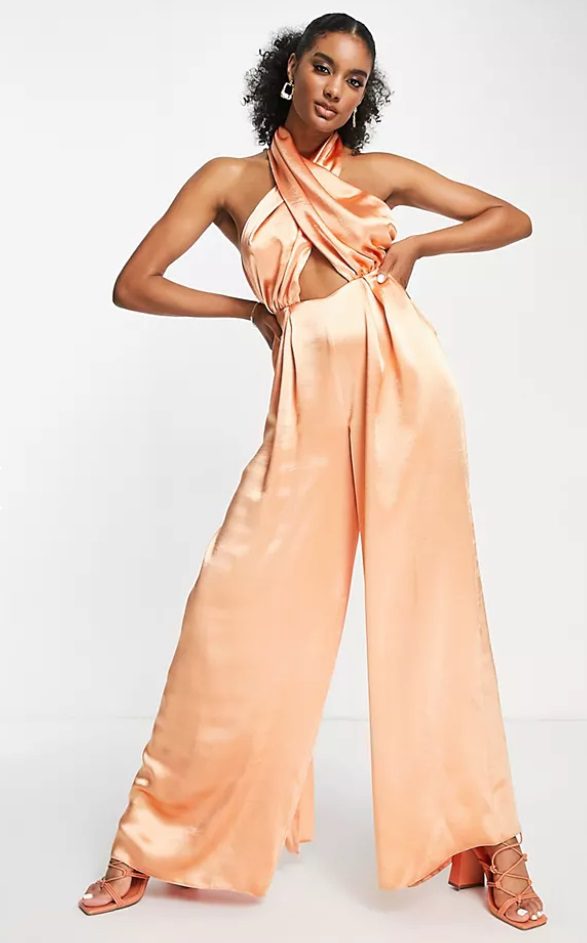 Get ready to turn heads and dance the night away, mingling with friends and creating unforgettable memories while looking like a fashion icon. Whether it's a wedding, a fancy dinner party, or a special celebration, this halter neck jumpsuit is your ticket to fashion greatness.
32. Cropped pants
The chic and sassy cropped pants are a way to elevate your style game. The most attractive feature is showing off all those fabulous anklets and letting your shoes take center stage. Imagine yourself strutting down the streets like a runway model, radiating confidence and charm with every stride.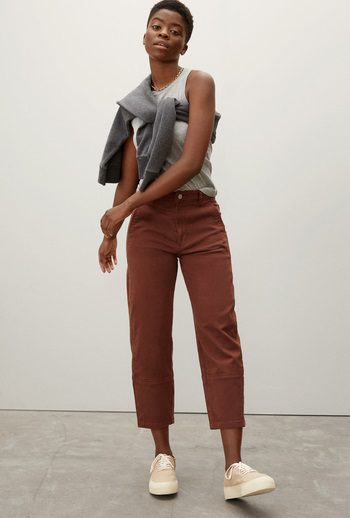 Cropped pants are a perfect balance between sophistication and playfulness, allowing you to easily conquer the office and the weekend brunch scene. Once you try them, you'll never want to let them go, and you'll find yourself saying, "Why didn't I try cropped
33. Wrap style top
The wrap-style top with a built-in bra is pure gold, in our opinion! Say goodbye to the hassle of wearing a bra because this top has got you covered in the most stylish and supportive way possible. Many small businesses have added this stylish wrap top to their collection.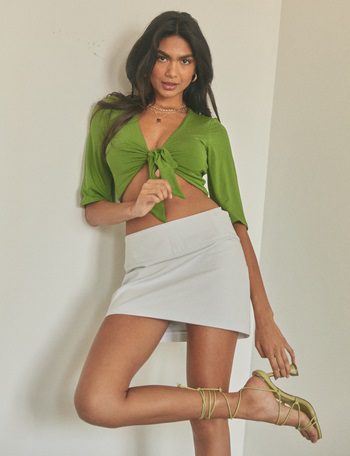 They've cracked the code to combine style, comfort, and function all in one. Each item boasts a different level of support, ensuring you find your perfect match—whether it's a band-less, compressive band, or shelf bra, you'll feel like a fashion queen in every one of them.
34. Side slit skirt
Embrace the summer magic with the fabulous midi skirt with a slit on the side. This could be the most recent collection in the wardrobe. It is the epitome of style and comfort, boasting a playful side slit and a mesmerizing floral print that's as dreamy as a summer's day.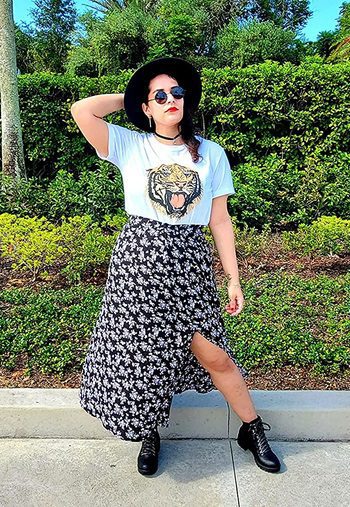 Oh, the possibilities are limitless! Pair this dress with a killer pair of shoes, and you'll radiate those perfect summer vibes. Many have discovered this fabulous dress on Amazon, so make sure to check out the reviews before making a purchase.
35. Chunky knit cardigan
This fashion masterpiece is the very essence of summer charm, adorned with delightful 3D daisies or strawberries that encircle you, creating a whimsical garden of style. Get ready to embrace the cuteness and radiate charm with this fabulous sweater that'll make you the darling of the season!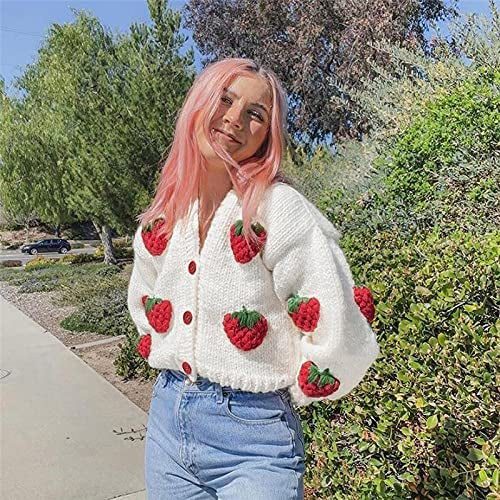 Wearing this fashion piece is like bringing sunshine and joy with you, spreading happiness wherever you go. And here's the best part—it's not just for special occasions; it's your daily dose of fabulousness! Embrace the radiance and charm of this show-stopping outfit and let your fabulous style shine bright every day!
36. Midi slip dress
A silky midi slip dress is the ultimate fashion that will steal hearts. This dress is pure elegance, with a deep V-neck in both front and back for a dramatic effect that's simply irresistible. Elevate your look with heels, and you'll instantly feel like a glamorous goddess making her grand entrance on the red carpet!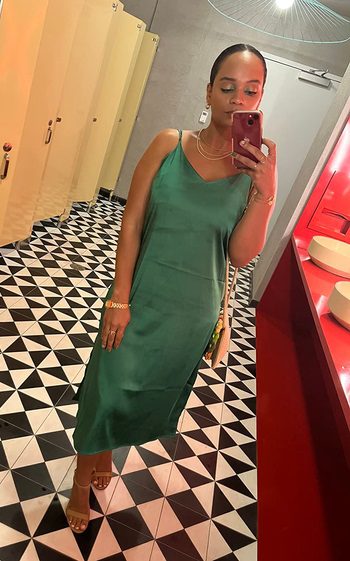 You can also dress it down with sneakers and an oversized T-shirt on top, creating a chic and edgy ensemble that's perfect for everyday adventures. It's the must-have dress that will revolutionize your wardrobe, and guess what? Many people fell head over heels for this dress.
37. Flowy jumpsuit
Celebrate the eco-friendly and chic fashion style with the flowy jumpsuit. If you like minimalist style, this jumpsuit is for you. It is made with organic cotton and spandex. You'll look fabulous and feel great knowing you're making a positive impact on the environment with this fashionable choice!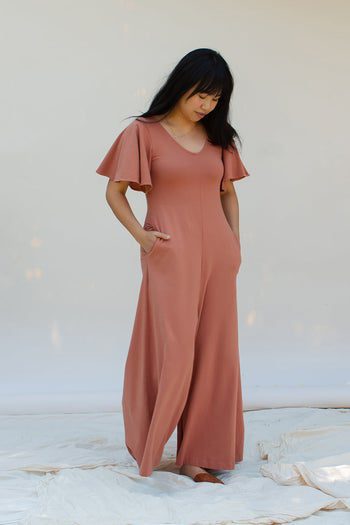 It even has hidden side pockets because who doesn't love a touch of practicality in their fashion? But that's not all—there is a sustainable approach to fashion, making them a true fashion superhero! The signature fabric is 100% Certified Organic Cotton, and all their garments are dyed using non-toxic AZO-free dyes.
38. Denim skirt
This denim skirt is stretchy, stylish, and has pockets in front. Surprised? It is a game-changer, for sure. The skirt is made from lighter-weight denim, so it's not a heavy burden to wear, and the stretchiness is pure magic, ensuring a perfect fit for everybody.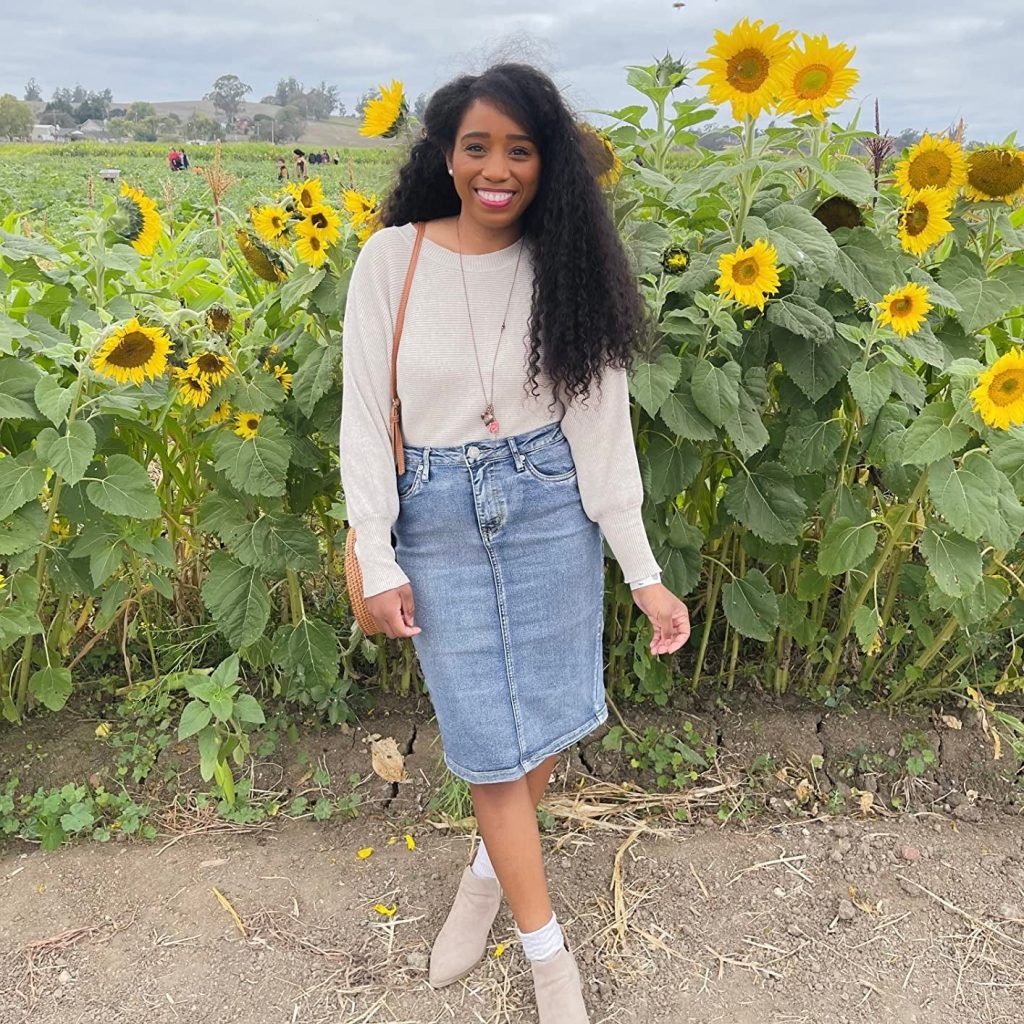 Whether it's a night out or a casual day, this skirt can easily handle it! Dress it up for a touch of elegance or dress it down for a laid-back look—it effortlessly elevates your fashion game. Embrace the allure of the denim skirt with generous pockets in front, and let it reflect your fabulousness.
39. Pleated romper
Fall head over heels for the pleated romper that's as comfortable as a cozy onesie yet as stylish as a dazzling party dress! It's the fashion miracle you've been waiting for—the go-to outfit that's perfect for all occasions. Say goodbye to outfit dilemmas because this romper has covered you!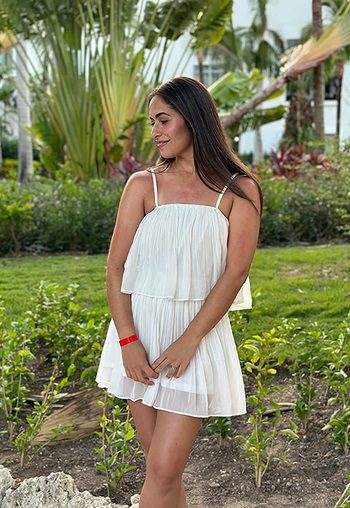 Many have fallen in love with the romper at first sight. So much so that some of them have already collected two colors. And the versatility is out of this world! Dress it up with high heels and a blazer for a chic look or down with sandals for a breezy summer day.
40. Rhinestone two-piece set
The name of the outfit itself makes you feel like a royal. When you wear it, you will love the stunning two-piece set that is pure glamor and glitz. The outfit features a super high-waist bottom and a rainbow-gemmed top. Imagine yourself going into the pool wearing this diva.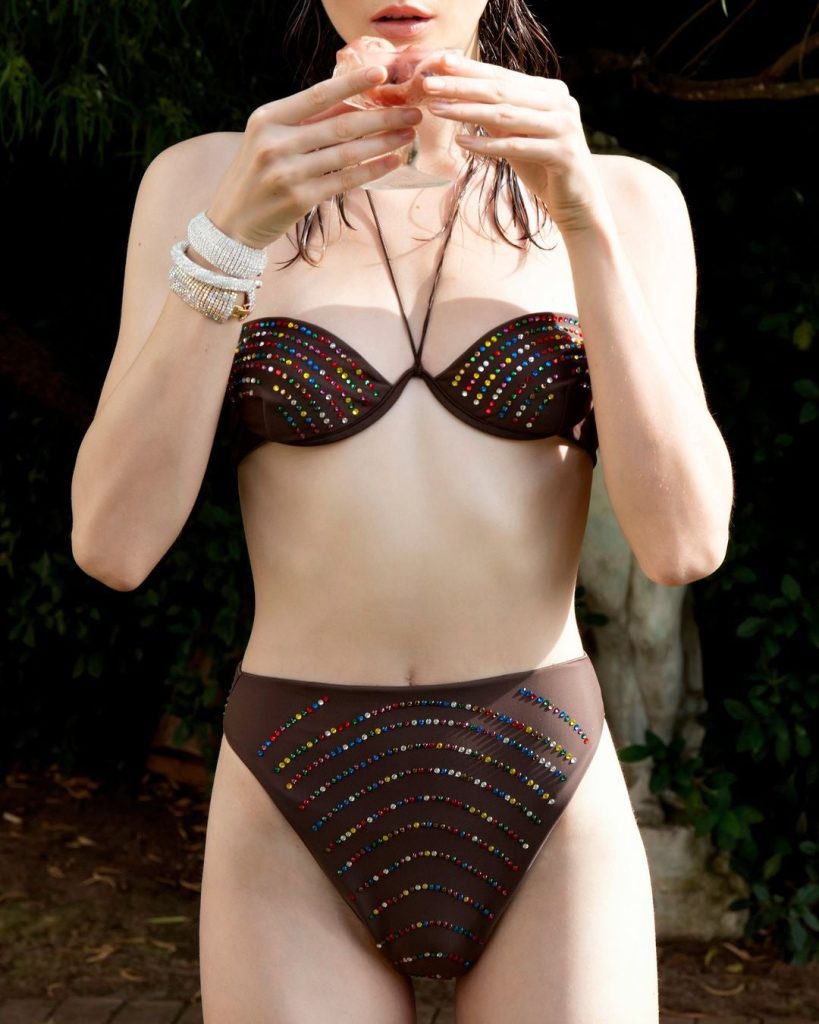 The rhinestones shimmer and shine, creating a mesmerizing aura of elegance and charm. This two-piece set is not just an outfit; it's a statement, a work of art that reflects your confidence and sophistication. The poolside will never be the same, and you'll have everyone wondering, "Where did she get that stunning two-piece set?"
41. Blazer dress
Do not let yourself be deceived by the simplicity of blazer dresses; they are a classy hack to be fashionable. This dress is a WOW statement in every sense, making you feel sexier than ever before and attracting compliments like a magnet. It's like stepping into a fairytale of fashion.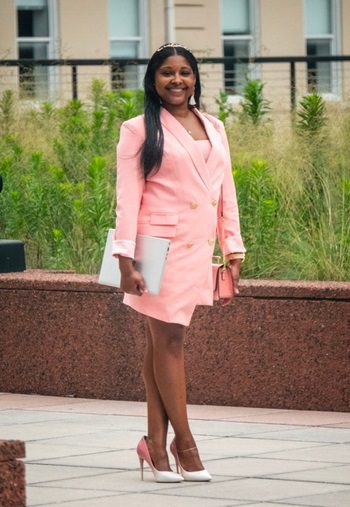 The quality is top-notch, and rest assured, it's not see-through at all! So, why wait? Get ready to embrace the chicness, the simplicity, and the sheer beauty of this blazer dress. Get ready to slay, make a statement, and rule the fashion world like the true queen you are.
42. Tassel trim two-piece
The two-piece tassel trim is an incredibly stylish and eye-catching ensemble that inspires admiration and compliments from all fashion enthusiasts. This chic outfit effortlessly combines elegance with a playful touch, making it a must-have for those who love to stand out.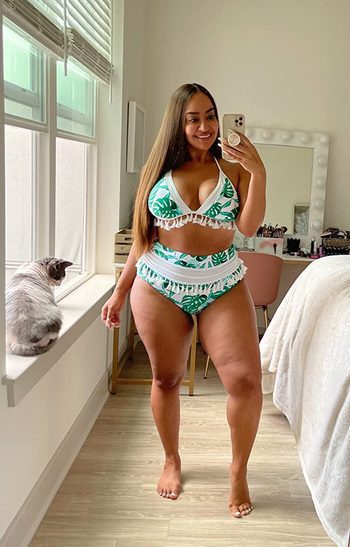 It adds a sense of movement and flair to the look, creating a delightful visual effect. Whether it's a tassel-trimmed crop top paired with matching shorts or a tassel-trimmed blouse with coordinating trousers or a skirt, this set presents a sense of bohemian charm and sophistication.