Freaky Footwear That Make Our Toes Curl
By Aileen D February 26, 2023
---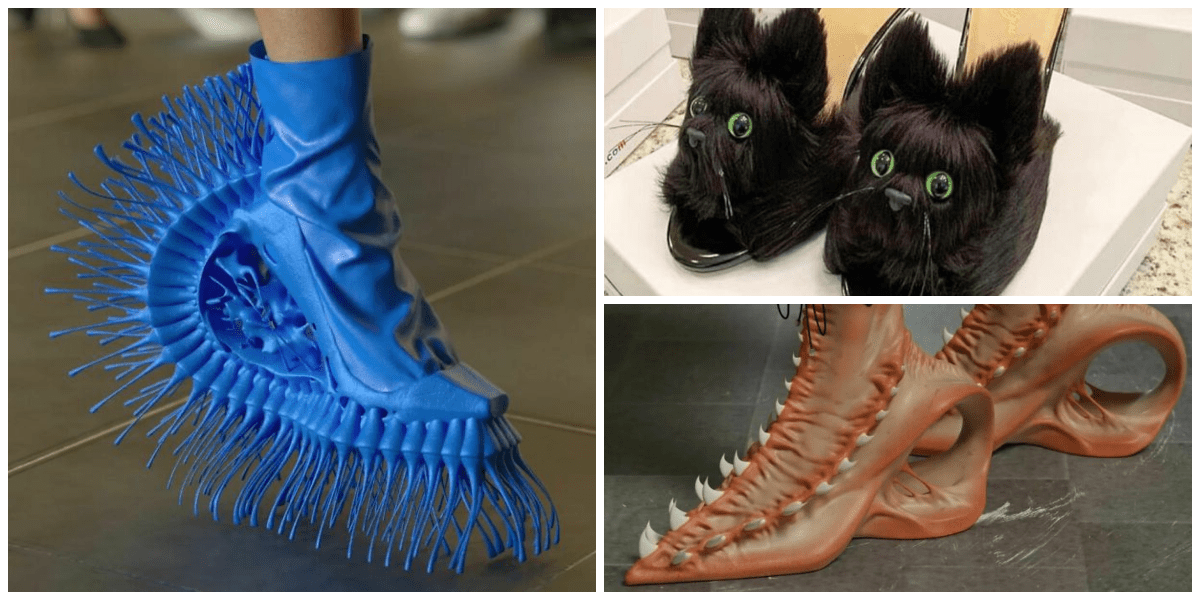 Fashion designers have a knack for creating innovative and eye-catching pieces that can make even the most boring outfit stand out. But that's not always a good thing. They sometimes take things a little too far, especially when it comes to footwear. Throughout the years, we've seen some truly ridiculous shoes that leave us scratching our heads and wondering, "who would actually wear these?"
From platform shoes that resemble Chewbacca's feet to heels with millipedes glued on them, there seems to be no limit to designers'…creativity. But, hey, the crazier the shoe, the more attention it garners.
While these shoes may be works of art in their own right, they're definitely not the most practical footwear options. Then again, sometimes fashion is about making a statement, even if that statement makes others cringe and sets you back a couple of thousand dollars.
Play Pretend
Do you remember when, a few years ago, those fitted running shoes were all the rage? It seems like haute couture was just as intriged as we are. Check out the latest and greatest invention in footwear: the heel with a sock attached to it!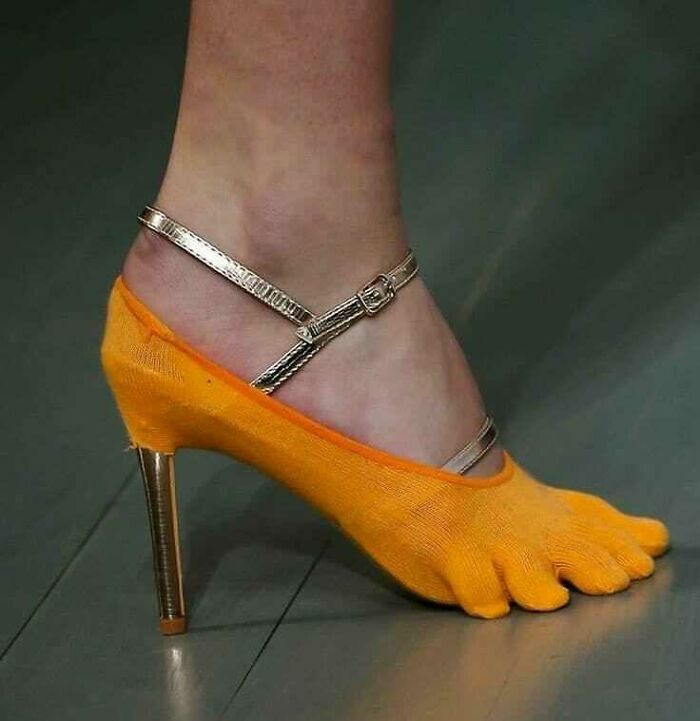 Now, we know what you're thinking. Won't the sock get all sweaty and gross? Who cares! Doesn't fashion mean having to suffer for style? So go ahead, slip on a pair of these babies, and play pretend that it's the most comfortable footwear you've worn in your life!
Sky is the Limit
Someone looked at the humble Croc and thought, "You know what this needs? More Crocs." And thus, the multi-stack Crocs shoe was born. With its towering stack of Crocs, this shoe is a true engineering marvel. It's light, durable, bad for the environment, but economically practical.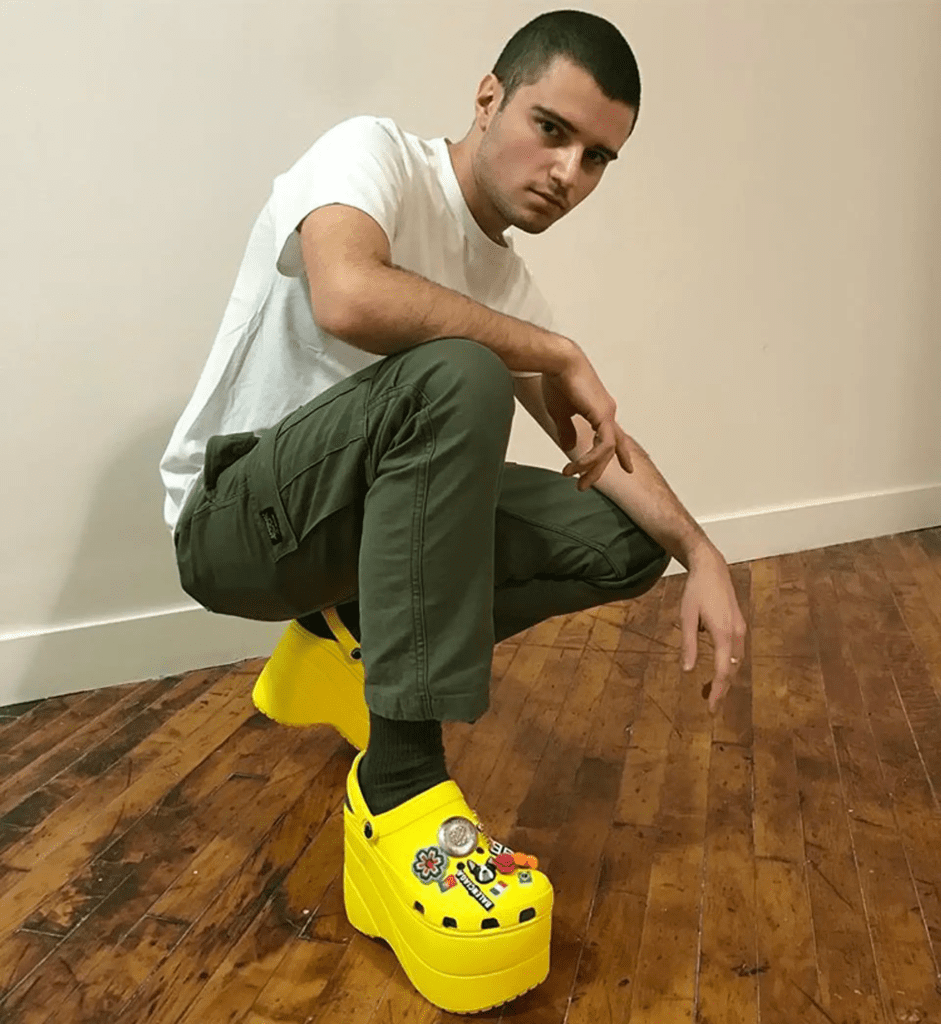 Who needs stilettos when you can have a shoe that is basically a ladder for your feet? Even better, you can customize it to your heart's content. Want five layers of plastic? Ten? Twenty? Just watch your head on the doorframe on your way out of the store.
Inspired by the Deep Seas
Prepare to dive into the depths of fashion with the latest shoe sensation: the deep-sea creature-inspired shoe! Now you can adorn your feet with a shoe that's inspired by the wacky and wonderful creatures that live beyond the oceanic twilight zone.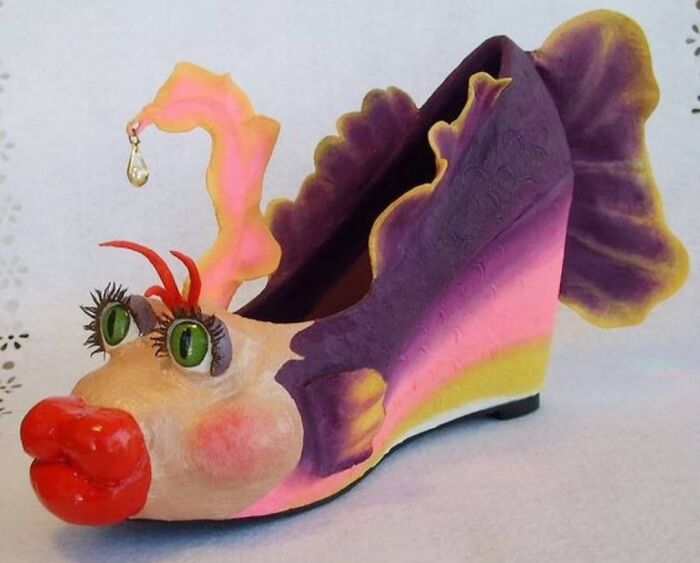 This shoe is sure to turn heads, and maybe even attract others with that little lure. Not to mention, you'll feel like a mermaid every time you slip them on. Embrace your inner sea creature and step out in style with these fishy (but fabulous) shoes.
Likes Them Wild
It's time to take a walk on the wild side. With its cozy felt material and bold forest-inspired pattern, this shoe is the perfect way to bring a little bit of the outdoors into your daily life. Who needs a hike in the woods when you have these on?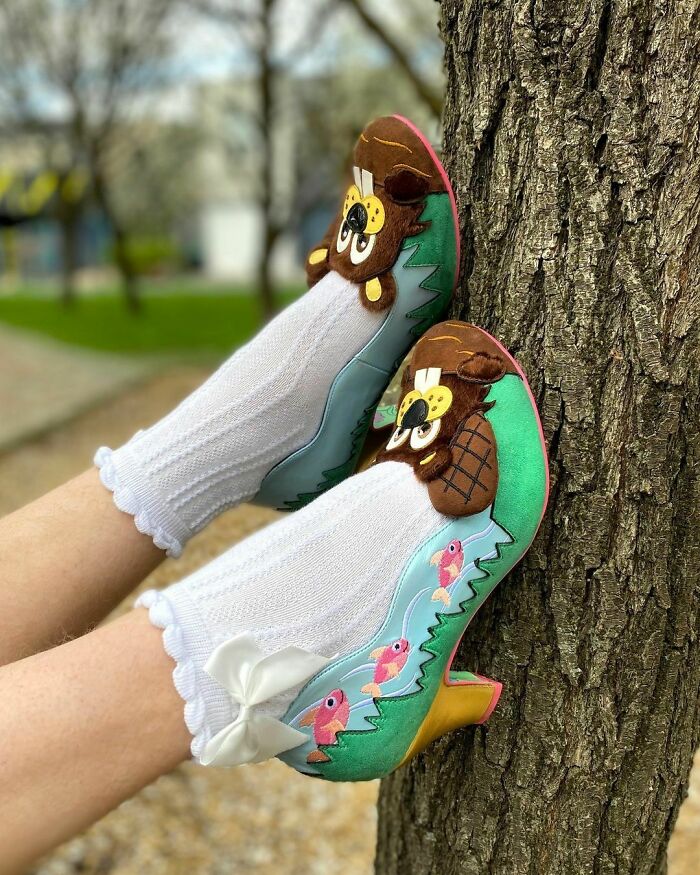 Not only will these shoes show off your love of nature, but they are a great conversation starter. "Oh, these shoes? They're inspired by the forest, you know, the trees and the bears. You know me. I love 'em wild!"
Pacifier Sold Separately
Every now and then, we wish to be taken back to our dear childhood. Thanks to this footwear, you can wear a shoe that doubles as a toy box. With its built-in pockets and special compartments, this shoe can hold all sorts of fun goodies!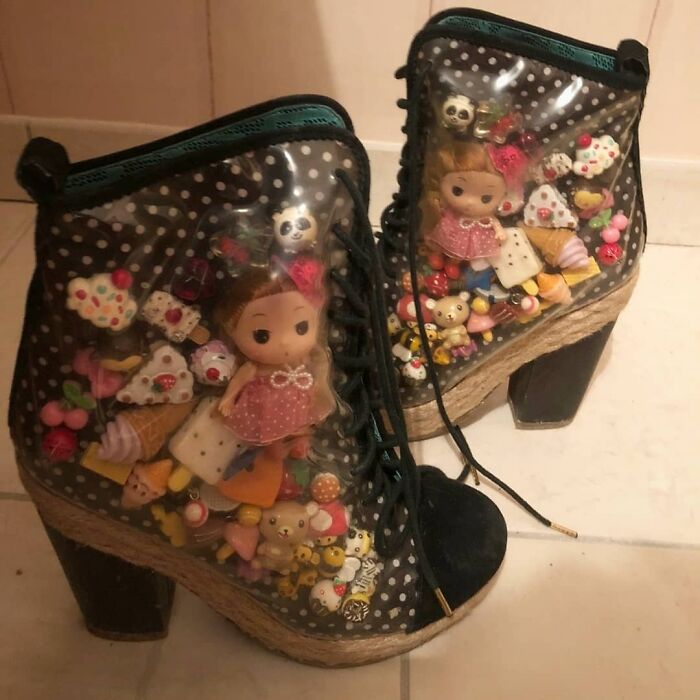 Need a distraction? Just whip out your shoe and start playing with your toys! Who needs to be social when you have a shoe full of toys. You could also ask the designer to add in some sparkles to really entertain your inner child.
Durability
This marvel of footwear engineering is the love child of Crocs and a croc. Imagine the comfort, safety, and ventilation of Crocs combined with a crocodile skull. You can wear them on a hike or to a fancy dinner party.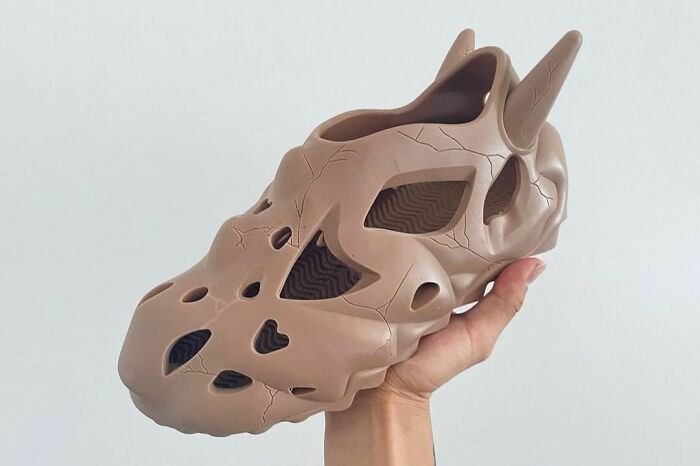 You can be sure that your toes'll be safe from rocks. In fact, stones will give way to the hard calcium frame strapped on your feet. And good luck keeping kids and Pokemon lovers alike away from this Cubone-inspired design.
Rockin' At Tea Parties
This shoe is not for shy people—it's for those who like their clothes as loud and proud as they are. The Glitter Kettle combines the sparkle of a disco ball, the child-like appeal of a tea party, and is tied together (pun intended) by ballet ribbons.
Don't worry about safety—the kettles aren't functional, and the laces have a real tight grip on your ankles. Plus, the glittering exterior will blind anyone who tries to criticize your choice of footwear. This is the perfect footwear to be rockin' at tea parties.
From Neck to Feet
It's time to upgrade your loungewear game with the ultimate cozy luxury: the Boa Slipper! These slippers are unlike anything you've ever worn before. They're made entirely of soft, fluffy boa feathers, so you'll feel like even the most rough pavement is a soft carpet.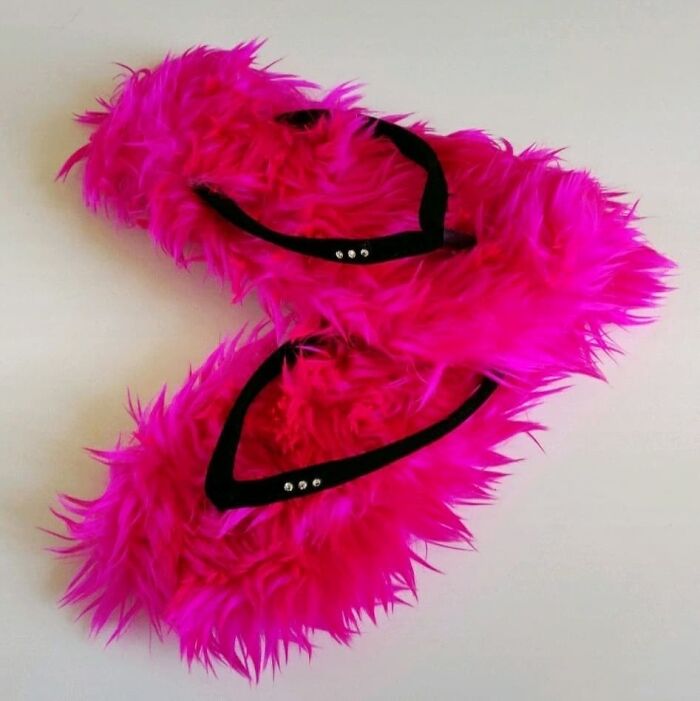 Even better, flip these bad boys over, and you have got a mop to clean the floor with. The Boa Slipper is easy to clean—just give them a good shake (and let them air dry) outside, and they'll be good as new.
Need A Little Help
We are lucky to witness the most unusual footwear in the world: the Blue Wedge Tentacle. These tentacles may look menacing, but they're actually quite handy. Need to reach something without getting up? Just use the tentacles to grab it!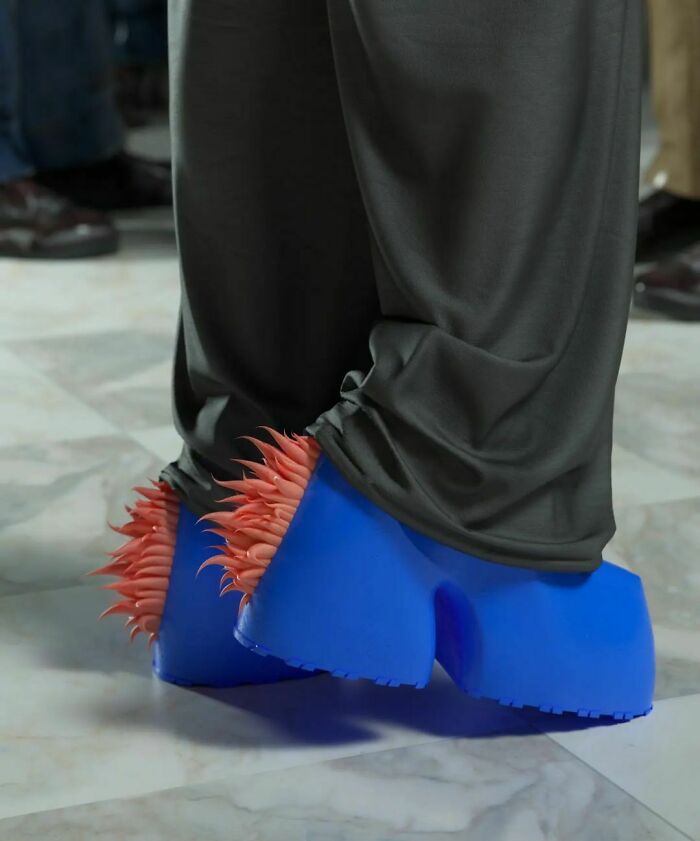 Let us not forget that these five-inch wedges will add some serious height to your at-home look. You might just start a new fashion trend—the octopus chic look is sure to take the world by storm. (Third-party insurance sold separately).
Inspired By Another Sea Creature
If you're not feeling flashy fish, you just might fancy a pair of dolphin shoes! They're made entirely out of soft, cozy felt, so your feet will feel like they're swimming in a sea of comfort. The shoe is fully insulated, so it's perfect if you struggle with cold toes in winter.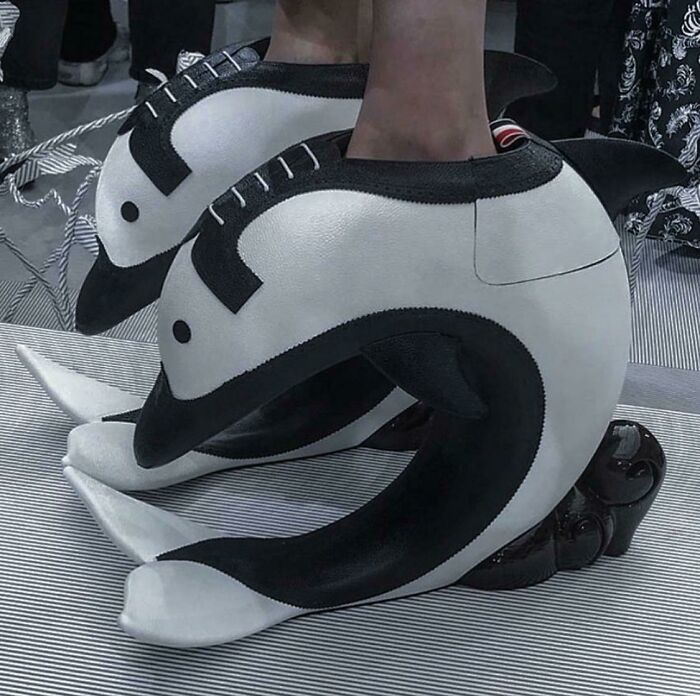 The dolphin shape will add a touch of whimsy to any outfit. Plus, the tail of the dolphin serves as a convenient pull tab, so you can slip them on and off with ease. Slip these on, and get ready to make a splash wherever you go!
For Women Who Support Women
These shoes are like nothing you've ever seen. The heels are designed to look like they're being held up by a pair of toned, muscular arms—because who wouldn't want to walk around with a pair of strong, supportive arms underneath their feet?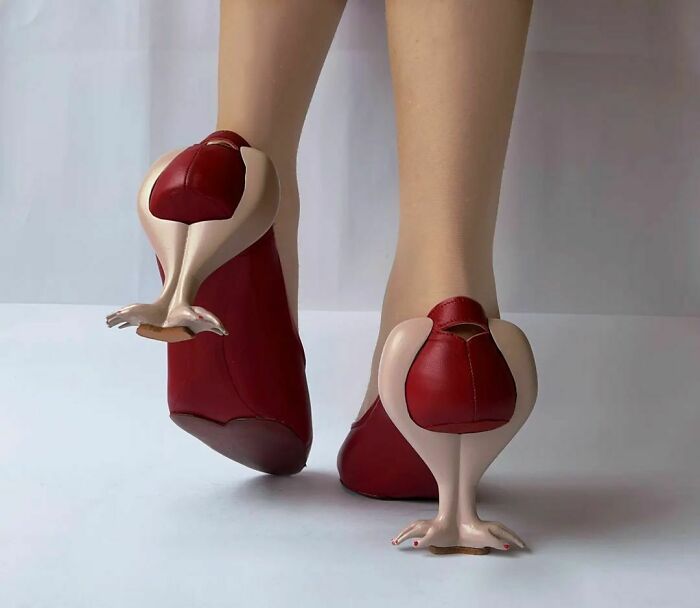 These shoes won't weigh you down; the arms are made of lightweight material. Get ready to feel like you're walking on the strong arms of a supportive woman—even if you're just walking to the grocery store. These heels were made for women who support women.
Armed and Ready
Need some security? Well, how about buying a pair of these paintball shoes! You'll always have something to fire away with your mechanical paintball gun. No blue collar will want to mess with you at the subway station, lest they arrive at the office covered in bright splotches.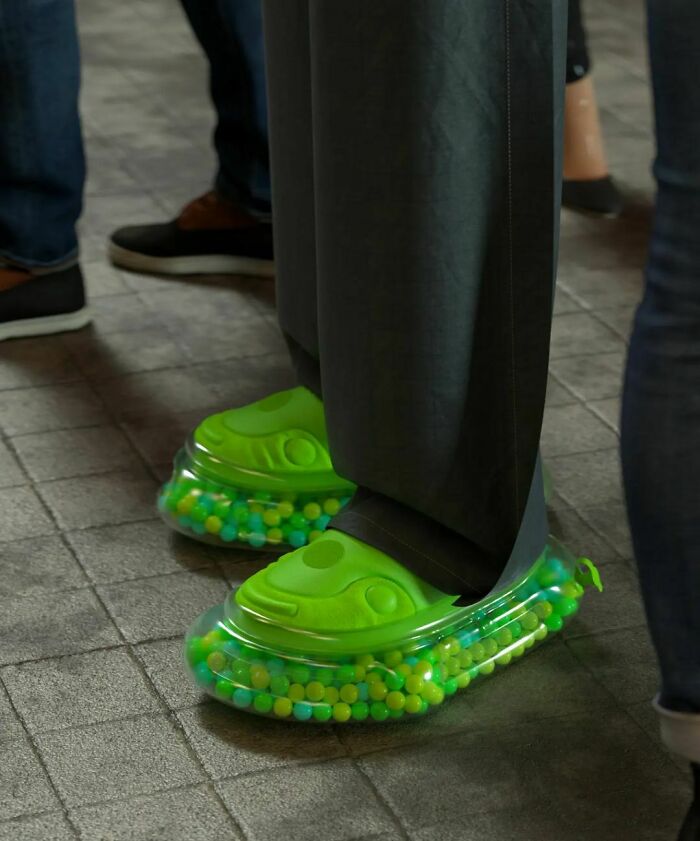 But don't you worry, these shoes won't make a mess so long as you keep the latch shut. The "paintballs" are actually made of a special, non-toxic gel that won't burst or leak, no matter how hard you stomp your feet.
PETA's Outrage
PETA was outraged. How dare this fashion designer make shoes out of the gums and teeth of alligators? In spite of that, customers couldn't help but place orders. These shoes will make you feel like a fierce predator with every step you take.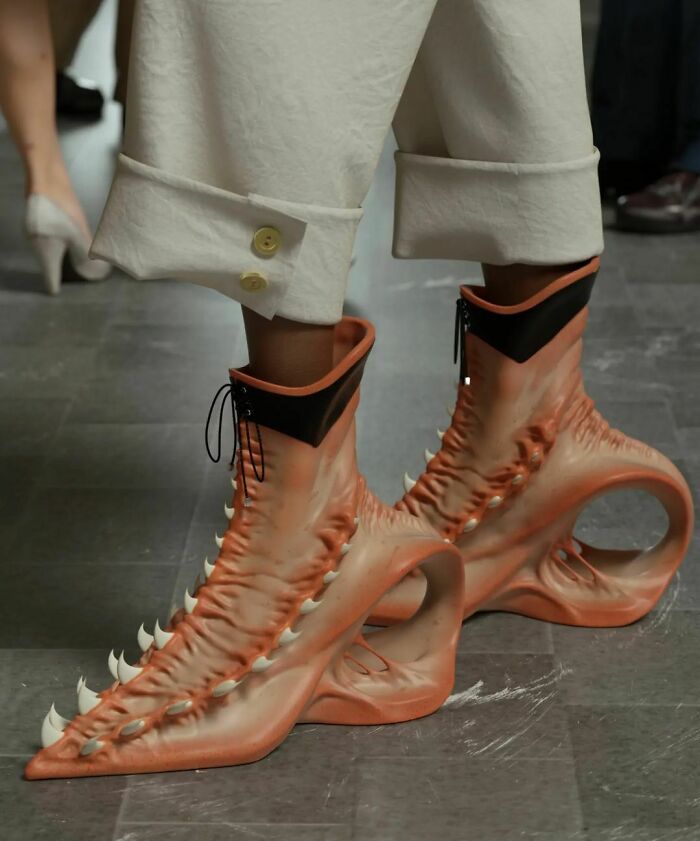 These shoes will strike fear into the hearts of anyone who crosses your path. The gums are made of a durable yet flexible material, and the teeth—well, they're naturally made of enamel and cementum. Walk comfortably without worrying about losing a toe.
A Walking Anatomy Diagram
Are you tired of boring shoes that don't reflect your love for all things spooky and creepy? Look no further! These shoes are designed to look like a walking X-Ray, complete with the metatarsals. Ever wondered what's under your skin? Just look down!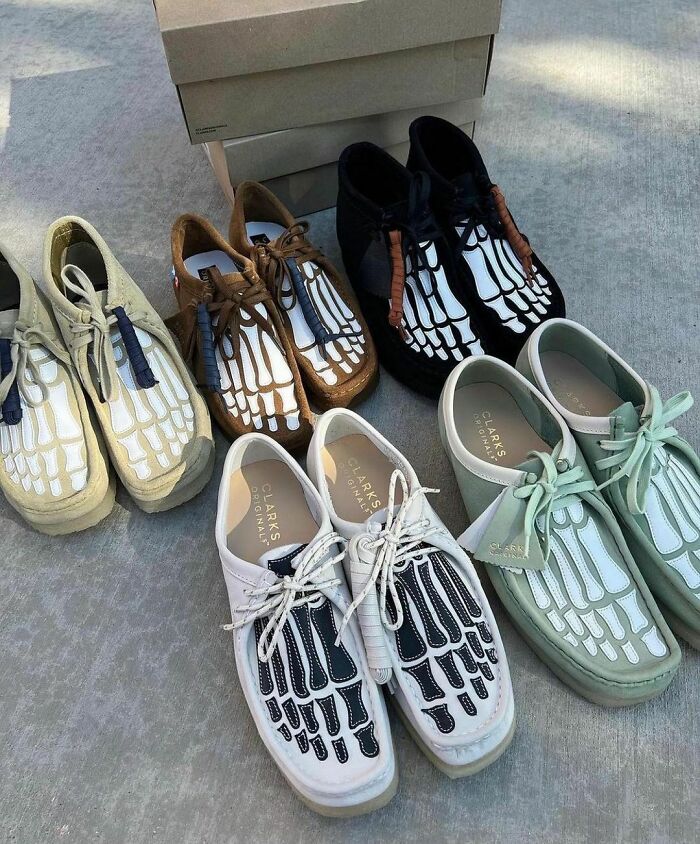 The bones are made of fabric, carefully sewn on, so they won't flake or chip away like paint would. Plus, the shoes themselves are made of a comfortable, breathable material that will keep your feet feeling fresh and spooky all day long.
Strike A Match
Are you ready to ignite your fashion game with the Matchstick Spike Shoes? These shoes are reserved for the brave and the bold. The spikes are sharp, and the matches are ready to light up any room you walk into, so strut with caution.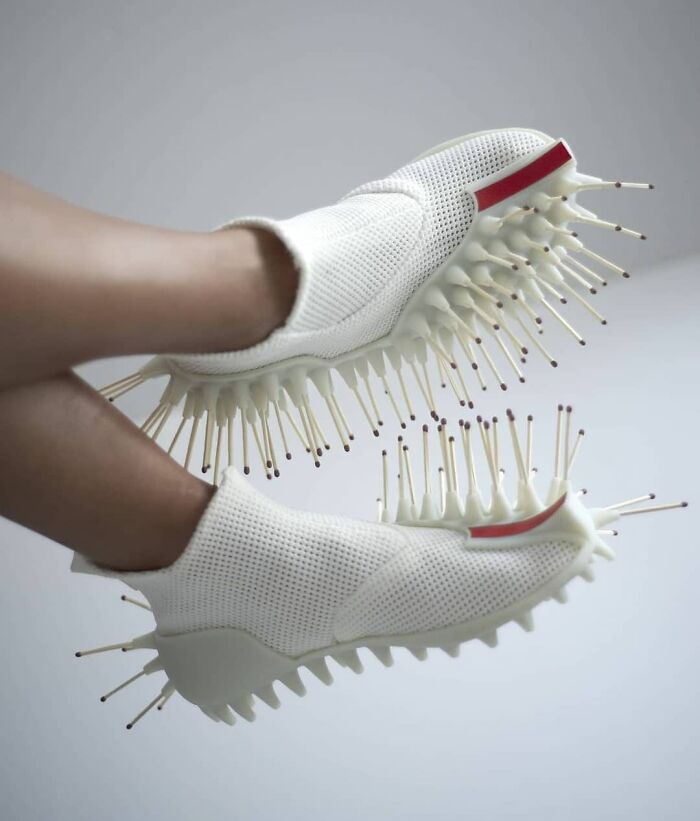 The matches are designed to look like they're sticking out of the shoes but are securely fastened in place, and the spikes are blunt to avoid any accidents. But be prepared for some serious heat from Hellraiser fans who don't like to see Pinhead's visage warped like this.
Quick Like Lightning
Get ready to pump up your style with the Inflatable Rubber Shoes! These shoes are not your typical footwear—they're made of inflatable rubber, so you can adjust your height to fit your job requirements. You can use a inflatable pump, or blow into each separately.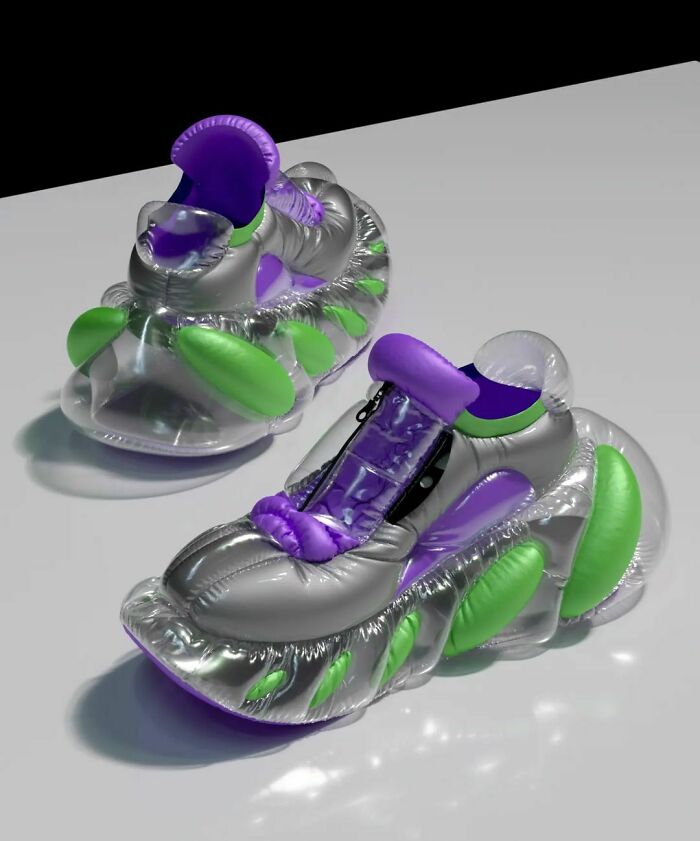 Keep in mind that how tall you appear on a first date bears social consequences. You could get her number, have a second date, or even chill at her place if you exceed her height requirements. But once those shoes come off and she sees your real height…good luck explaining that!
Never Fall Again
Introducing the Two-Faced Shoes! These shoes are a two-in-one deal, with the heel being made of, you guessed it, another shoe. With toes on both sides, you'll never have to worry about falling on your back on the runway again. These things have your back.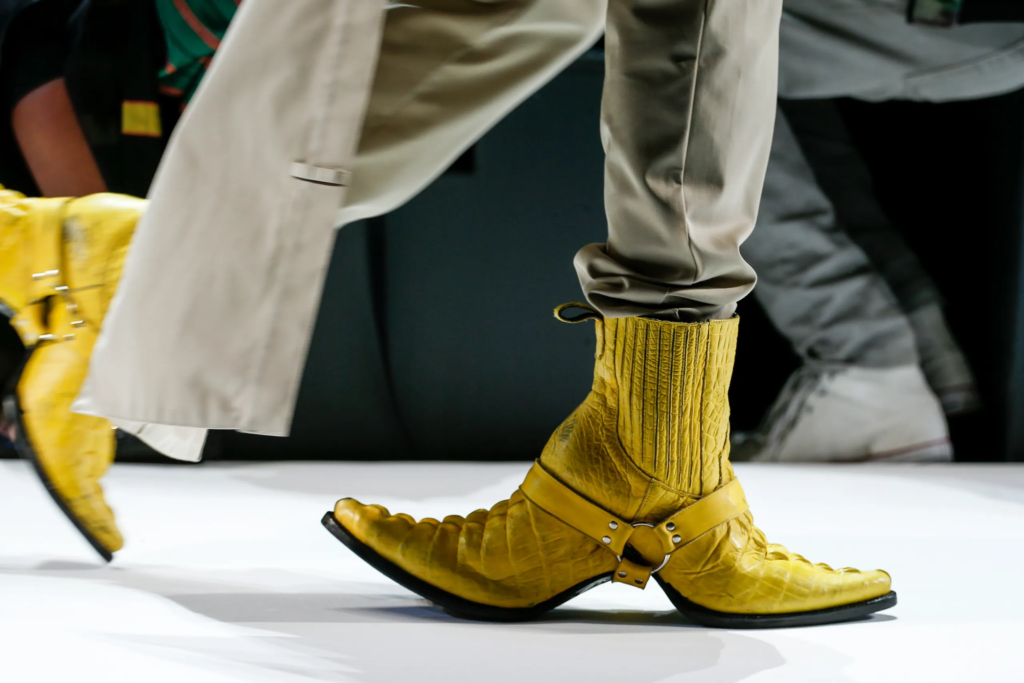 They're perfect for any occasion—a Halloween party, a costume contest, a casual day at the office (if your office is cool enough to appreciate your unique style), or even a strut on the runway. Guaranteed, these will give you five minutes of fame!
Bring Your Arf Game On
Add some flair to your wardrobe with a blend of fur and rabies. With these Scottish Terrier shoes, you'll have something to guard your every step. You can bring a fur baby wherever you go; no leash or poop bags required.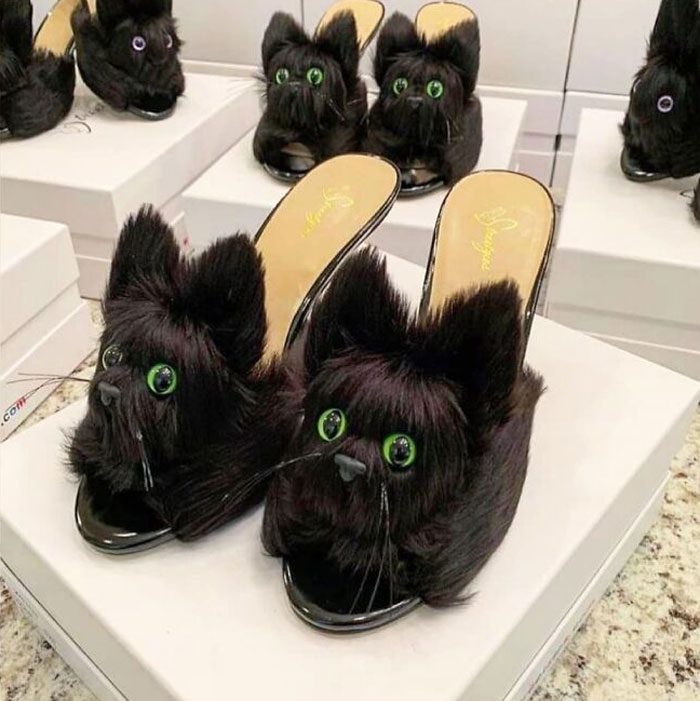 Just be careful if a venue has a no dogs policy. And if they ask you to take them off, be prepared for a debate about their no shoes policy, too. Maybe don't tell them about the build-in bark technology that'll emit a realistic bark at the push of a button.
Granny's Gifts
Just how many of granny's knitted gifts do you actually wear? Zilch? Well, not any more. We bet everyone would wear these hand-knit shoes! These are the perfect solution for those chilly winter days when you want to curl up with a cup of cocoa.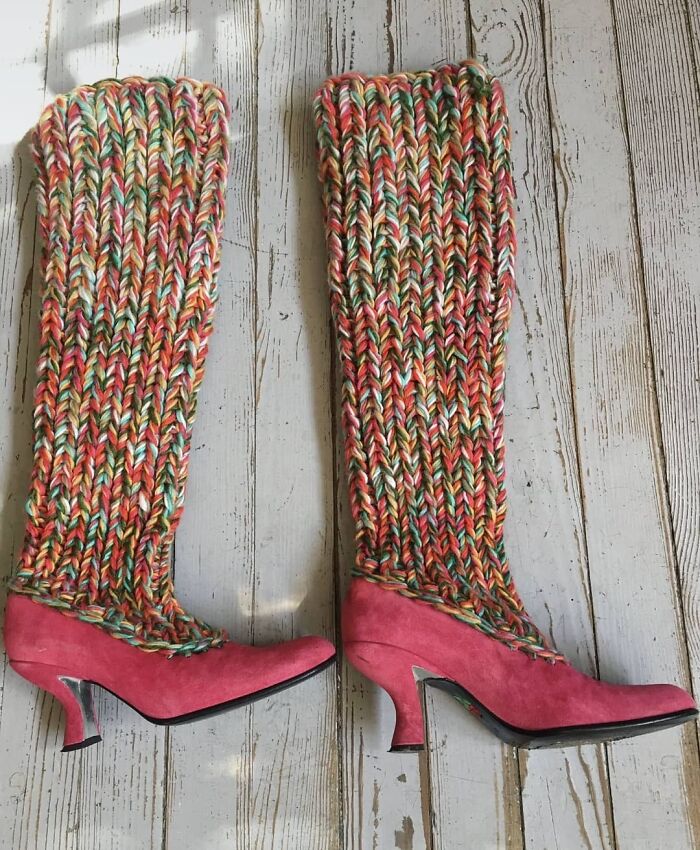 These boots are made of a soft, knitted material that will keep your feet feeling warm and snug no matter how low the temperatures drop. Leg warmers may have gone out of style, but you can't say the concept isn't practical.
Forget Socks
Hate having to wear socks? So do we! With these lint shoes, you can wear comfortable shoes designed to look just like your Aunt Patricia's feet—nails freshly pedicured and complete with toe prints. It's the perfect deterrent for predatory men.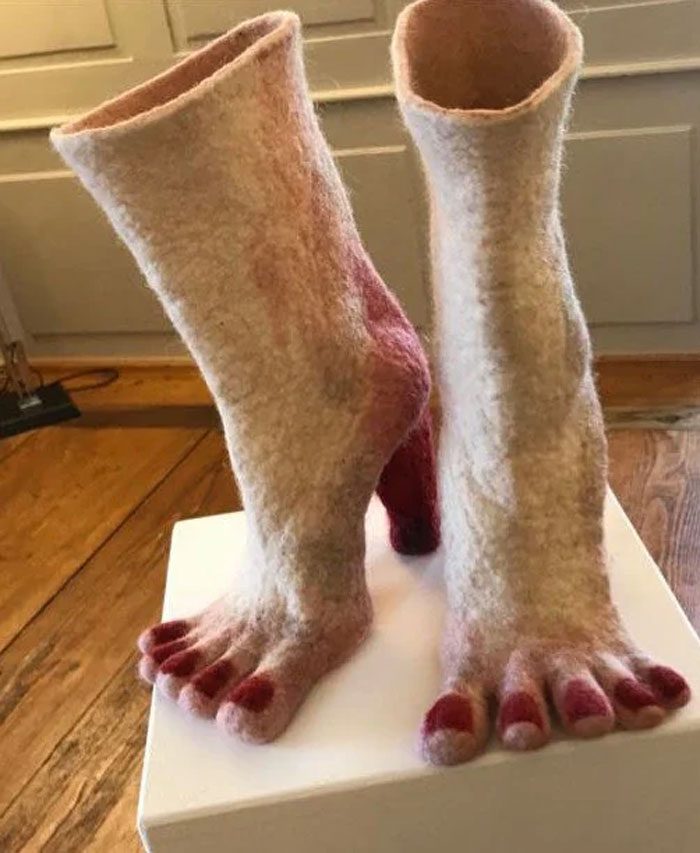 These shoes are made of a special, high-tech material that attracts and collects lint and dust. That's right, with every step you take, your Lint Shoes will gather up any stray fibers and particles on the ground, leaving your floors spotless.
Daily Cleaning
Tired of having to clean your floors every day? It seems like fashion designers are, too, so they created the perfect shoe—the Mop Wedge Shoes! These mop-inspired shoes are complete with yarn tassles and come in Clorox white, Lysol yellow, or phthalo green.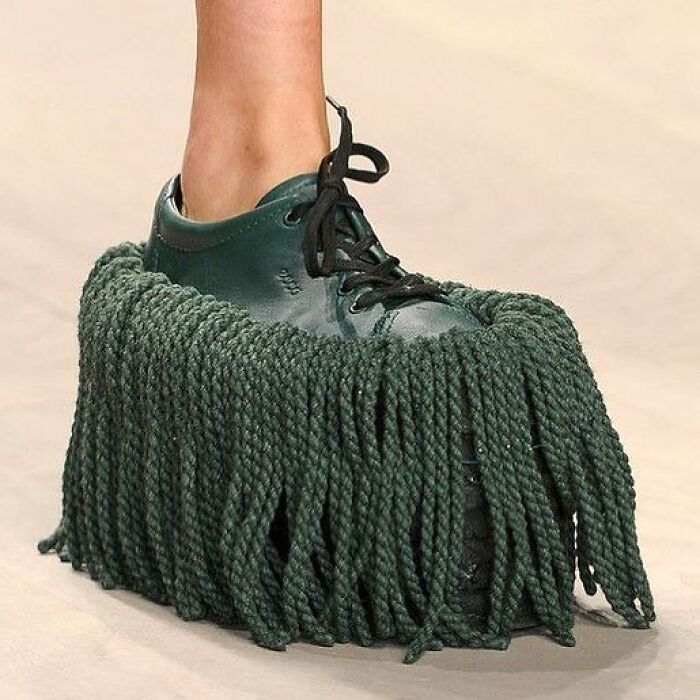 These shoes also have built-in cleaning technology. As you walk around the block, the strands of yarn will drag across the floor, picking up dirt and dust along the way. Trust us, you'll be voted the talk of the town for upholding your civic responsibility.
Sandwedge
Add a little color and flavor to your shoe collection! Introducing the crossover between Rainbow Shoes with Sandwich Wedge Soles—the perfect way to spice up any outfit and get your stomach growling at the same time. You can get a pair for your kids, or the kid in you!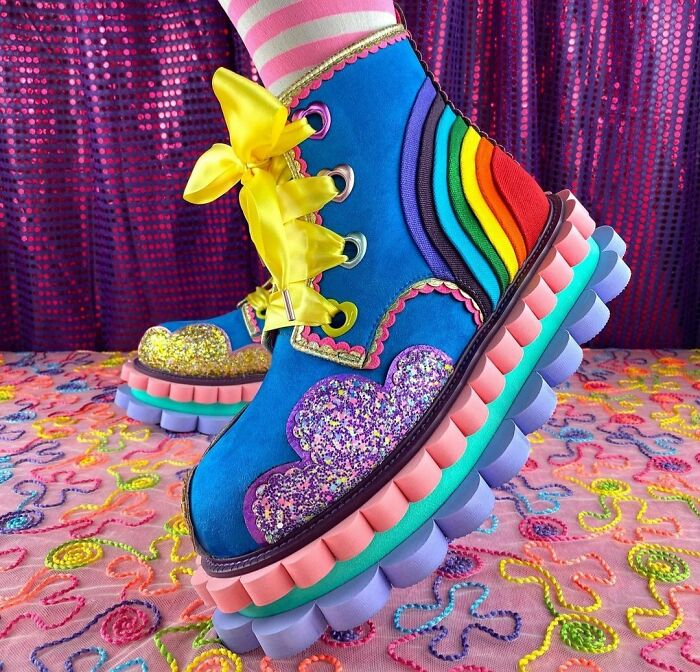 These shoes are designed to be the ultimate showstopper. All thanks to those butter creme sandwich wedges, that are flavored strawberry, purple yam, and medicinal blue. Slip on a pair and strut your stuff in style and with extra flavor.
For the Goth Enthusiast
Attention all goth enthusiasts! These boots are designed for you, with a classic goth style, complete with calf-high zipper, buckles and studs. Its sole is made of durable rubber and designed to look like a miniature graveyard, complete with tombstones and skeletons.
With every step you take, you'll be treading on the soles (pun fully intended) of the undead, and you'll look cool doing it, too. Head out to the mosh pit or simply make a statement at the local coffee shop, with these boots. Let your inner darkness shine.
Add Some Greenery
Want to show your appreciate for algae? Try on these shoes! Here are the new Terrarium Fern Heel Shoes—the perfect way to show off your love for nature, even when you're strutting through the corporate jungle. It's made for avant-gardes and CEOs!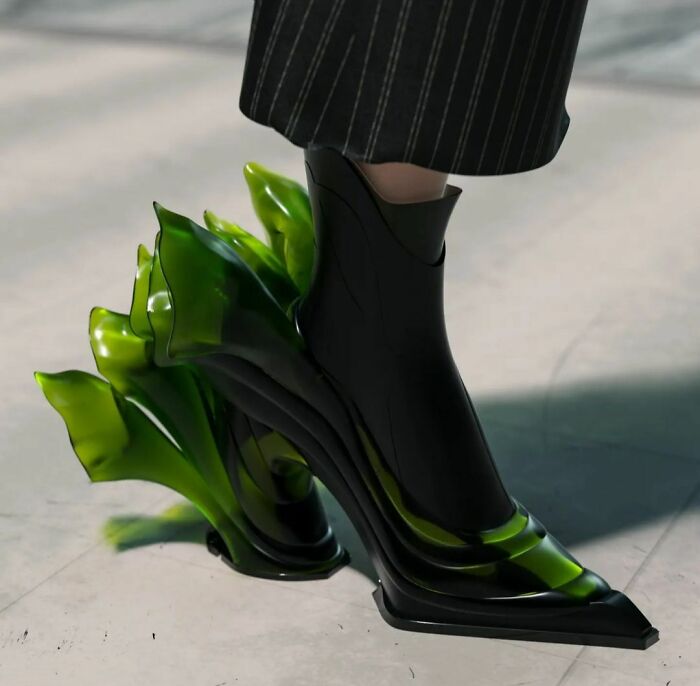 These shoes are designed with a classic style, but with a twist—the heels are designed to look like tiny terrariums, complete with delicate ferns and mosses. Imagine the envy of your coworkers as your miniature forest sways with every step.
For the Independent Woman
If you're an independent woman, you probably look for a little challenge every now and then. If you aren't bogged down by the people in your life yet, then slip on these chain heels. Guaranteed, even boss baes will feel like they're grounded.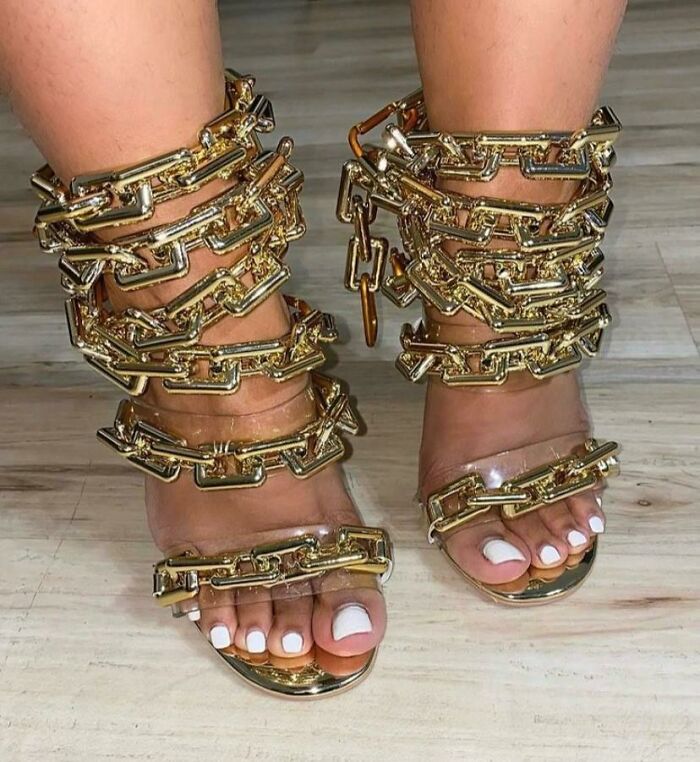 Worth their price in gold, these heels are adorned with gold chains. They drape delicately around your foot and up your calves. Add a little bling to your step with these shoes. You'll be the envy of every social media influencer (wannabe).
Best with Murky Water
Artists, do you want you could carry your watercolor set with you everywhere you go? Now you can with our Watercolor Strap Sandals! These sandals feature a unique strap design composed of a watercolor set. It even comes with a brush.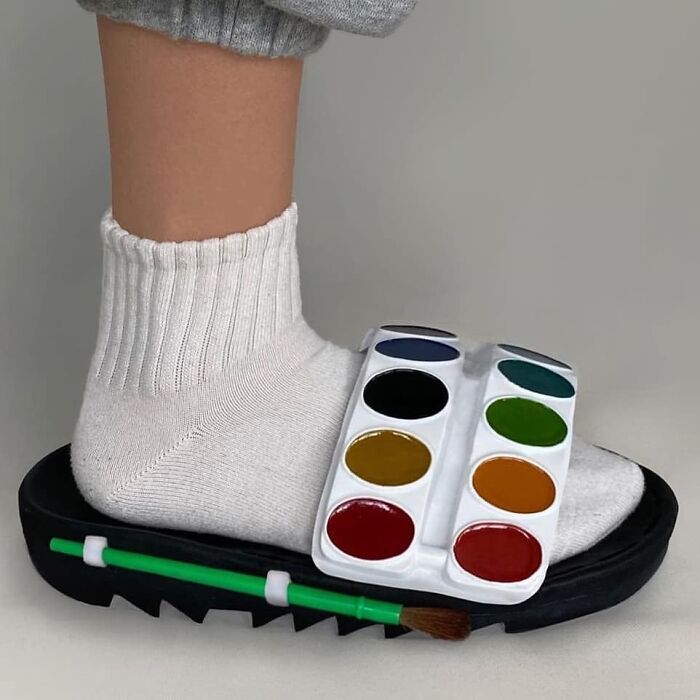 Simply dip your brush into the paint and let your creativity flow as you walk down the street. And the best part? When your shoes get dirty, just give them a quick rinse in a nearby puddle and voila—a fresh new canvas to work with!
Like the Furry Monster That You Are
Do your friends and family call you a party animal? Prove them right with these Muppet Heels. The inside might be lined with the classic characters, but Animal simply can't be contained. Even without Frank Oz's voice, these shoes are loud enough to capture everyone's attention.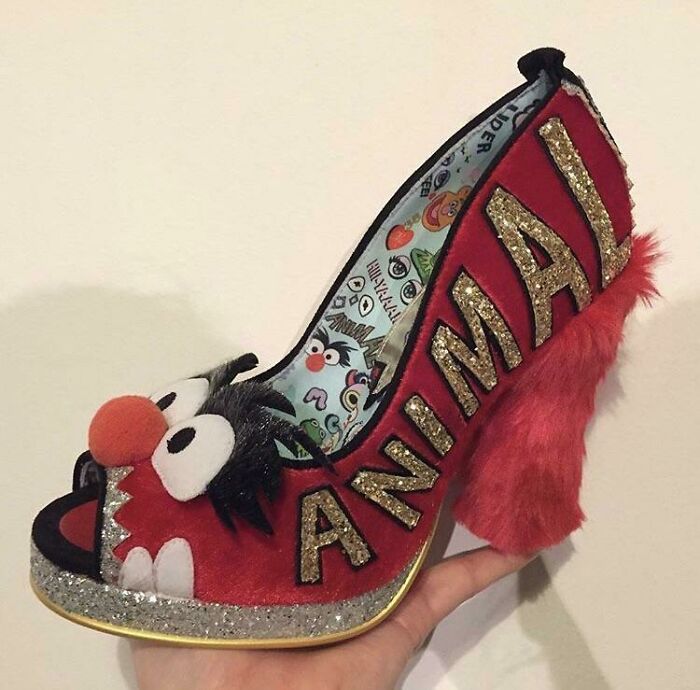 These shoes are also practical—the sturdy wedge heel will keep you stable and the cushioned footbed will keep you comfortable all day long. And if anyone compliments your Elmo shoes, you can give them a little kick for mixing up their puppets.
More Sprinkles Please
These wedge shoes are actually a fluffy sponge cake, complete with chocolate layers. No need to worry about crumbs—these shoes are specially designed to be crumb-free, so you can wear them all day without leaving a trail of cake behind you.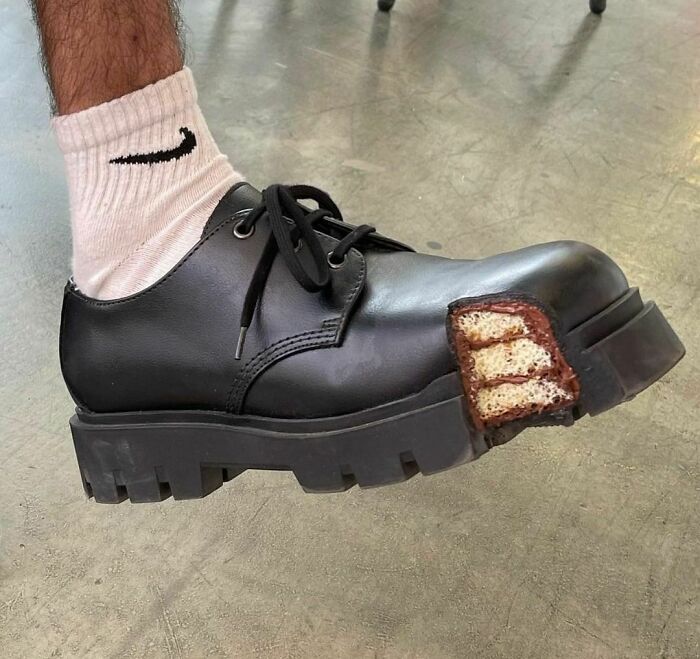 Step on a pond of water or the pavement to adorn these wedge shoes with delicious sprinkles. For sure, you will get choco sludge (and probably amoebiasis) after taking a bite. Indulge your sweet tooth and fill your tum-tum with this three-layered footwear.
Break If Appetizer is Needed
Let's cut to the chase. These heels are filled with actual pickles. Imagine taking each step and feeling the satisfying squish of pickle juice underfoot. And the best part? You'll always have a snack on hand if you have a sudden craving for crunchy pickles.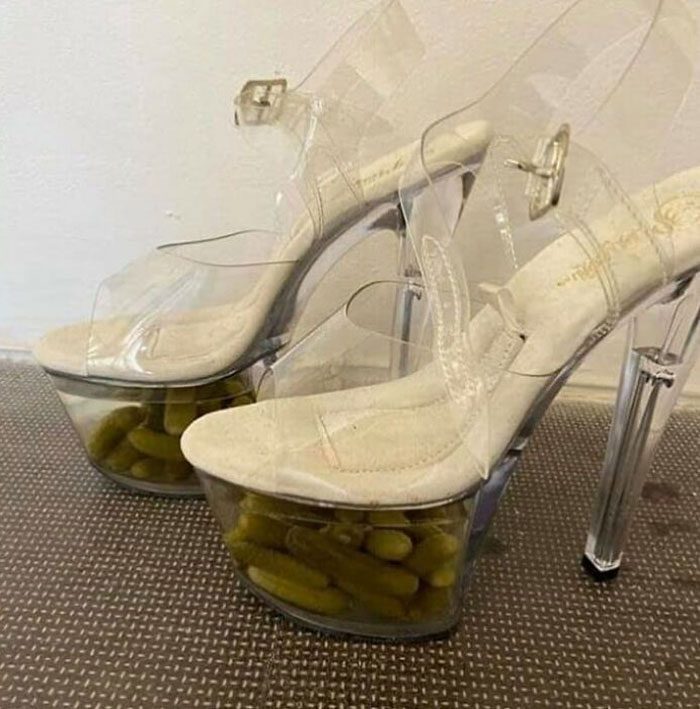 The instructions are pretty simple: Break if you need an appetizer. Beware—wearing these shoes may attract unwanted attention from pickle enthusiasts and even some curious animals. Just keep this in mind if you want a pair of shoes that are safe from hungry predators.
Comfort and Style
If you liked the idea of Crocs with some extra lift but don't like platform shoes, try this alternate design. Instead of the even lift, these have a dainty pair of heels, giving you the best of both worlds. Is three inches enough to boost your confidence?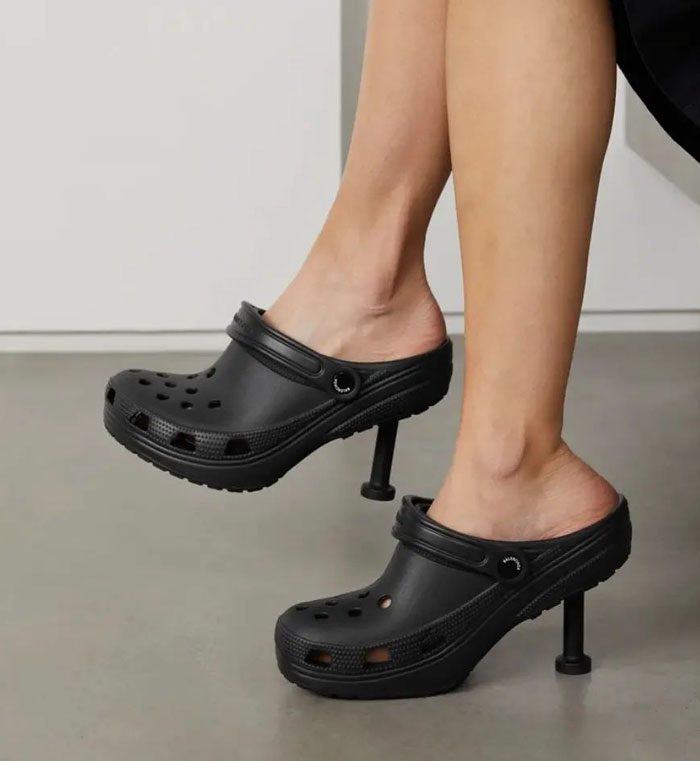 These heels are available in all the classic Crocs colors—from bright pink to hightlighter yellow to the classic camouflage green. With so many colors, there's a pair to go with every outfit. Slide that strap down and watch these stilettos turn into heeled shoes.
Fancy Tango?
Introducing the latest trend in ballet footwear—En Pointe Shoes Without Heels! That's right; no more worrying about your heels slipping off or getting stuck in the floor when you walk around the city. With these babies, you'll be dancing on your toes all day long.
You won't have to worry about pesky blisters or calluses on your heels anymore. Just slip on these sleek and stylish shoes and let your toes do all the work. Your ankles, back, and prescious toes might disagree, but haute couture is all about suffering for fashion, right?
The Forbidden Heels
These stunning wedges feature a beautiful ceramic design and tell one of the most iconic biblical story. The depiction of the infamous Eve eating the forbidden fruit is the perfect conversation starter at any party. You'll be the envy of all your rule-breaking, fashion-forward friends.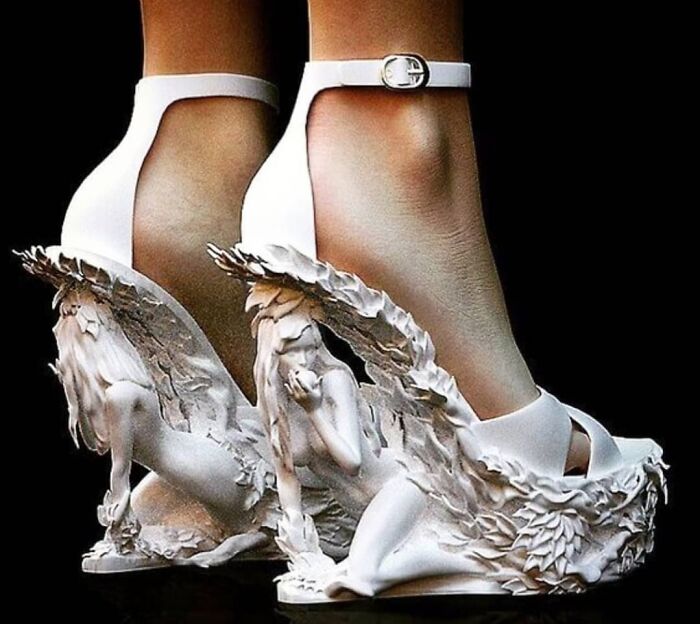 And don't worry about the heels breaking off—they're very durable. You might, however, be banned from your circle of friends and made to wander the social market isolated from the rest of humankind. But, hey, at least you'll be famous!
Going Rogue
Looking for a way to add some magic and villainous flair to your shoe collection? We have got the perfect pair for you. Introducing, these classic pink heels with a unique feature—Maleficent's hand giving you the oomph you wickedly deserve.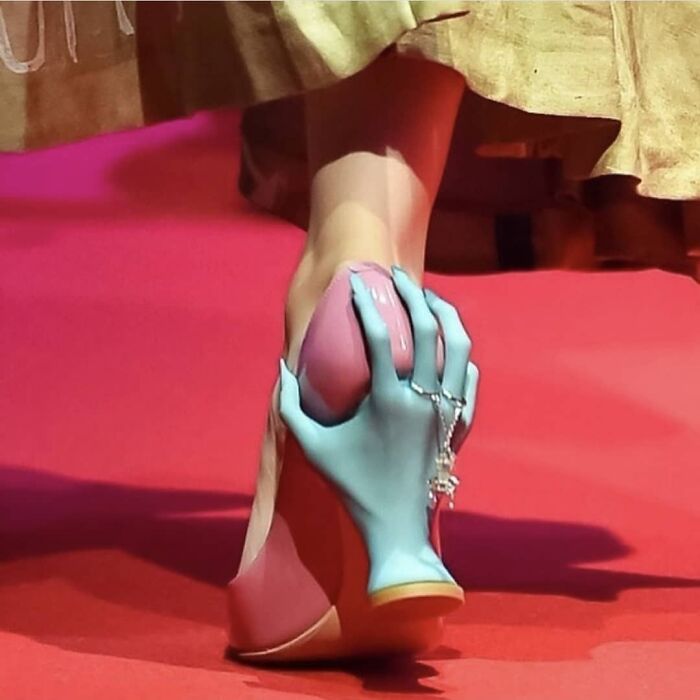 Channel your inner Disney villain and let everyone know who's really in charge. The handcrafted heel features the iconic hand of Maleficent, complete with sharp nails and a menacing presence.Who needs a fairy godmother when you can have the mistress of all evil on your side?
Can't Get Enough
If you're a fashion-forward parent, chances are you're always on the lookout for clothes to help your kid look stylish, too. They might be a bit big for your 3-year-old, but this brand made shoes that your kids'll grow into over the years.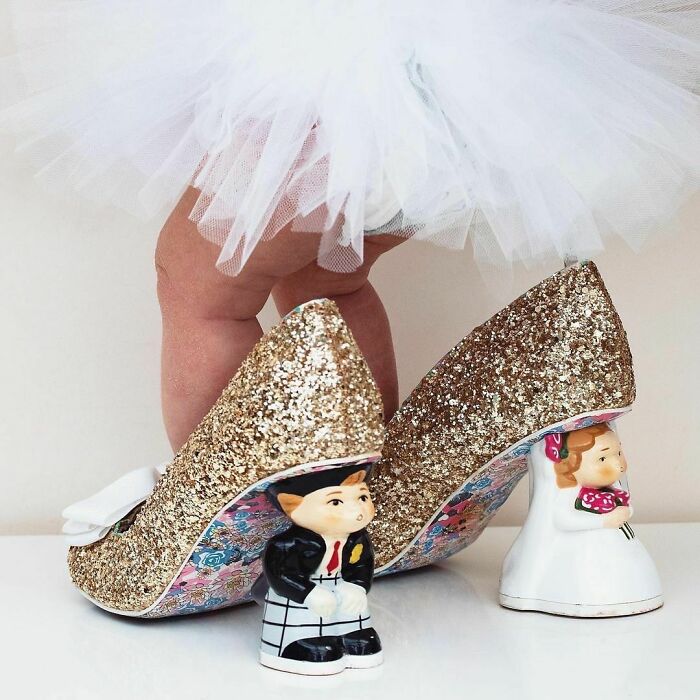 Covered in glitter, it's sure to capture the attention of your toddler, and the little figurines at the heels means they have toys wherever they go. Just be prepared for a lot of boo-boos, as these are absolute tripping hazards!
Wicked As They Come
Oh boy, do we have a story for you! So, imagine this—you're strolling through the shoe store, and suddenly, you spot a pair of kicks that catches your eye. They're black, leather, and have some seriously wicked-looking teeth for the soles.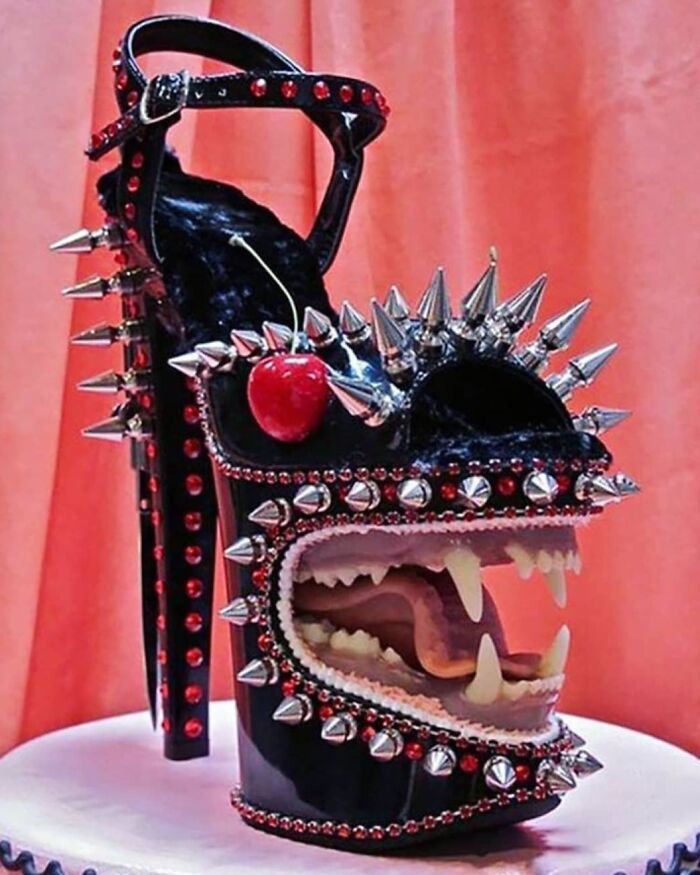 These shoes are not for the faint of heart. They're designed for those who want to unleash their inner monster. And what better way to do that than with shoes that have a snarling mouth, complete with sharp canine teeth?
Out of this World
They say that, to understand someone, you need to walk a mile in their shoes. Well, if you've ever wanted to know what it's like to be an extraterrestrial, now you can. Slip your feet into the hollow brain cavity of this alien with a dreadful underbite. These shoes are out of this world—literally!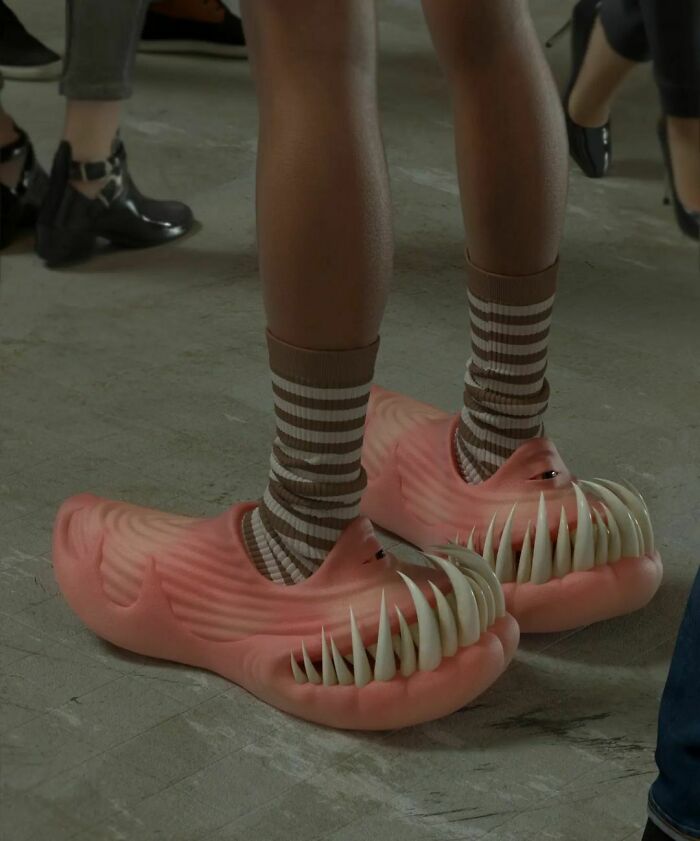 You may feel like you're being watched by otherworldly beings as you strut down the street. Just don't be surprised if you start receiving signals from deep space. Who knows, maybe you'll be the first to make contact with a stylish alien race!
Unprecedented Freedom
Rubber shoes with a toe divider: this is the perfect shoe for people who can't decide between sandals and sneakers. This unique design will give your feet the ultimate freedom to wiggle, bend, and splay as much as they want.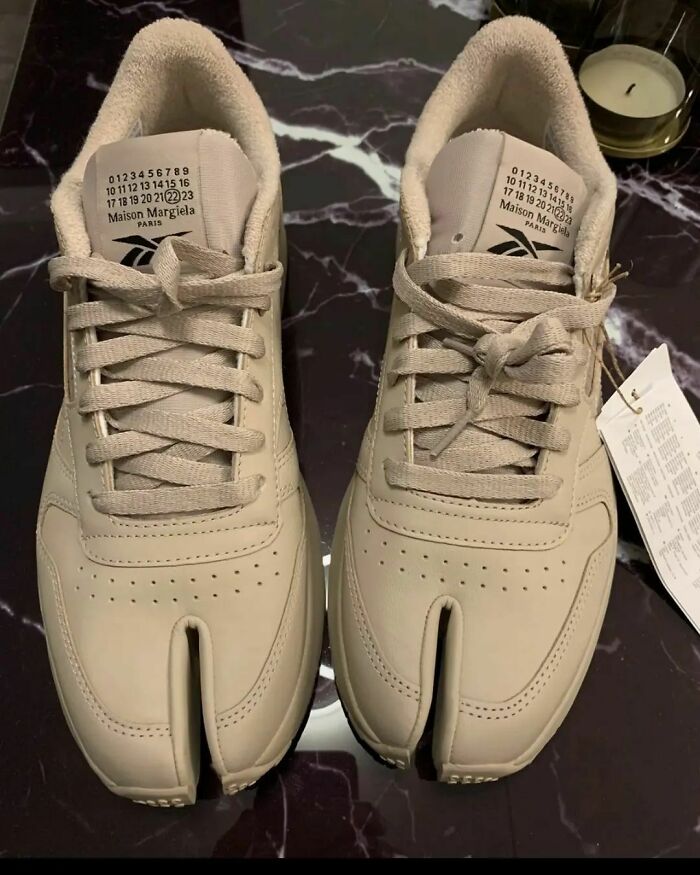 The toe divider, inspired by flip-flops, will keep your toes from getting all up in each other's business, and the rubber material will protect your feet from any nasty surprises on the ground. Wearing these shoes will take some getting used to, but it's all worth it!
Equine-ity
Hold onto your horses, folks, because we've got a new fashion trend that is bound to turn heads: thigh-high hoof boots! *cue neighing* That's right, now you can gallop around town like the mythical creature you've always dreamed of being.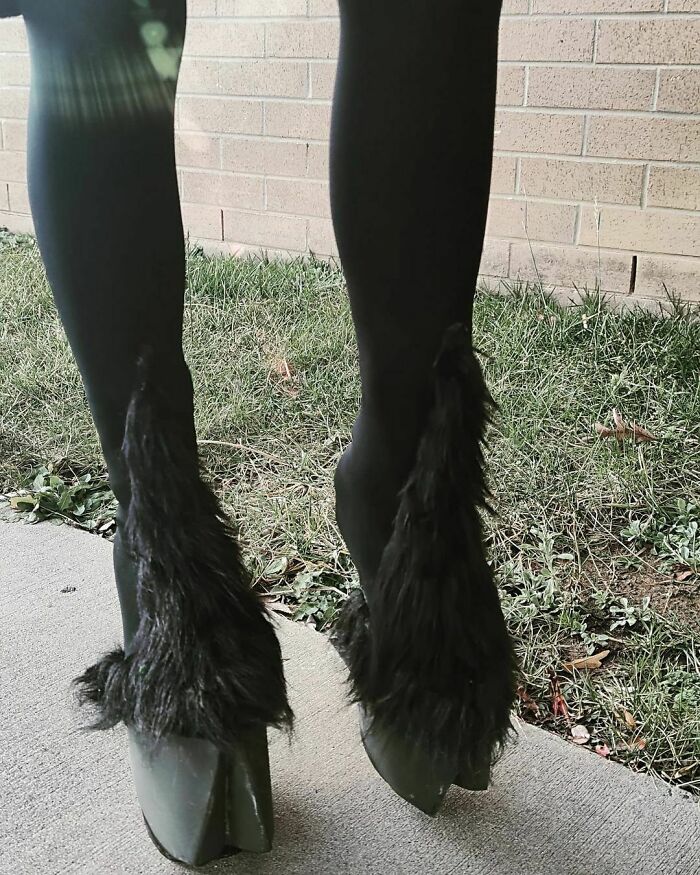 These boots are the perfect way to show off your love for all things equine—without having to deal with the hassle of actually owning a horse. And let's be honest, who wouldn't want to gallop around town with these hooves?
Captain's Log: Tribbles Are Afoot
Cyrano Jones made his way to fashion week, Paris, Earth. There, he managed to sell some innocent-looking Tribbles to some of the designers, and they got to work straight away. Of course, they didn't tell PETA about their new fur supply.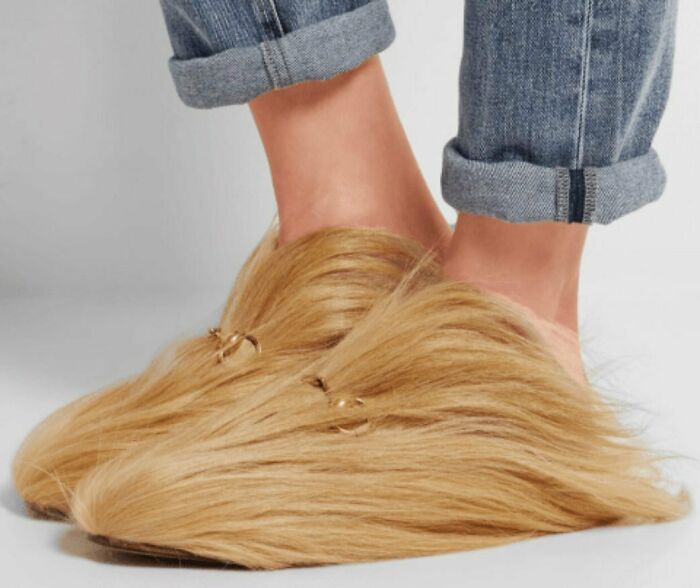 Since there isn't usually food provided behind-the-stage at fashion shows, there's no danger of these critters multiplying. If you manage to snag a pair, just beware of crumbs. On the plus side, with the pleasant humming and purring of your Tribble shoes, you'll feel comforted wherever you go.
Currently Under Study
Ever wanted to show off your love for microbiology on your feet? Well, now you can with the newest addition to the shoe market: virus-inspired rubber shoes! These blue shoes are covered in colorful splotches that'll make you look like a walking petri dish!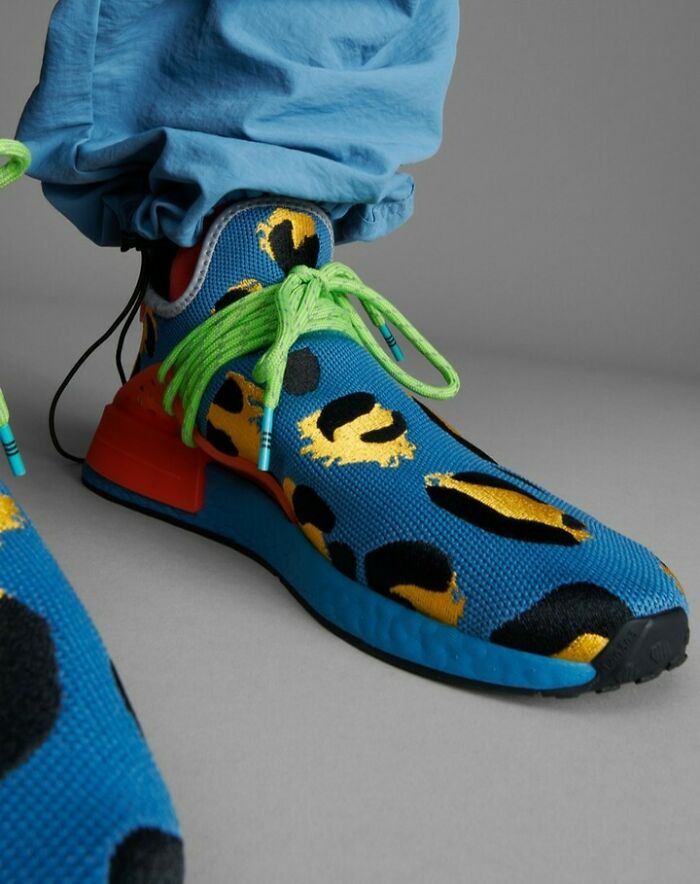 If anyone asks why you're wearing shoes that look like they have viruses on them, just tell them you're trying to build up your immunity. Guaranteed, they'll run away from you. Who knew being trendy could also be so healthy?
No Pain, No Fame
Let's face it; high heels can be a real pain in the foot. But what if you could take that pain to a whole new level? Introducing foot-high black pumps, the shoe that will make your feet scream in agony while you tower over the competition.
With its sleek black design and towering height, these shoes will make you feel like the queen of the world, assuming the queen of the world has a masochistic streak. And let's not forget the added bonus of making your legs look like they go on for days.
Predatory Bite
If you are going to wear leather slip-ons, you might as well go all in. These are perfect for the fashion-forward adventurer who has had it with frumpy, plastic Crocs. No one will question your buying capacity for literally wearing crocs.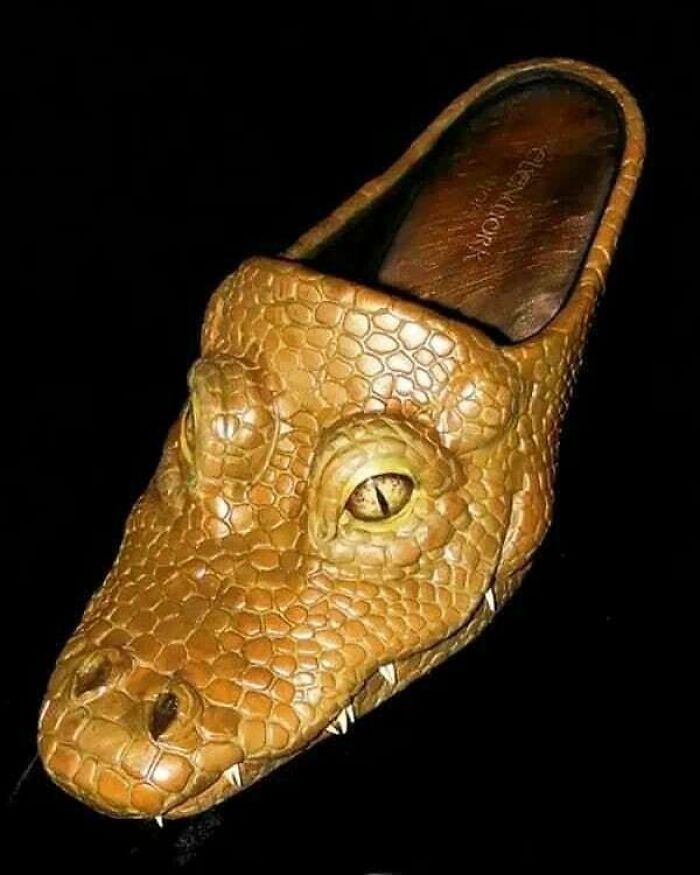 Just don't be surprised if people start running in the opposite direction when they see you coming. And whatever you do, don't let them near any bloodthirsty politicians; we don't want any confusion in the animal kingdom. Save the fight for another day.
Your Money's Worth
Have you ever wished you could keep your money close to your feet? Look no further than Nike's latest release: the coin purse heels. That's right, Nike has taken their innovative sneaker technology and applied it to your foot's need for storage.
With a sleek design, the coin purse heels are the perfect solution for those who want to keep their cash secure. Gone are the days of carrying around a bulky wallet. Simply slip these on, and you'll be ready to take on the world with your money right where you need it.
Love-Perplexed
We love-hate pointed heels. We love that they look beautiful on our feet, but we hate the fact that our toes are compressed into such narrow space. Can't there be more room for all our toes in there? Fortunately, this fashion designer came up with a solution.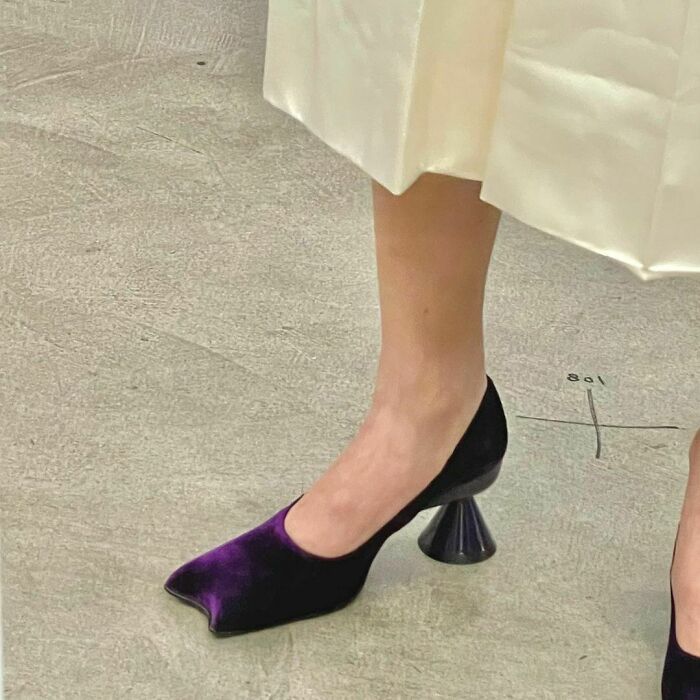 These velvet shoes were the talk of the fashion world. No one had ever heard of two toe boxes before! You don't just walk in these. You strut, saunter and sashay. Needless to say, it was a hit. The designer was on to her next big idea—shoes with three heel boxes.
No Walking Needed
This is the greatest (and most dangerous) feat of shoe engineering the world has ever seen. Feast your eyes upon the shoe with millipedes for heels! Note: no live creatures were harmed in the making of this pair of shoes.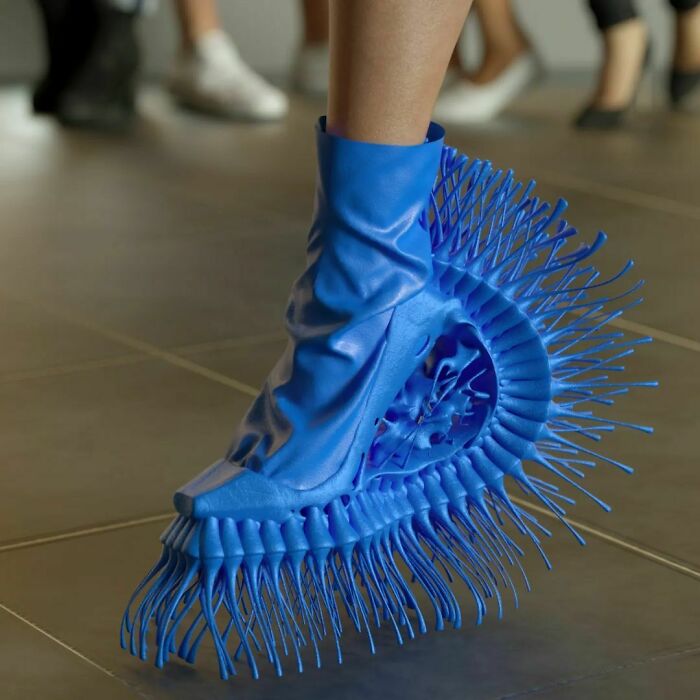 Who needs regular heels when you can have a squirming, wriggling mass of tiny legs carrying you to new heights? Save your energy and have them walk you around. Imagine the attention you'll get walking down the street with a pair of these babies on your feet.