Stylish Outfits For Those Hot Summer Days
By Ruby M March 8, 2022
---
You know those days where even if you're in your birthday suit, you're already sweating the moment you've dried off from the shower? Well, we do – all too well. So we've put together some outfit ideas to help you get through those sweaty summer days without losing your fabulous style! Stay tuned: this one's a goodie!
Cropped Tank and High-wasted Shorts
Nothing says summer quite like a nice pair of high-waisted shorts paired with a hot cropped tank. Pretty much any shoes will match this casual fit, but we recommend a simple sneaker or short lace-up boots. Make sure to grab yourself a nice oversized jacket to put on in case it rains!
Button Up and Flowey Skirt
Keep cool and still rock your best style with a breezy button-up and flowery, delicate midi skirt. Glam up your summery outfit with a pair of dainty heels, or dress it down with some simple sandals.
Delicate Mini-dress
Got a handsome brunch date but worried about sweating through the meal? Try wearing a delicate mini-dress on your date so that you're still looking stylish and elegant – but not going to overheat.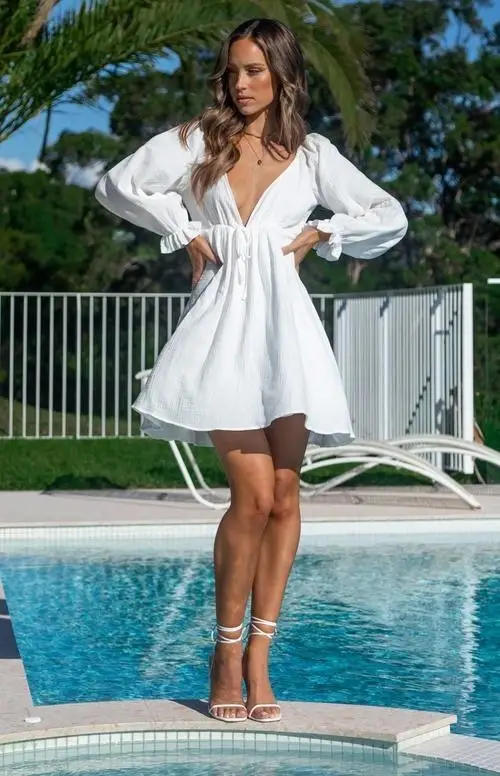 Tennis Skirt and High-tops
Even if you're not a player of the sport, tennis skirts are a great essential to keep in your closet for the hotter days of the year. Rock your tennis skirt with a pair of high-tops and a crop top – and look your fittest even if you're not planning on hitting the gym!
Summery Wrap Dress
A wrap dress has a much-loved silhouette that suits women of all shapes and sizes and can be worn in many ways that flatter every figure. It's a beautiful option for those hot sunny days. It's excellent paired with a hat to keep the sun out of those pretty eyes and can be warmed up with a coat on cooler days, too.