45 Brides That Turned To Thrift Stores To Find Their Dream Dress
By Navkiran K January 19, 2022
---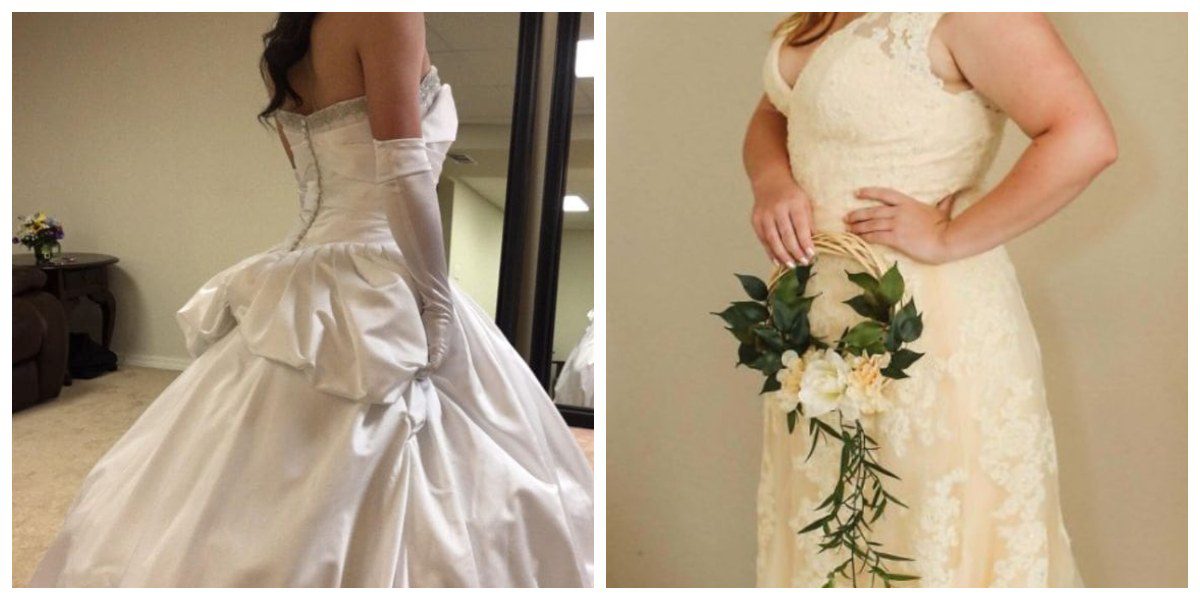 A wedding is the most exciting and memorable day of a woman's life. It is also often stressful because f everything that goes into wedding planning, such as wedding gown, venue, makeup, and food, to name a few. And the pressure of the budget adds even more stress. The good thing is that not all things have to be costly. If you're like most brides, finding the perfect wedding dress is a top priority. But if you're on a budget, spending thousands of dollars on a gown may not be feasible. Luckily, there are many ways to find a beautiful and affordable wedding dress – including thrifting! Opting to do your shopping in second-hand stores can be a great way to save money on your dress while still finding something fabulous. Read on and see how these brides found their dream dresses while thrifting – and saved big in the process.
Double-digit wonder
If you are lucky enough, you may be able to grab a dress that has a double-digit price tag. This dress from the picture cost only $20. It's safe to say that the bride managed to save a massive amount of money by choosing this gown.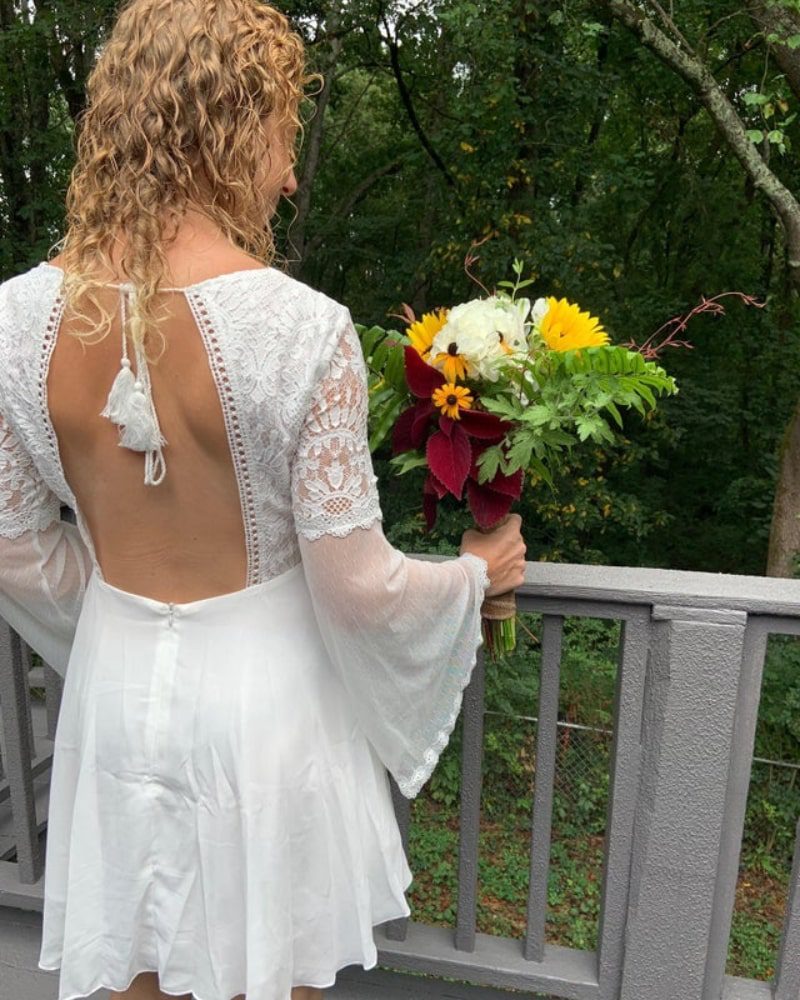 It looks amazing on her and seems way more expensive than a mere twenty bucks. Whoever thought it was an excellent idea to normalize thrift dresses that don't burn a hole in your wallet did something great for budget-savvy brides.
Father of the Bride inspired dress
Many brides and their families have grown up watching the adorable movie Father of the Bride. It may be their fantasy to find a dress similar to the one actress Kimberly Williams-Paisley wore in this classic movie. It's a bit dated, but this woman updated it!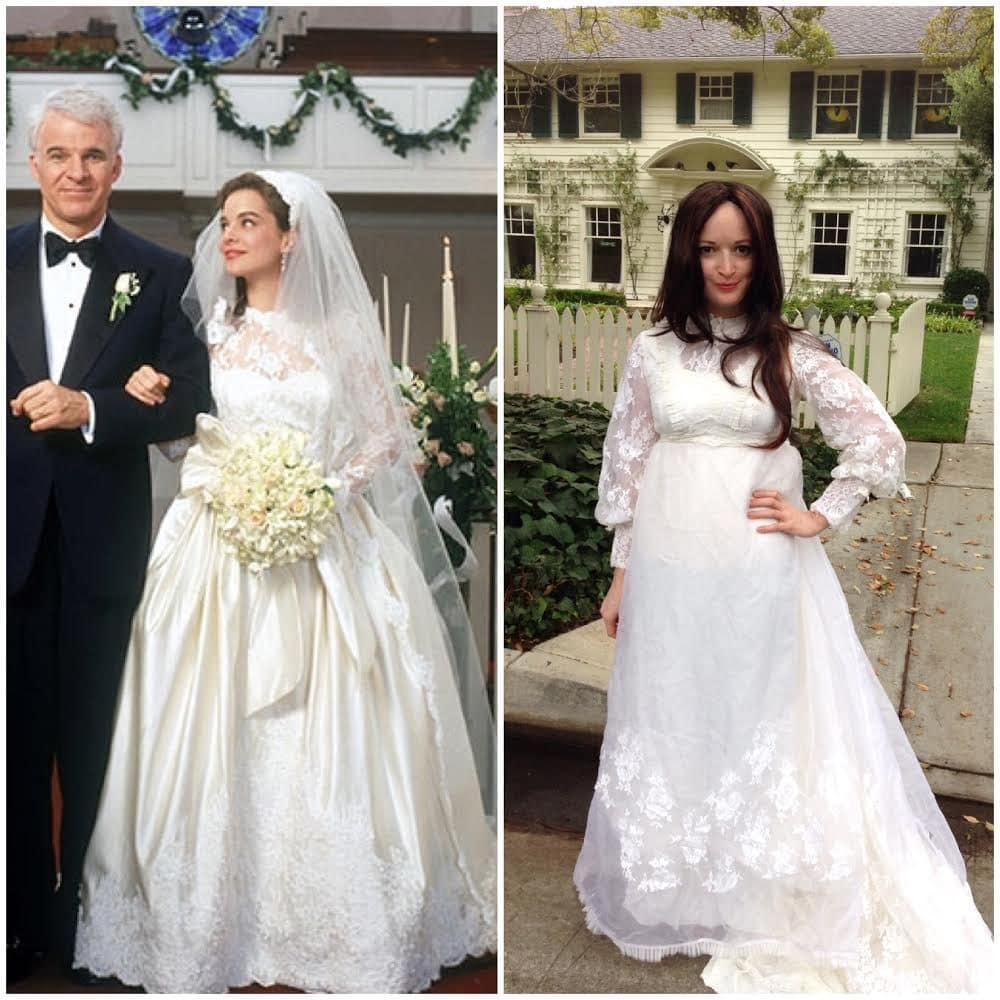 This bride actually got lucky and found this dress in a thrift store. The dress seems like a replica of a wedding dress from the movie. Besides, it fits her so perfectly; it is as if it was custom-made just for her.
Treasures from the second-hand store
If you closely look at the dress below, you may think that it is a tailor-made designer dress. It fits this bride-to-be like a glove. But just like the rest of us, you would be wrong in assuming this is some extravagant dress.
The bride got her ideal dress at a local second-hand store. It definitely was a brilliant idea for her to check out the thrift store instead of buying a new dress from a designer store that would have cost a fortune.
Fairytale Goodwill gem
This future bride will get to live her dream in this dress. It looks like it's straight out of a princess storybook. Everyone knows that any fairy tale wedding involves a lot of details, and the expenses add up. The smart idea is to save wherever possible.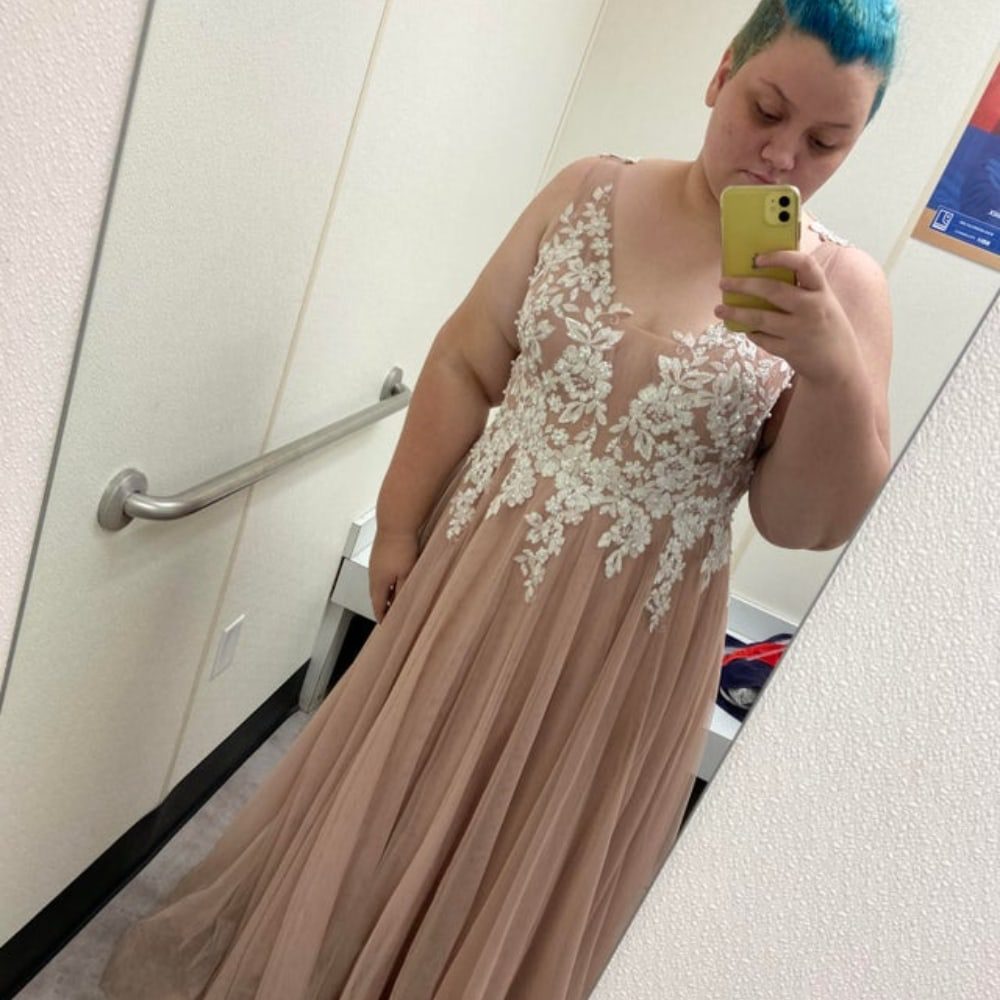 This bride found a beautiful dress that was exactly priced at six dollars at Goodwill. Can you imagine getting a wedding dress for less than ten bucks? This price sounds so unbelievable, it's almost like a fairy tale in itself.
Second-hand bridal find
Buying second-hand stuff for the wedding is an excellent choice for any bride. They save a fortune, and as we've seen, don't skimp on style or quality. And not many brides know that there are second-hand shops dedicated to bridal wear in different designs and sizes.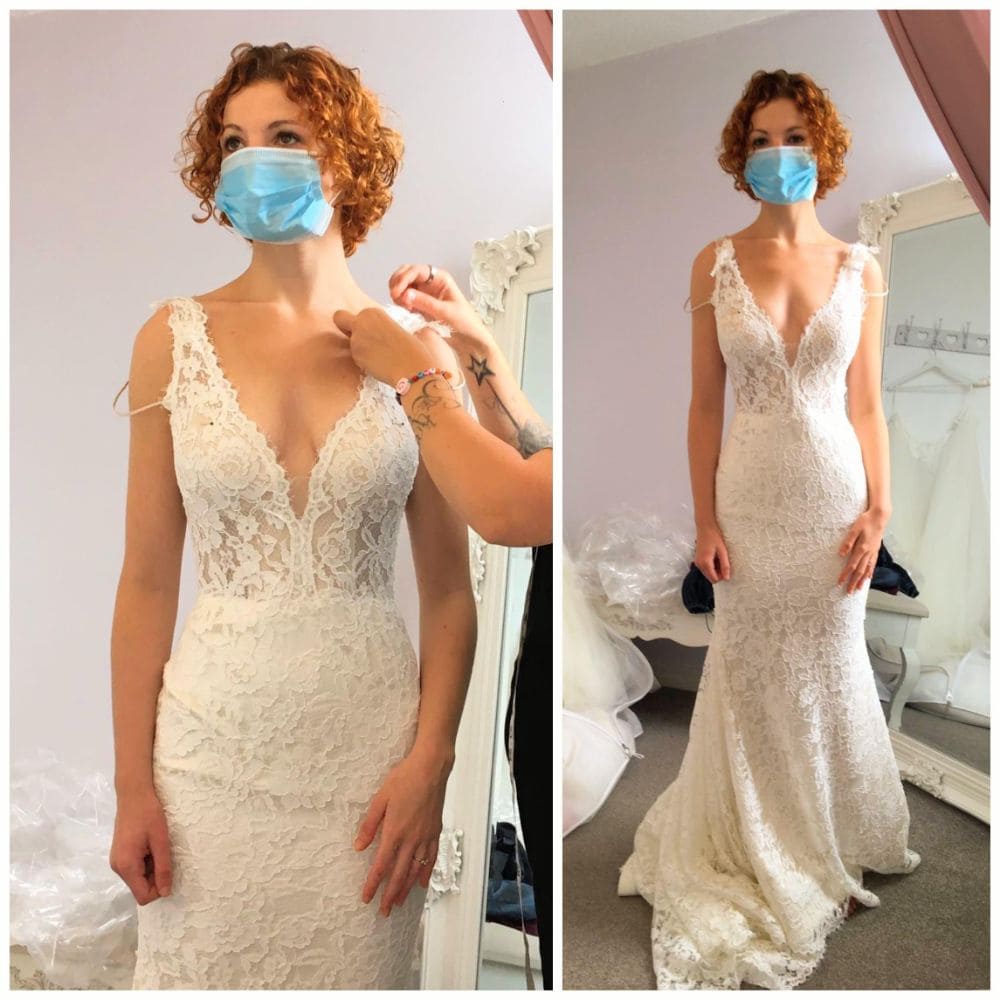 Besides, these second-hand dresses are not just a piece of fabric but also carry so much potential. Instead of these beautiful gowns sitting in the shop collecting dust, new brides give them a purpose and a second chance at life.
DIY vintage upgrade
If you could not find the right dress just like these ladies did in thrift stores, then consider making your own. Take home any wedding dress you find that you think has the potential to become what you've dreamed of. Now, let your creativity flow free.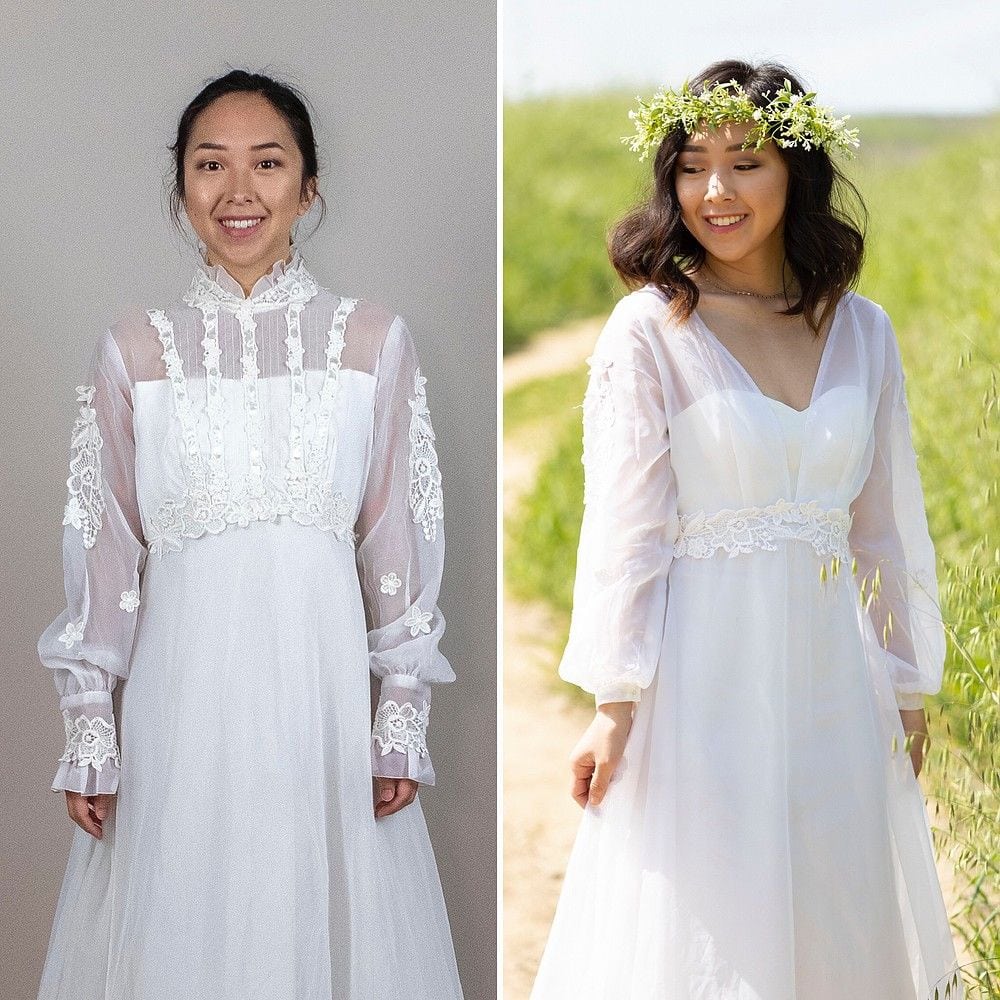 This is exactly what this bride did to the dress above. Needless to say, the DIY gown came out looking amazing and looks way more trendy than the original. It turns out even the not-so-nice thrift store finds can hold hidden gems.
Trendy thrifted gem
This dress may be the best fit for a budget-savvy bride for her big day. It goes with the shape of her body and compliments her well. And all that lace design around her neck makes her tattoos look fabulous.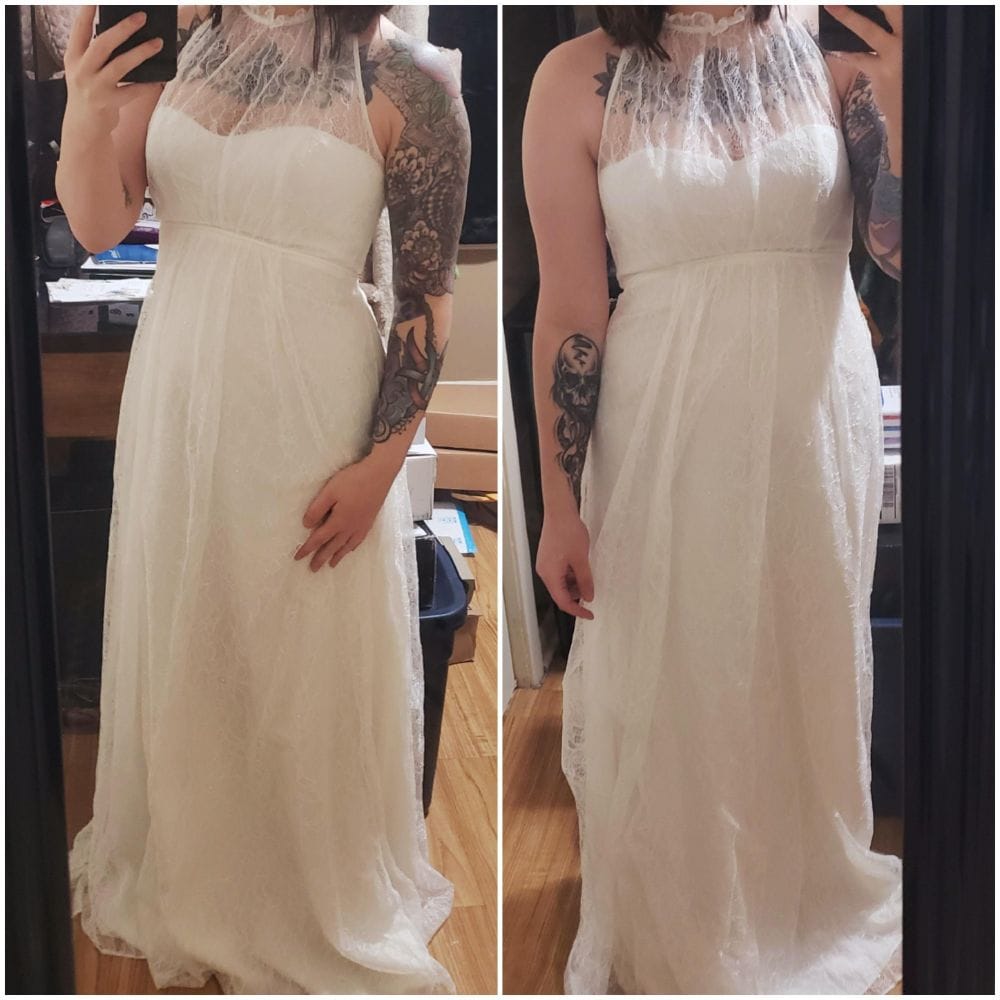 This might be the best dress for her aesthetic. Fortunately, this bride found this gem in a second-hand bridal store. Take inspiration from this woman and look for a wedding dress outside of the David's Bridal catalog! You won't be disappointed.
Vintage fashion keeps coming back
There is one thing about fashion we can all agree on: it comes, it stays for a while, it goes, and almost all the time, it comes back again. The beautiful bride pictured below was lucky enough to find a vintage dress that turned out to be trendy.
She found her gown in a thrift shop, she tried it on, and she bought it without any hesitation whatsoever. Sure, she had to do some alterations to it, but nothing too significant. The final price was still way under that of a brand new dress.
Perfect runway dress
Looking at this picture, you might think this is a runway dress on a real model, chilling backstage. But, it is a thrift store dress on a future bride who looks stunning and is all ready for her big day.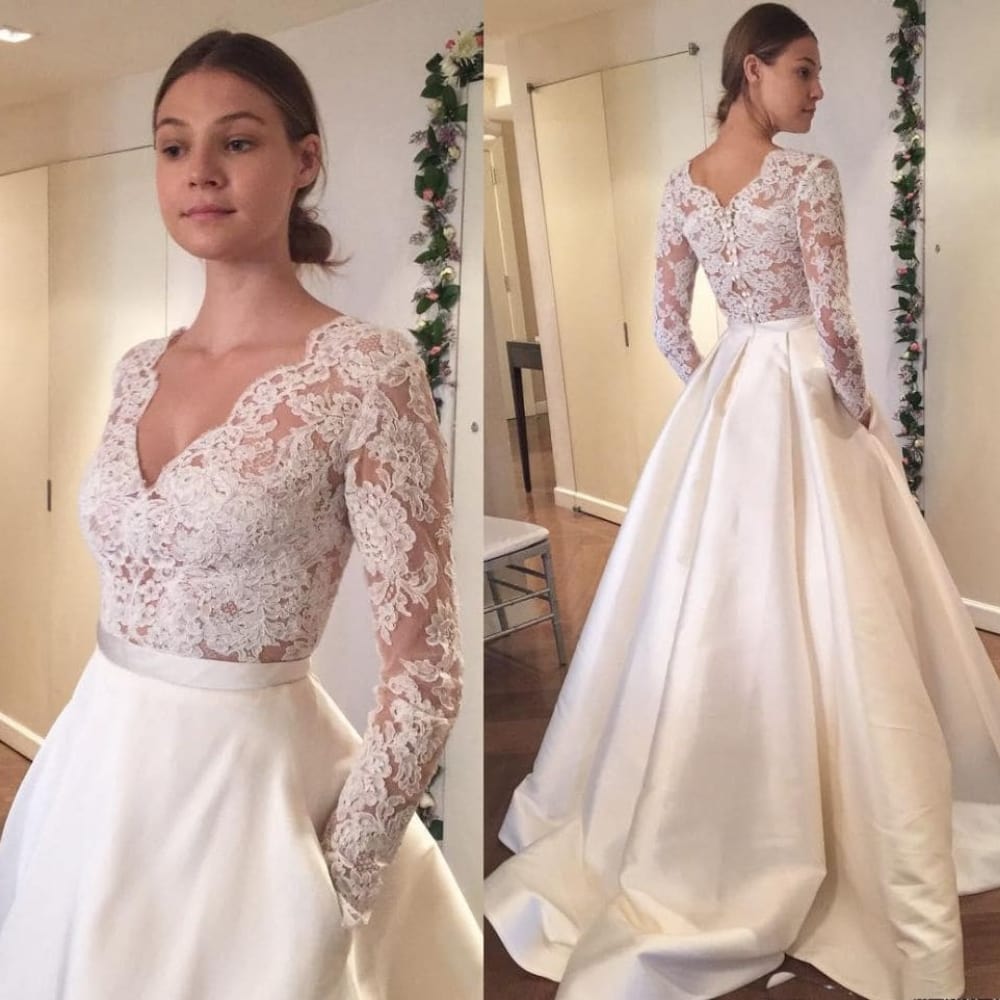 This gorgeous bride found the dress of her dreams within her budget at a second-hand bridal store. It looks so good as if it was made just for her. All she needs is a veil and some minimal jewelry to complete the look.
The magical '80s dress
Gleaming fabric, a set of oversized sleeves, lace, bows were trendy back in the '80s. The fashion choice was loud, and it seems like the decade's favorite fashion details were plastered on the original version of this wedding dress.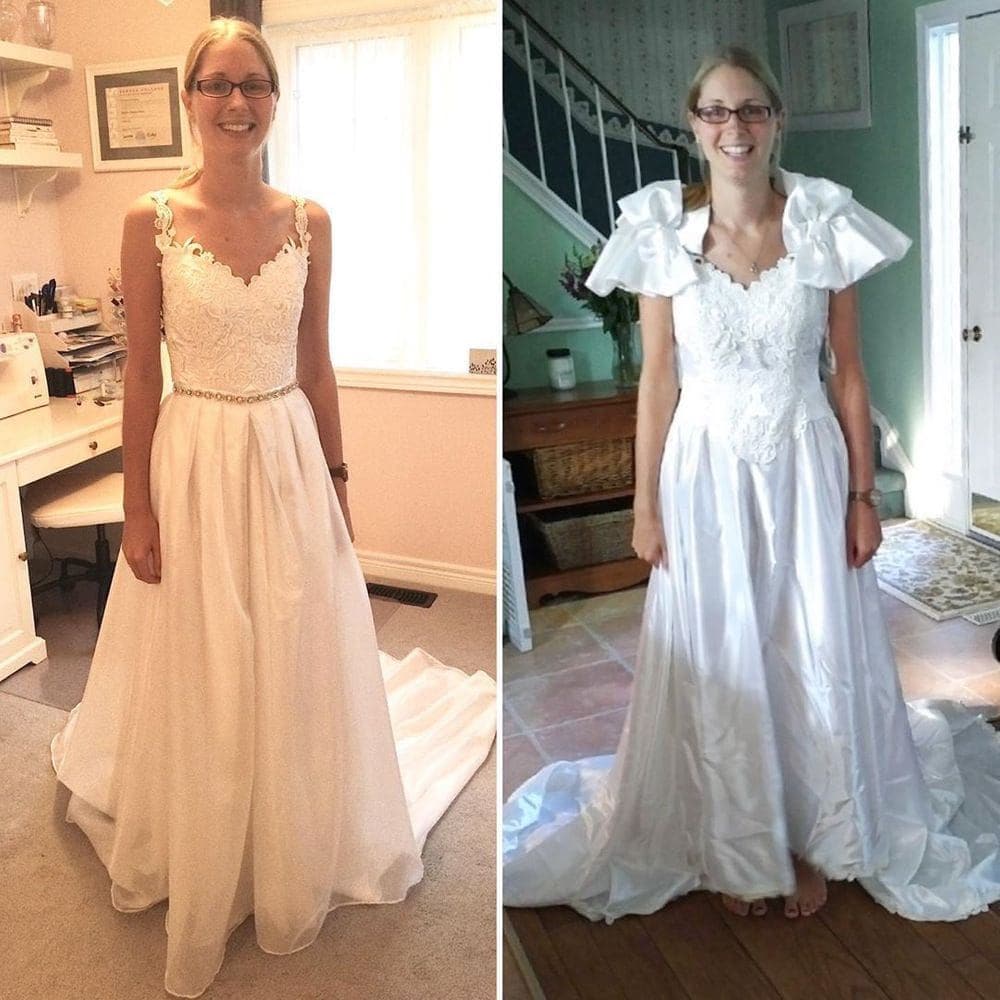 And many women may think this designer dress is very intimidating, but not this woman! She saw something unique in it and decided to buy it without wasting a second. After some changes and alterations, the final result is beautiful.
Magnificent vintage dress
Here is another bride who saw a beautiful modern dress behind the vintage style of the wedding gown. She knew she needed to be creative to rework those big sleeves and high collar to end up with the dress she envisioned.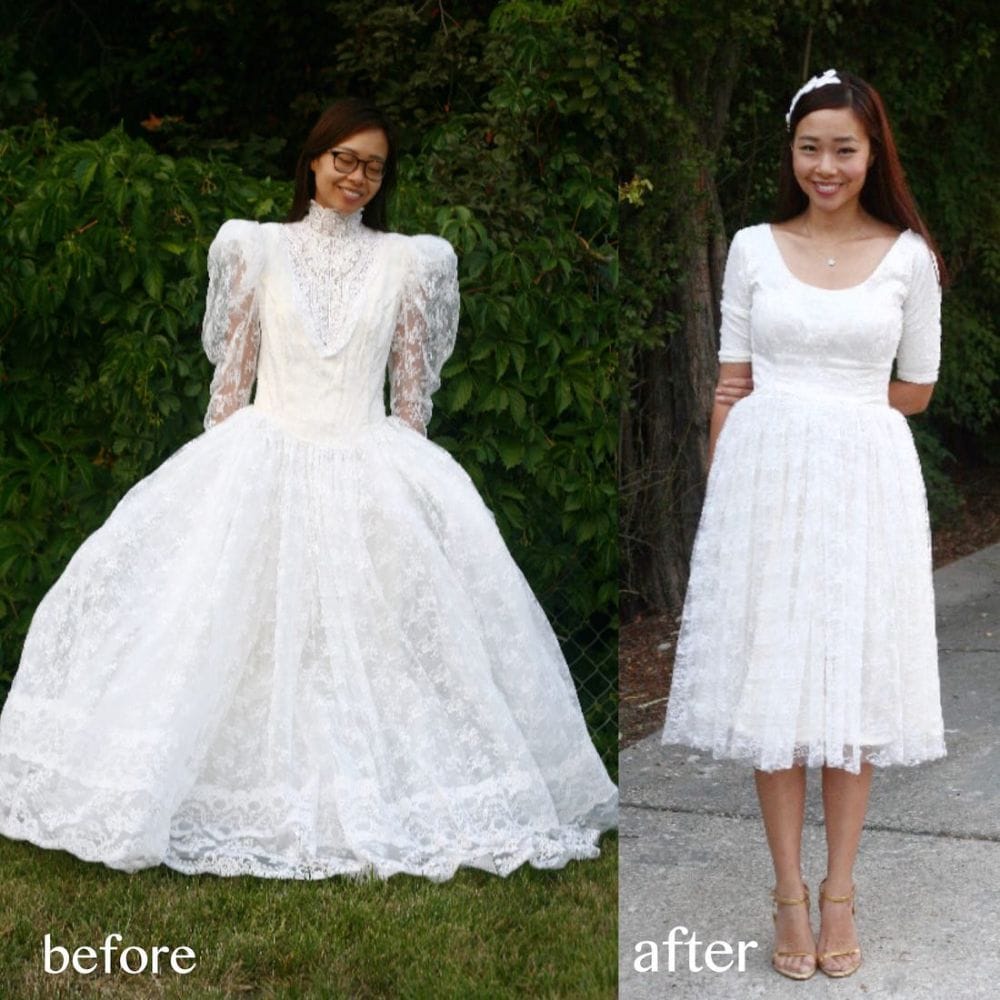 And it's safe to say that she did a great job by putting her creativity to a whole new level. She had a real vision when she decided to alter this dress. It's amazing how she turned an old-fashioned gown into a very trendy one.
Old-fashioned find
Sometimes an old-fashioned dress may be a gem that just needs a layer removed. This bride was fortunate to find such a dress, and we are shocked that the bride is wearing the same dress in both of the photos below.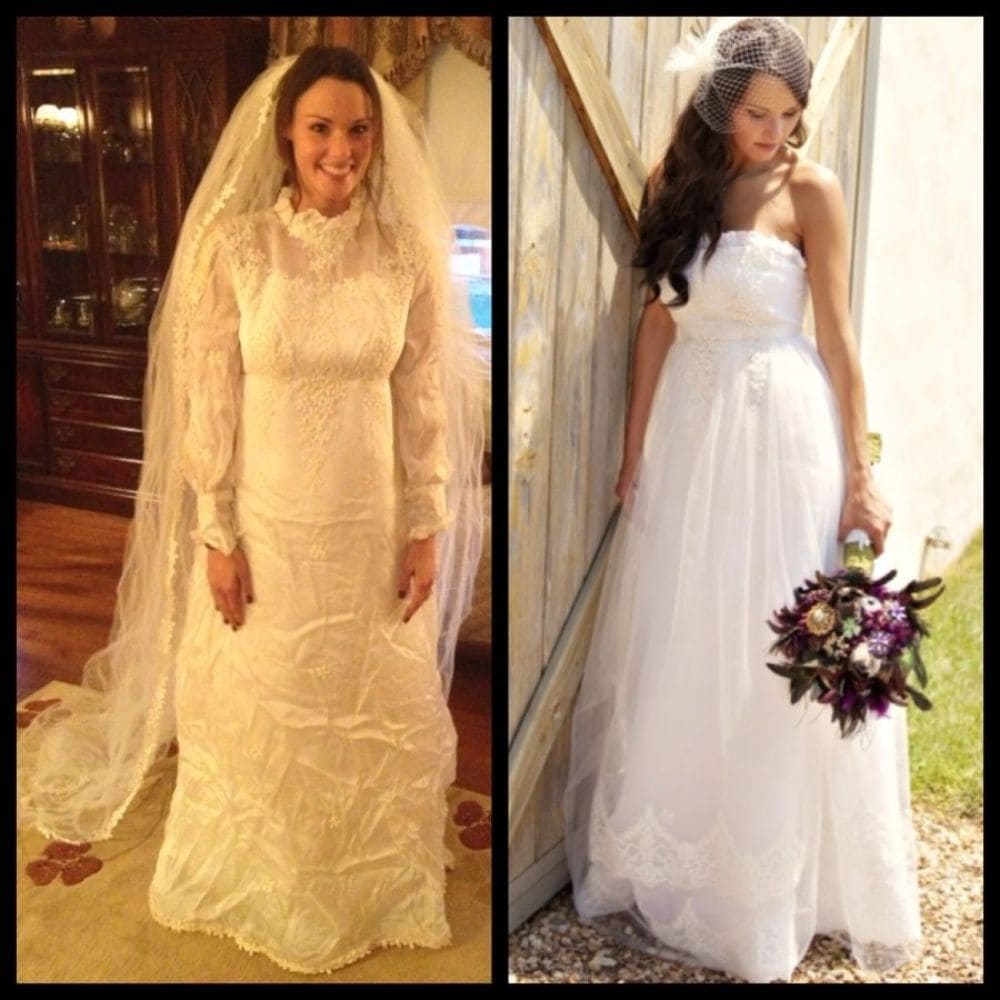 They look completely different, even side by side. Giving this dress a second chance was a wonderful idea. There are definitely more gowns out there with great potential that may have little to no alterations – you just have to begin the search!
Rocking just like in the '70s
The '70s must have been a cool time if you go by the fashion alone. While much of it has come back, some things seem too out of place. For instance, the headpiece that was styled with this dress has not come back in style as of yet.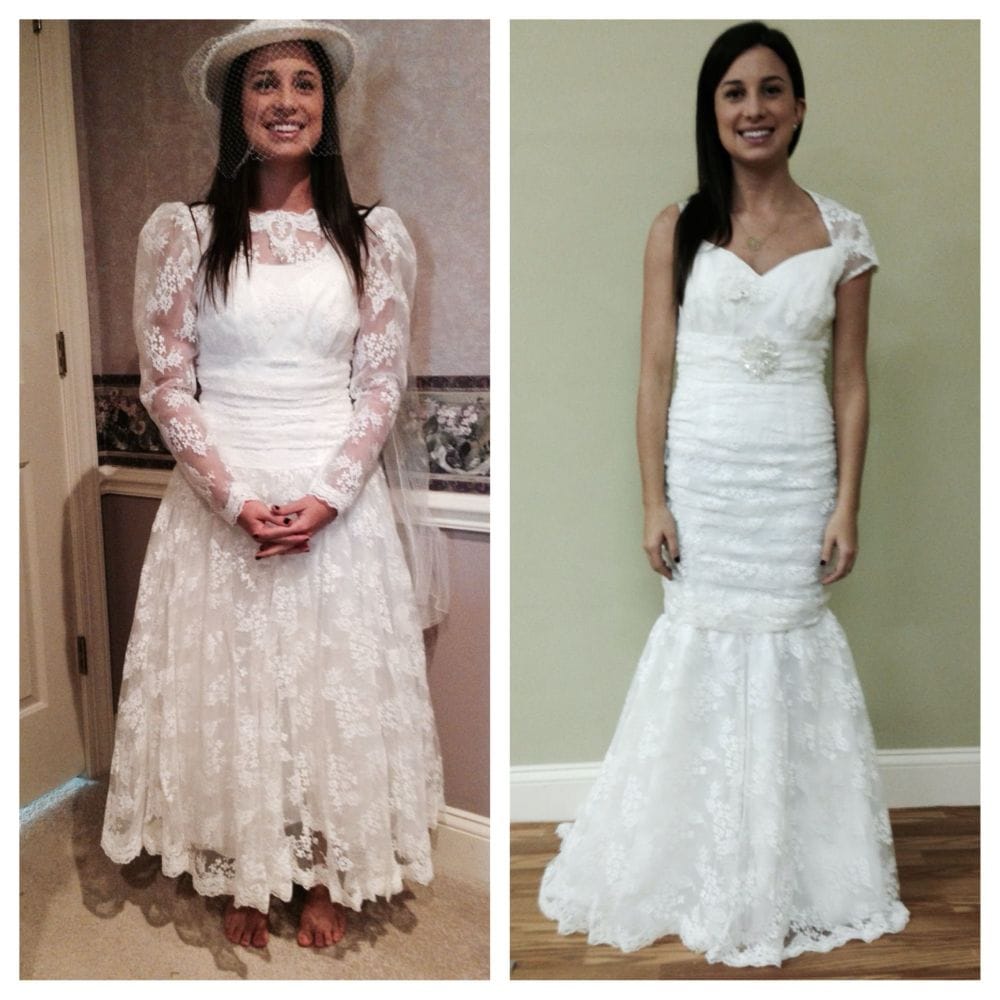 Aside from the hat, there were also issues such as the shape of the cleavage, the long lace sleeves, and the loose fit. The bride completely transformed this dress and created a beautiful one for her ceremony. Another jaw-dropping transformation!
Happy bride in custom find
Imagine the relief you feel when finally finding your dream dress. You know it's been lurking out there, somewhere, in some store or another, and now that day has come! You may get lucky thrifting by coming across a designer find.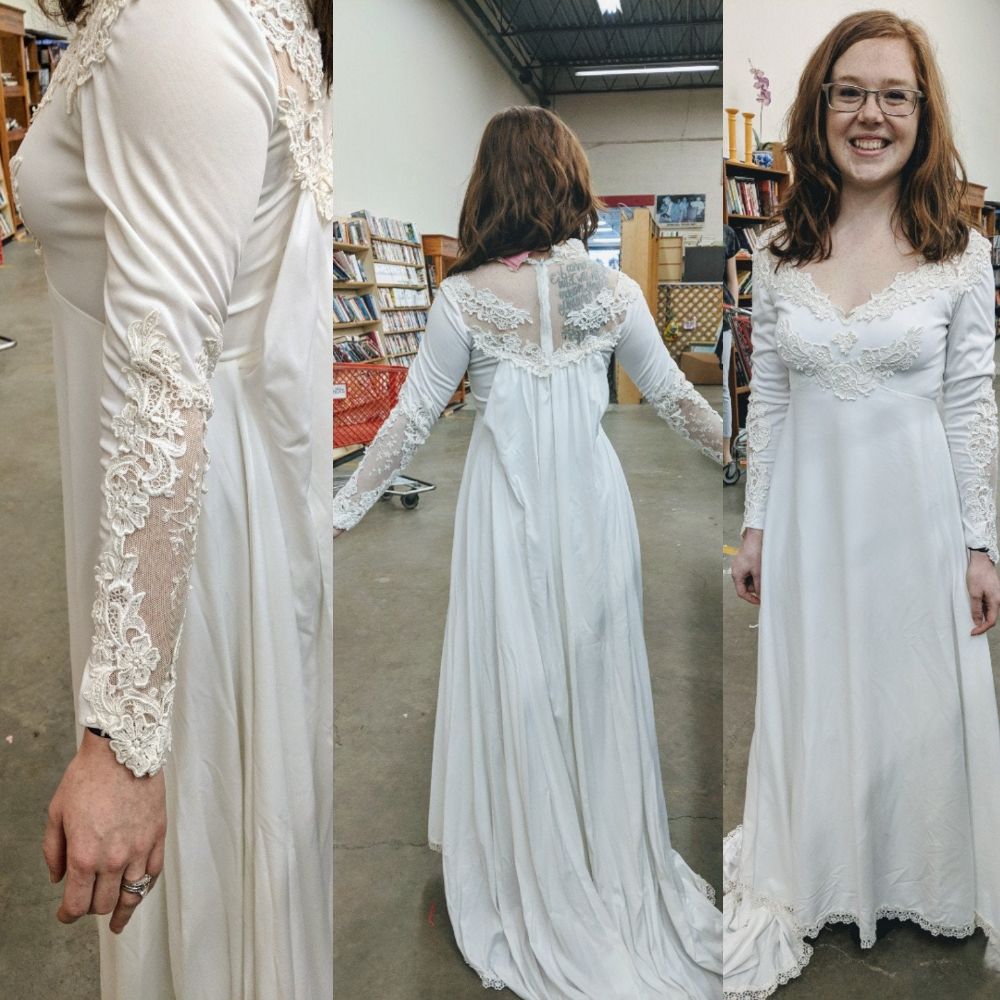 When we see this beautiful bride-to-be smiling with happiness as she tries on her ideal gown – one can only imagine what emotions she may be experiencing now that the search is over. This dress has elegant lines making every inch of it beautiful.
Online wedding dress shopping hack
If the bridal shop is charging you more, it's always better to look for ways to get the same dress. And this bride-to-be did the same when the dream dress she found at the department store was way out of her budget.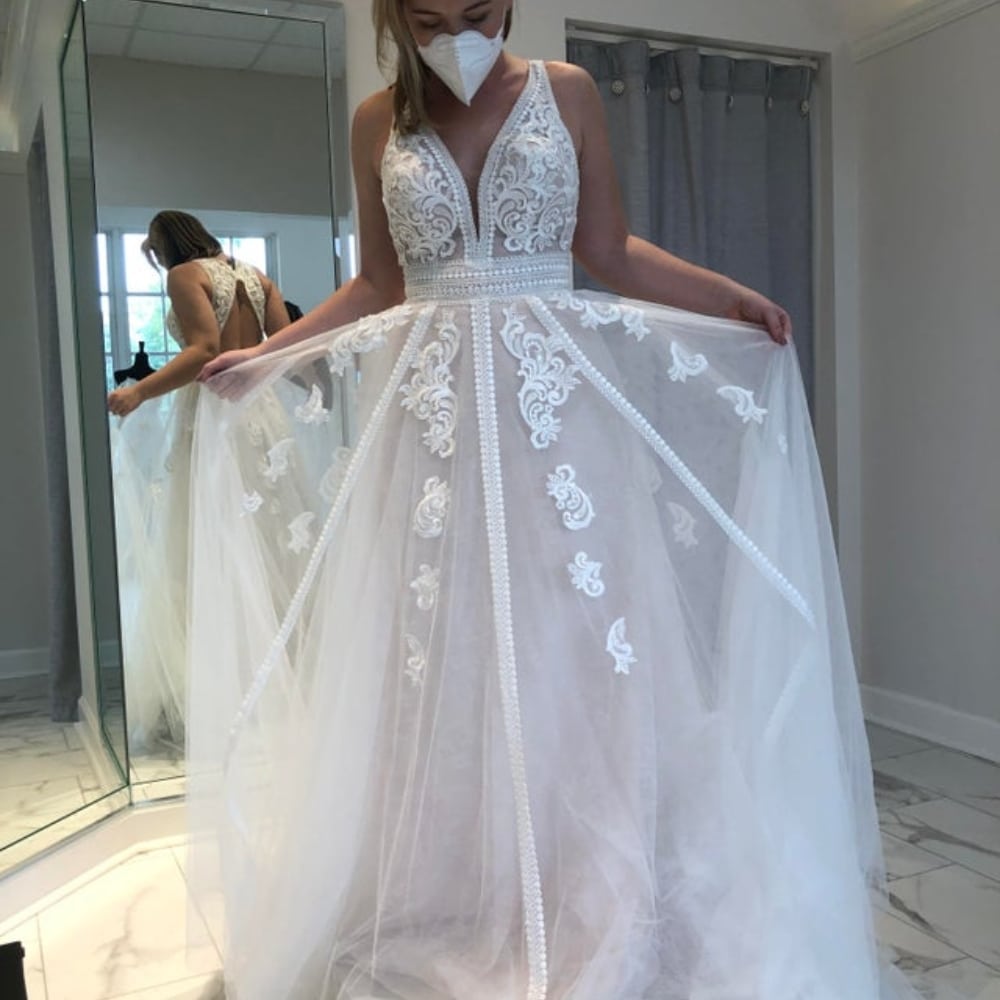 But she checked the same dress on the website, and it was 70% off. Now that is a great deal for her. After trying the dress at the store, she knew exactly what size she needed. With little effort, she got exactly what she wanted.
Perfect price for the perfect dress
This bride spent a good amount of time looking on websites and at second-hand bridal outlets. She had some luck in scoring the perfect dress for her dream wedding. It looks beyond perfect on her! This is what determination looks like.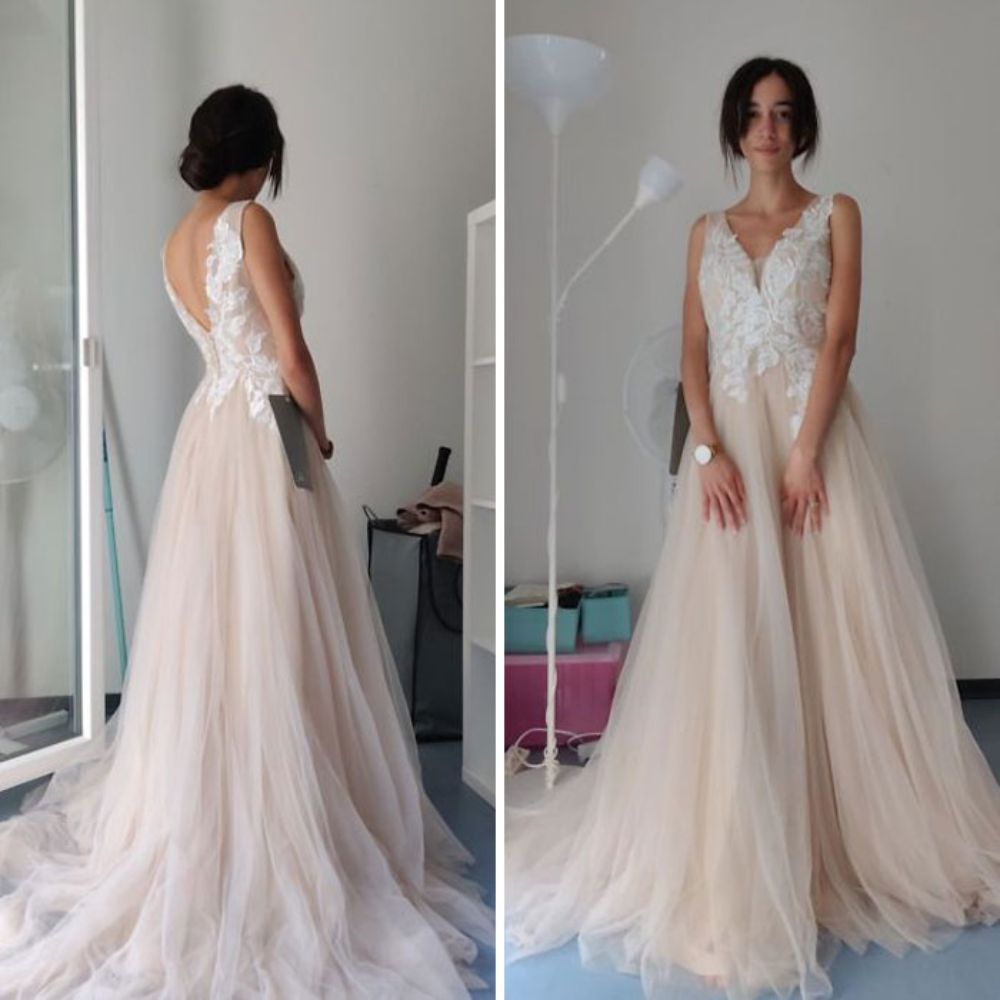 This proves that patience is key, and you need to keep on looking from store to store to find the right match. So, ladies, never settle when looking for the perfect dress. It is out there waiting for you to find it and bring it home.
DIY designer dress
Here the bride refused to pay a massive fortune for her wedding dress. Instead, she played smart and went straight to the thrift shop. As a result, she was lucky to find one that fit her like a glove, making her look lovely.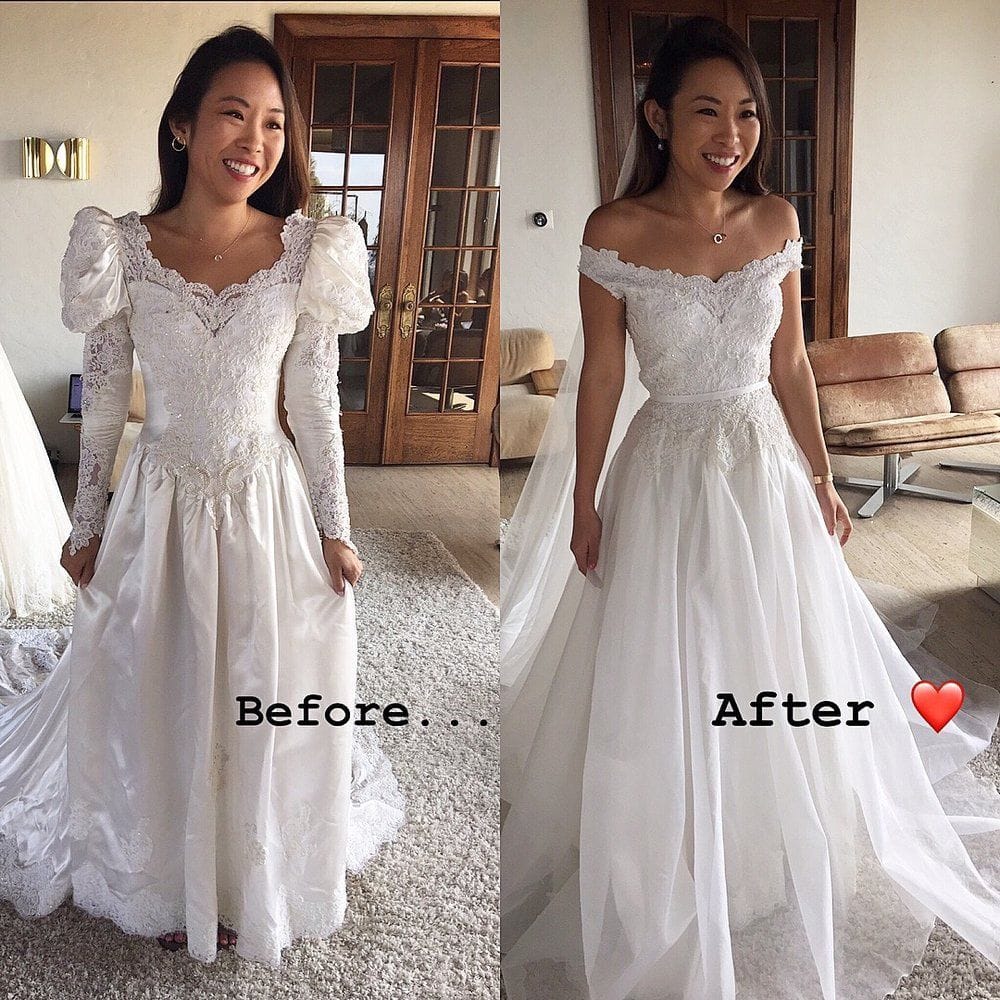 Even though it fits her perfectly, she has some new ideas to make changes and alterations. Overall, she did a great job retouching it according to her style. The dress looks expensive, as if it came straight from the designer's hands.
Wonderful internet treasure
The bride could not get excited about her upcoming nuptials because the wedding dress she pictured would have cost half of her bank account. Therefore, she went to the internet and dug through all the treasures to find the best dress for her budget.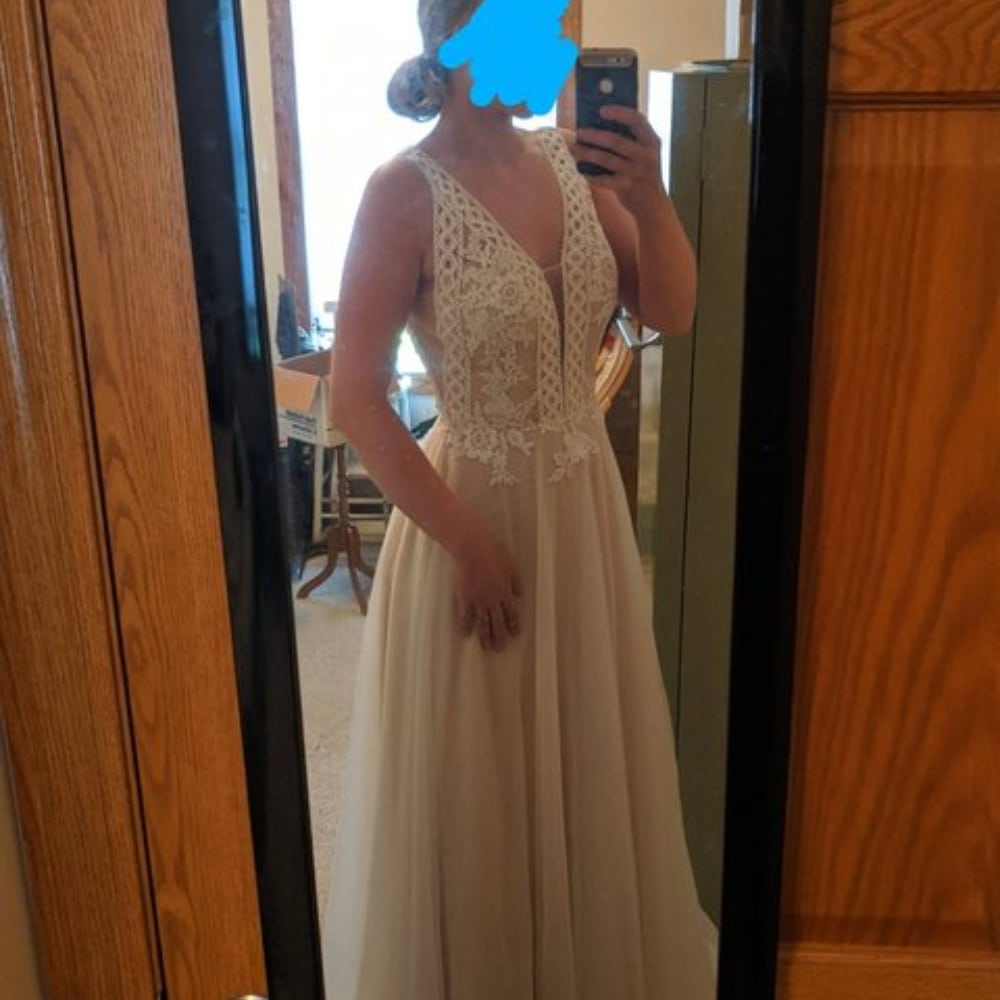 By luck, she stumbled upon a beautiful one. The dress looks fantastic and expensive for what she paid. She got a great deal online that cost less than half of the original price. Never doubt the sales sections, ladies!
A true vintage find
This beautiful bride pictured below followed her heart and decided to buy her wedding dress from an old vintage shop. She did not waste time and went straight there, saw the dress, tried it on, and bought it right away.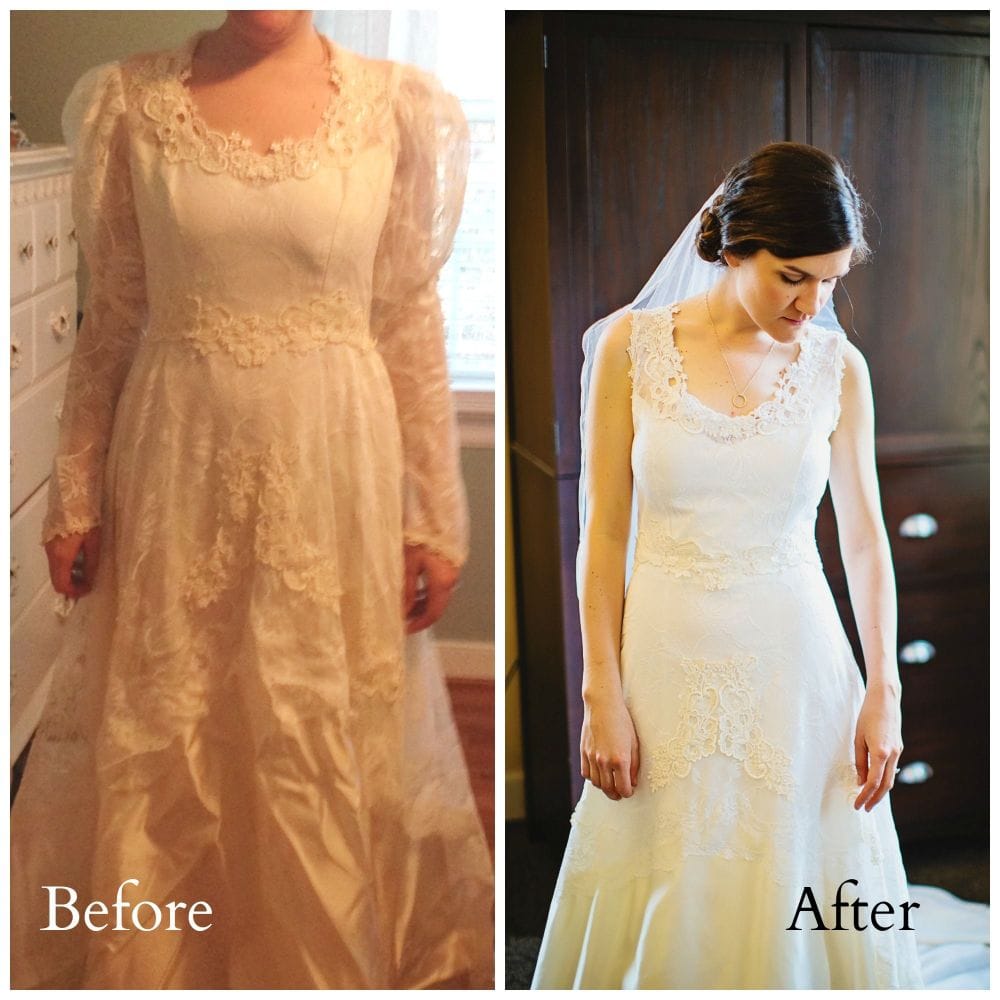 She saw that this dress could be her own masterpiece for her day. Her very skilled seamstress helped her change this piece into a modern gown fit for a young bride. The new sleeves are definitely better than the originals.
Dare you to guess the price
Here is a guessing game: try to figure out the price of this dress. Looking at it, you may not be able to tell it costs well under a hundred bucks. The fabric and the design make it look very expensive.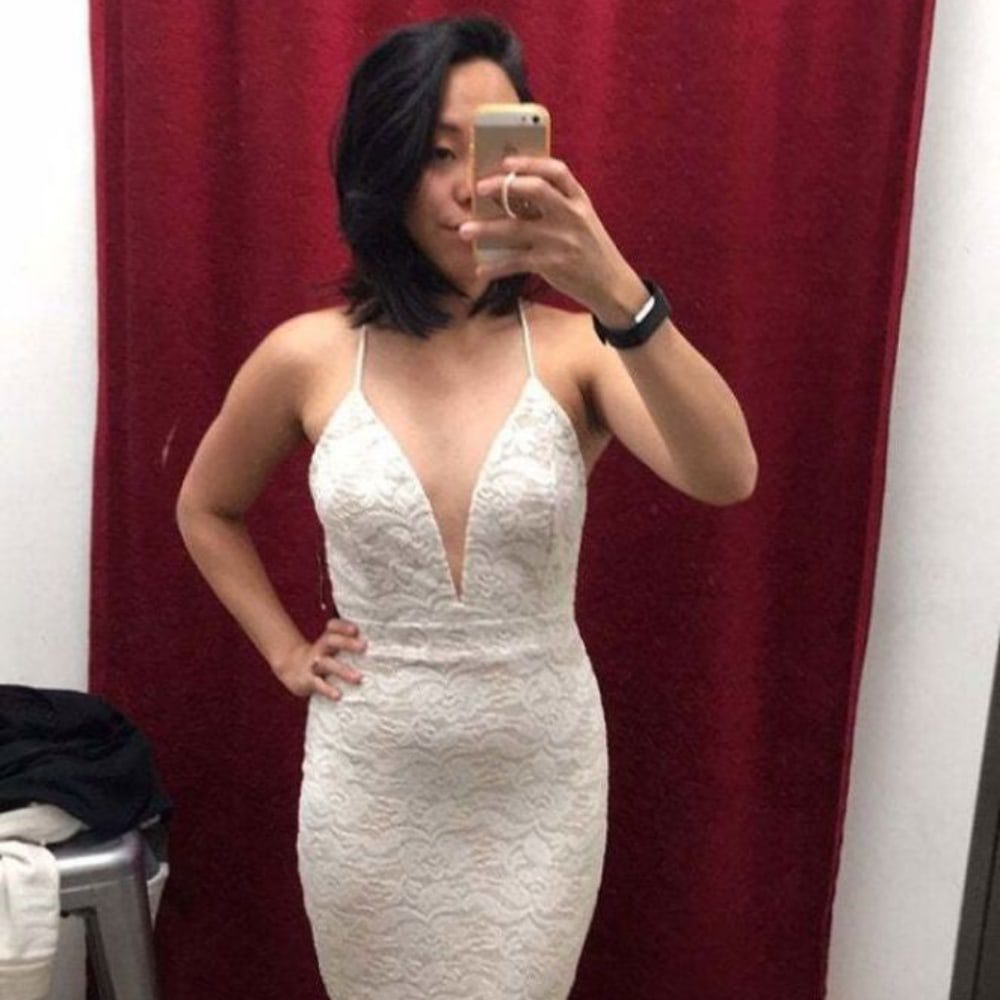 This dress was just $12, making it cheaper than a pizza or even some fancies lattes. Isn't it crazy to find a wedding dress that cheap that still ends up looking fab? And yes, she found this gem at a thrift store.
Vintage never goes out of style
This bride had luck on her side as she went hunting for a wedding dress in different thrift shops. She was fortunate to have found not one but two dresses for her wedding ceremony and one for the after-party.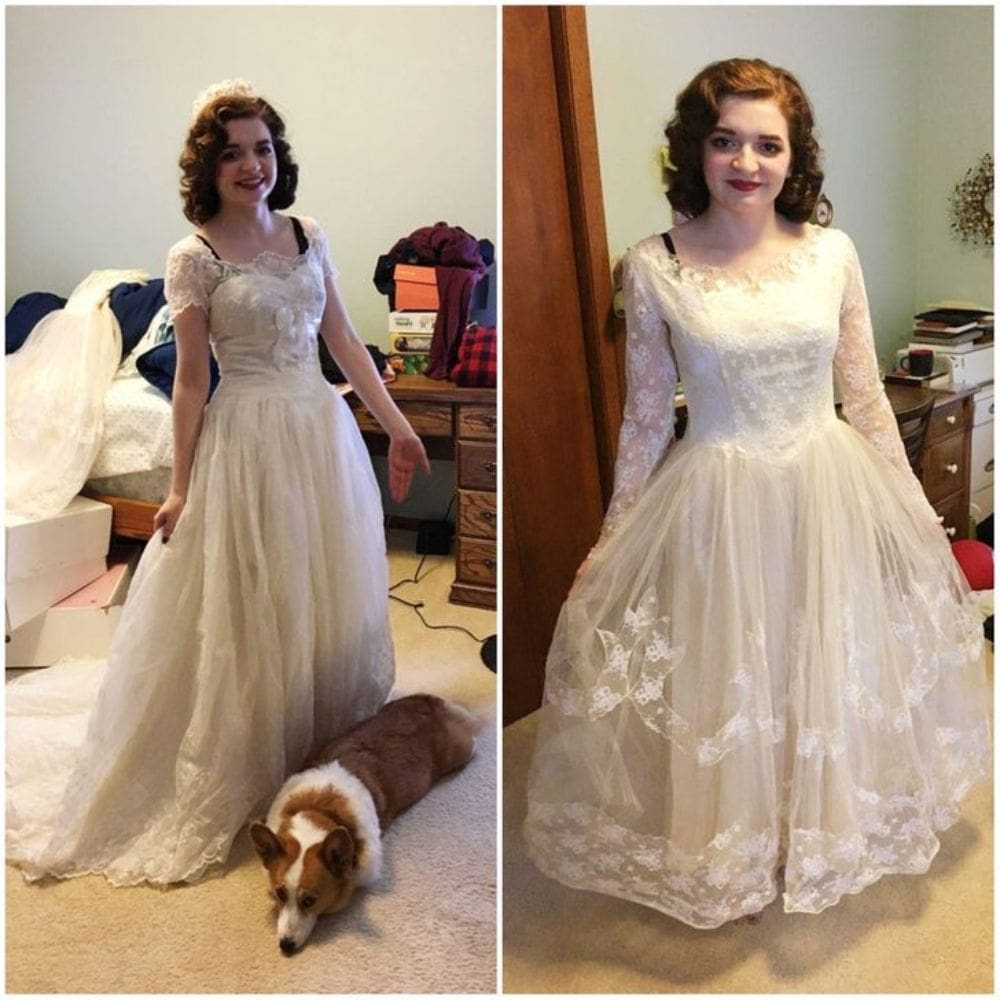 These dresses look pretty vintage but fit the bride to perfection. She looks so happy in her thrift finds. Look at how she's smiling from ear to ear! It shows you don't need to break the bank for the perfect dress.
Thrifted bridal lottery
This dress has some of the most intricate details and embellishments we've seen so far. It may not look like it came from a thrift store, but it did. If we didn't tell you this, you would have never found out.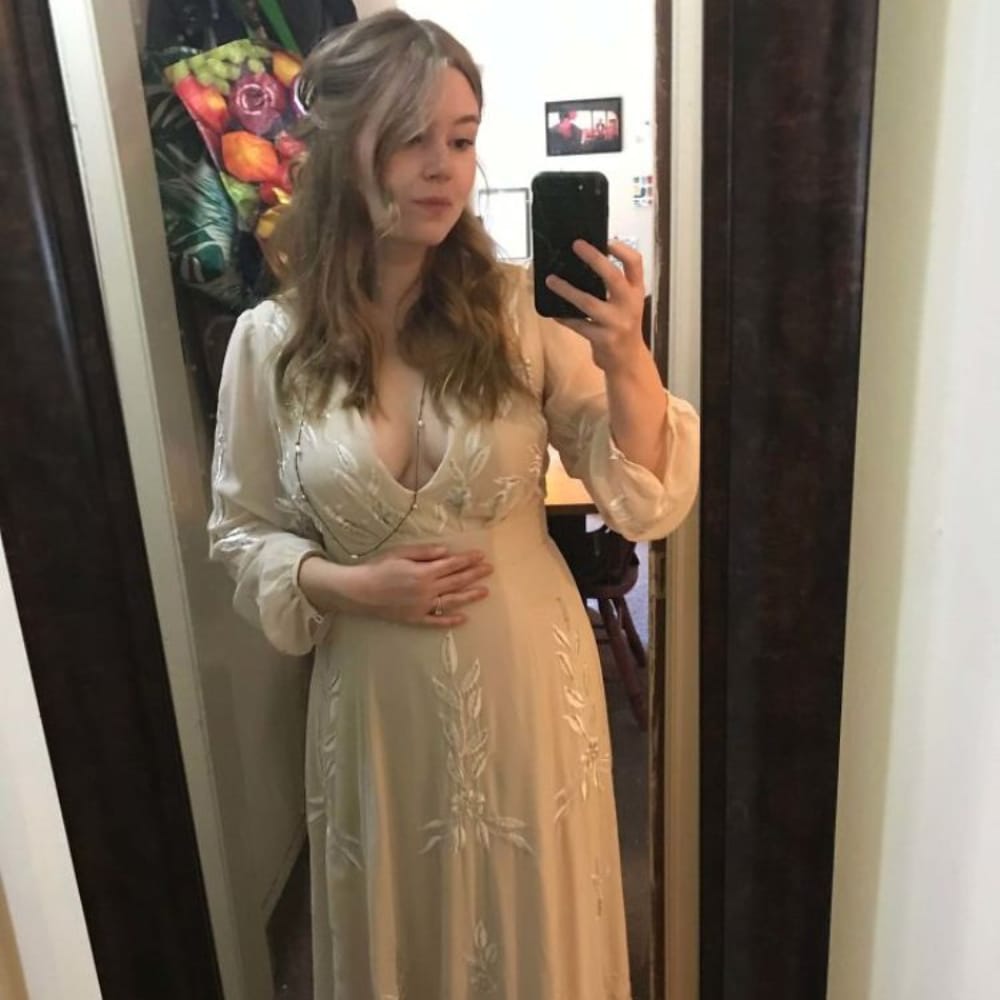 The bride looks so dreamy in this beautiful dress, making her shine like a star on her special day. Some brides get too lucky – they find a dress at a low price in a second-hand shop that does not even need alterations.
Dream dress that is too good to be true
The wedding dress you see below was not custom-made, nor did it need to undergo an extensive alteration process. Instead, the bride bought her wedding dress from a local thrift store for less than 80 dollars, which makes it a steal.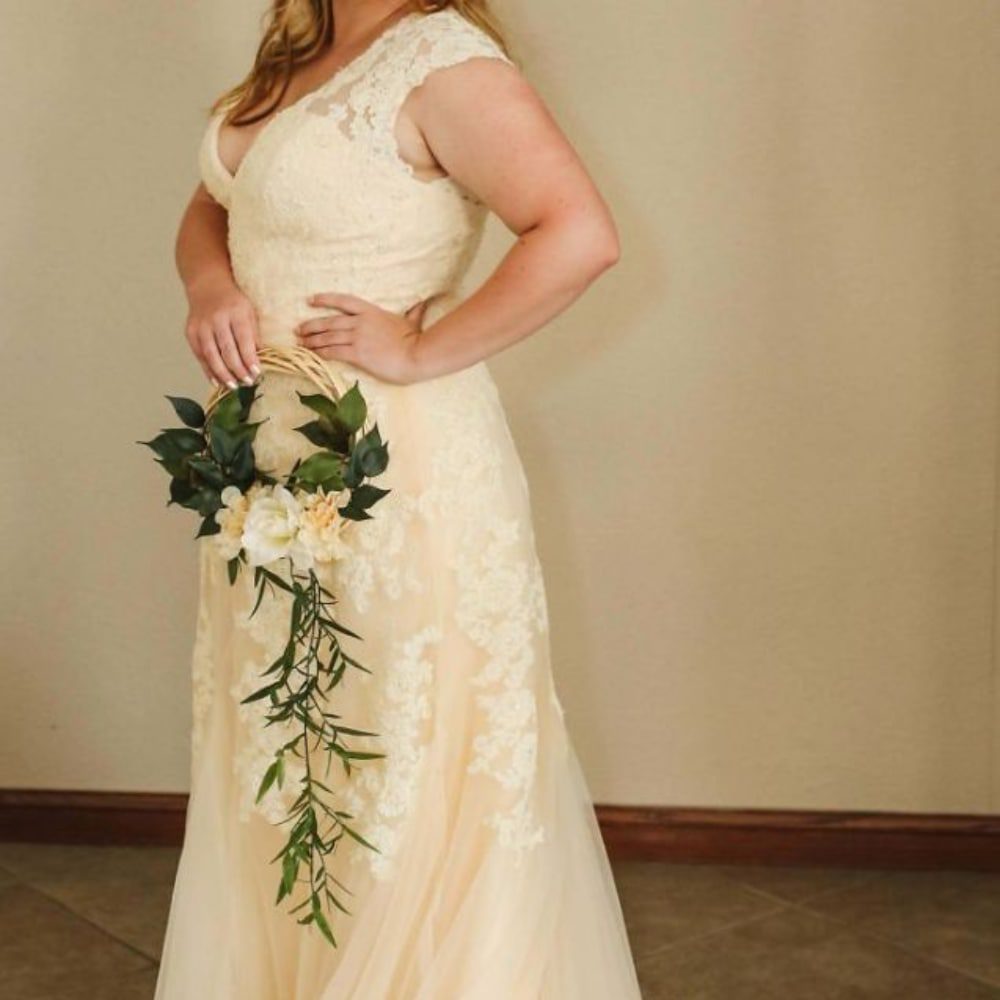 We can't help but admire how perfect this bride's floral arrangements are. The flower crown and dress match each other beautifully, which was a detail that went unnoticed at first glance. We can't say it enough: check out your local thrift stores as soon as you get that ring!
The unique non-traditional dress
This bride knew what she wanted for her wedding. She wanted not to want to wear a traditional white dress. She searched in different bridal shops but did not have much luck with anything. But she still did not give up.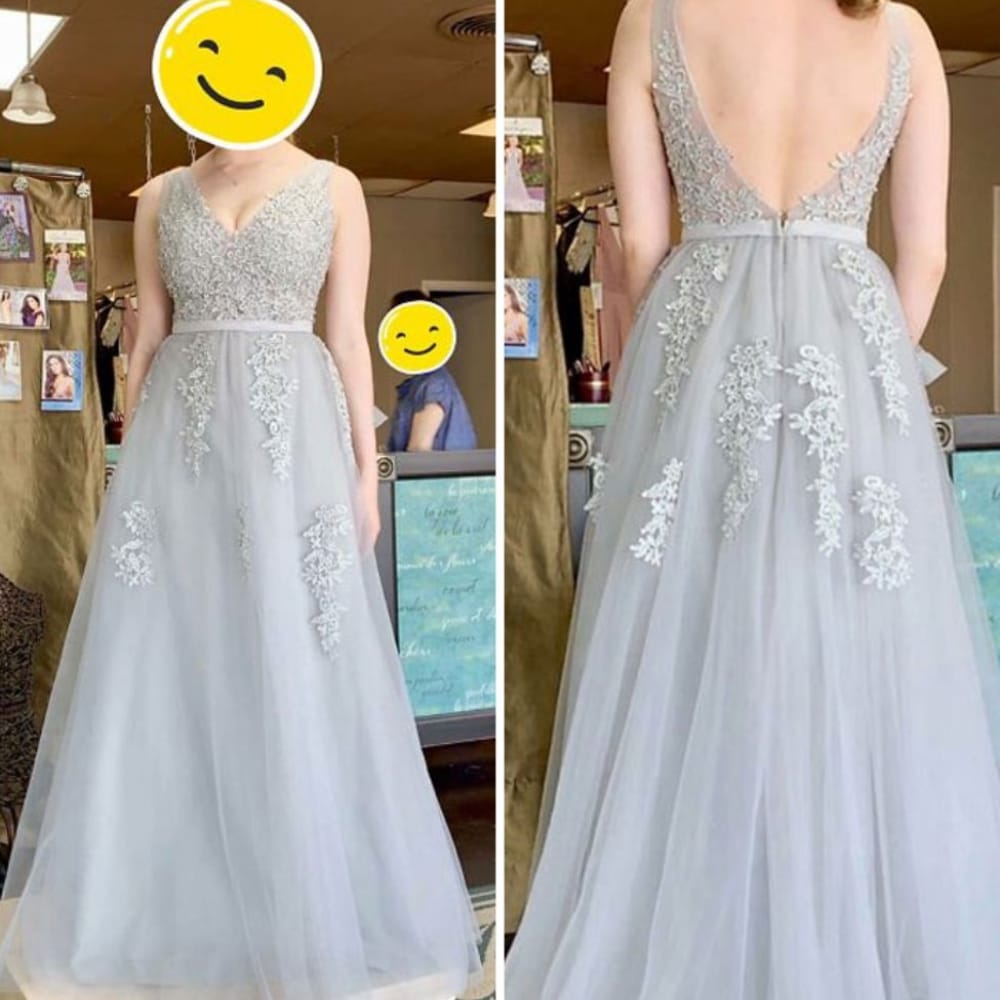 She did not give up and found what she was looking for. Her pick was a bride's maid dress that gave her a fresh look like a bride. She definitely had a great idea making it her wedding dress.
Smartest bride
Anyone who looks at this picture will agree that this dress the bride is wearing is gorgeous. It just works well with its V neck, the shape of the skirt, shiny belt, and fabric. She looks like she's posing for a magazine shoot.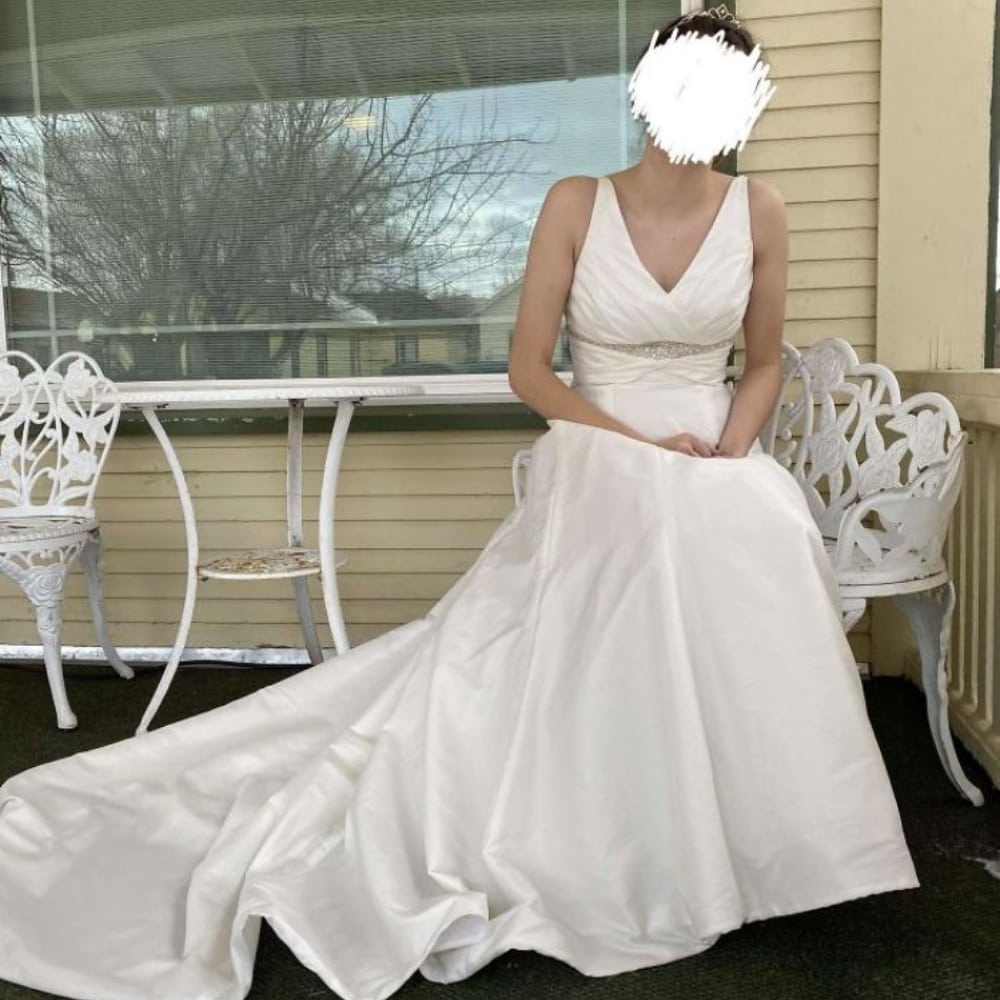 The best part may be the price that she paid for the dress. As the bride did not want to spend way too much on a dress that she'd only wear once, she searched Facebook Marketplace to find her perfect dress.
Mermaid dream dress
No matter your body shape, mermaid-cut dresses look fabulous on everyone. You'll see this specific silhouette dress in magazine covers designed by famous designers. This is a safe design to choose for your wedding day as you can't go wrong with the styling.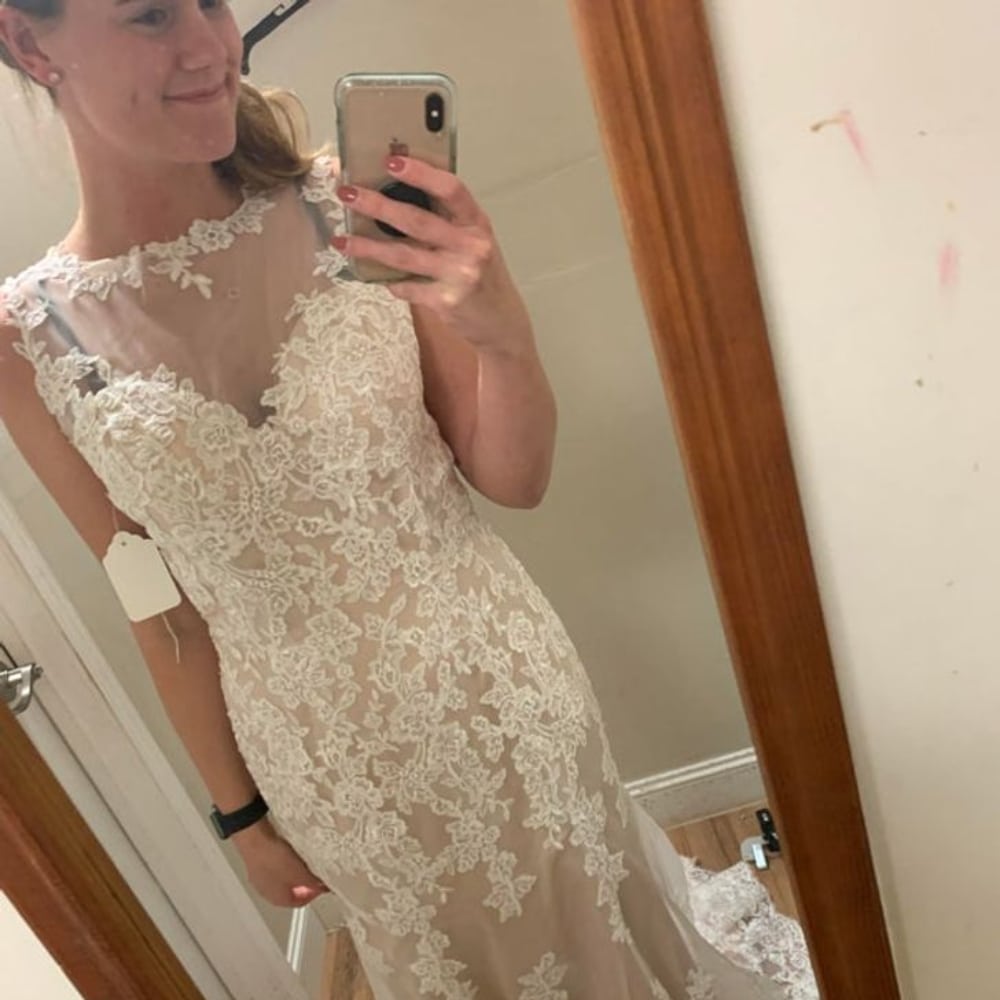 The bride looks phenomenal in her fairy tale mermaid dress. She is happy and will remember this day forever. If you ever get a chance to come across something as perfect as this for such a low price, buy it without a second thought.
The beauty of a lace dress
Lace is a beautiful fabric to add to clothing items to make them exquisite. A wedding dress with lace is an extravagant choice for the bride. It also adds a romantic touch to the dress, perfect for such a special day.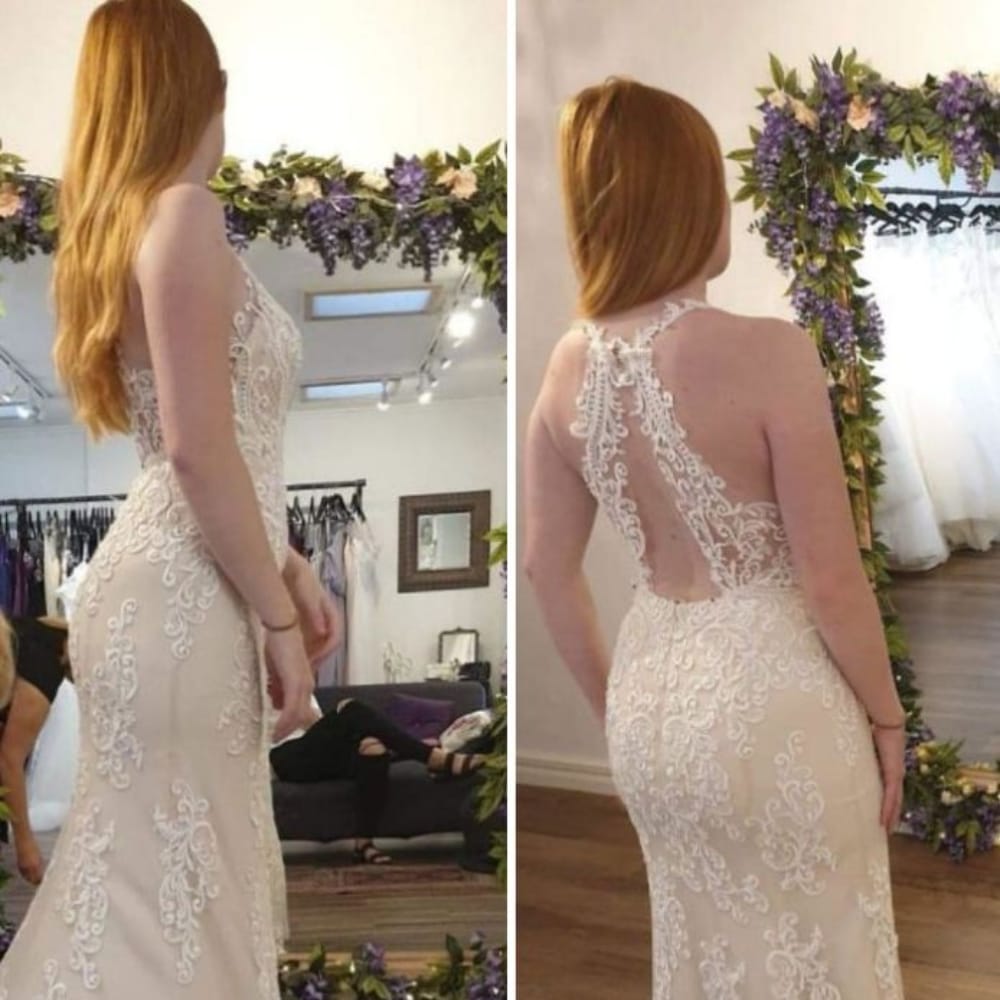 The bride in the picture looks amazing in the lace dress, proving our point yet again. She found this beauty at a second-hand shop. With the right accessories and minimal bouquet, this dress must have looked like a dream come true.
Do not ignore the thrift store
When the bride pictured below found herself without a dress, she knew something had to be done. After scouring every rack in all of their local bridal shops and coming up empty-handed time and time again, it seemed like fate was against her!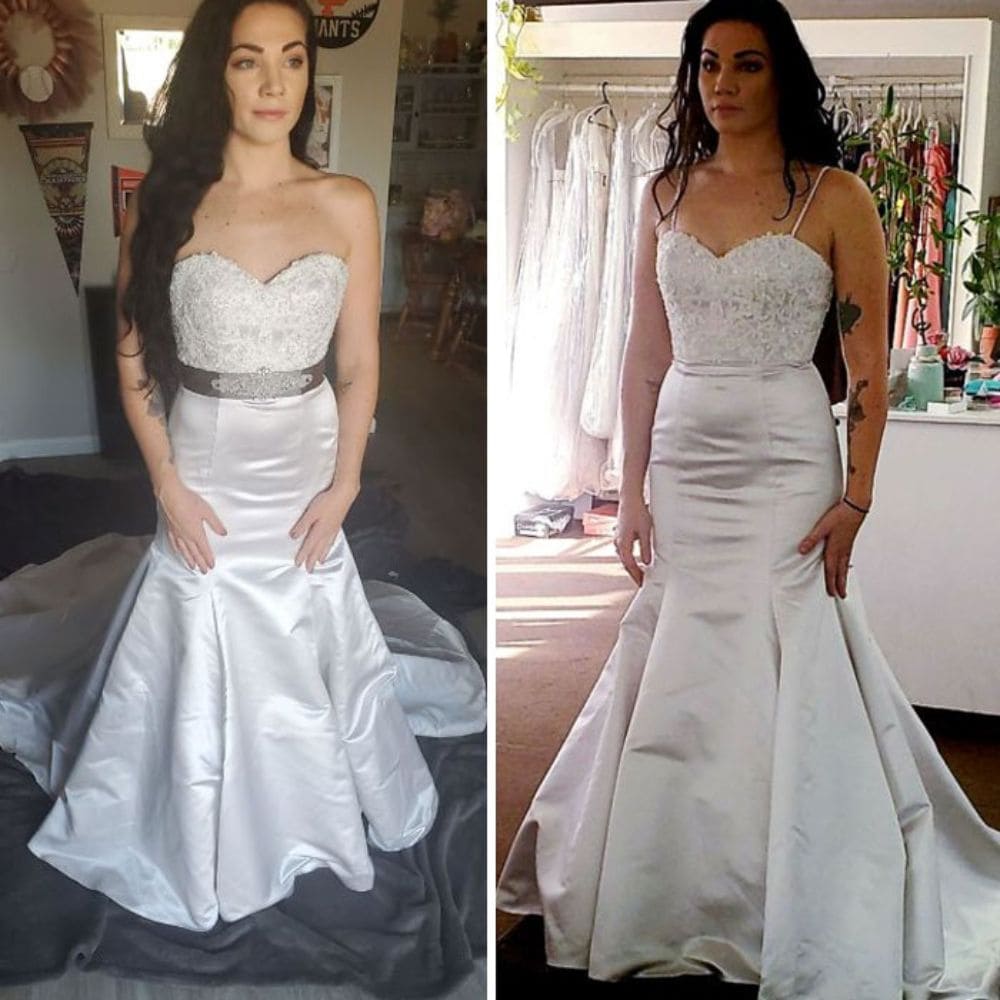 But this wonderful woman remembered hearing about an old second-hand store nearby where they sell everything under heaven, so why not give destiny one last chance? And sure enough, when she went there, she found the one. Talk about a winner!
Gothic wedding gown
If you aren't too traditional, a gothic wedding dress may just be your style. This modern bride decided to go down the aisle wearing this non-traditional dress in black. Many women may not wear this dress, but it does look unique.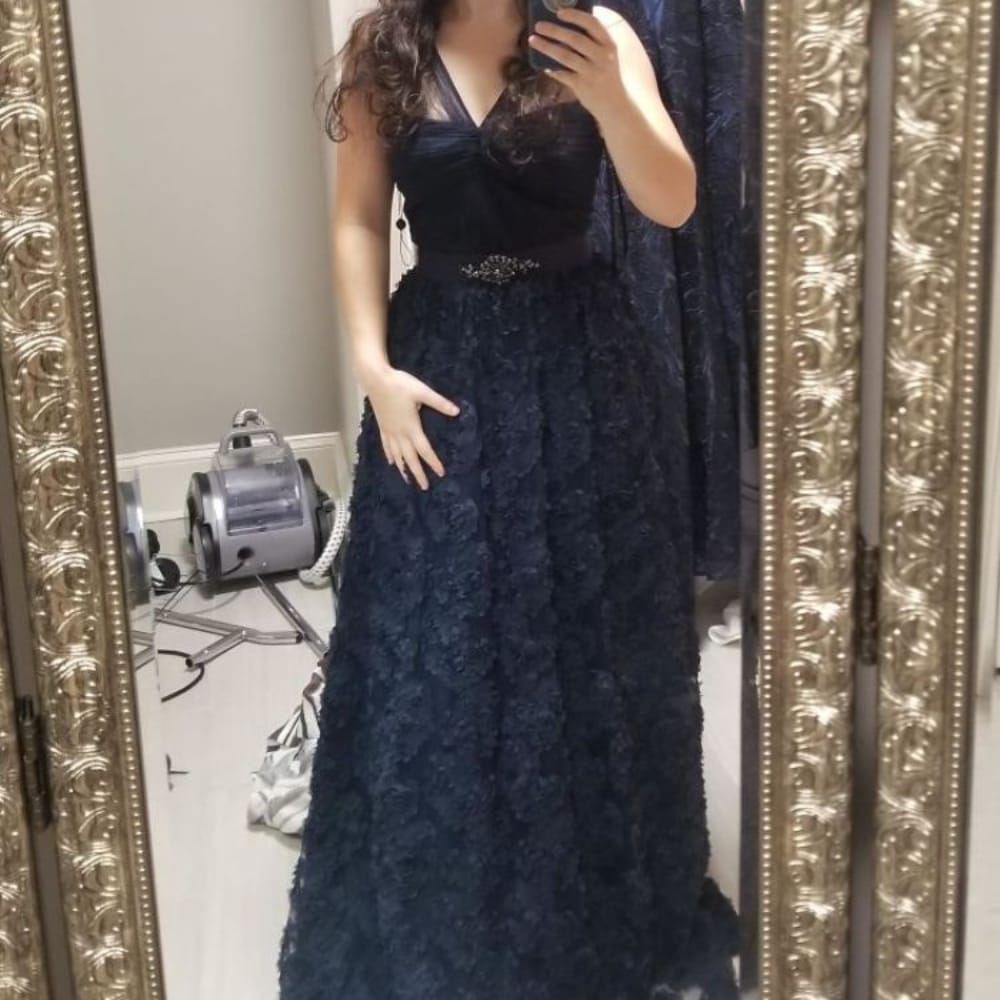 The bride got this as a white wedding dress from a second-hand shop and decided to dye it at home all by herself. She nailed the job of dyeing the dress without making it look patchy. She didn't miss one spot.
Thrifted princess dress
The prevalence of princess dresses at weddings is undeniable. But not all women love them or dream about their big and fluffy bridal dresses- especially if you're looking for something more modern! Tulle and taffeta dresses are not necessary for everyone.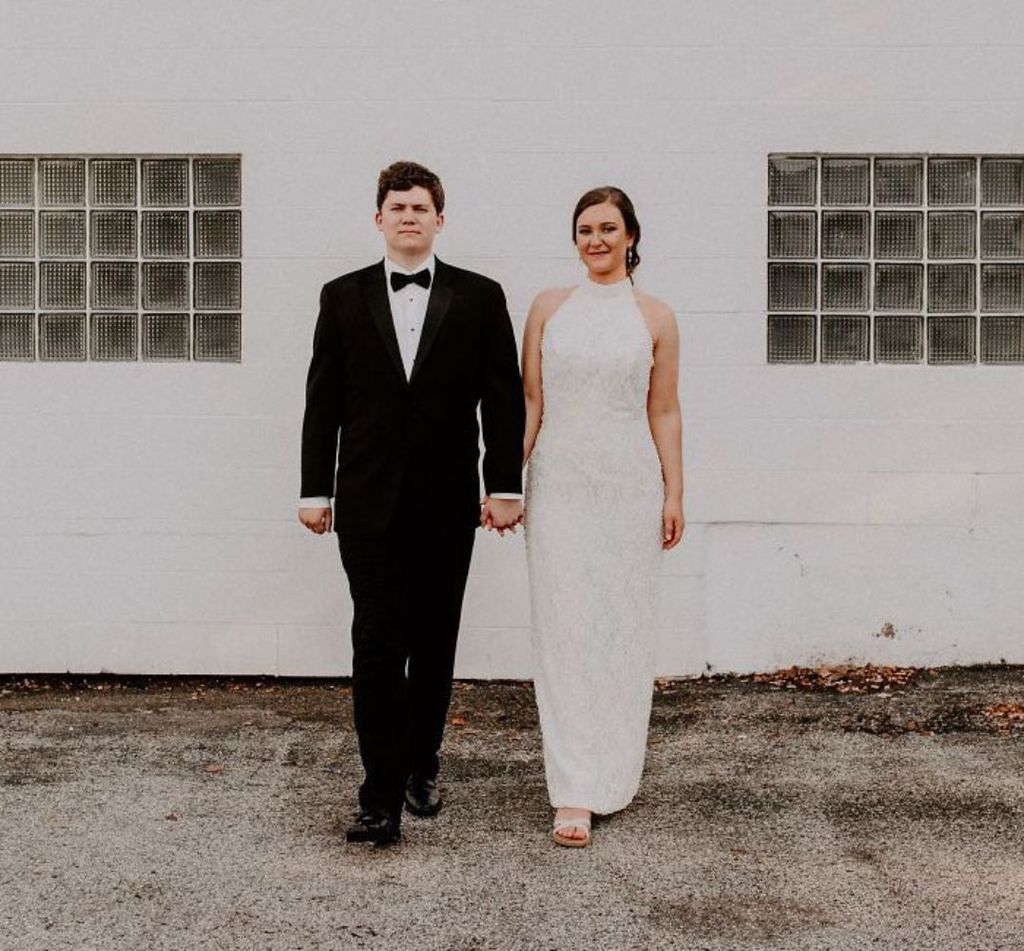 We don't know what this bride's reasoning behind wearing one on her special day was, but we can agree she looked phenomenal in hers regardless! And guess what? Her beautiful vintage gown came at such an affordable price point too.
A hidden dream gown
She found this vintage wedding dress at a local second-hand store, but it wasn't her style, and it was two sizes too big. It was way more work than she expected to alter and retouch all of its flaws. The result looks phenomenal!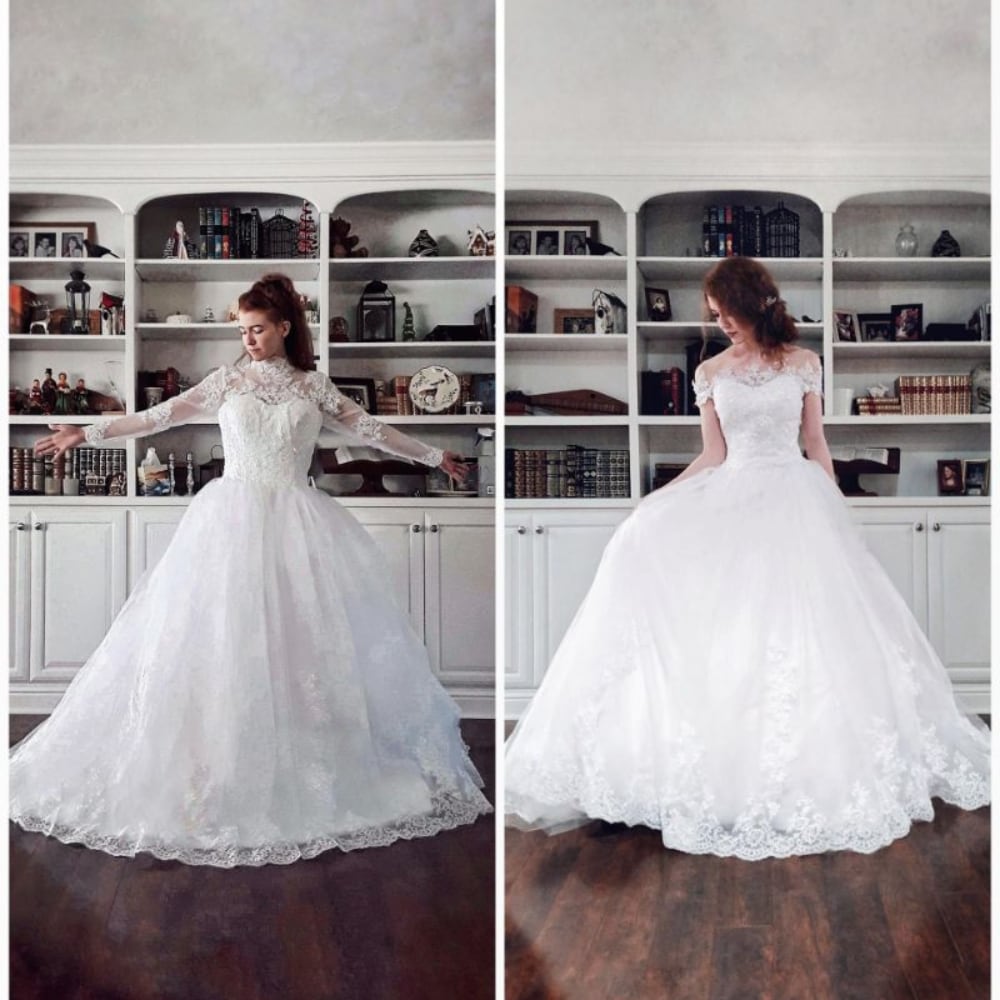 The woman did a fantastic job with what could have been seen as just another dull old white garment if not for some serious time and effort put into making adjustments where needed. She has some serious talent and an eye for thrifting!
DIY fashionista
The bride here is the expert on DIY wedding dresses. We don't know how she did it, but this woman transformed an ordinary dress into something fashionable and beautiful! This is the magic of a creative mind and hard work.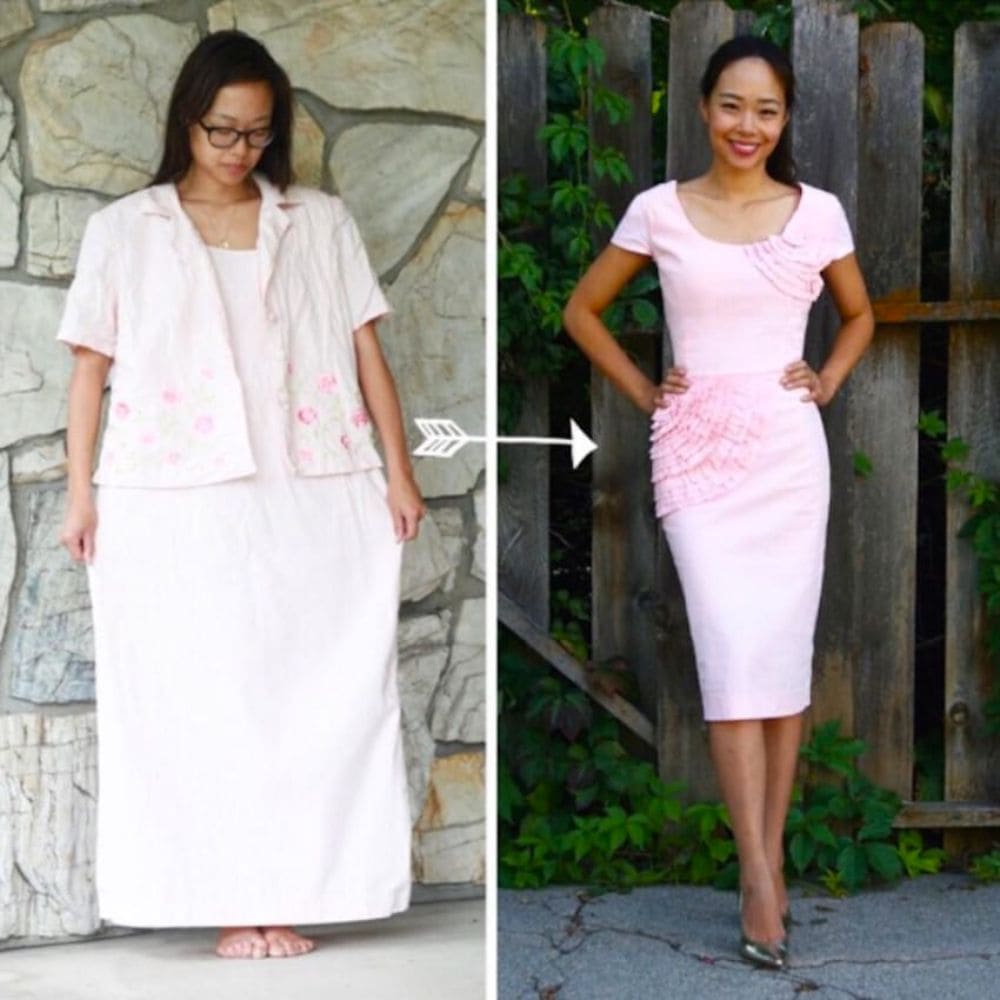 The way that she tailored each detail of her design shows extraordinary skill with a needle – we have to take note before someone else steals all her secrets. The dress compliments her body in a way that is just excellent.
Is this a designer dress?
How lucky are the brides who find these gems that make people ask this question? This gown looks like a custom-made or designer dress. But the bride got it on Amazon without even looking through the many stores in her town.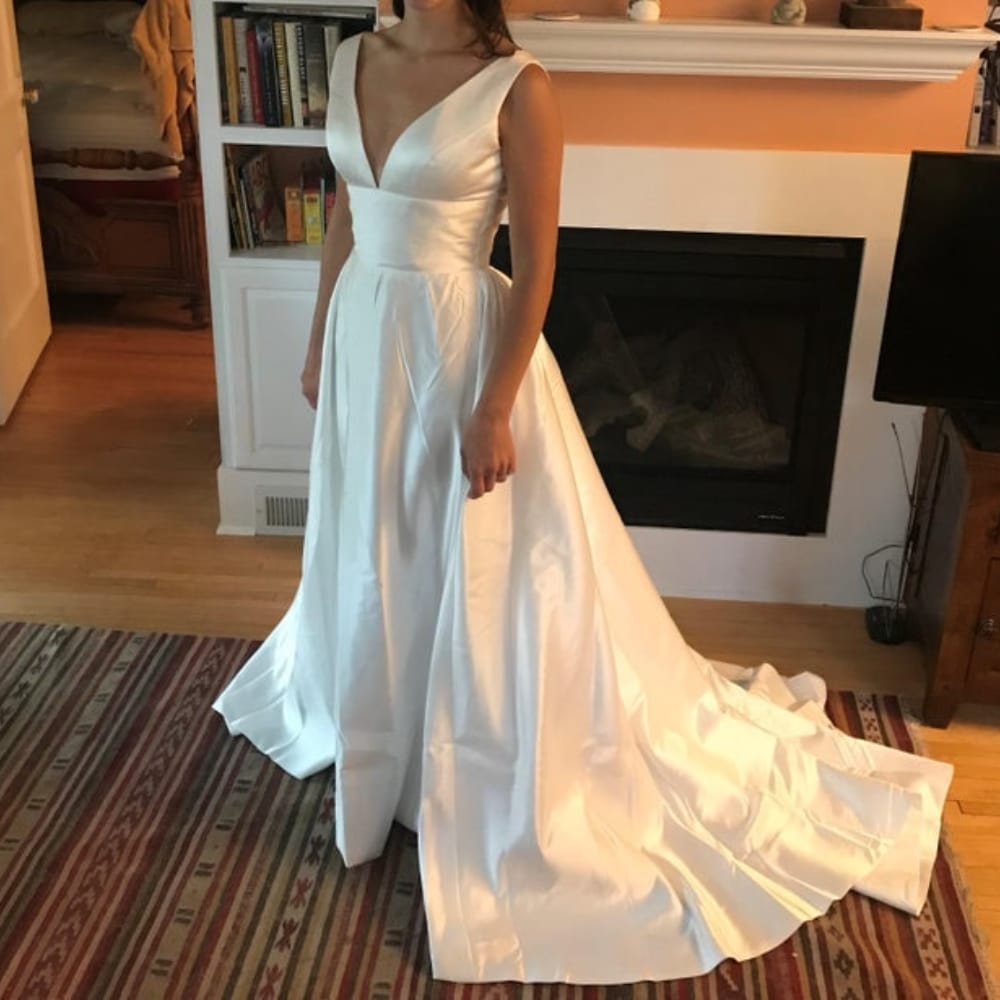 This dress makes her look like Cinderella on the night of the ball. It's amazing for these brides to find their perfect dress on the internet and not struggle for weeks and months like others. But remember, everyone's story is different, and you will find your perfect dress!
No wedding dress
This girl must have dreamed of wearing a wedding dress while walking down the aisle. But, she did not know she'd find a dress before finding a groom or setting a wedding date. She discovered her fantasy gown, and she didn't care that she wasn't getting married anytime soon.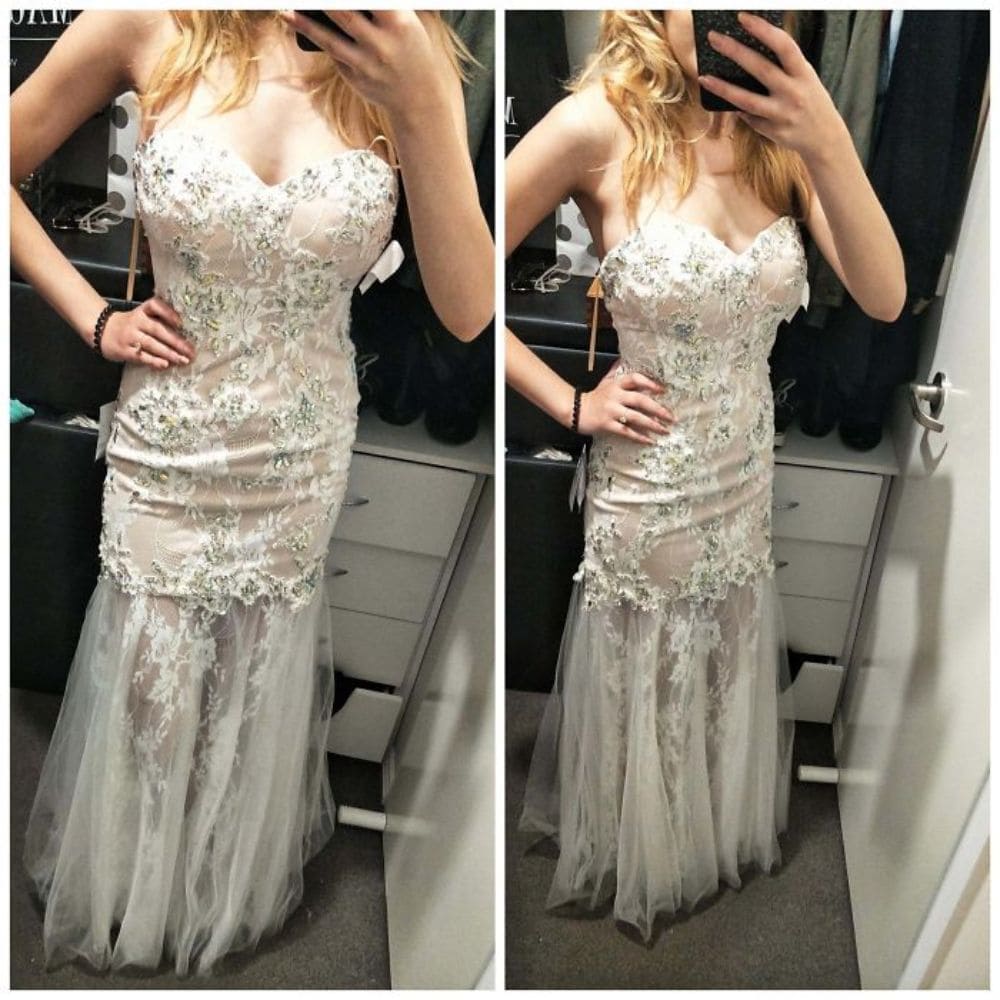 All this woman wanted was to flaunt herself in front of friends and family with how beautiful she looked — and good for her because one day, someone will be dazzled by what an amazing find this incredible gown is.
Local vintage hunt
When this beautiful woman found herself thinking about her dress on her wedding day, she knew what gown to wear. And not only that but how it should fit! So took a little bit of help from the local vintage shops.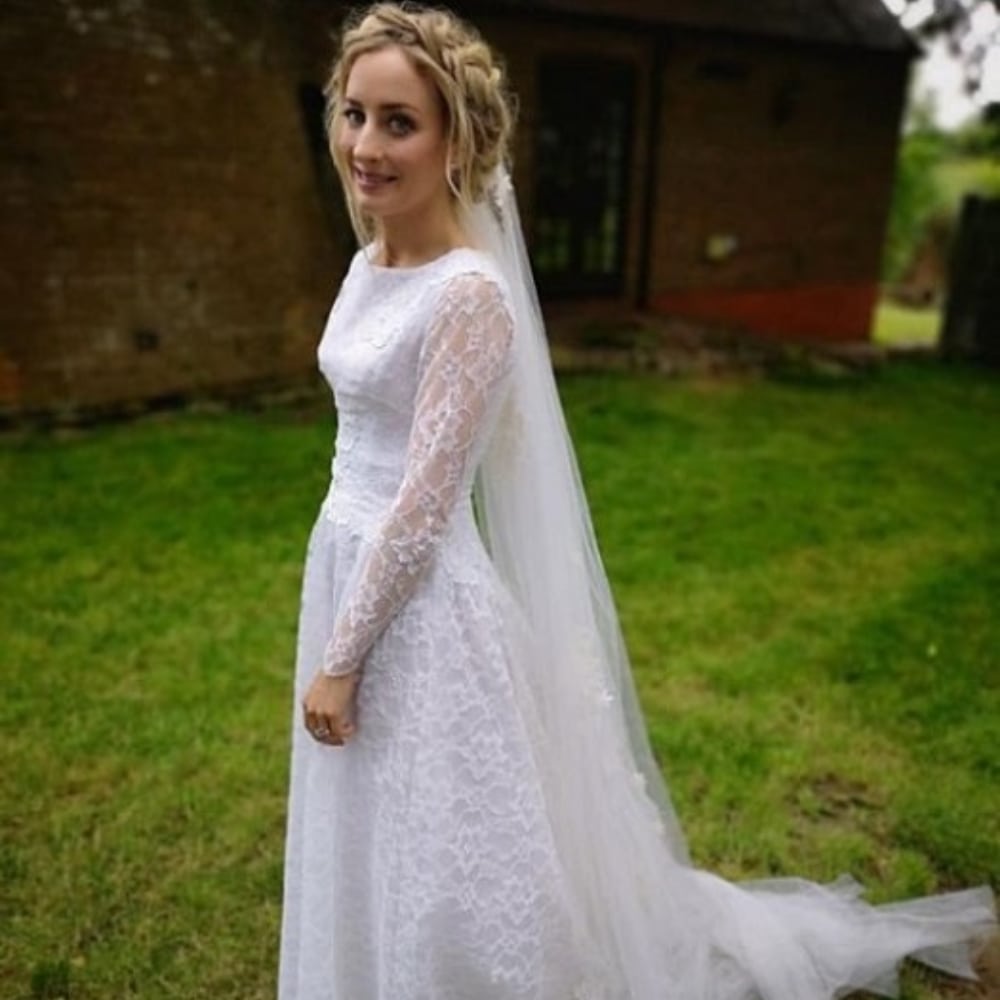 Knowing what style this woman was going for, the shop owners guided her well. She went out looking until finally coming across exactly what suited her taste and the theme and aesthetics of the wedding. She looks like a dream.
Fairy tale wedding outfit
This picture shows that the bride-to-be's dress on her wedding day is a replica of what Disney princesses wear in their tales. The big skirt, long gloves, and simple yet sophisticated look make this garment seem straight out of a fairy tale.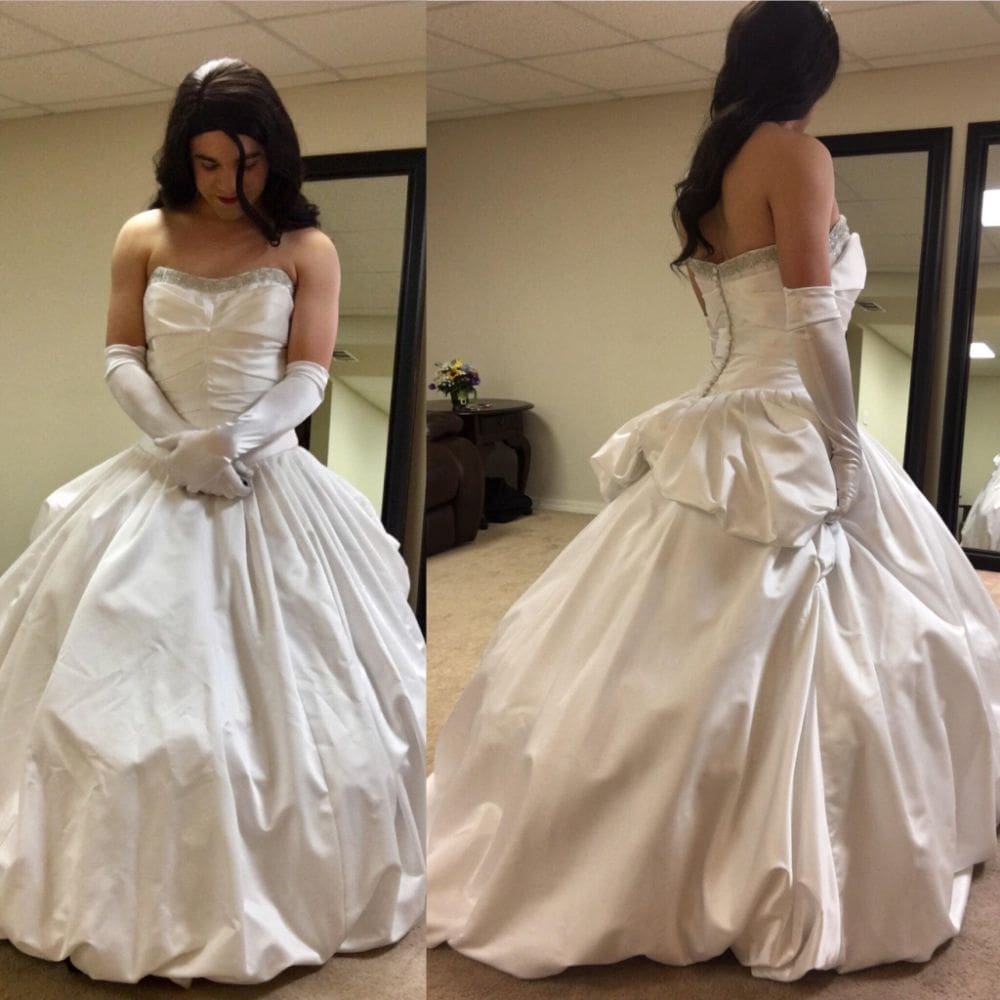 This dress may have everyone wondering where they can find these dresses. Well, the surprise might not come into play because the bride found hers at a second-hand store near her home while she was thrift shopping. Another fabulous gown for less than $50.
Thrifted vintage gem
Many vintage dresses from the thrift store may make you say, "It's a no from me!" And it would be totally understandable. Anyone would have thought the same of this wedding dress, but this beautiful bride saw something in it.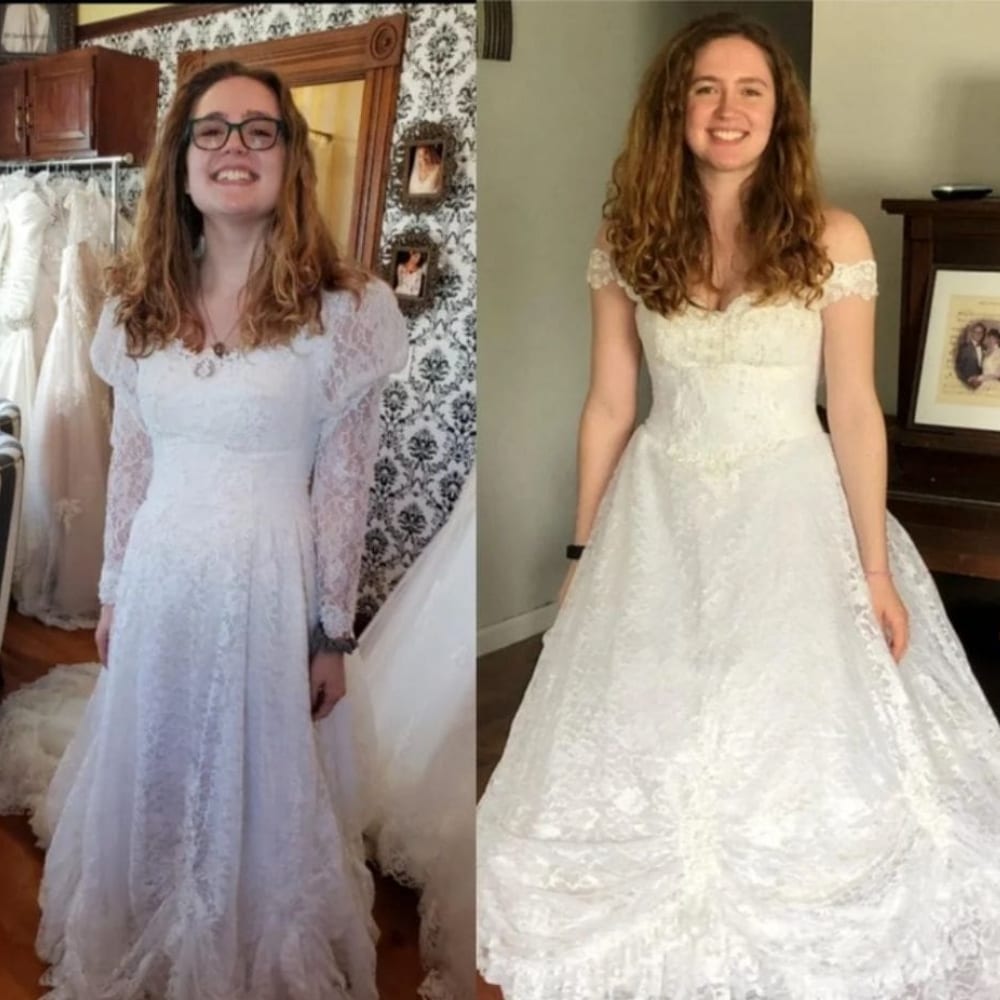 She used her creativity and transformed it into a fabulous piece. Her eyes were set on this vintage wedding dress, and she bought it without thinking twice. We all will have to admit that she did a great job altering it based on the second picture.
Bohemian bridal dress
Have you ever thought about a floral wedding dress? It may be an excellent idea if you have not thought about it. It would add a fun and fresh look that would fit right in a boho wedding by the beach.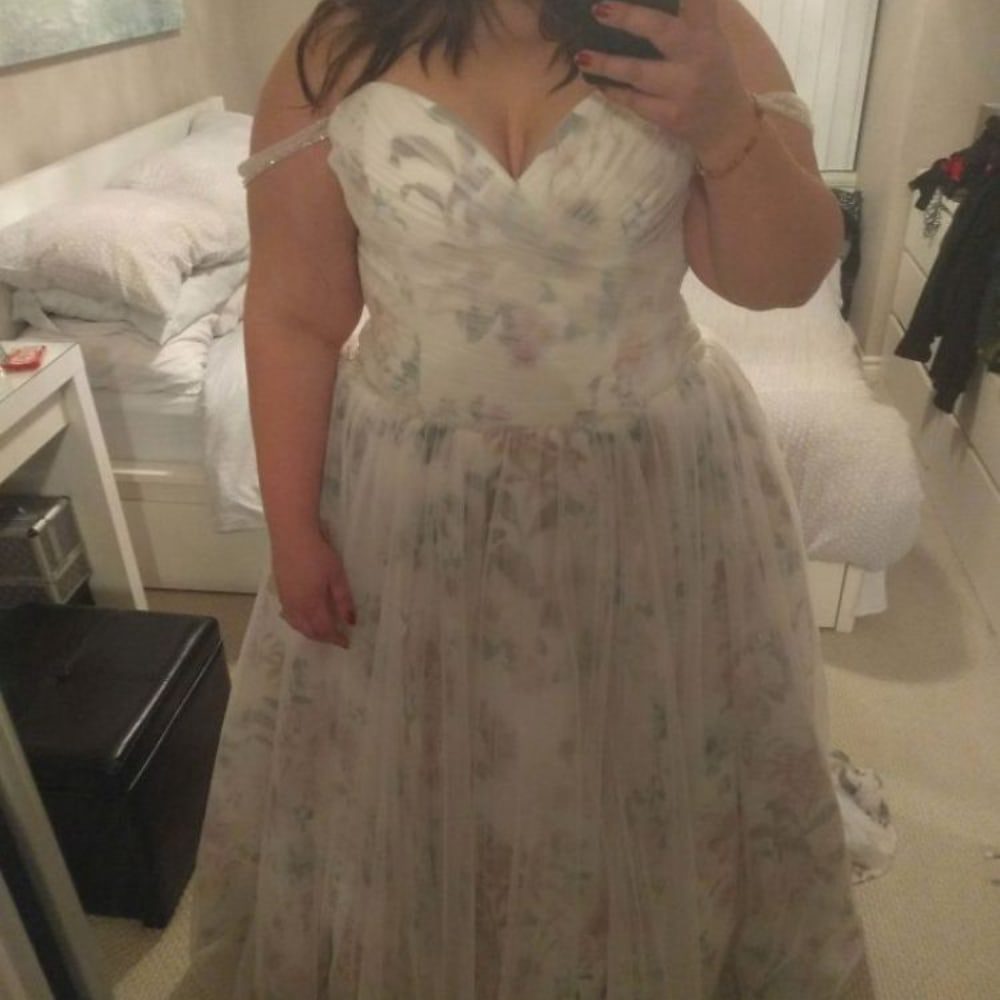 With such an awesome dress as this, you may not need to accessorize a lot or even carry a large bouquet. Sometimes minimal looks can look extravagant with the right vision in mind. This woman happened upon something very special and unique.
Modern backless gown
Cocktail backless dresses are very elegant and can make anyone look flattering. This bride decided to go for an effortless yet elegant wedding dress with a sexy backless detail. Her look was trendy and did not cost too much according to the design.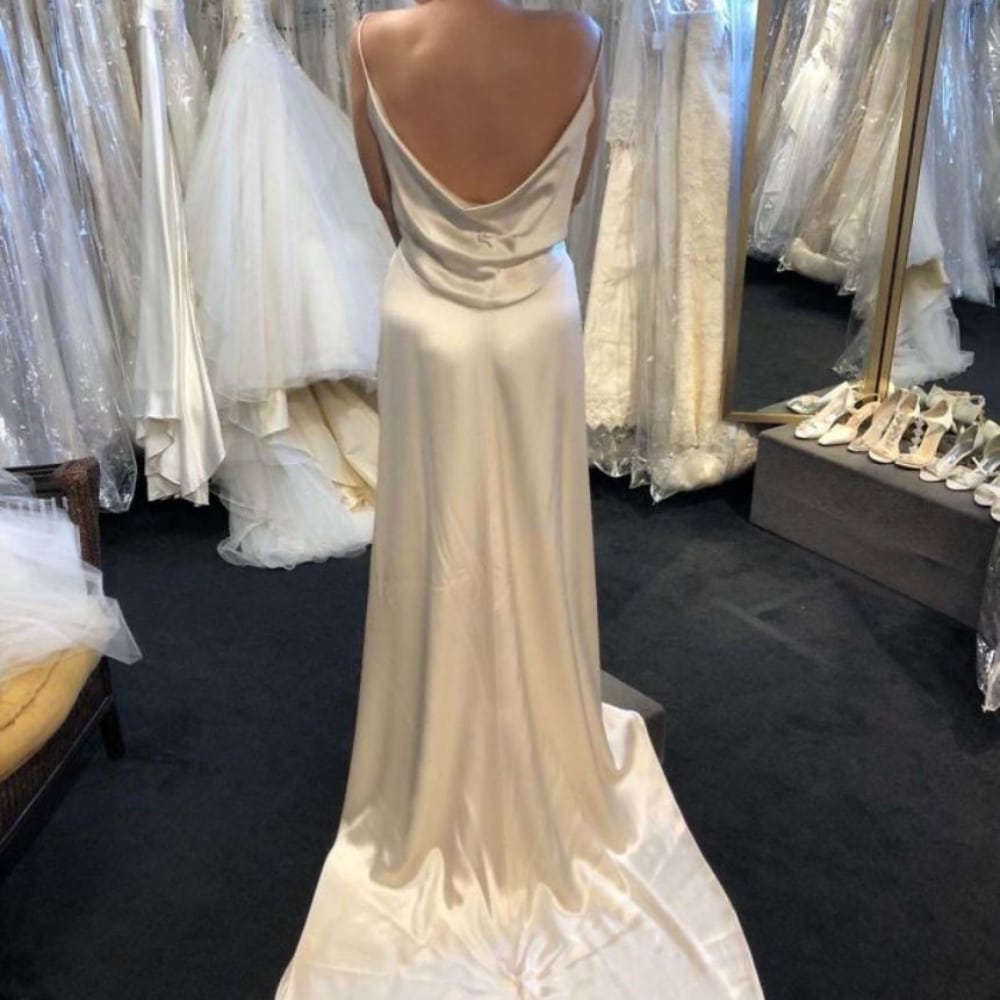 The bride went to the local rent shop and found her dream dress cheap. It is a great idea to pick a rented dress for your wedding if your budget is limited and you'd like to make the most of it.
Guess the price
Take a minute to look at the dress in the picture below and guess its price. It's a gorgeous dress that may make you wonder if it costs thousands of dollars. Even if you assume its price to be $500, you'd be wrong.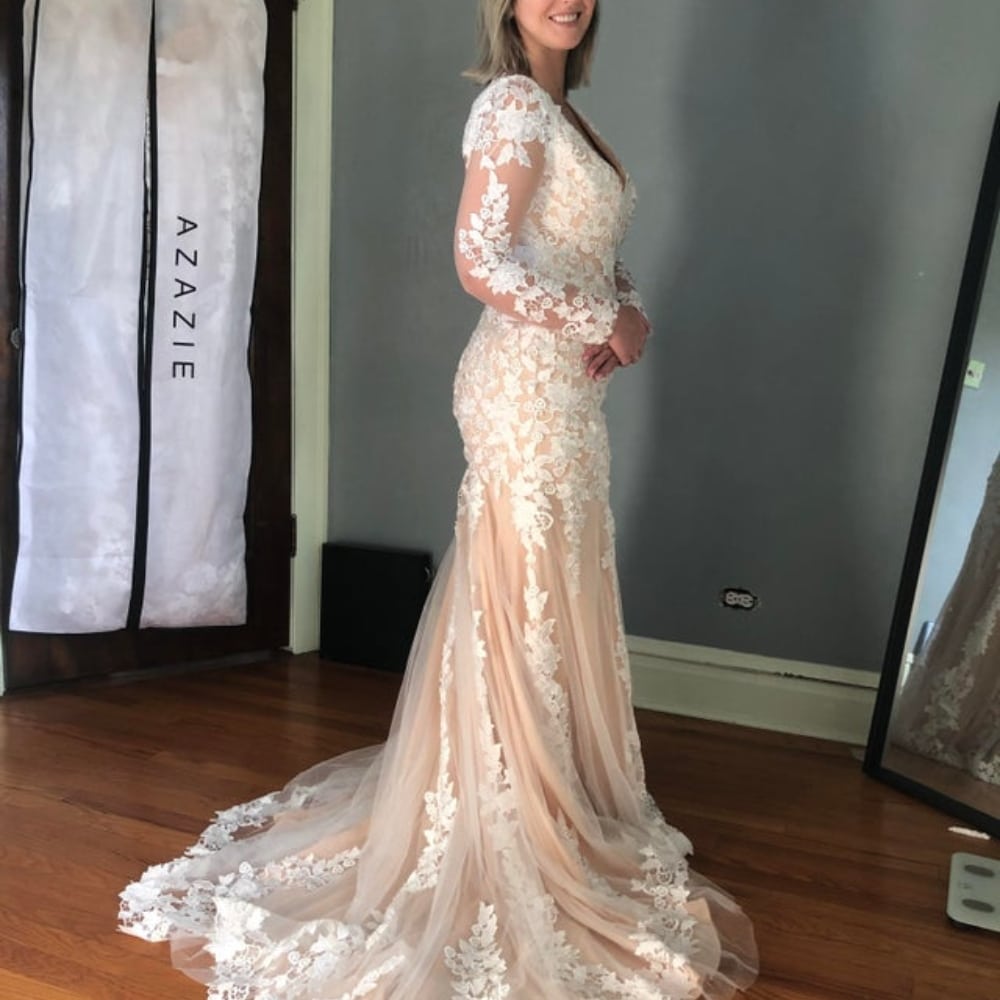 This dress comes at a fraction of the price. The bride got it just for only $200. And this price for a wedding dress is crazy and surreal when you look at how fabulous it is. She is a very lucky bride!
One of a kind bride
The beautiful bride imagined herself wearing a white dress but a pink dress for her wedding. She took the challenge of dying her gown ombre pink. And to be honest, it turned out to be a genius idea, and she did an amazing job.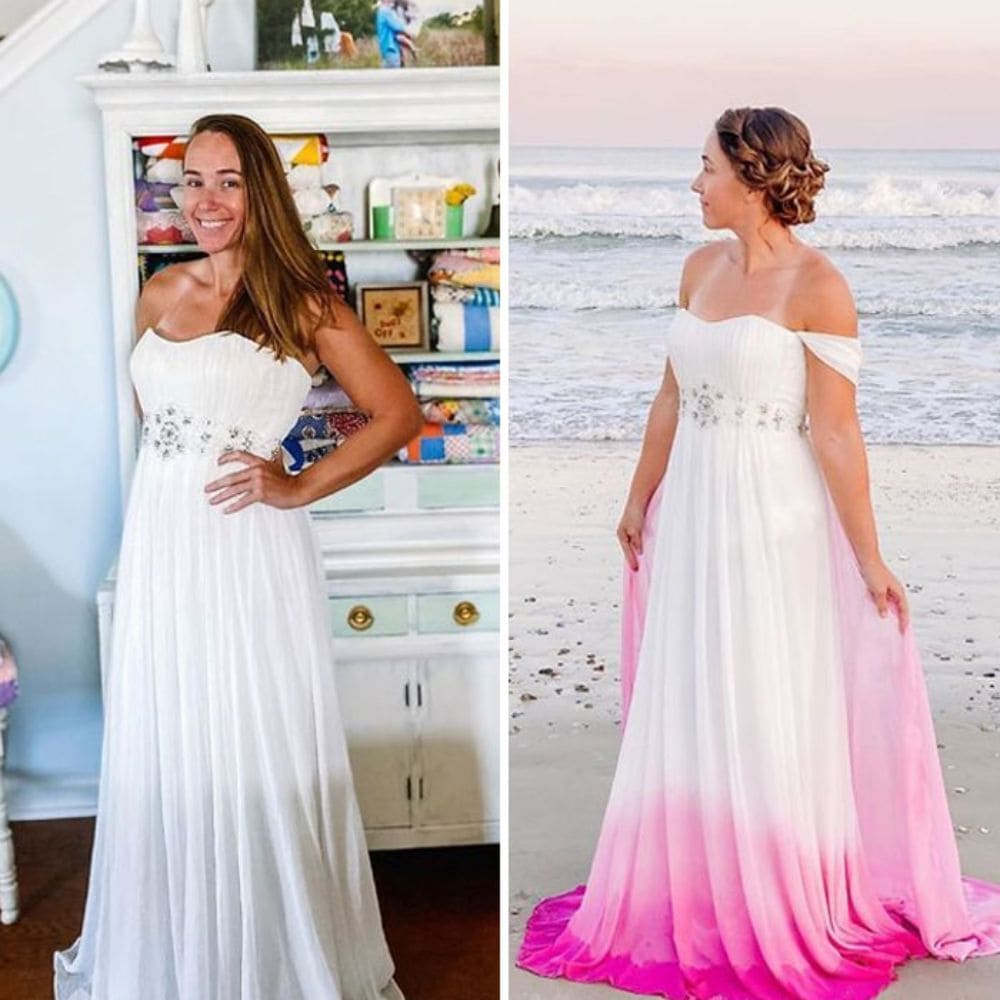 She managed to make something different, and her dress looked amazing and unique. This dress will serve as an inspiration for a lot of future brides. It would be fun to see dresses dyed in different ombre colors this coming season.
Perfect budgeting for the big day
Just look how happy and stunning the bride is looking. Everything from the dress to hair and accessories to the flower bouquet goes perfectly. Besides, her flowing gown looks as if it cost a hefty price. She looks like a million bucks.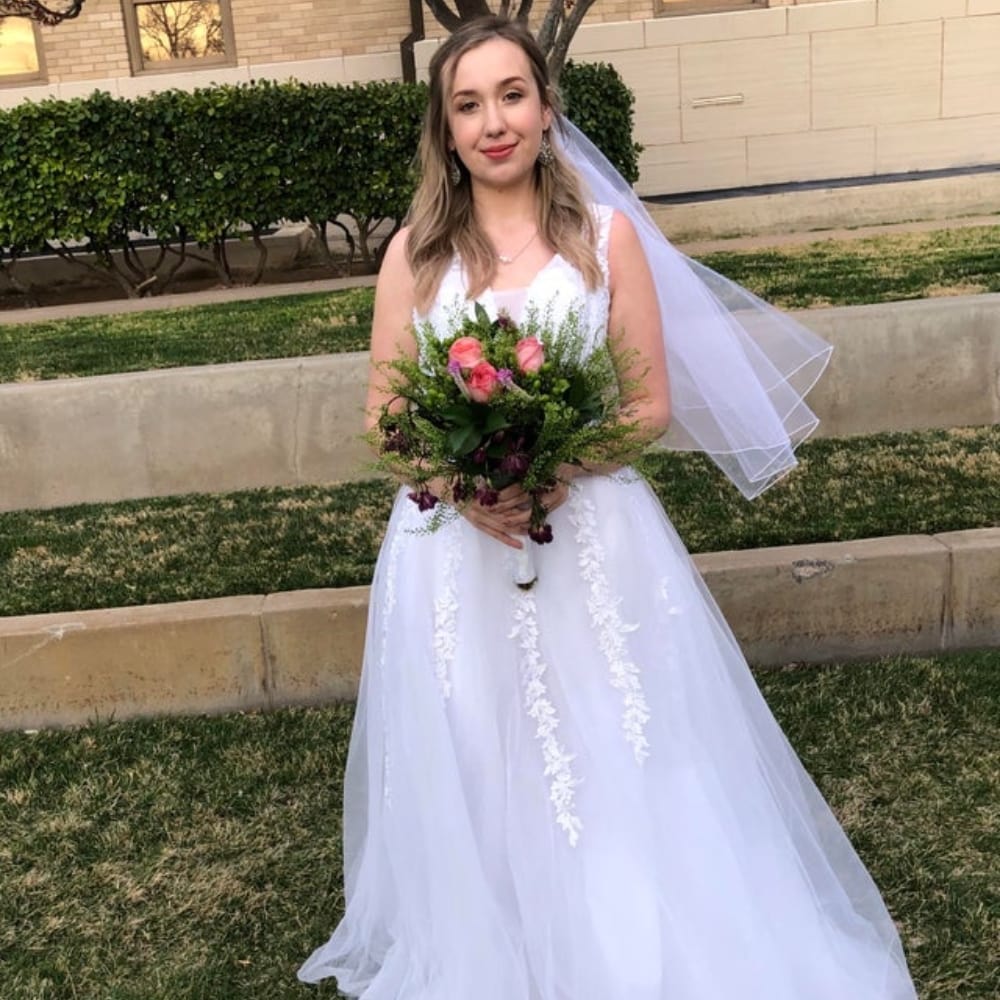 But this gown proves that looks can be deceiving if you do not know the truth. The dress looks expensive, but the bride got it from Amazon for a whopping 100 dollars. Her bouquet was 25 dollars, and the veil was 12 dollars.
Something borrowed, something donated
Who knew that there were women out in the world with such good hearts who just wanted to donate their wedding dresses so other women could have their dream dresses without spending their whole budget? We love this womanly solidarity and appreciate them for it!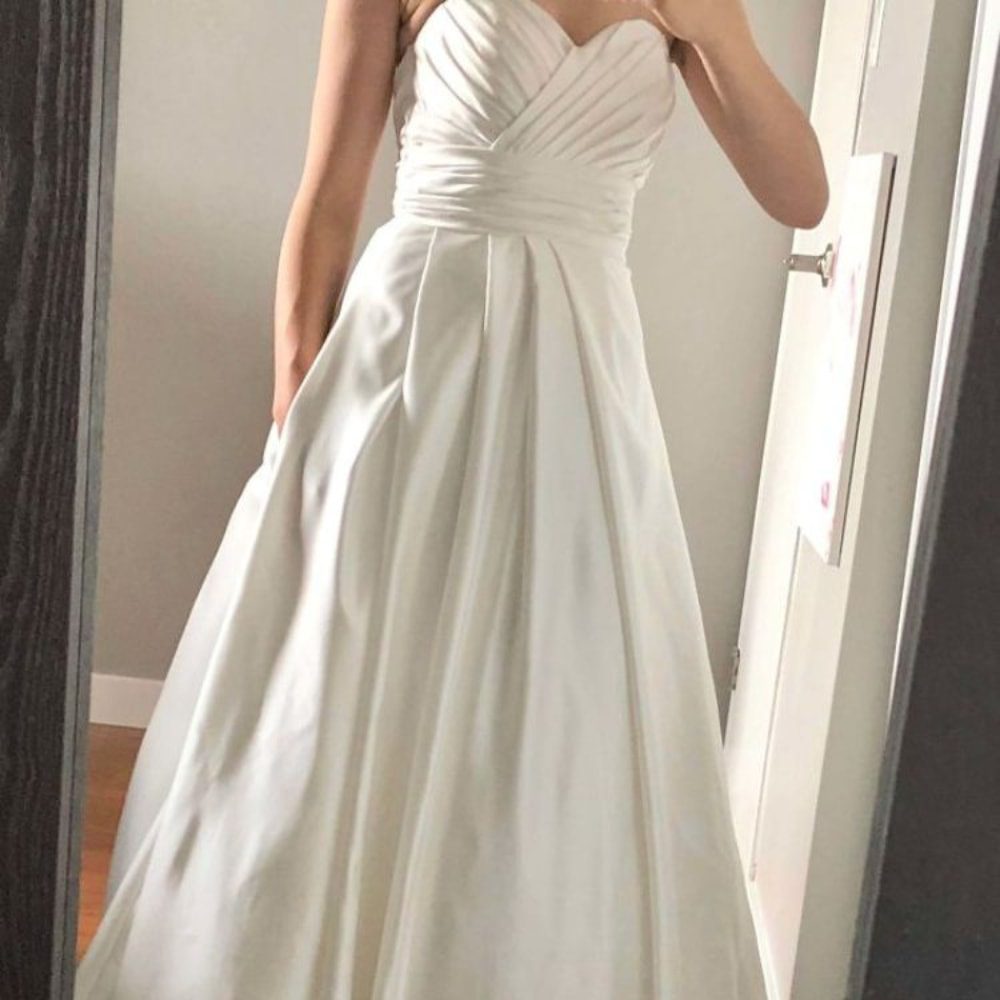 This lucky bride found an unbelievable ad on Facebook Marketplace where someone wanted to donate her wedding dress. She wrote an email asking for the details and got the dress offered, which fit her perfectly – it was completely free of charge!
Batwing bridal dress
Who says blazers and dresses are not suitable for a wedding? The bride pictured below knew what she wanted to wear at her intimate wedding, which is why this dress from the thrift store suits perfectly. This one is as elegant as it is simple.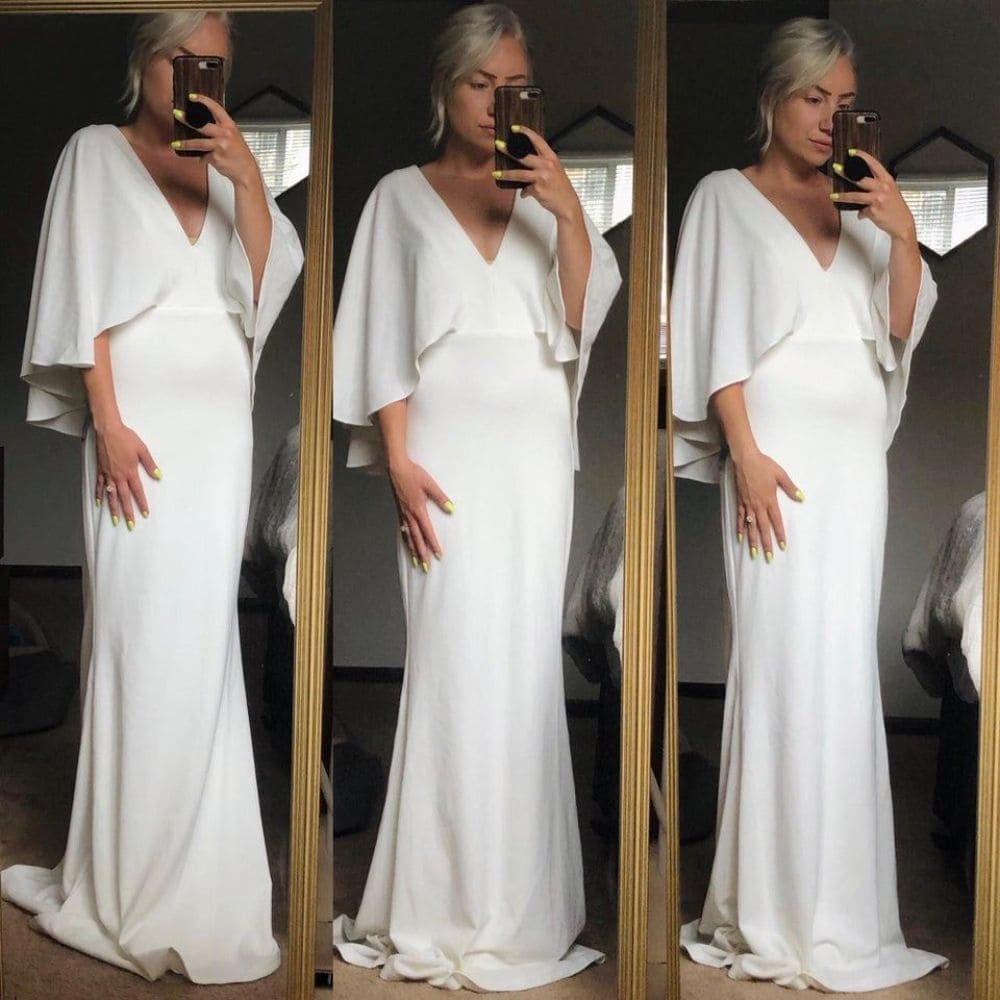 We love how elegant yet simple it looks with just a little bit of sparkle here or there- perfect! The batwing sleeves look ethereal on her, and this dress is surely one of a kind. Any bride would love to look unique on her special day.
We love to match
Some brides and bridesmaids have such a profound connection that they do not mind wearing the dress with the same design. This bride completely adored the dress that she picked for her bridesmaids, and she decided to wear the same style in an ivory color.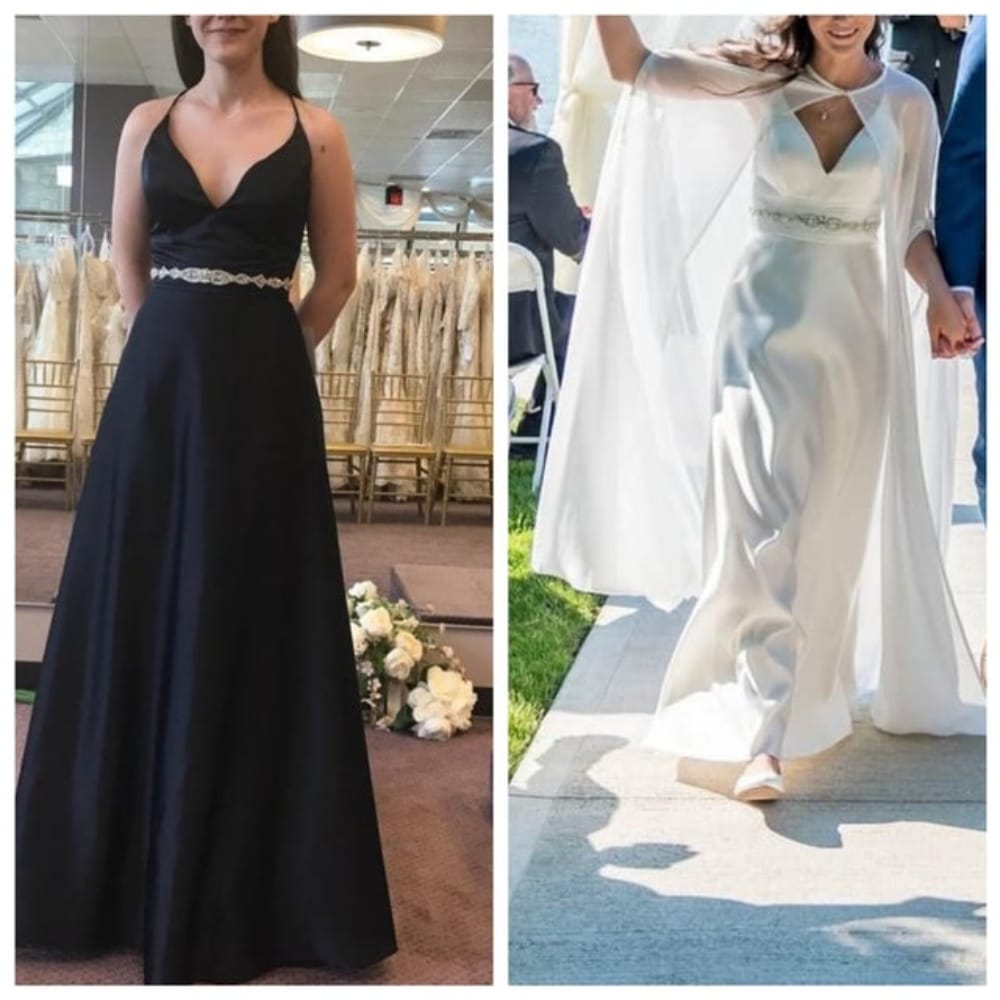 This seems like an incredible idea as it looks so surreal and definitely better than we expected. See how she accessorized the dress with nice sparkling jewelry and a sheer coat and train giving her a chic and sophisticated look.